Nearly 20 years' experience as a gun writer has allowed me the opportunity to handle and evaluate an above-average number of firearms. Many of these weapons have been Century International Arms offerings.
Century International Arms is a polarizing entity within the gun industry among consumers. While often appreciated for being the only access point for many in terms of certain weapons, especially AK or other foreign types, Century is lambasted at times for its quality control.
All I can report is that I have had no reliability or functionality issues with the over one dozen Century rifles and handguns I have evaluated to date. Some will scoff at this and claim receipt of privileged specimens. This is not the case, as several have been purchased off the shelf from my local dealer, Stonewall Arms.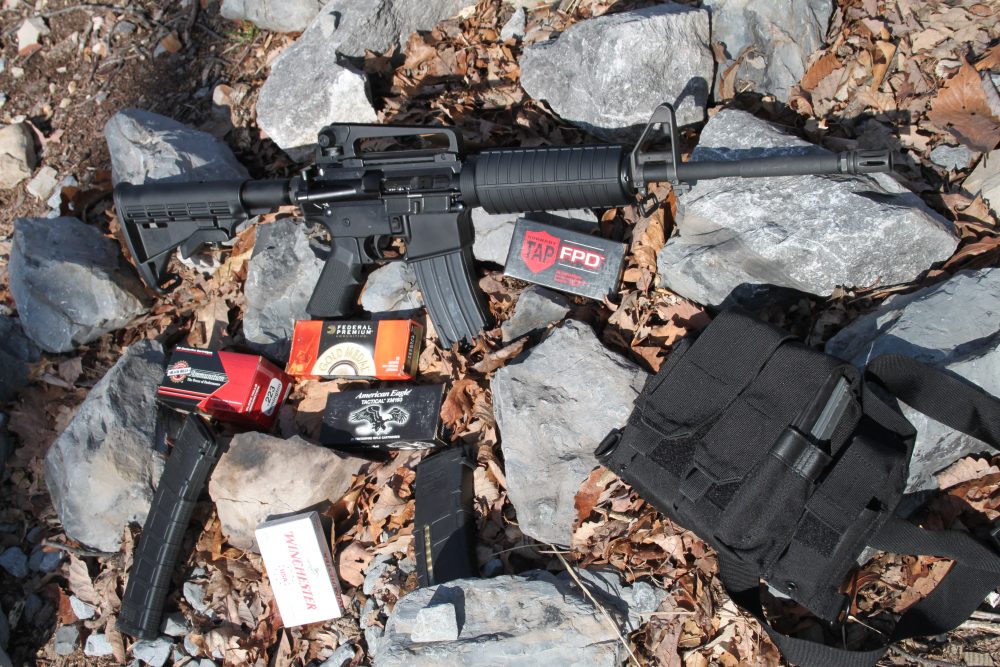 Century International Arms C15 M4 was tested with numerous ammunition types and other ancillary gear.
---
AR BONANZA
The latest Century offering I handled will surprise many as being an AR variant. While the AK is gaining in popularity in the U.S., the AR is still king in terms of numbers sold, backed up with a cottage industry of suppliers making accessories and refinements for it. The AR is rivaling the other American icon—the 1911—in terms of available aftermarket parts and accessories, not to mention the number of manufacturers and versions available.
ARs can be had in everything from piston-driven varieties to multiple calibers, pistol configurations, flattops, and various barrel lengths. The inherent modularity of the AR with its upper and lower receivers is its greatest attribute for adapting to individual preference, whether it is for competition, target shooting, law enforcement, or personal defense.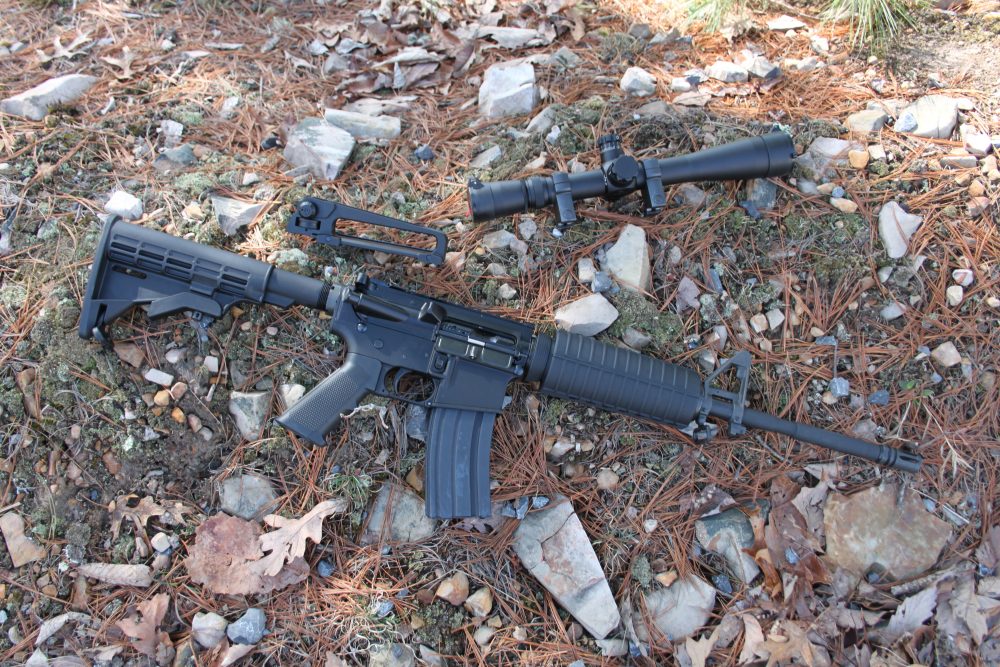 C15 M4 arrives with a detachable carry handle that can be left in place for iron sights or detached to allow access to flattop Picatinny rail for mounting of optics.
---
This same adaptability can also lead individuals astray as to what is necessary versus desired in setting up a defensive rifle. Full disclosure: I have ARs with quad forends festooned with lights, lasers, vertical grips, and even night-vision devices. These were set up for specific roles I had in mind. As I have continued down the path of learning and adapting for defensive purposes, it has grown clearer that all these items are not necessary and could even be detrimental to efficient use for most private citizens.
A lightweight, fast-handling rifle is a premium when having to react to a threat. The military had this figured out with the early Colt CAR-15 Commando (XM-177) rifle often photographed in the hands of MACV-SOG and other elite units during the Vietnam War.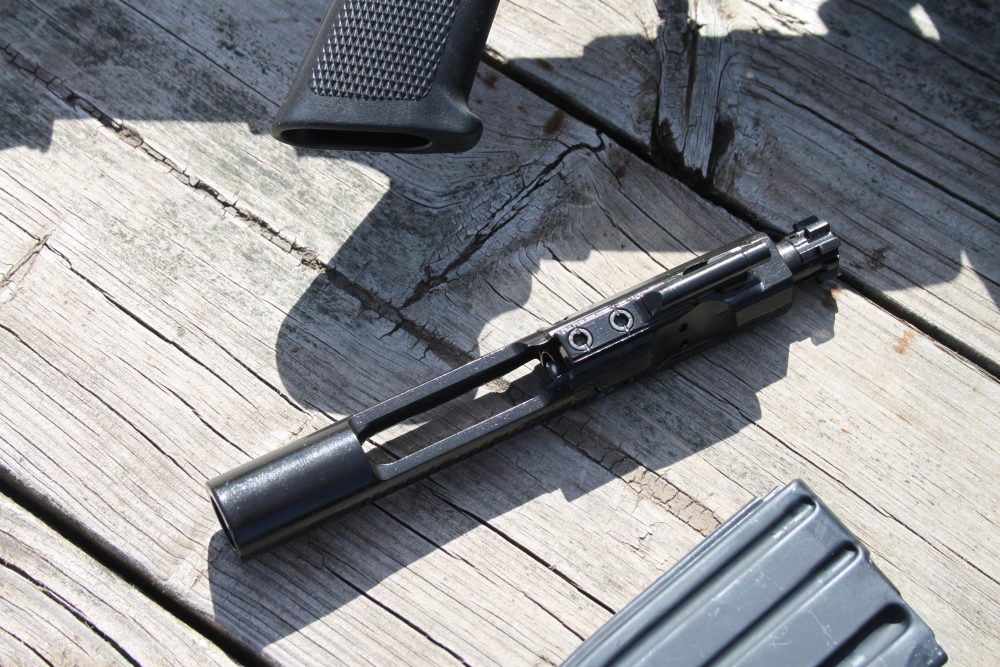 Carrier key was properly staked.
---
CENTURY C15 M4
The currently fielded M4 AR evolved out of the CAR-15 XM-177, modified with longer barrel and other design tweaks. The 14.5-inch barreled M4 is often mimicked in the civilian realm with its carbine-length direct gas system and only needing to lengthen the barrel to 16 inches to comply with BATF regulations. The semi-auto-only component of civilian M4s is not that much, if any, of a hindrance to effectiveness.
The Century C15 M4 has a modified military profile 16-inch, non-chrome-lined barrel, with a .223 Wylde chamber, 1:9 twist, and birdcage flash hider. M4 feed ramps are present. They extend from the barrel extension into the upper receiver and help alleviate feeding problems that may occur as a result of the increased pressure of the shortened carbine gas system of the M4.
A Tapco six-position buttstock comes with the Century C15 M4, as does an A2 pistol grip. The trigger is a standard milspec type with six-pound pull. The C15 M4 carbine weighs 6.8 pounds and measures 31 to 35 inches. Century makes note that Moore's Machine Company is the manufacturer they are using with this build. The rifle comes with a lifetime warranty.
CHAMBERING AND AMMUNITION
Century's decision to go with a .223 Wylde chambering with the C15 M4 is interesting, and quick word about it is in order. The .223 Wylde was designed as a match chambering for semiautomatic rifles. It offers increased accuracy while accommodating both the 5.56mm and .223 Remington cartridges with equal aplomb.
As most know, the 5.56mm is not synonymous with the .223 Rem chambering. Generally, it is advised as acceptable to fire .223 Rem in a 5.56mm but not the other way around. The .223 Wylde was meant to give a slightly tighter body spec than 5.56mm but a bit looser than .223 Rem, while retaining a longer leade/throat. In effect, the .223 Wylde is a hybrid splitting the difference between the 5.56mm and .223 Rem, while extending benefits in terms of accuracy and reliability.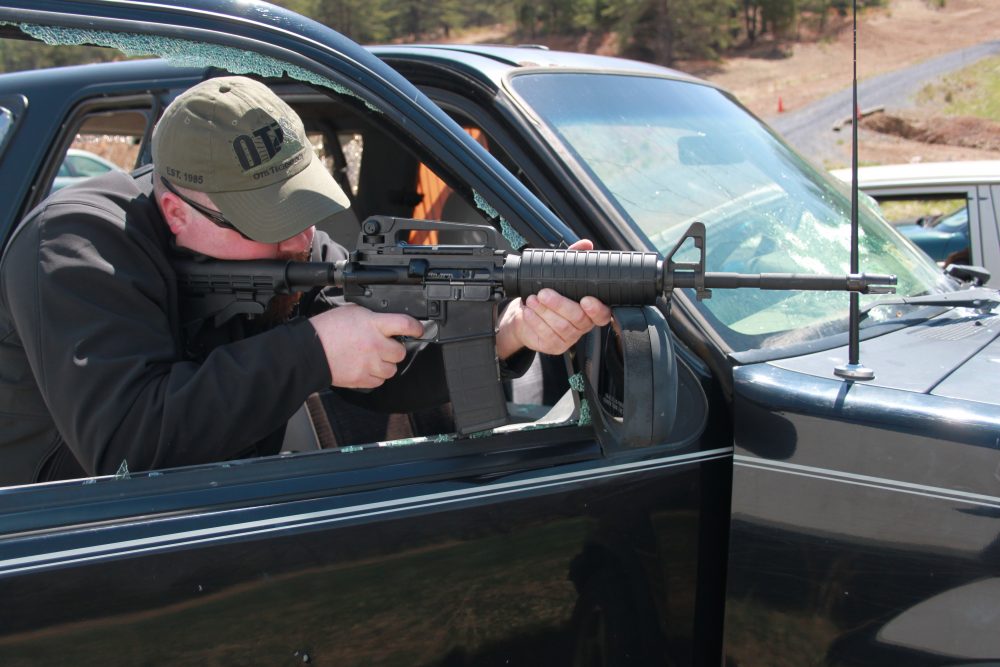 Working around range vehicles showed why lightweight M4-type AR is such an effective combination.
---
Ammunition tested with the Century C15 M4 was a combination of Black Hills Ammunition loads, Federal Premium, multiple Hornady TAP loads, and Winchester 55-grain FMJ. Readers deserve to see what baseline accuracy was with the C15 M4, thus the decision to mount a Leupold Mark 4 3.5-10X scope before reattaching the carry handle for the remainder of the T&E.
The C15 M4 kept all loads tested at 2.5 inches at 100 yards, with premium loads hovering around one-inch groups. This accuracy level justifies permanently mounting a magnified optic such as a Trijicon ACOG or Accupoint 1-4X scope on the flattop upper if a user desires. Of course, red dot optics like the Trijicon SRS or Reflex are viable as well.
Accuracy test protocol consisted of three five-shot groups with each ammunition type. Group sizes were averaged. Velocity figures ranged from 2,700 feet-per-second (fps) to 3,000 fps over an RCBS chronograph. Accuracy with the C15 M4 was more than acceptable, with the open sights producing two- to four-inch groups at 100 yards with the ammunition tested.
Frankly, it was refreshing to revisit iron sights while conducting drills at Echo Valley Training Center (EVTC) moving and firing behind simulated cover and vehicles. EVTC's extensive supply of steel targets provided instant feedback whether within bermed training bays, 360 degree, Jungle Walk, or multi-stepped ranges. The C15 M4's A2 sight arrangement is conducive to wringing better accuracy out of the C15 M4 rifle compared to the cruder AK notch and post sights.
The C15 M4 favored being run well-lubricated, which I determined after reliability hiccups experienced in the first couple of magazines fired were solved by a liberal dose of lubricant around the bolt. Besides those early issues, firing the C15 M4 as it emerged from the box, no malfunctions were encountered during the rest of the evaluation, which encompassed 500 rounds.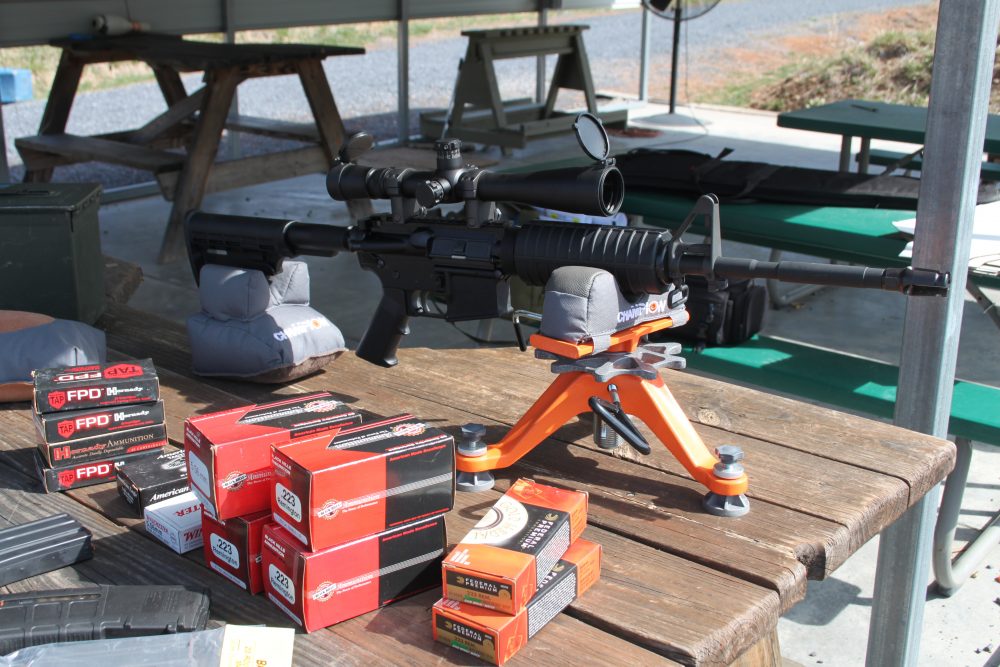 Leupold Mark 4 3.5-10X scope was mounted on C15 M4 for bench accuracy testing in conjunction with Champion tripod front rest and rear sandbags.
---
ACCESSORIES GALORE
I am a self-confessed full-time member of the gun culture, always considering another weapon or accessory. Not all weapons need rails and an array of accessories to be considered viable. While reliability should never be compromised in terms of cost/performance ratio, other items considered a must for some may not be high priority for others. KISS (Keep It Simple, Stupid) methodology can pay dividends in terms of budget and allowing for concentration on other priorities such as training.
A huge benefit of the C15 M4 is the multitude of AR magazines available for it from various manufacturers. I have come to trust Brownells for my metal AR magazines and Magpul for polymer variants. The Magpul 40-round PMAG is steadily growing as a favorite among higher-capacity AR magazine variants due to its track record of performance involving multiple weapon reviews, including the Century C15 M4.
Along these same lines, nearly every tactical webbing gear manufacturer in the U.S. offers products to carry AR magazines, ranging from chest rigs to vests, thigh sub-loads, and belt pouches. My go-to brands are U.S. PALM, High Speed Gear, Velocity Systems/Mayflower, and BlackHawk.
A simple offering from BlackHawk is their bandoleer-style pouch. It appeals to many with its ability to accommodate two pistol magazines in conjunction with four AR magazines. It can be grabbed in a hurry and slung over your shoulder while you also grab the Century C15 M4. Four spare magazines plus one in the C15 are plenty to solve most issues that would call for the C15 M4 in the first place.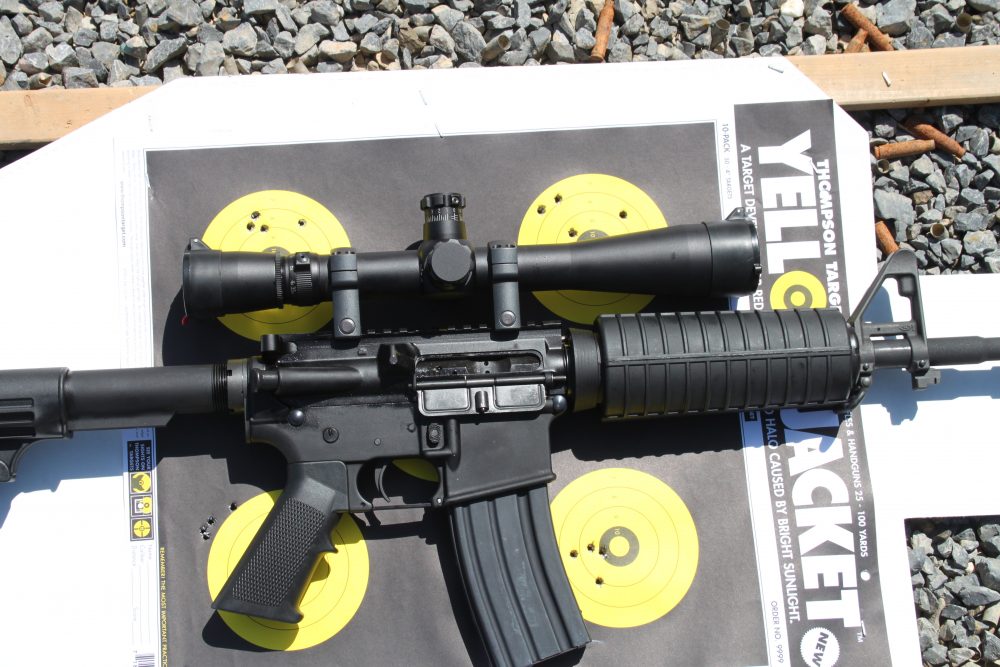 C15 M4 maintained 2.5 inches or better accuracy.
---
TRAINING SCENARIOS
I decided to concentrate on using the C15 M4 in training scenarios involving team tactics and patrolling to contact through EVTC's 360 and Jungle Walk ranges. The Century C15 M4 excelled in firepower and combat accuracy. Firing from unorthodox positions while working around range vehicles showed why the lightweight M4-type AR is such an effective combination.
As a side note, a portion of the evaluation with the C15 M4 took place at dusk, in order to evaluate a recently received Valmet-pattern VAL-76 three-prong flash hider from One Source Tactical.
The Finnish version of the AK has always been well thought of, with Finnish practicality shining through in various tweaks made, including the flash hider. I took note of the VAL-76 because of the recent resurgence of three-prong flash hiders. Further proof that the more things change, the more they stay the same.
Flash suppression is achieved with the VAL-76 by a coned interior profile with flared muzzle talons. Finish is a non-reflective black oxide. Heat-treated Ordnance Steel is used in the manufacture of this unit. The VAL-76 fits muzzles with standard ½x28 threads and supplied with a standard crush washer for proper fitting. Proof of the VAL-76's effectiveness was borne out by the lack of blast signature both to the naked eye and in photographs.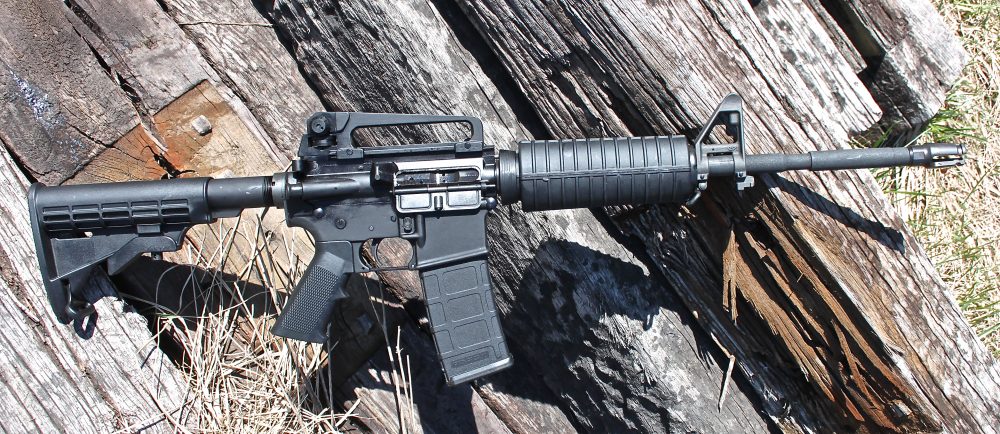 Standard A2 flash hider was replaced with Valmet-pattern VAL-76 three-prong flash hider.
---
CONCLUSIONS
The Century C15 M4 performs as a solid representative of the AR family. Anyone who chooses to take advantage of the Century C15 M4 should take heart that millions of M16/AR-15s have been produced. The basic design is successful and comes through in the Century offering.
What sets the C15 M4 apart from many others is its $599 price point, making this performance more widely available to consumers. There will be doubters that an AR so priced is viable compared to rifles costing two to three times more. Each will have to make their own decision. Worst case, try the C15 M4 as an understudy until confidence is gained with the system.
It is no secret that Eugene Stoner's AR platform is the best-selling rifle in the U.S., with many manufacturers offering their versions in recent years. While imitation is the sincerest form of flattery, often the simplest and closest to the original idea are the best. The AR's adaptability is also its most abused quality. Century International Arms is seeking to counterbalance this trend toward over-accessorized ARs with the C15 M4.
SOURCES
CENTURY INTERNATIONAL ARMS
(800) 527-1252
www.centuryarms.com
BLACKHAWK! PRODUCTS GROUP
(757) 436-3101
www.blackhawk.com
BLACK HILLS AMMUNITION
(605) 348-5150
www.black-hills.com
BROWNELLS INC.
(800) 741-0015
www.brownells.com
ECHO VALLEY TRAINING CENTER
(540) 450-7998
www.echovalleytrainingcenter.com
FEDERAL PREMIUM AMMUNITION
(800) 379-1732
www.federalpremium.com
HORNADY MFG. CO.
(800) 338-3220
www.hornady.com
LEUPOLD & STEVENS INC.
(800) LEUPOLD
www.leupold.com
MAGPUL INDUSTRIES CORP.
(877) 462-4785
www.magpul.com
ONE SOURCE TACTICAL
(928) 776-4492
www.onesourcetactical.com
STONEWALL ARMS
(540) 535-2190
www.stonewallarms.com
WINCHESTER AMMUNITION
(615) 258-3340
www.winchester.com