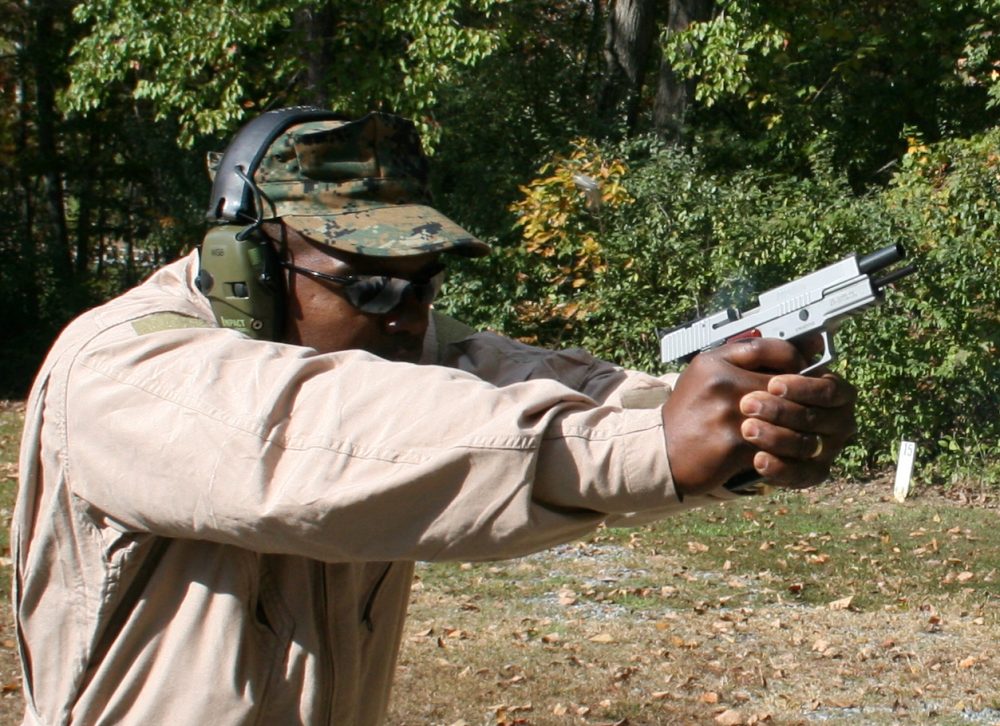 The 10mm Auto (10x25mm), which I have carried on duty and used in competition, has become one of my favorite self-defense and pistol hunting calibers. Loaded to the max, it's quite powerful and was designed to deliver .41 Magnum ballistics in a semiauto handgun. But the .41 Magnum revolver round remains energy boss at a maximum of 1,135 foot-pounds of muzzle energy (me), while the ten has made it to 1,015 foot-pounds with lighter projectiles at 2,420 feet-per-second (fps).
Its case has inspired the creation of wildcats, such as the sizzling 9x25mm Dillon and Super Auto G. When the FBI adopted the round, manufacturers scrambled to offer handguns that could launch it.
The Bureau's new pistol was specified to have SIG Sauer controls, because of agent familiarity with the P226/P228. When the pistol displayed erratic reliability, the FBI, after much hate and discontent, abandoned this sidearm and caliber by phasing it out through attrition, and quickly returned to the 9x19mm.
10MM RESURGENCE
During the market flood of 10mm pistols, SIG Arms ignored the trend, which did not last very long. When the 10 was effectively buried by the .40 S&W, only a few arms makers continued to offer a firearm in that caliber. It has remained that way until recently.
Tangfolio offered some interesting service and competition pistols in that caliber for some time, but suddenly 1911s coming out of the Philippines included 10mm versions in their mostly .45 ACP lineups. Custom gunsmith and trainer Bruce Gray of Grayguns proposed a SIG P220 conversion to 10mm a few years ago. Bruce is a SIG proponent and has achieved national competitive status with his products.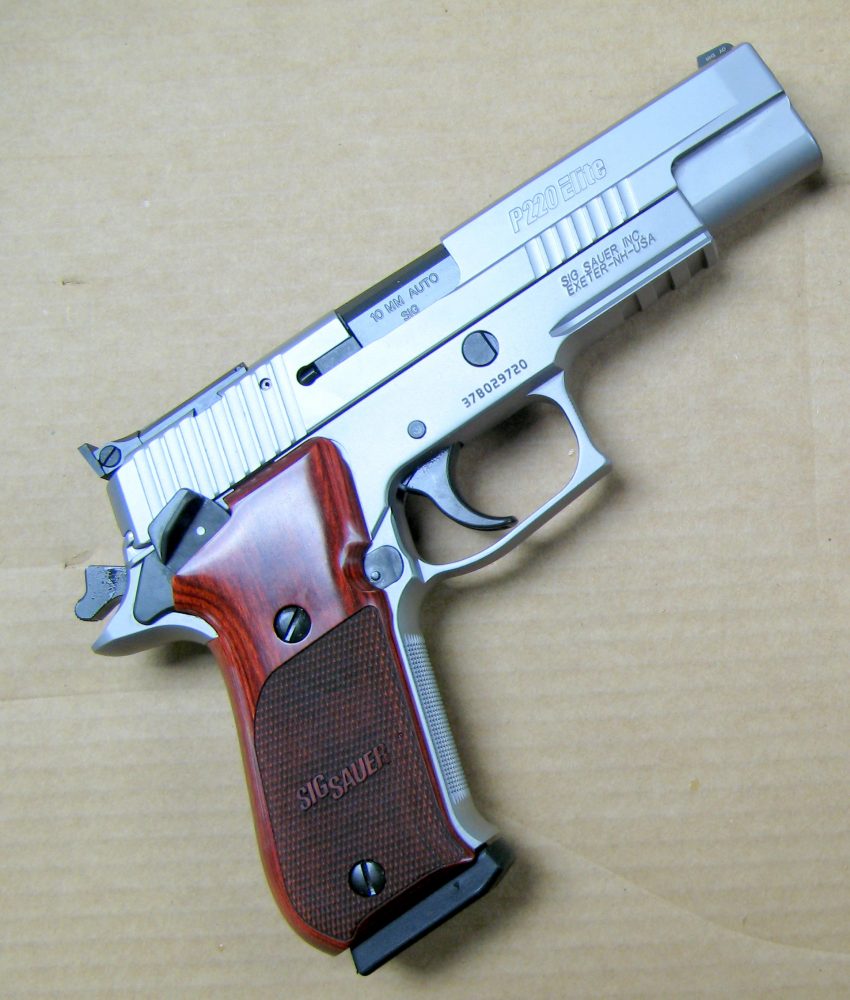 THE 10MM, FBI HRT, AND ME
When the S&W 1076 arrived with the downloaded Federal 180-grain load, I had Mike Plaxco customize a Colt Delta Elite 1911 10mm for me. Later I had others constructed both in limited and unlimited configurations. The modified Federal round just made the major power factor.
At the time, the FBI's Hostage Rescue Team (HRT) was looking to replace their beloved FN Browning Hi-Powers and change calibers to 10mm or .45 ACP. Vendors submitted high-dollar 1911s, initially in 10mm. But this dalliance was limited in duration and, when problems began to surface with the 1076, the .45 got the nod.
A high-capacity custom 1911 was pushed and adopted by the team after testing. When the wide bodies failed to perform as required and after much effort to correct, HRT let them attrite and ended up with extensively evaluated single-stack 1911s that are still the team's official sidearm today, though Glocks are an option. The only 10mm firearm they retained was the HK MP5 submachine gun, firing a 190-grain JHP.
SIG Sauer Academy Director Adam Painchaud advised the company was "motivated to build this hog leg by demand alone. For the past ten years, every SHOT Show saw a plethora of enthusiasts ask when we were going to make the P220 in 10mm?" It's a small market, but enough to drive sales for it, and it created an entirely new line of all-steel pistols.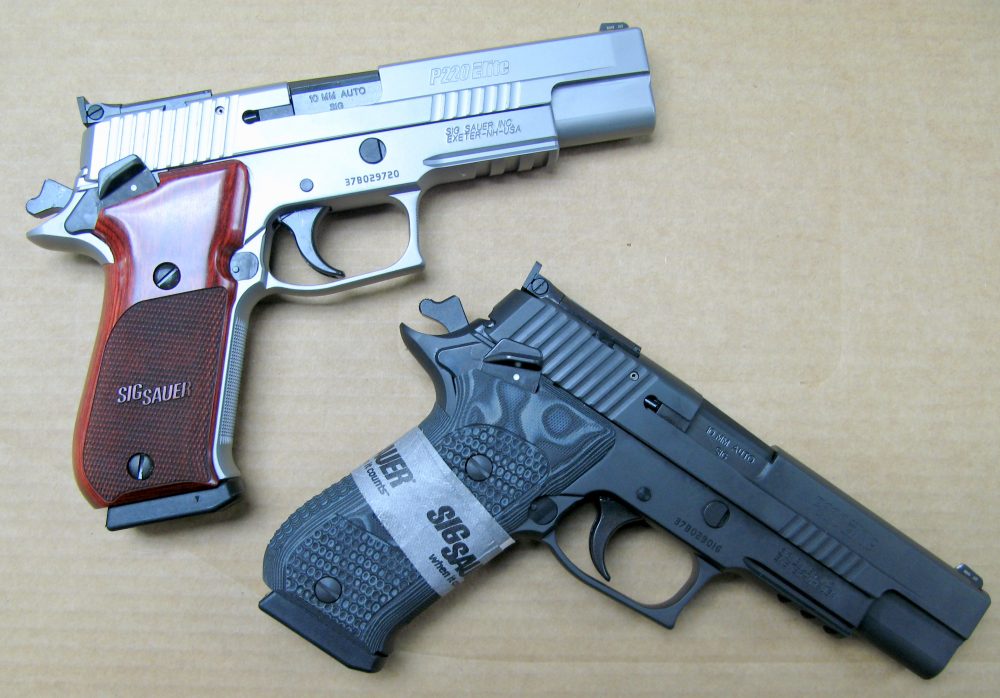 PORK OUT OF THE BOX
Chamber pressure for the ten is 37,500 psi. The .45 ACP is a mild 21,000 psi to 23,000 psi for +P. This pressure difference prompted SIG to build all stainless steel 10s at 44.2 ounces with empty magazines. Fully loaded, its Go To Hunt Weight (GTHW) with nine 180-grain loads comes to 49 ounces.
Essentially, it looks like the SIG P220 that debuted in 1976, but it is 13.6 ounces heavier with magazine than its alloy predecessor and has a .63-inch longer barrel.
The P220 was never a small handgun, but the SIG P220 Elite Stainless 10mm qualifies as a "horse pistol." While ideal for a shoulder rig, it might also be at home holstered on a saddle's pommel, handy for a fleeting game shot. It would make a great pig-hunting pistol, and its camouflaged Hunt Ready model with fiber-optic front blade or a red dot sight will give you pork right out of the box.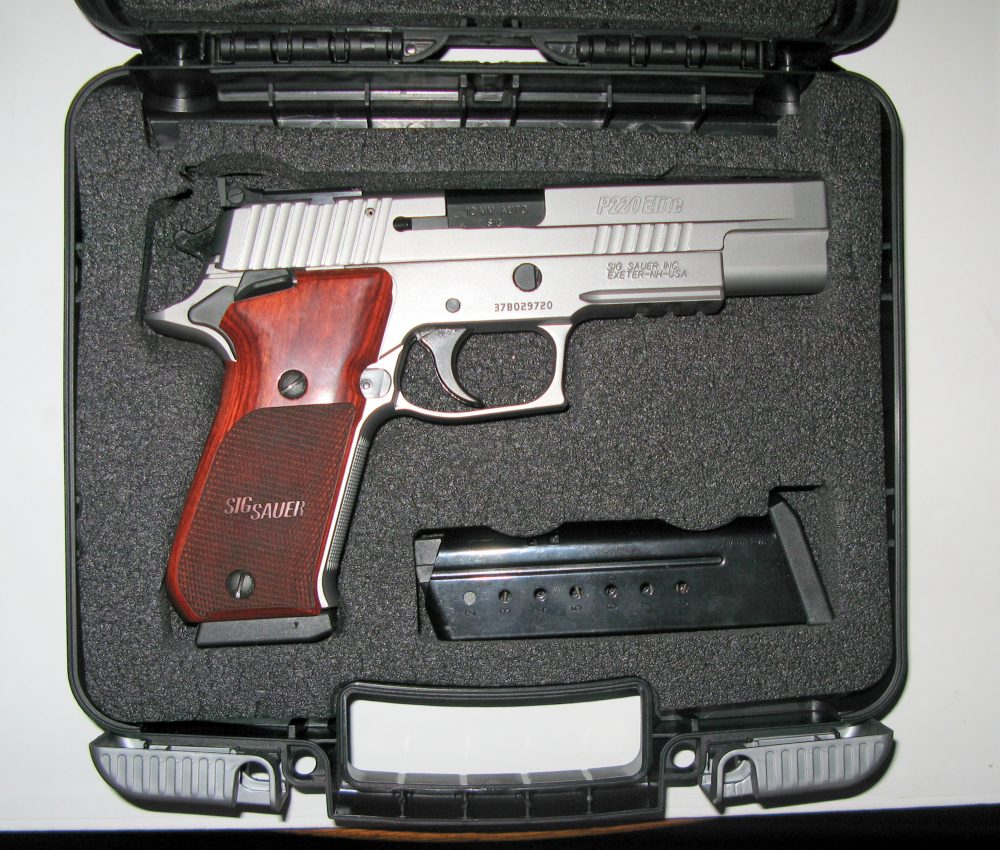 CHOICES, CHOICES, AND MORE CHOICES
SIG Sauer has gone the extra manufacturing mile and produced several models of the 10mm P220 in an effort to appeal to shooters who function in different environments. Four versions of the 10mm SIG P220 are being offered as follows:
Match Elite Two Tone. This is a double/single-action (DA/SA) pistol with Black G10 Piranha grips.
Elite Stainless P220 and Elite Stainless Nitron P220. Both single-action only (SAO) pistols have SIGLITE night sights. The Elite Stainless has a natural stainless steel finish and Rosewood grips, while the Nitron has a durable dark Nitron finish and Black G10 Piranha grips.
Hunt Ready P220. Another SAO pistol, it is ready for medium-sized game with its Kryptek Highlander camo pattern finish, installed SIG Sauer Romeo mini red dot optic, and G10 grips. Front sight is fiber optic.
Primarily a sport firearm, the 10mm P220 can also serve as a very effective self-defense handgun. Unless you are a large man, the pistol will find itself in the role of a house or car gun. Personally, I would prefer a higher round count like some of its competitors have, but size and weight would grow to impractical levels for most pistol packers.
The stainless steel SAO Elite is a very rich-looking and impressive pistol. Its handsome and sharply checkered Rosewood grips do much to create that image. Its slide and receiver are composed of very attractive non-reflective natural stainless steel. Controls, sights, barrels, and hammers are in contrasting black.
The Elite Stainless' dovetailed sights are a combination of competition (rear) and combat (front). The fully adjustable rear sight is perhaps the largest and most rugged on the market, but its rear sight blade edges are pointed and sharp, giving it the competition look. I would much prefer to have those points rounded and relieved to foster immediate action clearances without lacerating the hands while in the presence of a 300-pound tusker.
The front post is enhanced with SIGLITE night sights. Sight radius is 6.8 inches. Depending on what I fed it, the ten was close to right on out of the box at 25 yards, with almost every weight projectile fired. Fore and aft serrations help manually cycle the slide and conduct press checks.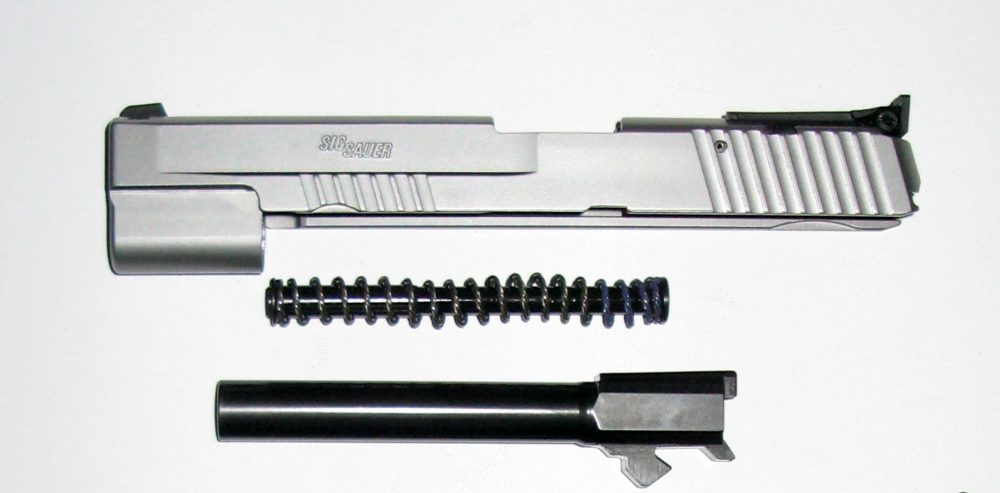 CLOSE TOLERANCES
Barrel and slide lockup are snug, with the linkless barrel locking up at the breech. Full-length frame rails give the slide excellent fore and aft support. Internal finish imitates its flawless exterior.
Minus the decocker, it features familiar P220 controls except for moderately oversized bilateral thumb safeties. I personally would like larger "gas pedals," but with its slide stop/lock next door, it leaves limited room for the larger paddles. The levers are positively locked in battery but readily disengage with downward pressure.
Since this is an "Elite" model, this 10mm features an upswept beavertail that permits a higher grip, eliminates hammer bite, distributes recoil, and assists in recoil control.
The fully supported cold-hammer-forged barrel has a 1:16 right-hand twist rifling and massive camming lug that mates with an equally augmented locking block in the frame. At 23 pounds, its captive braided recoil spring requires some strength to remove. The spring's guide rod is also steel.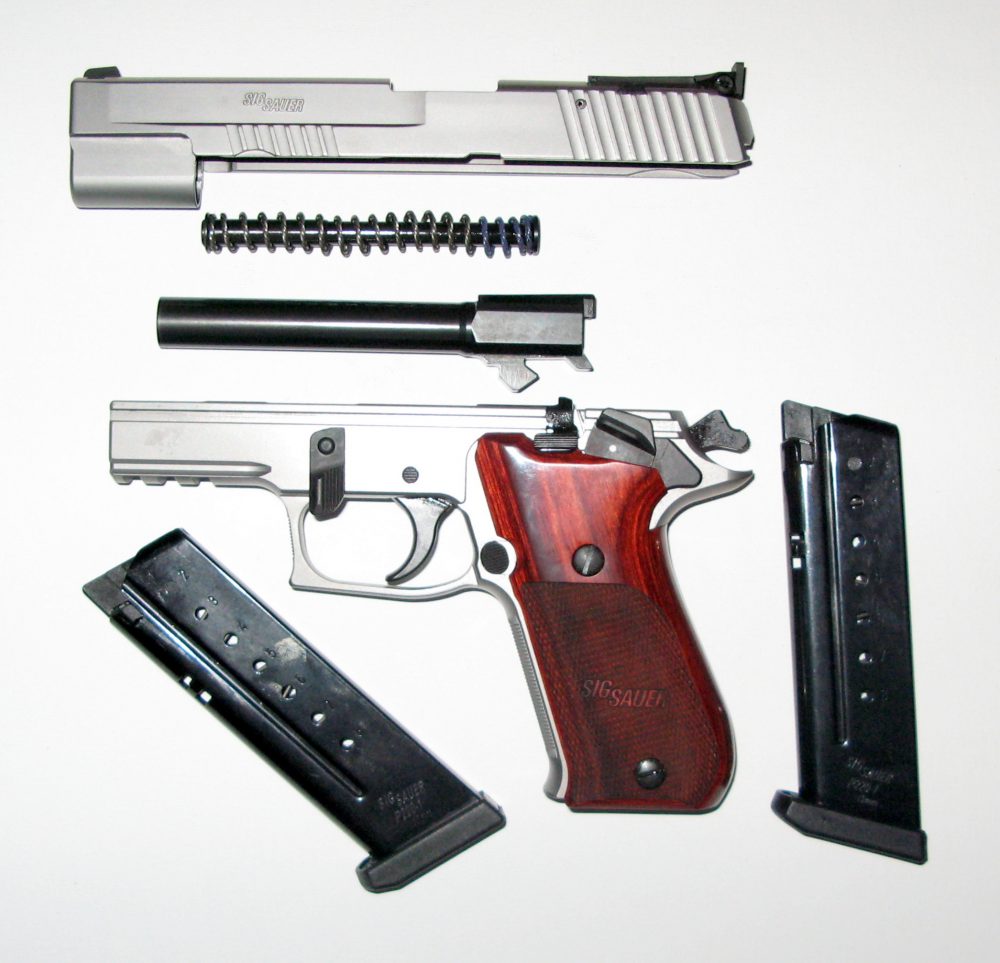 SINGLE-ACTION TRIGGER
The wide-faced SAO trigger on my sample came in at between five and six pounds depending where I placed the instrument's hook. The lever exhibits quite a bit of take-up before it hits the sear's wall. Continued pressure results in a crisp break followed by a reasonably short reset.
With its dramatic muzzle rise, shooters have plenty of time to prep the trigger for the next shot. The trigger guard is hooked and large enough for gloved hands. The guard is undercut where it joins the front strap, permitting a higher grip. Aft of the trigger is an enlarged magazine release that can be transferred to the gun's starboard side.
The front strap is nicely machine checkered, while the back strap consists of the wood grips. Magazines are single-stack eight-round tubes with witness holes and base pads. The magazine well is enlarged and beveled for more efficient reloads.
Moving forward, the familiar takedown lever resides on the frame's left side, and its squared dust cover features a generously sized Picatinny rail for aftermarket accessories. With a Streamlight TLR-2 light/laser attached, overall weight jumps to 57 ounces.
When I looked over the enhanced P220 and examined its beautiful Rosewood grips, I felt the pistol is almost too attractive to shoot. If I were going to shoot the ten a lot and carry it in all kinds of weather, I would remove the wood grips and replace them with Black G10 Piranha panels.
But its exotic wood grips not only enhance ergonomics, so pointing is natural for most shooters, but they also spread out the recoil from stout loads and, with its notable weight, make this P220 comfortable to shoot.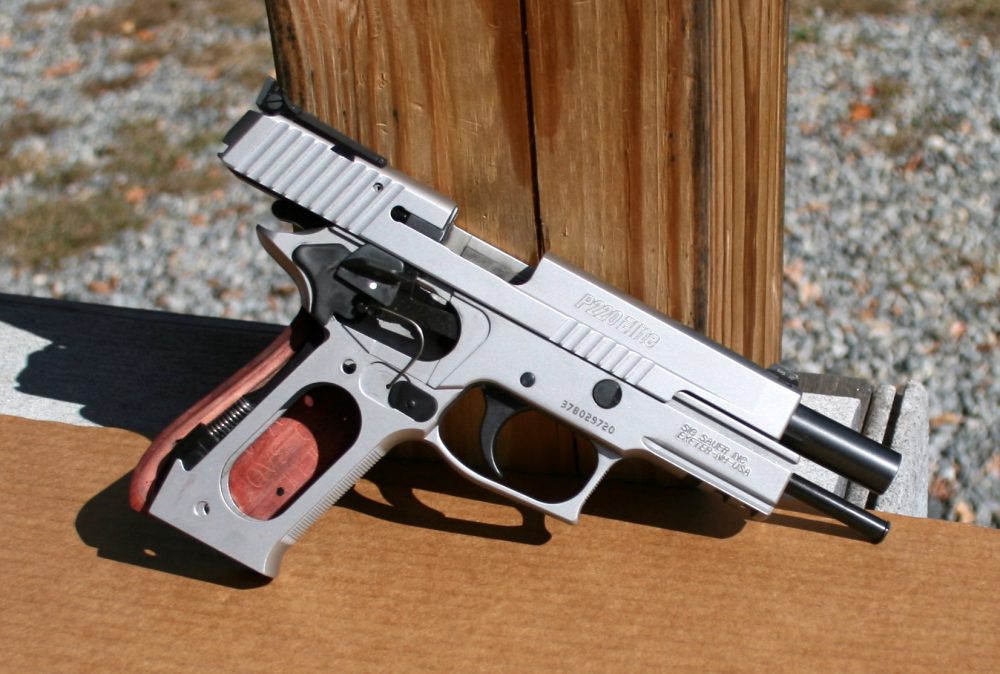 HIGH VELOCITIES AND GOOD ACCURACY
For evaluation purposes, I selected 15 different loads ranging in weight from 46 to 220 grains. I am not a fan of light bullets because they usually have shallow penetration in tissue and/or they fragment, but the 60-grain Liberty Civil Defense HP had exceptional performance. Average velocity was 2,329 fps with a 1.45-inch five-round group from a handheld rest at 25 yards. From a five-inch barrel, Liberty's velocities approach those emanating from the increasingly popular 10.9-inch barreled special-purpose rifles employed by Tier One teams.
High individual velocity went to Mag Safe's 46-grain SWAT pill at 2,401 fps with decent accuracy. Buffalo Bore's 180-grain Jacketed Hollow Cavity (JHC) was the only round that went under an inch, at 0.973 inch. Reliability was 100% and overall accuracy with all loads was quite good.
TOP SHOT APPROVAL
Top Shot: All-Stars finalist William Bethards liked the Elite Stainless P220, but liked it even more when cold bore, he fired a 3.80-inch, nine-round group standing one-handed at 25 yards. For a mass-produced pistol, the Elite Stainless P220 is match-grade accurate. Besides "hunting and just bragging rights," Bethards thought it would do well in long-range Handgun Metallic Silhouette competition.
For our recoil analysis, we compared the FBI's Federal 190-grain JHP (1,011 fps) with the hot Federal 180-grain (1,275 fps) soft point. Bethards said the FBI cartridge had 75% less felt recoil and muzzle flip than the soft point.
With the hotter load, ejection was high and right out to 25 feet. The softer-shooting FBI rounds kept showering me while I photographed Bethards from the side. Bethards thought the pistol was well balanced and had good weight. He also liked the grips and its overall ergonomics, which make it a naturally pointing piece.
Interestingly, we had our first and only failure to feed during Bethards' session. He took responsibility and chalked it up to his not gripping the gun aggressively enough. He stated that 1911 lovers will like this pistol, but achieving fast splits with accuracy will take a lot of practice and strong hands. A built-in compensator would help, but at the cost of some lost velocity. Nevertheless, heavy recoil took its toll, and the substantial adjustable rear sight shot loose.
CONCLUSIONS
If Dirty Harry transitioned to pistols, the Elite Stainless P220 10mm would appeal to him. Big, bright and intimidating, with the ability to back up all superlatives, it would certainly gain a miscreant's attention.
A bit large and with limited capacity for its size, it is not my choice for sub-rosa personal defense. As a hunting instrument for medium game within 50 yards, it will bring home the bacon, even though its trigger could stand some improvement.
This SIG Sauer contribution to the shooting world is superbly made, good looking, and a very accurate and powerful handgun.
Would I buy one? With three other 10mms in the safe, one of them is in danger of being sold.
Bob Pilgrim holds an MS degree, was a Marine Infantry officer during the Vietnam conflict, and retired from the FBI as a special agent, where he was the field SWAT program manager. His Special Operations and Research Unit created and trained the FBI's Hostage Rescue Team. After retirement, he was an adjunct instructor at the Smith & Wesson and SIG Sauer Academies and a subject-matter expert for the USDOS's Anti Terrorism Assistance Program.
SOURCE
SIG SAUER INC.
(603) 772-2302
www.sigsauer.com