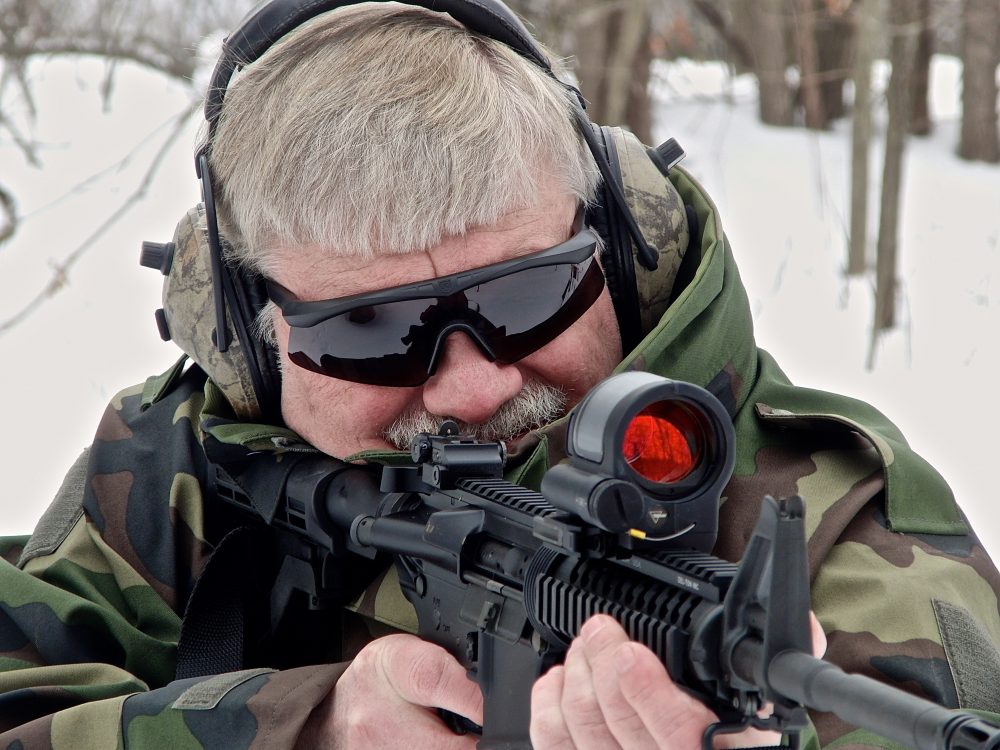 Trijicon SRS mounted on Del-Ton M4 carbine. Tether keeps compartment cap from getting lost.
---
I've been a big fan of Trijicon's ACOG series since I first tried it. I use one of the USMC RCOs on the M4 I use most often. Along with a couple of other optical sights, I rate it as the best available for the M4.
I don't use red dot sights as often as I do sights with magnification. That doesn't mean I don't appreciate the advantages of the red dot for CQC, but due to my eyes, I don't see red dots clearly. I normally see multiple dots. I gather from talking to other aging shooters that this is relatively common.
Nevertheless, I have learned how to use red dots by dialing the brightness down to give the illusion of a smaller dot, and using the highest point of the dot/dots as my aiming point. This digression will hopefully be useful for others with the same problem.
I've used Trijicon's other reflex sights and found them very good sighting devices. I do best with those that have a triangle reticle rather than a dot, but I've learned to shoot with them all. As with other Trijicon sights, they are tough, user friendly, and well designed. I especially like the RMR (Ruggedized Miniature Reflex), which I have used on carbines and shotguns.
When I received the Trijicon SRS (Sealed Reflex Sight), I was immediately intrigued by some of its features. Since the SRS red dot is only 1.75 MOA, it is easier for me to see, because even when it appears as multiples, they are compact multiples.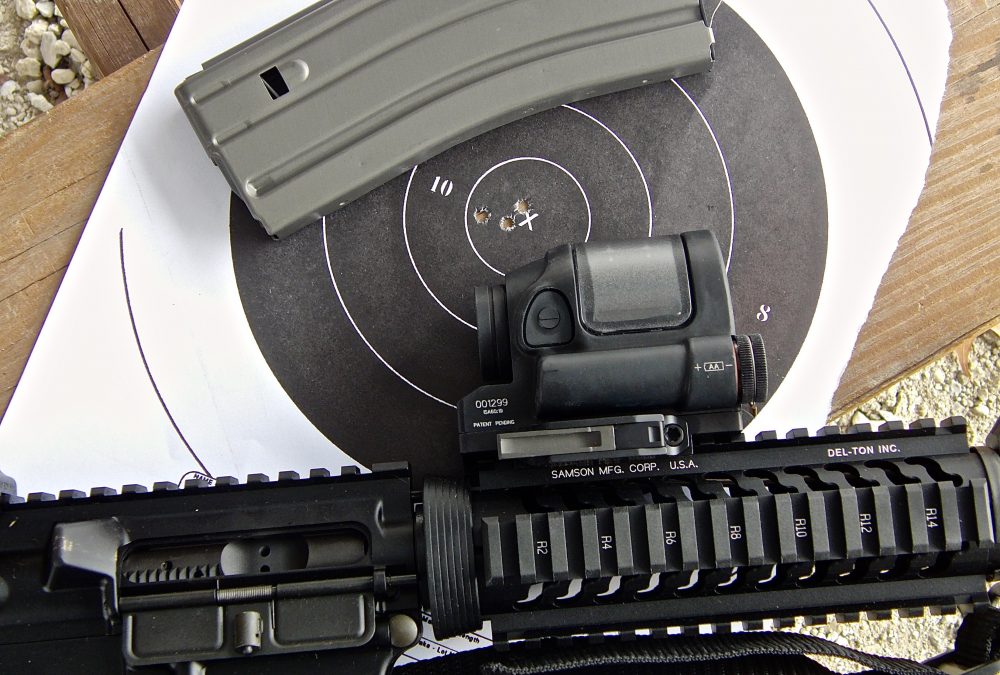 Right-side view of SRS showing throw lever mount. Tube below scope body is for single AA battery.
---
Ten brightness settings are also a good point for most users, especially as these include three night-vision settings and one super-bright setting. I was also interested to see how the Hybrid dual power technology works.
When used in sunlight, the primary power source is a solar cell, but in low light, a single AA battery provides power. If left turned on to a high brightness setting, an AA Lithium battery gives over three years of power. Most users will have a system of switching out the battery anyway. On battery-powered devices that I use all the time, I change batteries on my birthday.
The SRS's tube is short enough that the "tubular" vision present in some red dot sights is not a problem. One result is a really wide field of view, which is one of the advantages of a reflex sight.
A disadvantage of some reflex sights is that the design with the lens sticking up can cause it to get caught—I've had it happen on slings—or banged around. My Trijicon reflex sights are tough, but I like the idea of the short tube with the SRS.
The SRS is short enough that it leaves rail space for a night vision or other device such as a magnifier. The military-grade aluminum housing is touted by Trijicon as being tough, and from my handling it, that appears valid.
It is my understanding that the SRS was developed for the military market, though it will have application for law enforcement and private citizens with tactical carbines. Combat swimmers will find the fact that the SRS is waterproof to 50 meters appealing.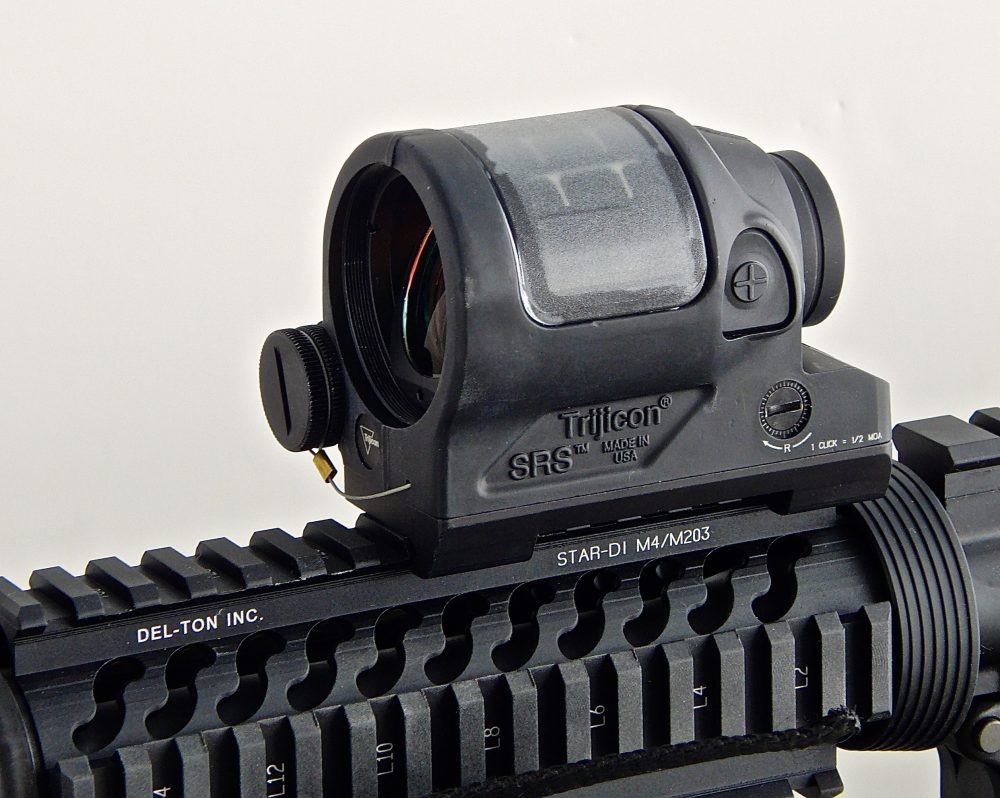 Left-side view of SRS showing solar panel, "+" brightness adjustment for red dot, and clearly marked windage adjustment screw.
---
Also appealing is the fact that the SRS is offered with the choice of a Colt Knob Mount (SRS01) or throw lever quick-release mount (SRS02). I chose the SRS02 for testing, and I think that version will likely be the most popular.
Other features are designed to make the SRS ergonomic. The brightness is adjusted by pads on each side of the tube, plus on the left side and minus on the right side. By having the pads on opposite sides, the user doesn't have to look at pads located next to each other to determine which is which or fumble between them in the dark. The pads are inset enough that they aren't likely to be hit inadvertently.
On the other hand, I was testing the SRS on a cold, snowy day and found that with gloves or cold ungloved hands, it was a little difficult to work the push pads effectively. Using the edge of a 5.56mm round helped.
Windage and elevation adjustments were very easy using clearly marked adjustment screws with an arrow showing proper direction and info on how much each click moves the point of impact (1/2 MOA).
The SRS has a "Multi Layer Broadband Anti-Reflective Coating." It is certainly a very clear lens. As with many red dot sights, the lens does glow red when viewed from the front. Users have to be aware that this can pinpoint them when using cover or concealment.
The battery compartment is easily accessed to change the battery, and as with Trijicon's other milspec optics, the battery cap has a retaining cord so it doesn't get lost.
As I mentioned, the SRS is compact—3.75 inches long, 2.5 inches wide, and 2.4 inches high. With the mount and a battery in place, weight is 13.8 ounces. It doesn't affect the handiness of the carbine when mounted.
For testing the SRS, I mounted it on a Del-Ton carbine with Samson Quad Rail. I like this carbine and often use it to test optics because I know it is accurate and quick handling. I mounted the SRS relatively far forward, in a position that still lets me use the BUIS. The throw lever mount made the process very easy.
I normally zero red dot sights at 25 yards, so I put up a bullseye target and fired three rounds, then calculated the clicks since I needed to move the POI four inches up and three inches right. Once I had it adjusted, I fired another three shots, made a couple of minor adjustments, and the SRS was on.
Since I was shooting on an overcast day, I used the fourth or fifth brightness setting for most of my shooting. As I mentioned, I consider red dot sights at their best for CQC situations, so I did most of my shooting on hanging plates between 25 and 50 yards. I could pick up the red dot quickly and found the SRS well located on its mount for a good cheek weld.
I like the SRS. Along with the Aimpoint Comp M4, it's one of my two favorite red dots. For now, I'm leaving it mounted as I want to do a lot more shooting with it. My first impressions are that it is a red dot I can use and rely on. Because it is a Trijicon, my experience tells me it will keep performing for as long as I need it.
SOURCE:
Trijicon, Inc.
(248) 960-7700
www.trijicon.com