The first automatic knife I ever owned was in junior high school and was carried during my Rebel Without a Cause phase. The one that I remember best from back in the day, however, is one I took off a local troublemaker at the popular "Lover's Lane" in my college town.
There had been a couple of rapes of college girls there, and the sheriff had asked my roommate and me—we shared a full-time deputy's job—to be on watch whenever we went parking. You can imagine our girlfriends' reactions when we told them, "We've been ordered by the Sheriff to spend as much time going parking as possible!"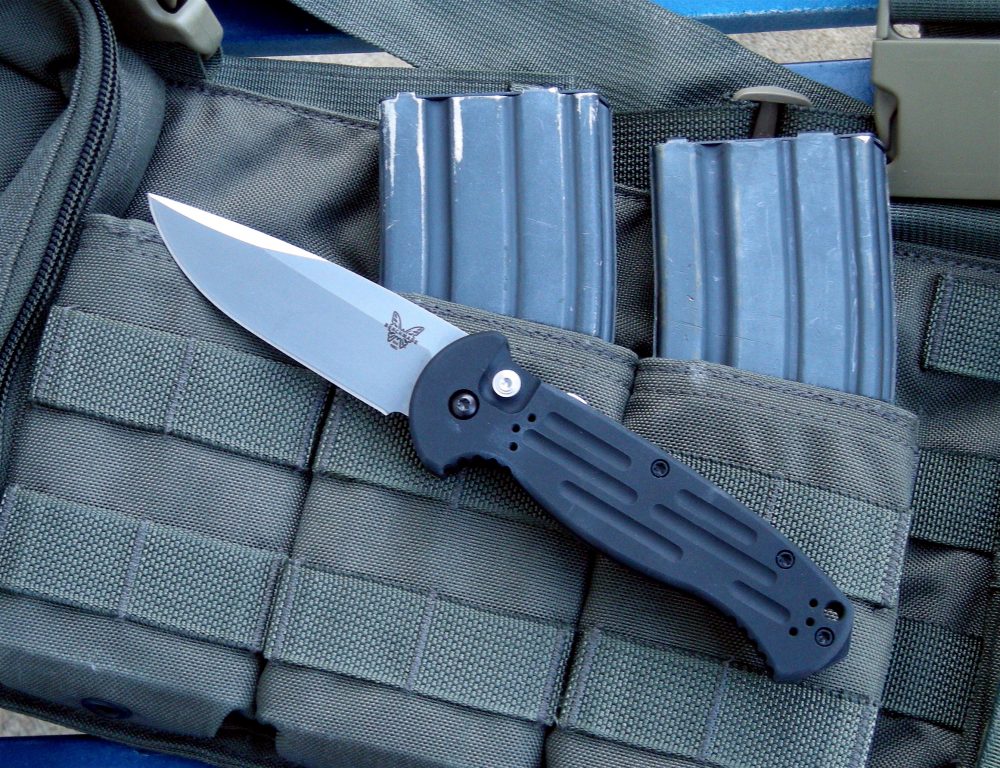 Open AFO II reveals blade. Note also large button, sliding safety atop handle, and glass breaker at base of handle.
---
In any case, I was there one night when a carload of locals stopped and began harassing people by pounding on car windows, yelling obscenities, etc. I got out of my car and showed my Chief's Special, sent my girlfriend in my car to a nearby gas station to call for assistance, and held them until a sheriff's car showed up. I took one of the Italian stiletto-type switchblades—that's what we called them then—off one of the boobs before we eventually kicked them loose with a warning. (Well, no video cameras in those days, so I may have put a couple of them over the hood of their car a bit rigorously while frisking them.) I carried the knife for two days until it popped open in my pocket during a Business Law class.
That taught me a lesson about automatic knives. Quality is always paramount with autos. That's the reason Benchmade autos are so popular among military and law enforcement personnel. For one thing, they have an excellent sliding safety that prevents them coming open in the pocket and causing the user to start singing soprano. As a result, I am always interested in any new Benchmade automatic knife. The latest one I've had a chance to test is the AFO II.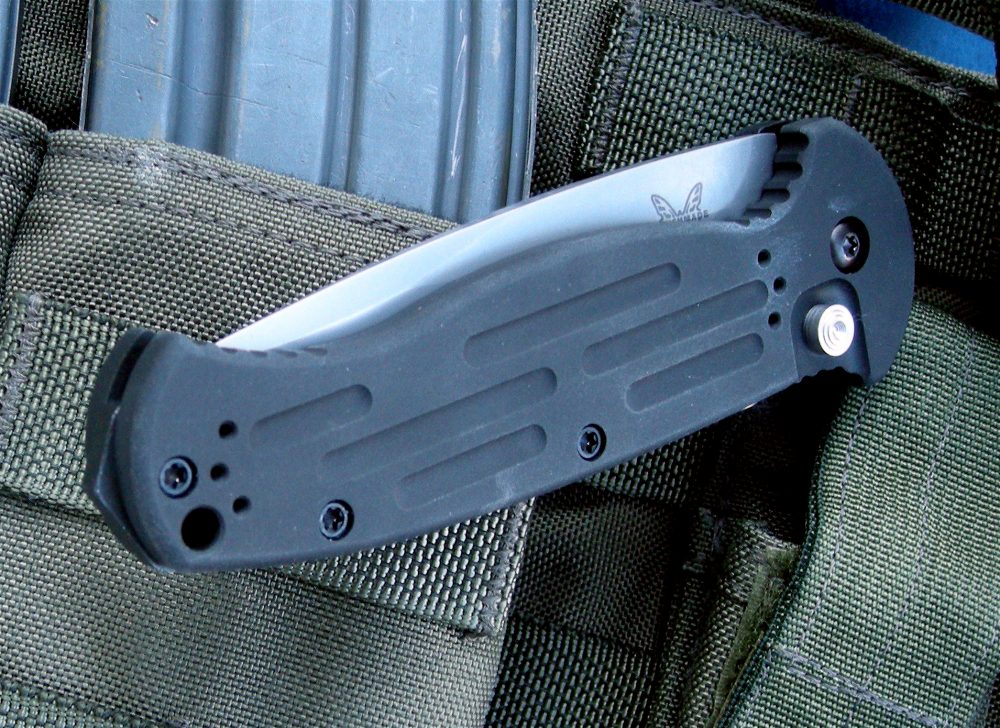 AFO II incorporates glass breaker and also features large deployment button for blade.
---
The AFO II is a successor to the AFO, which is an excellent knife in its own right. The AFO II retains the AFO's very effective sliding safety on the back of the knife and the ergonomic shape of the handle. In fact, the safety has been made even stronger. The spring mechanism is faster and stronger than on the AFO as well.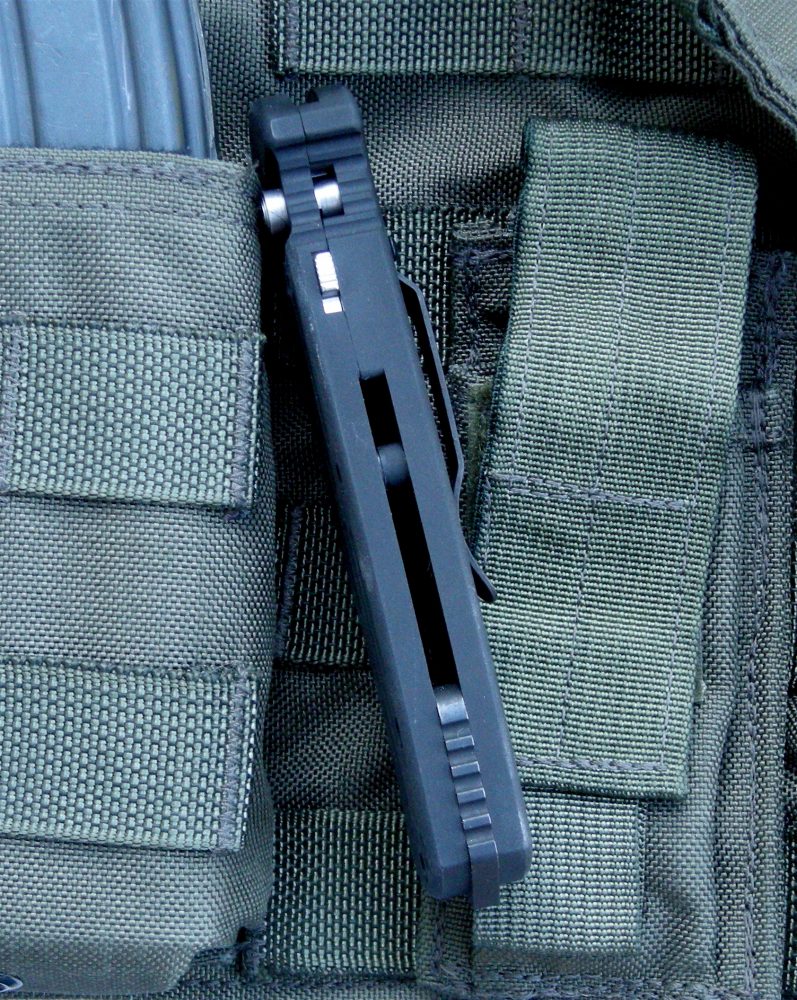 Another problem with the old cheap switchblades was weak springs that broke readily—not so with a Benchmade. The button is larger as well. Other improvements on the AFO include slots in the back to allow ease of cleaning and incorporation of a glass breaker. I'm a real believer in glass breakers and feel that any law enforcement or military knife should incorporate one.
The 154CM stainless steel (58-60 RC) blade is a little over 3.5 inches long and is available partially serrated or plain. Mine is plain. The clip point works should it be used for defensive purposes, but also for general cutting. With blade closed, overall length is 4.95 inches, so the AFO II will readily fit in a pocket. Handle thickness is .6 inches and weight is 5.8 ounces. The body of the knife is T-6 aluminum and is anodized black. Based on my other Benchmade knives with this finish, it holds up quite well.
For those who prefer to carry the AFO II using a pocket clip, the one incorporated is fully reversible and may be placed in any one of four positions. There is also a lanyard ring, useful for military personnel, river cops, fish and wildlife agents, fire and rescue personnel and others. The AFO II also comes with a Cordura nylon sheath to allow ease of belt carry. The snap flap has a pull-tab, which permits very fast opening.
Benchmade quality is a given, as are ergonomics. As service automatic knives go, the AFO II is excellent. It offers the advantages of an auto with the toughness and functionality of a standard folder. Let me mention again what an important feature the sliding safety lock is on the AFO II—Business Law classes will be much safer places!
I'll be honest: I've never met a Benchmade knife I didn't like. The AFO II is no exception.
SOURCE:
Benchmade Knives
Dept. S.W.A.T.
300 Beavercreek Road
Oregon City, OR 97045
(503) 655-6004
www.benchmade.com