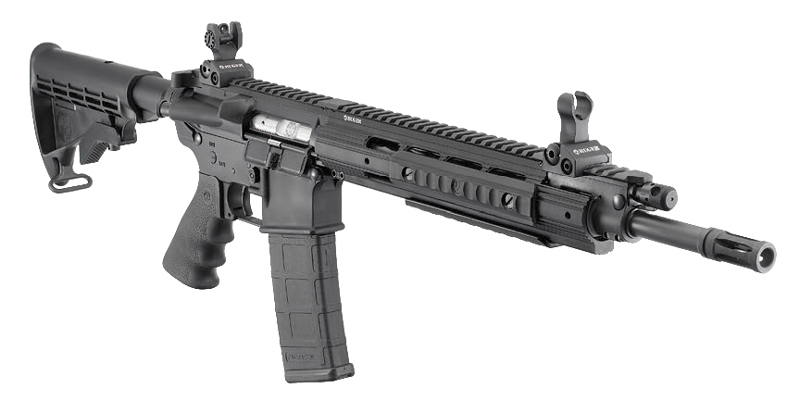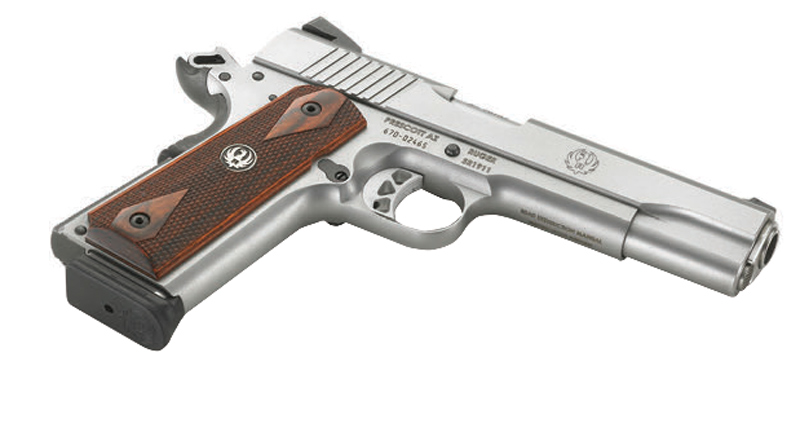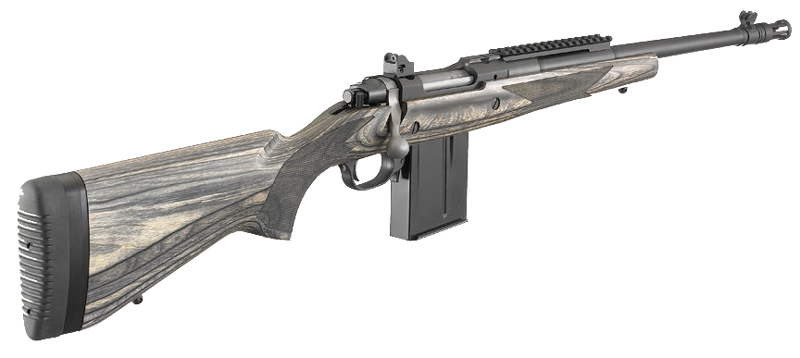 Generally speaking, I have found that firearm manufacturers specialize production into categories. By categories, I mean sporting arms, competition and personal defense. Most firearms companies want to be the single source for all their customer's needs within a certain product line. This ensures loyal repeat customers, which are the key to steady sales performance as a company. This is understandable, as market sectors and customers are very often distinct in their needs.
STURM, RUGER & CO.
A manufacturer that is a noteworthy force in the U.S. for all firearm categories— sporting, competition, and personal defense—is Sturm, Ruger & Co. I may be late arriving at this revelation. I say this as I am familiar with Ruger Red Label shotguns, M77 rifles, and Redhawk revolvers, but had an epiphany related to recent introductions such as the SR1911, Gunsite Scout Rifle, and SR-556 piston-driven AR catching my eye.
So much has been written about the 1911 and AR-15 platform that any writer must tread lightly in representing a manufacturer as offering something "new." I will say that Ruger's renditions of both the 1911 and AR are refreshing in the tweaks made to make them Ruger products and separating them from other models on the market. The Ruger Gunsite Scout Rifle is at the other end of this spectrum, as it takes a concept put forth by Jeff Cooper and offers shooters the unique Scout Rifle platform endorsed by Gunsite Training Center.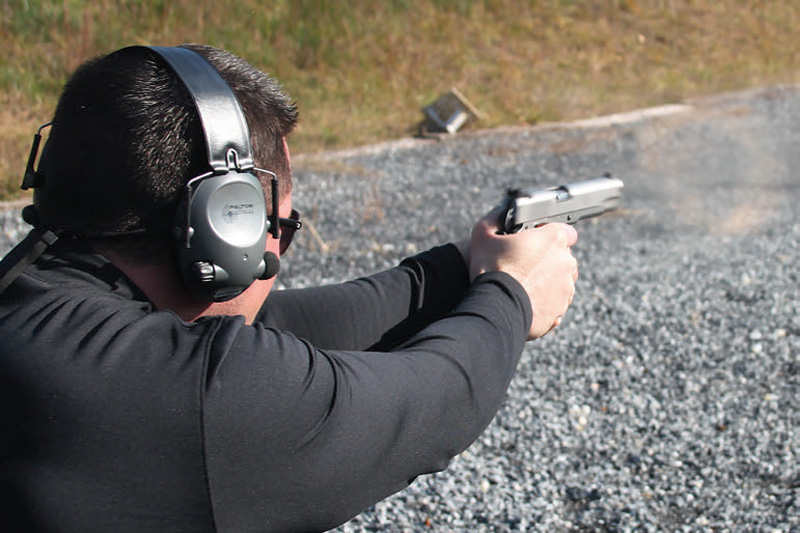 SR1911
The SR1911 can be described as an entry 1911 in terms of price, but that about ends the analogy, because I found it performed way above this level. There is no doubt that John Browning's 1911 pistol is an icon, and 1911 manufacturers have never been more plentiful. Its slim frame width makes it an ideal carry gun, and single-action trigger promotes accurate shooting. Ruger is quietly creating a loyal following due to its quality and grounded approach in making its SR1911 homage to the 1911 design lineage.
In the stainless steel SR1911 model, Ruger has turned its attention to creating its version of the classic full-size Government Model 1911. While offering shorter, more compact 1911s in this age of concealed carry seems the norm, the full-size Ruger SR1911 attracts attention with its hardy aesthetics. The SR1911 measures 8.6 inches long, is 5.5 inches high, and features a five-inch barrel. It weighs 2.4 pounds thanks to the use of stainless steel in its frame and slide. The SR1911 is made in the USA with frames cast in Ruger's Newport, New Hampshire facility and shipped to Prescott, Arizona, where the pistol is finished and assembled. The Ruger SR1911 represents portability, reliability, controllability and lethality, a perfect combination for a personal defense handgun.
The SR1911 is equipped with features more often found on 1911s costing much more, such as skeletonized hammer and trigger, dovetail adjustable sights, lowered ejection port and extended extractor, extended thumb safety and magazine release button, and checkered backstrap. Two magazines are supplied: one a flush-fitting sevenround and the other an eight-round with bumper pad.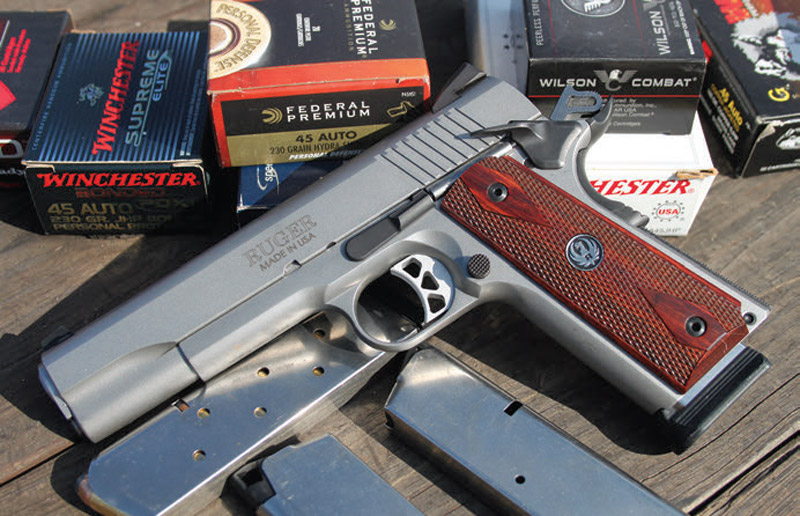 A full-length guide rod is not employed in the SR1911, but rather a plug bushing and spring as designed by Browning. This will warm the hearts of many 1911 purists who deride the use of full-length guide rods in a 1911 as a solution to a problem that does not exist, not to mention that the full-length guide rod contributes to "over-tightness" in the 1911 design that may cause finicky behavior in the reliability department.
Aesthetically pleasing yet functional hardwood grips with texturing to match the flat mainspring housing stippling contrast nicely with the SR1911's stainless finish. Along these lines, the grip safety, thumb safety, sights and magazine release are matte black and contrast nicely with the pistol's predominantly stainless finish. The Ruger SR1911 typifies why the 1911 is still as popular as ever.
I used Black Hills Ammunition, Hornady, Federal, Wilson Combat and Winchester Ammunition for my evaluations. The SR1911's ergonomics and handling characteristics are quickly appreciated and make a user understand why the 1911 is a legend.
I experienced no malfunctions with the Ruger SR1911 while test firing over 300 rounds during initial range visits to Echo Valley Training Center (EVTC). Local firearm trainers Jeff and Gretchen Burch from Take Aim LLC assisted during range evaluation. The SR1911 was tested by verifying sight zero and then firing several magazines rapidly at various steel man targets, dueling trees, and plate racks. This quickly shows if any reliability issues exist.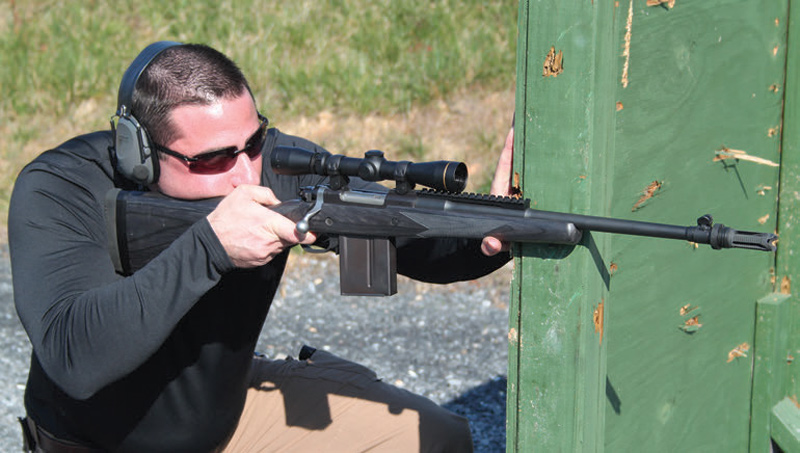 Loads fired in the SR1911 spanned from 185 grain to 230 grain, with hollow points, semiwadcutters, and FMJ bullet profiles utilized. Wilson Combat magazines supplemented the two magazines supplied by Ruger with the SR1911. The Wilson Combat magazines were eightand ten-round variants.
In summary, the SR1911 impressed with its overall fit/finish and, more importantly, reliability and accuracy. The SR1911 is neither too tight, which affects reliability, nor so loose it rattles when shaken, impacting accuracy. Ruger's experience in both casting and other manufacturing techniques makes this rendering of Browning's classic 1911 shine.
GUNSITE SCOUT RIFLE
Everyone is dubious of something that promises to do several tasks well versus a dedicated product. The underlying concern is that compromises involved with making something adaptable invariably lead to compromises in performance. The Ruger Gunsite Scout Rifle refutes this assumption.
The main component in the Scout Rifle concept as defined by Jeff Cooper is versatility. A quick review of Cooper's Scout Rifle tenets is in order. "A general purpose rifle … conveniently portable, individually operated firearm, capable of striking a single decisive blow, on a live target … at any distance at which the operator can shoot with the precision necessary to place a shot in a vital area of the target."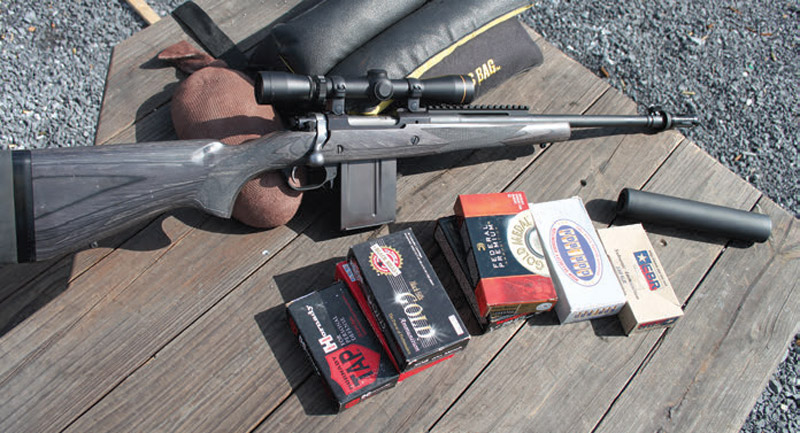 Cooper specified dimensions of an overall length of 39" and weight of 6.6 pounds, with the now-signature intermediate eye relief low-powered scope mounted in front of the action. The rifle's chambering must be powerful enough to anchor a quarry weighing up to 400 pounds while still lending itself to other criteria such as capacity and size of the rifle. The .308 Winchester has come to be accepted as the most natural cartridge.
There have been a couple of commercial offerings attempting to satisfy Cooper's vision. Cooper himself closely collaborated on the Steyr Scout Rifle. Ruger's Gunsite Scout is a recent variant that I have come to favor based on factors such as cost and performance.
The Gunsite Scout Rifle is based on the proven Ruger Model 77 bolt action. The M77 action takes full advantage of Ruger's strength in investment castings, featuring a blend of the best qualities found in the military Mauser 98 action and sporting Winchester Model 70 actions. The Model 77 is strong, reliable and recently made better by Ruger's LC6 trigger.
What immediately sets the Gunsite Scout apart from other Ruger bolt actions is the barrel profile, which includes a rail section in front of the action and provision made for use of detachable five- and ten-round magazines.
The Gunsite Scout features a 16.25- inch hammer-forged barrel with 1:10 right-hand twist and is chambered for .308 Winchester. A ten-round detachable magazine is shipped with the rifle, with a five-round magazine available. The magazine is a metal single-stack design that allows for centerline feeding for maximizing reliability. Ruger recently introduced a polymer version of the Gunsite Scout's magazine with three-, five- and ten-round capacities. Importantly, one can still feed single rounds if needed by simply placing them in the raceway.
Sling swivels are standard with the Ruger Gunsite Scout. The rifle comes equipped with sturdy, fully adjustable open sights that are more than usable for anyone not wanting to mount a scope.
The LC6 trigger measured slightly over four pounds in pull weight using an RCBS trigger gauge.
The grey laminate stock is adjustable between 12¾- and 14¼-inches length of pull. All metal surfaces of the rifle are covered with a matte finish for maximum resistance to weather and to minimize glare off the rifle.
Ruger maintained the M77's integral scope mounts around the action for proprietary Ruger scope rings. This offers the user flexibility for mounting optics either on the forward rail section—like a Scout scope—or in the more traditional over the action. The Ruger rings mate up right to the action for solid attachment and help ensure reliable scope zeroes.
I chose a Leupold VXII 2-7X33mm to complement the Gunsite Scout. The VXII 2-7X is one of the best-value scopes on the market. It has the typical great Leupold reliability, clarity, and image quality, with a near-perfect variable power range that lends itself to hunting in cover, yet set at 7X is more than enough magnification for shots in open terrain. The scope's relatively compact size of 11 inches and 10.5-ounce weight allow for use on any type of rifle without sacrificing anything in terms of carry characteristics or shooting effectiveness.
Various .308 loadings from Black Hills Ammunition, Federal, Winchester and Hornady provided the basis of my accuracy tests. The Black Hills Match loads tested consisted of 168-grain Match bullets. BHA Gold 180-grain AccuBond loads were also tested, as this load is more applicable to performance on larger-than-deer game animals. The Federal chambering was the venerable 168-grain Match load. Hornady TAP 168-grain and Winchester 168-grain Match were also used. The Ruger Gunsite Scout's 16¼-inch barrel produced velocity in the mid to high 2,500 feet-per-second (fps) range with the 168-grain loads, and the 180-grain AccuBond in the low 2,500 fps.
The Ruger Gunsite Scout shot all the premium loads tested into 1.75 MOA or better at 100 yards. Testing was done off a bench supported by a bipod or "bull bag" and rear sand bag. The accuracy figures are based on firing three five-round groups and averaging group sizes. The Federal and Black Hills 168-grain Match produced the best 100- yard average at just over one inch.
TacStrike steel targets were smacked with ease out to 250 yards either standing or using field-expedient rests. The increased accuracy of the Gunsite Scout with Leupold optics paid great dividends. While by no means rivaling a semiautomatic in speed, the detachable magazines were handy to recharge the Gunsite Scout. Initial tightness from the new Ruger M77 bolt action was quickly "slicked" up after range and field tests, with the bolt smoothing up nicely. Positive functioning was never an issue.
I did mount a Leupold 2.5X IER scope to fully honor and evaluate the Scout concept. This scope offers the capability to engage multiple targets in rapid sequence more accurately than open sights and at greater distances. As many maturing shooters can attest, the single focus plane with reticle is easier to shoot accurately than coordinating front and rear sights. Shooters familiar to red dots will be pleasantly surprised by the utility of the Leupold 2.5X Scout scope.
In an effort to demonstrate the Gunsite Scout's flexibility in use, I switched out the factory flash hider with a Yankee Hill Machine Phantom flash suppressor. The Ruger Gunsite Scout combined with YHM suppressor and Engel Ballistic Research or CorBon sub-sonic .308 loads is eerily efficient out to 100 yards. Mounting an American Technologies Network ATN PS22 Night Vision device in front of the Leupold scope turned the Ruger Gunsite Scout into a lowlight/nolight tool.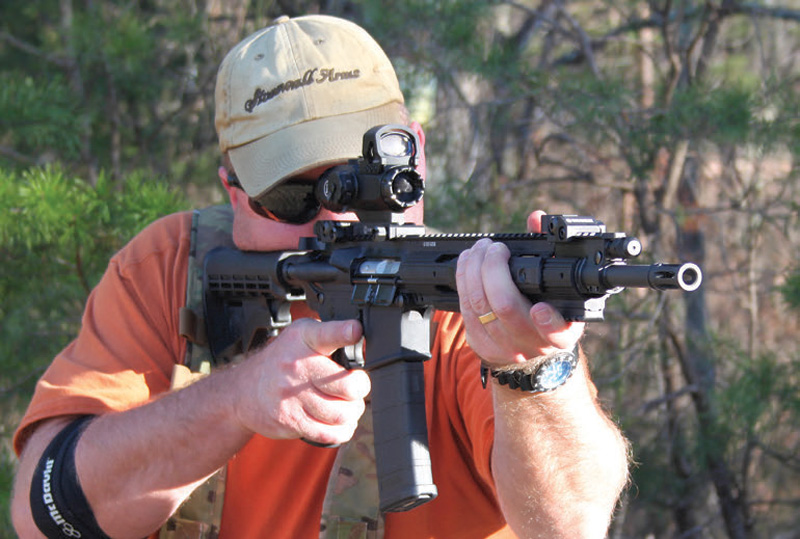 SR-556
It's no secret that the AR is the best-selling civilian and law enforcement rifle not only in the U.S., but also the world, with the U.S. equipping and training so many armies around the globe.
Of late, attention seems to be on "improving" the AR platform via developing piston-driven ARs in lieu of Stoner's original gas-impingement design. Whether or not piston-driven ARs are superior to their gas impingement brethren often generates heated discussion. One thing that is not debatable is the number of manufacturers rushing to create piston-driven ARs. This leads us to Ruger's entry into the AR field— the SR-556.
The SR-556 represents one of the latest gas-piston ARs introduced into the U.S. market. Typical of Ruger methodology, an AR design was not hastily introduced. Ruger entered the fray only after thoroughly exploring the topic and by designing their version of a short-stroke push rod piston-driven system for the AR. Ruger describes their short-stroke piston as a two-stage affair, eliminating the sharp pulse often associated with other piston ARs as the op-rod strikes the flat-faced carrier key located on the bolt carrier. Ruger's transfer rod lies behind the gas block regulator and rests between captive springs and bushings. The transfer rod is acted on by the piston between it and the gas port regulator, sending it rearward to work the SR- 556's action.
One interesting feature of the SR- 556's operating method is the inability to remove the transfer rod and spring for cleaning and maintenance. Ruger claims this is not needed, as the components are nickel-Teflon coated for lubricity and rust resistance, with the transfer rod spring made from stainless steel. The movement of the action provides a functional cleaning of the transfer rod.
The specific Ruger SR 556 model evaluated for this article is the recently introduced SR-556 Model 5913 carbine chambered in 5.56x45mm. It is one of the lighter Ruger ARs, weighing in at slightly over seven pounds. It features a minimized rail design and fluted barrel that help reduce weight. The SR-556 Model 5913 carbine shows Ruger's versatility in satisfying customer needs by not using a full-length quad rail, but instead a lower profile handguard with adjustable three-inch Picatinny rail sections. The top of the rifle, from the back of the receiver to front of the gas block, has a full-length Picatinny rail. The more minimalist approach for rails still allows plenty of room for vertical foregrips and lights/lasers if needed.
Ruger's piston AR design has a fourposition gas regulator that lets the user completely cut gas off (Setting #0), in effect making the SR-556 a manually operated rifle up to Setting #3, with the widest orifice in case the rifle is extremely fouled or underpowered ammunition is encountered. Setting #2 is the normal setting. Ruger is "all in," making the SR-556 one of the most durable piston-driven ARs on the market by chrome plating the piston and bolt carrier, along with chrome lining the 1:9 twist barrel.
The Ruger SR-556 lineup is not the least expensive AR option, with suggested retail prices near $2,000. However, Ruger does provide a rifle that is good value in terms of what comes with it, making it ready for immediate use once unboxed. Three Magpul 30-round magazines are included, along with a very functional soft case for the rifle. Troy Industries iron sights are also included. They can serve as standalone battle sights or folded down act as backup sights when an optic is mounted. A sight adjustment tool also comes with the rifle.
I decided to take advantage of the Ruger SR-556's flattop upper by installing a multipurpose optic tailor made for a lightweight AR carbine—the new Leupold HAMR. The HAMR features a fixed 4X main tube with Leupold Delta Point mounted on top. This combination addresses most situations likely to be encountered with the SR-556—magnification for longer shots and red dot for close-range affairs. The 5.56/.223's flat trajectory aids in making hits out to 250 yards without having to compensate excessively for bullet drop.
Ammunition tested with the handy SR-556 Model 5913 was a combination of Black Hills Ammunition loads, Hornady 60-grain TAP loads, and Winchester 55-grain FMJ. The SR-556 kept all loads tested less than two inches at 100 yards.
Range testing commenced with a functionality test consisting of dumping multiple magazines at several targets in rapid fashion once sight zeros were verified. Any fighting rifle must be reliable to be worthy of consideration. The Ruger AR's gas piston operating rod system proved its worth in keeping the bolt carrier group cooler and cleaner compared to direct impingement AR rifles.
Team tactic exercises that involve moving to and from a designated target area using cover while either changing magazines or engaging targets when a partner is reloading are other good weapon evaluation drills. One gets a good sense of the way a weapon handles along with its reliability due to the sum of ammunition expended in the short time frames characteristic of these team tactic drills. The collapsible stock was appreciated during these tests, so that length of pull could be modified for efficiency.
Other unscientific tests consisted of blazing away at targets of opportunity located around the range, such as car hulks, manhole covers, and steel TacStrike targets located on EVTC's benched berm system. Combined with its perfect reliability, the Ruger SR-556 handled as expected.
The combination of the SR1911, SR- 556, and Gunsite Scout will take care of most imaginable engagements from zero to 600 yards involving two- or fourlegged adversaries. Ruger has established itself as a "one-stop shop" for all consumers' needs, whether sporting or personal defense. The SR1911, SR-556, and Gunsite Scout Rifle are a combination that's hard to argue against in terms of utility for law enforcement or security- conscious citizens.