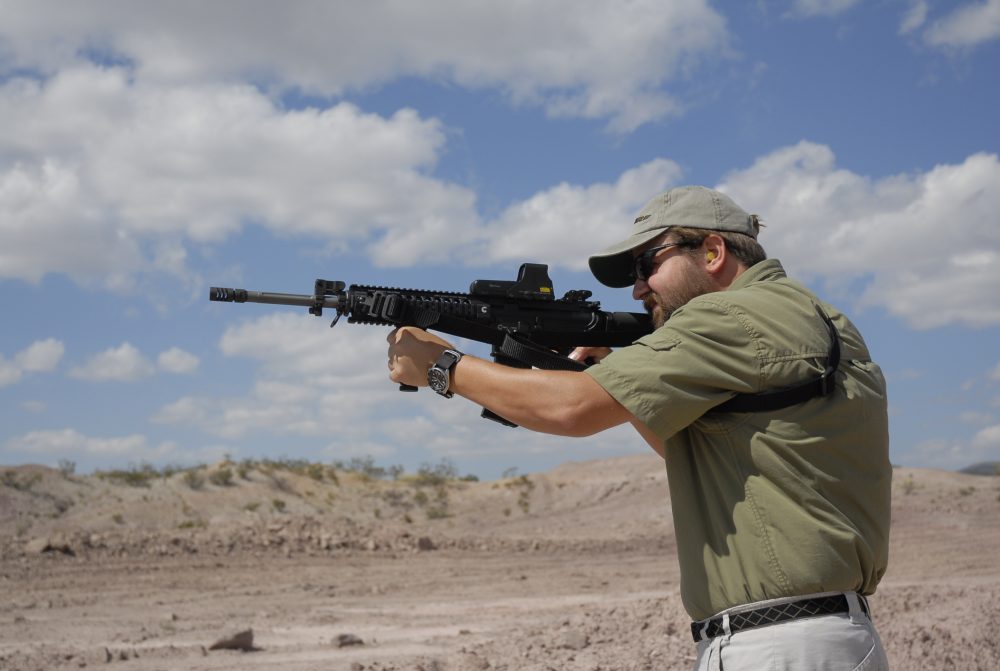 Sabre outfits Elite rifle with mid-length gas tube and handguard.
---
The name Massad Ayoob should be familiar to readers of gun magazines and law enforcement journals. Ayoob has spent his professional life analyzing, studying and disseminating the dynamics of police work. He is also a strong advocate of the armed citizen and is often called as an expert witness to help defend those whose inalienable right to protect themselves results in them being arrested or sued in civil court. With a strong knowledge of firearms, Ayoob's by-lines are often attached to evaluations of personal defense and law enforcement-style weapons. Now, Ayoob has attached his name, literally, to an AR-style weapon that he says would be perfect as a perimeter weapon, SWAT gun or competition rifle.
While the name Ayoob may be familiar to you, the name Sabre Defence may not be. Originally based in the United Kingdom, Sabre Defence opened a manufacturing plant about 3-1/2 years ago in Nashville and is building AR-style rifles. Their latest offering is the XR15A3 Massad Ayoob Elite Rifle—and it possesses all of the refinements that Ayoob thought would make it appropriate for police work.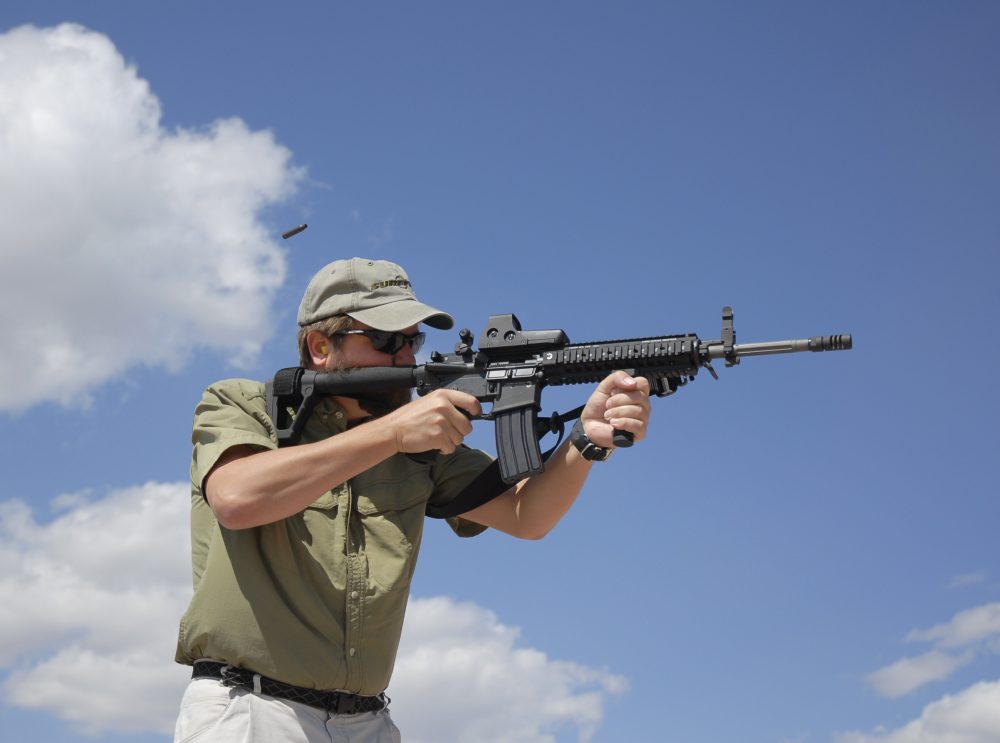 Ayoob said about Gill Compensator, "From a braced position the dot never comes off the kill zone on a 100-yard target."
---
NEW KID ON THE AR BLOCK
Sabre Defence has been building ARs in England for years, selling their rifles to law enforcement and contractors in Europe. Countries like France, Germany, Spain and the Netherlands, where it is still legal for authorized citizens to own these rifles, are also customers of Sabre Defence. But it was his search for a steady supply of barrels that brought Sabre's owner, Guy Savage, to the United States.
Years of systematic dismantling of our military by the Clinton administration forced American barrel maker RAMO into bankruptcy court. Savage bought the company, which at the time consisted of little more than a building and some machinery. Savage's timing was perfect and military contracts were soon rolling in again. Sabre now has over 70 full-time employees who man the 35,000-square-foot factory and they build a large percentage of our military's M2 .50 barrels. But Savage is smart enough to know that the military contracts will end one day and so he is seeking to diversify into other markets. Law enforcement seemed like a natural fit for the company.
Ayoob's association with Sabre Defence was happenstance. I spoke with the noted author recently and he said, "I first ran across Sabre Defence's rifles while at an AR-15 armorer's school taught by Greg Lee. Sabre had supplied all of the ARs for the class and one comment stands out in my memory. One veteran police armorer said, 'If Rolex made AR-15s, this is what they'd look like!"'
In fact, Ayoob was so impressed that he put in a request with a company representative to get a test and evaluation sample. A couple days later Guy Savage called him. It turns out that it wasn't the first time the two had spoken.
"Guy had been one of my students when I was still teaching in the UK," said Ayoob. "I had no idea that he had any interest in Sabre Defence."
Savage later flew to New Hampshire, where he and Ayoob spec'd out the attributes that the ideal law enforcement carbine should possess. In the end they designed two law enforcement carbines: the Massad Ayoob Professional Rifle—designed to be a patrol carbine that has many M4-style features—and the more elaborate Massad Ayoob Elite Rifle, which is the subject of this article.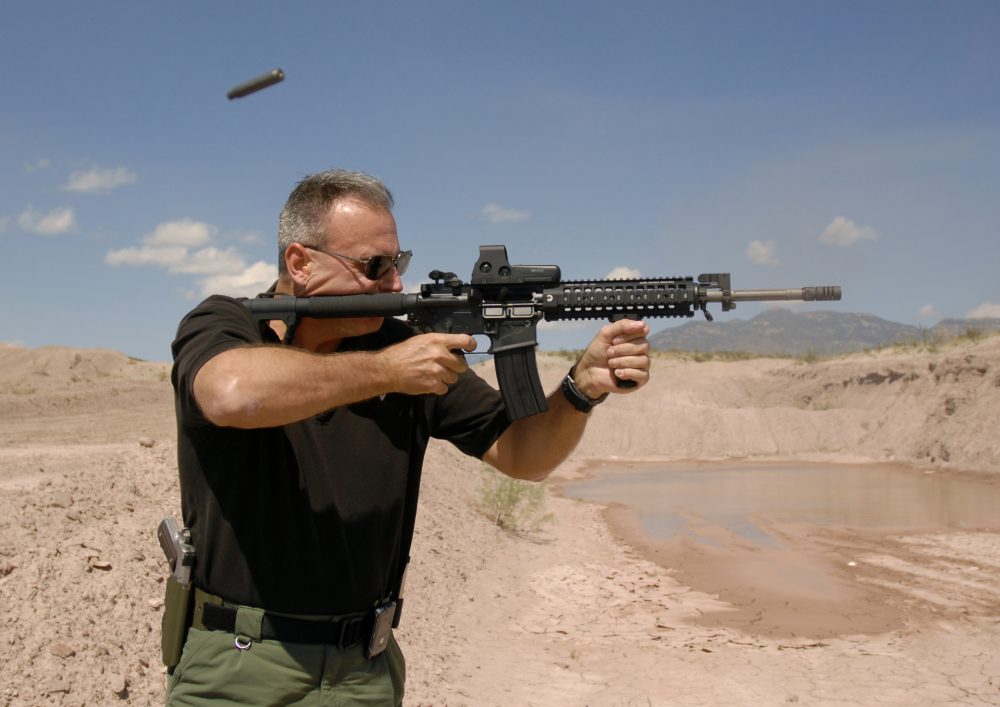 Gill Compensator is flattest shooting muzzle attachment that author has ever used.
---
RIFLE DETAILS
While there are numerous AR manufacturers in the United States, only a very small minority of these companies actually manufacture their own receivers. Instead they rely on outside vendors to machine their lowers and then stamp the company name on it. Sabre Defence machines their own receivers. They start with tough 7075-T6 aircraft-grade aluminum forgings and then CNC the receiver before it is hard coat anodized. I said earlier that Massad Ayoob had "literally" attached his name to Sabre's new carbine—you'll note in the pictures that Ayoob's signature stretches across the right side of the magazine well. I can't imagine a more hearty endorsement than that!
While few companies make their own receivers, even fewer actually machine and rifle their own barrels. This puts Sabre Defence into an even more elite category of manufacturer. Sabre possesses the specialized machinery for deep-hole drilling, cut and button rifling. My test sample wears a barrel machined from 410 corrosion-resistant, stainless steel and rifled with a 1:8 twist.
To reduce glare, Sabre heavily bead blasts the barrel to give it a matte, non-reflective finish, but what really gives the barrel its distinctive look are the flutes that are cut into the barrel. Flutes are cut forward of the front sight, but also under the handguard as well. I spoke to Grant Morgan, one of Sabre Defence's technicians, and he said there were multiple reasons for the flutes. Fluting the barrel's exterior increases its surface area and theoretically makes the barrel more rigid. More surface area also means that it will take longer for the barrel to heat up and that it should cool more rapidly. But, Morgan says, "The biggest advantage to the fluting is the weight reduction. By removing metal from the barrel, we give the carbine a much better balance."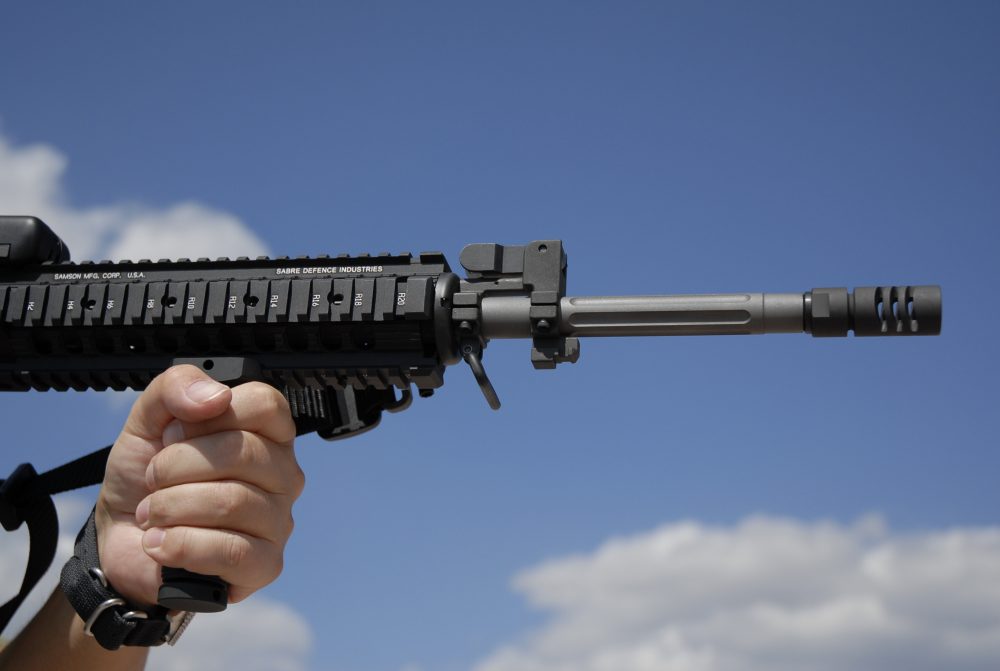 Ayoob Elite Rifle from Sabre Defense features fluted match-grade barrel, Samson free-floating handguard, Gill Compensator and folding front sight.
---
Sabre Defence also does something a little different with this 16-inch carbine. Their engineers understand that the shorter the gas tube, the higher the port pressure is. Higher pressures are thought to shorten the service life of a weapon and also thought to cause a host of cycling and ejection problems. By extending the length of the gas tube, pressures are dropped dramatically. Sabre uses what they call a mid-length gas tube whose length is in between that of a carbine tube and a rifle length tube.
One immediately noticeable benefit of the mid-length gas tube is that the handguard needs to be longer in length. For mounting accessories, Sabre uses a Samson free-floating, four-rail handguard. Each rail position is marked with a small white number, easily visible with night vision gear, so that the operator can attach sights and other accessories in a consistent manner.
For sights, Sabre uses a detachable folding rear sight and a folding front sight, both of which require pushing a button once they have been deployed to fold. Both are free from wobble and are solid when locked in the up position. For night fighting capability, both sights have tritium inserts. Sabre also includes an EOTech 552, night vision compatible, holographic sight. Over the years I have found this sight to be extremely fast and effective when targets are under 100 yards. It's no wonder that it is a favorite of our military and contractors working in harm's way.
Sabre Defence Massad Ayoob Elite Rifle possesses accuracy and reliability needed for critical police work.
---
SHOOTING IMPRESSIONS
When I first spoke with Ayoob about his namesake rifle, he alerted me about the super-effective compensator. "Mike, from a braced position, the dot doesn't even move off the kill zone on a target 100 yards away," said Ayoob. Called the Gill Compensator by Sabre, it is the most effective muzzle attachment that I've ever shot. I took a bunch of my steel targets out to the desert and set them up between 20 and 70 yards and practiced double tapping them with the Elite Rifle with the EOTech sight installed. I also used a vertical foregrip and fired my shots as fast as I could slap the trigger. There was virtually no muzzle lift and I was pressing the trigger as fast as I could move my finger. I'm so impressed with the compensator that I'm going to put one on my own three-gun match rifle. According to Sabre, any suppressor that will work with the standard A2 flash hider will also work with the Sabre Defence Gill Compensator.
I didn't notice it while I was doing the rapid-fire exercises, but Ayoob had mentioned to me that I would feel a puff of air each time I fired the gun. I had forgotten this comment until I bench-rested the gun for accuracy.
Ayoob said, "My first thought was, what the heck! This thing is blowing gas back this far? Then I realized it was cool air. The comp is working so effectively that, though the gas venting stops a few inches back from the muzzle, it is displacing enough surrounding air that the shooter gets a cool puff of wind in the face with each shot."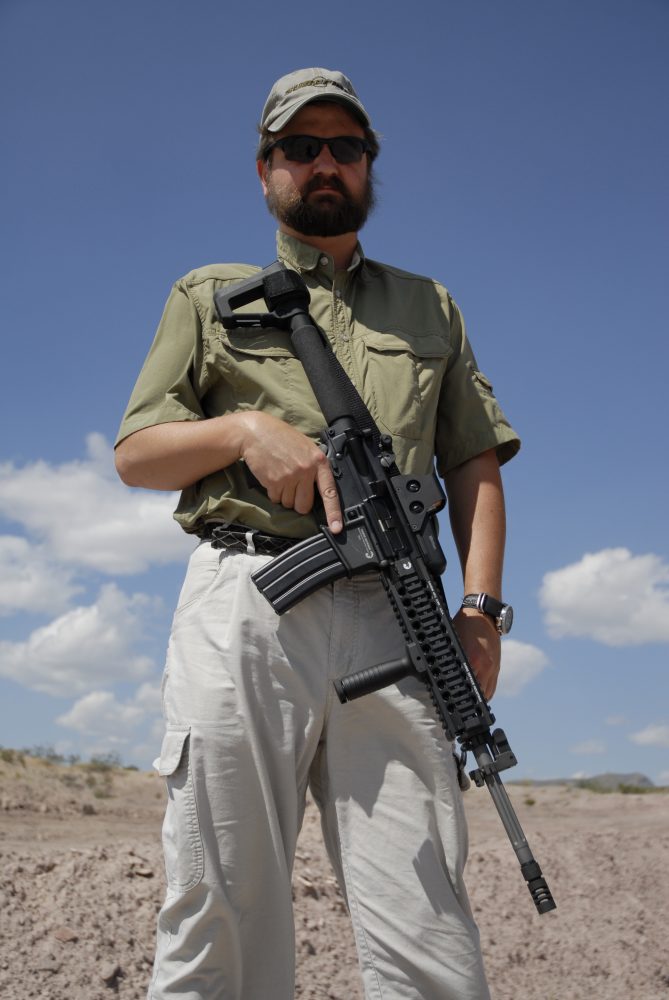 But the puff of cool air isn't bothersome or distracting in any way. I did all of my shooting from a cement bench rest and used a Trijicon 3X9 AccuPoint scope to wring all of the accuracy I could out of the 16-inch barrel. The Elite rifle has a match-grade two-stage trigger that breaks crisply at exactly four pounds. In conjunction with the excellent optics, I was able to produce some really nice groups. Keep in mind that all of these groups were fired from a hot barrel, five shots to a group.
As I predicted before I began shooting, the 55-grain bullets were not the most accurate. The 1:8 twist barrel simply wanted heavier projectiles to shoot. I watched my groups shrink as the bullet weight increased. My single best group was just .89-inch with Black Hills 77-grain Nosler bullets, followed by the Hornady 75-grain BTHP at .95-inch.
Thus far I have over 400 documented rounds through the Massad Ayoob Elite Rifle and have yet to experience my first malfunction, despite not having cleaned the gun during my evaluation. In fact, Ayoob told me that he has not heard of anyone having a malfunction with a Sabre Defence rifle. This is exactly the kind of reliability needed for a gun that will be used for law enforcement purposes. Ayoob told me that he has heard of a number of agencies that have been testing the rifle for adoption and that it has beat out some of the more well-known and established AR builders. "I'm very pleased with the quality of their rifles and proud that they wear my name," Ayoob said.
LOADS OF EXTRAS
In addition to the EOTech 552, the Massad Ayoob Elite Rifle comes with a really handy case that Ayoob himself had a hand in designing and that also wears his signature. Constructed from heavy ballistic nylon, the case features a padded rifle compartment that holds the weapon securely via Velcro straps. There's a padded divider so that you can also carry a second long gun in the case. I found that I could slide my Remington 1100 match gun, with its 20-inch barrel, into the case with only a couple inches of stock hanging out. There's also a side pouch for a pistol and room for plenty of ammunition and magazines. Sabre includes two 20-round mags and two 30-round mags with the Elite rifle, as well as a Wilderness Giles sling and an Otis cleaning kit.
READY TO PROTECT & SERVE
Suggested retail of the Sabre Defence XR15A3 Massad Ayoob Elite Rifle is $2,929.99. If that price sounds a little steep to you, consider all of the upgrades and extras that come with this package: two-stage trigger, ACE SOCOM stock, EOTech 552, match-grade barrel, Gill Compensator, folding night-sights, Ergo pistol grip, Samson free-floating four-rail handguard, ambidextrous safety/selector, tactical case, cleaning kit and magazines. You should also consider that this package presents the user with a set-up that will not need to be modified for duty use. There's nothing that needs to be switched out, upgraded or accessorized, thanks to Ayoob's expertise in creating a rifle that will fulfill a law enforcement professional's needs. It's ready to protect and serve right out of the case.
SOURCES:
Sabre Defence Industries, LLC
Dept. S.W.A.T.
450 Allied Drive
Nashville, TN 37211
(615) 333-0077
www.sabredefence.com
Black Hills Ammunition
Dept. S.W.A.T.
P.O. Box 3090
Rapid City, SD 57709-3090
(605) 348-5150
www.black-hills.com
EOTech
Dept. S.W.A.T.
3600 Green Court
Suite 400
Ann Arbor, Michigan 48105
(734) 741-8868
www.eotech-inc.com
Hornady Mfg. Co.
Dept. S.W.A.T.
Box 1848
Grand Island, NE 68802-1848
(800) 338-3220
www.hornady.com
Trijicon, Inc.
Dept S.W.A.T.
P.O. Box 930059
Wixom, MI 48393
(248) 960-7700
www.trijicon-inc.com