The ability to carry a weapon every day for self-defense is one of our inalienable rights. It is also a huge responsibility.
Carrying a firearm concealed gives a private citizen or off-duty officer a tactical advantage. I can't think of many pros to open carry.
Some say a full-size gun is too hard to conceal, however I know several average-size women who do just that by giving a little thought to their wardrobe. It is much easier for most men.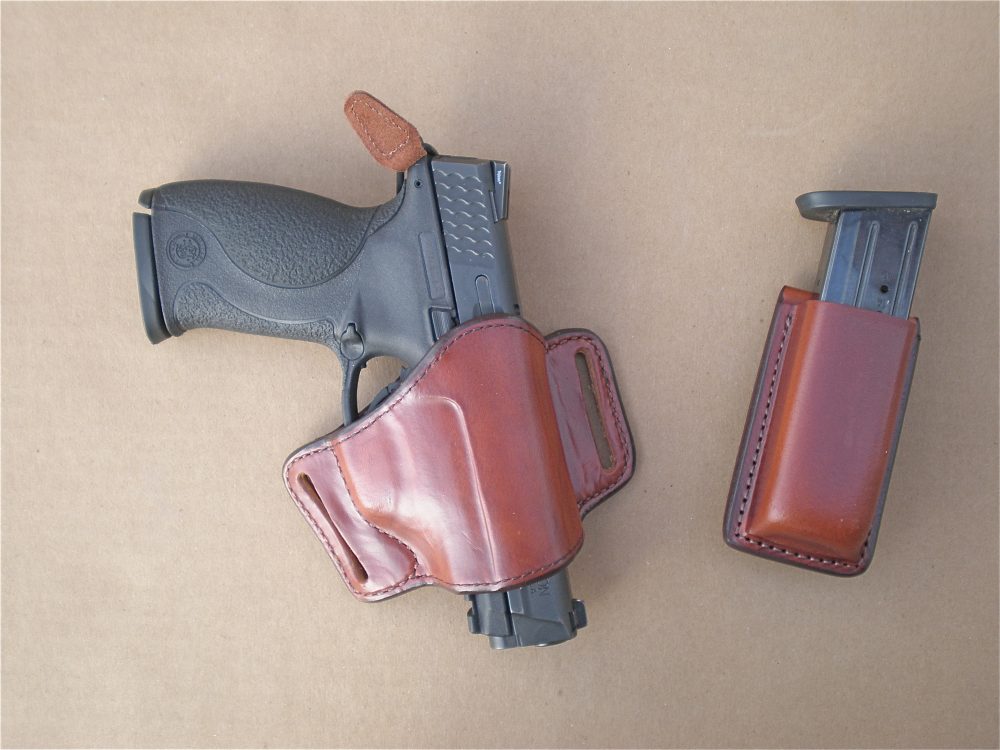 Model 105 Minimalist holster shown with S&W M&P and Model 20A Open Magazine Pouch.
---
In "open carry" states, there are those who proclaim that they are big supporters of the Second Amendment and refuse to obtain a concealed weapons permit, saying that wearing a pistol in the open may discourage crime.
Perhaps, but that openly carried pistol may also become a target indicator to bad guys, and I don't want hot lead coming in the direction of myself or my son because I support the Second Amendment. To me, concealed carry is the way to go.
I recently received a Model 105 Minimalist™ holster from Bianchi International for evaluation. Available for many different handguns, the test holster was for an S&W M&P.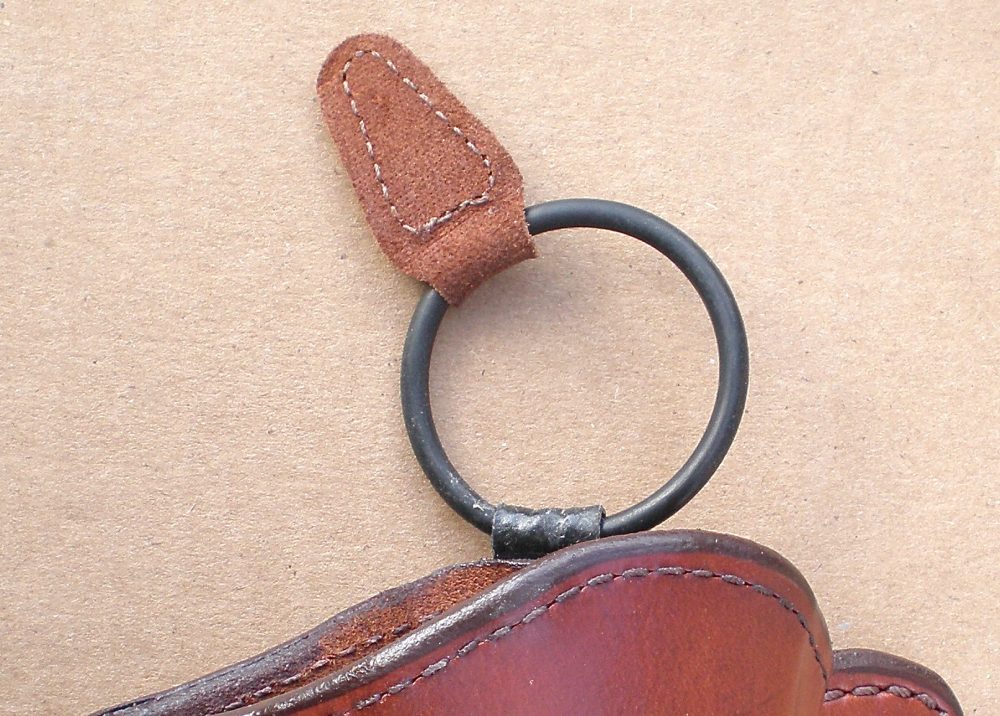 Minimalist holster uses "elasticized retention strap" instead of thumb break for retention.
---
As the name implies, the #105 is a compact holster and very suitable for concealed carry. Made from vegetable-tanned leather, the Minimalist is a "pancake"-type holster with two belt slots. For aesthetics as well as function, the edges of the holster are hand-burnished. The two sides of the holster are glued together, and nylon stitching will make sure the holster holds up to hard use for a long time.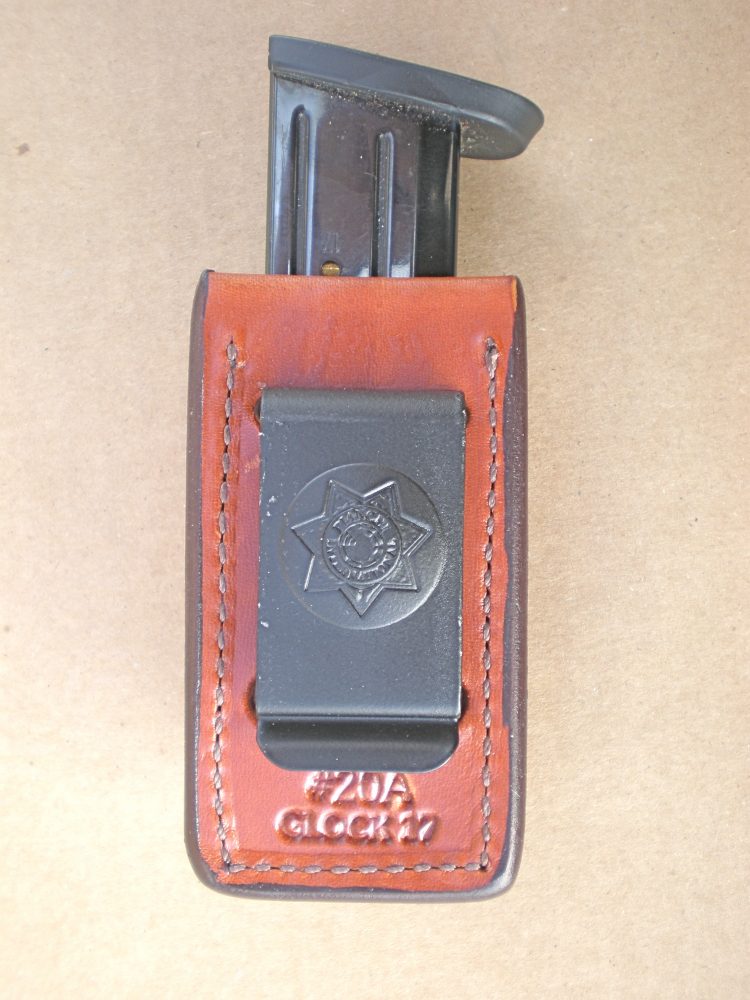 With a good belt—the actual foundation for any holster—the Minimalist carries the pistol high and tight against the body. And while any pistol can "print" depending on what type of concealment garment is worn, the Minimalist, well, minimizes printing very well.
For retention, instead of a thumb break, the 105 uses what Bianchi calls an "elasticized retention strap." In essence, this retention strap is not a strap at all, but rather a rubber ring that stretches over the back of the slide or over a beavertail on the grip portion of the handgun. The ring is sewn onto the holster and a leather tab is sewn onto the ring.
While the retention strap functioned just fine, to me it was slower than a traditional thumb break and, of course, much slower than a simple open-top holster. I'm confident that with practice this system could be very quick—and any new piece of gear requires numerous repetitions to become proficient in its use.
I believe the number one rule (after having a gun) is to have a reload available. I see people all the time not carrying a reload. When I ask them why, the answer is always the same: "I don't plan on missing 18 times." OK. The truth is, I have seen many of these people shoot and it is not uncommon for them to have a group that resembles a buckshot pattern from 35 yards.
Aside from the I-may-have-a-dozen-attackers logic, to me the most practical reason for carrying a reload is to have a good spare magazine in case the one in the pistol ceases to function. All together now: "Good morning, Mr. Murphy!"
Along with the Model 105 Minimalist, Bianchi sent a Model 20A Open Magazine Pouch. The Model 20A is made from the same quality leather as the holster and is fitted with a heavy-duty metal clip for easy on/off.
My dad wore Bianchi leather when he was active in law enforcement, as did my grandfather before him. In short, Bianchi has been around a long time and has earned a reputation for quality.
When it comes to concealed carry, the Minimalist holster may give you the maximum edge.
SOURCE:
Bianchi International
Dept. S.W.A.T.
P.O. Box 9015
Temecula, CA 92589-9015
(951) 676-5621
www.bianchi-intl.com