In 2009, Ruger introduced the SR-556, marking their first entry into the AR-15 market. What set the SR-556 apart from most other rifles was that it used a chrome-plated two-stage piston system with a multi-stage gas regulator.
In March 2015, Ruger invited a select group of gun writers to attend a conference at FTW Ranch in Texas for a first look at the Ruger Precision Rifle (LONG RANGE? NO PROBLEM: Ruger Precision Rifle at FTW Ranch, October 2015 S.W.A.T.). Ruger's Mark Gurney also brought along the SR-556 Takedown (TD) for participants to shoot before its official introduction to the public.
While the TD has its merits, Gurney explained to us that Ruger had considered entering it in Army trials, which required a quick-change barrel. We fired the TD in both 5.56 and .300 Blackout with and without suppressors.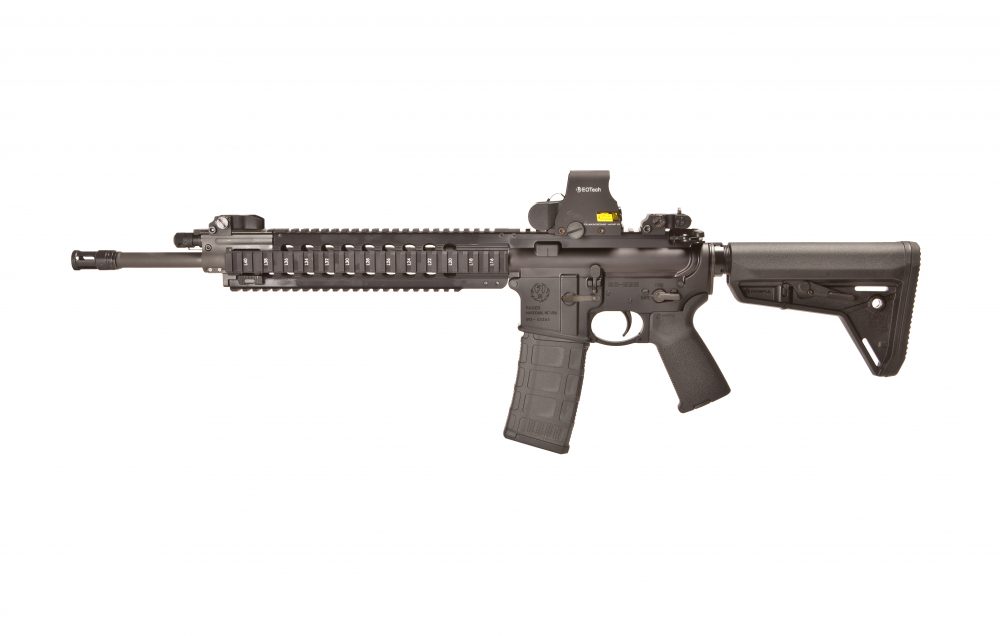 Left side of fully assembled rifle belies its unique qualities.
---
TAKEDOWN
Like its predecessor, the TD uses Ruger's patented chrome-plated two-stage piston with four-position gas regulator. The two-stage piston results in a cleaner, cooler-running firearm and delivers a smooth delivery stroke to the bolt carrier. The default position for the gas regulator is "2."
The barrel is hammer forged, chrome-lined with a length of 16.1 inches and chamber optimized for both .223 Remington and 5.56x45mm NATO. The carbine comes with a Ruger Mini-14 type flash hider, but other muzzle devices, including suppressors, may be used.
The bolt is chrome-plated and the chrome-plated one-piece bolt carrier has an oversized and radiused rear bearing surface to reduce "bolt bounce."
The trigger installed and shipped with the TD is Ruger's Elite 452™. This two-stage trigger is both smoother and lighter than the triggers found on most ARs. It uses a lightweight hammer that increases lock time by about 30%, and a full-power hammer spring to ensure ignition. Ruger literature states that the 452 trigger has a 4.5-pound pull, but using an RCBS trigger pull gauge, mine broke cleanly and crisply at 3.75 pounds.
The TD ships with flip-up iron sights. The front is fully adjustable for both elevation and windage, while the rear sight is adjustable for windage.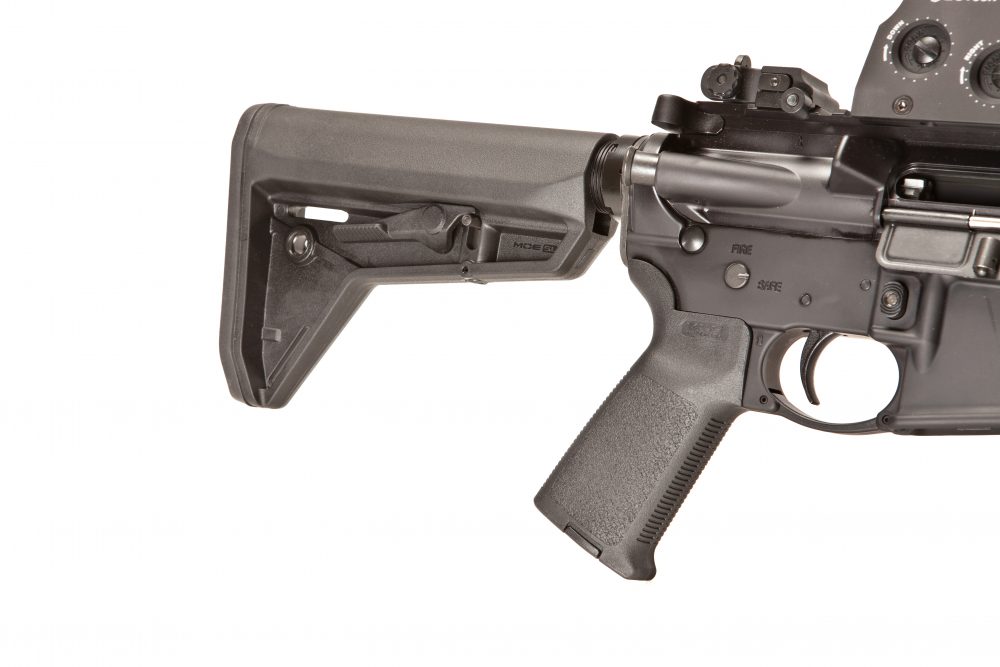 Carbine uses six-position collapsible Magpul MOE SL on a milspec receiver extension and MOE pistol grip.
---
The carbine is heavier than many other AR-type rifles. This is attributable to the TD being piston operated as well as the full-length Picatinny top rail and the rails at three, six and nine o'clock.
The top rail is marked T-2 to T-36, while the side and bottom rails are marked (L, R and B) 16-40. These "T" markings provide handy reference when reinstalling optics and other items when the rifle is broken down for transport. On my personal rifles, I mark the optic mount and receiver with a fine-line paint pen. This usually results in a return to zero, or close enough that one or two rounds will re-establish zero.
The TD uses a six-position Magpul MOE Sl stock (on a milspec receiver extension) and Magpul MOE pistol grip. The carbine ships with three 30-round Magpul PMAGs.
The TD comes in a nylon case very similar to the case that comes with the Ruger 10-22 Takedown. The main compartment features a full-length zipper that allows complete access to the interior, which has individual pockets for the lower, upper and barrel. Two zippered pockets on the outside of the case are large enough to hold magazines, a small optic, and ammo. The lower pocket has PALS webbing to attach ancillary pockets.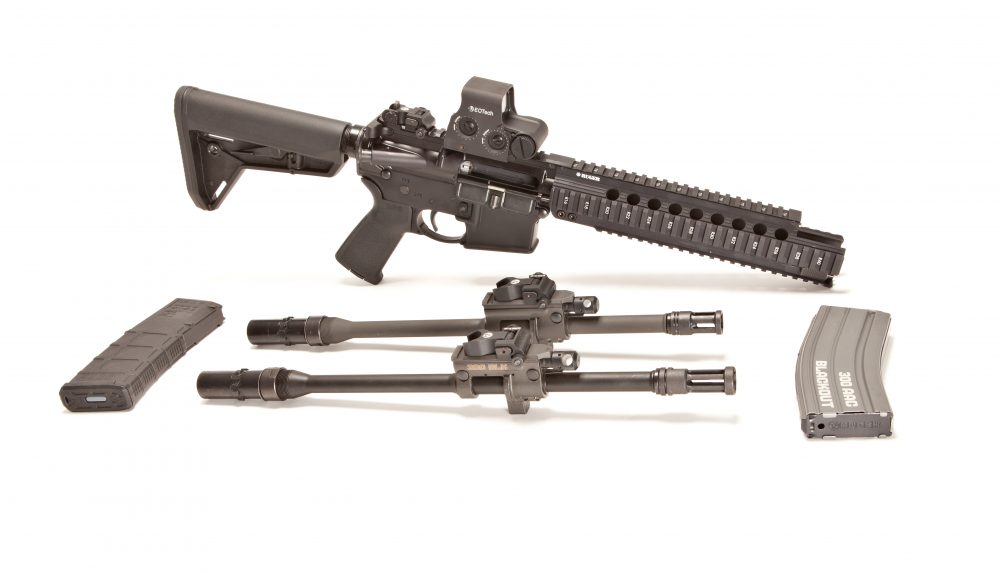 .300 AAC Blackout barrel and magazines are available options from Ruger.
---
BARREL INSTALLATION
The upper and lower receivers are assembled in the normal fashion used by all AR-type rifles. To install the barrel, the first step is to lock the bolt to the rear. If you overlook this basic step, you'll be rewarded with a large amount of frustration.
Next (as viewed from the rear) cant the barrel slightly to the left, or about 11 o'clock. While pushing the barrel in, rotate it to 12 o'clock. You will feel and hear the barrel lock into position.
To remove the barrel, again lock the bolt to the rear. Pull back on what Ruger calls slider pads located on each side of the six o'clock rail. While holding the slider pads to the rear, rotate the barrel to 11 o'clock and pull the barrel forward from the upper receiver.
Sound simple? If you follow the steps, it is.
An available option from Ruger is a .300 AAC Blackout barrel and two GI-type aluminum magazines. The barrel and magazines shipped with the .300 AAC barrel are clearly marked to ensure the wrong ammunition is not chambered.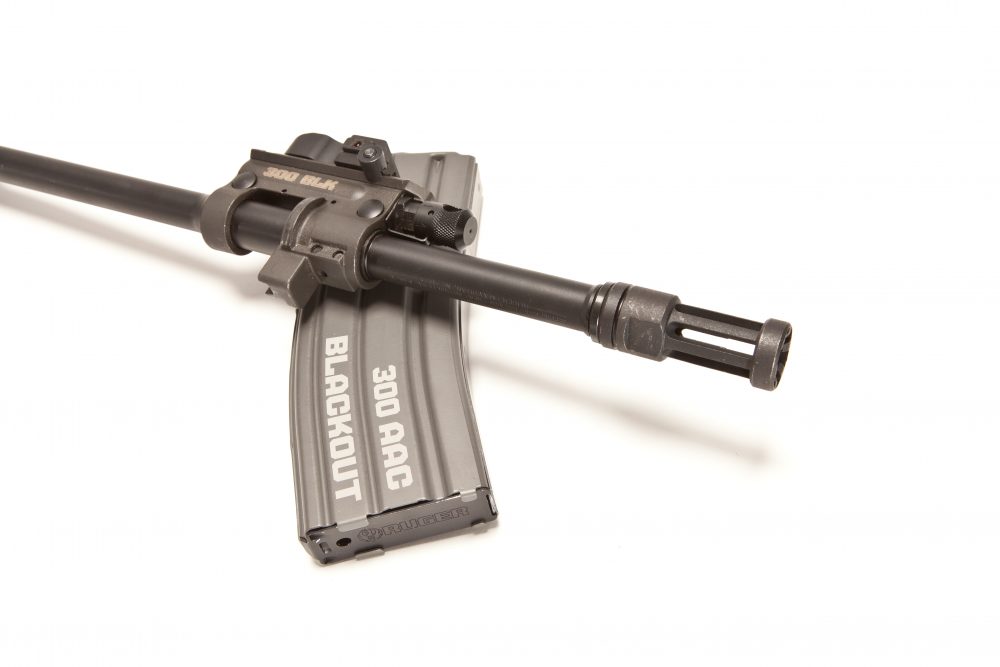 Standard model ships with three 30-round PMAGs. Magazines and barrel shipped with .300 AAC barrel are clearly marked to ensure wrong ammunition is not chambered.
---
ADDITIONS
To keep the weight and size down, I opted to use an EOTech XPS3 holographic weapon sight. At only 3.8 inches long, it allows plenty of room for magnifiers, night vision, lasers, etc if you require such items.
The XPS3 has 20 daylight settings and ten settings for Gen I through III+ night vision devices. It uses a single 123 battery and will run 600 continuous hours at setting 12.
I attached a Troy Industries QD push button on the left rail and added a Blue Force Gear Vickers Combat Application sling.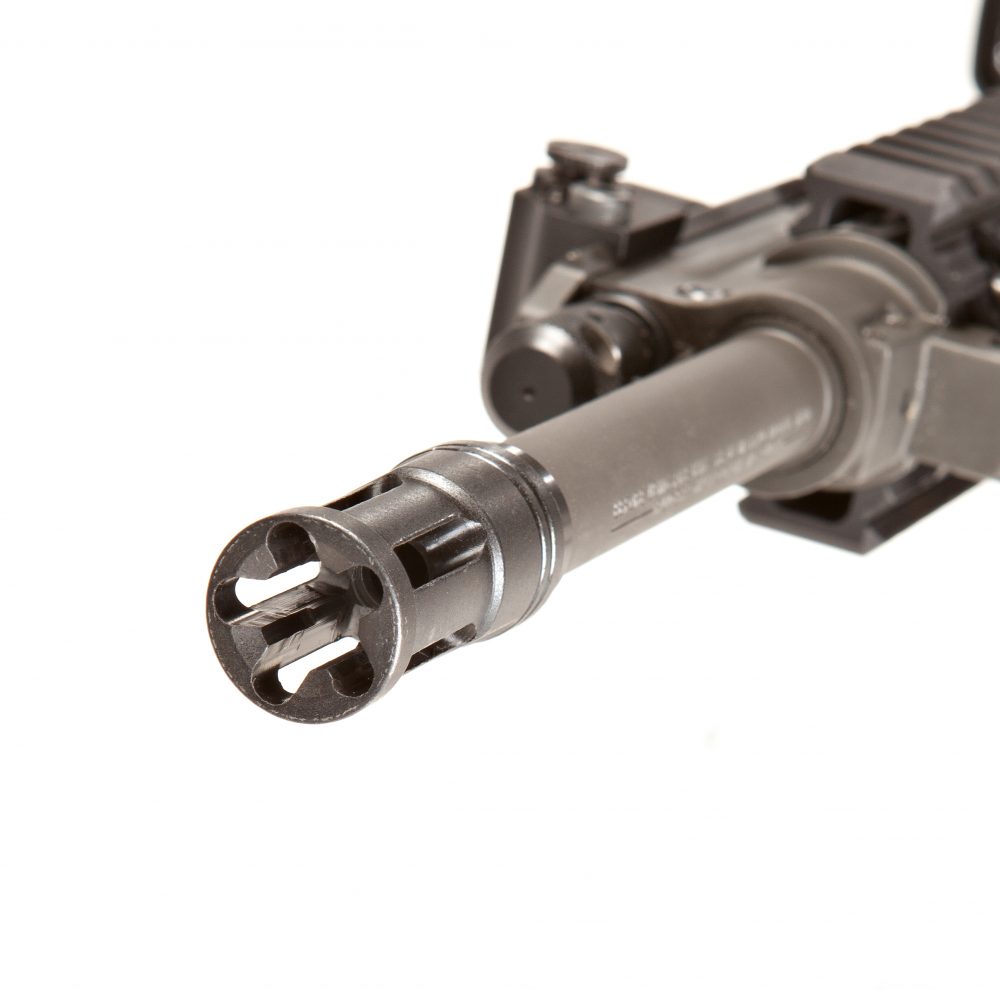 SR-556TD uses Ruger Mini-14 flash hider.
---
INITIAL EVALUATION
Although the three PMAGs that come with the rifle should suffice for most users, I wanted to make sure the TD would work with a wide assortment of readily available magazines.
I used magazines from C Products Defense, Fusil, Bravo Company (D&H Industries), Lancer (20- and 30-round), Magpul (20- and 30-round), TangoDown, SureFire, and reconditioned USGI (new springs, anti-tilt followers).
In a similar vein, all brands of ammunition are not available in all areas, so I tested 26 commercial loads and one handload.
To establish a baseline on velocities, I began by firing ten-round strings using my PACT Inc. Professional chronograph. The carbine was zeroed and fired for accuracy from 50 yards. Two five-round groups of each load were fired to average the accuracy of each.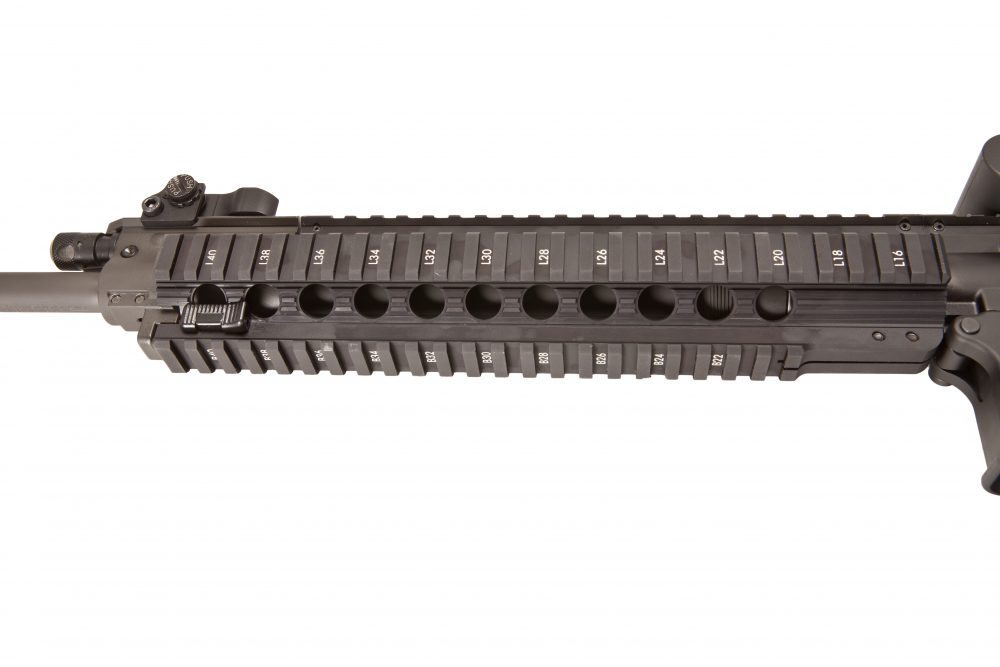 All rail positions are marked for ease of replacing accessories.
---
The test sample liked standard and mid-weight bullets. Accuracy-wise, the top five loads were:
Black Hills 60-grain VMAX at .68 inch
Hornady 60-grain TAP Urban at .73 inch
Double Tap 55-grain Barnes TSX at .75 inch
Federal 55-grain Nosler Ballistic Tip at .75 inch
Hornady 55-grain FMJ at .82 inch
All loads shot under one inch or just a few thousandths larger.
While the one-MOA dot of the EOTech did not allow for true precision, I wanted an optic that would fit in one of the outer pockets of the TD's case. I have no doubt that if a magnified optic with a fine cross hair were used, the TD would still place all rounds in an inch or just slightly larger group.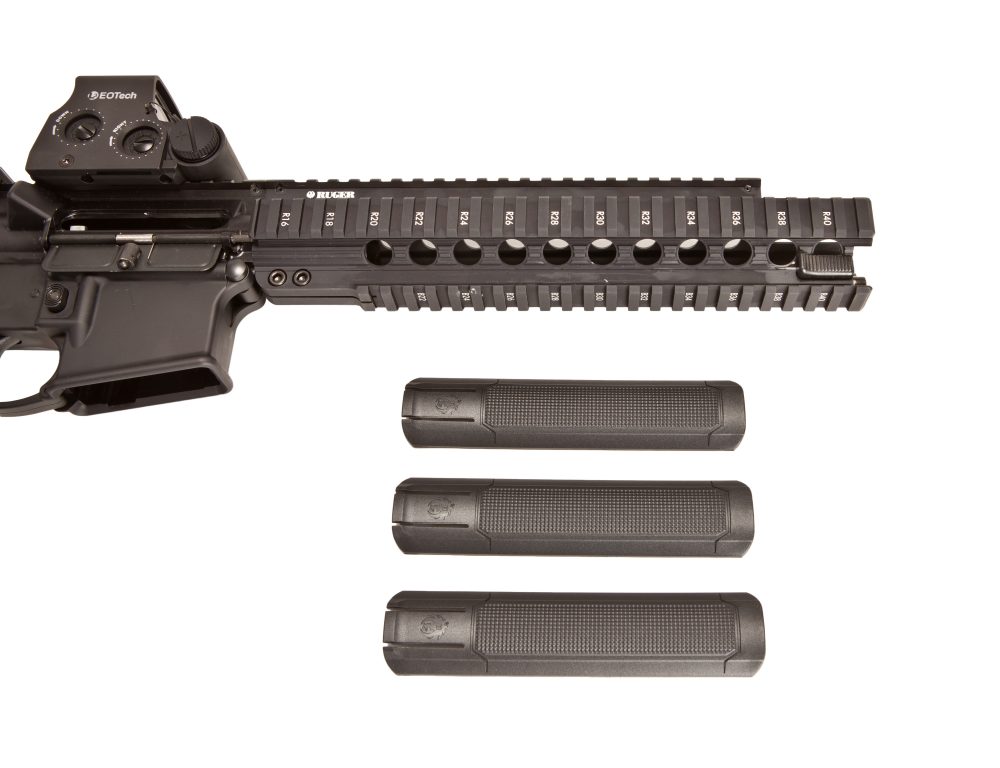 SR-556TD comes with three rail covers. More manufacturers should do this, as they save the hand and protect the rails from damage.
---
To determine if the barrel would maintain zero after being installed and removed repeatedly, after each ten-round string fired for accuracy, the barrel was allowed to cool, then removed and reinstalled. I observed no change in accuracy.
I had two back-to-back failure-to-feed malfunctions with Hornady 68-grain BTHP using Fusil magazines. Switching to GI mags solved the problem with this load. One 20-round Lancer mag would insert too far into the magazine well using just a gentle push/pull, not allowing rounds to chamber. This magazine was fixed by throwing it on the berm and using it as a target of opportunity.
At the end of the initial evaluation, I had fired 550 rounds, including the rounds needed to zero the EOTech.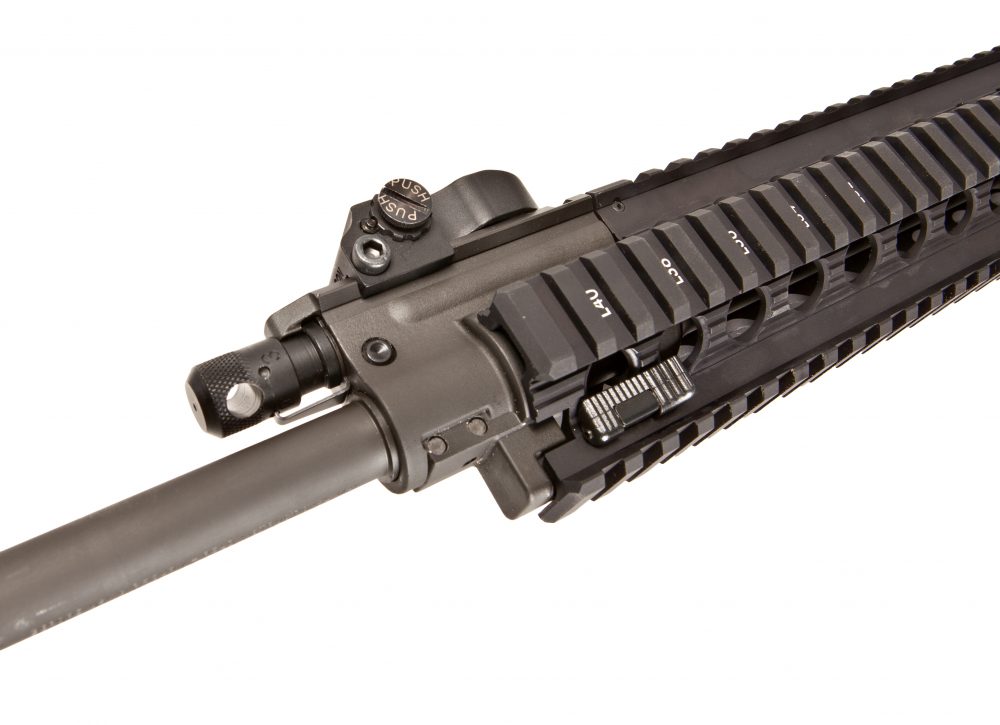 Four-position gas regulator and slider bar used to remove barrel. Front sight (in folded position) is adjustable for both windage and elevation.
---
TD AT GUNSITE
A week or so before I planned to send the TD back to Ruger, I was invited to attend a writer's seminar at Gunsite sponsored by Simply Rugged Holsters, Ruger and Double Tap ammunition.
Ruger brought their lightweight Commander-type 1911, the SR-556 Takedown, and the Precision Rifle, as all three are relatively new and had not yet been seen by a lot of people. I brought my T&E Takedown in order to put more rounds downrange for a more comprehensive evaluation.
While half of the participants went to another range to shoot the Precision Rifle, the remainder were given the chance to shoot the TD in 5.56mm and .300 Blackout, both suppressed and non-suppressed.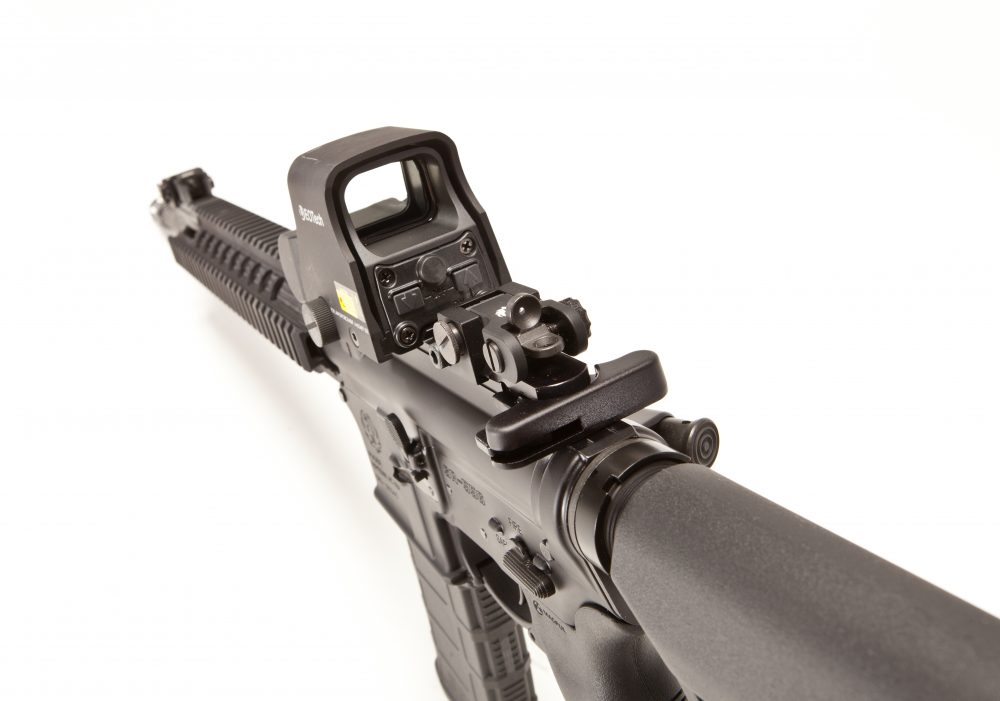 EOTech XPS3 holographic weapon sight was utilized in the evaluation.
---
I used this time to go to the firing line with ten magazines and fire numerous NSRs through the sample TD—300 rounds in about ten minutes using Double Tap 55-grain training ammo. Without allowing the carbine to cool, I proceeded to shoot head shots on three targets from 25 yards, with no apparent change in accuracy.
Before I left, the round count was over 1,000 and the TD still showed good accuracy. No malfunctions (except as noted above) were experienced.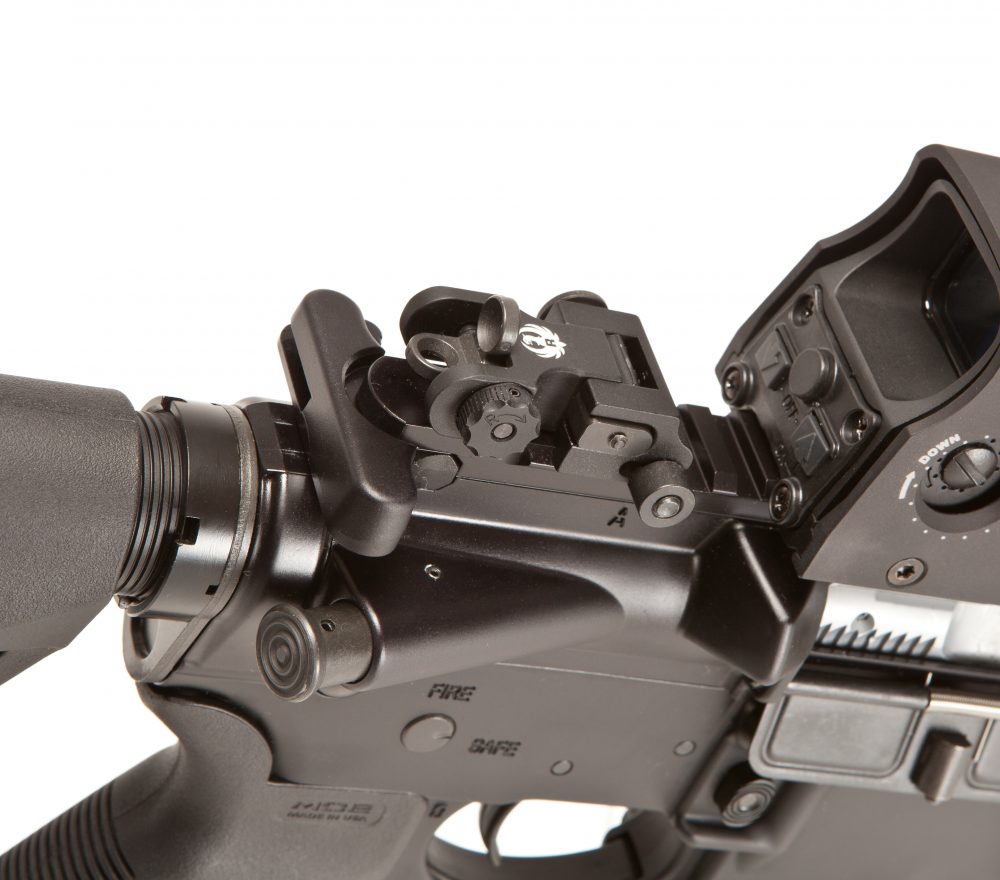 Rear iron sight is adjustable for windage.
---
CONCLUSIONS
If I have a single gripe with the TD, it's the weight. I hope the engineers at Ruger can find a way to change the quad rail to something lighter like the Key-Mod system. Lightweight in a small package would make it almost perfect.
But even in its present form, the TD makes an ideal choice for aircraft, boats, motor homes, or anywhere space is at a premium. It is a hard-shooting, reliable carbine that is a welcome addition to the Ruger line-up of AR-type rifles.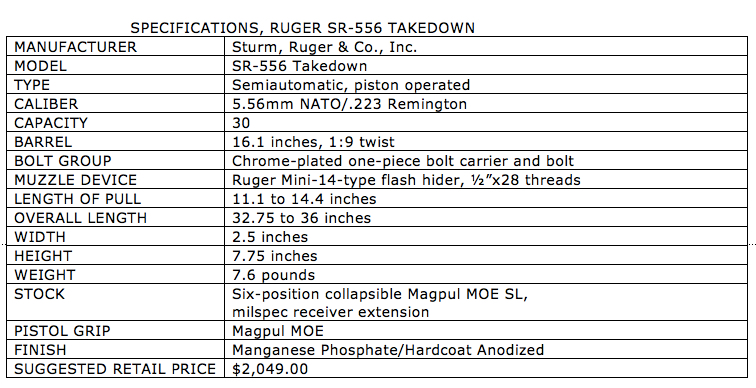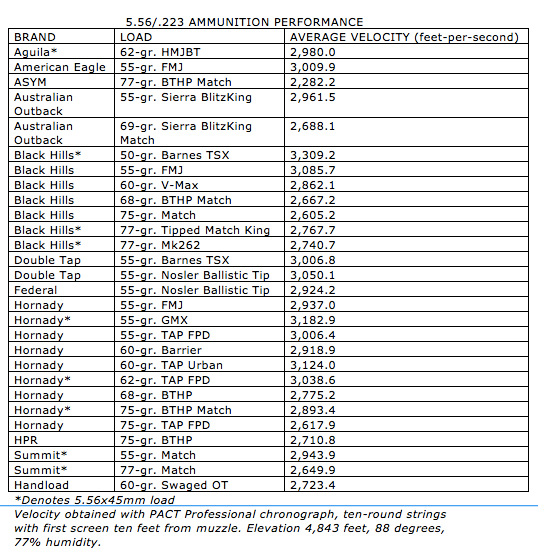 SOURCES
STURM, RUGER & CO., INC.
(203) 259-7843
www.ruger.com
ASYM PRECISION AMMUNITION
(970) 385-7900
www.asym-ammo.com
BLACK HILLS AMMUNITION
(605) 348-5150
www.black-hills.com
BLUE FORCE GEAR, INC.
(877) 430-2583
www.blueforcegear.com
BRAVO COMPANY MFG.
(877) 272-8626
www.bravocompanymfg.com
C PRODUCTS DEFENSE
(941) 727-0009
www.cpdmags.com
DKG TRADING INC.
(877) 354-2666
www.dkgtrading.com
DOUBLE TAP AMMUNITION
(866) 357-10MM
www.doubletapammo.com
FEDERAL CARTRIDGE COMPANY
(800) 322-2342
www.federalcartridge.com
FUSIL-USA, LLC
(847) 437-0100
www.fusil-usa.com
GUNSITE
(928) 636-4565
www.gunsite.com
HORNADY MFG. CO.
(800) 338-3220
www.hornady.com
HPR AMMUNITION
(888) 966-8477
www.hprammo.com
L3 EOTECH, INC.
(734) 741-8868
www.l-3com.com/eotech
LANCER SYSTEMS
(610) 973-2600
www.lancer-systems.com
MAGPUL INDUSTRIES CORP.
(877) 462-4785
www.magpul.com
PACT INC.
(800) 722-8462
www.pact.com
SIMPLY RUGGED HOLSTERS
(928) 227-0432
www.simplyrugged.com
SUMMIT AMMUNITION
(877) 726-4345
www.summitammunition.com
SUREFIRE, LLC
(800) 828-8809
www.surefire.com
TANGODOWN INC.
(520) 888-3376
www.tangodown.com
TROY INDUSTRIES
(866) 788-6412
www.troyind.com