I don't know about you, but I love my heritage.
My great granddad, Peter Hansen, came to Arizona from Denmark in 1912. I am very proud of this. I am also a third-generation native Arizonan, third-generation cowboy/rodeo cowboy, and the third generation to wear a badge. My son is following the trend.
Needless to say, I love history and going back to where things began.
In 1964, the United States adopted the M16/SP1. This rifle made its name in the jungles of Southeast Asia. The original rifles had triangular-shaped handguards, no forward assist, and no brass deflectors. The early guns had some problems, due mainly to using the wrong powder. Complicating things was that the rifles were touted as being "self cleaning" and were not issued with any cleaning kits.
The forward assist—loved by some and despised by others—was added on the M16A1, and the brass deflector on the A2 models.
My Dad had an early SP1 back in the 1970s. I always liked the look of it and wanted one.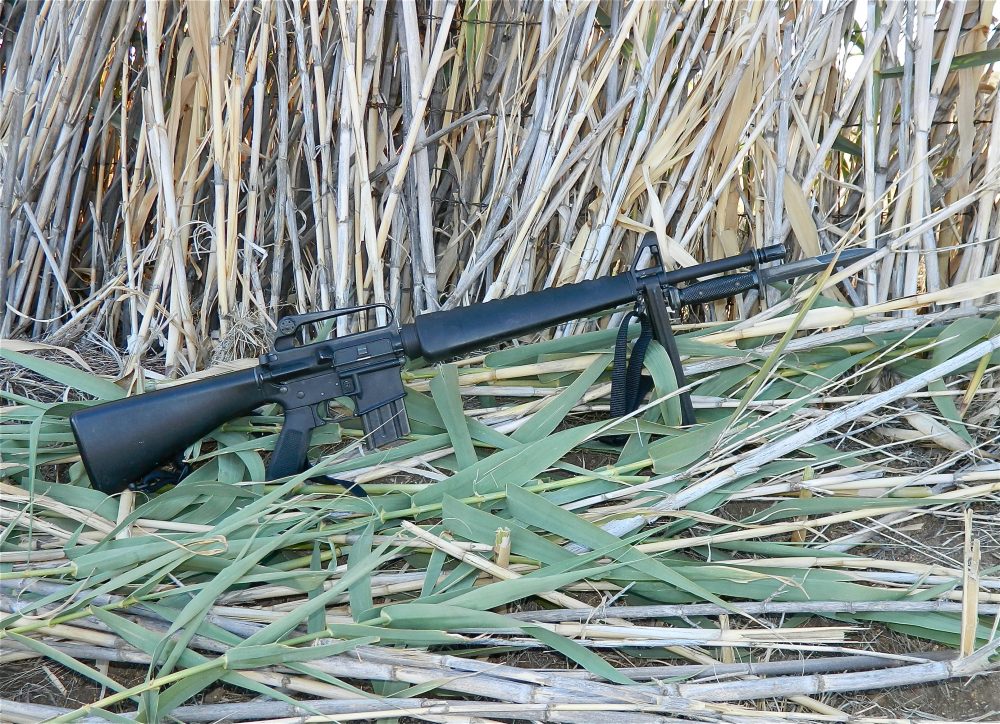 Completed build replete with original M16 bipod and bayonet.
---
MY FIRST AR
My Dad gave me my first AR-type rifle in 1998, an Olympic Arms PCR (Politically Correct Rifle) with 16-inch barrel. Purchased during the nefarious Assault Weapons Ban, my carbine came sans flash hider and bayonet lug.
When the law was allowed to sunset, I had Robar thread the barrel and add a flash hider. I also fitted it with a SureFire M73 rail, collapsible stock, TangoDown Battlegrip, and Sully trigger guard. It has served me well over the years and has fired thousands of rounds, including in high-round-count carbine courses, with the only malfunctions attributed to bad magazines or ammo.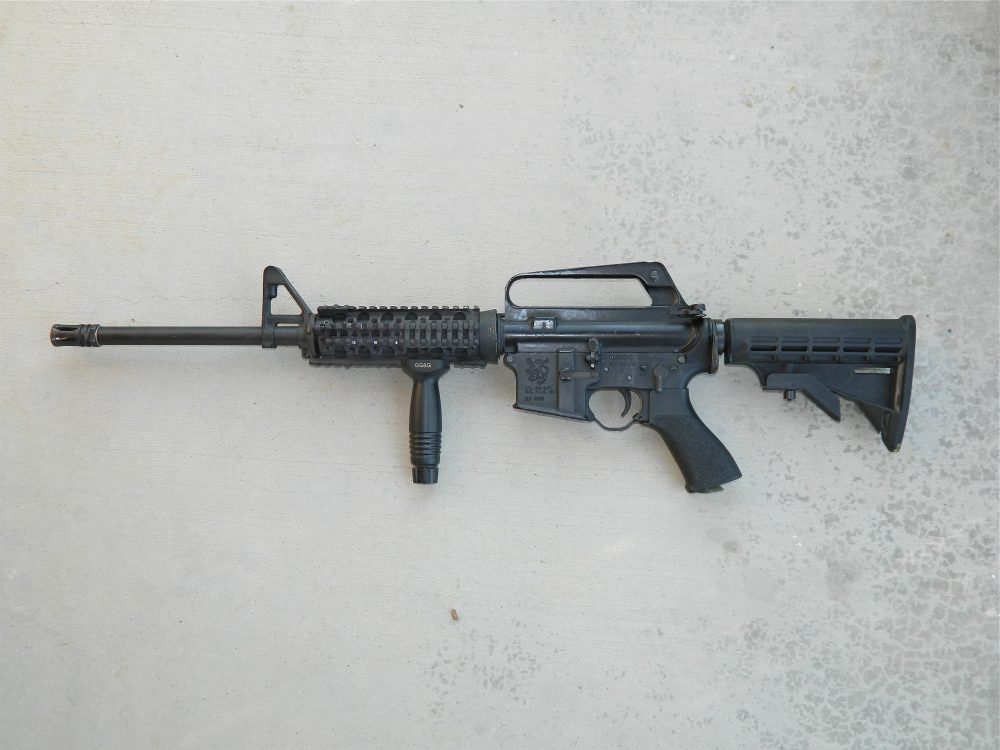 Bought in 1998, author's Olympic Arms PCR (Politically Correct Rifle) was fitted with a flash hider when the Assault Weapons Ban sunsetted. It was also fitted with a SureFire M73 rail, collapsible stock, TangoDown Battlegrip and Sully trigger guard.
---
A few months ago, I began to experience the occasional malfunction with Old Reliable and noticed that it was not quite as accurate as it once was. Dad had experienced this same problem over the years and diagnosed the problem as the lede in the barrel—the rifling just ahead of the chamber—was shot (no pun intended) and that a new barrel would likely solve the problem.
Since I had recently purchased a SIG Sauer M400 for duty use and had no use for another 16-inch barreled carbine, especially with a fixed "carry handle," I decided to go retro with my Olympic rifle, while keeping costs to a minimum. This was my chance to have the 1970s style SP1 I'd always wanted.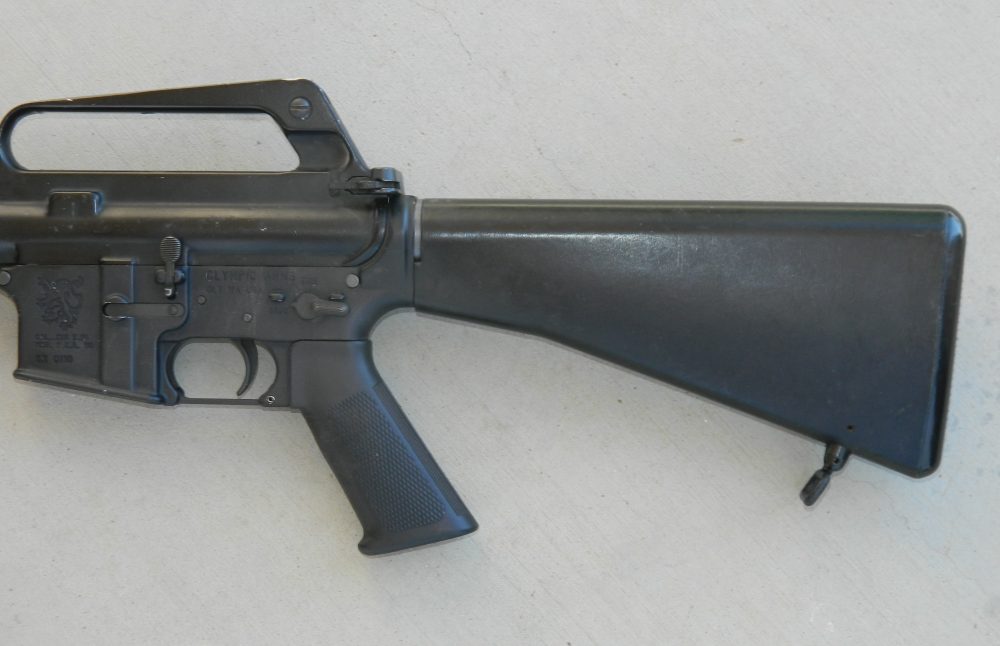 First part of project was to replace collapsible stock with early M16 stock and flat trigger guard. Pistol grip is an A2 with the (to many) annoying finger bump ground out.
---
THE REBUILD
The first step was acquiring a new barrel. Since the upper and lower were still Olympic, I acquired a 20-inch barrel from Olympic Arms. The barrel is manufactured from 4140 chromemoly steel, chambered for the 5.56x45mm cartridge, and with a 1:9 twist rate. The barrel came with the front sight assembly, barrel nut, and specially requested triangular front handguard cap. I obtained a new rifle-length gas tube from Bravo Company Mfg.
In his parts box (I should say boxes), Dad had an early M16 stock. This original stock does not have a cleaning compartment in the butt and has a stud with the sling swivel pinned to the stock as opposed to the slot in the stock, which is most commonly encountered. Dad also had a set of the original triangular handguards.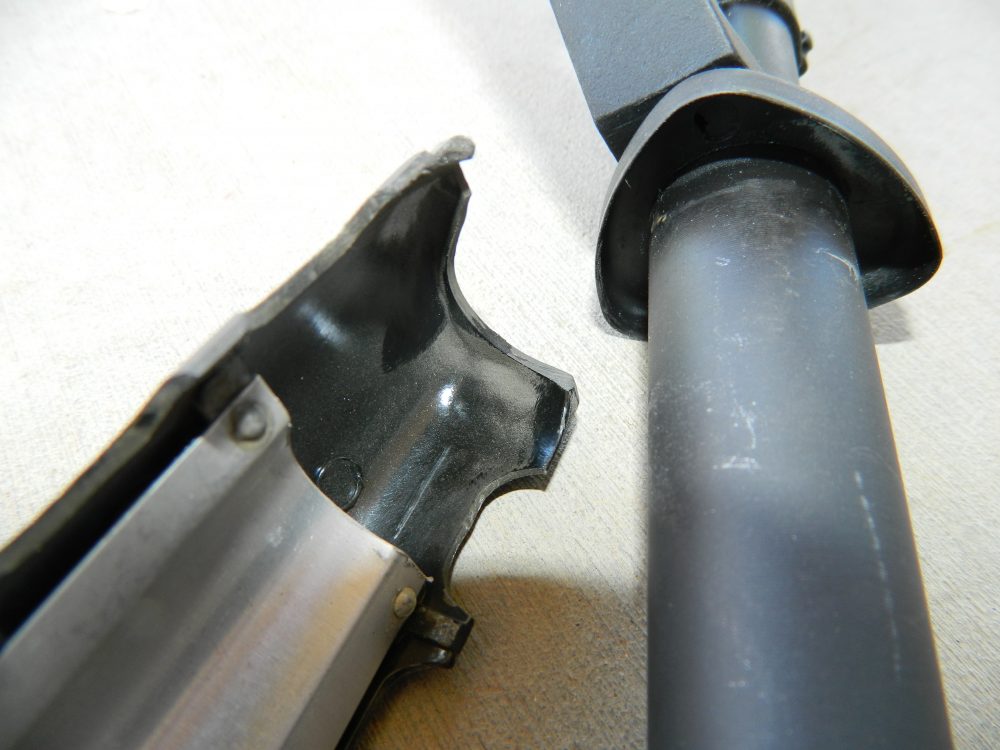 Due to larger diameter barrel, handguards would not quite fit into handguard cap, requiring them to be slightly modified.
---
I'm the first to admit my knowledge of this weapon is limited, but my Dad is an AR-15 armorer with all the tools we would need to assemble my "new" rifle. I was looking forward to this father-son build and learning more about the AR system in the process.
The Sully trigger guard was removed, as was the TangoDown Battlegrip. The Sully was replaced with a standard flat trigger guard and the Battlegrip with an A2 pistol grip. For looks and functionality—for me at least—the bump on the A2 pistol grip was removed with a belt sander.
The barrel was installed using the Delta ring from the original barrel and torqued to the required 30-pound specifications, as was the flash hider.
The original M16 used what some refer to as a "pencil" barrel. Due to the larger diameter of the new barrel, some slow and judicious work with a Dremel tool was required to make the triangular handguards fit into the front handguard cap.
I installed a bolt that was ordered with the barrel and was correctly headspaced. Finally I added a black nylon sling of the type that was typical of the early guns.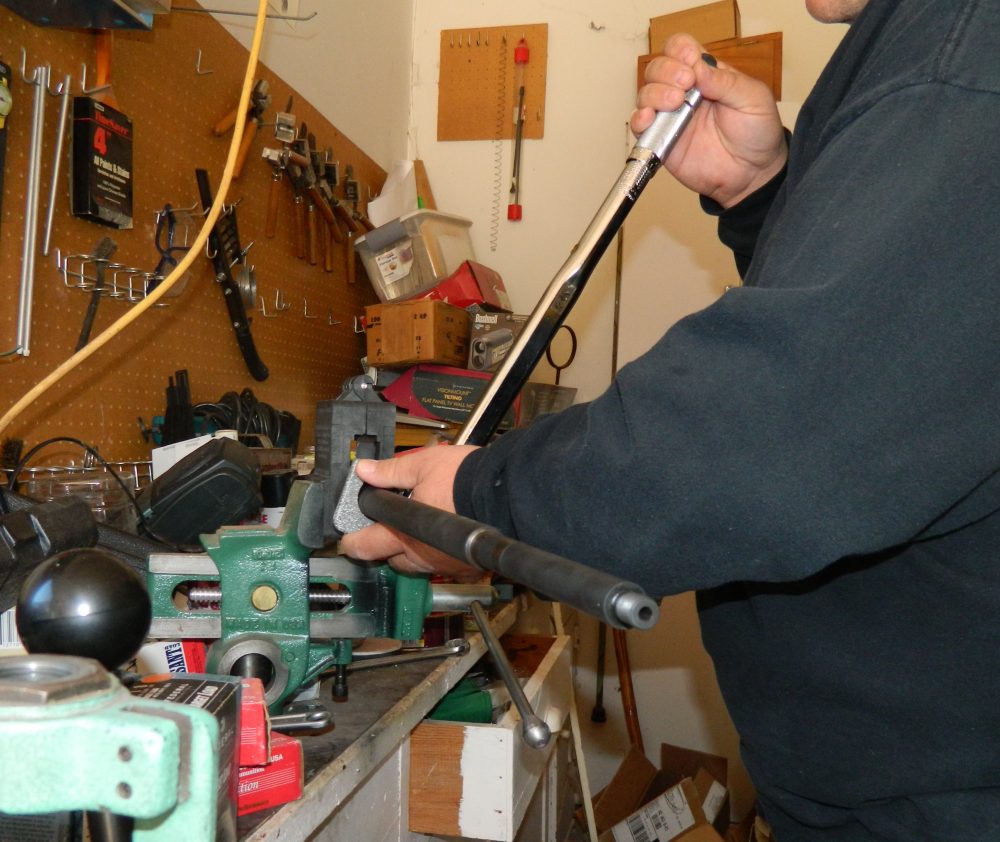 Using an armorer's wrench and a torque wrench, Hansen attaches barrel to upper receiver with proper 30 pounds of torque.
---
FINISHED PRODUCT
Is this gun an SP1 correct in all details? Certainly not. With the old A1-type sights (that I personally prefer to the A2 sights) and brass deflector, it is more of a cross between an A1 and an A2. I could easily have made it more of a period-correct restoration, but wanted to use the upper from the very first AR that Dad had given me years ago.
Over the past month, I've been taking some ribbing from buddies and even from dear Ol' Dad, who jokingly refers to the rifle as a fence post. The truth is I don't plan on using this weapon as either a home-defense gun or a duty rifle.
I was born a year before the Vietnam War officially ended. I wanted to own just a little bit of history and in my own way salute and remember the brave men who served in that war.
It's important to remember where we come from…
SOURCES:
Olympic Arms
Dept. S.W.A.T.
624 Old Pacific Highway
Olympia, WA 98513
(800) 228-3471
www.olyarms.com
Bravo Company Mfg.
Dept. S.W.A.T.
P.O. Box 341
Hartland, WI 53029
(877) 272-8626
www.bravocompanymfg.com