The current feeding frenzy on ammunition brought to mind a column I wrote stressing the value of rimfire weapons in a survival situation. Not only are they lightweight and easy to carry, but extra .22 ammunition is still readily available in my neck of the woods, whereas the larger calibers are all but extinct.
If you're wondering about "knock-down" power, here's an illustration of the .22 in action. In my area, every year a certain someone declares war on the over-crowded deer population due to them ravaging garden vegetables. A .22 to the head and a front-end loader to shove them off in the hollow for the buzzards to eat do a pretty good job of saving crops. So while the rimfire is not a Northwoods bear gun or a military battle rifle, the caliber does seem to fit the niche for wilderness survival use. The whole concept could be better, though.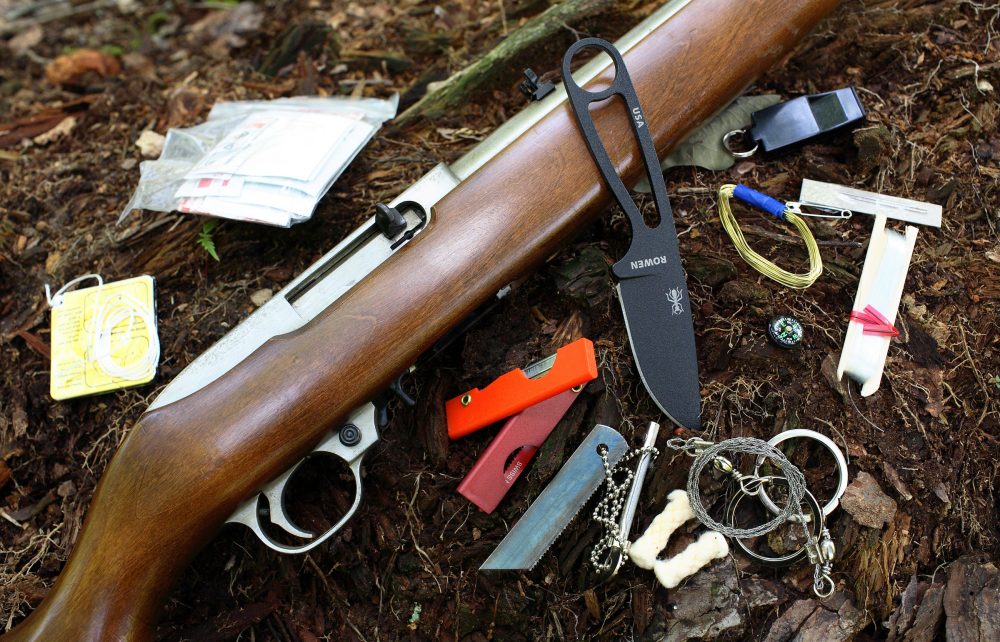 True survival stocks built for platforms such as Ruger 10/22 and Marlin bolt-action rimfires would be valuable addition to hardcore outdoorsman's gear.
---
For years I have hinted to various companies about designing a rimfire rifle stock around a decent survival kit. I'm not just talking about a rifle with a hollow stock—the ideal survival rifle would be shipped with a pre-manufactured survival/E&E kit built inside a water-tight compartment. So far, no company I know of is doing this. Maybe the manufacturers don't think there would be sufficient return on their investment for the mold costs? I beg to differ with that, especially in today's emerging survival-based markets. With the current state of our nation, and with more and more people now believing they will have to be self-sufficient in the future, any product that offers options for desperate situations has high marketability.
I realize there are companies manufacturing hollow stocks that a user can build their own kit around and shove inside, but the manufacturers are missing the point: Survival kits, for most folks, are one of those "I'll get around to it later" deals. Not only do you have to research what components to put in your kit, you typically have to single source all of it. In the end it usually doesn't get finished.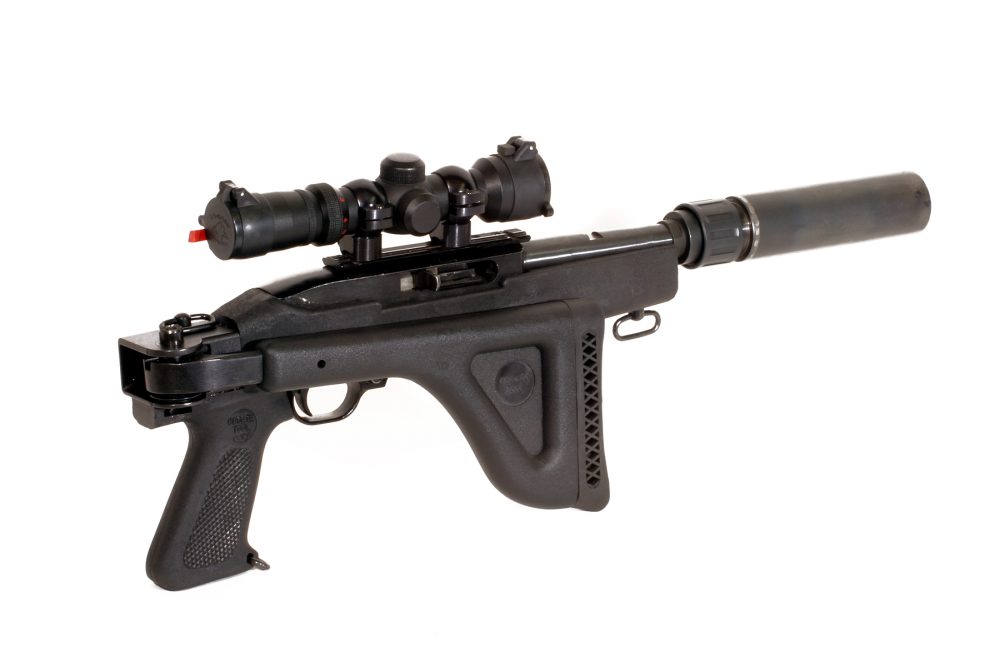 Companies such as Arms Tech do well at building rimfire rifle modifications, but to date they have not produced a true wilderness survival weapon.
---
Most folks who carry a rimfire rifle as a tool, such as boaters, hikers, canoe paddlers and farmers, would prefer a quality kit that's ready to go native without having to put a lot of thought into it. Unless you're a hardcore survival practitioner, kits are nothing more than insurance policies—we really don't care how they're built or how they work until the time comes to cash in on the investment.
The idea of a lightweight survival rifle is not new, though in my opinion most attempts have been poorly executed. The closest anyone has come is the Henry U.S. Survival Rifle, also known as the AR-7. This weapon was originally designed as a pilot's survival rifle, and while that sounds like a catchy concept, we have to face the fact that it's basically just a take-down rifle. Except for being compact, there's not much that makes it a from-the-factory survival rifle, in my opinion. If you get lost in the woods with this weapon, you can shoot things and maybe make enough noise to signal a close rescuer, but it's not going to keep you warm or help you build a shelter.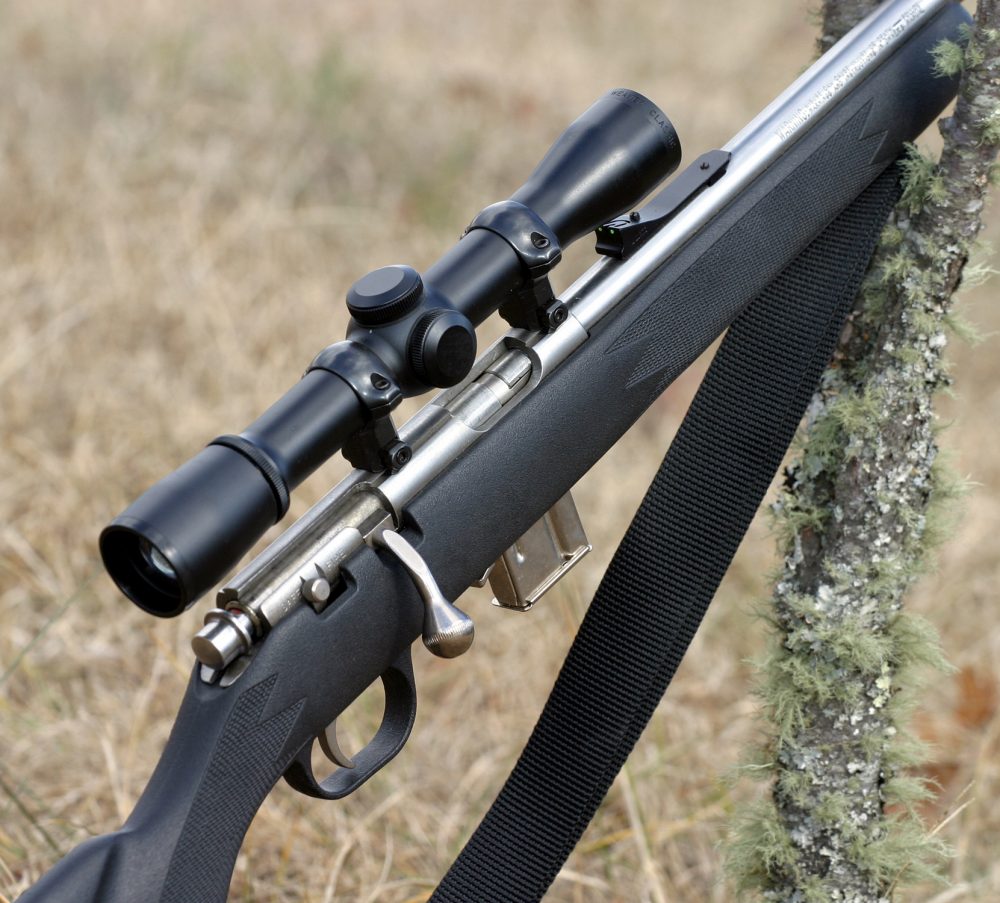 Non-accessible hollow factory injection molded stocks, such as on this Marlin 917, are complete waste of space when they could be filled with valuable survival tools.
---
Other companies, such as Arms Tech Ltd. in Phoenix, have ventured into modifying rimfires for the purpose of increasing their capability as well as concealment. I recently tested their 10/22 QD short barreled rifle, and even though it's a fine modification for those needing a compact .22 in a tactical environment, folding stocks and short barrels are not much benefit if you're lost in the wilds.
What this world needs right now is someone to step up to the plate and build a true survival rimfire rifle for all of us who recognize the value of such a weapon. I figure it will eventually be produced by an after-market injection molding facility, since weapons manufacturers seem to be stuck on redesigning the .45 pistol or trying to "out-cool" their competitors with the latest bells-and-whistles AR platform. All you have to do is go to a SHOT Show to be bored out of your mind at the redesigns of the same old thing, year after year.

Even though it lacks a true survival component, Henry AR-7 survival rifle is as close as anyone has come to designing a real survival rifle.
---
While all this tactical stuff obviously has many buyers, in my opinion the manufacturers are leaving out a vital portion of their market: folks like me. So listen up, manufacturers: there's a market for a new version of the economical and usable weapon that every Southern boy was raised on—a .22 rimfire.
SOURCES:
Henry Repeating Arms Company
Dept. S.W.A.T.
59 East 1st Street
Bayonne, NJ 07002
(201) 858-4400
www.henryrepeating.com
Arms Tech Ltd.
Dept. S.W.A.T.
5025 N. Central Ave., Suite 459
Phoenix, AZ 85012
(602) 272-9045
www.armstechltd.com