Over the years, I have read or heard many people say that the rifle they put together on their kitchen table is "just as good as any other AR-15." I also get letters to that effect almost monthly. Often as not, they are comparing a cheap build to one of the Tier 1 manufacturers, building an inexpensive hobby gun that does not even come close to milspec.
The crux of the problem is that the majority of people I have met who have built (I mean, assembled) an AR from parts did so with their overriding concerns being to save money and put it together as cheaply as possible.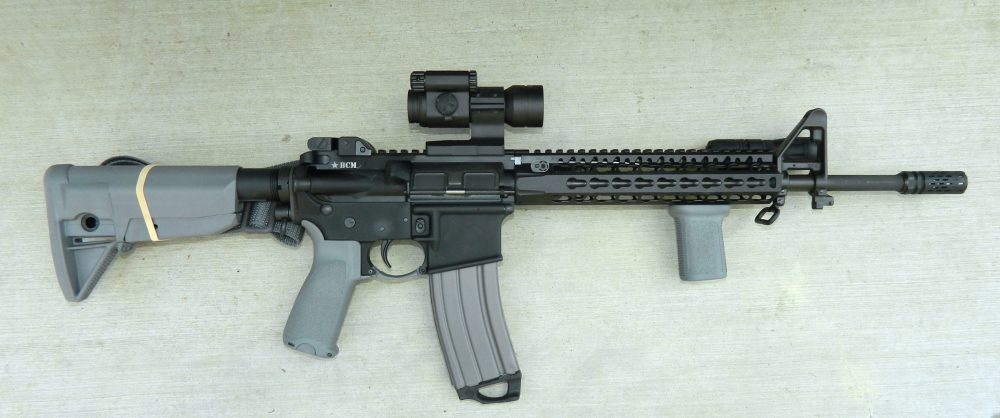 Right side of completed rifle. Sling is held in place on BCMGUNFIGHTER™ Stock using VBOST tab and heavy rubber band.
---
There's absolutely nothing wrong with that. I have made a few inexpensive builds myself. But I have built them knowing they will only be used for occasional plinking and perhaps a low round count, short duration class.
I had a recent phone conversation with a person who called to "inform" me that milspec is nothing special; it only means that parts are made to the lowest standard that is acceptable. While essentially true, it is at least a standard, and why would anyone opt for something less than acceptable? Would you put your child or grandchild into a homemade car seat constructed for pennies with no regard to safety standards?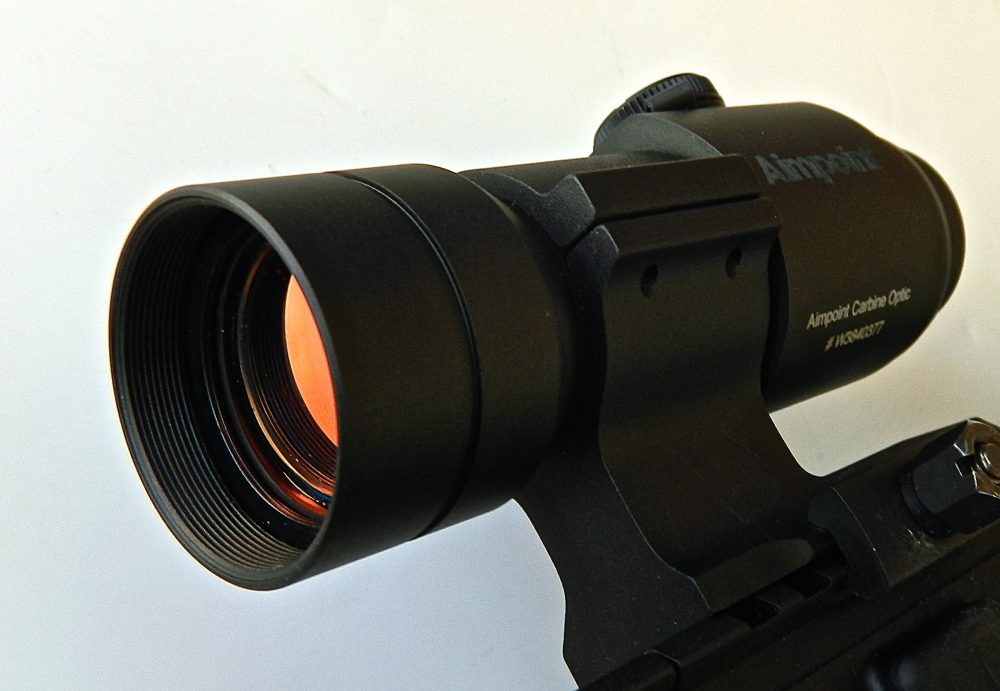 Aimpoint Combat Optic was chosen to mount on this build.
---
Although I have top-quality ARs from several manufacturers—Bravo Company, ROBAR, and SIG to name just three—I have been getting the itch to build another. And no, you can never have too many.
My goal was to assemble a gun from parts I could trust, resulting in a carbine I could run hard in a class or depend on to save my life and the lives of my loved ones.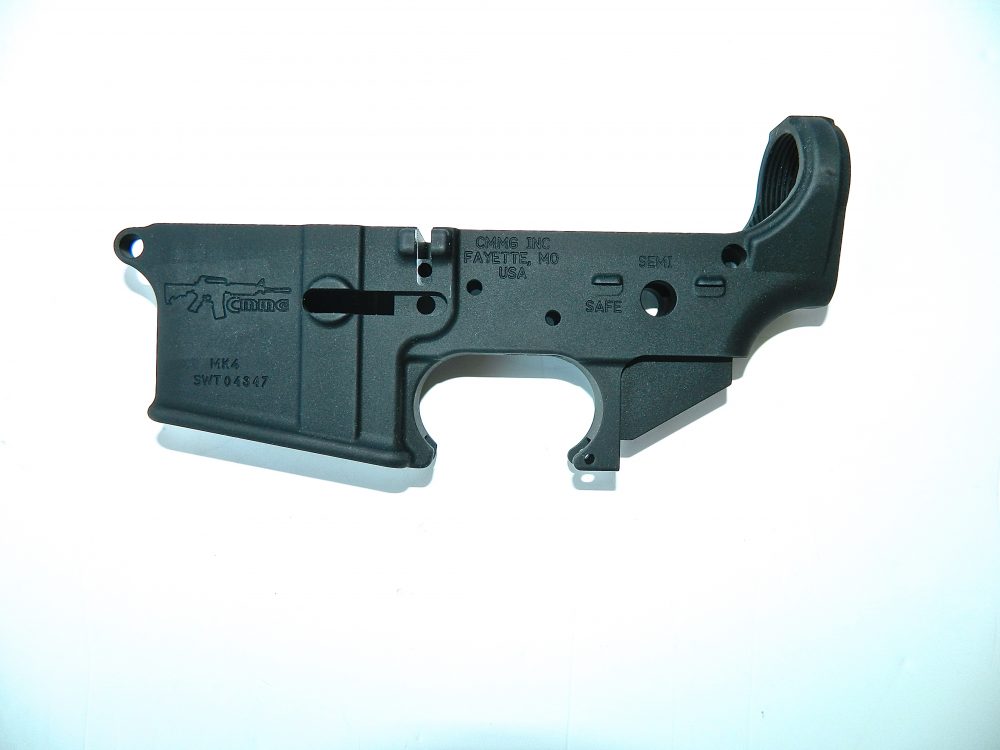 CMMG lower was chosen for this project.
---
CMMG
At the SHOT Show, I met with Tim Zick, who represents CMMG's advertising agency. I mentioned that I had plans to assemble another AR. Tim offered to send me a lower parts kit for the build. A month or so later, the parts kit came in, as well as a stripped lower receiver.
I have reviewed several CMMG rifles over the years and ran them fairly hard with zero problems, so I had no qualms about using their lower and parts for this build.
In the past, I have assembled lower receivers for friends who—in the quest to save $20—chose to use "just as good as" parts. I have encountered undersized holes, oversized holes, holes drilled at offset angles, burrs, detent pins that didn't fit, and other problems.
I experienced none of these problems. The lower went together smoothly and easily. CMMG lower parts come in different color bags for specific assembly steps—a nice touch, especially for someone assembling a gun for the first time. I should mention that CMMG lower parts kits are milspec.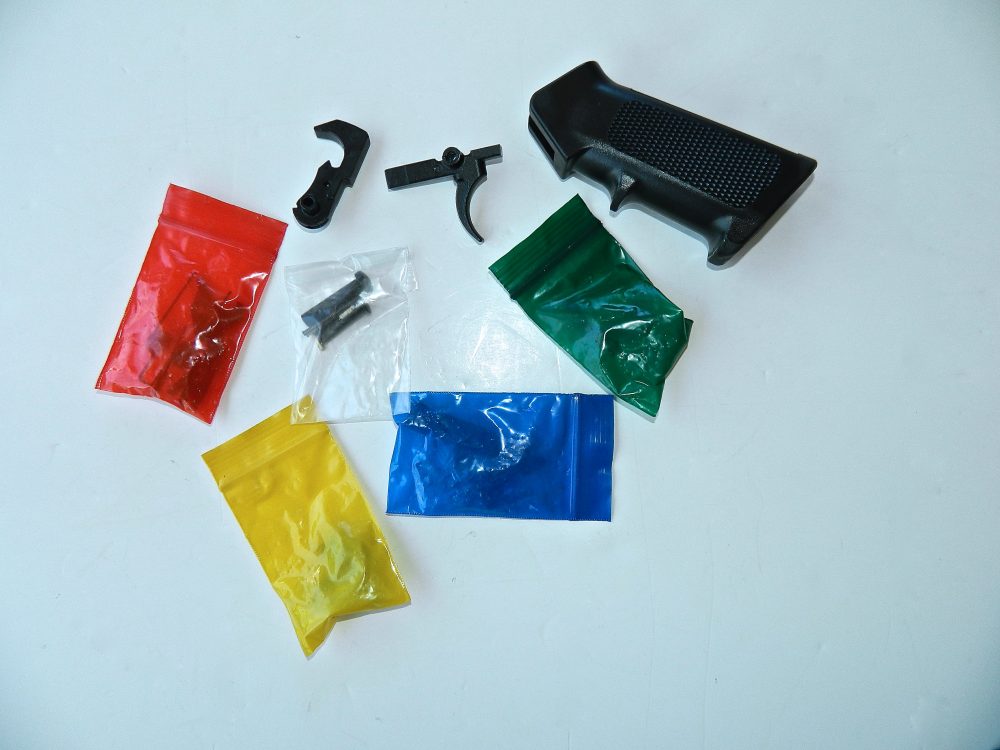 CMMG lower parts kit comes in different color bags for specific assembly steps.
---
BRAVO COMPANY MFG
While I like "black rifles," I don't necessarily like them black, so all furniture was in Wolf Gray. For several of the parts in the build, I went with what many feel is the best in the industry—Bravo Company Manufacturing (BCM). It bears noting that many manufacturers use BCM parts in their builds, and I have even seen their parts in other manufacturers' catalogs. In police work, we called that a clue…
I used an oversized BCM trigger guard and BCMGUNFIGHTER Pistol Grip (Mod 3). The BCMGUNFIGHTER Pistol Grip has an angle that is not as steep as the A2 grip and works better when shooting with a squared-off fighting stance.
The Mod 3 is a "duckfoot" type that covers the gap at the rear of the trigger guard but also works with enhanced trigger guards such as the one used here and similar products. It has a "beavertail" that allows higher hand placement than some other grips and is almost ¼ inch wider than the Mod 0 and Mod 1 grips. The built-in trap door has a rubber gasket that makes it both quiet and water resistant.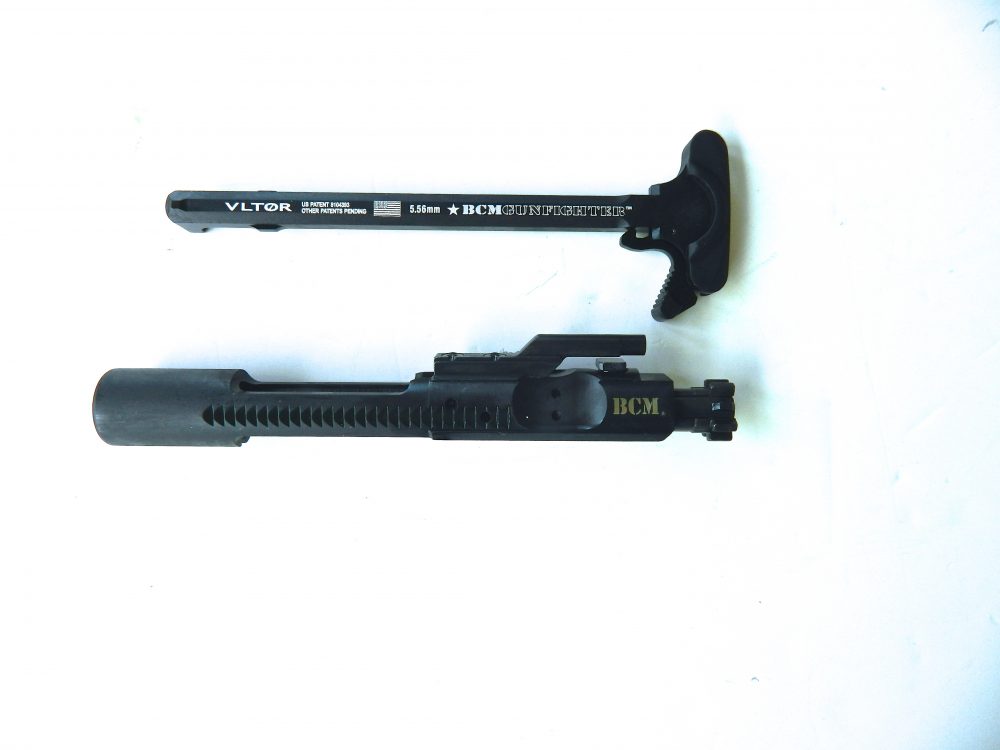 BCMGUNFIGHTER Mod 4 (medium) charging handle and BCM bolt group.
---
I finished the lower receiver off with a BCMGUNFIGHTER™ Stock Kit, which comprises the stock, a BCM milspec receiver extension (buffer tube), locking nut (castle nut), milspec action spring, carbine buffer, and BCM QD swivel mount end plate. The locking nut was torqued to 40 pounds and staked in place.
This modular stock is totally snag free and has nothing to get hung up on (or in). It fit onto the receiver extension very snugly, with zero rattle. The stock features the VBOST (Vehicle Borne Operations Sling) Tab. This tab, located at the rear of the stock, will secure the shooter's sling to the stock with a heavy rubber band. The BCMGUNFIGHTER Stock will only fit milspec extensions.
Once installed, I liked this stock so well that I'm seriously considering changing the stocks on some of my other ARs to the BCMGUNFIGHTER Stock. It really is that good.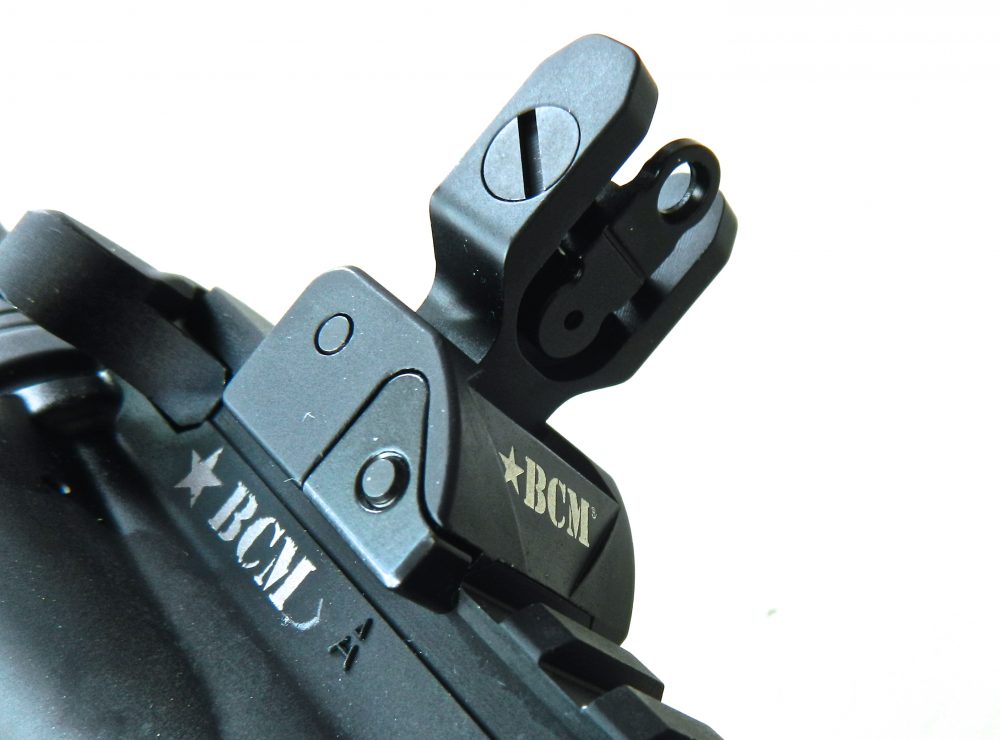 Rear sight was BCM Classic, with same plane aperture.
---
BATFE considers the serial numbered lower receiver to be the gun. Be that as it may, I have always considered the heart of the AR-15 to be the upper. I went with a BCM BFH™ mid-length lightweight upper receiver group with KMR handguard. I ordered the 14.5-inch barrel with a BattleComp 1.5 compensator permanently attached to bring the barrel to the legal 16-inch length. This model has a full-length Picatinny rail on top and "F" marked front sight—the correct sight for a carbine.
The barrel is chambered for 5.56mm NATO and has an M4 feed ramp barrel extension. BCM barrels are cold hammer forged for a superior barrel and made from high quality steel. An increase in carbon and/or vanadium in the alloy offers increased barrel life and performance. The 1:7 twist rate can handle the spectrum of .223 bullet weights, including the heavier bullets that many shooters prefer.
The exterior of the barrel has a manganese phosphate (Parkerized) finish to protect it from the elements, while the chamber and bore are chrome lined. I have heard it said that chrome-lined barrels are not as accurate as unlined barrels, but in my experience the difference is so small as to make the point moot. A chrome-lined barrel does slightly increase the velocity, but the ultimate reason for the lined barrel is that it resists fouling and corrosion.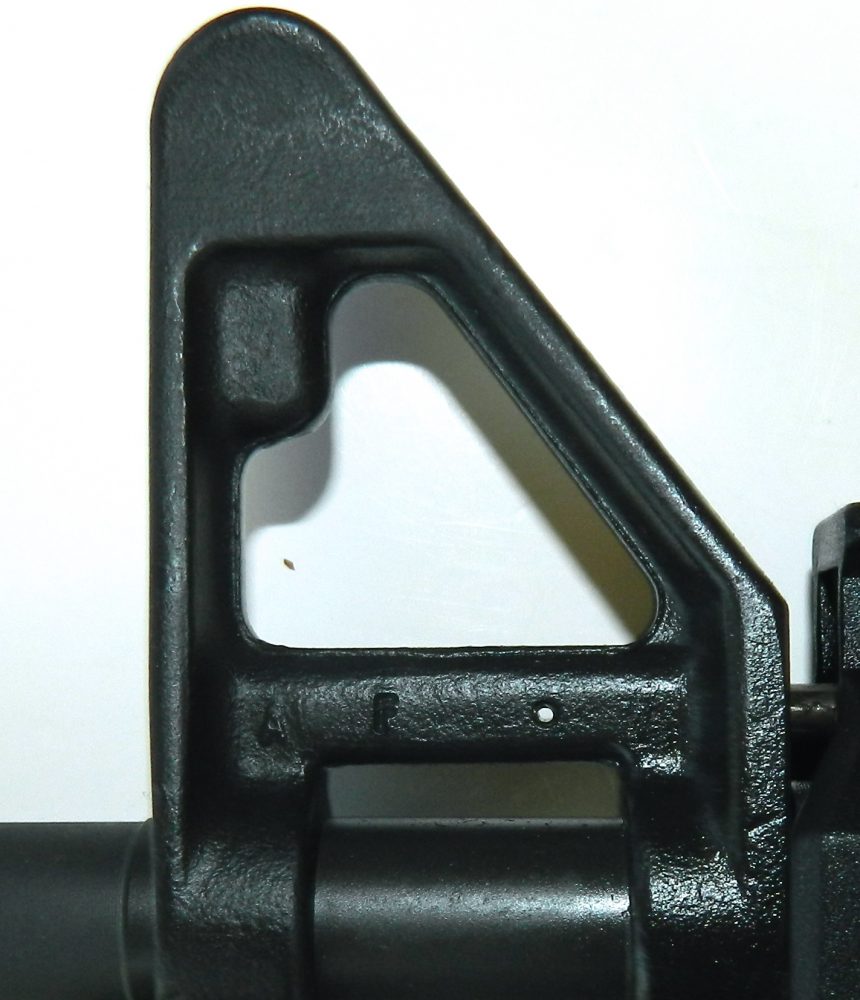 Front sight is "F" marked and correct for a carbine.
---
The BCM bolt carrier group has a Parkerized exterior and is chrome lined on the inside of the carrier. The carrier is machined to support automatic fire and has properly hardened parts to insure strong staking and proper gas system function. Machined to USGI specifications, this M16/M4 carrier includes the proper milspec gas key. The gas key is chrome lined and heat treated per GI specifications, secured to the carrier via Grade 8 fasteners, and properly staked per military specifications.
The bolt assembly is machined from the correct milspec steel and shot peened for increased strength. The extractor and ejector are machined from tool steel. It's put together right and uses a BCM extractor spring, black extractor insert, and "O" ring. The bolt is HPT (High Pressure Tested) and MPI (Magnetic Particle Inspected).
To place at the rear of the upper, I chose the superb BCMGUNFIGHTER Mod 4 (medium) charging handle. I also attached a BCMGUNFIGHTER Vertical Grip (Mod 3-KeyMod).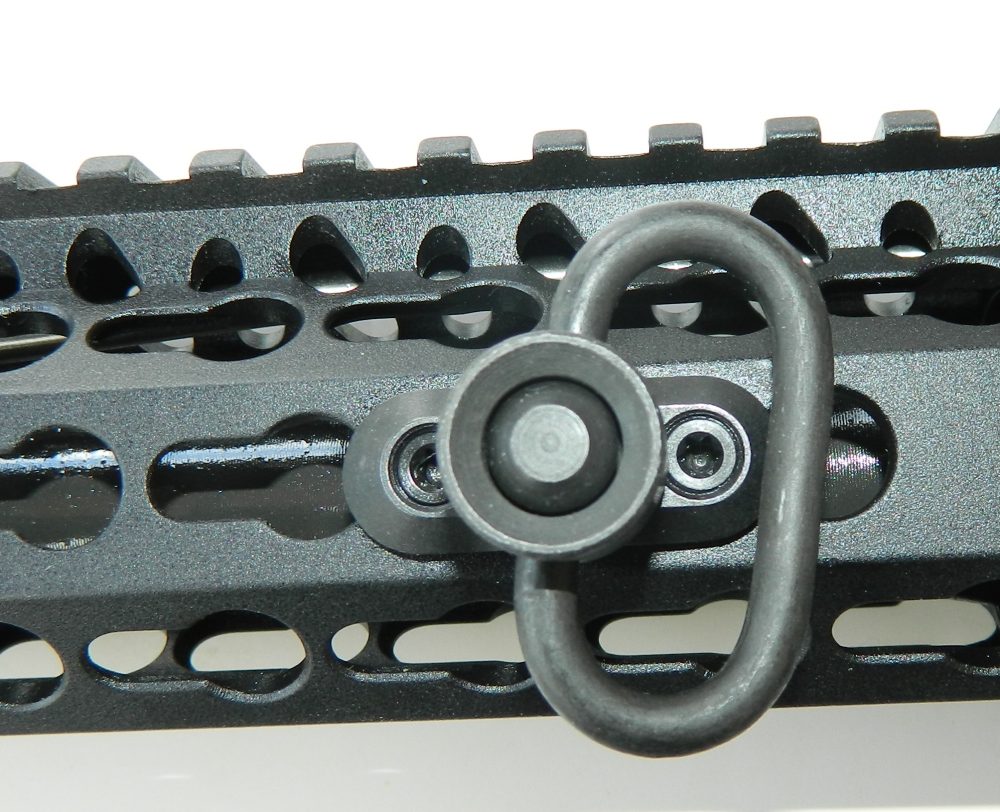 BCMGUNFIGHTER KeyMod QD sling mount.
---
FINISHING IT OFF
I've been looking for a good home for my Aimpoint Carbine Optic (ACO), and this build seemed perfect. The ACO was designed for use on AR-15/M4 type rifles at a price point within the average citizen's budget. The ACO has a two minute-of-angle (2 MOA) red dot to allow fast target acquisition and accuracy at all distances. The ACO is completely waterproof and has a battery life of 1,000 hours—or just over one year—of continuous use on a single 1/3N battery.
You can't legally or morally shoot what you can't identify. For that reason, every carbine used for self-defense—and this one might be—needs a light for positive target identification. Wanting to keep this carbine as light as possible, I went with the Elzetta Mini-CQB Modular Weaponlight, which delivers 315 lumens, plenty bright enough for the distances I envision using it at, namely home defense distances. The light is only four inches long and sits at 11:00 on the KMR handguard. The same light and mount can be used on either KeyMod or M-LOK by simply reversing the nuts.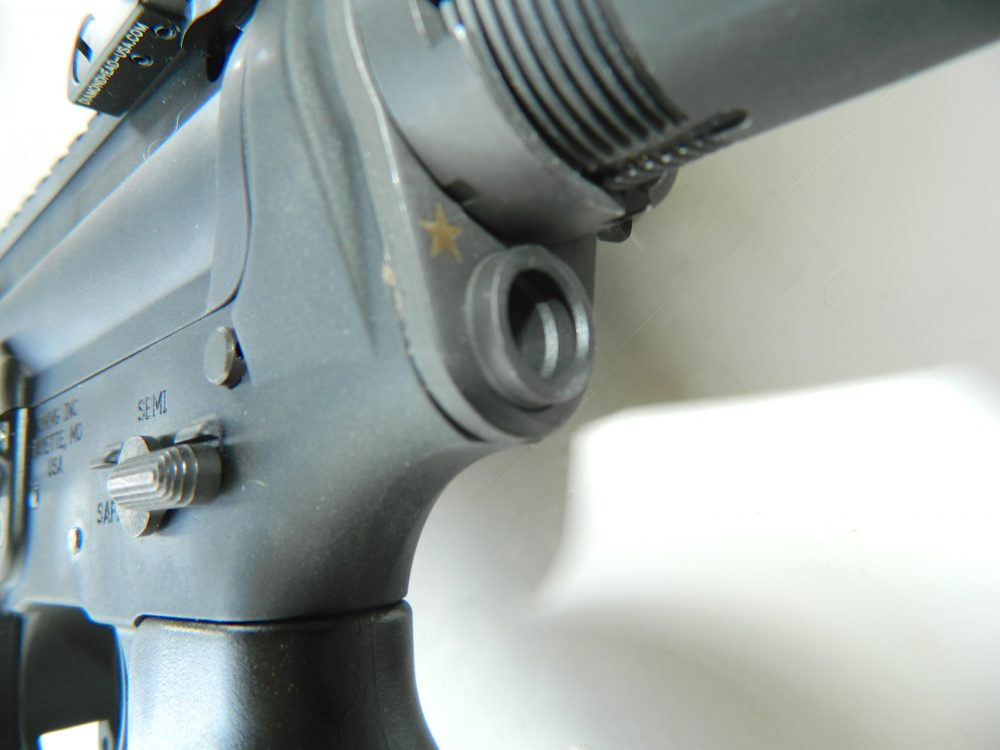 BCMGUNFIGHTER QD receiver end plate keeps sling close to the receiver, making it more manageable.
---
I believe in the adage, "A sling is to a rifle as a holster is to a pistol," so the last thing I added was a Vickers Combat Applications Sling™ (VCAS) from Blue Force Gear. The VCAS has been my favorite sling for several years due to the fact that it can quickly transition from carrying a slung rifle to a firing position. In keeping with the non-black black rifle theme, I ordered it in Wolf Gray with push-button sling swivels. I attached it to the carbine with a KeyMod QD sling mount to the left side of the handguard and the BCM QD swivel mount end plate.
Although today's optics are reliable in the extreme, I still firmly believe in having back-up sights. The BCM upper already had a front sight, but I still needed a rear sight. As mentioned earlier, the upper I chose has an "F" marked front sight. I prefer a fixed front sight because in the unlikely event the main optic goes down, I can use it as a giant ghost ring without having to deploy the front sight.
For the rear sight, I opted for the folding Classic manufactured for BCM by Diamond Head. This sight is adjustable for windage in .5 MOA clicks, and the large and small apertures are on the same plane, meaning that whichever aperture is selected, they will hit to the same point of aim. With a proprietary clamping system—providing secure attachment to all MIL-STD 1913 Picatinny rails—it flips up easily and stows with a single button.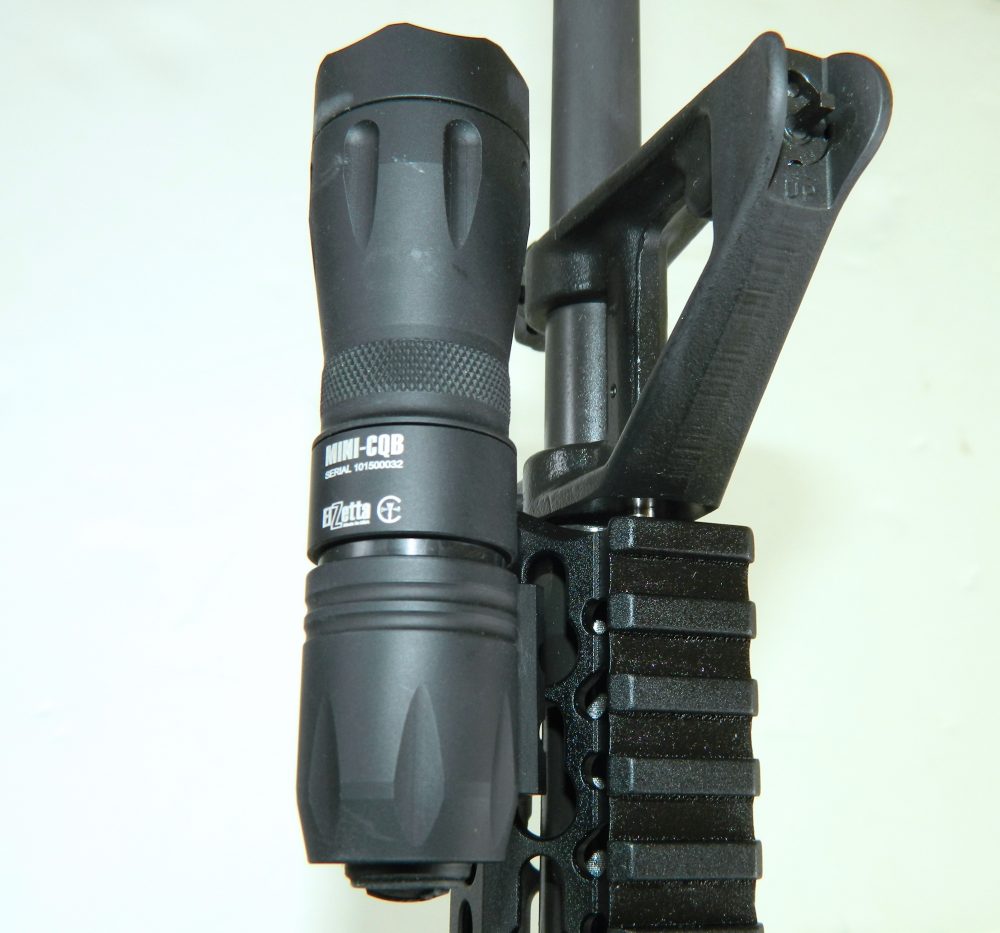 Due to offset mount design, Elzetta Mini-CQB sits at 11:00 when mounted in 9:00 slots on KMR handguard.
---
RANGE EVALUATION
I went to the range with a variety of ammunition types for a total of about 500 rounds, and seven different manufacturers' magazines made from aluminum, polymer and steel. The carbine did not experience one hiccup regardless of which ammunition or magazine it was fed with. Holding center at 50 yards on a cardboard IPSC target, with no precise aiming point, resulted in fist-sized groups.
I was interested in how the BattleComp 1.5 would work. Generally my experience with compensators—outside of competition—has not been positive due to the blast/pressure. I have stood next to one in training, and it was not a pleasant experience.
The BC 1.5 was very efficient at controlling muzzle rise and recoil—not that the 5.56 produces much recoil anyway. What recoil there was pushed straight back into the shoulder. My accuracy and speed shooting hammers and NSRs improved.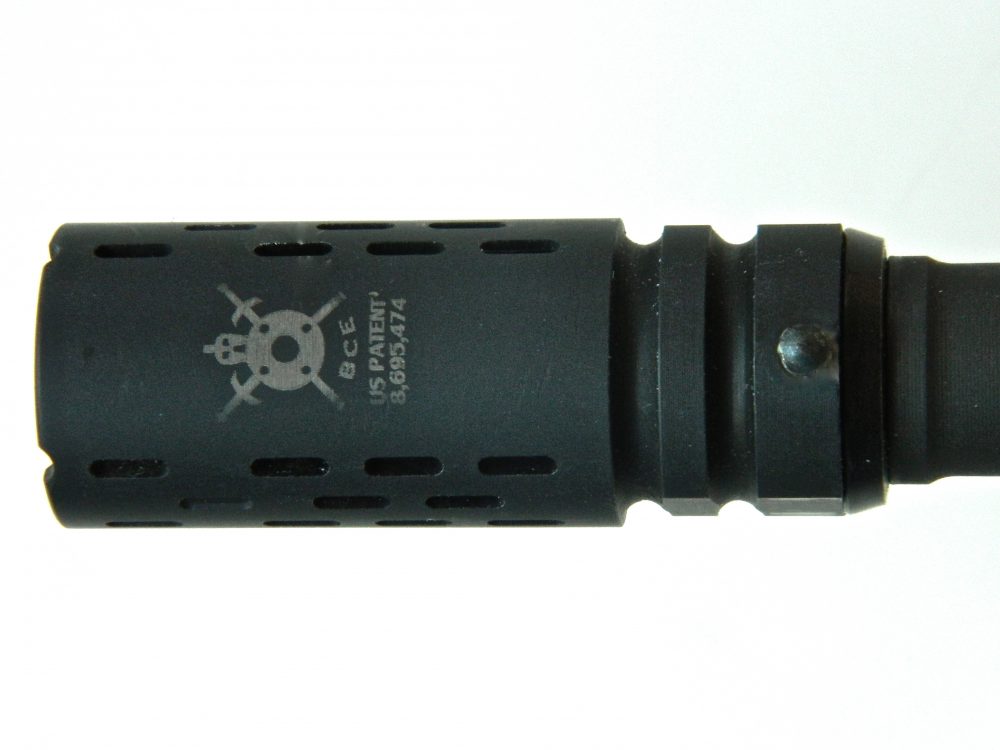 Permanently attached BattleComp 1.5 compensator brought 14.5-inch barrel up to 16-inch legal requirement.
---
It did not produce anywhere near the blast of other compensators I have tried. Shooting it at dusk, it did not seem to produce as much flash as most compensators, though certainly more than a standard A2 "birdcage" flash hider. There is no magic muzzle device, and that includes suppressors. Everything is a trade off. You need to decide if less muzzle rise or less muzzle flash is more important to you.
It is possible to buy some quality guns for less than what it costs to assemble one. Still, there is a certain satisfaction that comes from creating your own one-of-kind smoke pole.
Sometime in the near future, I hope to put together another rifle made with quality parts and chambered for .300 Blackout—because I can.
SOURCES
BRAVO COMPANY MFG.
(877) 272-8626
www.bravocompanymfg.com
CMMG
(660) 248-2293
www.cmmginc.com
AIMPOINT INC.
(703) 263-9795
www.aimpoint.com
BATTLECOMP ENTERPRISES, LLC
(650) 678-0778
www.battlecomp.com
BLUE FORCE GEAR, INC.
(877) 430-2583
www.blueforcegear.com
ELZETTA DESIGN, LLC
(859) 707-7471
www.elzetta.com