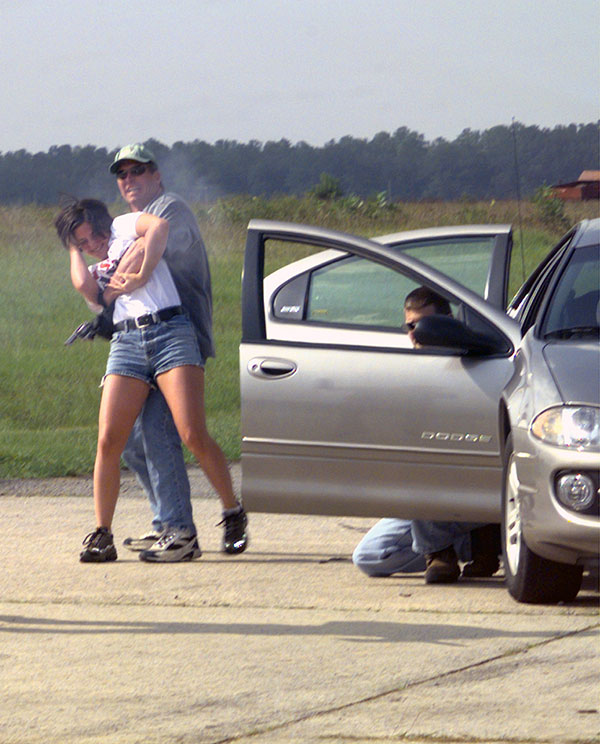 We live in an age of increasing terrorism and criminal activity. Hostage taking and kidnapping have dramatically increased as preferred tactics. No country is totally safe. Those at greatest risk include military and government personnel, foreign aid workers, and journalists in conflict zones, as well as recreational and business travelers in countries with a high risk of kidnapping for ransom and extortion.
Mexico continues to be a top kidnapping hot spot. Although locals comprise the vast majority of victims, foreign nationals face a considerable countrywide risk, with short-term express kidnappings and extortion generally a more likely threat to tourists and business travelers than traditional kidnap for ransom.
Surviving a hostage situation or kidnapping is to a considerable degree a matter of chance and varies with the type of captor and situation. The first 45 minutes of a hostage situation or kidnapping are generally regarded as the most dangerous, since both the captors and captive(s) are highly stressed and prone to act impulsively. The more time that passes, the greater your chances of being released alive. If you are to be used as a bargaining tool or to obtain ransom, you will be kept alive.
The best opportunity for escape may take place at capture and while you are still in a public place. Things will likely get much worse after that. You need to be willing to incapacitate the threat if you are unable to escape. If this is impossible or deemed too risky, make as much commotion as is safely possible to draw the attention of others to you and your situation, so that authorities are immediately notified.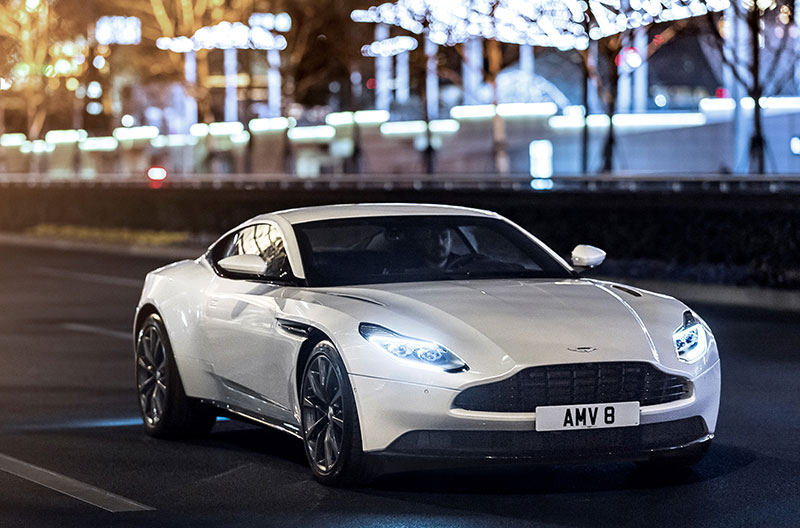 Be aware of escape opportunities during transit. Many Third World kidnappers are highly organized, with a network, including safe houses, to deal with their captives.
Always maintain a survivor's mindset. Preparation needs to start before an incident. Assess what dangers you may face and plan accordingly. Maintain situational awareness at all times. Think about an escape plan in advance. When attempting to escape, your goal is to get outside the hostile forces' perimeter.
Well-concealed escape tools are often missed during initial searches by captors, and the captors will likely initially have less complicated and less secure restraints. These tools are an insurance policy when traveling in high-risk areas. Most small tools can be concealed by taping them to various places on the body, clothing, or footwear.
Layering helps ensure that if one tool is lost, discovered, or cannot be easily accessed, another tool will be available and accessible for use. It is essential to practice and become proficient with escape tools and techniques before you need them.
GEARWARD ESCAPE TOOLS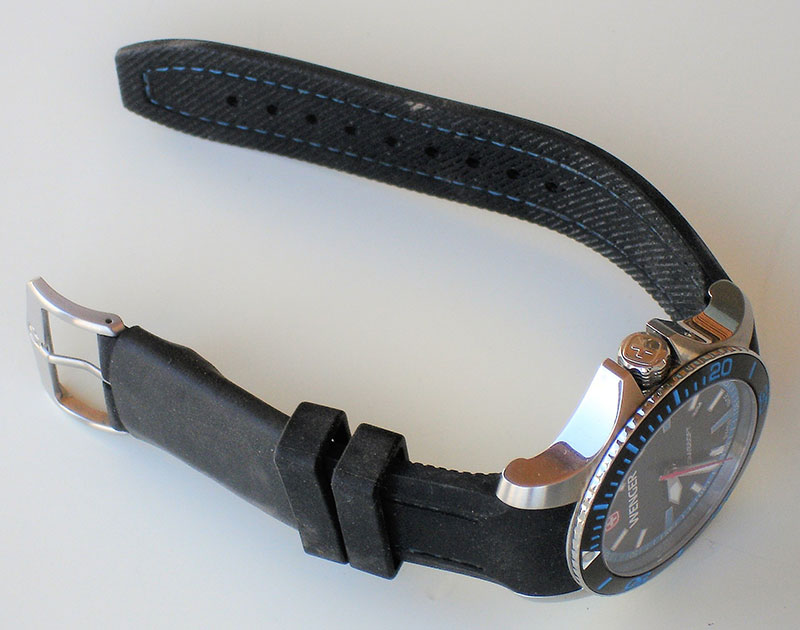 Although many tools and techniques may be employed to facilitate escape, purpose-designed escape tools are available from a number of companies. One such company is Gearward™. Based in Los Angeles, the company focuses on the development of high-performance gear for EDC, urban preparedness, outdoor survival, and SERE (Survival, Evasion, Resistance, and Escape).
Gearward offers a number of innovative products. The company provided me with samples of its Anti-Kidnapping Band™ (A-K Band™), Ceramic Escape Knife™ (CEK™) and HemiSERE™ Titanium Lapel Knife escape tools for evaluation.
The A-K Band is designed to allow you to carry escape tools in your watchband. The CEK and HemiSERE are designed to be complementary to the A-K Band as layered escape tools when traveling in high-risk areas. For example, if your watch is taken (anything of value will be taken by kidnappers) or lost, you can still have the lapel knife under your collar or the ceramic escape knife in the lining of your pants or boots.
ANTI-KIDNAPPING BAND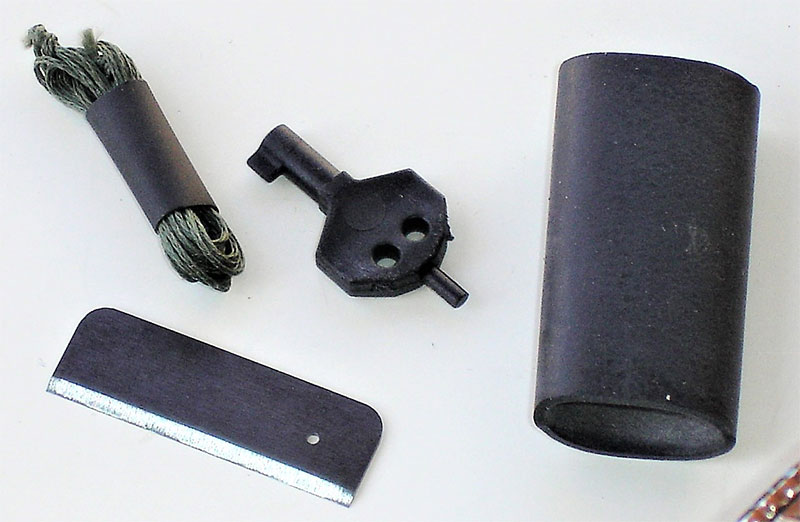 The A-K Band originated when the owner and chief designer of Gearward was planning to take a summer trip to South America. He was concerned about the possibility of kidnap and wanted an escape kit that he could always carry on him, even when he was at the beach or in the shower. This necessitated some type of wearable kit.
One option was a paracord "survival bracelet" with built-in handcuff key and other tools. But he realized these types of bracelets are well-known. He wanted something with absolutely no profile that could be worn at all times, such as his watch.
He experimented with ways to glue or sew a handcuff key into his watchband, none of which worked to his satisfaction. He then noticed a spare bit of bike inner tube left over from making the company's Ranger Bic keychain survival lighters. He slipped the section onto his watchband, and he had his answer — a discreet little watchband pouch to hide his escape kit.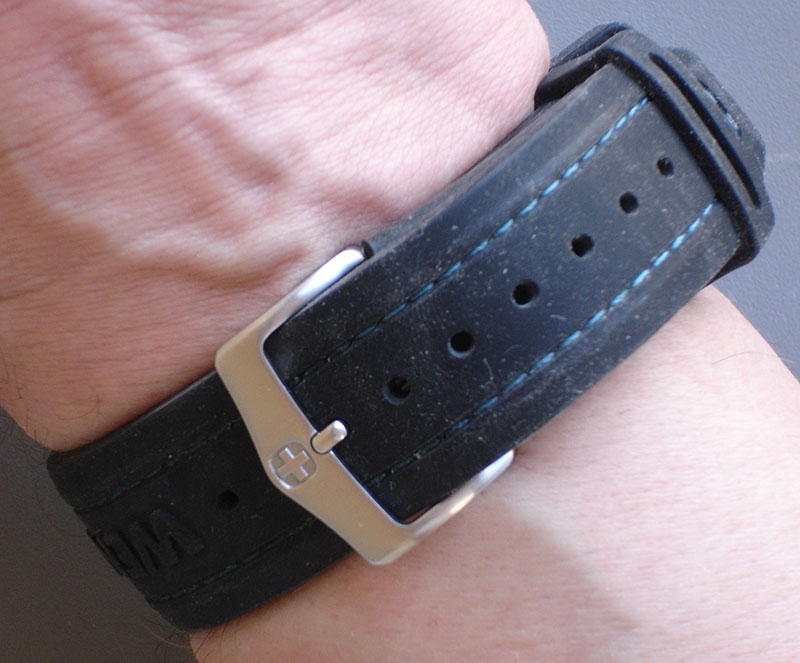 The A-K Band is designed to allow you to carry your tools in your watchband. It comes with a black rubber carry sleeve, ceramic razor blade, polymer "universal" handcuff key to escape from the majority of the world's handcuffs, and a pre-tied four-foot Kevlar® friction saw, allowing the wearer to escape from rope, duct tape, zip ties, and flex-cuffs.
To install the A-K Band, first slip the sleeve over the watchband buckle and onto the watchband. Getting the sleeve over the watch buckle on my dive watch was the toughest part. The razor is then tucked in the sleeve on the outside of the watchband, while the cuff key and friction saw go on the inside of the band facing the wrist.
Wear the watch as you normally would. The A-K Band is comfortable and very low-profile. It doesn't look out of place on a black rubber watchband, such as is found on many dive watches. The hidden tools are easily accessed, though practice is essential.
The A-K Band allows you to have escape tools with you at all times, even in situations where on-body concealment would otherwise be difficult. That being said, a watch is commonly taken by kidnappers, along with other valuables. As with any form of concealment, it should always be part of a layered approach. Multiple tools and multiple concealment locations are the rule.
The A-K Band is assembled in the United States out of U.S. and Canadian parts. Price is $25.
CERAMIC ESCAPE KNIFE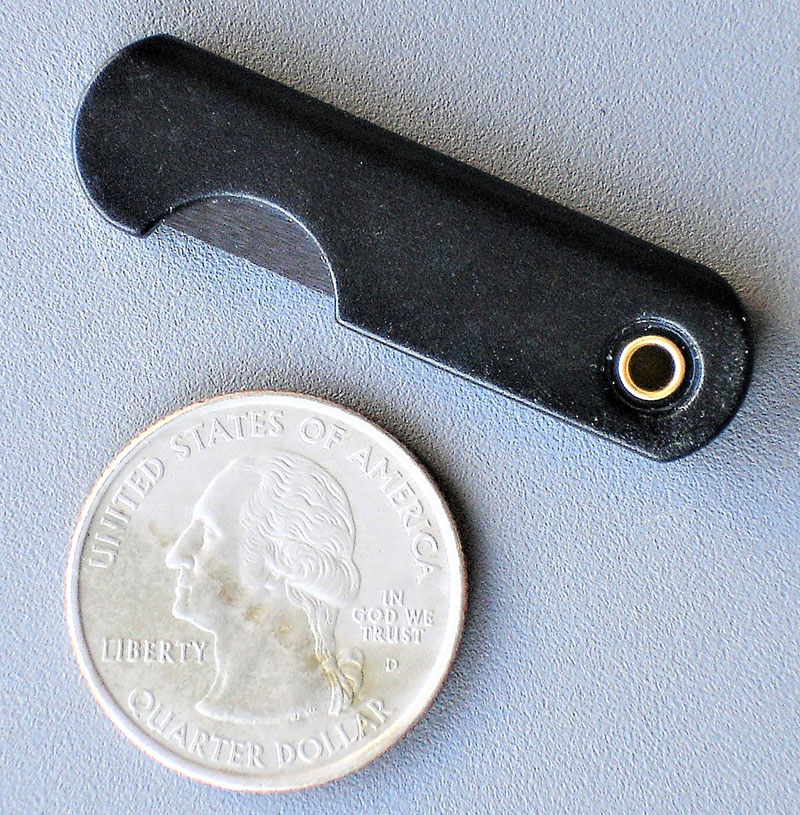 The CEK is an extremely small ceramic folding knife designed for maximum concealability. It measures only 1.75 inches x 0.4 inch closed. It has a 1.25-inch cutting edge. The CEK weighs just 2.5 grams, roughly the same as a penny. The lightweight, low-profile design allows it to be sewn into the lining of pants, shirts, or boots, minimizing the chance it will be discovered.
The ceramic blade on the CEK comes razor sharp. Ceramic stays sharper ten times longer than steel and cannot rust. It is exceptionally hard. Most sharpeners cannot sharpen ceramic knives, although this is in reality a non-issue for an escape tool to be used only in the event of unlawful restraint. Brittleness is an issue with ceramic blades, though this is also largely a non-issue for the CEK's intended applications. The only metal in the CEK is the copper grommet/blade pivot.
The CEK is made in Canada. Price is $15.
HEMISERE TITANIUM LAPEL KNIFE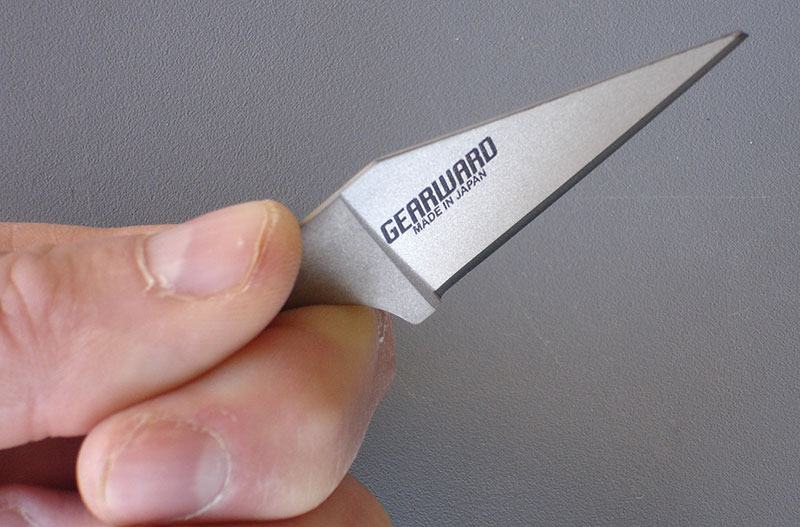 The HemiSERE is a modern version of the Lapel Knives that were issued by the U.S. Office of Strategic Services (OSS) and British Special Operations Executive (SOE) to personnel operating behind enemy lines during World War II.
The HemiSERE offers far superior ergonomics to the original Lapel Knives. A deep finger choil locks the knife into the hand and causes the blade to project forward like a claw. Combined with the high performance Wharncliffe blade shape, which is optimized for maximum cutting power, this tiny knife offers a surprising amount of slashing performance. This makes it ideal for use as a "hit and run" defensive tool for breaking contact with a kidnapper and fleeing to safety.
A number of different materials were contemplated for the design. Steel was ruled out as it is heavy and magnetic. Ceramic was rejected since it is too delicate for a knife of this type. Materials such as carbon fiber, G10 and polymers weren't considered because they can't hold a cutting edge and are only useful for thrusting. Also, contrary to their use in so-called "covert knives" by some companies, carbon fiber is detectable by metal detectors, so there is no advantage to them.
Titanium was viewed as the best candidate, as it is strong, lightweight, and has a minimal magnetic signature. But normal titanium is too soft for use in knives, so Gearward sourced a special titanium/ceramic composite from Japan.
This material combines powdered titanium with powdered ceramic, which embeds thousands of microscopic pieces of ceramic along the edge of the blade. The result is a knife with the lightweight durability of titanium and with most of the edge retention of a ceramic blade. Due to the edge retention, the HemiSERE can be counted on not only as a weapon, but also as a reliable cutting tool, making it well suited for inclusion in mini survival kits.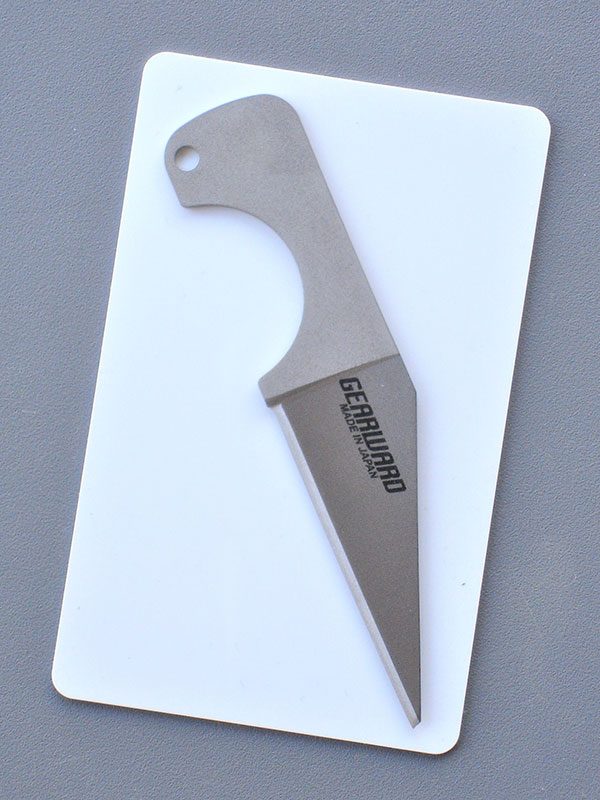 The HemiSERE is a truly compact fixed blade. At 3.375 inches long x 0.75 inch high x 0.05 inch wide, the knife is barely larger than a stick of chewing gum. Yet despite its small size, it packs a formidable 1.875-inch cutting edge, which is comparable to larger neck knives such as the Emerson La Griffe.
Even more impressive, the HemiSERE weighs only four grams—one gram less than a nickel. The feather weight reduces the metallic signature and allows the knife to be carried in unconventional places.
Instead of relying on a sheath, which adds bulk and reduces carry options, the HemiSERE uses innovative "glue dots" to attach the knife directly to clothing. Unlike other "lapel knives," you really can wear this knife under your lapel, and you can also carry the knife by attaching it to a credit card, slipping it into a phone case, or sticking it anywhere you can imagine. The glue dots hold the knife securely but allow it to be easily removed by a tug on the handle. Glue/adhesive dots can be purchased at many stores, and a pack of 300 are sold on Amazon for about $6.
The HemiSERE comes with a blank credit card and 12 extra glue dots. It is made in Japan. Price is $40.
CONCLUSION
Gearward offers some interesting and innovative products. If you work or travel in high-risk areas or are otherwise a potential target, escape tools are cheap insurance. And in reality, being taken hostage or kidnapped can happen to anyone.
Preparedness is about preparing for possibilities, not only probabilities. Are you prepared?
SOURCE
GEARWARD
www.gearward.com