The reintroduction of the Israeli bullpup Tavor rifle to America by the civilian-owned Israeli Weapons Industry (IWI) has created quite a stir in the gun community. New marketing techniques have captured the imagination of many shooters, and the rifle's uniqueness, quality and obvious tactical advantages resulted in the Tavor being named the 2014 NRA Rifle of the Year.
Although 20 countries (including three adversaries) have either adopted or produced bullpup-configured military rifles, carbines, or submachine guns, the back loaders have not caught on with our police or military, which continue to embrace conventional designs in spite of the bullpup's superior long- and short-range capabilities in a more compact package.
This configuration readily lends itself to room combat and fighting from vehicles without sacrificing muzzle velocity, which occurs when the barrels of conventional shoulder weapons are shortened to reduce overall size for increased maneuverability in close quarters battle actions.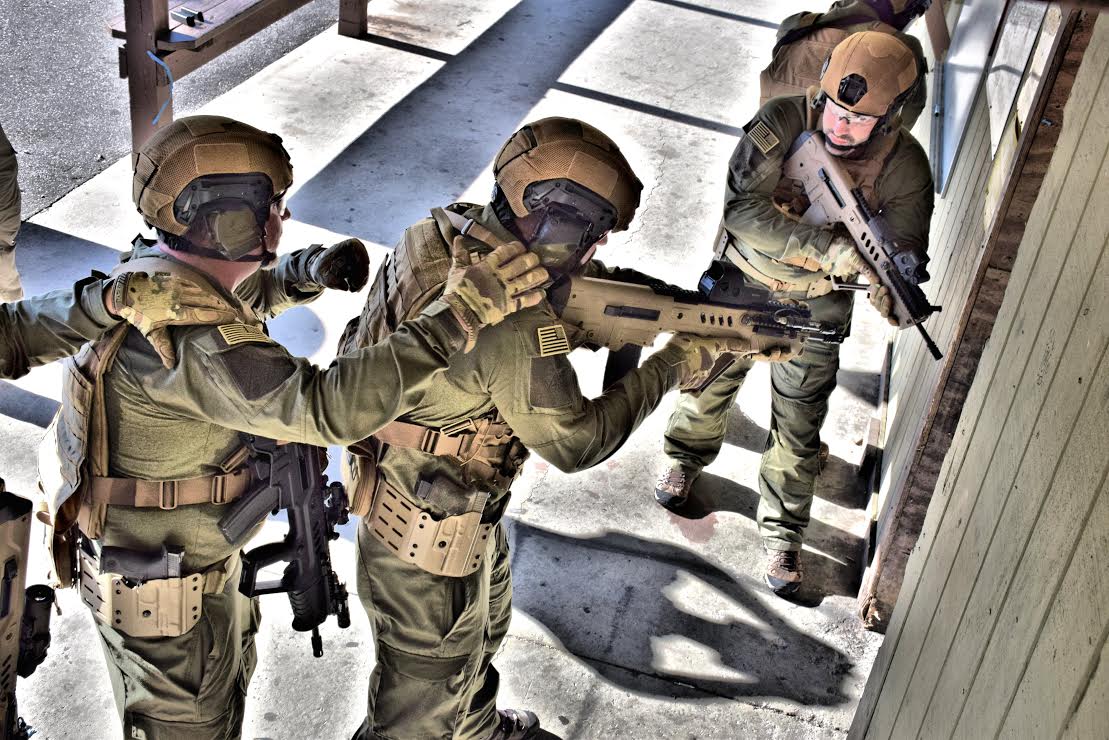 Artist's rendition of American Law Enforcement tactical team affecting forced entry with Tavor bullpup rifles, demonstrating overall compactness of rifle. Rifle-length barrel is contained in SMG-sized package.
---
FACTORY ARMORER'S COURSE
I recently attended IWI's Level One Armorer's training course held at the Harrisburg Area Community College/Piccola Law Enforcement Complex in Harrisburg, Pennsylvania. IWI's American headquarters is located in that city in a large low-profile brick and mortar industrial building.
The mix of law enforcement, military, security contractors, and civilian attendees shared my opinion that bullpup-style individual weapons are the wave of the future for projectile-firing, kinetic-energy firearms.
Also in the eclectic group were representatives from Geissele Automatics triggers, who advised that they have developed a drop-in trigger pack that reduces the Tavor's heavy trigger to approximately four pounds. Academi (formerly Blackwater) trainers were present as well.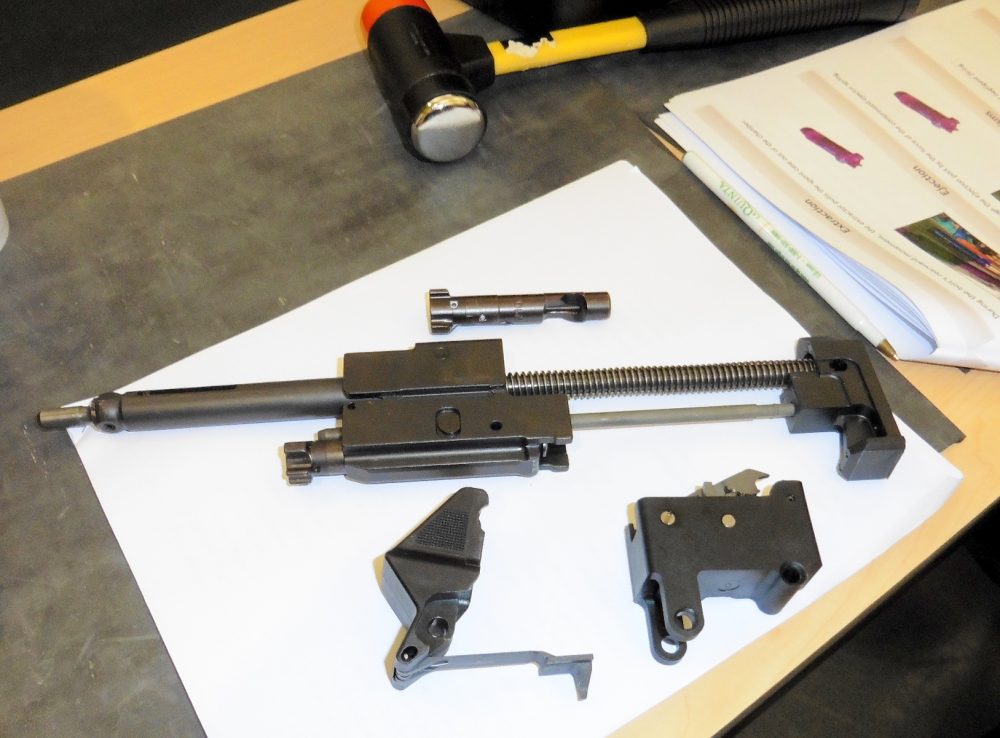 Converting 5.56mm to 9x19mm SMG with bolt carrier and firing group.
---
IWI is looking for a world-class training organization to contract with to teach the armorer's, carbine, and operator's courses that exploit the fighting capabilities of the Tavor, Uzi, Galil ACE, Jericho pistol, X95, CTAR, and Negev light machine gun.
Israeli commandos periodically provide IDF (Israel Defense Forces) CQB classes and impart battlefield experiences with the Tavor. The Galil ACE will debut in 7.62x39mm but be available in other calibers in the future. The X95 is a more compact select-fire version of the Tavor and available only to law enforcement and the military. Barrel length is 13 inches in a 22.5-inch overall length package. The CTAR is also a select-fire version of the Tavor. The Negev is gas regulated and belt or NATO magazine fed.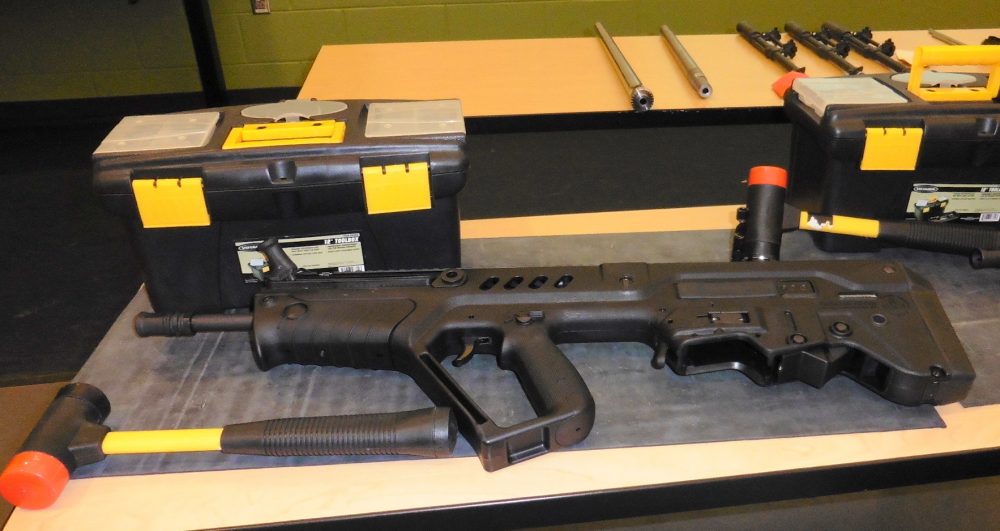 Author's bench, tools, and 16.5-inch barreled Tavor he worked on during IWI Armorer's school.
---
LATEST IMPROVEMENTS
Since the Tavor's March 2014 American debut, engineers in Tel Aviv have paid attention to field reports from end users and made several changes to the rifle. These include the following:
The 5.45x39mm version has been dropped for the United States.
A .300 AAC Blackout model is being developed.
Eliminated firing pin primer dings when round is chambered with multi-directional firing pin.
Either end of the firing pin spring can be installed. Spring retention is improved.
Bolt disassembly has been simplified.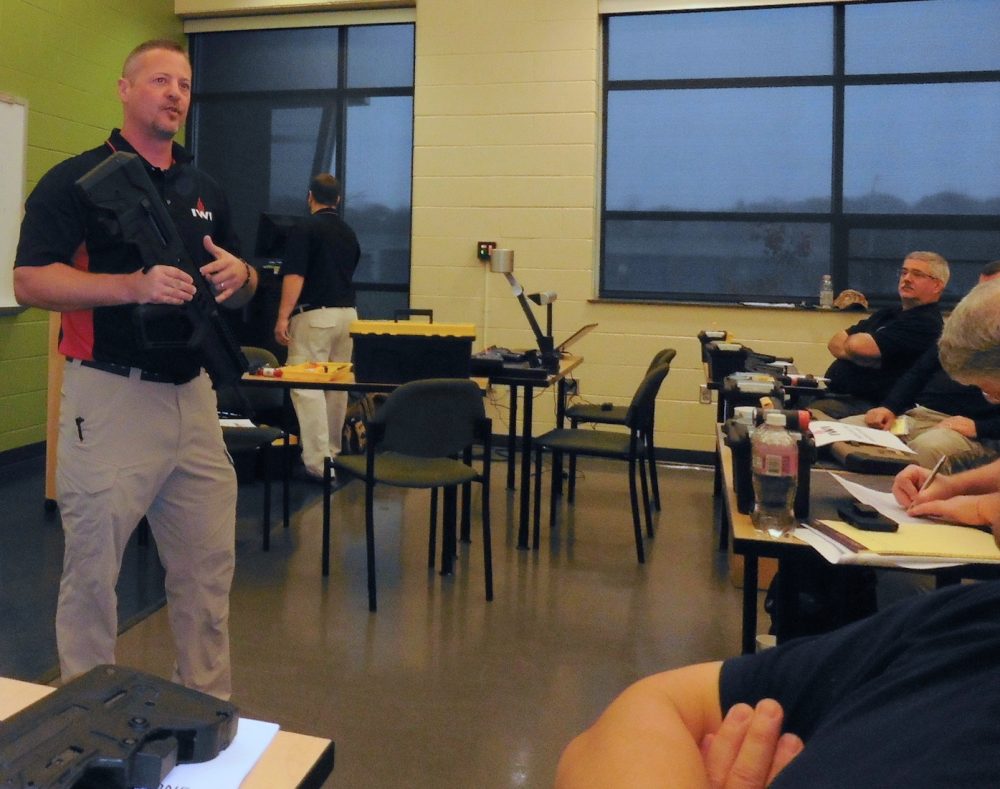 Former police officer and IWI USA National Law Enforcement Sales Manager Casey Flack discusses Tavor attributes.
---
ACCOMPLISHED IN ONE DAY
Safety briefing
Familiarization with various models (Restricted states models exist for California, Maryland, Massachusetts, and New Jersey)
Technical specifications reviewed
Bullpup advantages (nine attributes)
Ergonomics
Nomenclature
Principle of operation
Safety check
Disassembly/assembly (without tools)
Field stripping (without tools)
Bolt carrier stop lever (requires tools)
Left-hand conversion (requires tools)
9x19mm conversion (requires tools)
Maintenance and lubrication (Tavors require minimal lubrication and are designed to run dry)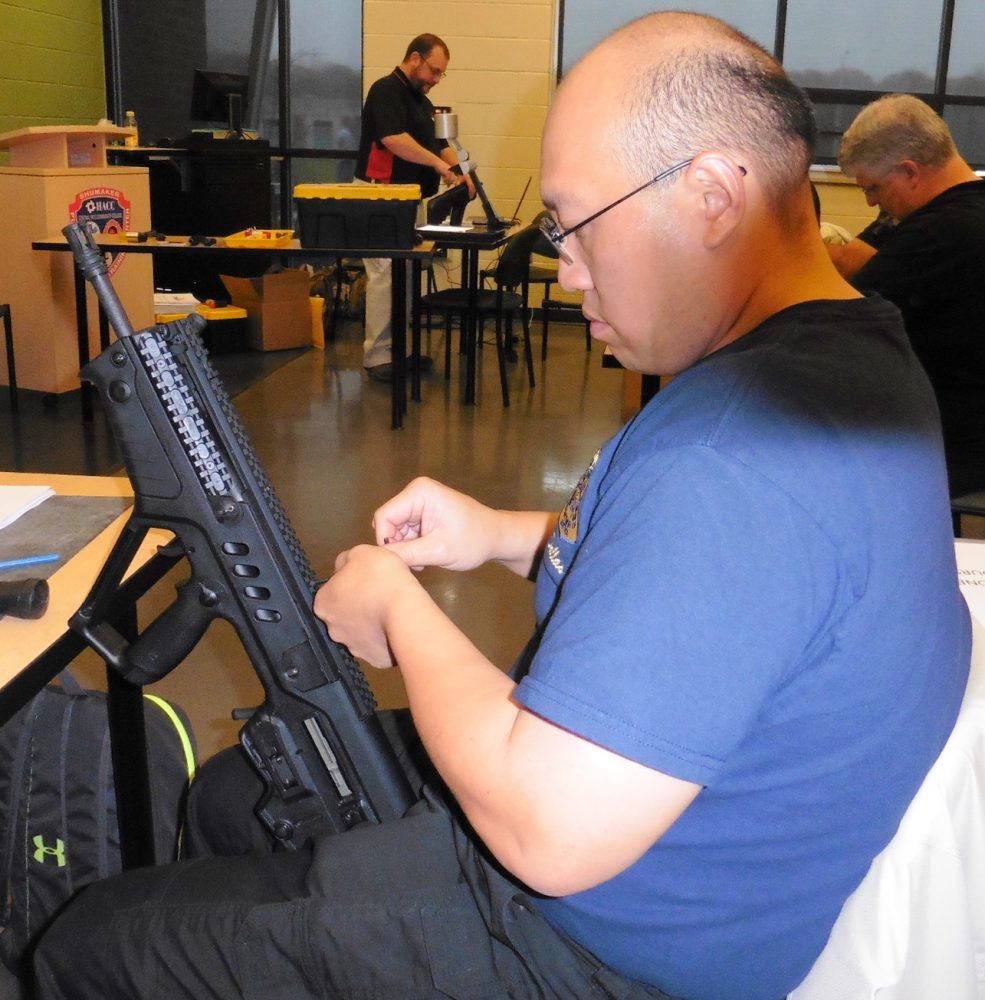 Student reinstalls cocking handle guide and Picatinny rail.
---
DURABLE SYSTEM
Parts have a replacement life of 10,000 to 30,000 rounds. The receiver assembly has a service life of 50,000 rounds. The armorer's recommended tool kit contains ten different tools, including Loctite 242. Spare parts can be purchased separately from IWI or in the form of a "survival kit," along with a maintenance kit that includes a sight adjustment tool.
Other available ancillary pieces of equipment include an articulating flashlight mount, flashlight grip adapter, two styles of vertical foregrip, bipod, sling swivels, and Picatinny rail. As an aside, two handsome low-profile gun luggage cases designed to hold weapons, magazines, ammunition, 9mm conversion kit, and tools are also featured products from the IWI store.
While the Tavor will function with most AR magazines and ammunition, a steady diet of lacquered steel-cased ammunition without routine cleaning will result in chamber buildup of the coating and cause stoppages.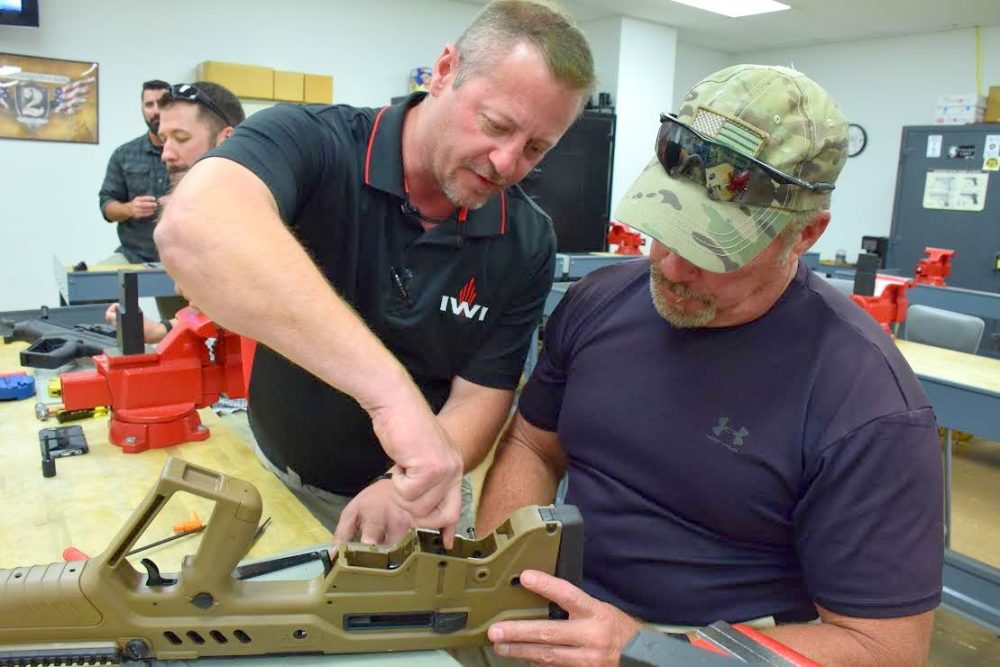 Instructor Flack points out firing group component to student.
---
CONCLUSIONS
The course is intense but well organized and presented with much one-on-one attention. Instruction is very professional, and many of the instructors have "been there, done that." For example, one young gent barely survived an RPG attack that collapsed the building he and several others were fighting from during a pitched battle in Somalia. An impressive warrior, to say the least.
The Tavor is a cinch to field strip and clean. Because it can be altered to accommodate all shooters and converted to a pistol-caliber submachine gun, it is more complicated than the AR platform and requires competent instruction. Like anything new and innovative, once experienced a few times, the procedures become second nature.
As the practical realities and advantages of bullpups become known and appreciated, they will win an increasing share of the civilian market. Authorities will hopefully come to share the same enthusiasm that Joe the Shooter has demonstrated and will also acquire the Tavor and enjoy the distinct tactical advantages it offers.
SOURCE
IWI
(717) 695-2081
www.iwi.us/tavor