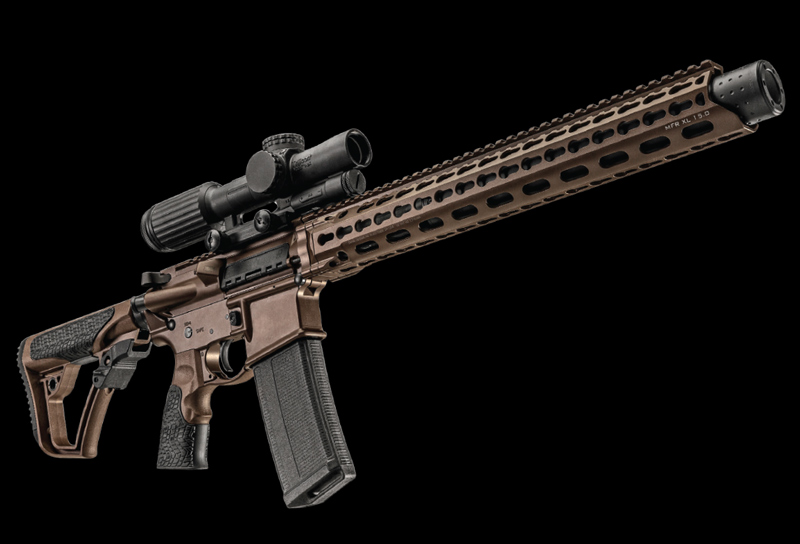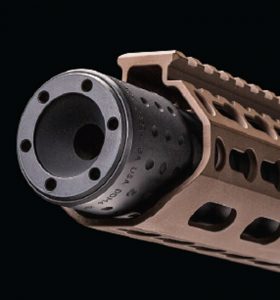 No doubt about it, Daniel Defense makes some great guns. The Daniel Defense DDM4ISR™ Integrally Suppressed Rifle made waves when it was introduced at the 2013 SHOT Show.
Not content to rest on its laurels, Daniel Defense has made a great rifle even better for 2016. The second- generation DDM4ISR is lighter, quieter, and more accurate than before.
.300 AAC BLACKOUT
The DDM4ISR is built around the .300 AAC Blackout (.300 BLK/7.62x35mm), which was designed to achieve improved ballistics from the AR platform without a reduction in magazine capacity, and to be compatible with the standard bolt. Its design parameters make it an ideal round for use in shorter barrels and for suppressed applications. And to clear up a common misconception, yes, commercially loaded .300 Whisper ammunition is in fact identical to .300 BLK.
The .300 BLK gives you options not found in other cartridges for the AR. Full-power 110- to 125-grain .300 BLK ammunition matches the ballistics of the 7.62x39mm cartridge. Subsonic cartridges provide optimal performance with a suppressor. The .300 BLK with 220-grain projectiles greatly outperforms the 9x19mm HK MP5SD in all regards.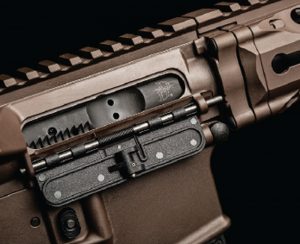 The .300 BLK is gaining traction in the law enforcement and spec ops communities. Although it's doubtful the .300 BLK will ever eclipse the NATO standard 5.56x45mm, the Netherlands Maritime Special Operations Force (NL-MARSOF) in 2015 became the first military organization to adopt the non-NATO standard 7.62x35mm round.
Daniel Defense now offers its own .300 BLK subsonic rounds. First Choice™ DD300BLK ammunition is manufactured using premium components, including first-quality durable brass cases and precision 220-grain Lapua Scenar-L OTM (Open Tip Match) bullets, which are noted for their exceptional match-grade accuracy.
The .30-caliber 220-grain Lapua Scenar-L OTM bullets used by Daniel Defense are very low-drag, with a ballistic coefficient (BC) of 0.324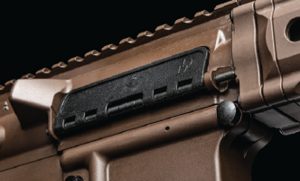 (G7). Muzzle velocity of the DD300BLK averages 1,098 feet-per-second (fps) out of a 16-inch barrel and 929 fps out of the nine-inch barrel on the DDM4ISR. DD300BLK comes in boxes of 30.
SOUND SUPPRESSION
The DDM4ISR has a nine-inch cold hammer forged barrel with a pistol-length gas system calibrated for its integral suppressor for optimal performance with both subsonic and supersonic projectiles, providing extremely effective muzzle-blast and muzzle-flash reduction.
The discharge of a firearm has two main sources of sound that need to be considered when "silencing" it: the weapon's report, i.e., muzzle
blast, and the "crack" caused by a supersonic bullet passing the sound barrier. The sound from the cycling of the firearm's action is a third consideration for some specialized applications.
Muzzle blast is the most significant source of sound generated by a firearm. It is the consequence of the shock waves resulting from high-pressure gases exiting the barrel. If the pressure is reduced immediately before it exits, the weapon's report will be reduced. Muzzle blast is also reduced by decreasing velocity of the gases and either absorbing the sound waves or canceling them by interference with reflected waves coming from the same source.
OSHA limits impulsive or impact noise at 140dB peak sound pressure [29 CFR 1910.95(b)(1) or 29 CFR 1926.52(e)]. Without hunting hearing protection, exposure to any impulse noise over 140dB causes varying degrees of permanent noise-induced hearing loss. It can also lead to tinnitus.
Although wearing hearing protection is acceptable for recreational shooters (and mandatory when shooting any unsuppressed firearm), it is often not a practical option for certain LE/MIL applications or home defense. And hearing damage is cumulative.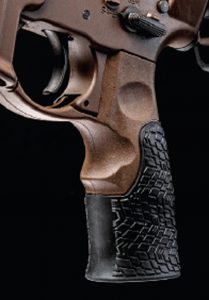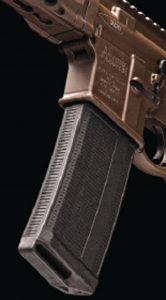 While a number of external variables impact sound suppression, the DDM4ISR typically averages 120dB with subsonic ammunition. This is outstanding performance and makes the DDM4ISR an excellent tactical, home defense, or hunting platform. It aids in concealment of the shooter's position, prevents degradation of dark-adapted vision, protects hearing, and allows for faster follow-up shots.
THE DDM4ISR
The DDM4ISR is not classified as a Short Barreled Rifle (SBR). The integral suppressor extends the barrel to the NFA-required 16-inch length, so this platform only requires one $200 tax stamp (for the suppressor). The suppressor is pinned and welded to the barrel per BATFE requirements.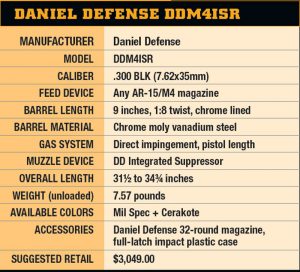 Since it is not classified as an SBR, prior authorization from the BATFE is not required for the DDM4ISR when crossing state lines (although an approved Form 20 from the BATFE for suppressors is still recommended to document that you are in legal possession in another state than is listed on your Form 4).
The suppressor features durable all stainless steel construction with a 17-4PH user-serviceable monolithic baffle core, which is easily removable for periodic maintenance. It is finished with an ultra-durable high-temp Cerakote®-C polymer-ceramic composite coating capable of withstanding extreme temperatures. These coatings are widely used in the automotive industry as high-temp exhaust coatings and are ideal for suppressor application.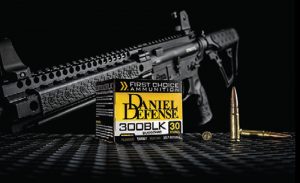 The DDM4ISR comes equipped with the Daniel Defense long MFR 15.0 free-float handguard. CNC machined from 6061-T6 aluminum and milspec Type III hard coat anodized, it features a continuous top Picatinny (M1913) rail for mounting iron sights or optics, and also has KeyMod attachment slots at three, six and nine o'clock. The 15-inch rail lets the support hand extend out closer to the muzzle, so the gun can be driven with greater precision.
The DDM4ISR has all the great features and construction we have come to expect from Daniel Defense. The upper and lower receivers are CNC machined from 7075-T6 aluminum and Type III hard coat anodized.
The lower receiver is milspec and features an enhanced widened and beveled flared magazine well and rear receiver QD attachment point. The lower receiver also incorporates an integral oversized trigger guard that doesn't require a roll pin and covers the gap between the grip and the receiver. The trigger is milspec single-stage.
The upper receiver is also milspec and has polished M4 feed ramps for smooth feeding. The bolt carrier is full-auto compatible, M16 profile, chrome lined, and has a properly staked gas key. The DDM4ISR has a six-position milspec 7075-T6 aluminum receiver extension (buffer tube) and heavy (H) buffer. Daniel Defense is now shipping all rifles with a new polymer dust cover that is said to be ten grams lighter and more durable than the older steel design.

The DDM4ISR has a chrome-moly vanadium steel cold hammer forged 1:8 twist and nine-inch S2W profile barrel. Daniel Defense cold hammer forges the chamber and bore simultaneously for perfect alignment. The barrel is chrome lined and milspec heavy phosphate coated.
The DDM4ISR features a pistol-length direct-impingement gas system. It has a low-profile gas block that is CNC machined of 4140 hardened steel and has a milspec heavy phosphate coating. The gas system is optimized for use with both supersonic and subsonic projectiles—no small trick for the .300 BLK.
The DDM4ISR is equipped with the distinctive Daniel Defense buttstock and pistol grip, which are constructed of a proprietary blend of glass-infused polymers and feature Soft-Touch™ rubber overmolding at strategic points. The adjustable buttstock has very little forward or lateral play, which is an issue with many AR adjustable buttstocks on the market. The pistol grip shares the grip angle of the classic 1911 pistol, regarded by many shooters as providing the most natural hand position and control.
The DDM4ISR is finished with a Mil Spec +® Cerakote finish. The secondgeneration Cerakote coating used by Daniel Defense features a unique formulation that enhances physical performance properties, including abrasion/wear resistance, corrosion resistance, chemical resistance, impact strength, and hardness. This finish not only protects the DDM4ISR weapon system from the elements, it looks very cool too. It's a definite head turner.
Total weight (unloaded) without accessories is 7.57 pounds. Overall length is 31½ to 34¾ inches. That, coupled with the integral suppressor, XL 15.0 rail and excellent ergonomics of the DD pistol grip and buttstock, makes for one sweet-handling carbine that is a pleasure to shoot.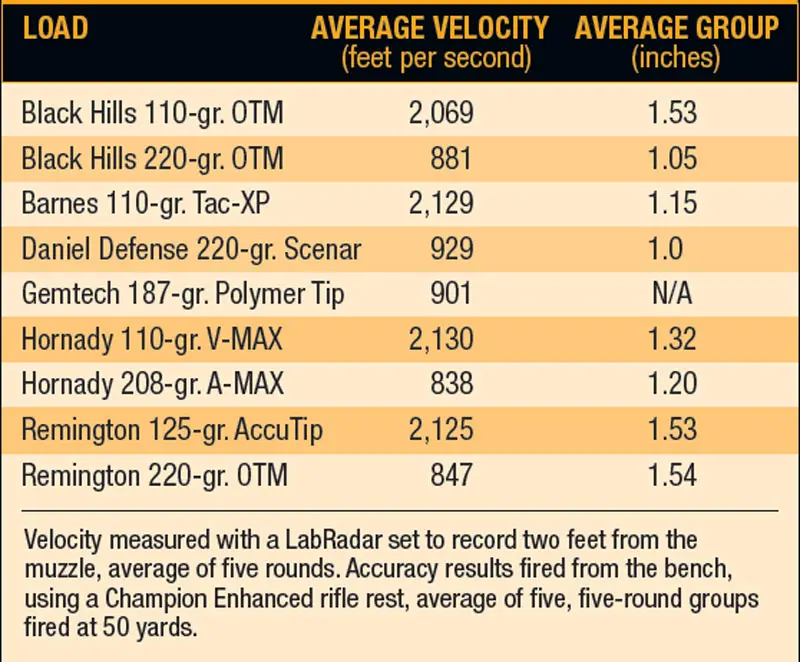 32-ROUND DD MAGAZINE
Daniel Defense rifles now come with the new 32-round DD Magazine™. Molded from carbon-fiber-reinforced polymer, the patent-pending DD Magazine features an improved feed-lip design and enhanced anti-tilt follower for optimized feeding and reliability with both 5.56 NATO and .300 BLK. Some AR magazines on the market experience feeding problems with subsonic .300 BLK rounds. Not so with the DD Magazine.
The DD Magazine offers a number of other desirable features. Surfaces are textured for enhanced grip, and the magazine features an impact-absorbing baseplate design that's optimized for use as a monopod. The DD Magazine is easy to disassemble for cleaning and fits all DDM4®, M4/M16/AR-15 variants. It is the same size as standard 30-round magazines. DD Magazines are available separately. As of this writing, they are available only in black.
AT THE RANGE
S.W.A.T. Magazine was one of the very first to go hands-on with the new DDM4ISR. I met with Thomas Carlson, Director of Marketing Communications for Daniel Defense, at C2 Tactical in Tempe, Arizona before heading out into the summer heat. Recently named Best Indoor Range in Arizona, C2 Tactical is an 07 FFL SOT and Daniel Defense Authorized Dealer.
The DDM4ISR provided for our evaluation came equipped with a Trijicon ® VCOG® (Variable Combat Optical Gunsight) and had no BUIS. When running optics for anything other than range use, BUIS are essential. Murphy is always lurking. Optics can become damaged or fail. The DDM4ISR is sold without sights or optics, so you must purchase them separately.
Daniel Defense designed and builds the ISR suppressor in-house. We tested the suppressor indoors at the C2 Tactical range using Daniel Defense subsonic 220-grain Scenar in both semiauto and full-auto fire using a Daniel Defense select-fire lower.
First round pop (FRP) was very minimal. FRP results from the burning off of the oxygen in the suppressor by the first round. FRP occurs with all suppressors to varying degrees and is generally more apparent on monocore suppressors. Overall sound suppression was outstanding, as was previously mentioned. No muzzle flash was visible.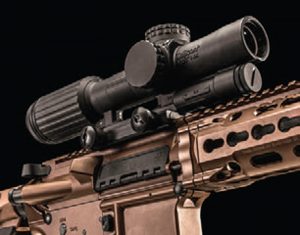 ACCURACY TESTS
Accuracy tests were conducted at 50 yards from a rest using Black Hills 110- and 220-grain OTM, Barnes 110-grain TAC-XP, Daniel Defense 220-grain Scenar-L, Gemtech 187-grain Polymer Tip, Remington 125-grain AccuTip, Remington 220-grain OTM, Hornady 110-grain V-MAX, and Hornady 208-grain A-MAX. Five, five-shot groups were shot with each ammunition tested.
Velocities were measured using an Infinition LabRadar ballistic velocity Doppler Radar. Unlike standard chronographs, LabRadar is unaffected by environmental conditions. It is the most precise method for measuring velocities.
No ammunition tested produced average groups greater than 1.54 inches at 50 yards. Best accuracy was obtained from the Daniel Defense 220-grain Scenar ammunition, with five-shot groups averaging 1.0 inch and the best group measuring 0.65 inch.
At the conclusion of our testing, several thousand rounds had been put through the DDM4ISR without cleaning other than wiping the bolt down and applying a little CLP. There were no malfunctions.
Significant differences exist between supersonic and subsonic .300 BLK ammunition from manufacturer to manufacturer. As a result, .300 BLK carbines can be a bit finicky. This was not the case with the DDM4ISR during our evaluation. DD Magazines were employed exclusively.
The DDM4ISR has a suggested retail price of $3,049.00. It comes with a Daniel Defense Full-Latch Impact Plastic Case, 32-round DD Magazine, and operator manual. The DD Magazine has a suggested retail price of $20.00. All Daniel Defense products carry a 100% lifetime satisfaction guarantee against defects in original materials and workmanship.