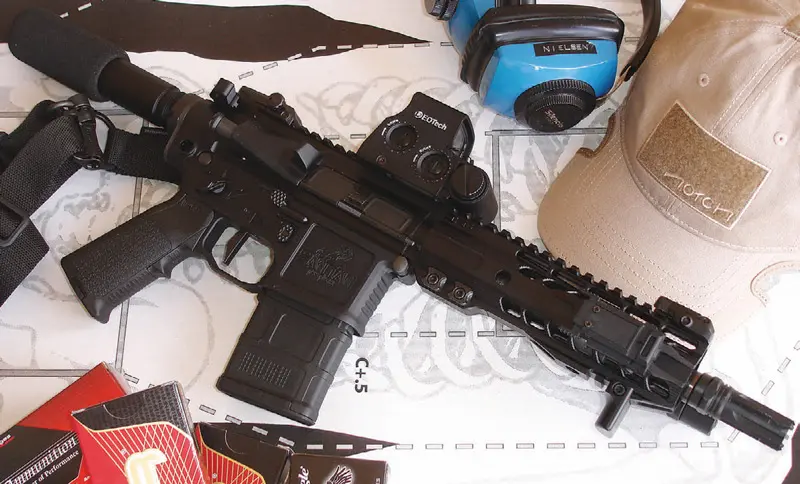 I have become a big fan of the .300 AAC Blackout (.300 BLK/7.62x35mm), which was designed to achieve improved ballistics from the AR platform without a reduction in magazine capacity, and to be compatible with the standard bolt. Its design parameters make it an ideal round for use in shorter barrels and for suppressed applications.
Full-power 110- to 125-grain .300 BLK ammunition matches the ballistics of the 7.62x39mm cartridge. Subsonic projectiles provide optimal performance with a suppressor. The .300 BLK ammunition with 220-grain Sierra OTM (open-tip match) bullet vastly outperforms the 9mm HK MP5-SD.
In July 2015, the Netherlands Maritime Special Operations Force (NL-MARSOF) became the first military organization to formally adopt the non-NATO standard 7.62x35mm.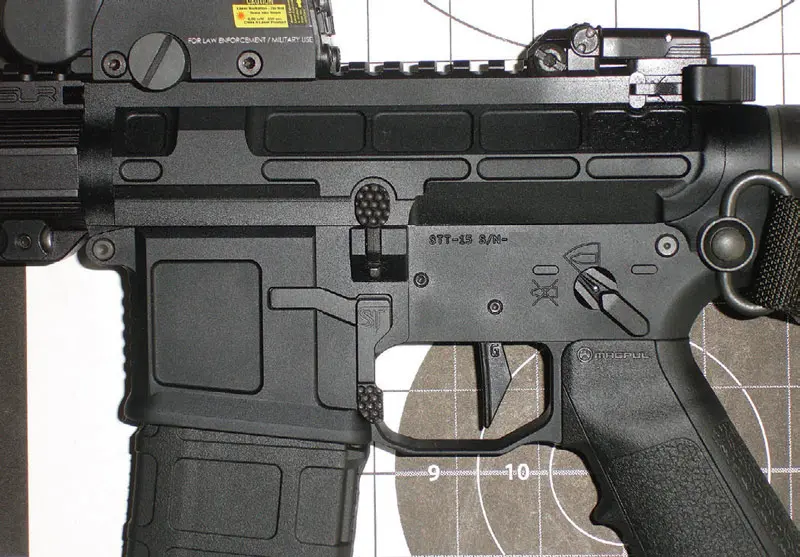 AR PDW PISTOL BUILD
The .300 BLK was the logical choice for my AR PDW pistol build. A .300 BLK AR pistol offers a number of advantages as a Personal Defense Weapon (PDW). It is light, compact, easily manipulated and, when assembled from quality parts, surprisingly accurate and reliable. And not being an NFA-controlled firearm, it can be taken practically anywhere a pistol is legal without paperwork.
Although there are a number of quality AR pistols on the market, none truly met my requirements. I wanted a no-compromise PDW pistol assembled from the very best available parts. The answer was to build my own.
The receiver is the foundation of any AR build. Choosing the right receiver is akin to building a house on a solid foundation. After examining all available options, I decided on the STT-15® PILLAR Billet Receiver Combo from San Tan Tactical.
STT-15® PILLAR BILLET RECEIVER COMBO
Billet receivers allow manufacturers to think outside the box. Dennis Harless of San Tan Tactical took full advantage of this capability to design one of the most advanced, feature-rich AR receivers ever made. It's a truly ambidextrous AR-15/M4 platform that accommodates all shooters without the need for costly add-ons.
Each STT-15 receiver is machined directly from a billet of 7075-T651 aerospace-grade American aluminum on Haas CNC machinery. This allows ultra-tight tolerances and consistency. The receiver is then finished in milspec MIL-A-8625 Type III hard anodizing.
The STT-15 lower works with any milspec or commercial buffer tube and stock. It has a large 1.38-inch integrally machined magazine well flare. Integrally machined QD sling swivel points are also in both the left and right hands of the receiver, with anti-rotation stops at every 45 degrees.
The STT-15 lower has an ambidextrous bolt release and ambidextrous magazine release. The controls are machined from billets of A2 tool steel and feature San Tan Tactical's "ultra grip" texture. The lower will also accommodate an ambidextrous safety lever and has bullet pictogram safety selector markings on both sides.
Other features include a set screw to remove trigger creep, set screw upper take-down tension adjustment, milled shooter-ready finger rest, oversized winter trigger guard, and dowel screw assembly.
The STT-15 is 100% compatible with any milspec lower parts kit, with the exception of the proprietary left-hand magazine and bolt release. The STT-15 lower comes fully assembled with the bolt catch and magazine release installed. A California compliant version is available.
When San Tan Tactical designed the STT-15 receiver set, they sought to overcome the shortcomings they saw in other current offerings. According to San Tan Tactical, it needed to be lighter, stronger, and faster than other receivers currently on the market, all while looking good doing it.
The STT-15 upper features truss pockets that distribute the stress across the entire platform versus putting all the stress on the material right behind the threads of the receiver. The extra strength gained from this design not only helps relieve stress on the receiver, but also helps improve inherent accuracy.
Most billet receivers are a blocky, heavy, thick design. This is not the case with the STT-15. Through the use of 3D CAD modeling software, San Tan Tactical was able to achieve a significant weight savings in places where extra material didn't have a purpose, such as the forward assist block and shell deflector.
The STT-15 PILLAR billet upper and STT-15 billet lower are available separately or as a matched set. All San Tan Tactical STT-15 receivers and small parts are machined in house in Chandler, Arizona. In my opinion, you won't find a better AR receiver than the San Tan Tactical STT-15.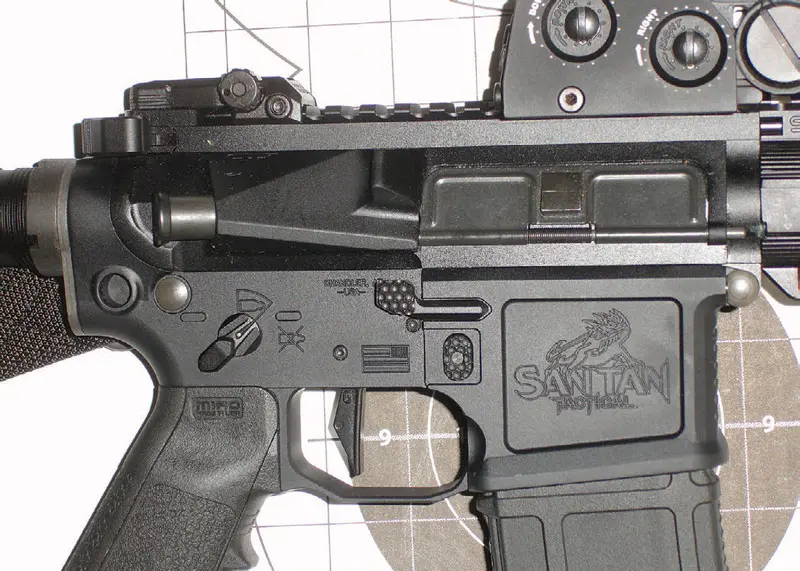 ADD-ONS
I went with Geissele Automatics Super Dynamic 3 Gun (SD-3G®) trigger and four-pound duty spring. The SD-3G trigger is the flat trigger bow version of Geissele's Super 3 Gun (S3G®) trigger.
The SD-3G trigger has a very short, light pull and reset for use when rapid target engagement with quick follow-up shots is required. The SD-3G was developed to combine the Super Select Fire SOPMOD (SSF®) combat trigger's match-grade semiautomatic performance with its smooth single-stage full-automatic feel.
For the charging handle, bolt carrier group (BCG), and safety selector, I went with AXTS Weapon Systems Raptor™ ambidextrous charging handle, Black Nitride BCG, and Talon™ 45/90 Ambi Safety.
The AXTS Raptor™ ambidextrous charging handle is built for performance out of 7075 aluminum and milspec hard anodized. It features reciprocating levers that make rapid palm "blading" or finger and thumb charges of the weapon fast and effortless from either strong or support side. The offside lever is slightly longer to clear the bolt assist, and both sides feature jimping for added control.
The Raptor has been tested at over one million cycles without failure. AXTS offers the Raptor with milspec MIL-A-8625 Type III hard anodizing or Cerakote® finish.
The AXTS bolt carrier is manufactured from case-hardened 8620 steel and has a properly staked 4130 steel gas key. The bolt is case hardened 9310 steel, shot peened, HPT and MPI tested. It is finished in a self-lubricating polished black nitride. The bolt lugs are CNC ground following heat treatment to guarantee the greatest accuracy and reliability.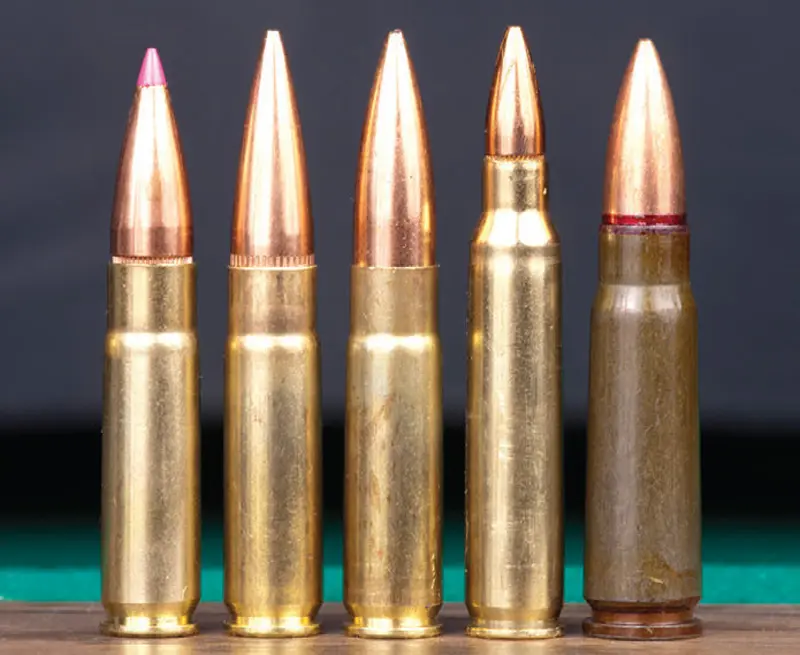 The Talon 45/90 ambidextrous safety is made from 7075 aluminum and allows the shooter to easily switch from a 90-degree throw to a shorter 45-degree throw without removing the safety from the lower. It features a screw-less design that eliminates any worries about the levers coming loose or falling off. It is available in a two-lever set (long and short) or a four-lever set (long, medium, medium tapered, and short). AXTS offers the Talon AXTS in milspec Type III hard anodizing or Cerakote finish.
I had Black Hole Weaponry make a custom eight-inch barrel in .300 BLK with 1:7 twist and standard profile (.750 gas block) and custom black oxide finish.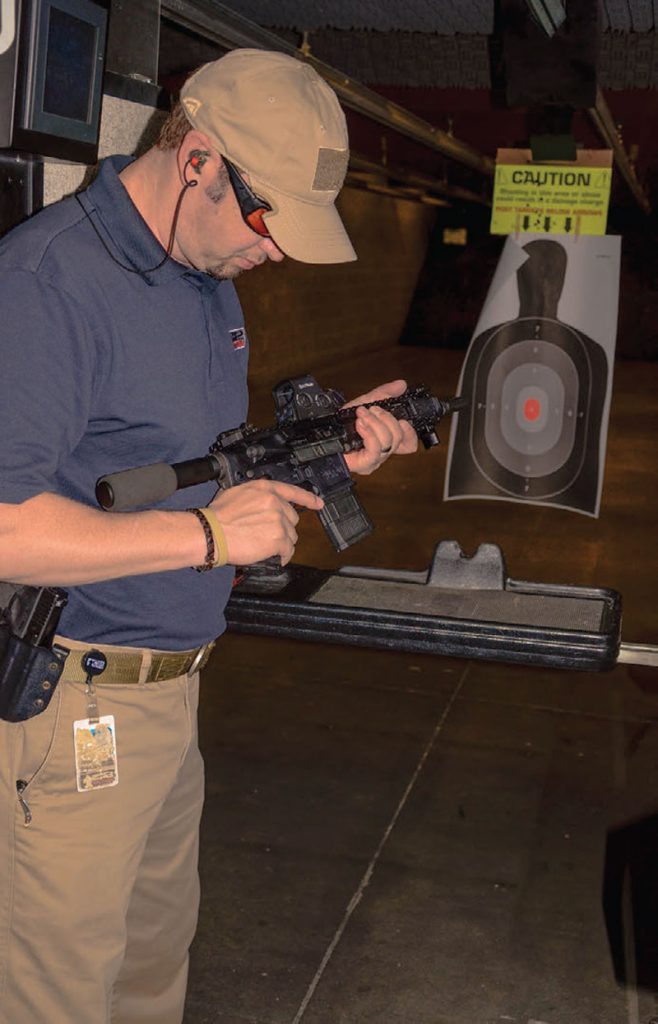 Black Hole Weaponry barrels are made from 416R stainless steel and feature a unique three polygon rifling that offers a number of advantages over traditional rifling. These include providing a better gas seal around the projectile, less bullet deformation (thus greater accuracy), reduced fouling, less sensitivity to stress concentration induced barrel failure, and prolonged barrel life.
After profiling and finishing, each barrel is marked with their name, lot number, chambering, twist, and inspector's stamp. All barrels undergo MPI and other non-destructive testing, and random samples are pulled for destructive testing. Black Hole Weaponry barrels are available with a variety of profiles, fluting, and finishes.
I went with the SLR Rifleworks Sentry 6 Set Screw Premium Adjustable Gas Block. Made of Grade 5 titanium with a bead-blast finish, the patent-pending low-profile gas block weighs only 0.77 ounce and uses a standard gas tube. It features a proprietary alloy flat spring with 1400 degree temper and a Melonite finish 4140 detent plunger. Unlike competing designs, there are no tiny springs to corrode, break or seize, and no tiny ball to seize or get lost. Complete disassembly takes less than ten seconds.
The Sentry uses a single tool click to adjust gas metering. The metering screw and screw bore design allow repeatability and reliability. 100% gas seal allows full cut-off and prevents gas from fouling the metering screw. The Sentry works with all SLR handguards and most others.
There are significant differences between supersonic and subsonic .300 BLK ammo from manufacturer to manufacturer and when running suppressed and unsuppressed. SLR Rifleworks recommends position seven as a starting point when firing supersonic ammo with a pistol-length gas tube, and position 15 (fully open) when running subsonic with or without a can. I recommend sticking with supersonic if running unsuppressed and with one brand and bullet weight if possible.
I chose SLR Rifleworks Gen 4 seven-inch Solo Series free-float handguard. The Solo is the most popular handguard in the SLR lineup. It's made from 7075 aluminum and milspec MIL-A-8625 Type III hard anodizing. The seven-inch Solo has a 7.25-inch milspec top rail and two QD points at the rear. It is also equipped with short bottom and top rails.
The Solo has a 7075 aluminum barrel nut with hard-coat anodized Melonite finish hardware. The Solo features a slip-fit locking mount and billet anti-rotation insert. The barrel nut uses standard wrenches or an SLR Billet wrench.
I added an Impact Weapons Components Weapon Control MOUNT-N-SLOT™ (1913) Hand Stop. The low-profile Weapons Components Weapon Control MOUNT-N-SLOT occupies only one rail slot and takes up 65% less rail space than competing designs. It is made from 6061-T6 aluminum and hard anodized.
Phase 5 Weapon Systems™ was the logical choice for the pistol's receiver extension (buffer tube). It's made from 7075 T65 hard anodized aluminum, has a durable nitrile rubber foam pad, plus milspec end plate and castle nut. The buffer tube is compatible with a milspec carbine buffer and spring.
Instead of going with a standard carbine buffer spring and H2 buffer, I opted for JP Enterprises Silent Captured Spring (JPSCS™) Heavy Mass Version for my build. The JPSCS is a patented combination buffer/spring assembly that eliminates the friction of standard buffer components, resulting in superior smoothness and sound abatement. It eliminates the "spoon over a cheese grater" sound emitted by standard buffer components. The spring is removable from the assembly for custom tuning.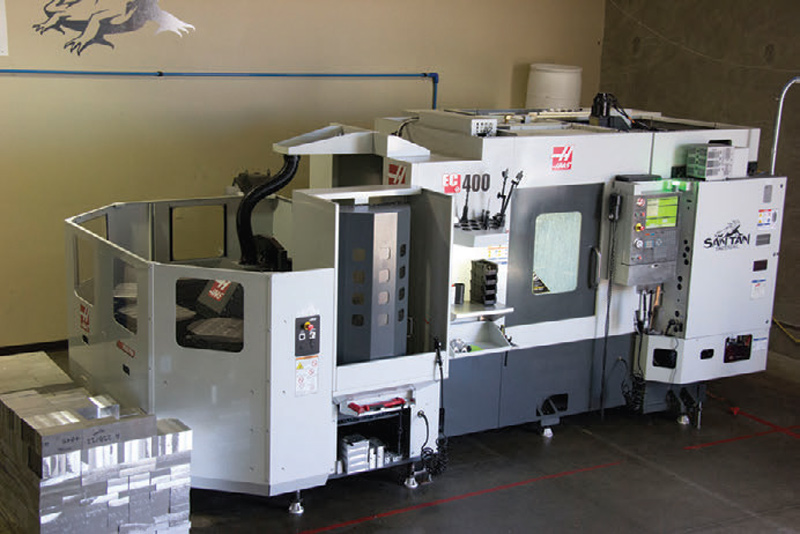 FINISHING TOUCHES
I finished the build off with a Magpul® MIAD® GEN 1.1 Grip Kit, MBUS® Pro front and rear backup sights, and MS4® Dual QD Sling GEN 2. I also added an EOTech XPS2-300 HWS and SureFire M300 Scout Light®.
The Magpul MIAD grip features in terchangeable front and back straps for a custom fit. In addition, the MIAD has an internal cavity that can be paired with optional grip core inserts. The allsteel MBUS Pro sights offer a load of features that make them outstanding BUIS. The MS4® Dual QD Sling GEN 2 is a theory-based product that allows the operator to instantly switch to either a one- or two-point configuration.
The EOTech XPS2-300 offers a twodot ballistic drop reticle designed for the .300 BLK round. It allows the shooter to zero either subsonic or supersonic rounds in the same reticle pattern.
The ultra-compact SureFire M300 Mini Scout Light is a great choice for a PDW pistol or SBR. It takes up little rail space, increases weapon maneuverability, and minimizes added weight. Powered by a single CR123 battery, the LED produces 300 lumens and is focused by a proprietary TIR lens, providing plenty of reach for mid-range applications and enough surround light for close quarters.
I also installed a LaserMax Uni-Max LMS-UNI-G Green Rail Mounted Laser. Smaller than a matchbox, it's an outstanding choice for PDW applications. The LMS-UNI-G has a Native Green™ laser diode that takes less power than DPSS green lasers and has a greater operational temperature range.
RESULTS
To date I have put over 500 rounds through the pistol, including ammo from Black Hills, Federal, American Eagle, Hornady, and HPR Ammunition. The pistol has been 100% reliable. Magpul PMAG 20 Gen M3 and 30 Gen M3 magazines were employed during the range sessions. Accuracy has also been excellent. Fired from a rest, it's capable of sub-MOA accuracy.
The perfect .300 BLK PDW pistol? Well, at least for my needs, it's nearly ideal.
The author would like to thank C2 Tactical, located in Tempe, Arizona, for providing the use of its ranges. C2 Tactical was named Best Indoor Range in Arizona.