Target-Factory™ has come out with some awesome new reactionary targets that are lightweight, easy to handle and simple to set up and take down. Not only are they very affordable, they are also a heck of a lot of fun. They're just the ticket for a family day at the range.
The targets are made of LDPE (Low Density Polyethylene), a tough plastic used in many outdoor applications (such as large neighborhood trash cans). LDPE is environmentally safe and 100% recyclable. It has excellent UV stability and maintains good color.
All rounds penetrate through the hollow targets, leaving a smaller hole than the actual diameter of the bullet and, while not completely self-sealing, the targets are pretty darn close to it. The targets can be shot literally hundreds—if not thousands—of times before replacement.
You don't have to worry about cleanup. There isn't any. They are the only action targets for indoor ranges that have no fragmentation, ricochet or bullet deflection. Minimal plastic material comes off the product as a result of shooting, with the plastic punching out versus ripping apart.
TARGET-FRAME SET
The patented Target-Frame Set comes with Target-Factory's A-frame and one 6-Pak™ of reactionary Target-Bottles. You can purchase an additional 6-Pak to make a deluxe Target-Frame that holds 12 bottles. Replacement bottles are sold separately. The Target-Frame Set weighs only 12 pounds with six bottles attached or 14 pounds with 12 bottles.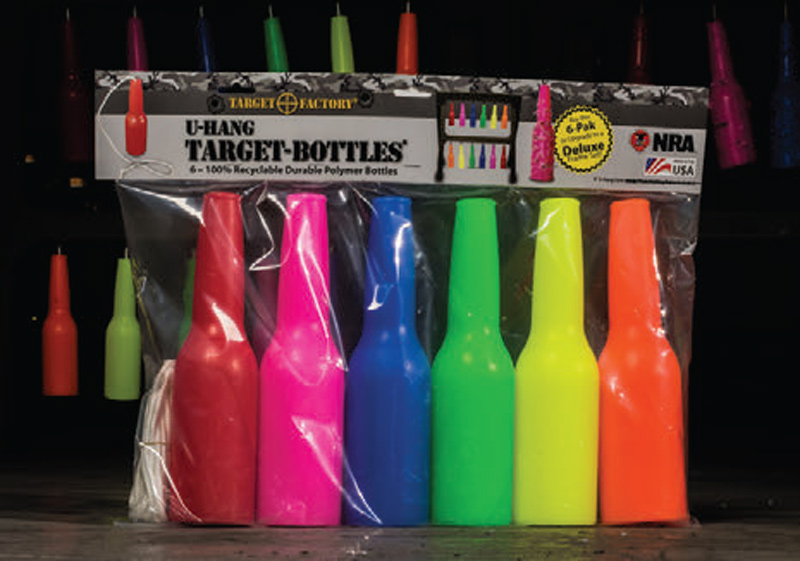 The Target-Frame is made of LDPE and is just as durable as the targets. The frame will take hits from hundreds of rounds. Target-Factory hasn't had any reports of a frame destroyed by shooting. The frame features an interlocking hinge and folds flat for hanging, easy storage, and transport. The frame is neutral green to offset the bright target colors.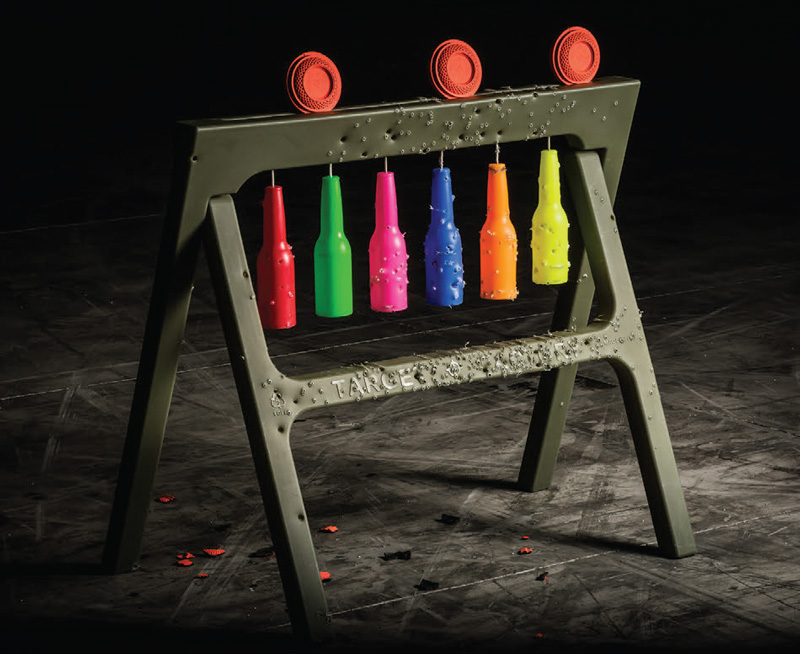 TARGET-BOTTLES AND TARGET BOWLING PINS
U-Hang Target-Bottles® come in a 6-Pak or 3-Pak™ in highvisibility colors that stand out against virtually any background. The bottles have a one-inch hole drilled in the bottle bottom to facilitate hanging. All bottles come with 18 inches each of 3/16-inch cord. The Target-Bottles are similar in size and weigh about the same as a long-necked glass bottle. They provide high action for even the smallest calibers.
For something more substantial, Target-Factory offers its high-visibility, high-durability Target Bowling Pins®, which are the same size as regular bowling pins and weigh ¾ pound each. Due to their weight, they provide the best action with larger calibers, as there is not enough mass in a small caliber to create significant movement when they are hit.
Each Target-Bottle will take over 200 .22-caliber hits and over 100 .45-caliber hits before needing to be replaced. High-velocity smaller-diameter calibers, up to .50 caliber, create minimal damage. The Target Bowling Pins will take hundreds of rounds. According to Target-Factory, they have yet to shoot one of their targets to the point of complete destruction, and haven't had any reports of complete destruction from purchasers.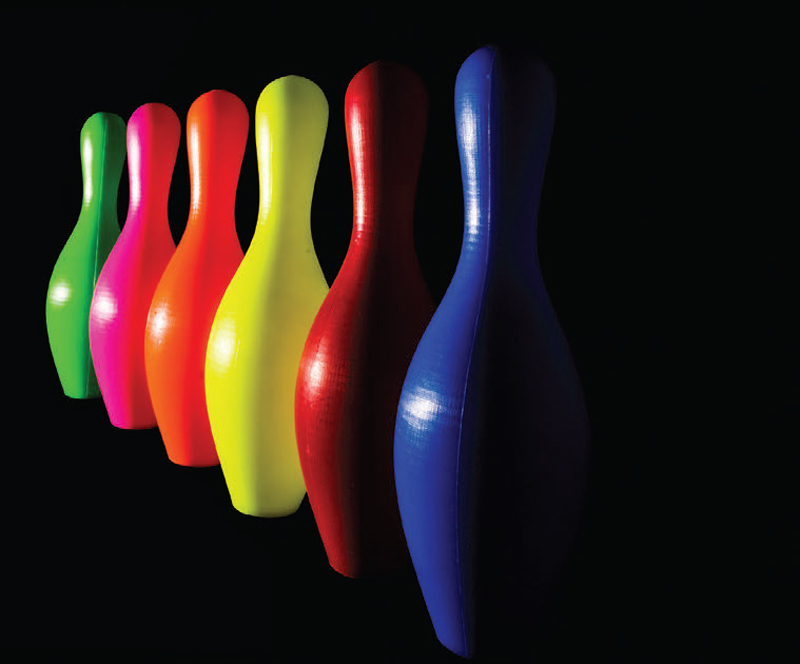 EASY ASSEMBLY
Assembly of the Target-Frame couldn't be simpler. Run the supplied cord through the Target-Bottle out the bottom, knot the cord, place another knot one inch above the bottle top, then insert that knot in the hole and slot on the underside of the frame (it's a good idea to melt the ends of the cord by the knots to keep them from coming loose). At the range, just unfold the frame and you're ready to shoot. It takes only seconds.
There are no mechanical or other parts to fail. If the cord holding a bottle is accidentally shot, reattach the target with the extra supplied cord or use any 3/16-inch cord. U-Hang and Bowling Pin Targets are easily hung and removed. There is no resetting of any hung targets after they are shot. The targets may also be set on the ground or on other surfaces or stands.
The durability of Target-Factory products makes them usable for long periods of heavy shooting. Due to the lack of degradability by the elements (e.g., rust, fading, UV damage, moisture), the product will last for years. They may be left outdoors on personal ranges without fear of damage. In the long run, they're quite cost effective.
Target-Factory products are being used by many ranges, clubs, and competitions. Commercial ranges are both renting and selling the products for use by their customers. Scottsdale Gun Club is one such range.
Paul Sherman, Purchasing Manager for Scottsdale Gun Club, states that "Target-Factory products have been a great addition to our range. They are fun for shooters of all demographics and are an exceptional value because they can be reused again and again."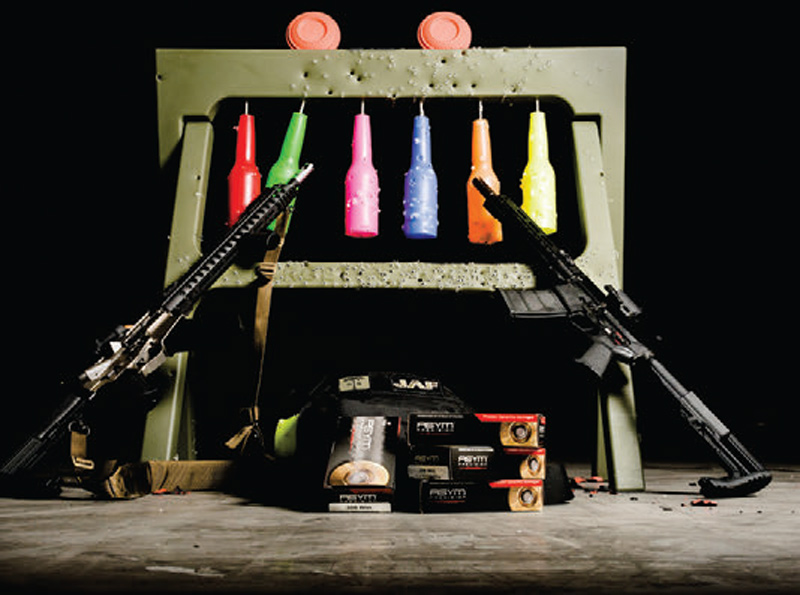 NO ENVIRONMENTAL IMPACT
Due to the virtual lack of environmental impact of Target-Factory's products, the company has established an official partnership with the Tread Lightly! organization because of its "Respected Access Is Open Access" campaign and collaboration with the U.S. Forest Service, Bureau of Land Management, Arizona Game & Fish, and many other States' agencies to help put an end to "Trigger Trash." This is critical to maintaining the right to shoot on our public lands.
Suggested retail price for the complete Target-Frame Set is only $129.99. Replacement or U-Hang Target-Bottles are $24.99 for a 3-Pak and $39.99 for a 6-Pak. Target-Factory Bowling Pins will run you $24.99. Target-Factory offers free shipping on all orders over $100. Bulk pricing is available. All products are made in the USA.
The author would like to extend special thanks to Patriot Ordnance Factory (POF-USA), ASYM Precision Ammunition, and U.S. PALM for their assistance.