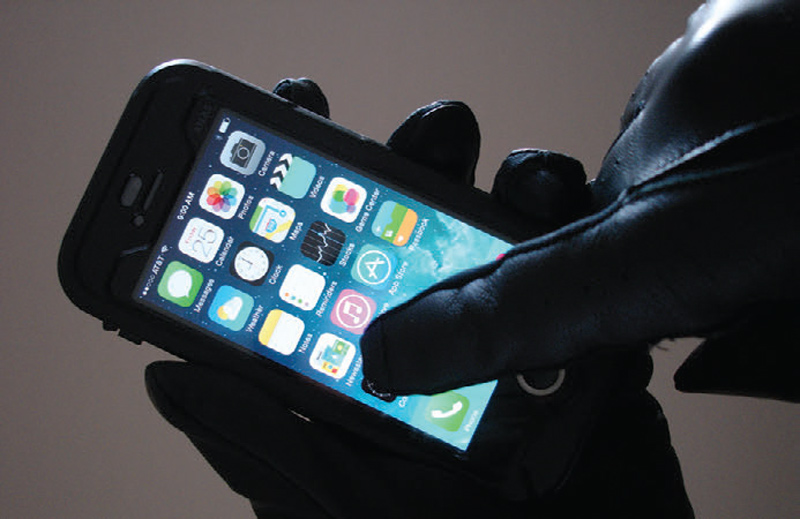 THE science of external ballistics is far more complex than some would make it seem. Many factors affect what a bullet does in flight. A good ballistics table is essential for accurate long-range shooting.
Current technology has made the arithmetic easier than ever. Ballistics apps for smartphones and tablets are designed to let you calculate data that's tailored to your specific firearm, cartridge, and environmental conditions— and do so with a precision that is unattainable with manual calculations and handwritten cards.
I recently tested an impressive app from GeoBallistics, LLC called BallisticsARC ™. Available for iOS, the patentpending software has been tested by various shooting communities, including military, local and federal law enforcement, and professional hunters. It does everything a precision shooter needs and brings some exciting new capabilities to the table.
BallisticsARC (Ballistics, Atmospherics, and Range Card) combines the functionality of a ballistics calculator, atmospheric device, and GPS rangefinder into a single mobile app to produce one of the most accurate ballistic trajectory tables in the industry. It's powered by the world-renowned JBM Ballistics engine—considered the industry gold standard in ballistic calculation.
The JBM Ballistics engine utilizes Litz-derived Ballistic Coefficient (BC) values, based on field testing by Bryan Litz, a champion shooter, aerospace engineer, ballistician, and author of the highly regarded Applied Ballistics for Long Range Shooting. The BC is a measure of the capability of a projectile to overcome air resistance in flight. It's a function of weight, diameter, and drag coefficient.
BallisticsARC has two modes: Chart Mode and Map Mode. Chart Mode is included in the free version. Map Mode requires an in-app purchase.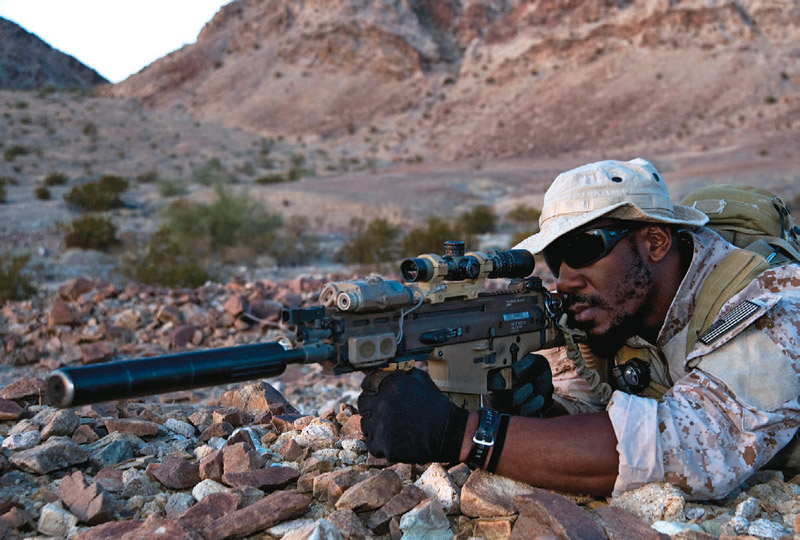 CHART MODE
Chart Mode produces a traditional spreadsheet-style dope chart with the ability to produce range cards without a cell signal. It's the most powerful free ballistics calculator available and features the JBM Ballistics Solver and Bullet Library, with over 2,500 projectiles, online weather access and weather hardware integration, muzzle velocity truing, auto shot bearing and shot angle features. Considerations include gyroscopic (spin) drift, Coriolis effect, wind influence, shot angle, atmospheric conditions, and more.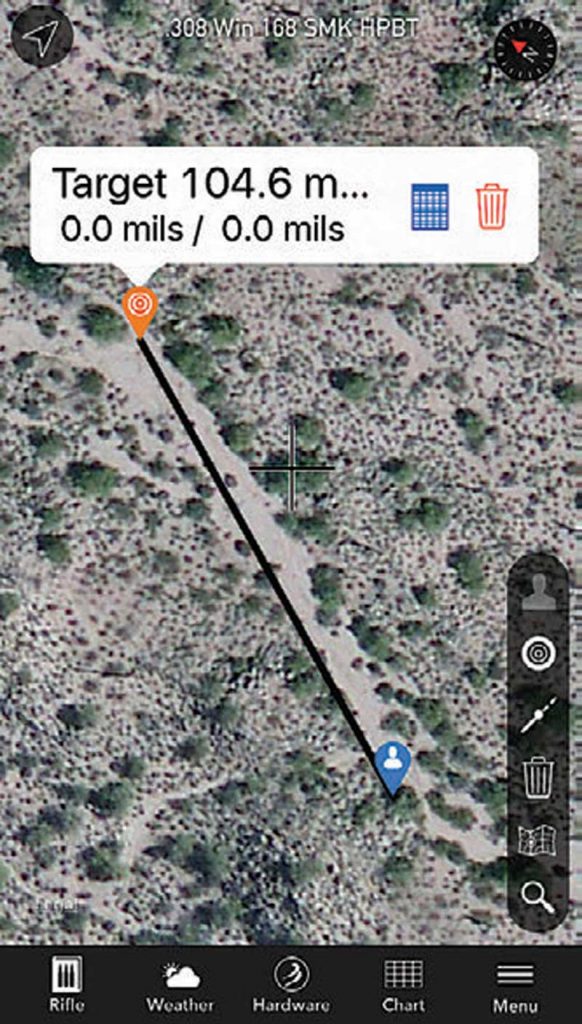 Spin drift is a linear drift of your bullet caused by the rotating motion imparted by your barrel's twist. Coriolis effect is the drift caused by the rotation of the earth. Although associated with Coriolis, the phenomenon that actually affects the vertical component of the trajectory is called Eötvös Effect. They become a concern only at extreme ranges. Although not an issue in most law enforcement tactical applications due to the typical ranges in which a marksman takes the shot, it is nonetheless a nice capability to have.
BallisticsARC uses your location to pull up a list of nearby weather stations that allow you to input their weather data into the JBM engine, or you can capture on-site weather and wind with the optional WeatherFlow™ WINDmeter ™ or WEATHERmeter™. Weather conditions can also be input or changed manually. GeoBallistics has utilized as many of the built-in functions on iOS devices as possible. The accelerometers and magnetometer within the devices allow you to accurately determine wind direction, shot direction, and upward or downward angle. BallisticsARC does all the math. You know exactly where your bullet should impact before you pull the trigger.
MAP MODE
Map Mode is a really cool feature that's available as an in-app purchase for $14.99. The free version of Ballistics- ARC comes with a sample satellite image map that lets you try out Map Mode before you purchase it.
In Map Mode, you can range targets simply by dropping pins on satellite imagery of your shooting and target locations. Pins are placed manually using visual landmarks for reference rather than depending on the device's GPS to pinpoint your exact location. Multiple targets can be pinned and ranged. Tap on a target pin and the range to target and ballistic solution will display in either MRADs, MOA or inches, based on the user's preference.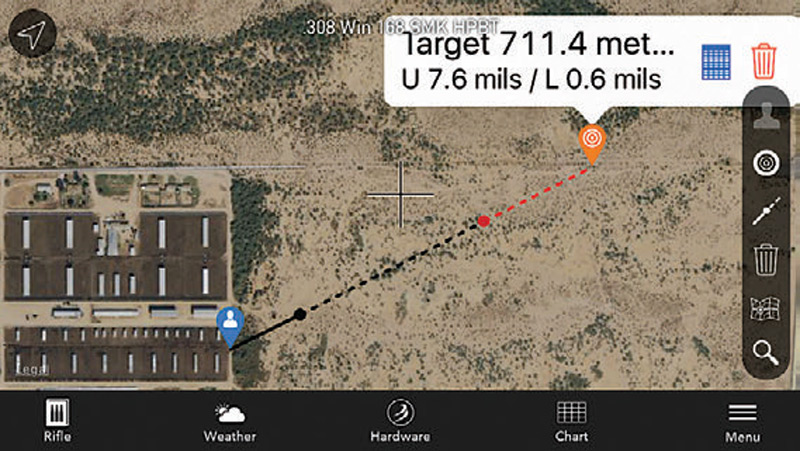 BallisticsARC uses the WGS 84 geodetic datum to derive GPS coordinates for its rangefinding feature. This is the current standard for mobile maps, producing coordinate accuracy of about 3 meters throughout the continental United States. Testing conducted by GeoBallistics has shown that ranging accuracy is typically within 1 meter. This is substantiated by my own testing.
With Map Mode, you can instantly create an accurate range card. It's a real boon in dynamic situations, such as would be encountered in the field. It's more efficient and quicker to use than traditional charts and graphs. Overlays provide you with quick visual reference to the data you need.
The Map Mode overlay variables display a bullet's performance along its path according to the parameters you specified for each rifle profile. Overlay variables include
Max Vital Range: the maximum range where a bullet strikes within a desired vital area without elevation adjustment
Energy Threshold: the minimum energy a shooter desires to deliver to a target
Velocity Threshold: the minimum velocity a shooter desires to maintain to a target
The initial goal of this was to allow shooters to cater these variables to their preferred terminal ballistic theory to promote ethical hunting. In reality, GeoBallistic overlays offer a wide range of possibilities for all shooters. Examples include the ability to visualize where a bullet will go transonic or fall below a recommended expansion velocity.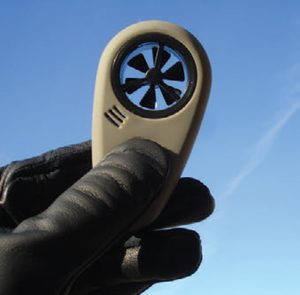 RANGE CARDS
BallisticsARC lets you save and load satellite range cards in the mobile app for later use. This capability is especially useful for shot planning and mission briefing. Once a range card has been recalled, only the atmospherics need to be updated for a shooting solution. No official feature exists for caching satellite imagery at this time, but this option is in the development queue. GeoBallistics encourages using Chart Mode for offline use. The app also has the ability to save charts to camera roll.
ATMOSPHERICS
GeoBallistics has partnered with the weather experts at WeatherFlow™, Inc to offer on-site atmospherics with affordable and easy-to-use hardware that seamlessly integrates with BallisticsARC. WeatherFlow is a leader in the private-sector weather industry, with over two decades of experience in applying the latest in observational, modeling, and forecasting technology.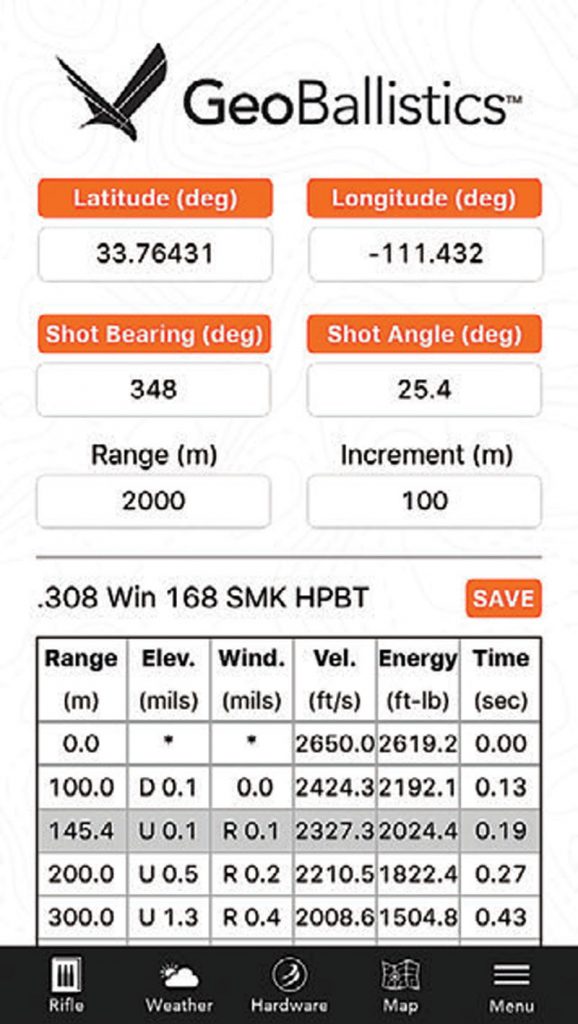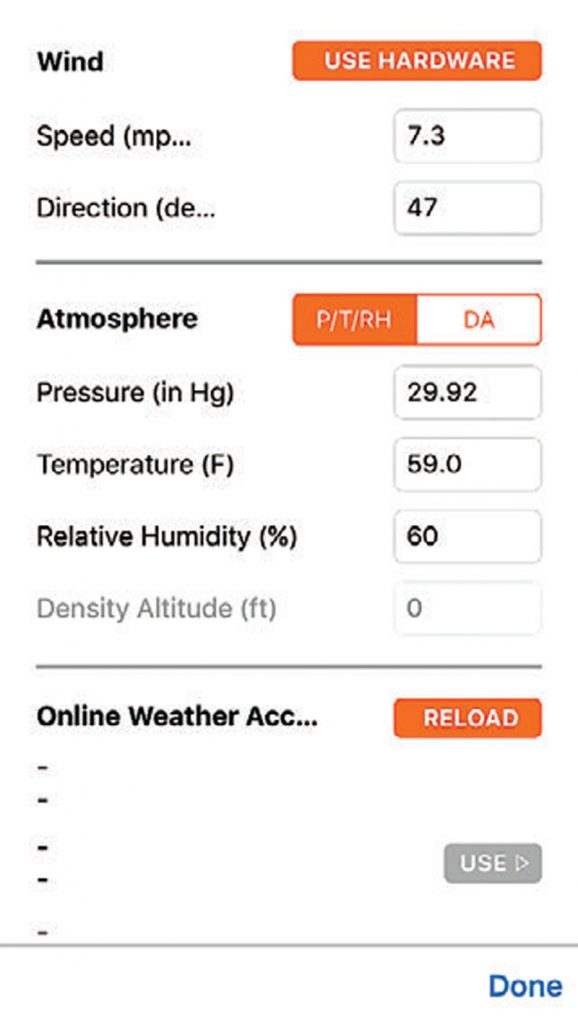 WeatherFlow wind and weather meters are miniature weather stations that you use with your smartphone to collect real-time wind, temperature, humidity, and pressure readings.
The WeatherFlow WINDmeter for Precision Shooting was the first piece of hardware integrated into the BallisticsARC software. The WINDmeter plugs into the 3.5mm audio jack of your smartphone or tablet. It requires no batteries to operate. Power is provided by your device.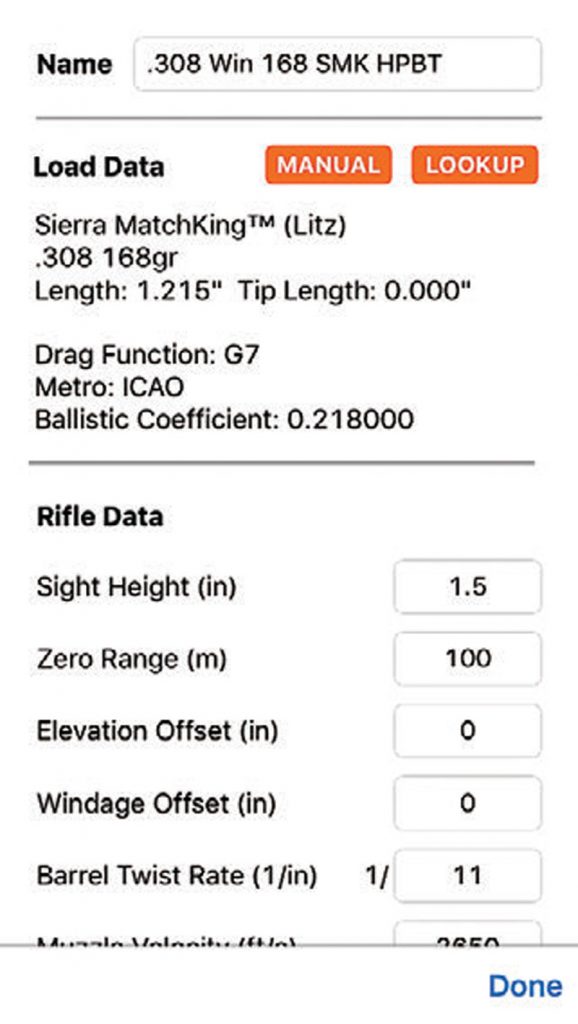 The WINDmeter provides real-time onsite wind speed (avg, true) and wind direction. Product testing and calibration were performed at the University of Florida's Aerospace Engineering wind tunnel. The WINDmeter accurately measures wind velocities between 0.5 to 140 mph +/- 0.5%.
Rumors indicate that the iPhone 7 and iPhone 7 Plus, which are expected to come out in September 2016, will do away with the traditional 3.5mm headphone jack and instead rely on the Lightning port for audio. Should this occur, adapters will likely be available.
BallisticsARC also supports the new WeatherFlow WEATHERmeter for Precision Shooting. The WEATHERmeter provides all of the wind measurement capabilities of the WINDmeter, plus real-time humidity and dew point (0 to 100% +/- 3%); temperature, wind chill, and heat index (-40 to 255 °F +/- 0.5 °F ); and pressure and density altitude (8.9 to 32.5 inHG +/- 0.03inHG). It's truly a pocket-sized weather station.
The WEATHERmeter features wireless Bluetooth® Smart/Low Energy connectivity with up to 100-foot connectivity with your Bluetooth-enabled device. Power is provided by a widely available CR2450 lithium-ion coin battery. The WEATHERmeter comes equipped with multiple mounting options.
The WINDmeter and WEATHERmeter are designed for the rigors of field use. They have a rugged, weather-resistant polymer housing. The GeoBallistics models feature a Flat Dark Earth housing. They come with a hard case for storage and have a three-year warranty.
The WINDmeter and WEATHERmeter provide all the features of the competition but at a fraction of the cost. MSRP for the WINDmeter for Precision Shooting is $44.95. The WEATHERmeter for Precision Shooting has an MSRP of $84.95. Both devices are available directly from GeoBallistics.
BallisticsARC displays all screens and data in either landscape or portrait view depending on the device's orientation.
COMING ATTRACTIONS
At press time, BallisticsARC's developers were in the process of coding full international support. Rather than having one switch that toggles between imperial and metric units, GeoBallistics is making the app more configurable. They have found that different regions around the world mix various units.
An Android version of BallisticsARC is in the works. Expected availability is late spring 2016.
BallisticsARC requires iOS 7.1 or later. It's compatible with iPhone®, iPad®, and iPod® Touch and is available for download on the App Store. The app comes with full tech support.
BallisticsARC is a great tool for the long-range precision shooter, with some unique features that put it way ahead of the competition.