I've been around guns and enjoyed shooting since I was a little girl.
In my late teens, I accompanied my dad, Denny Hansen, to several tactical courses instructed by Pat Rogers using my AR-15 and a 1911 pistol. I wrote about the courses from my female point of view (GIRL POWER! Tactical Carbine Training, February 2008 S.W.A.T., and GIRLS GONE WILD: Kimber Crimson Carry/EAG Tactical Pistol Course, February 2009 S.W.A.T.).
I understood when Pat talked about mindset and using a firearm to save your life or that of a loved one. Still, I had Pops around to do the actual defensive stuff.
As I write this, I'm five months pregnant. Seeing the ultrasound images of my little boy has stirred something deep inside me. I'm no longer the child who needs to be protected; I will soon be a mother with my own child who needs my protection. If I'm attacked, the tennis-shoe defense is no longer an option. I will stand and fight to protect my home and child—and I am determined to protect the little guy as fiercely as a mother grizzly protects her cubs.
For home defense, Pops suggested a shotgun loaded with a serious load. Since I'm in a congested neighborhood, he suggested buckshot instead of slugs to prevent any possible over-penetration.
Although I'm not particularly recoil sensitive, Pops further suggested a 20 gauge, and together we decided on the Mossberg 500 Super Bantam.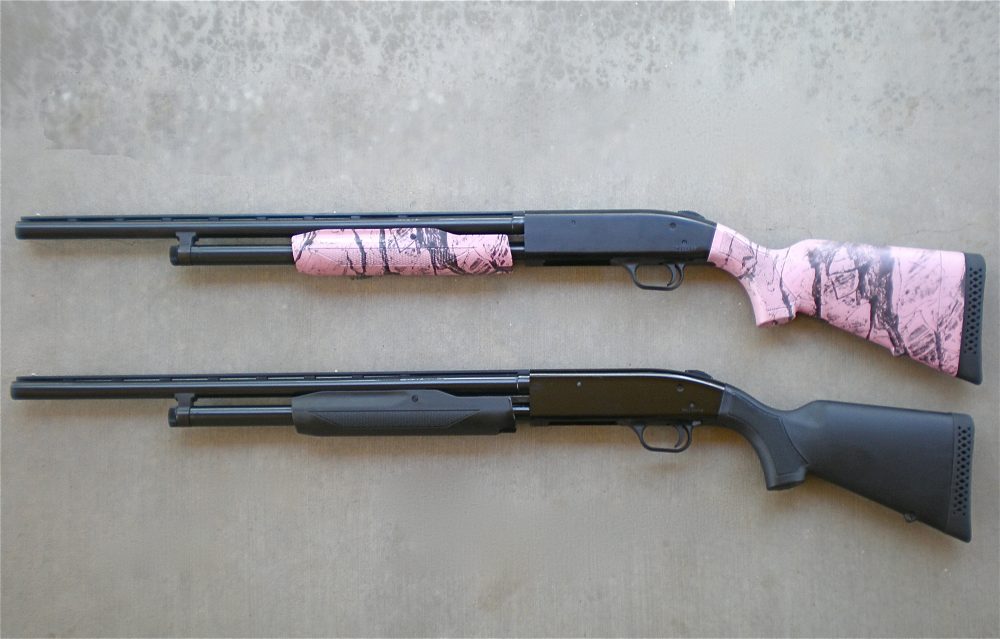 Mossberg Super Bantam is available in Pink Marble or Black.
---
MOSSBERG SUPER BANTAM
The Super Bantam is based on Mossberg's proven 12-gauge Model 500 design, but scaled down to handle the smaller 20-gauge cartridge.
While I have shot Remington 870s, I prefer the placement of the controls on the Mossberg. The safety is on the top rear of the receiver and easily manipulated by either thumb. The slide release is located behind the trigger guard and, to me at least, is easier to manipulate than the 870.
The Super Bantam will take standard 2 3/4" or 3" Magnum shells. The gun comes with a set of three screw-in chokes—Improved Cylinder, Modified and Full. Barrel length is 22 inches, with a white bead at the muzzle and a brass bead halfway down the barrel.
The stock is adjustable for length of pull from 12 to 13 inches, and a spacer and extra recoil pad are included.
Confession time: I'm in my twenties, but I still like "Girly Tactical Pink." My AR-15 sports a pink camo pattern, and the slide of my 1911 is finished with Duracoat's "Pink Lady." The Super Bantam is available in Black or Pink Marble. Guess which one I chose?
The three major food groups of my defensive armament—handgun, rifle and shotgun—are now complete.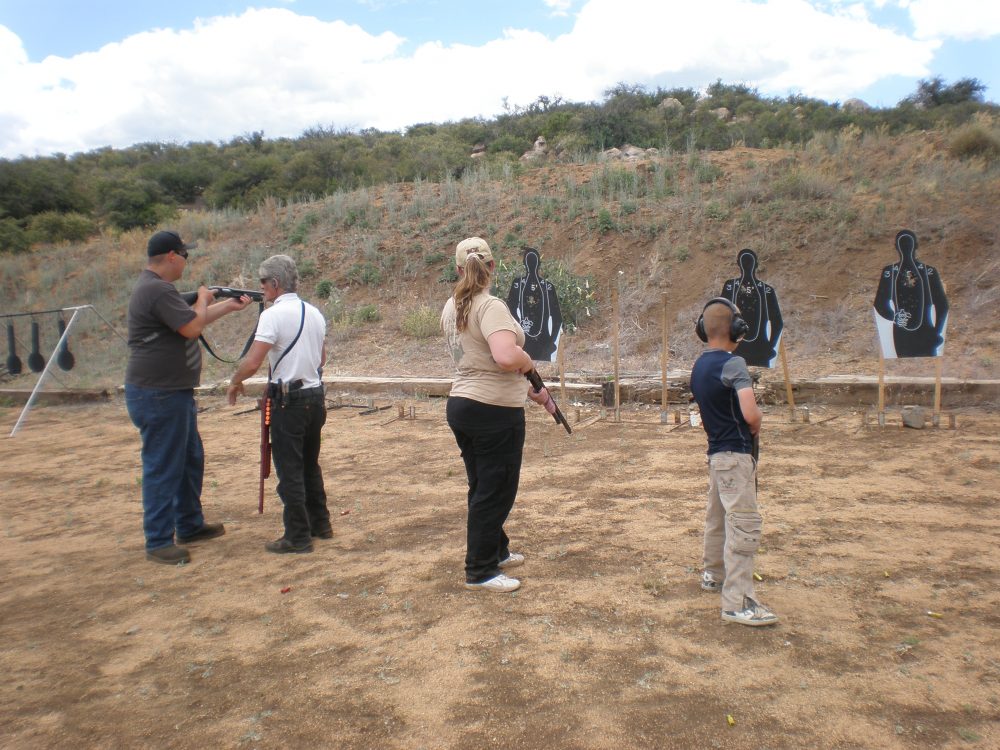 Louis Awerbuck explains finer points of mounting a shotgun to Stephen Hackleman while Ashleigh Clark and Austin Hansen stand at the ready.
---
TRAINING
While I think my Dad is an expert on all things tactical, he considers himself an eternal student. A firearms instructor in his own right, Pops is reluctant to train family members, believing that he may be either too hard or too easy on us. He prefers that we attend initial training with a reputable instructor.
For carbine instruction, Pops took me to train with Pat Rogers. For the shotgun, he arranged a private tutorial class with renowned instructor Louis Awerbuck for me, my fiancé Stephen Hackleman, and my nine-year-old nephew Austin.
I would like to tell you a little about what I learned about shotguns and why I feel it is important for women to understand how to use guns in general.
While I have shot many different types of guns over the years, I'd never gotten familiar with shotguns. I do have a Remington 870 12-gauge shotgun that I've fired a few times, but frankly I didn't enjoy it too much.
This was the first time I'd received formal training with a shotgun, and I'm glad Louis was the instructor.
At the beginning of the class, Louis gave us a safety briefing before starting his lecture. No matter how many classes I've been to, I think it's very important to cover safety every time.
For ammunition, I mostly used Federal #8 birdshot. For patterning and buckshot drills, I used Winchester 3 Buck, and when a drill called for slugs, I used Hornady's SST 250-gr. load.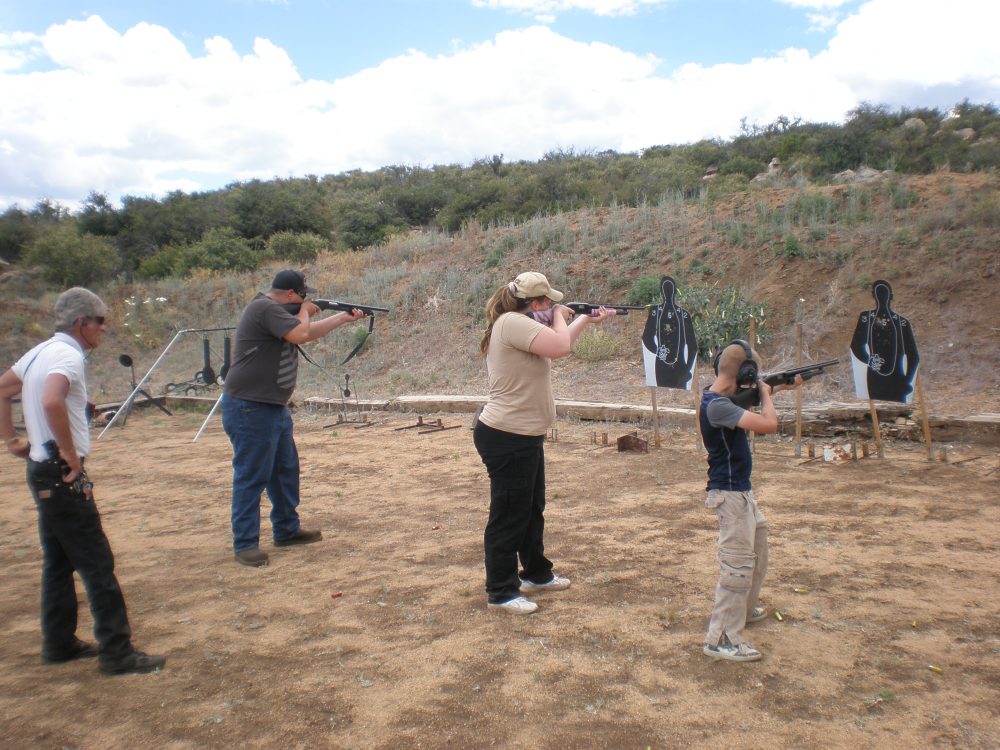 Under watchful eye of Awerbuck, Hackleman (left), Clark (center) and Hansen perform Rolling Thunder drill.
---
Louis provided us with a lot of information about shotguns before we began shooting: the difference between gauges, different choke sizes, length of pull (stock length/fitting a gun to the shooter), etc.
Speaking of length of pull, I realized that the reason I never enjoyed shooting the 12 gauge is that the stock was too long for me. This resulted in my developing a poor technique and subsequently more felt recoil.
Stephen brought my 870 to use in the class, and so Louis also went over the differences between the Mossberg and the Remington in regard to the location of the safety and slide release.
Since neither my nor Austin's shotgun (also a Super Bantam, but in "boy" black) was equipped with a sling, Louis told us that we would either hold the guns in the ready position while on the firing line or in "pocket carry" when off the line (Pocket carry is holding onto the pistol grip area of the stock with the strong hand, with your thumb hooked in the pocket, muzzle straight up).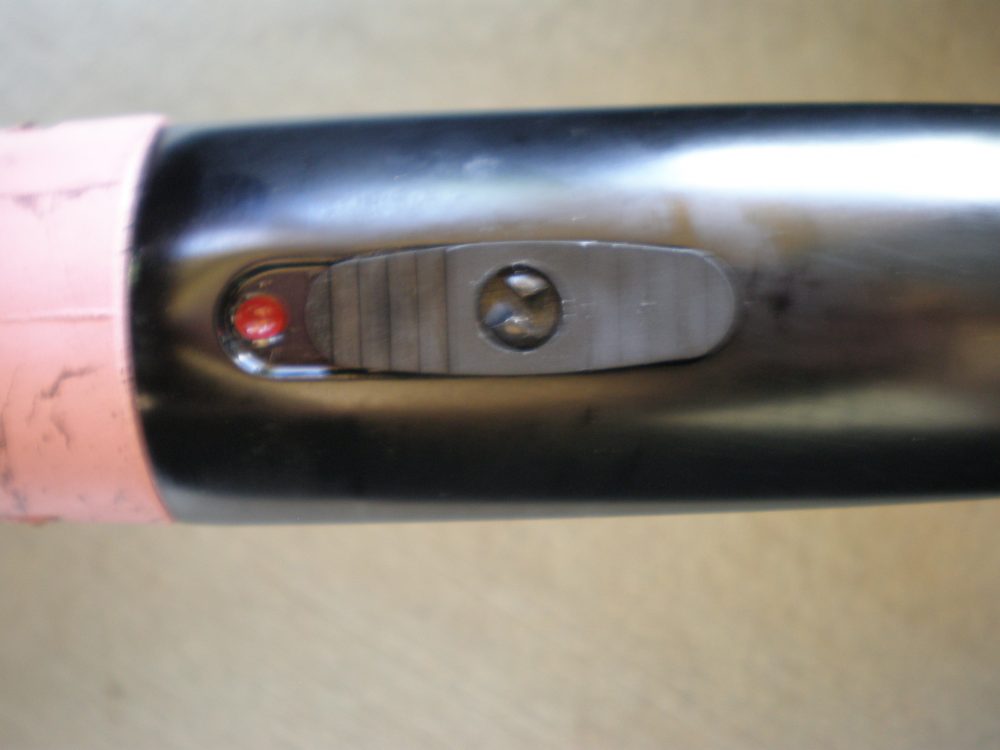 Safety is superbly located on Mossberg shotguns.
---
With both my 12 gauge and 20 gauge at Louis' class, I observed there was a big difference in the weight of the two guns. The Mossberg was definitely a lot lighter than the Remington, which made it quite a bit easier to carry and hold up while shooting.
The recoil of shotguns is more than I'm used to! The 12 gauge does have a lot more recoil than the 20, but regardless of gauge, if you don't have the gun positioned correctly in your shoulder, the recoil can hurt a little.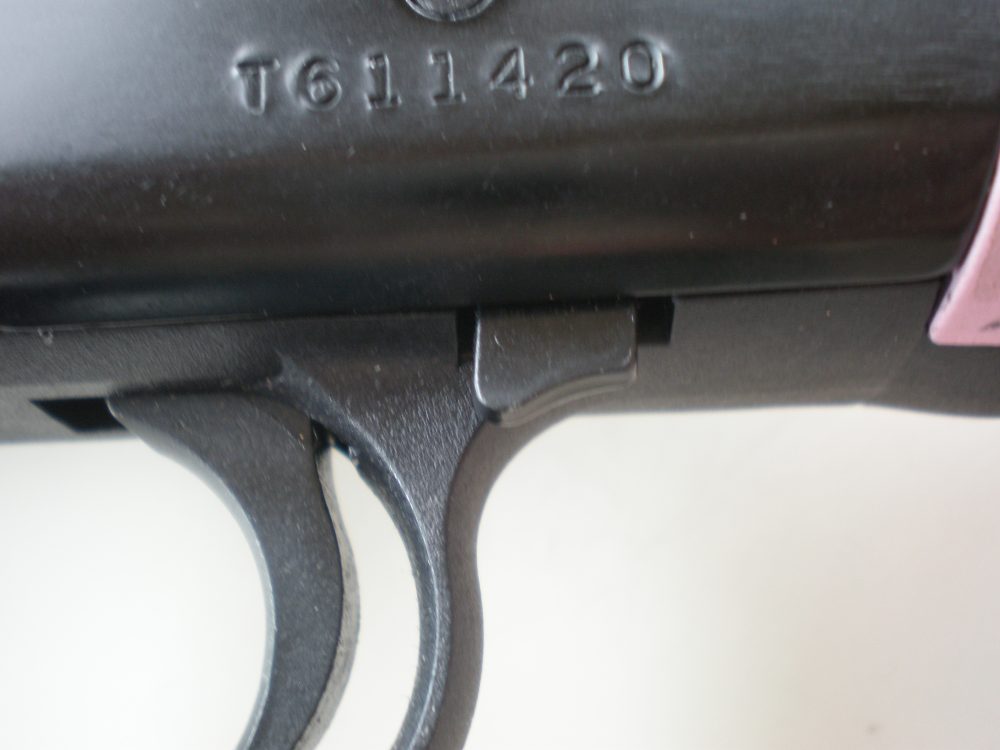 Action release is superbly located on Mossberg shotguns.
---
Louis taught me that you want to bring the gun up high enough so you don't have to lean your head down. This was a technique I knew, but after the stock smacking me in the face a few times, I started to learn my lesson! The positioning of your thumb is also important, so that when the gun kicks, it doesn't come back and hit you in the face as well.
The loading and unloading of the guns are very different than what I am used to. The techniques Louis taught to reload made it much more efficient than just stuffing in shells in a haphazard manner.
It also took me awhile to get used to the pump action of the guns, and to remember to work the action after every shot. Under Louis' tutelage, however, we were all soon running the guns more naturally.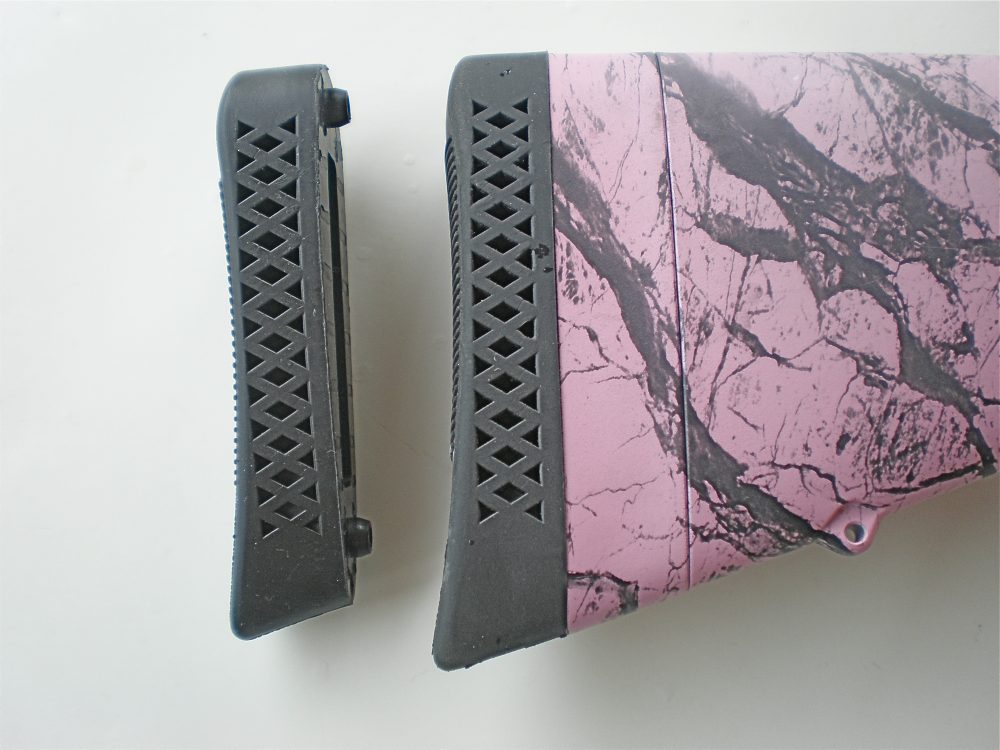 Super Bantam comes complete with one-inch spacer and extra recoil pad.
---
We patterned the shotguns at different distances, and I was surprised at how much difference there was among the three shotguns, and even between Austin's Mossberg and mine. It was also an eye opener to see how much difference there was among brands of ammunition. It was during the patterning exercise that I realized that the shotgun is not an "alley cleaner," and at normal room distances I would have to aim it just as I would have to aim my carbine.
We proceeded to shooting slugs, in order to show the accuracy potential of the shotgun, and then ran some "select slug" drills. The select slug drill is where you have buckshot or birdshot in the gun and, for whatever reason—perhaps a longer or more critical shot—you need the accuracy of the slug load. During this drill, we would shoot a shot round at a relatively close steel target, then load a slug and engage a paper target at a farther distance.
Finally, we practiced moving left and then right while simultaneously shooting. The importance of moving off the line of attack is so that if someone is charging you, you can still deliver effective fire without being bowled over.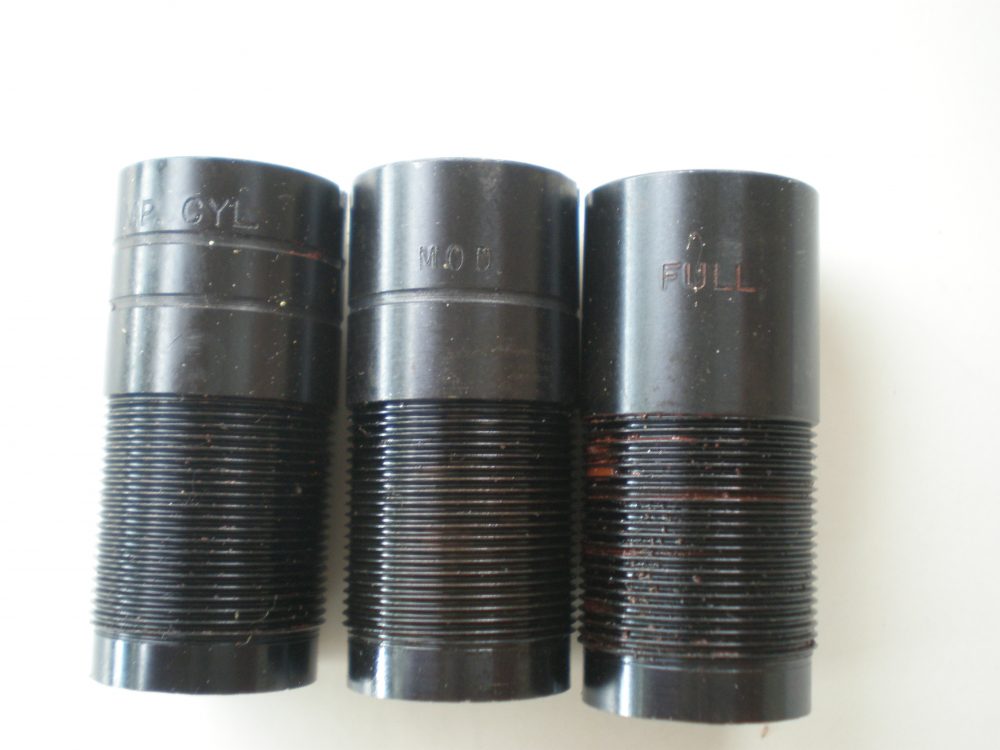 Included with each Super Bantam are three screw-in chokes: Improved Cylinder, Modified and Full.
---
THE FAIRER SEX
Some women are scared of guns of any type, but once you've learned about them and then fired a few, you'll realize that shooting is a very useful skill to have to protect yourself, your family, your friends or maybe even an innocent person you don't know.
Women like me, who don't have a lot of experience with shotguns, should really take a class and learn how to use them—not just for sporting reasons, but so they'll be able to fight with them if the need arises. If a shotgun (or any gun, for that matter) is the only weapon available to you at the time of an attack, it is very, very important to know how to operate it effectively and safely.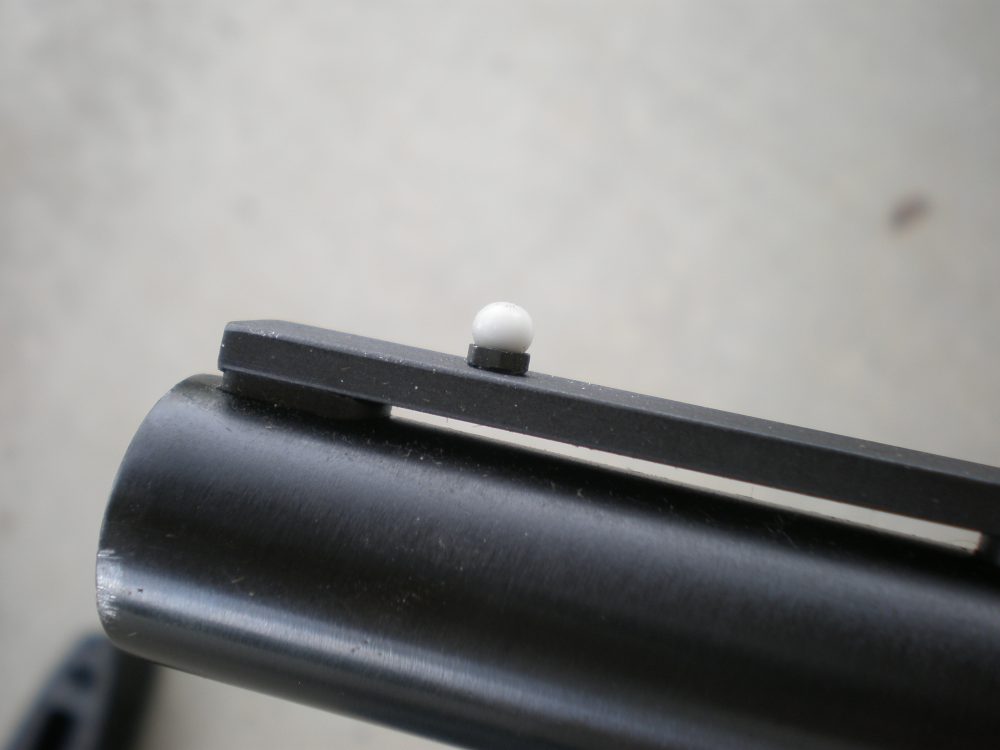 White bead on front of barrel is easy to see in almost all light conditions. A brass bead is located halfway down the barrel.
---
I think the Mossberg Super Bantam is a good choice for people who are just starting out with a shotgun, anyone who is recoil sensitive, and smaller shooters. I have fired it a lot now and it has been 100% reliable.
Initially I was very nervous about taking this class with Louis, but now I have a lot more confidence in my ability to operate a shotgun, whether it is for self-defense or going hunting with my fiancé.
Thanks, Pops. Thanks, Louis.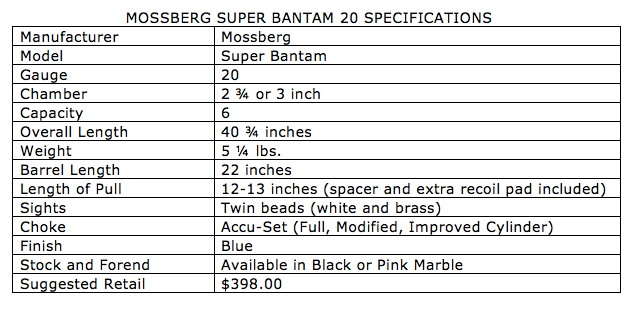 SOURCES:
O.F. Mossberg & Sons, Inc.
Dept. S.W.A.T.
7 Grasso Ave.
North Haven, CT 06473
(203) 230-5300
www.mossberg.com
Federal Cartridge Company
Dept. S.W.A.T.
900 Ehlen Drive
Anoka, MN 55303-7503
(800) 322-2342
www.federalcartridge.com
Hornady Mfg. Co.
Dept. S.W.A.T.
Box 1848
Grand Island, NE 68802-1848
(800) 338-3220
www.hornady.com
Winchester Ammunition
Dept. S.W.A.T.
427 N. Shamrock St.
East Alton, IL 62024
(615) 258-3340
www.winchester.com
Yavapai Firearms Academy, Ltd.
Dept. S.W.A.T.
P.O. Box 27290
Prescott, AZ 86312
(928) 772-8262
www.yfainc.com