The popularity of the Apple iPhone®, iPod® and iPad cannot be overstated. They are quickly becoming the preferred handheld devices of military and law enforcement as well.
The U.S. Department of Defense has officially approved Apple devices running iOS 6 or later to access its secure government networks.
Android® devices are also making inroads. DoD has approved the Samsung Galaxy running a "secure" version of Android.
Smartphone apps are becoming increasingly commonplace tools for law enforcement and military. While some apps are designed specifically for use by police and military, many have a much broader appeal. One such app is Tactical NAV by AppDaddy Technologies. It provides military-grade navigation capabilities for both iOS and Android devices.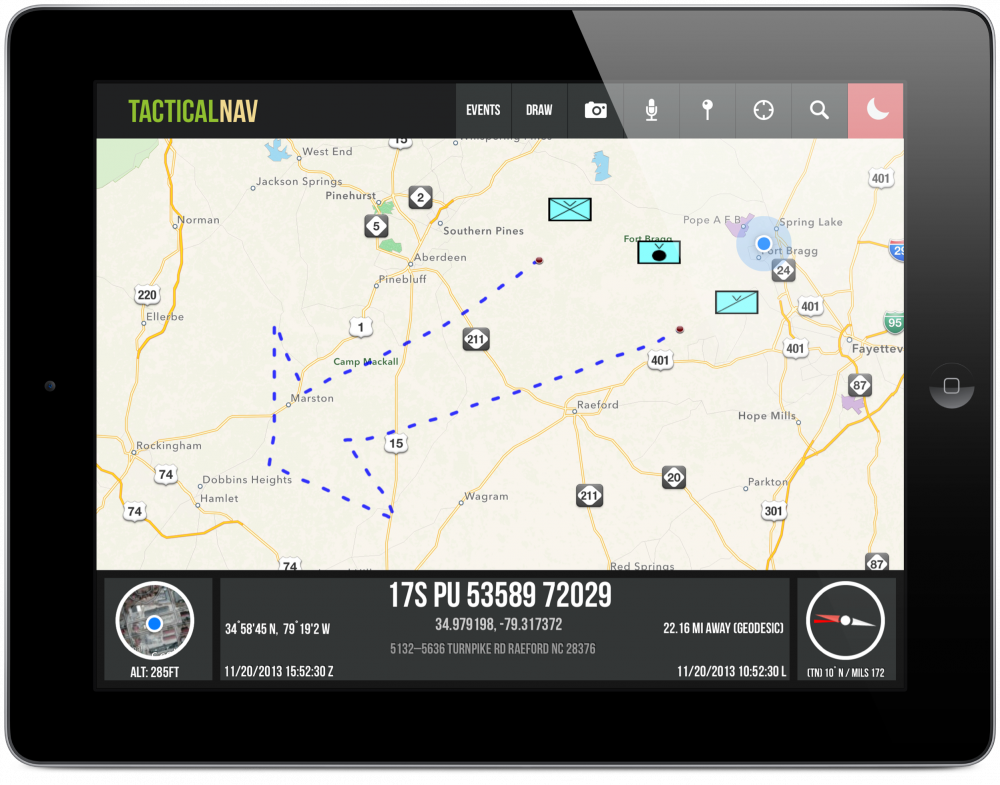 AppDaddy Technologies has also come out with Tactical NAV HD, which is optimized for the iPad.
---
There are hundreds of iOS and Android mapping/GPS applications to choose from. Some are good, some are not so good, and some are seriously flawed. Tactical NAV is the only combat-proven mapping/GPS application.
Before getting into Tactical NAV, let's clear up a common misconception. You do not need Wi-Fi or a cellular connection for the GPS chip in your mobile device to work. A device with a GPS chip can identify your location even when it has no Wi-Fi or cellular signal. However, you do need to have pre-downloaded the map for your area of operations in order for your current location to show up on a map. A data network is required for map downloading.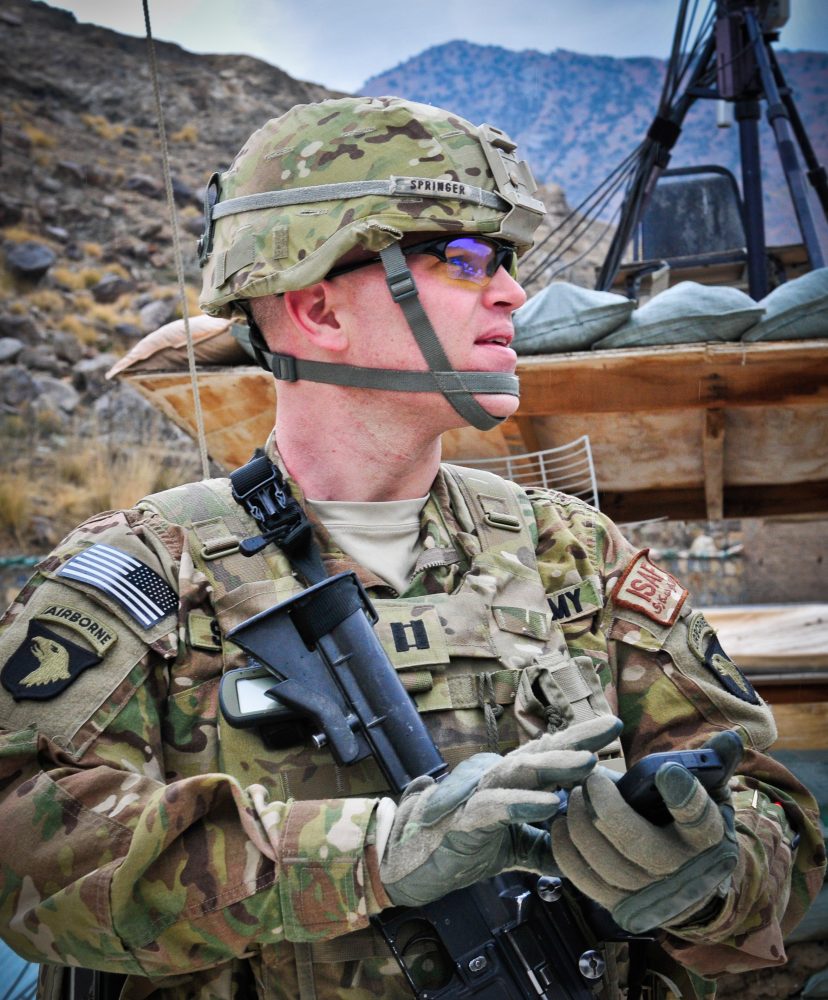 TACTICAL NAV
AppDaddy Technologies was founded by Captain Jonathan Springer, an active-duty U.S. Army officer and combat veteran. Captain Springer saw a need, and used his own money and time to fill it.
"AppDaddy Technologies focuses on creating low-cost and effective mobile software solutions for military service members, government employees, and commercial customers. Our focus is on saving soldiers' lives, not the bottom line," states Springer.
Readers need to be aware that there is another iPhone app calling itself "Tactical Navigator" or "TacNav." It is not the same as Tactical NAV by AppDaddy Technologies. Caveat emptor.
Captain Springer developed the Tactical NAV app based on his own service as a Battalion Fire Support Officer in the 101st Airborne Division. Tactical NAV uses the phone's inherent GPS to track the user's location and correlate in a number of ways with other important information.
Although Tactical NAV was designed for military applications, it is an indispensable tool for anyone who leaves the wire or simply enjoys the great outdoors—military, law enforcement or private citizen. It provides everything you need to navigate anywhere, keeping you safe and on target.
Tactical NAV is a military-quality tactical navigation system. Performance is on par with the AN/PSN-13 Defense Advanced GPS Receiver (DAGR). With Tactical NAV, you can map and plot navigational waypoints and share location and waypoint information with other Tactical NAV users by email using encrypted security. The camera mode features heads-up data displayed in real time with photo stamping ability. You can stamp photos not only with date and time, but also GPS coordinates.
Tactical NAV uses the Military Grid Reference System (MGRS). It has a "Go to Grid" option and is designed to geo locate within 24 feet. The app features a 1:50,000 map scale overlay (1km by 1km grid squares). You can quickly switch among degrees, Mils, elevation, Lat/Long, and MGRS data.
The numerous other great features of Tactical NAV include a compass lock function and one-button night mode function for low-light conditions and multi-tasking support. It includes a sandtable drawing mode, UTM/BNG/USNG coordinate systems, new "navigate to grid" and "navigate to waypoint" features, and plotting photo and video waypoints on the map.
With the drawing mode available via In App Purchase, you can draw overlays for mission planning, build routes for running and trail hiking, get distance between two points anywhere on the map, and calculate azimuths quickly and easily.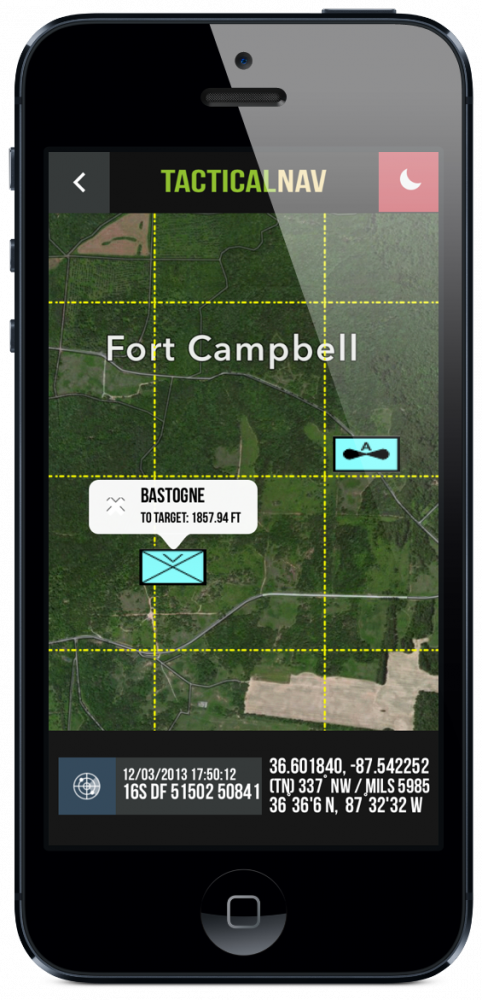 AppDaddy Technologies has also come out with Tactical NAV HD, which is optimized for the iPad. It includes live map annotations, drawing and distance tools, actual U.S. military graphics and symbols for plotting units and formations, photo and video saving tools, MMS and Facebook sharing features, and an extensive list of other features.
Location plotting is compatible with iPhone 3GS, 4, 4s and later models and iPad Wi-Fi+3G. The iPod touch and Wi-Fi-only iPads do not have a GPS chip. The latter are still useful tools for viewing maps, but will not show your current location. On the models with GPS, the user must enable location services via the device's settings menu.
As mentioned earlier, Tactical NAV is available for iOS and Android devices. Both versions of Tactical NAV have been designed to work seamlessly together to share waypoints and other data.
I have found Tactical NAV to be indispensable. Not surprisingly, reviews of it have been highly favorable. Tactical NAV for iOS is available for purchase and download at iTunes. It costs $4.99 and includes free updates. Tactical NAV requires iOS 6.0 or later. It's compatible with iPhone and iPad. The app is optimized for iPhone 5.
PROTECTIVE CASES
A military-grade navigation tool demands military-grade protection. There are a number of protective cases for smartphones from which to choose. I went with the Incipio® ATLAS® ID Case for my iPhone 5s. The ATLAS ID is the newest addition to the Incipio line. The ATLAS case (without ID) is also available for the Samsung Galaxy S4™.
Southern California-based Incipio Technologies is an award-winning designer and manufacturer of cases, skins, covers, holsters, pouches and accessories for mobile electronic devices. It is widely recognized for producing functional and stylish protective devices without a lofty price tag.
The ATLAS ID case utilizes the most advanced technology to safeguard the iPhone 5s. It is constructed of rigid Plextonium™ Polycarbonate, supportive TPU, and shock-absorbent silicone. It has silicone around all essential ports to restrict entry of dust and dirt.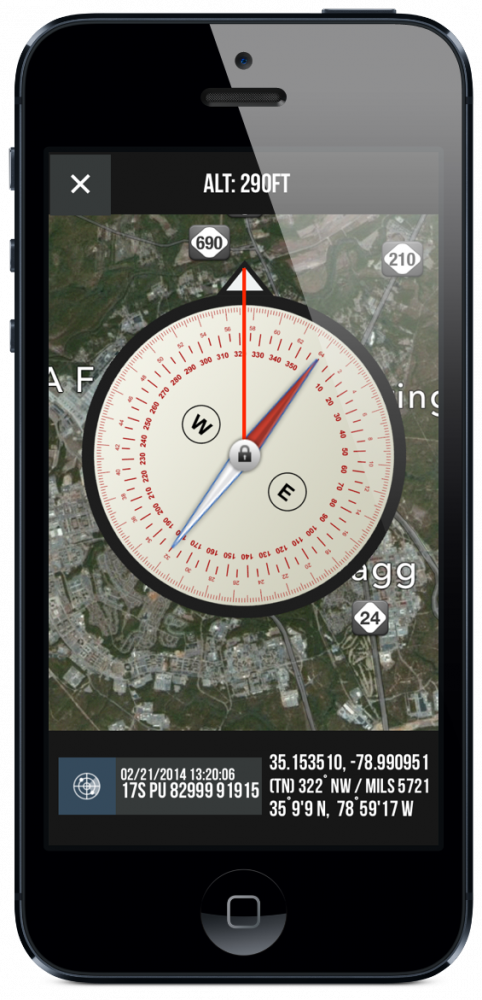 The ATLAS ID case features scratch-resistant tempered-glass screen protection and a clear, scratch-resistant optical camera lens. The glass screen protector fits the iPhone screen with no gap, providing exceptional touch performance. A splash-proof 3.5mm headphone extender adapter is included. The case has been acoustically engineered for maximum sound quality. Audio performance is excellent for a fully waterproof case.
The ATLAS ID case comes with a non-transferable one-year limited warranty (USA sales only) that covers accidental water damage. Should such damage occur, Incipio offers a user-friendly claim process that provides a repaired or replaced device. Users can also obtain a new ATLAS ID case at no charge. The case has a suggested retail price of $89.99 and is available in Black, Gray, White and Pink.
Although Incipio doesn't offer a belt clip or pouch for the ATLAS ID, the Maxpedition® Horizontal Smart Phone Holster works well. The belt loop on the holster fits belts up to 2.25 inches wide. It is PALS compatible using one three-inch TacTie® Attachment Strap. Workmanship and materials are of the highest quality. It comes in Black, Khaki, OD, and Forest Green and retails for $16.99.
FIELD BATTERIES
Smartphones can deplete their batteries quickly. A backup battery, such as the Incipio offGRID™ Portable Backup Battery, is essential when out in the field. This battery comes in three different capacities (4,000mAh, 6,000mAh and 8,000mAh) for USB-powered mobile devices. The 6,000mAh and 8,000mAh batteries feature two ports for convenient simultaneous charging. When at full capacity, the 8000mAh battery can fully charge an average smartphone four or five times. The 4,000mAh has a suggested retail of $49.99. The 6,000mAh retails for $69.99 and 8,000mAh $89.99.
Another excellent option for the field is a solar-powered battery backup, such as the compact Brunton® Restore™ 2200 (Offbeat: Brunton Restore Portable Solar Charger, March 2012 S.W.A.T.). The Restore's on-board 2200mAh lithium storage battery holds enough power to charge a depleted iPhone twice. The Restore features a flip-open solar array with two 100mAh Polycrystalline Solar Panels that will recharge the Restore's battery in a day. The battery has a 5v 1,000mAh USB output. The Restore features a durable rubberized water-resistant shell and comes with a cable connector that also seals up the USB and mini-USB power ports when not in use. A car USB adapter and micro-USB connector are also included. The Brunton Restore 2200 has a suggested retail of $120.00.
SOURCES:
AppDaddy Technologies
(800) 277-1961
www.tacticalnav.com
Apple Inc.
(800) 275-2273
www.apple.com
Brunton
(800) 443-4871
www.brunton.com
Incipio Technologies
(800) 733-0088
www.incipio.com
Maxpedition
(310) 768-0098
www.maxpedition.com