Over the last decade I have participated in a lot of training on both sides of the firing line, as a student and an instructor. Two aspects of training that are almost always included are how to clear malfunctions when the gun stops running and how to perform reloads—both speed and tactical.
While malfunction clearances and reloading are necessary skill sets, I am of the belief that the quickest and surest way to get back into the fight is to bring a second gun into action. Yes, I know some folks who can perform a speed load as quickly as they can present a second gun, but that is on a square range or competition under controlled circumstances. There is nothing "controlled" about a real-life street fight when the range has projectiles going in both directions, stress, movement, the possibility that you may be wounded, etc. A second gun is a surer way to go than trying to reload a spare magazine, possibly slippery with blood.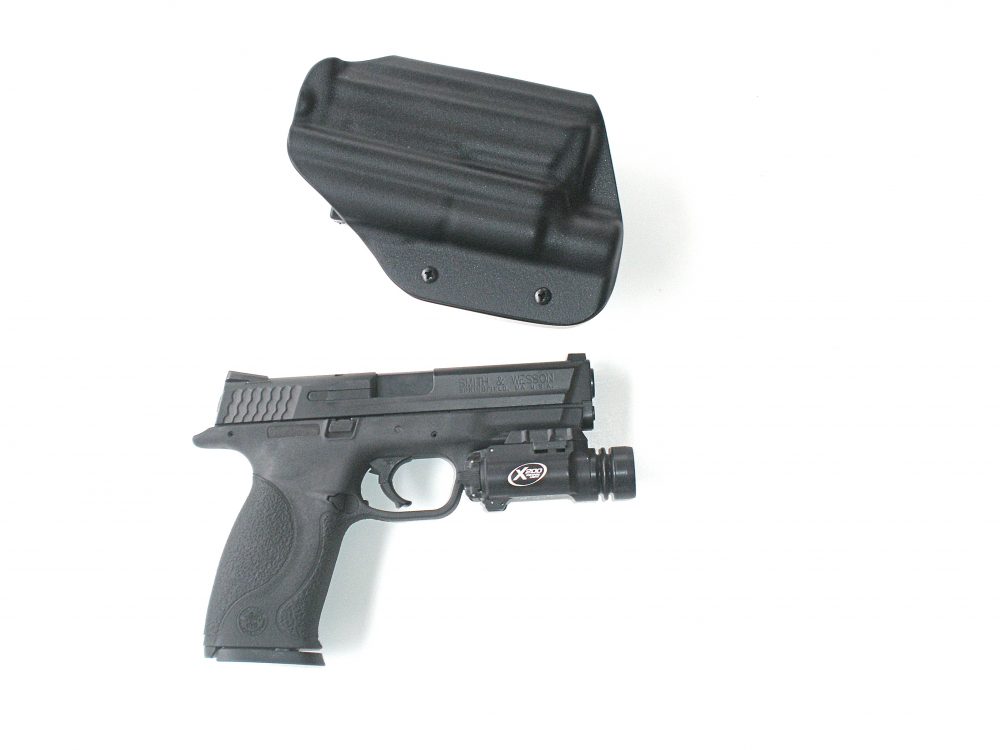 Blade-Tech Tactical Light Holster with SW& M&P pistol with SureFire X200 tactical light.
---
Longtime readers know that I generally prefer an inside the waistband holster (IWB) for concealed carry. IWB carry allows the pistol to be carried close to the body and there is less chance of the weapon's butt "printing" through concealment, be it a loose fitting shirt, a vest, etc. One caveat with an IWB is that trousers need to be purchased a size larger than usual to accommodate the holster. I've considered wearing both my primary and secondary in an IWB—and know several people who do just that—but I can't bring myself to purchase pants two to three sizes larger than normal. The only time I wore pants that big was when I was fighting bulls, and I don't plan on engaging in that sport any longer—at least not intentionally.
I have an IWB holster for my weak-hand side and I recently ordered a Tactical Light Holster and flashlight/magazine combo from Blade-Tech for my Smith & Wesson M&P for my strong side.
Upon initial inspection, I noticed how well the holster and spare magazine/light combo were made. This was no surprise. I have been using Blade-Tech products for several different weapons for a number of years now—I know I am getting quality gear with Blade-Tech.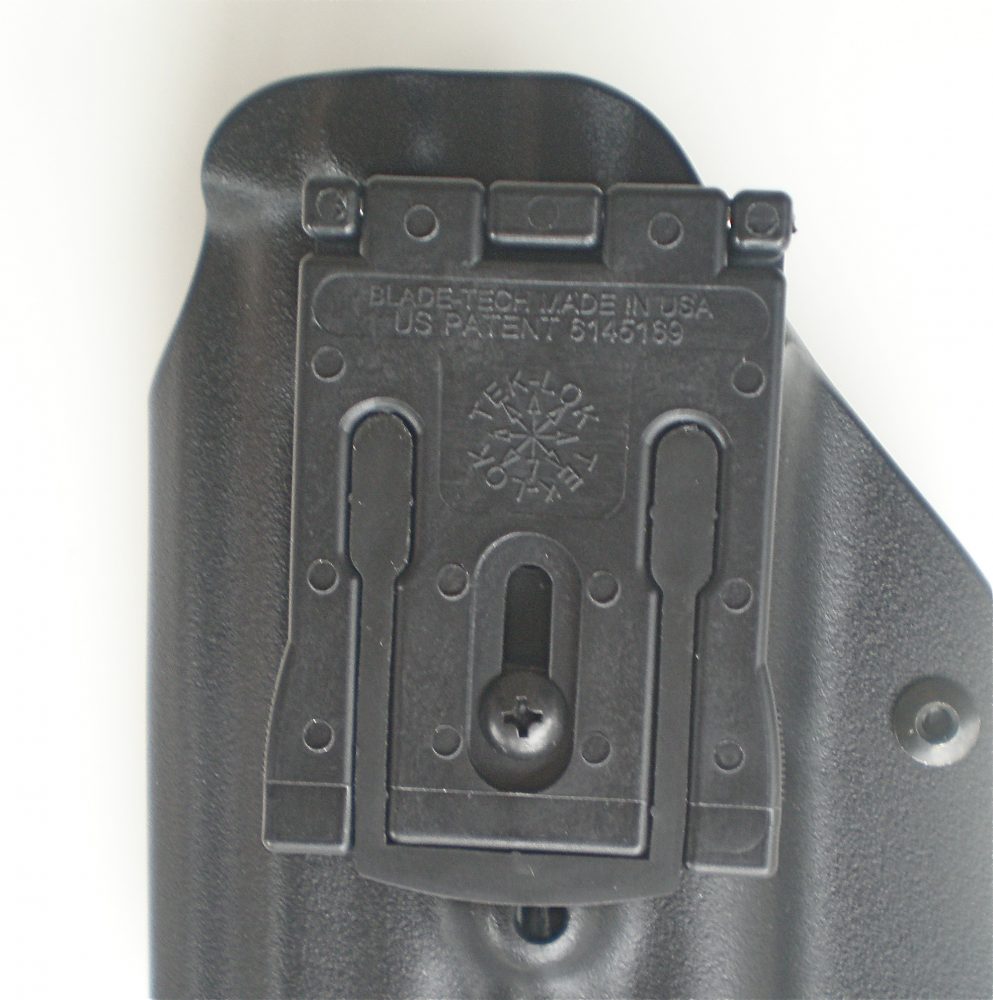 Back of the holster features the patented easy on, easy off Tec-Lok. It is adjustable for different cants and belt widths.
---
The Tactical Light Holster is made of a single piece of Kydex® that is formed to the specific pistol and light used—I have a SureFire X200 mounted on my S&W M&P. There are two tension screws on the outside of the holster to allow the user to adjust the tension of the holster to their personal preference. When the gun is holstered, it snaps in with an audible click. The back of the holster features the patented easy on, easy off Tec-Lok™—designed by Tim Wegner of Blade-Tech and customer knifemaker Bob Terzuola. The Tek-Lok is adjustable for different cants and belt widths.
The inside of the holster is smooth Kydex and has a front sight rail molded in. The exterior of the holster is completely dehorned and smooth. One thing I like about Kydex, as opposed to leather, is the fact that maintenance consists only of putting the holster under running water or wiping it down with a damp cloth.
I believe that the spare magazine/flashlight combo is not only a very good accessory to have, but a necessity. Blade-Tech offers the light compartment in either a lens up or lens down version. There is a tension screw between the magazine and flashlight compartment to allow you to achieve the desired resistance you feel you may need.
As I stated earlier, I believe carrying a second gun is a good idea. The sad truth is that a little man visits me often. You may have met him as well—his name is Murphy. To date he has only reared his ugly head in training; however, when he shows up again it may be on the street. A second gun is good insurance against a gun snatch, a gun breaking when you need it the most, running empty or unable to draw with your strong side for whatever reason.
The Tactical Light Holster has a suggested retail of $82.95, and the magazine/flashlight carrier has a suggested retail of $52.95.
Blade-Tech Industries has been around for years by making quality gear, and a business cannot do that by taking shortcuts. I heartily recommend their products.
SOURCES:
Blade-Tech Industries
Dept. S.W.A.T.
2506 104th Street Court South
Building H
Lakewood, WA 98499
(877) 331-5793
www.blade-tech.com
Smith & Wesson
Dept. S.W.A.T.
2100 Roosevelt Avenue
Springfield, MA 01104
(800) 331-0852
www.smith-wesson.com
SureFire, LLC
Dept. S.W.A.T.
18300 Mount Baldy Circle
Fountain Valley, CA 92708
(800) 828-8809
www.surefire.com