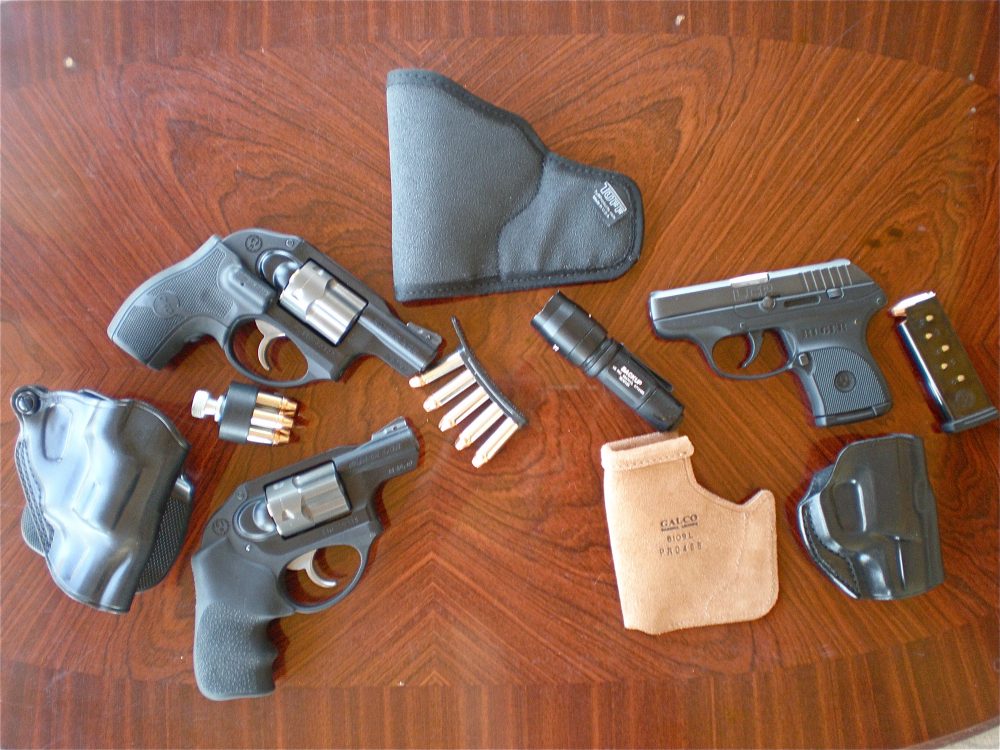 Hansen used Ruger LCP, Ruger LCR, SureFire Backup light, Tuff Products QuickStrips and HKS speedloaders, and experimented with several holster types.
---
An ever-increasing number of lawful citizens are arming themselves with small revolvers and pocket pistols. With this in mind, Gunsite recently ran a two-day course called "Pocket Guns and Penlights" designed around a product seminar sponsored by XS Sight Systems. My Dad, Denny Hansen, and I were invited to attend.
The purpose of this seminar/course was to develop and hone skills with these types of firearms, either as backup guns for peace officers or for concealed carry by private citizens. Low/no-light shooting techniques were also stressed.
My Dad and I both carry a full-size pistol every day, and although Dad has a Ruger LCP, neither of us even owned a Snubby for use in the course. Ken Jorgensen of Ruger graciously sent two Ruger LCRs for us to use prior to the starting date of the course. I shot mine as it came out of the box, while Dad equipped his with a set of Crimson Trace Lasergrips.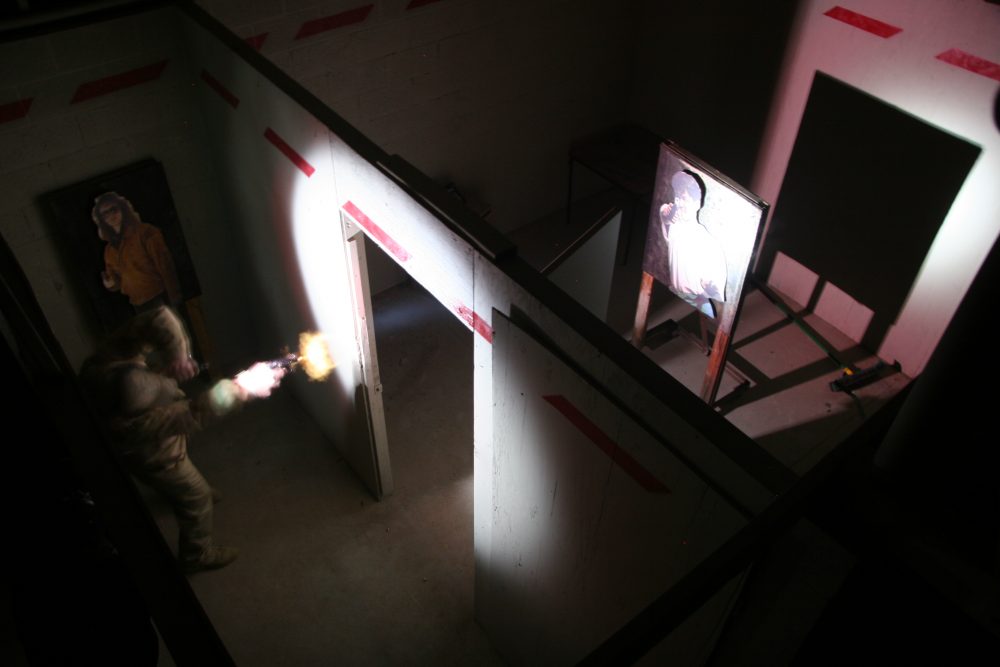 Student engages target in indoor simulator at night using Ruger LCR and SureFire Backup light. Photo courtesy Gary Paul Johnston
---
The first day began with the obligatory filling out of paperwork and then instructors Giles Stock and Bill Murphy introduced themselves, and each student introduced himself to the class.
Event sponsors who had sent representatives gave short presentations on their products, including XS Sights, SureFire, Ruger, Galco, The Wilderness, and 5.11 Tactical. Smith & Wesson provided revolvers and Hornady provided the .38 Special and .380 ACP ammunition that would be used for the two-day event.
Dave Biggers from XS Sight Systems explained how to use their sights effectively and which different sight systems are available.
Dick Williams from SureFire talked about new products from the company and handed out the new Backup light for attendees to use during the class.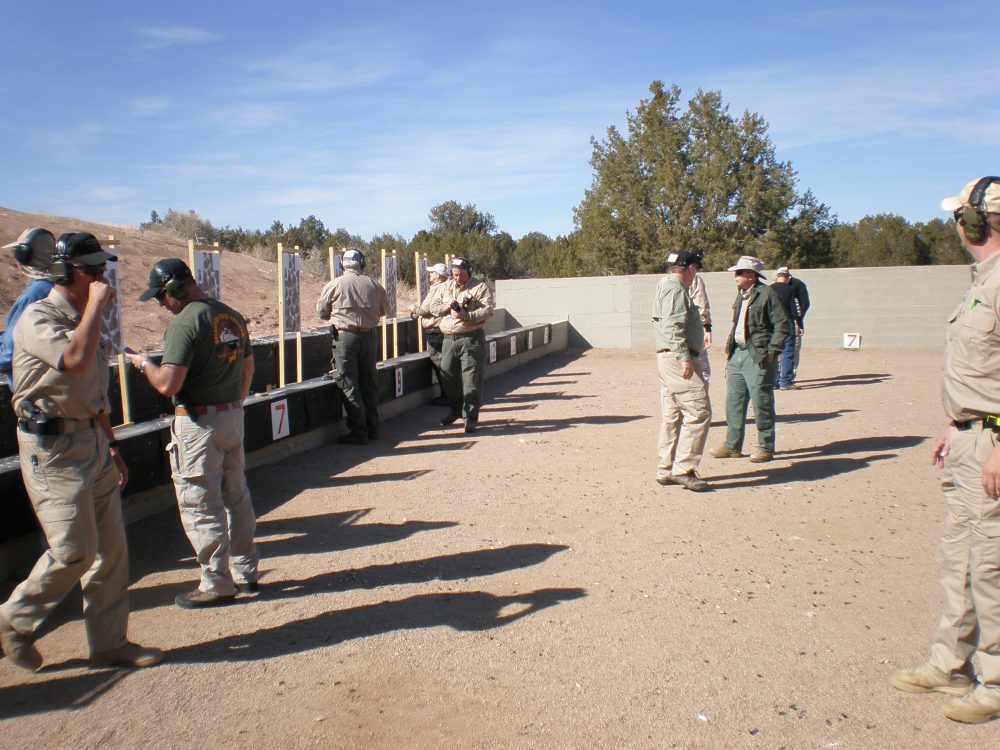 Working in two-man teams on two relays, students check hits and tape targets.
---
Mike Barham from Galco brought several types of holsters, including pocket, ankle, and magazine carriers.
Ken Jorgensen of Ruger talked about the LCR revolvers and LCP pistols and brought enough that the class would have time to get hands-on experience with both.
Giles Stock presented for The Wilderness and handed out samples of The Wilderness Frequent Flyer Belt, made of nylon with a titanium buckle. As Dad threaded on the Frequent Flyer, Giles jokingly asked the entire class to take note, because it would probably be the first and last time they saw him wearing anything but leather.
Bill Murphy presented for 5.11 Tactical, which had donated BDU pants and shirts for us to T&E while we were there.
In short, the class got some cool swag, and while it was much appreciated, the real reason we were there was to receive training on pocket guns. Let's get to it…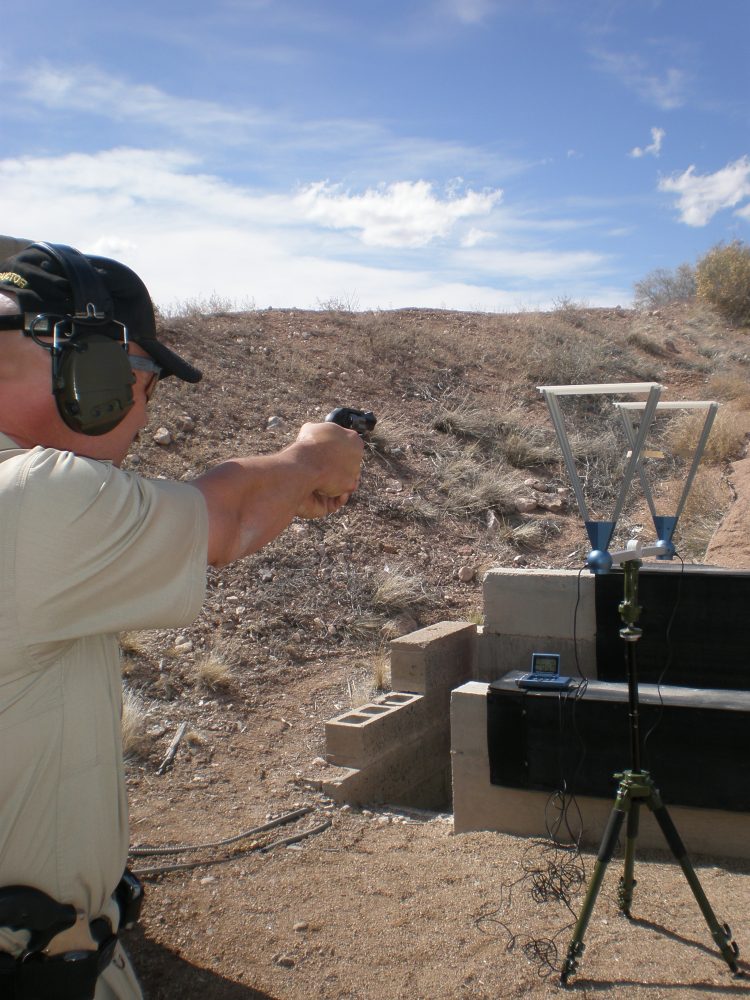 To ensure that there would be plenty of low-light shooting, both days of the class started late in the morning and ran until around 2100 hours.
The class was split into two relays so that everyone had a chance to fire each of the revolvers available. After a brief lecture on the basic manipulation of revolvers, we started out firing the S&W Snubbies. We began by firing a single shot at three yards and then progressed to multiple shots and moved farther back as the day progressed.
Strangely enough, this was my first time shooting a five-shot revolver for more than a few rounds. Used to carrying a full-size semi-auto—most with 13- to 17-round capacities—I quickly and acutely became aware of the limitations of shooting a revolver that holds only five rounds. For example, it is impossible to perform a simple box drill (two shots center mass of one target, two rounds center mass of a second target followed by a head shot to each) without performing a reload.
After everyone had time with both the S&Ws and the Ruger LCRs, it was time to test the LCP. I already knew that the LCP was reliable, as Dad had run over 800 rounds through his when he had tested it after it had been introduced at the SHOT Show in 2008. But the LCP was met with a lot of interest from other participants, who had not had a lot of time with the pistol. I was impressed to see a few of them getting hits at 25 yards with this small .380.
Shooting into gelatin blocks yielded some encouraging results about ammo expansion.
---
We stopped for dinner at 1645 hours and went back to the break area. I always look forward to breaks at classes because of the learning opportunities among a group of guys who have tested literally thousands of guns over the course of their lives. The wealth of knowledge available is good reason to keep one's mouth shut and ears open.
After dinner we met back at the square range for low-light shooting and flashlight drills. We practiced getting our lights out and into the fight, and became more adept at working with them until it got too dark to allow the instructors to safely make any changes if a student had trouble with a technique.
After dark we continued to shoot and work with lateral movement on the line. At 2100 we went to the classroom for a debriefing and a quick overview of the next day.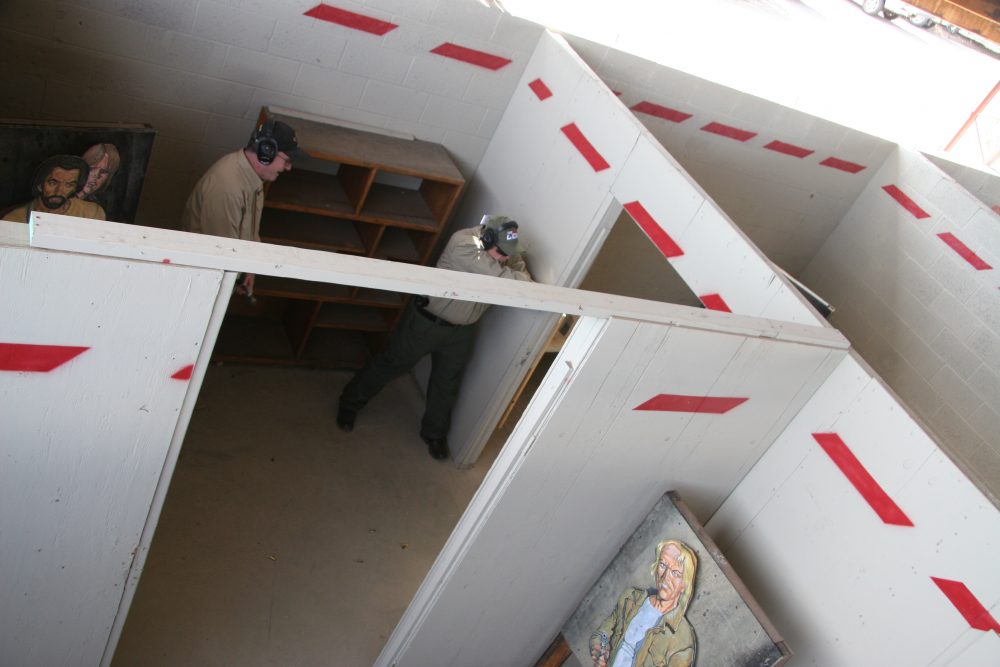 As seen from catwalk above shoot house, Denny Hansen engages target while Giles Stock follows. Photo courtesy Gary Paul Johnston
---
Day Two started at the square range.
Anyone shooting .380 ACP and.38 Special ammo from a Snubby should be aware of how the ammunition performs if you choose to carry a pocket gun. Knowing that pistols are very poor fight stoppers to begin with, Giles Stock and Bill Murphy chronographed some of the Hornady ammo so participants could see exactly what could be expected from the small guns.
Next was a gelatin shoot. This was to show approximately how much penetration and expansion the rounds had. However, there were some problems during the preparation of the gelatin, so the penetration test was not as accurate as we would have liked to see. However, the expansion test was still interesting, and I was very pleased to see how well the Hornady ammunition did expand.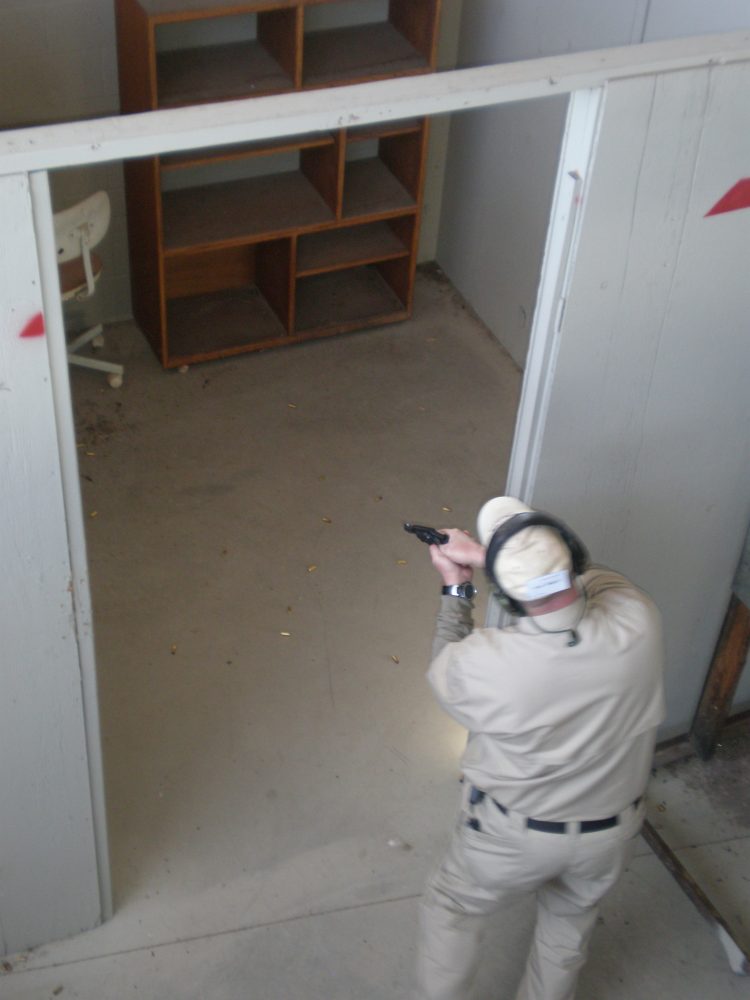 Next the students were divided into two groups and sent to two different indoor simulators for live-fire drills. Each student received a safety briefing and a situation scenario as to why he needed to go into the house vice not waiting for law enforcement (which would be the smart thing to do if at all possible). Subsequent to each run, the student was critiqued, and questions were asked and answered. Giles Stock allowed Dad and me to perform a dry run through the simulator using team tactics, because we spend so much time together. Finally, a full debrief was given to the group.
After the daylight simulator was completed, the group went to an adjacent square range and a robot was brought out to "fight." As some students fought the robot, the rest went to the other range and worked on distance shooting with the revolvers and LCPs.
Some students were making consistent and impressive hits out to 35 yards on steel targets. My Dad went ten for ten from the 35-yard line, and I went three for five. Ever since I beat him in a man-against-man shoot at a Louis Awerbuck carbine course several years ago, he never misses a chance to show me up.
The class broke for dinner around 1630. Again the students had time to chat and share past experiences with each other, so I got to pick their brains one more time.
At 1830 the class returned to the square range for a quick refresher on low-light operations with movement and shooting.
The groups stayed the same as the ones that had worked the simulator in the daytime. However, they switched simulators and subsequently problems. Both day and night shoot houses had shoot and no-shoot targets that had to be dealt with on a one-by-one basis.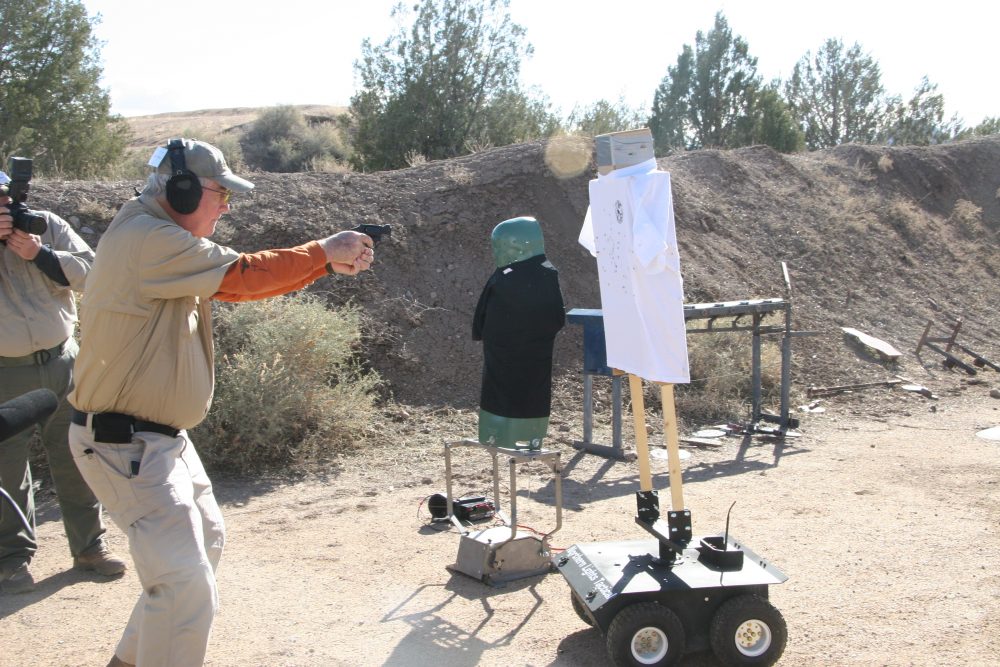 Dick Williams of SureFire gets busy on the robot. Photo courtesy Gary Paul Johnston
---
After all the shooting was done, there was a question and answer period with the instructors. The group met back in the classroom and did one last check that all supplies had been gathered. And that concluded the class.
Among the things I took away from this class were:
XS Sights can be acquired very quickly, especially up close indoors and in low-light conditions.
Reloading a revolver at night with a flashlight in your hand is a skill that needs to be practiced a lot if you carry a revolver.
In light conditions in which they can be seen, lasers can be a valuable tool.
Having used different types of holsters, I gained a better frame of reference for choosing one for a small revolver or auto-loader.
Small handguns have their time and place, and I no longer believe that the caliber of every gun I carry must start with a "4."
Remember I said we borrowed two Ruger LCRs for the class? I now have a lot more confidence in my abilities with a small revolver, and will be purchasing the LCR I used in the class.
SOURCES:
5.11 Tactical Series
Dept. S.W.A.T.
4300 Spyres Way
Modesto, CA 95356
(866) 451-1726
www.511tactical.com
Crimson Trace Corporation
Dept. S.W.A.T.
9780 SW Freeman Drive
Wilsonville, OR 97070
(800) 442-2406
www.crimsontrace.com
Galco International
Dept. S.W.A.T.
2019 West Quail Avenue
Phoenix, AZ 85027
(800) 874-2526
www.galcogunleather.com
Gunsite
Dept. S.W.A.T.
2900 W. Gunsite Rd.
Paulden, AZ 86334
(928) 636-4565
www.gunsite.com
Hornady Mfg. Co.
Dept. S.W.A.T.
Box 1848
Grand Island, NE 68802-1848
(800) 338-3220
www.hornady.com
Sturm, Ruger & Co., Inc.
Dept. S.W.A.T.
Lacey Place
Southport, CT 06890
(203) 259-7843
www.ruger.com
SureFire, LLC
Dept. S.W.A.T.
18300 Mount Baldy Circle
Fountain Valley, CA 92708
(800) 828-8809
www.surefire.com
Tuff Products
Dept. S.W.A.T.
1060 Colorado Ave.
Chula Vista, CA 91911
(877) 883-3776
www.tuffproducts.com
Wilderness Tactical Products, L.L.C.
Dept. S.W.A.T.
Wilderness Plaza, 1608 W. Hatcher Rd.
Phoenix, AZ 85021
(800) 775-5650
www.thewilderness.com
XS Sight Systems Inc.
Dept. S.W.A.T.
2401 Ludelle
Fort Worth, TX 76105
(888) 744-4880
www.xssights.com