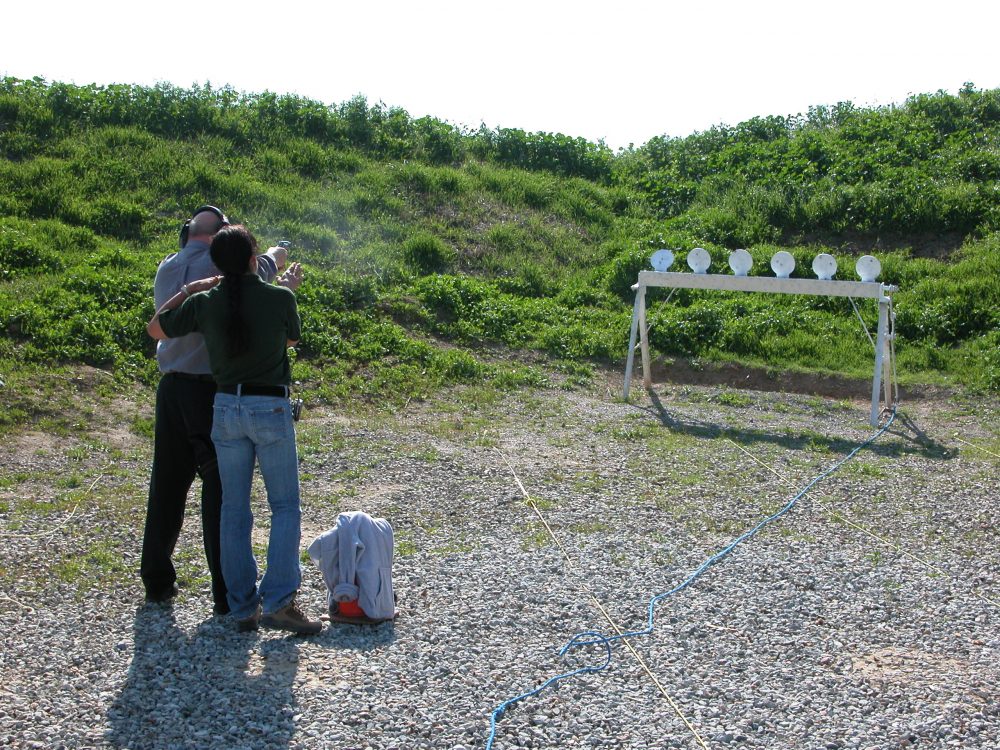 After morning of classroom orientation and static square range shooting, students begin afternoon with variety of exercises. Close supervision is part of class safety effort.
---
I couldn't help being a smart aleck when Bill Murphy invited me out to his Firearms Training Associates Revolver class. "That's one of those funny guns with the wheelie thing with the holes in it?" says I. "I believe I have one of those in the safe—I'll look."
In addition to running some of the most high-tech, high-speed/low-drag class curriculums in the tactical training world, Bill Murphy still has a soft spot for the revolver, and he schedules a couple of classes a year for anyone else who shares his bent.
Actually, I have quite a few of those "funny" guns in the safe, as I began my handgunning with a revolver and to this day still love to shoot them. Toward that end I have managed to collect a pretty good cross-section of guns that includes everything from a neat custom .32 Magnum Ruger Single-Six right on through to my three (yes, three) S&W Model 629s with four-inch barrels. In between are a bunch of .22s, .22 Magnums, and a .38/.357 Magnum or two. The gun for the revolver class would, of course, be the self-tuned S&W Model 66 in .357 Magnum with a four-inch barrel.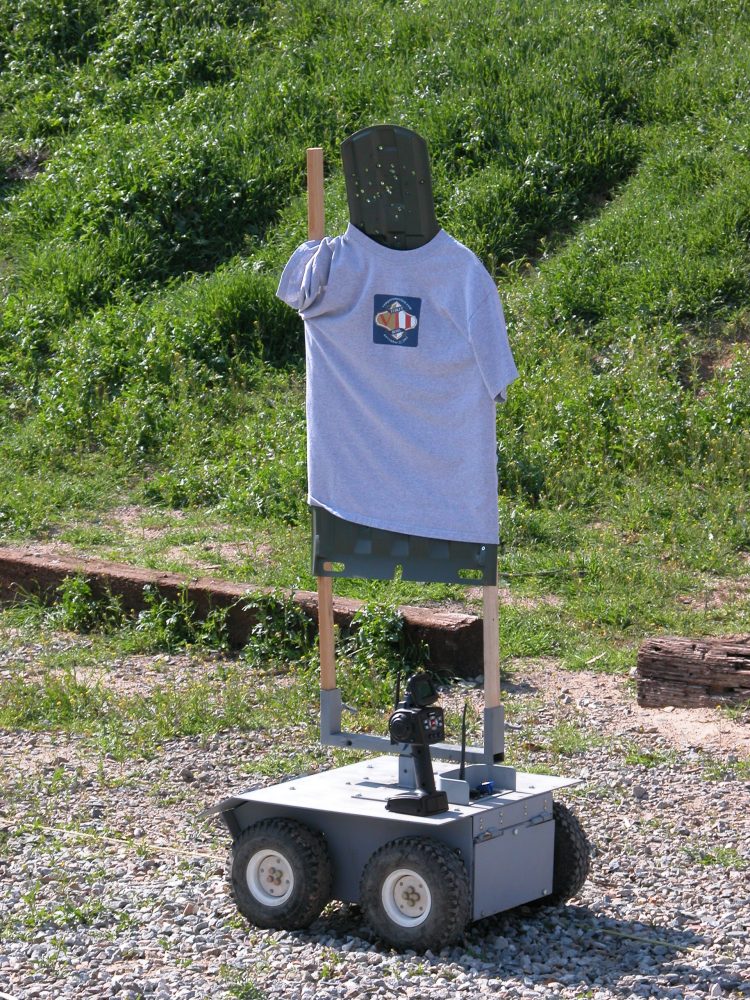 So, anyway, I kind of like revolvers.
What follows is the basic outline of a day at the Firearms Training Associates Revolver Class:
Like everything today, you begin with paperwork and liability releases, but that formality is quickly overtaken by the lecture portion of the morning.
Bill covers the outline and goals of the course, then orients the students (in this particular class, mostly private citizens) to the basic categories of revolvers—Home Protection, Carry Gun, Back Up Gun, Hunting (different guns for different game)—and how they might fit into your needs.
The Four Rules of Gun Safety and the basic gun handling protocols for the range are explained, and then Murphy covers the draw, holstering skills, reloading and the mindset needed to fight with a revolver.
As the sub-title indicates, "Six For Sure" used to be the revolver mantra, but the modern five-shot snubbie has been around since the early 1950s, and today there are seven- and eight-shot revolvers in the medium service calibers.
Whatever your initial ammo capacity, your reload will come soon, and it will not be as fast or convenient as swapping out magazines in a semi-auto—this is a reality of the revolver world, and it is thoroughly covered in this class, beginning with this lecture.
When the bullets finally start flying for the day, they are headed toward paper targets on the static square range so that the staff can get an idea of each individual student's skill level as a shooter and more importantly, their gun handling skills.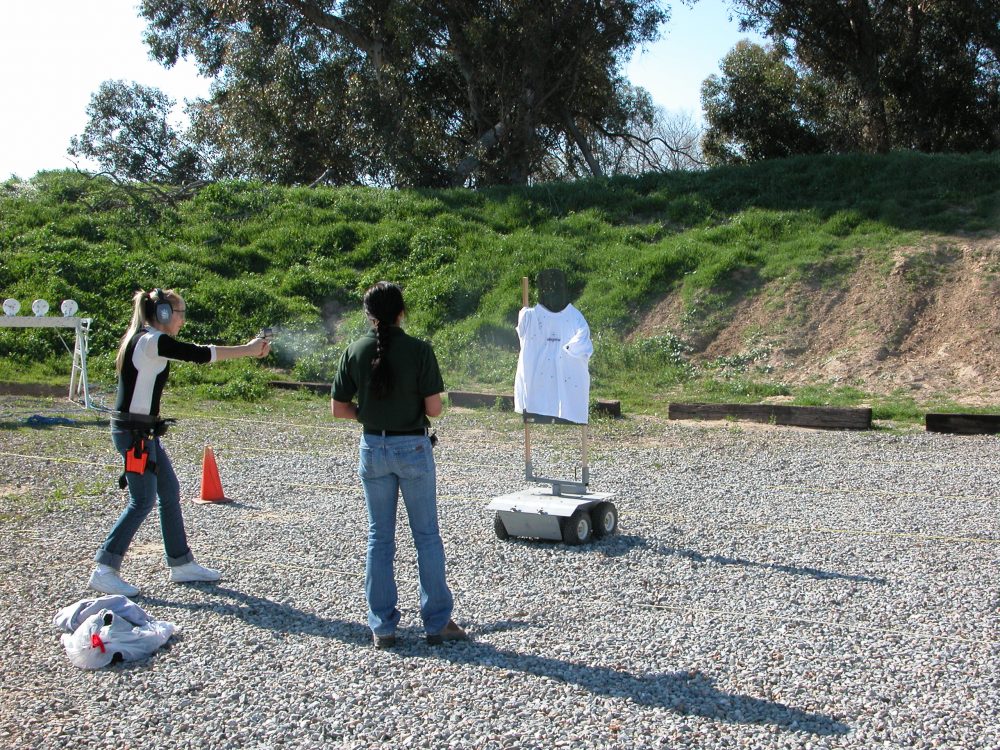 Your experience with mover begins at 10 yards, with it making lateral moves and swoops. Once your revolver is empty, it charges you and your job is to reload while using lateral movement of your own and then re-engage the threat.
---
Students start by firing pairs onto their target from five yards until their guns run dry and then doing a full (and sometimes frantic) speed load.
Next, they shoot the gun dry and execute a two-shot reload from loose ammo, which of course requires indexing the fresh rounds to the correct point in the cylinder.
Then we're off to pairs and reloads at 10 yards for awhile, eventually moving from there to exercises at 15 and 25 yards that begin to stress double-action trigger control—trigger staging (stacking)—and shooting for accuracy first, with speed second.
All this takes us up to a mid-day halt point, and Murphy then reviews the morning with the class. He goes over the goals for the morning and makes sure everyone feels they are comfortable with the flow of instruction.
The lunch break runs a little longer than normal, since it is a long drive out to even the nearest fast-food joint. The other reason is that Murphy wants the students to have some extra time to relax and recharge since they face a challenging afternoon.
Students who would like some one-on-one time with Bill (or any of the range staff) can get that kind of attention during this break, and this is often the exact medicine needed to help a student understand a concept or master a shooting technique/gun-handling issue.
After lunch the class is broken up into small groups and dispatched to various areas of the FTA facility to shoot different drills. It's not as dramatic as it sounds, but there is plenty of room to run these different drills, which keeps all the students shooting and involved.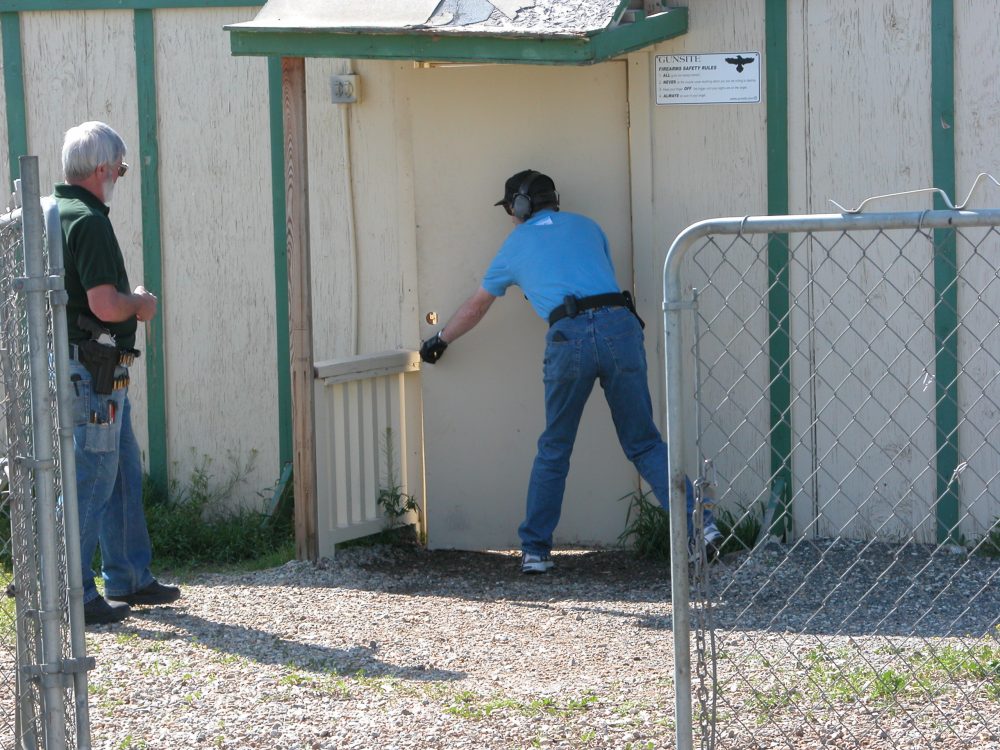 First thing you need to know is how to open the door! This is actually a critical issue, and making sure not to "laser" yourself with your own muzzle as you open the door is first. Course covers positioning and how to handle doors that swing in different directions or slide.
---
THE SHOOT HOUSE
They're not training commandos here, so this is a simple exercise that involves entering a building, negotiating your way down the central hallway and "clearing" the rooms to either side of the hall.
There are different target set-ups in each room, and the instructor stays close behind the shooter to enhance the safety aspects of the drill and also to offer tips and advice as the student progresses.
You won't qualify for a Special Forces assignment when you're done, but any self-sufficient citizen who has actually had any live-fire training in such matters is obviously well ahead of those who have not.
FALLING PLATE RACK AND MOVER
Another range area holds a six-disc falling plate rack that gets pounded by the students in different ways.
Initially each student shoots all six by themselves for a couple of cycles, then you have two shooters on three plates each for time, three shooters on two plates each for time, and finally, six shooters on their own plate against each other and the clock.
The mover is a sophisticated remote-controlled target platform that would be hard enough to hit if it were running on a flat surface—trying to nail it as it pitches across the river stone that carpets the range is another issue!
Shooters begin squared up with the target at ten yards and are taught to take a lateral step during the draw when the action starts. The mover traverses back and forth with irregular starts, stops and spins. Once you have emptied your gun, it charges you.
It's just a battery-powered cart with a flat target wearing a T-shirt, but it induces serious stress for those who try it.
You find out just how long that reload really takes and how important it is to get it done quickly.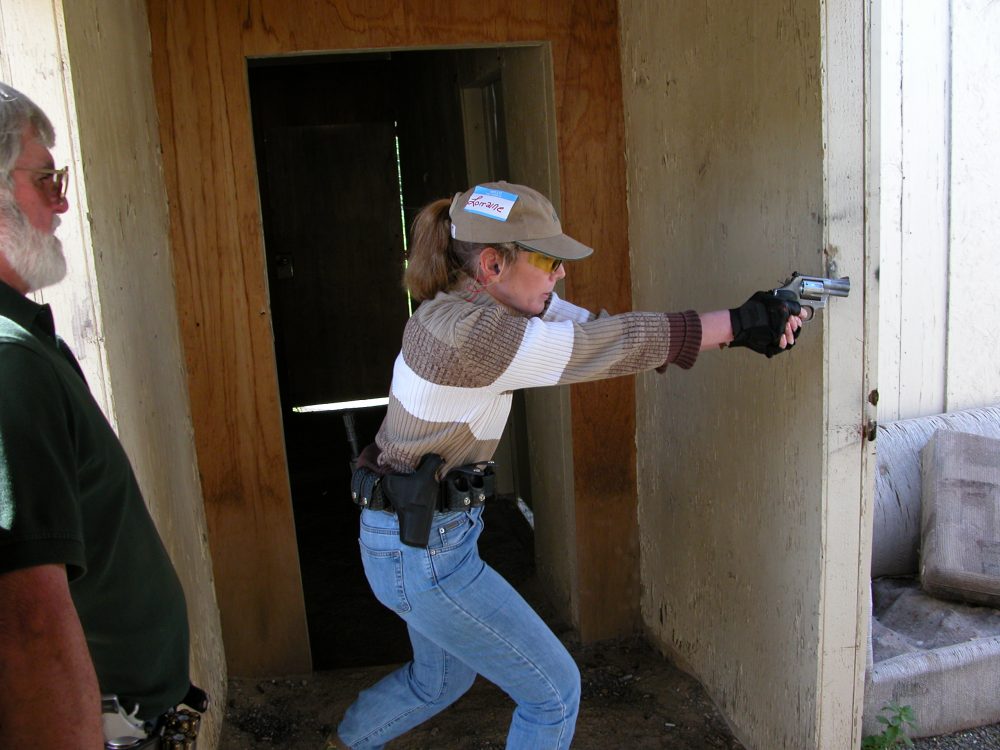 Having cleared room to her left, student now opens door across the hall and begins "slicing the pie" to clear this new area.
---
STEEL TARGETS
Multiple Steel Targets are in another shooting bay and include: three small torso units for a spread, or "El Presidente," set-up; a hostage target with a swinging plate that represents the bad guy's noggin behind the "hostage" in front; a failure drill target that has a swinger "center of mass" plate and a smaller hinged plate above, representing the ocular/cranial area, which flips up to display a white hit indicator; and last, a standard dueling tree with six swinging plates that pivot side to side when hit.
These are all used to pit shooter against shooter, or simply the shooter against the clock, and therefore themselves.
The competition aspect is as extreme as the near-panic created by the charging mover. It is all out of proportion to the real weight of the moment, but it sure enhances the training experience.
Every time it happens to me at a class, I remember what it was like to be under fire for real and wonder how I would handle that today if it happened again. The answer is that I plan to do well if it is needed, and to do all I can to make sure it is not.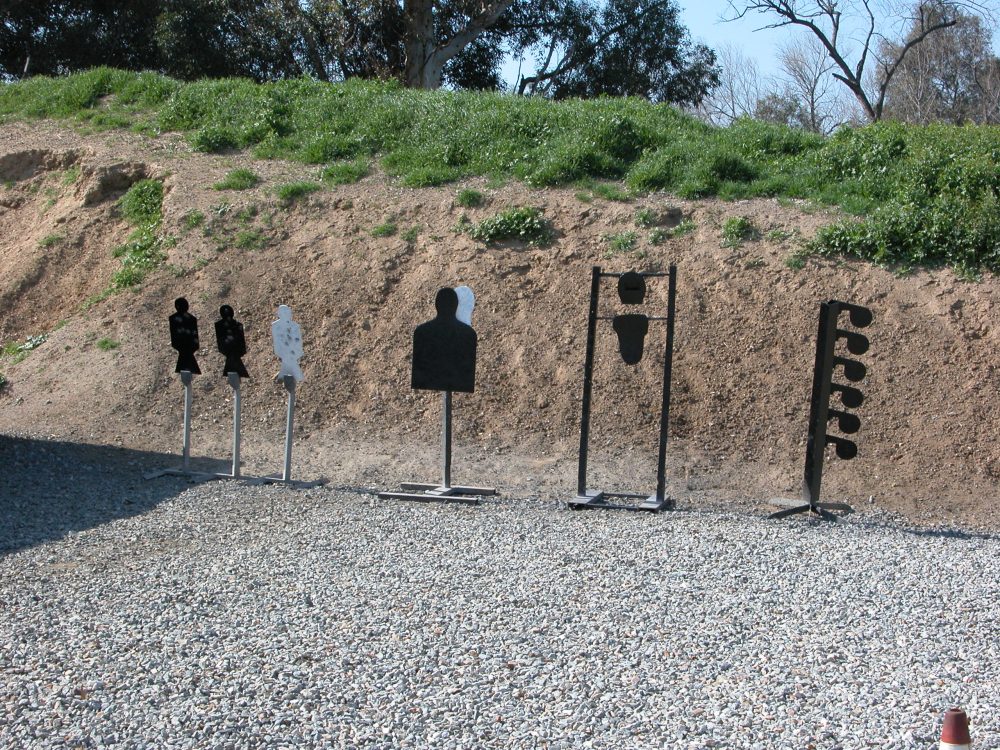 Left to right, this rack of steel includes: three small torso targets; "hostage" set up with white swinger that rotates back and forth about hostage's head when hit; interesting set-up with "center of mass" swinger and "head shot" plate that flips up to show a white hit indicator; and finally, standard Dueling Tree.
---
FORCE-ON-FORCE
The Force-On-Force Shoot House is basically a quick low/no light experience combined with force-on-force elements pitting students against each other in the facility.
This is Murphy's personal shoot house, and as the new licensed owner/operator/lead trainer of the Surefire Institute, you can be sure that any and all weird and challenging entry/hallway/room scenarios will be represented here for your pleasure.
Bring your light and get ready to be shot.
Obviously it is virtually impossible to get any decent photos in a low/no light environment, and as it turns out there are a couple of techniques Bill would rather not have illustrated anyway, so just close your eyes to get some idea of the environment in the shoot house.
The competition aspects of shooter against time and shooter against shooter help raise the adrenalin level of the training experience, but there is really nothing like force-on-force training to get as real as possible without casualties. Whether it is an Airsoft gun, a paintball gun, or a SIMS cartridge from an adapter, you will remember where and how you got shot, and you probably won't let that happen again the same way.
The more force-on-force training you do, the clearer certain things become about lighting, movement, concealment, and hard cover. It also becomes easier to remember what you should be doing at any given moment to not get shot.
That's sure worth something in my book.
Bill Murphy is happy to accommodate revolver shooters in just about any of his handgun classes, so you can show up with a wheelgun and "shoot what you brung" without fear of scorn or discontent.
If you're lucky enough to get in on one of the revolver classes Bill runs, you'll need to come early, bring lots of ammo and be ready for a long day of shooting. The good news is that the long day translates into lots of good fun and new knowledge/skills to take home with you.
As above, Bill has just licensed all rights to the Surefire Institute for low/no light CQB, so he will have two separate class schedules, including his Firearms Training Associates classes.
SOURCES:
Firearms Training Associates
Dept. S.W.A.T.
Box 554
Yorba Linda, CA 92885-0554
(714) 701-9918
www.ftatv.com
The Surefire Institute
Dept. S.W.A.T.
5391 Oceanus Drive
Huntington Beach, CA 92649
(714) 695-0163
www.surefireinstitute.com