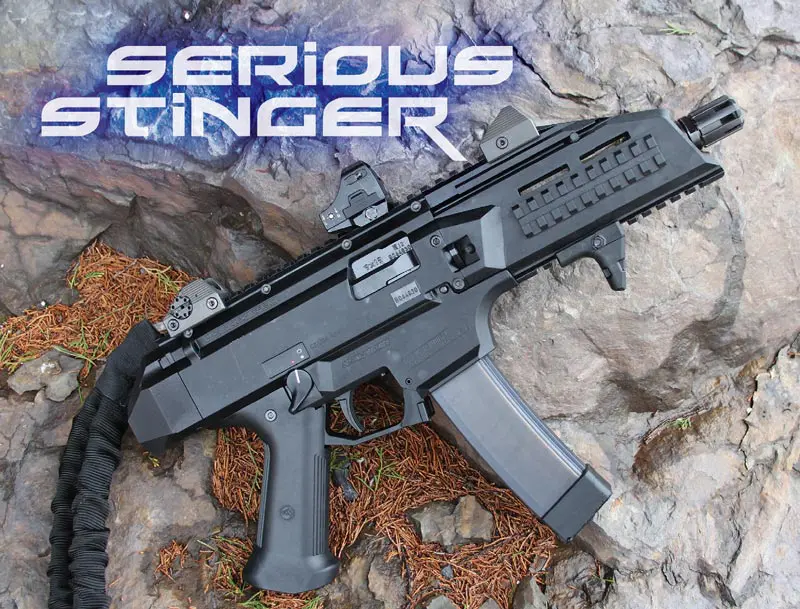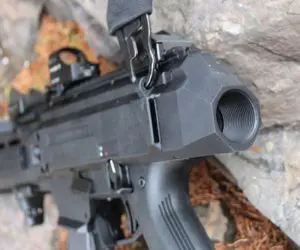 The corporate history of CZ dates back to 1936, when a political decision by the Czechoslovakian National Defense Council established an arms factory in the town of Strakonice. Production of military and civilian arms commenced in January 1937. The first products were aircraft machine guns, military pistols, and rifles. During the Nazi occupation, the plant was forced to produce and repair military arms.
Events leading up to and through World War II, combined with the subsequent Cold War between West and East, removed the CZ name from the U.S. market for the second half of the 20th century.
In 1990, production for Czechoslovakian armed forces ceased, with the newly available capacity turned to expanding production of arms for hunting and sporting purposes, as well as exports for police and military units. By the 21st century, CZ had evolved into one of the largest firearms producers in the world.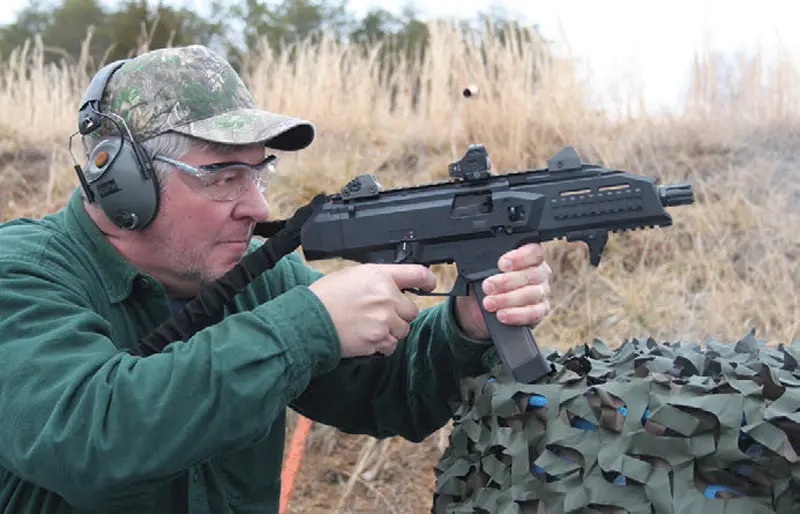 PERSONAL DEFENSE WEAPON
The CZ Scorpion EVO 3 is a modern rendition of an SMG produced by CZ (Ceska zbrojovka Uhersky Brod). Fortunately, CZ's U.S. subsidiary, CZ USA, has convinced European HQ of the worthiness of introducing a semi-auto-only pistol version for American consumers.
The relatively recent appearance of PDWs (Personal Defense Weapon) stimulated by multiple NATO weapon requests had many sounding the death knell of the SMG. The PDW is characterized by its compact size, much like an SMG. But the PDW concept is centered around new cartridge designs facilitating the penetration of body armor out to a couple hundred yards, along with one-handed pistol-like use.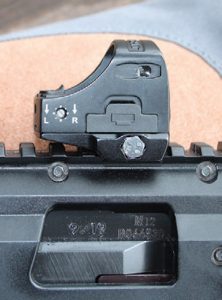 PDWs were created during a time when NATO had images of body-armored Spetsnaz troops running amok in rear echelon areas. The FN 5.7mm and H&K 4.6mm are the most prominent examples of these new PDW cartridge types.
Times have changed, along with the most likely threats faced by military and LE. While certainly not comparable to a rifle cartridge, a 115- to 147-grain 9mm instills more confidence than a 23-grain .22 caliber when having to put down an opponent in close quarters.
The CZ Scorpion EVO 3 is an interesting introduction to the market that will spark debate about the revival of the SMG concept.
THE SKORPION
CZ's use of Scorpion nomenclature with the EVO 3 will surely stimulate a connection to an infamous earlier CZ weapon, the SA Vz.61 Skorpion machine pistol. I remember seeing images of European terrorists in the 1970s carrying small, yet lethal, machine pistols. Most were chambered in .32 ACP, though other chamberings were produced, including .380 ACP, 9mm Makarov, and 9mm Luger.
The Skorpion was officially adopted in 1961 by the Czechoslovakian Army. Reports indicate it found favor with special operations units of the period due to the ease with which the .32 ACP can be effectively suppressed with a 71-grain bullet at 900 feet-per-second.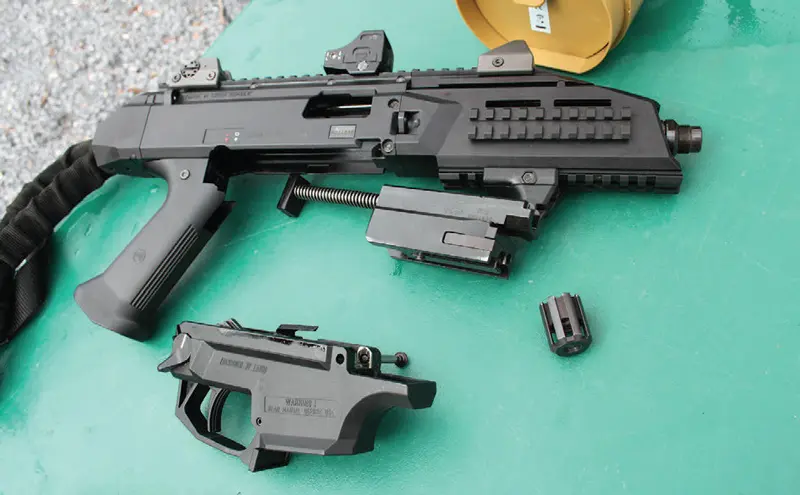 The Skorpion was never widely used or distributed among the Warsaw Pact armed services, rather it found favor with the secret police and intelligence agencies of Soviet-dominated Eastern Europe. The Czechs also heavily exported the Skorpion. Unfortunately, the Skorpion found its way into the hands of various European terrorist gangs, such as the German Baader-Meinhof Gang and Italian Red Brigades, who also appreciated its small size, firepower, and ease of suppression.
As a side note, the Spetsnaz commander in the original Red Dawn movie, played by William Smith, used a Skorpion.
THE SCORPION
The CZ Scorpion EVO 3 traces its development back to a 2002 Slovakian SMG design labeled the Laugo, whose design rights were sold to CZ in 2009 and the name eventually changed to Scorpion EVO 3.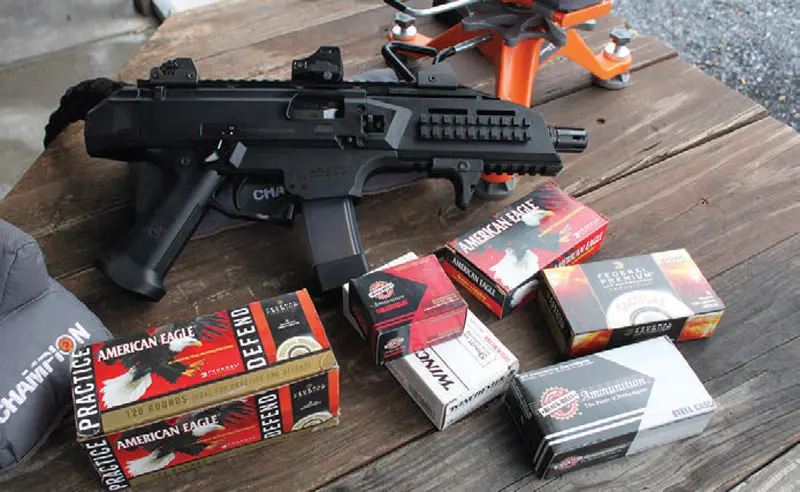 CZ proceeded to tweak the design based on their own experience. There are few shared design characteristics between the Vz.61 and EVO 3. The EVO 3 operates with a blowback closed bolt with internal hammer. The EVO 3's bolt is located behind the barrel, similar to earlier SMG designs versus the telescopic bolt found on the Vz.61 and other SMGs designed after WWII.
True to its SMG roots, the CZ EVO 3 is simple and economical to manufacture, taking full advantage of polymers in the frame and integral accessory rails. Today's polymers are what stampings were in the 1940s and 50s in terms of economical manufacturing.
The Scorpion EVO 3's cold-hammer-forged barrel measures 7.7 inches, contributing to an overall length of 16 inches. The Scorpion EVO 3 weighs only five pounds thanks to being made primarily of polymer material. CZ includes numerous Picatinny rails on the Scorpion. A birdcage muzzle device is threaded on the barrel via 18mmx1 RH threads.
The EVO 3's compact size, relative to an SMG or rifle, is further illustrated with a width of 2.4 inches and height of 9.4 inches without magazine inserted. The EVO 3 pistol arrived with two 20-round translucent magazines. Scorpion 20- and 30-round magazines will be available soon in sizable numbers, with a reasonable suggested price of $20.
CZ equips the Scorpion EVO 3 with low-profile removable iron sights. The rear sight has four different aperture sizes. The 11-inch Picatinny rail is ideal for mounting a red dot optic on the EVO 3. A quality red dot is an immediate performance enhancement for any non-traditional-style pistol.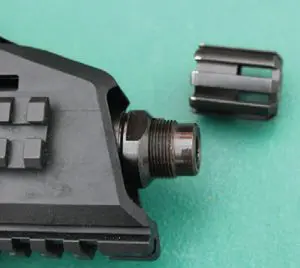 Meopta is another Czech Republic-based company that American consumers are becoming familiar with. A compact Meopta Meosight III offers a three-MOA dot, which simplifies placing rounds on target, within a two-ounce package. The unit has 1,000 hours of battery life.
SBR OPTION
The EVO 3 select-fire SMG features a folding stock. The pistol version tested herein does not. It did arrive with a tube extension in case someone wanted to mount a SIG Sauer SB15 forearm brace. This option enjoyed an explosion of popularity until tempered somewhat by the BATF "clarifying" (altering) its opinion on the use of the forearm brace.
Another option is to fill out appropriate paperwork and turn the EVO 3 pistol into a short barreled rifle (SBR) by mounting a stock. This is a simple proposition due to the way CZ has designed the rear receiver area via accepting an AR-style stock. Many would want a folding-stock configuration to take full advantage of the SBR's compactness.
An obvious candidate for this type of stock is CZ's own. However, CZ USA is having an internal debate whether or not to make available their proprietary stock that is used on the European version of the Scorpion SMG due to 922R compliance concerns here in the U.S.
I urge people to consider an option from ACE Ltd, now part of DoubleStar. The Scorpion rear receiver's compatibility with AR receiver extensions (buffer tubes) guided me to similar products designed for other such weapons. The ACE AR-15/SIG 556 Ultra Lite Folding Stock Set is a viable option for installing a folding stock on the Scorpion once BATF Form 1 paperwork is approved.
The heart of the ACE stock kit is the new heavy-duty steel folding mechanism (FSM-S), which is machined from 1018 CRS steel case hardened to RC 62 and finished with Ion-Bond Coating. It fits between the Receiver Block and Modular Stock. The FSM-S can be mounted to fold either left or right, while only adding five ounces of weight and .55 inch to your LOP.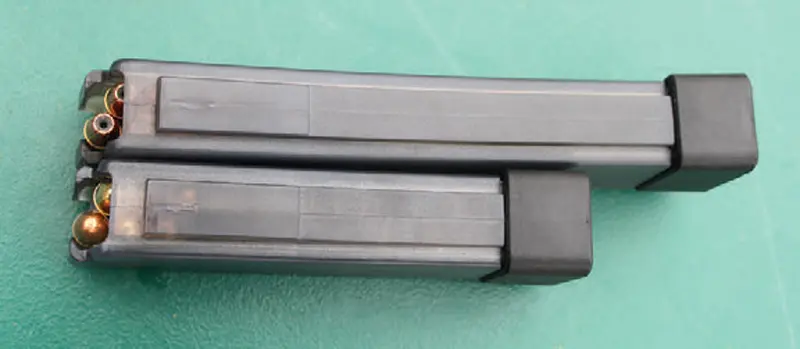 CZ Scorpion EVO 3 VIABILITY
We might as well speak about the 400-pound gorilla in the room: weapons turned into pistols from designs more associated with SMGs or rifles.
What does a pistol like the CZ Scorpion EVO 3 offer in terms of real utility in its pistol form? The answer here is nebulous, based on user expectations and intentions. For many, a non-traditional pistol like the EVO 3, while enticing due to firepower potential, lacks much in terms of accuracy past normal handgun ranges, with the added negative of weighing twice as much as a typical handgun. But this can be tempered by utilizing certain techniques of deployment such as an SAS sling and two-handed grip.
Another possible method can be derived from how Czech Special Forces ran their original compact Skorpion machine pistols. The Vz.61's wire stock was floated on the cheek, providing three points of contact for more stability and thus accuracy. While not optimal and not nearly as effective as a true stock cheek weld, the alternate methods proved superior to merely attempting to hold via the traditional pistol method, especially when the goal is rapid-fire rounds downrange with a semblance of accuracy. Attentive training will pay dividends in finding what works best for individual users.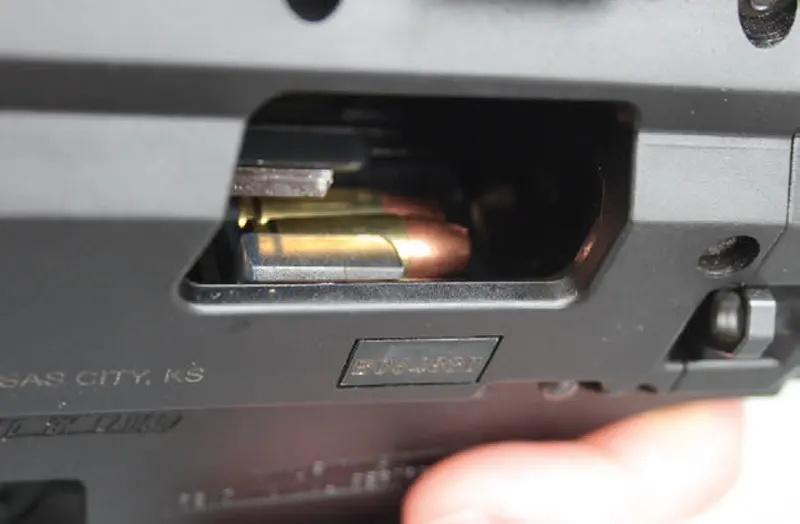 MUZZLE UP
The 9mm SMG-like Scorpion screamed for suppressor use, but the CZ Scorpion EVO 3 proved challenging in adapting to it, due to the European-based 18mm threads found on the Czech-based Scorpion versus more typical U.S. patterns.
I reached out to Jeff Cox's Grizzly Gunworks for assistance. Jeff has a vast background in machining combined with a passion for firearms. He managed a robotics company of 80 employees for 13 years. During this time, his love for competition shooting, hunting, and firearms in general grew exponentially. Jeff won the 2010 Ontario Rifle Association's (ORA) Precision Rifle Matches Sniper Aggregate, as well as placing 1st at ORA's 2009 Long Range Precision Rifle Championship.
A few emails giving measurements and photos of the Scorpion EVO 3's muzzle configuration were all that was needed for Grizzly Gunworks to create a 1/2×36 adapter for the CZ Scorpion.
The aluminum adapter is a model of simplicity, a low-profile affair that contributes minimally to barrel profile and length. The Grizzly adapter looks like an integral piece between the Scorpion barrel and the Yankee Hill Machine (YHM) flash hider.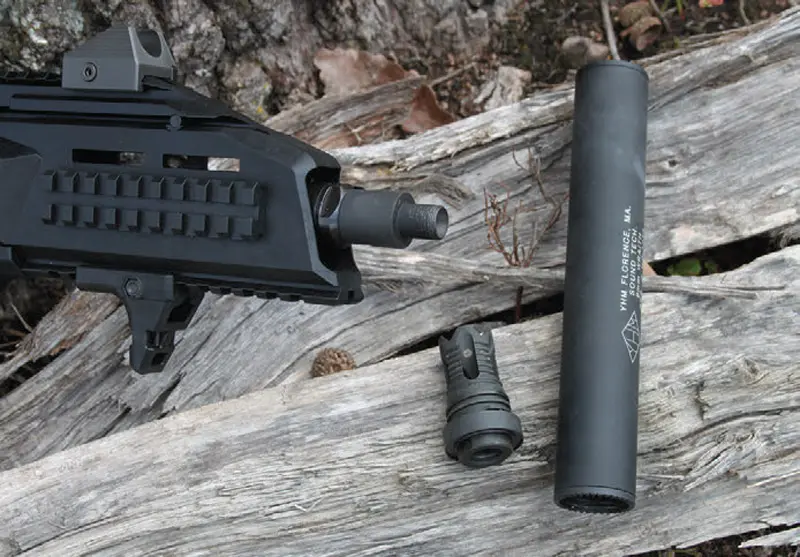 YHM created the patent-pending Quick Detach (QD) flash hider muzzle device for the quick mounting and dismounting of their Wraith suppressor. Hand tightening is all that is needed to hold the Wraith suppressor firmly in place. Conversely, the suppressor can easily be removed via hand pressure when no longer needed.
The YHM muzzle device supports the suppressor in two places to help ensure bore alignment. A patented gas seal keeps the threads clean so the suppressor will not bind when removed from a weapon no matter how many rounds are fired. The YHM QD flash hider is available in 1/2×28, 1/2×32, and 1/2×36 thread patterns.
The YHM Wraith 9mm Sound Suppressor utilizes Mike White's Sound Technology Inc's patented baffle design. YHM offers a newer version of the Wraith tested herein, labeled Wraith XL. The Wraith is designed for use on SMGs constructed from aircraft-grade aluminum and stainless steel. It features a matte black Parkerized finish. Overall length is 7.5 inches with a diameter of 1.25 inches and weight of only six ounces. The Wraith is designed to reduce muzzle noise up to -30db.
Many turn to a 9mm platform for the reduced recoil and muzzle blast represented by the 9mm pistol cartridge compared to a rifle. Others point to it for the ease of suppressing the 9mm. The Wraith can be mounted on the Scorpion's 7.7-inch barrel and yet still be shorter than a 16-inch barrel rifle in total length.
Range time consisted of not only testing accuracy and reliability with all types of ammunition, but also ensuring that the YHM Wraith in no way compromised the established baselines of accuracy and reliability.
The 147-grain 9mm subsonic loading is an obvious choice for use with a suppressor. But the Wraith proved effective at taming the muzzle blast of even 115- and 124-grain +P loads. It comes down to just not that much powder/ blast in a 9mm to contain. With the can installed, all loads could be comfortably fired without the use of ear protection.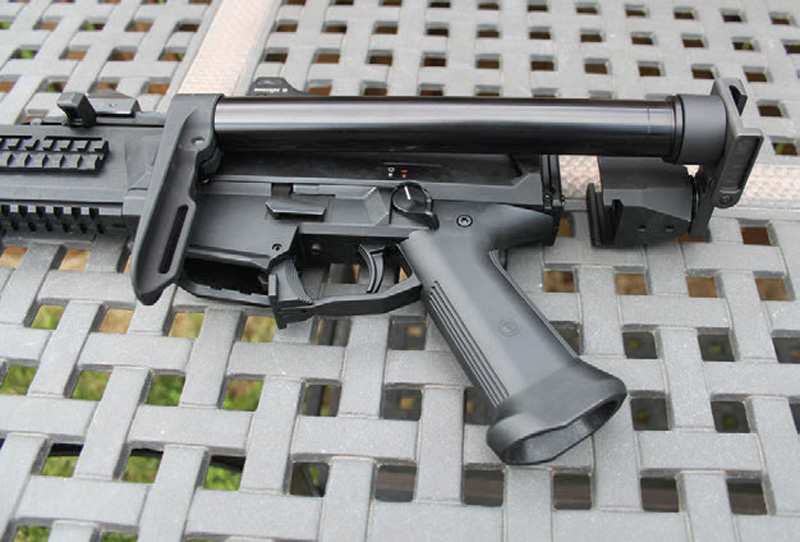 FIELD EVALUATION
The Scorpion EVO 3 was tested at the range first by establishing iron sight and red dot zeros. The irons and Meopta red dot did not co-witness.
Several 20-round magazines were fired rapidly downrange. The EVO 3 has a non-reciprocating cocking handle that is very similar in appearance and function to the HK MP5's. The cocking handle is reversible to either side of the frame. The ambidextrous safety lever took some time getting used to. It was easier to manipulate the lever with either thumb or index finger of the firing hand, depending if moving it on or off safety.
The CZ EVO 3's non-discriminatory handling of several types of 9mm ammunition was a pleasant surprise. Winchester 9mm NATO loads were purchased based on experience with other 9mm SMG designs requiring the higher-pressure NATO loads to operate reliably.
The Scorpion EVO 3 functioned flawlessly with not only Winchester 9mm 124-grain NATO FMJ loads, but also Winchester 115- and 147-grain JHP, Federal 115-grain FMJ, Hornady steel-case 125-grain HAP and 147-grain TAP, and Black Hills Ammunition 115-grain FMJ and 124-grain HP. The ability to feed the JHPs was a totally unexpected bonus and a credit to the EVO 3's weapon design. This further increases its potency as a CQB weapon for LE and citizens.
The CZ EVO 3 proved very capable at handling a CQB-style course set up at Echo Valley Training Center. Most targets were ten yards away, with others placed 50 yards downrange.
Transitions among the multiple targets were effortless and the EVO 3 offered little in terms of recoil. As expected, muzzle signature was minimal with firing a 9mm from the 7.7-inch barrel.
Magazine changes, shooting from behind cover, transitions, and firing from unconventional positions put the Scorpion EVO 3 through its paces. Strings of fire ranged from single magazines worth of ammunition to some drills incorporating up to three magazine changes before finishing.
The Meopta Meosight III assisted in engaging targets at close distances, with the red dot easy to pick up rapidly.
CONCLUSION
The SMG's most prominent role, indeed its raison d'être stretching back to the WWI trenches, is as a CQB weapon. Ease of sound suppression is another important SMG advantage. Increases in terrorism, organized crime, and drug smuggling, with law enforcement teams having to deal with these well-armed opponents, have created a new need for the 9mm SMG. The CZ Scorpion EVO 3 represents a re-emergence of the SMG, reminding everyone of its positive characteristics.