Naval special operators have been using a version of the SIG Sauer P226—the U.S. Navy MK24—for 20 years. The P226 has served and still serves as a "companion" pistol designed to be carried as a backup to whatever long arm is being used or for use during combat boarding operations, raids in tight quarters, engagement when one hand is holding a rappel rope or otherwise occupied, or for concealment on clandestine operations.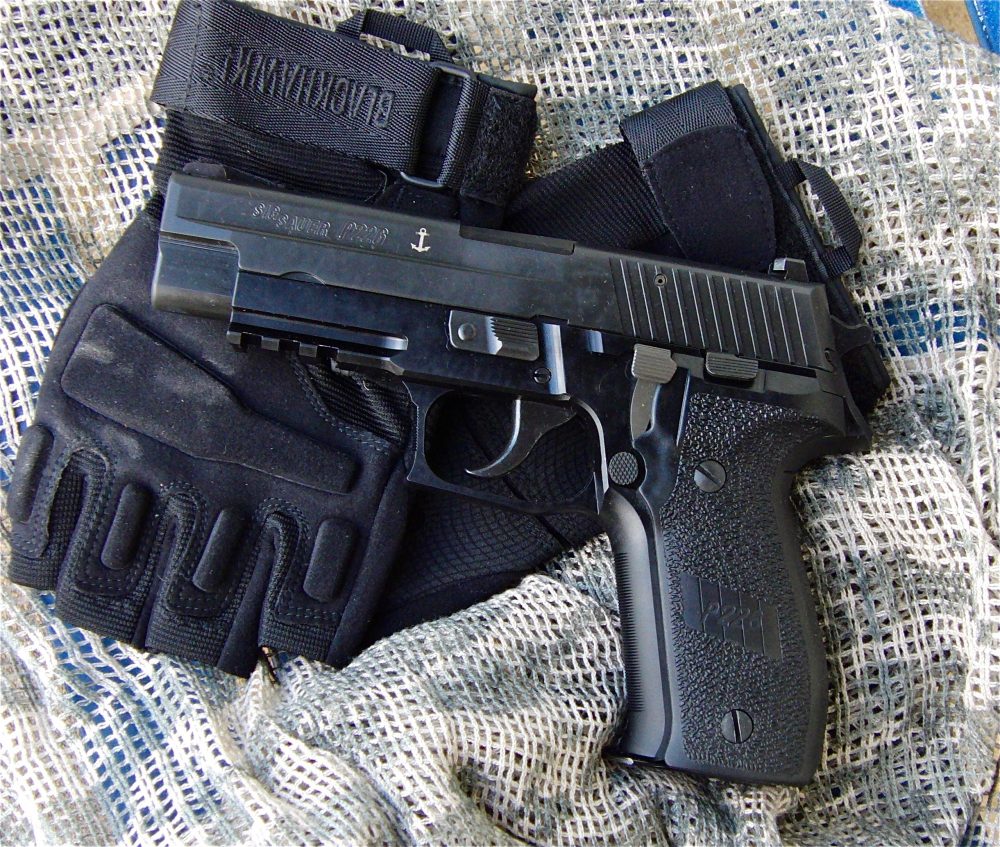 Left side of MK25. Controls are standard P226. Anchor designates Navy usage.
---
Also in the Naval special ops armory is the HK SOCOM MK23 Mod 0, which is considered an offensive pistol to be used with a suppressor and an array of illuminators. I have seen operators at Blackwater with the MK23, but they tended to be members of Special Boat Team SWCC (Special Warfare Combat-craft Crewmen). This makes sense because they are aboard small boats with machine guns and grenade launchers, and the MK23 gives them a more powerful handgun than the P226 9mm.
I have been told that some Naval Special Warfare personnel are issued the SIG Sauer P239, presumably for missions where a very concealable pistol is desirable.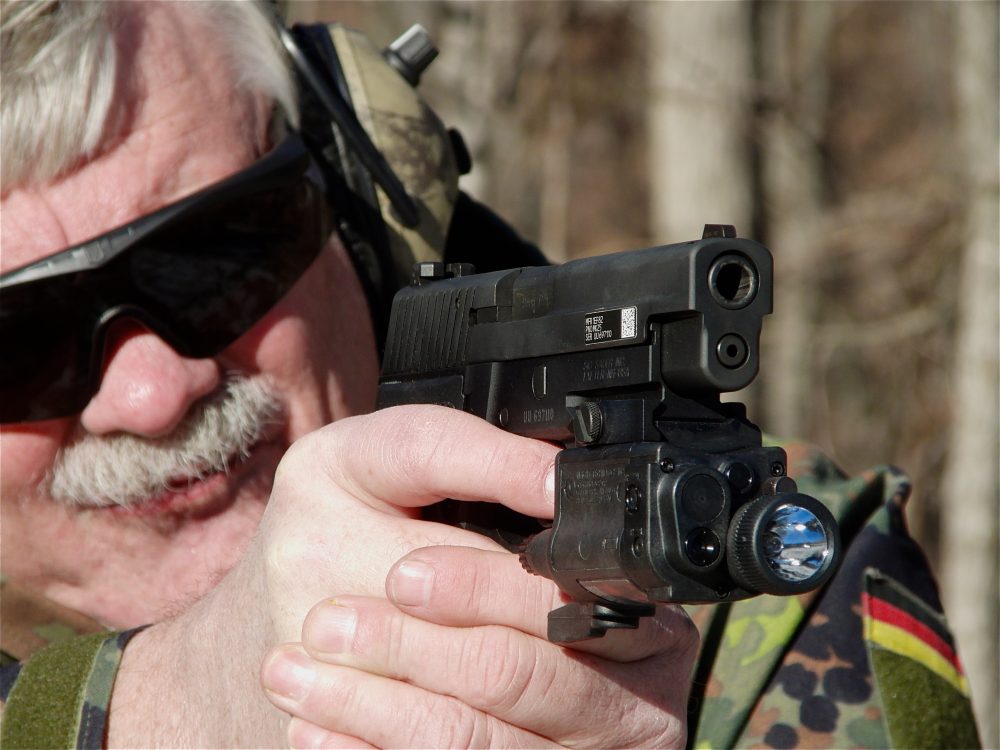 MK25 allows mounting an array of illuminators and pointers such as the Insight Technology Laser Aiming Module.
---
UPDATING THE MK24
The Navy recently worked with SIG Sauer to update their 9mm pistol to the MK25. What is especially appealing to me, and I'm sure many other shooters, is that SIG Sauer is making this same pistol available for commercial sales.
Most of the features of the MK25 are the same as a standard P226 or the MK24 Navy P226 it will replace. As with the P226 Navy (MK24), the MK25 has an anchor on the slide to designate its naval use. Internal parts are coated with a phosphate finish that gives extremely high corrosion resistance even when constantly exposed to salt water.
A Naval Special Warfare contact once mentioned that after swimming in salt water, operators try to find fresh water in a stream, bucket or whatever into which they dip the pistol and work it around to wash as much salt as possible from the exterior and interior. When they can, they will strip and oil the pistol, but it's obviously not a priority on operations. Therefore, as much corrosion resistance as possible is desirable.
Three fairly obvious features are present on the MK25 that are not on the P226 Navy that preceded it. Since the initial Navy contract for P226 pistols, the use of illuminators and pointers mounted on the pistol has become much more common. Whereas before, the MK23 was used when an illuminator or pointer was needed, the MK25 incorporates a true Picatinny rail to take an array of accessories. Also as an aid for fighting at night, the MK25 incorporates SIGLITE night sights.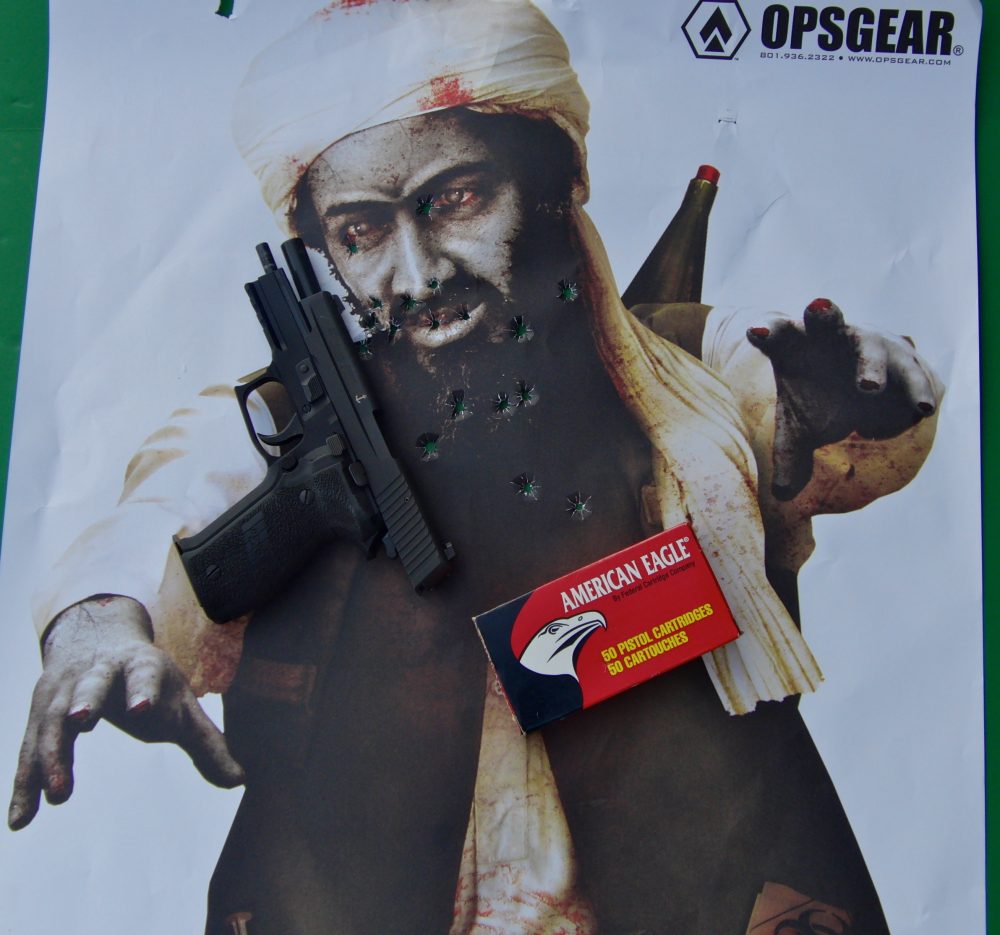 Double- and triple-tap drills from six to 15 yards from the low ready on an "appropriate" OpsGear target.
---
Let me comment on op sec in regard to night sights. Just as with watches with illuminated dials, care must be taken that the glow of the night sights does not compromise a position. High speed tape may be used to cover the sights when operating close enough to the enemy that the glow might be seen. For trained operators, it should not be an issue, and I'm sure they will have determined during night training at what distance the SIGLITEs may actually be seen. Hopefully the target will not be looking at the back of the sights!
One other feature is incorporated into the MK25's slide: a UID code (Unique IDentification Number)—what most call a bar code. Although this is an interesting feature and one could speculate about all sorts of reasons for incorporating it, I understand from a contact at Crane Naval Surface Warfare Center that it is simply to meet requirements that have been in effect for a few years for all military "accountable" items to be barcoded.
Yes, but won't that make it difficult to use the pistol on "black ops" or other super-clandestine missions? Yeah, so why take it along? That's why God made P35s, CZ-75s, Stechkins, and lots of other handguns that turn up in trouble spots. What is important about the UID code is that it makes life easier for Navy bean counters!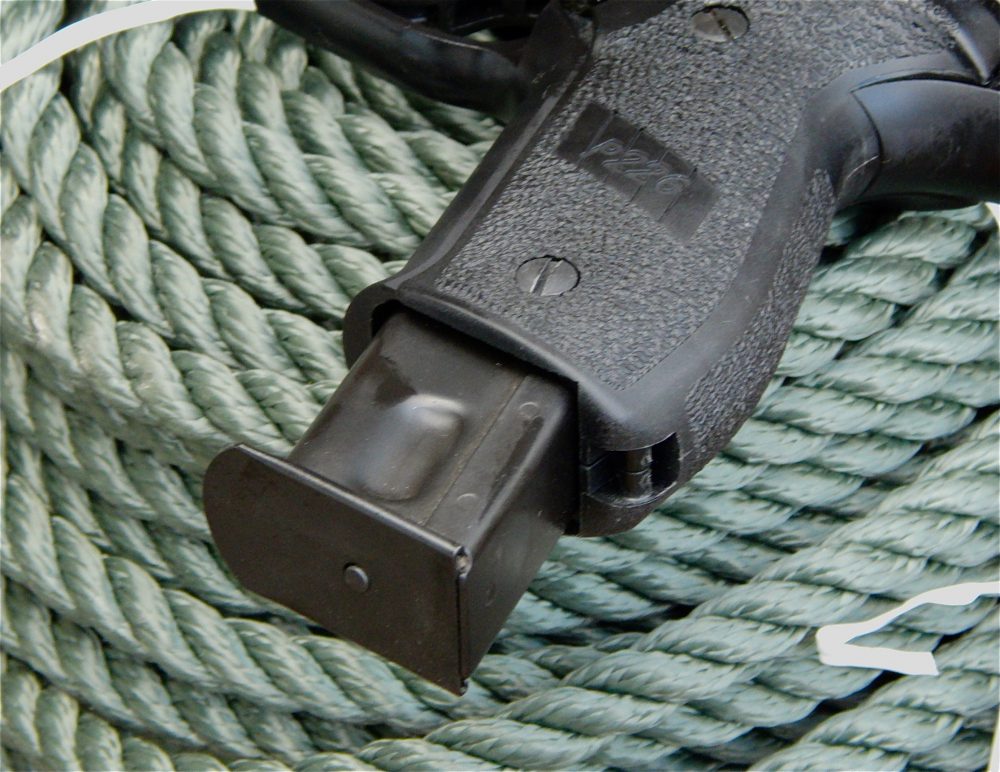 Lanyard mounting point is very useful on a Naval Special Warfare pistol. Twenty-round P226 magazines are available for special op units.
---
MAGAZINES
The MK25 also comes with three magazines as per Navy bid specs. I like the idea of a pistol coming with two spare mags rather than just one or even no extras, as is the policy of some manufacturers.
For me, having the MK25 include the extra spare magazines is a convenience, but for a special operator who relies on his pistol as a weapon to which he will transition if his primary goes down, having an extra 30 rounds in two spare mags can be a life saver.
Some special ops units with which I've worked and which issue the P226 have some of the SIG 20-round magazines available. I have seen no indication that the Navy ordered 20 rounders, but the option is there.
I examined the MK25 when it came in and found the hard coat anodized frame and Nitron coated stainless steel slide very flat appearing and non-reflective. I also looked closely at the UID code to see what it contains and found the manufacturer's code (1EF82), the PNO MK25 model designation, and the serial number.
As is usual with the P226, the grips are a bit fat, but are well textured to be non-slip. In fact, while testing it, I dipped the pistol in a pond a couple of times, then shook out the water and fired it. I was not wearing tactical gloves, and my hold was absolutely sure on the wet grip.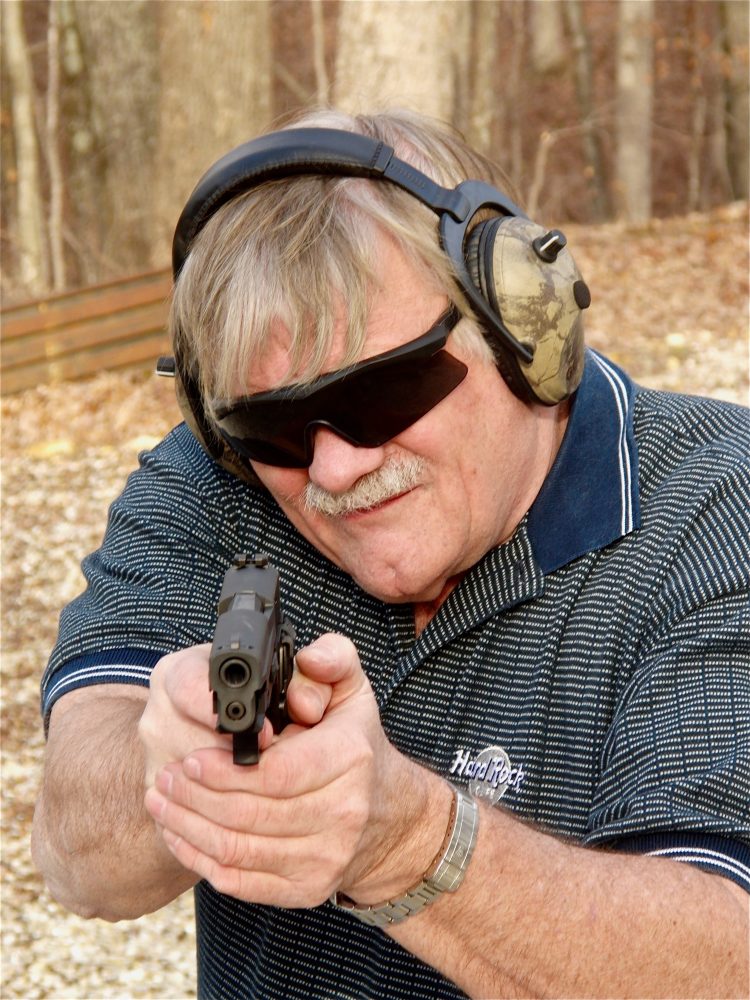 RANGE TESTING
To test the MK25, I decided to use some of the ammunition likely to be used in it by Navy operators. I took along Federal and Winchester 124-grain NATO spec ammo and Black Hills 147-grain JHP. As some reading this may be aware, the 147-grain was developed initially for Naval special operators to use in their suppressed 9mm pistols and SMGs. I was curious to see if the sights of the MK25 were regulated for 124-grain NATO or 147-grain loads.
I started off firing 100 rounds of 124-grain NATO spec loads at plates to get used to the MK25 and wear it in a bit. But it did not need wearing in, as it functioned flawlessly from the first round. To be honest, it would be more notable if it had not, as I have always found P226s incredibly reliable. I was once carrying one on a U.S. Army training contract and used it daily for demonstration shooting plus let the troops try it as most had never used a P226. It had well over 1,000 rounds through it that week, was never cleaned, and functioned flawlessly.
One thing I noticed as I fired two magazines from the low ready—double-action for each shot—was that the double-action pull seems quite good on the MK25. The spec sheet lists SA pull at 4.4 lbs and DA pull at ten pounds. Ten pounds is probably correct, but it is a smooth, crisp pull. I did not shoot from the leather even though I do have a couple of holsters for a P226R with a rail.
PAPER AND ZOMBIES
A friend and I shot the MK25 on paper with all three loads. The 124-grain NATO loads grouped well though a little low. One ten-round group at 25 yards was all within the 9-ring on a 50-yard pistol target. The Black Hills 147-grain load grouped quite well at 25 yards and was on for elevation, so that may be the load for which the MK25 is regulated.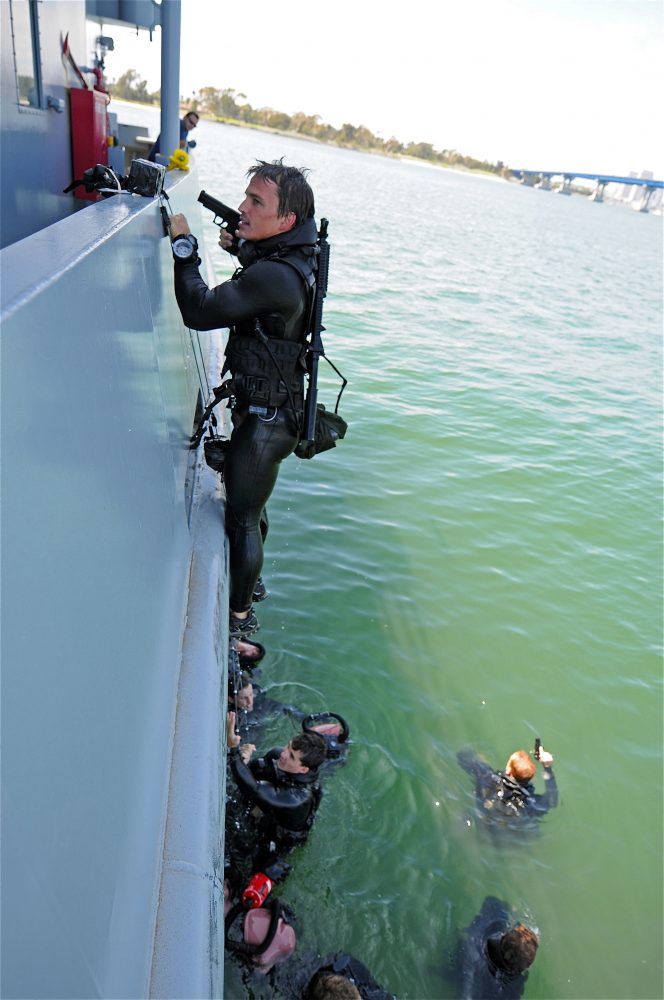 Speaking of the 147-grain load, SIG Sauer makes a barrel for the P226 that is threaded for a can. It may be that Navy operators will continue to use the MK23 when they need a suppressed pistol, but it would seem logical that at least some threaded barrels might be ordered for use in the MK25 if desired. Of course, suppressors would have to be ordered as well. I don't know the answer, but the 147-grain subsonic load shoots well in the pistol.
I also thought it would be appropriate when testing speed of follow-up shots with the MK25 to shoot an OpsGear Osombie target. At 15 yards, I started in the low ready position and brought the MK25 up to fire either double or triple taps with the first round DA. I was using the chin as point of aim and shooting 124-grain Federal American Eagle NATO loads. Point of impact was a bit low on some hits, but shooting quite fast, I put all rounds between the nose and upper chest.
OVERALL IMPRESSIONS
I would give the MK25 a very high rating by saying it's a SIG P226. By that, I mean it operated as I would expect a P226 to function. It was reliable, accurate, and relatively ergonomic (relatively because with my medium-sized hands, I find it faster to operate the decocker, slide release, and mag release with my support hand than by changing my grip to operate with the shooting hand). The grip is still a bit fat and I like SIGs with the DAK trigger, but this is the Navy gun so it is set up the way the Navy ordered it. I can live with that. Some might like the MK25 simply because it is the same pistol that Navy special operators are using.
For anyone who works (or plays) around salt water, the MK25 would make an excellent choice because it is designed to spend time submerged and then keep operating. If you like owning the same handgun that U.S. armed forces carry, it offers that appeal. And for those who just want a really high-quality combat handgun, I'd recommend the MK25 as well.
SOURCES:
SIG Sauer Inc.
Dept. S.W.A.T.
18 Industrial Dr.
Exeter, NH 03833-4557
(603) 772-2302
www.sigsauer.com
Black Hills Ammunition
Dept. S.W.A.T.
P.O. Box 3090
Rapid City, SD 57709-3090
(605) 348-5150
www.black-hills.com
OpsGear
Dept. S.W.A.T.
890 W. Center Street, Unit 4
North Salt Lake, UT 84054
(866) 608-1543
www.opsgear.com