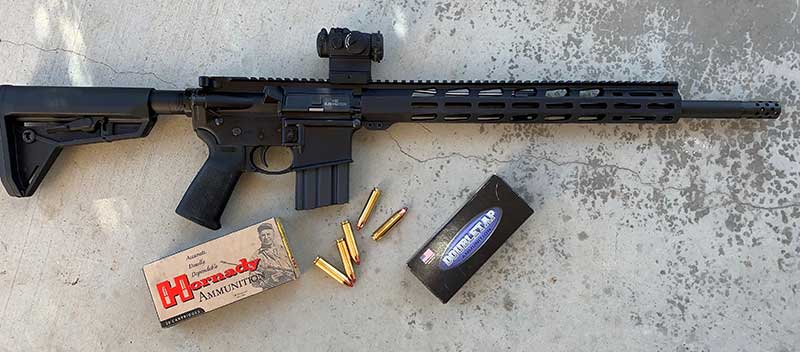 Last year Ruger added a model to their AR-556® MPR line chambered for the .450 Bushmaster cartridge. The company's Ruger American Ranch chambered for that cartridge has been one of Ruger's best-selling rifles, so it only made sense to bring one out in the popular AR platform. In fact, this is the platform the cartridge was originally designed for.
Bushmaster designed a rifle that would work with the round and Hornady came up with the cartridge itself and nicknamed it the "Thumper"—a hat tip to Jeff Cooper, who first envisioned the concept.
In his book To Ride, Shoot Straight, and Speak the Truth, Cooper wrote about wanting to design a rifle for soldiers who were not primarily shooters, such as tank crews, shooting a round that would be decisive when used for defense. Cooper described the "Thumper" as a semi-auto rifle firing the .44 AutoMag round.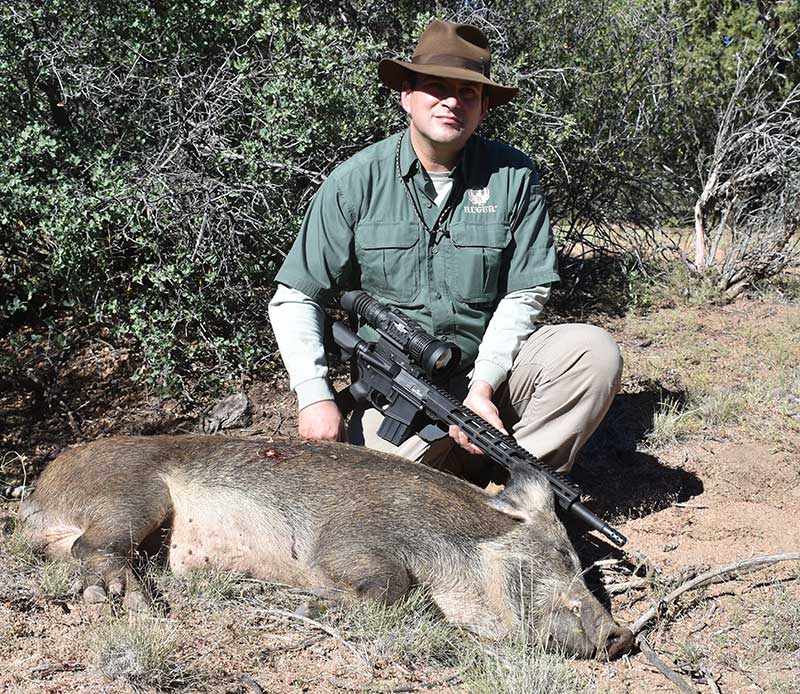 Years ago I was lucky enough to receive one of the very first Bushmaster rifles released and put it to effective use within a couple of weeks. On a trip to Texas, I took a fair-sized Russian boar with it with a single well-placed shot. I have been a big fan of the cartridge ever since.
Last summer I tagged out on a Corsican Ram using my Ruger American Ranch chambered in .450 Bushmaster with devastating results. Brandon Trevino took a feral boar on the same hunt with the Ruger 556 MPR in .450 Bushmaster as described here.
One reason the cartridge has recently gained popularity is that some states allow only cartridges with a straight-walled case. The .450 Bushmaster has taken every large game animal in North America, including moose, elk, and bison.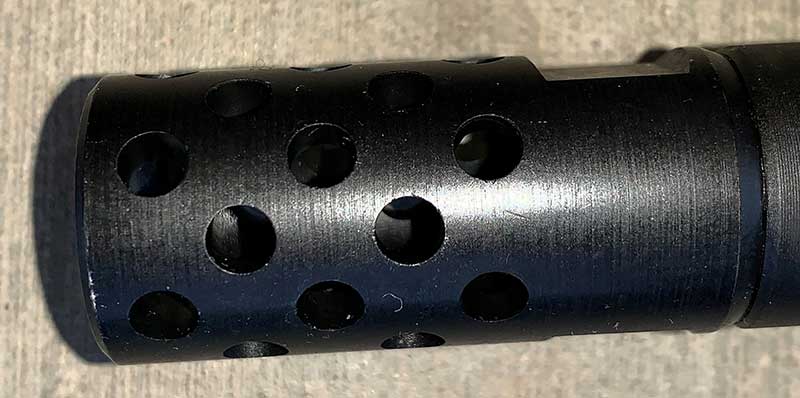 The Ruger rifle has an 18.63-inch barrel with a 1:16 right-hand twist and comes with a muzzle brake installed. The muzzle has an 11/16"x24 thread pattern.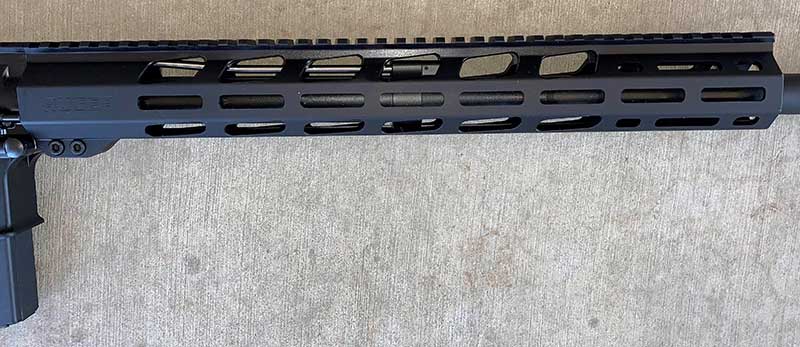 A free-float handguard extends 16 inches from the receiver. The top of the handguard has a full-length Picatinny rail. Around the circumference of the handguard are a total of 40 M-LOK slots for mounting accessories.
A six-position Magpul MOE stock and an MOE pistol grip are used on the rifle. Overall length is 35.60 to 38.90 inches depending on the placement of the stock. Unloaded weight is 7.40 pounds.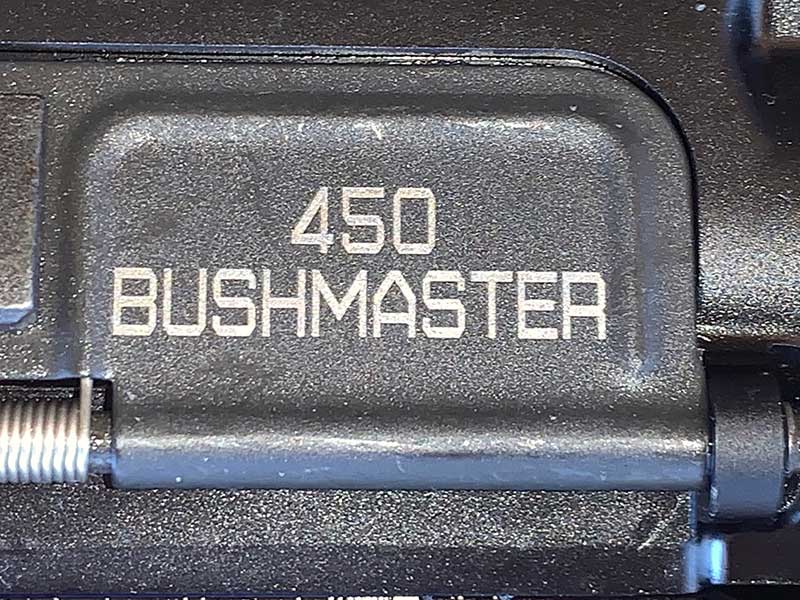 The receiver is not marked with a caliber, but "450 BUSHMASTER" is laser engraved on the inside and outside of the dustcover.
The magazine is the same dimensions as a 20-round AR-15 magazine, but standard mags cannot be used in the Ruger rifle for a couple of reasons. The big .45-caliber bullets are stacked, not staggered, to feed directly into the chamber. The feed lips, of course, are different than those on a 5.56mm magazine. A single five-round magazine ships with the rifle.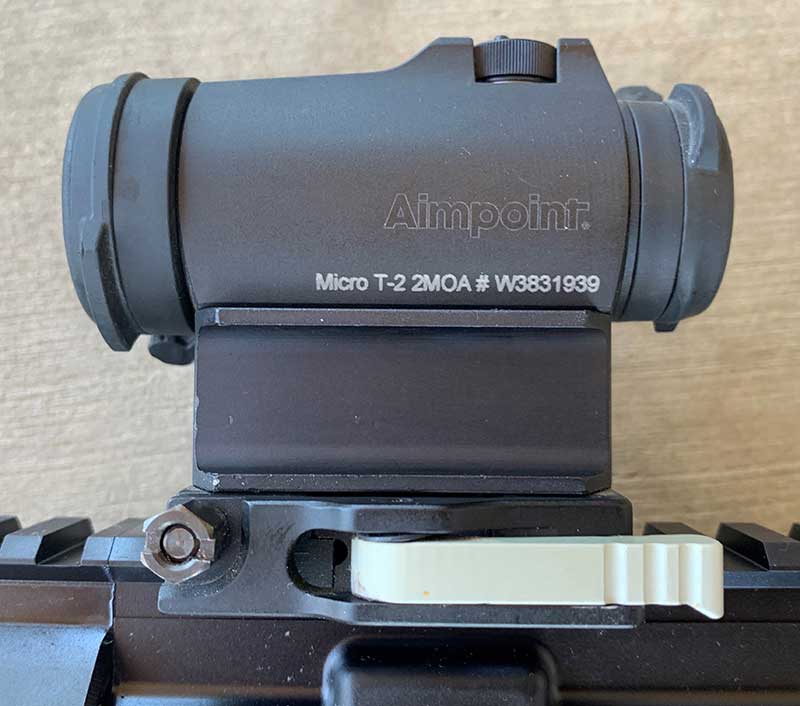 As no sights are included with the rifle, I mounted an Aimpoint Micro T-2 with 2 MOA dot. Some may question why a red dot sight (RDS) instead of a traditional scope. The .450 Bushmaster is flat shooting out to about 100 yards and is at its best when used within 200 yards, with the bullet impacting only about three and a half inches low at that distance. Also I wanted to keep the rifle as light as possible.
An RDS with a 2 MOA dot is capable of putting rounds into four inches at 200 yards. But at 300 yards, the .450 Bushmaster drops about 20 inches. That much holdover does not guarantee a quick, clean kill on game.
AMMUNITION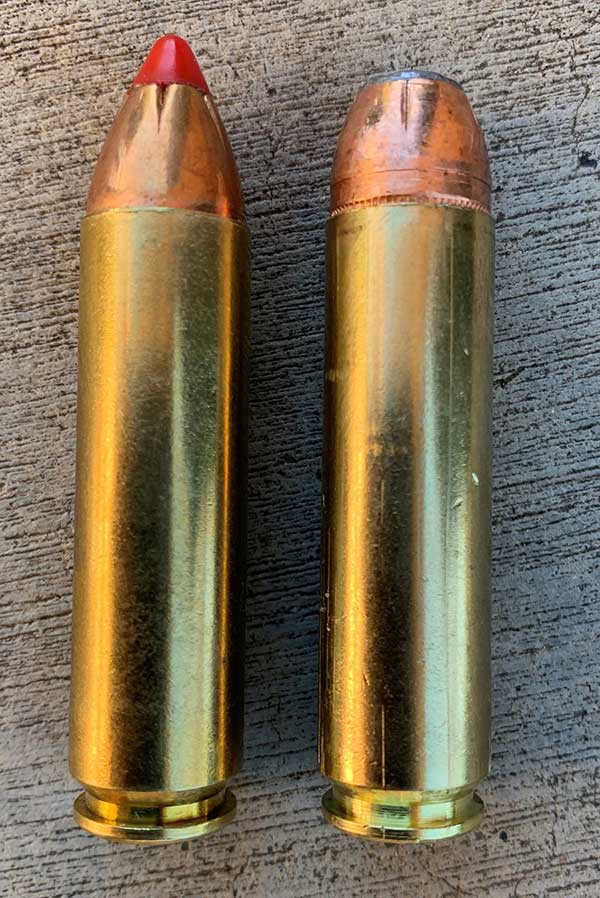 Outside of what I consider "boutique" manufacturers, the two most prominent manufacturers of .450 Bushmaster are Hornady and Double Tap.
I evaluated the Ruger rifle with Hornady 250-grain FTX and Double Tap 300-grain Bonded JSP. The Hornady round leaves the muzzle at approximately 2,200 fps with 2,686 foot pounds of energy. The Double Tap load has muzzle velocity of 1,850 fps and 2,280 foot pounds of energy.
I consider both of these to be outstanding hunting rounds, capable of handling the toughest game animals at close to mid ranges.
PERFORMANCE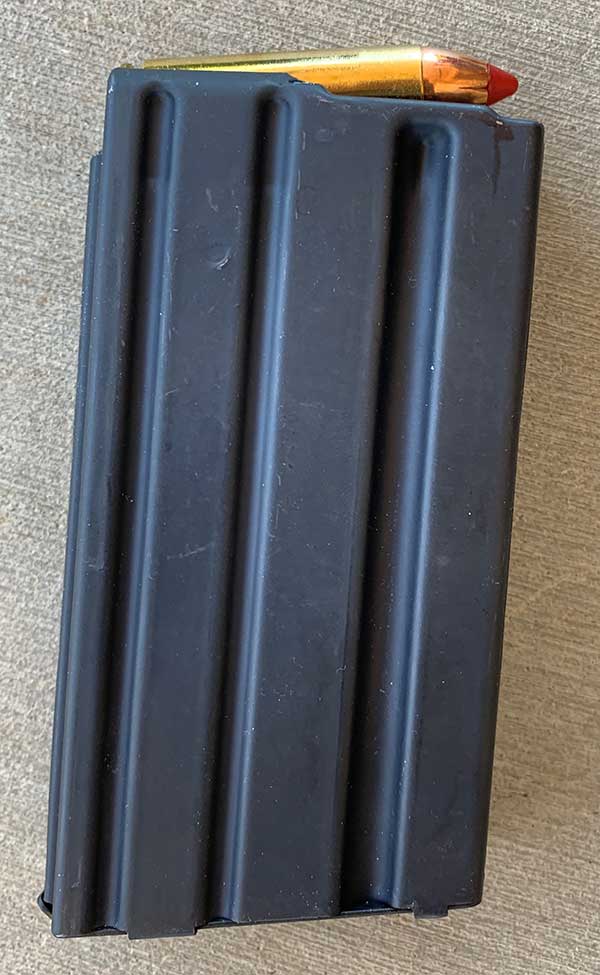 I zeroed the rifle with the Hornady load. Shooting was performed at 50 yards from a kneeing position. Groups from both loads were just over an inch, with the heavier Double Tap load impacting about two inches higher than the Hornady offering.
I ended up firing 300 rounds through the AR-556 MPR in .450 Bushmaster. While admittedly not a high round count, I had no malfunctions of any type.
I really liked the Ruger AR-556 MPR in .450 Bushmaster. It's light and handy, accurate with the excellent ergonomics AR-type rifles are famous for, and fires a very potent cartridge.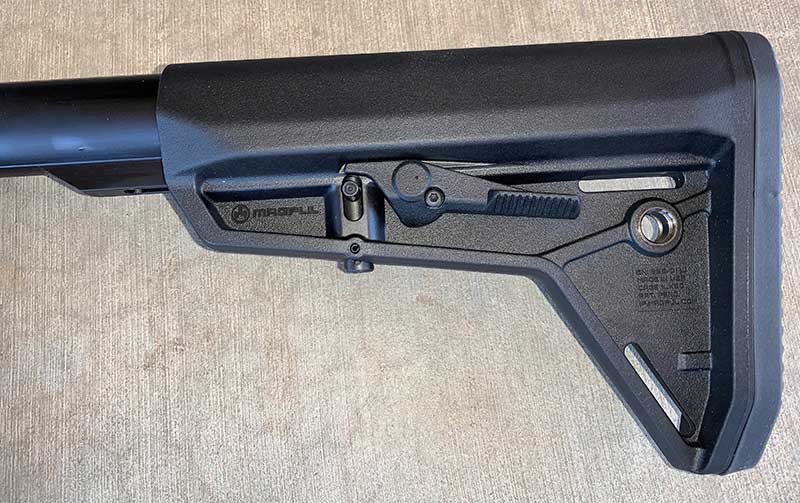 With the low number of rounds fired from a long gun in law enforcement shootings, I think it would also make a good patrol rifle. No, it's not as exciting as a modern sporting rifle with a 30-round magazine, but its 5+1-round capacity is usually more than enough to get the job done—and the .450 Bushmaster will do it decisively.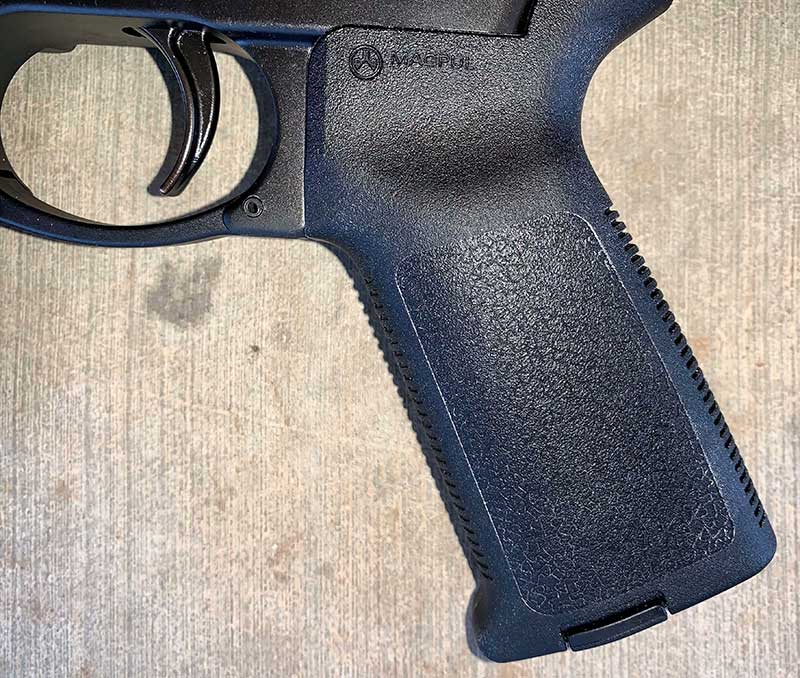 SOURCES
STURM, RUGER & CO, INC.
(203) 259-7843
www.ruger.com
AIMPOINT INC.
(703) 263-9795
www.aimpoint.com
DOUBLE TAP AMMUNITION
(866) 357-10MM
www.doubletapammo.com
HORNADY MFG. CO.
(800) 338-3220
www.hornady.com
SPECIFICATIONS, RUGER AR-556 MPR in .450 BUSHMASTER
| | |
| --- | --- |
| MANUFACTURER | Sturm, Ruger & Co, Inc. |
| MODEL | AR-556 MPR in .450 Bushmaster |
| TYPE | Semi-auto, direct impingement |
| CALIBER | .450 Bushmaster |
| CAPACITY | 5+1 |
| BARREL LENGTH | 18.63 inches, 1:16 twist |
| LENGTH | 35.60 to 38.90 inches |
| HEIGHT | 7.30 inches |
| WEIGHT (unloaded) | 7.40 pounds |
| MUZZLE | Brake included, 11/16"x24 threads |
| STOCK | Magpul MOE |
| PISTOL GRIP | Magpul MOE |
| HANDGUARD | Free-float M-LOK |
| SIGHTS | None included |
| FINISH | Type III Hard Coat Anodized |
| SUGGESTED RETAIL PRICE | $1,099.00 |