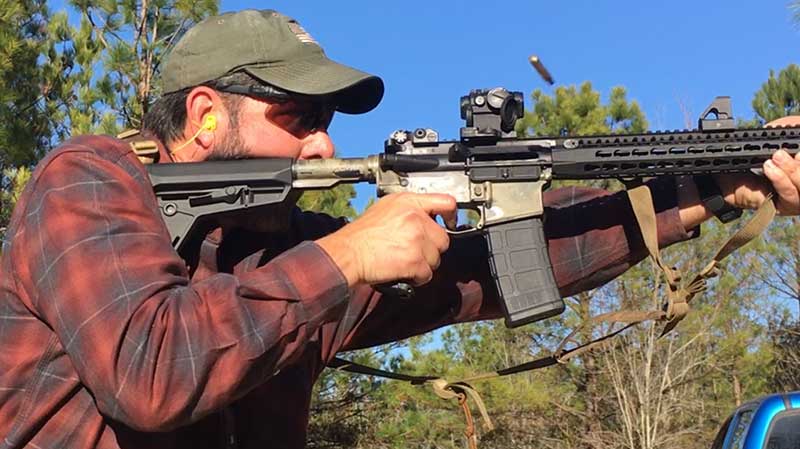 FIREClean is one of the market leaders in the new wave of high- performance, non-toxic firearm lubricants. In 2016, I wrote about a test where I took a milspec Bravo Company Mfg upper receiver group to 3,000+ rounds on a single lubrication with no cleaning or maintenance over a six- month period (FIRECLEAN: Next Generation Lubrication, March 2016 S.W.A.T.).
I've continued to shoot the test gun for three years and logged the results over lubrication intervals, again with no cleaning of any kind. The results are worth circling around to report.
First, let me lay out the parameters I set in advance of the test. "Torture tests" are interesting but often only illustrative of how something performs under torture, and that may or may not extrapolate to performance under actual use. I pushed the rifle hard, but rarely in a way that the average serious shooter wouldn't. I simply used the rifle: training, testing, and developing drills. Most of the time that meant about 180 to 240 rounds on a range trip, with outliers both higher and lower.
Deciding when to stop and relubricate was complicated. I wanted to see how far the rifle would go, but also wanted to keep the framework grounded in good practices. In my mind that meant if the rifle choked, I would investigate/relube as needed. But in stride the rifle still had to function. The determining factor wound up being chamber checks.
When the rifle failed to return to battery and relock reliably when conducting a chamber check, it was time to take a knee on that cycle and inspect/relubricate. I figured that if you or I conducted a chamber check on an operational rifle and it wouldn't reseat the bolt into battery, we would reasonably be negligent not to take the hint and relubricate. (Actually, clean and relubricate … but cleaning was expressly not part of the test.)
FINISHING CYCLE 1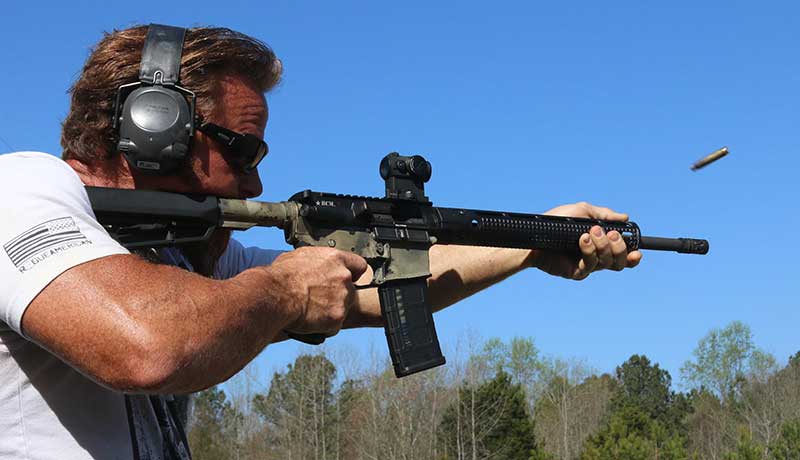 When we left off in 2016, the FIREClean rifle was at 3,090 rounds. After a break of several months, I brought the rifle and met up with the FIREClean crew and trainer Pat MacNamara for some shooting. We logged a hard day on the gun, swapping the rifle among shooters and stopping only to refill PMAGs and let the rifle cool a little. It was a great shooting day, and the rifle shrugged off the abusive tempo and cycled like it had no idea it was thousands of rounds beyond normal expectations.
A week or so later I had the rifle out for another trip, and it added six or so mags to the tally, but on one reload the bolt did not fully seat the top round, requiring just the slightest touch to the forward assist to close.
In reconstructing the action mentally, I suspect I did not have the rifle anchored well enough to give the action spring enough resistance to get that last 10% of the bolt closed. I noted it, tried several other reloads with no issues, and continued to march.
A week or so later I had two other instances where the round did not fully seat on the reload. I was using the bolt release as opposed to "power stroking" the charging handle (which imparts more force to the action and would almost certainly have seated the rounds). In both cases the rifle fired the remaining 29 rounds in the magazine without complaint. But at the end of that range session, the rifle would no longer return a chamber check. The bolt had to be either fully cycled and closed with more spring force or slightly retracted and returned with a nudge on the forward assist.
At two weeks over one full year since the action was initially wiped down with FIREClean, and a tally of 4,680 rounds, I called the first cycle. Yes … 4,680 rounds! The industry standard among trainers is to recommend lubrication every 250 to 300 rounds. I have seen bone-dry rifles choke in less than that. The FIREClean rifle had fired 156 magazines' worth of ammo over a full year with a single initial lubrication.
At this point I changed the action spring in the lower receiver. The lower had an existing round count on it before the test began, so the spring was at a replacement interval, and I wanted the test not to be affected by a worn spring.
THREE DROPS
I have written previously about in-stride lubrication and how a simple three drops, one through each vent hole and one at the junction of bolt and carrier, will often keep a carbine running if applied at regular intervals. This presented an opportunity to put the concept to an acid test.
Here was a rifle that was many thousands of rounds dirty, with any residual lubricant a year behind. I put in the three drops to see what I'd get. The rifle immediately came back to life. It wasn't as silky smooth as a complete relubrication—I could still feel some gritty spots—but everything worked as it should.
Over a month the three drops held through a 240-round day, a short 40-round session, and a final 300-round training day. I was impressed. I obviously believe in the technique for in-stride lube, but wouldn't expect an AR that dirty to get much past 150 rounds with traditional lubricants. FIREClean bench-pressed 580 before the chamber check said it was time to grab the bottle.
At this point I swapped out the handguard from the circular tube that had been on the rifle since the beginning to a BCM KMR Alpha 13, so the rifle would mimic my own long guns as I was spending so much time with it. This, of course, had no impact on the internal action, and I observed my armorer throughout to ensure no grime was inadvertently lost from the bolt, which had earned it.
SIX DROPS
With the rifle over 5,000 rounds dirty, I wanted to see just how few drops of the unicorn tears it would take until the feel of cycling the action smoothed out to that 100% confidence level of "this feels slick." Turns out it was only six drops smeared around in all the right places.
FIREClean recommends 28 drops as a full lubrication of an AR, so I was intentionally shorting the rifle just to see what would happen on a bare minimum by feel. The rifle purred through seven shooting sessions over five months for a total of another 1,034 rounds.
CYCLE 2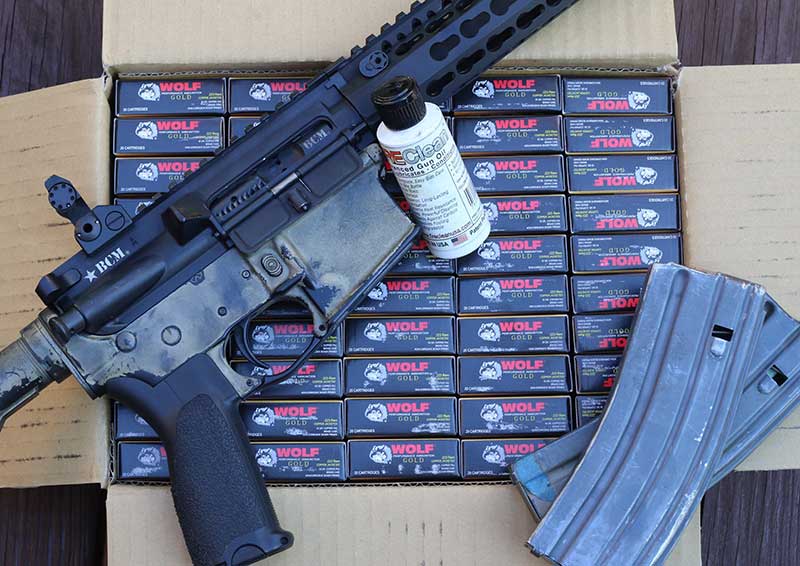 The next cycle I fully relubricated the rifle following the application instructions FIREClean recommends. No one cycling the rifle at this point would ever believe it was carrying 6,000 rounds of use with no wipe down. I ran the rifle for several months, training with it before the 2017 NRA World Shooting Championships, and logged 1,840 rounds on the cycle.
During this cycle the extractor broke, shearing off both corners of the hook that grabs the rim of a 5.56mm case. This occurred at 7,670 rounds. One can only speculate whether the dirtiness of the rifle and meager lubrication at the end of each cycle factored in or if the part just had a weakness, but the breakage happened on the near side of the window one typically expects in an AR. I replaced the extractor using one of BCM's emergency repair kits and moved on.
CYCLE 3
While I waited for more test ammo, the rifle got about a six-month break and relaxed in my safe before I started the third full cycle. This seemed to allow the carbon on the bolt and carrier to harden a bit. The next 28 drops returned the rifle to duty, but the action now felt dirty and wet for the first time.
At this point the bolt and carrier were building up carbon in places that literally five swipes with a brush would likely have made a huge difference, but the test moved on with all filth in place. The rifle plowed through 1,200 rounds before the chamber check called the cycle.
HOMESTRETCH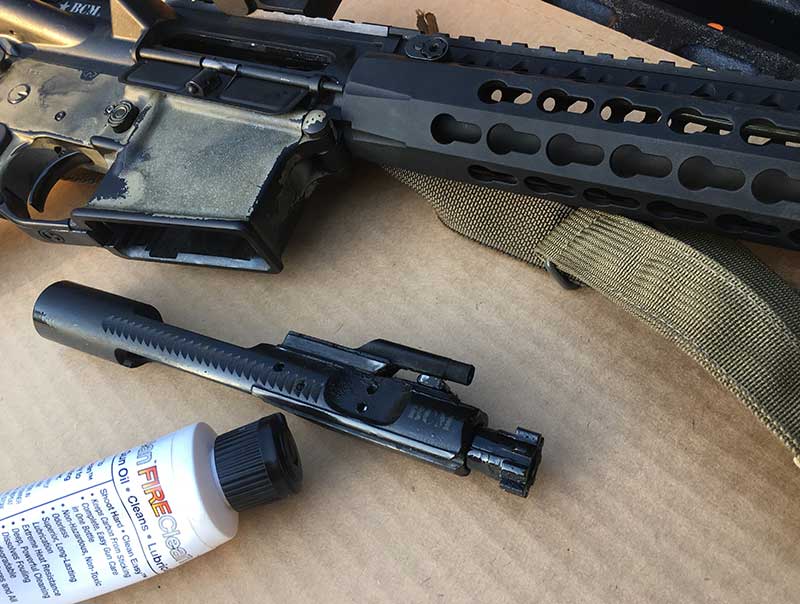 At this point after some 9,000+ rounds, the bolt, carrier, and upper receiver were pretty nasty. I have shot and inspected a rifle (Filthy 14 for Pat Rogers fans) that was lubed at 300-round intervals and was 9k dirty. That was a gooey, muddy sludge that was truly filthy, although it functioned fine, just with the occasional splatter on eye pro.
The FIREClean rifle was a very different kind of dirty. It had buildup in many places, but it was like small layers of clay-like carbon, or plaque buildup in higher heat areas. It was still relatively soft and looked as if it would likely be cleaned with ease—maybe not to white-glove standards but with ease to a normal "clean enough" degree.
At this point getting my 28 drops wiped onto the action without wiping any carbon off was somewhat of a challenge. I erred on the side of leaving the thin lube sitting on top of carbon, but it would have been far easier to wipe or brush some schmutz away and get the lube onto the metal.
The action now had a slightly different feel to it. There was a smoothness to it, but it was less "metallic" in feel as the buildup increased. At this point it was no surprise that the rifle functioned just fine. I had decided in advance that the test would go for 10,400 rounds. That left 1,066 rounds in the final cycle. The rifle motored through that over several months.
During this last cycle there was a run of blown primers with IMI brand M193 rounds. I report it in full disclosure since it is possible that the buildup in the barrel extension may have contributed, but I am not so sure. My observation with IMI 5.56 is that it is accurate, consistent, clean-burning … and more likely to blow a primer than any U.S.-made ammo. That same lot has blown a frustrating number of primers in several of my other (clean) BCM carbines.
LESSONS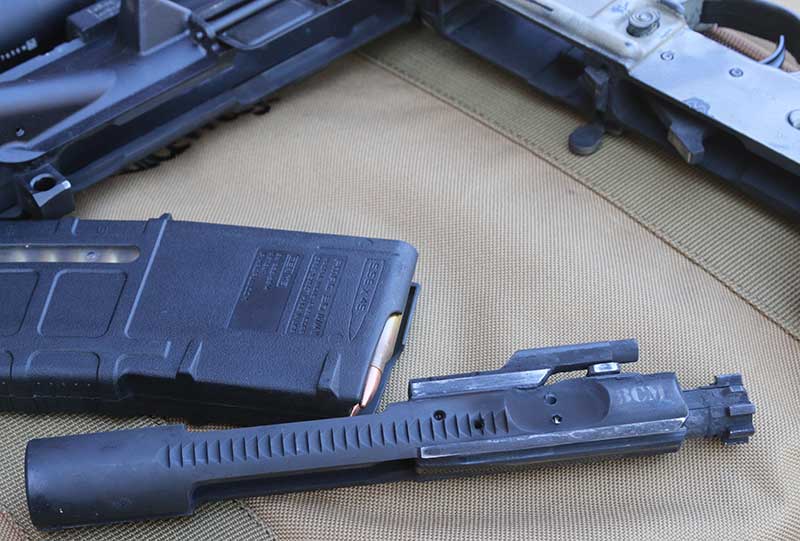 The test confirmed what I have felt for a while, which is that a good AR will clearly warn you well before reliability is affected. The three common warning signs are:
• Recoil gets a little harder. Toward the end of each cycle there would be a sensation that the rifle was pushing just ever so slightly harder in recoil. I suspect this is related to the rifle having to work a little harder as it gets drier and/or dirtier to unlock.
• The top round in a magazine either won't fully chamber or seats more slowly than expected. The rifle may very well run for 100 or more rounds, but the rifle is saying it is time to a) clean/lubricate or b) replace the action spring or c) both.
• The rifle won't return a chamber check. This is the rifle's blinking caution light that the bridge is out ahead.
By paying attention to these three cues and keeping the rifle lubed, the AR is remarkably reliable. In 10,400 rounds the FIREClean rifle had three rounds fail to seat fully from a fresh magazine and not a single stoppage related to firing.
You may remember the mania some years back when shooters were all energized about the need for piston-driven ARs. The concern was about the supposed lack of reliability with the traditional AR-15-style direct gas impingement. This rifle would be a very poor case study for a piston promoter.
BUT I HEARD …
Internet rumors circulated a few years ago that FIREClean was simply repackaged cooking oil. Like many such things, the smear got more traction than the facts. After my initial article was printed, one reader took me to task after stumbling on some of the recirculated/amplified innuendo and claimed I needed to do my due diligence.
For any concerned, the real information is out there based on the public records that resulted from the litigation. There are certainly natural oils involved. It is non-toxic and must be based on either a natural oil or water. In the case of FIREClean, the company has been granted two patents regarding the formulation and its properties, one regarding its heat resistance and the other tied to carbon resistance. Those are pretty hard to obtain if you are simply filling bottles with corn oil.
One thing that is not in question is the performance of the magic juice. The lubricant took the rifle far beyond reasonable expectations. I want to reiterate that just because this rifle could be fired for over a year and many thousands of rounds before getting a single drop of oil doesn't mean that such a routine is a good practice—it isn't.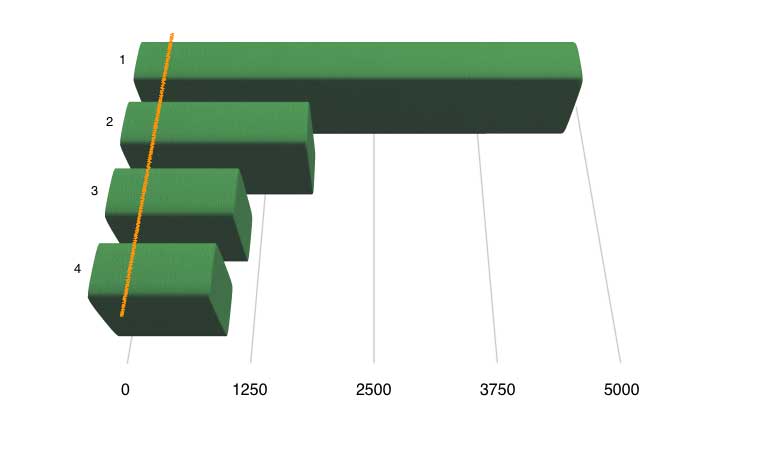 This was a test, and while it strongly validates the current quality and reliability of the AR and effectiveness of the test lubricant, it is obviously not a recommendation of how one should treat an operational long gun.
RESULTS
FIREClean substantially prolonged the useable firing cycle in both time and round count from expectations based on traditional lubes. I would not place a bet on many older lubes getting a 9,300-round dirty rifle back into action for more than a sluggish couple of magazines. During the final cycle FIREClean still had the juice to cycle over 1,000 rounds.
There was a time when shooters dumped corrosive primers, just as the generation before them had abandoned black powder. We may be nearing the time when petroleum-based lubricants are simply not competitive with current high-performance oils.
SOURCES
FIRECLEAN
www.cleanergun.com
BRAVO COMPANY MFG.
(877) 272-8626
www.bravocompanymfg.com
EXTENDED TEST SUMMARY
| | | | | |
| --- | --- | --- | --- | --- |
| CYCLE | ROUND COUNT | MAGAZINE | AMMO | NOTES |
| 1 | 4,860 | PMAG GEN M3 | Federal XM193 | Replaced action spring |
| 1A (3 drops) | 580 | PMAG GEN M3 | Federal XM193 | None |
| 1B (6 drops) | 1,034 | PMAG GEN M3 | IMI 193 | None |
| 2 | 1,840 | GI magazines | Wolf Gold .223 | Replaced extractor at 7,670 rounds |
| 3 | 1,200 | GI magazines | IMI 193 | |
| 4 | 1,066 | Miscellaneous | IMI 193 | Blown primers at 9,260 rounds |
| | 10,400 | | | |