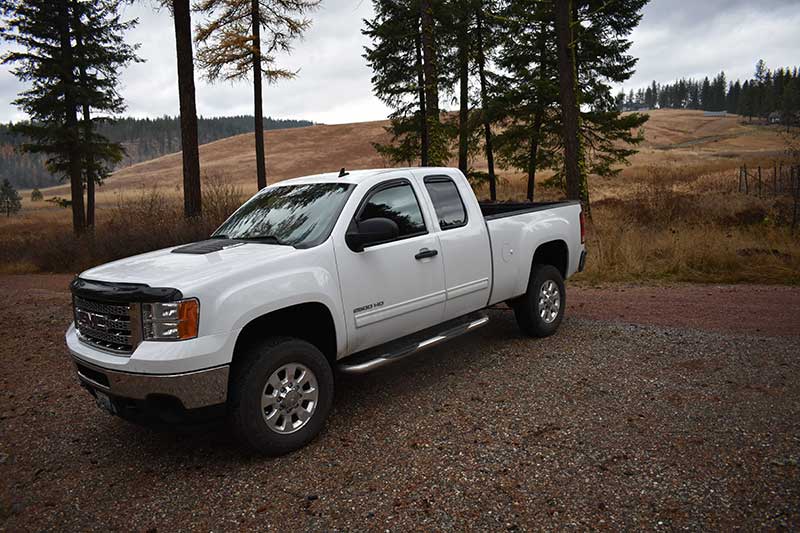 The phrase "Get Outta Dodge" (G.O.D.) originated in Dodge City, Kansas, during the wild days of the 1870s. The Santa Fe Trail gave way to buffalo hunters, then to cattle drives, all of which led to lots of lawlessness. Marshals like Billy Brooks, Wyatt Earp, Bat Masterson, Mysterious Dave Mather, and Bill Tilghman kept the peace, often by exiling rowdies out of town. "Get out of Dodge by sundown" was taken seriously—failure to comply might result in arrest, a beating, or a shooting.
Over the decades, the term has morphed into any sudden departure from point A, often with no point B in mind. Many of us have used it for years, but more recently the term has started to be used in conjunction with bug-out bags and other preparedness gear.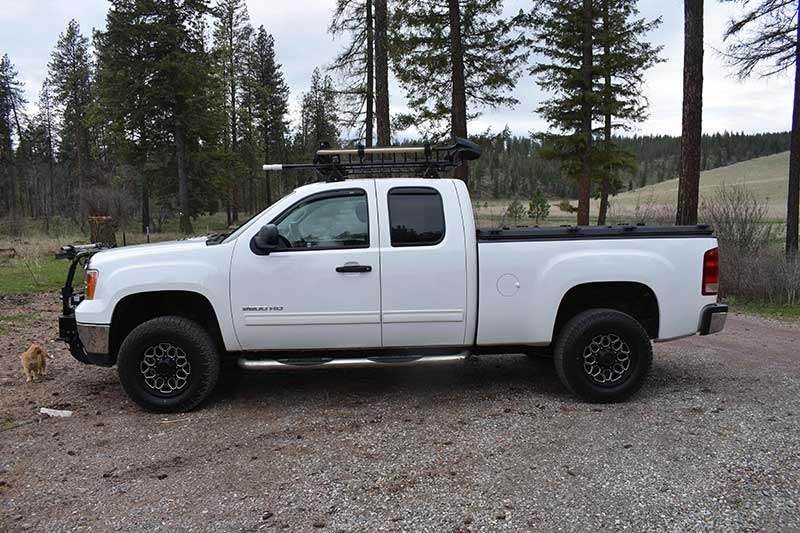 I hear lots of guys talking about their bug-out bag: Throw on a ruck and head out. At best, a backpack kit can carry enough supplies for four to five days, while a truck can carry supplies for four to five months. I also carry a large ruck with five days' supply, in case I lose the truck.
I decided it was time to update my rolling stock, with both regular daily use and evacuation in mind. I had some cash because I recently sold a pre-1986 M16A1. I figured this will be my last big truck purchase, so I'd set it up right.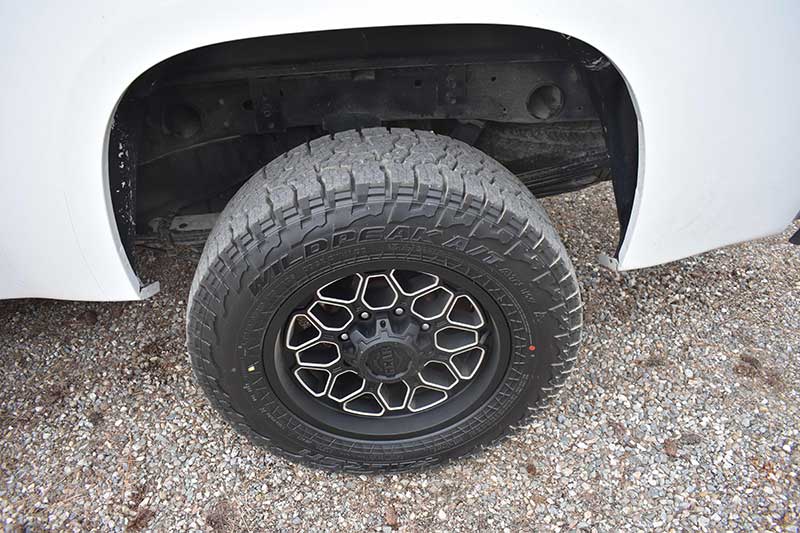 My lifestyle requires a four-wheel drive (4X4) pickup, and I've had one for nearly 50 years. I live in the west; I hunt, fish, hike, and climb; and I just like back roads and quiet places that are easily accessible with a 4×4. I live on 20 acres, cut my own firewood, and maintain my own road—tough to do in a VW. I like GMC trucks, and any parts store has parts for any U.S.-made truck. I had a Land Rover years ago—underpowered, top heavy, horrible electronics, and finding parts was almost impossible. Depending on the disaster and duration, imported parts may be impossible to find.
MY GET OUTTA DODGE TRUCK IS NOT A DODGE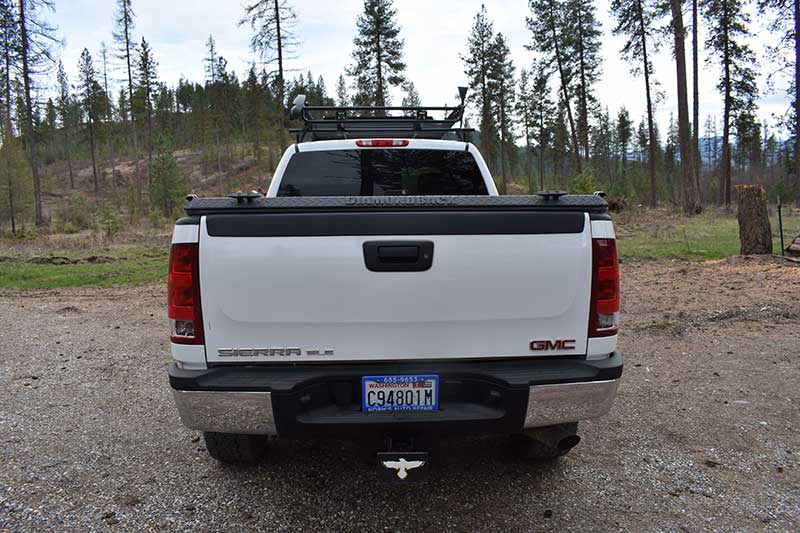 I started looking for a GMC (brand loyalty) Sierra 2500, extended-cab truck. The extended cab is no longer made, but I wanted the 6.5-foot bed so I could sleep in it in a pinch. I also wanted the big gas engine, the 6.0-liter (366 C.I.D.) engine for the power and towing ability. At 14 to 16.5 mpg, it's not economical, but when the big gas tank is full, it gives me 500 miles of range.
A dealer in Idaho found one after a few weeks of searching—exactly what I wanted, with 41,000 miles on it. The GMC model comes with a heavy-duty alternator and a spot for a second battery, necessary for the additional equipment listed below.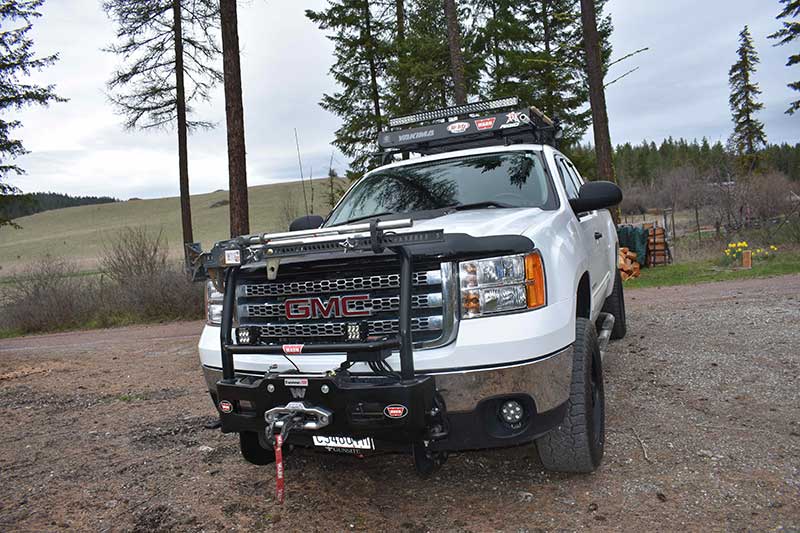 I think any serious G.O.D. vehicle needs to be a 4X4. Depending on the reason for leaving, you may have to drive off road shoulders, over obstacles, through streams or rivers—the list is endless. The new vehicle can ford 24 inches of water, and with good tires can make it through sand, mud, and snow.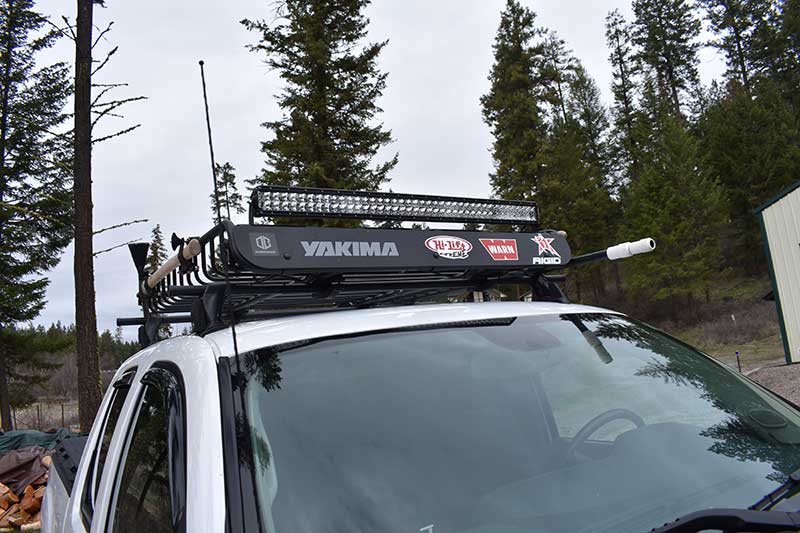 The truck is a 2013 model, which allows shift-on-the-fly four-wheel drive engagement—you don't have to stop or lock in hubs as with older trucks. The truck's gross vehicle weight is 9,500 pounds, so it will literally carry a ton of food and gear.
For tires, I went to my local dealer, whom I've dealt with for 20 years. Craig Bean is an expert, and he recommended Falken Wildpeak A/T 3W tires and Gear wheels for a good ride, long life, and great off-road traction. Two decades in Alaska convinced me that studded snow tires are mandatory, so Craig mounted some General studded snow tires on the original rims.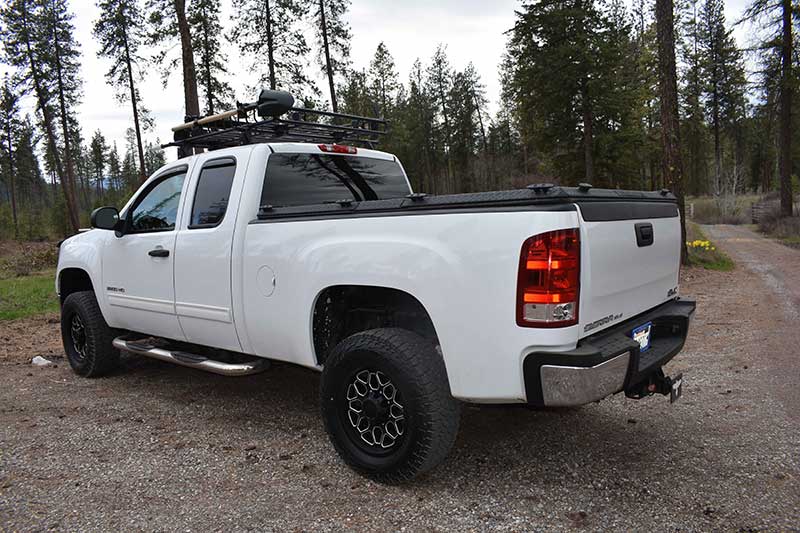 Another reason I chose this truck is that it's common where I live. White 4X4s are everywhere, and many are equipped with extra gear. I counted 17 white 4×4 trucks at the grocery store yesterday. Avoid attention-grabbing paint jobs, like camo, that scream "survivalist."
ACCESSORIES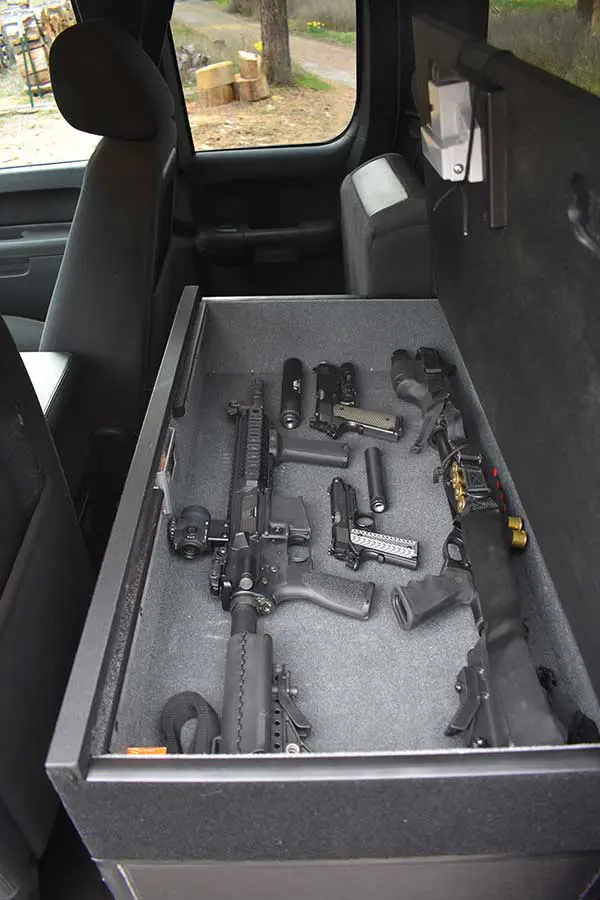 As is, the truck should do everything I need it to do. But some things will make it better suited to the mission. These options help with security, self-rescue, illumination, repairs, and discreet, secure carry of firearms that should be considered by anyone thinking along these lines.
I wanted American-made accessories, and almost everything I added is built in the U.S. with American materials, and the companies all started with a couple of guys in a garage. I relied on their expertise in selecting what should go into the truck.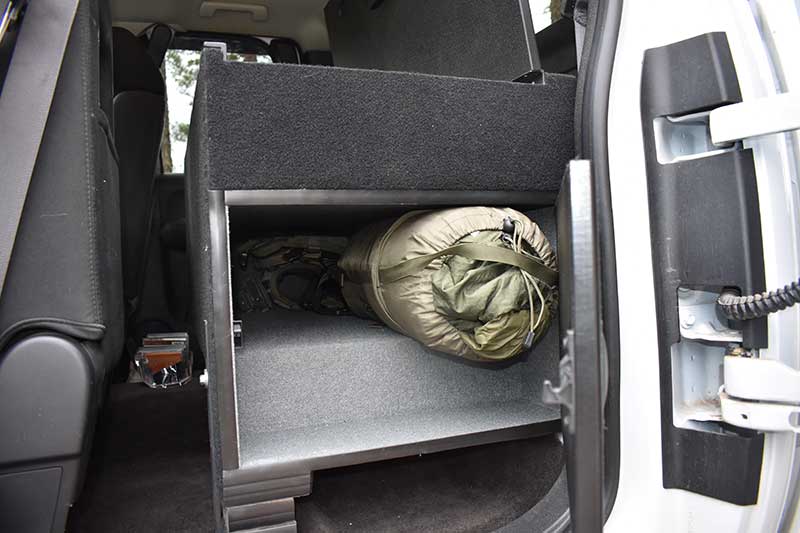 The first thing I got was an X-treme Hi-Lift jack. I've used them for years, and almost every 4×4 you see out here has one attached somewhere. The tiny jack that comes with most cars today is fine, if you're stopped on level, dry pavement. If you're anywhere else, they just won't cut it. The Hi-Lift raises the tire of a fully loaded pickup easily, and can also be used as a come-along to help you out of a ditch. The jacks are four feet long and fairly heavy, but at about $100, totally worth it.
FIREARM STORAGE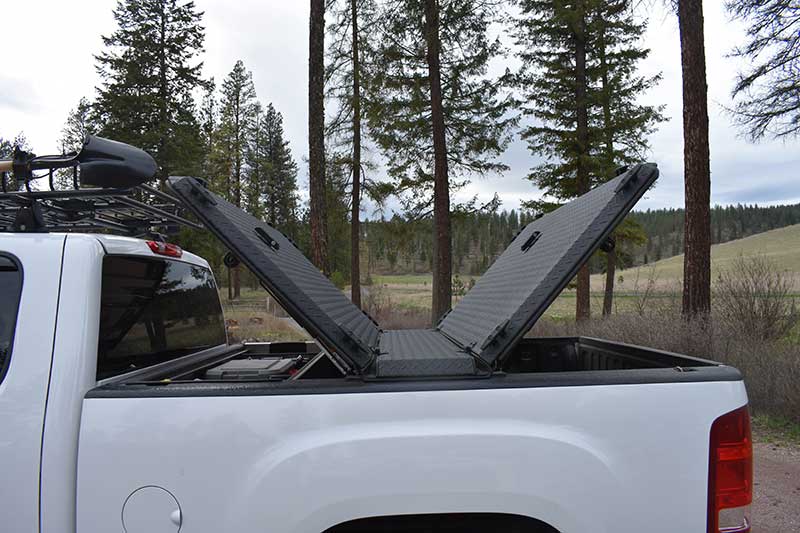 Firearms are a part of most preparedness plans, and the truck is well stocked. Firearms may also be very desirable to the unprepared, so they should not be visible from outside the vehicle, and should be locked securely. I contacted TruckVault, located in western Washington, and discussed my plan and what I needed. The company has a full line of standard models, but I wanted to put the vault behind the driver's seat.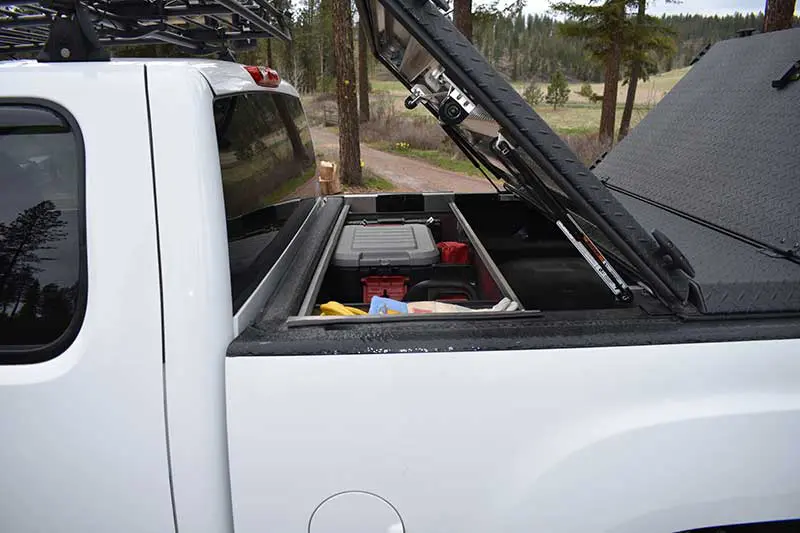 They've done similar models in the past, so it wasn't a problem to build one that fit this truck (they will custom build a vault for almost anything). I can put an M4, a shotgun, pistols, suppressors, and ammo in secure storage inside the cab, and they are still accessible. The additional space under the gun area holds packs, pistol belts, sleeping bags, etc.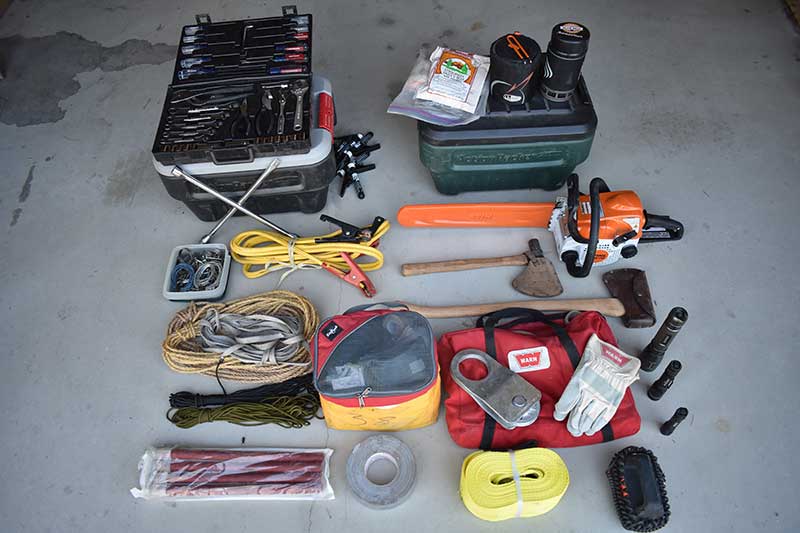 Yakima Racks have been around for years and add versatility to any G.O.D. vehicle. The rack can be configured to carry bikes, boats, tools, ladders, boxes—just about anything you can dream up. I wanted added illumination and a place to put pioneer tools and a second spare tire. The Mega Warrior rack does it perfectly.
The light mounts and tool holders are all steel, and even a mechanically challenged guy like me can assemble it all. I added a standard shovel and a Pulaski—a tool that combines an ax and a hoe—to allow me to dig and chop my way out of difficulty. I added an eye bolt to each tool and used a couple of padlocks that come with every pistol you buy today to lock the tools in place. The spare tire is also secured, using the same "free" locks.
LIGHTS
I've written before about how bad the human eye is in the dark, so illumination is a critical element. I wanted to be able to identify hazards at distance, so I added some off-road lights to the truck. The total lumens aboard the truck are now about equal to an aircraft landing light, so I should be able to see very well. Most states have vehicle codes that limit the number of lights, height off the ground, etc, so note the words "off-road" used above—don't use custom lights on a highway just for fun.
But on country roads in the middle of the night, post-cataclysm, the lights will help you see and identify any obstacles before you run into them. I contacted Rigid Industries, which build the best lights in the business at their facility in Arizona. Rigid sent a pair each of mid-range driving, a 40-inch long-range bar, rear, left, and right work lights. The long-range "pencil" beams are good out to 1,000 feet or more.
MORE ACCESSORIES
A DiamondBack bed cover will protect from weather or theft all the gear you put in the bed. Most covers range from tarps to shells, but I wanted something solid that provided real security but permitting good access. DiamondBack builds the best one I've seen, all of welded diamond plate aluminum that secures your load very well, and everything but the paint is guaranteed for life.
They suggested the HD model, which carries an additional 1,600 pounds on top—you can even carry an ATV there. They also suggested the 13-inch cross bin, which holds tools, tow straps, etc, and is easily accessed by raising one of the cover sections. The cover includes tie-down cleats, so straps or a cargo net can secure any additional load. With this set-up, everything I load into the truck bed is invisible and very secure.
I've used Stihl chainsaws for years (I have three) and they are the best saws I've used. As I write this, I'm seeing the clean-up following a hurricane and folks are using chainsaws to cut all the downed trees. I selected a Stihl 170, a fairly small (it fits in the cross bin mentioned above) but powerful saw. It has a 16-inch bar, which will handle most trees you might come across. I got it on sale for $159.00.
Additional shelter is provided by a simple telescoping aluminum pole I found on Amazon. It sits on the roof rack and expands to 12 feet. I use small bungee cords to attach it to the rack and then tie on a Proforce equipment All Weather Shelter. I bought two sectioned Coleman tent poles to hold the other end securely. So within about ten minutes, I can add a 10×10 lean-to shelter to keep me dry or shaded if I'm stuck for a day or two.
Warn winches have sat on four previous rigs I've owned, and in my mind are indispensible. One drawback to a 4X4 is that you can proceed until you're really, really stuck, and there won't be a tow truck available. I've winched myself out of some really difficult spots, some in places where there were no communications and no other traffic.
Given the weight of the truck, Warn suggested a 15,000-pound capacity model, with grill guard and light bar, which should get me out of whatever I get stuck in. If you add a snatch block—a pulley you can run the winch cable through and attach to the vehicle—it nearly doubles the pull capacity, plus is easy to set up. In addition to self-rescue, that 24-inch-thick tree you just cut in two places with the chainsaw can be winched out of the way, instead of you trying to push it. A good winch isn't cheap, but is worth it.
DON'T FORGET TRAINING
A note of caution: All this gear needs to be trained with before you need it. Read the instructions carefully, find someone who knows how to use it, and practice with all of it as soon as you get it. None of it is magical, some of it can be dangerous (cables can snap, saws can buck back, jacks can slip …), so get some time in on each piece of gear you add. Just hanging it on the truck does no good—it merely gives you a false sense of confidence.
The analogy would be buying a pistol, loading it, and putting it in the nightstand without ever shooting it or getting some training. As Clint Smith says, "The time to learn Kung Fu isn't at 0200 on Saturday behind Bubba's Bar." Better to learn it before you need it.
TIME TO BUG OUT
The "Big One" comes, your primary location is compromised, and you have to Get Outta Dodge. The G.O.D. truck is fully fueled, with all its gear in place. You load your pre-planned supplies, all located in one spot and packed in containers, into the bed of the truck. You lock the bed cover, do a final gear check, and head out. You have a plan, maps, protection, illumination, self-rescue equipment, a powerful vehicle, fuel, water, food, shelter, and cautious confidence.
All of that plus a healthy dose of luck should get you to your new location. You'll be far better prepared than 99% of the population, which raises the odds of success considerably. It sounds callous, but you can get past that bunch of guys huddled under a $2 tarp with their hands out. You prepared, they didn't, so Darwin was right.
Jeff Hall is a former soldier, retired Alaska State Trooper, and martial arts grandmaster. He can be reached at [email protected].
SOURCES
HI LIFT
www.hi-lift.com
TRUCK VAULT
www.truckvault.com
RIGID INDUSTRIES
www.rigidindustries.com
DIAMONDBACK COVERS
www.diamondbackcovers.com
STIHL INDUSTRIES
www.stihl.com
PROFORCE EQUIPMENT, INC.
www.proforceequipment.com
WARN INDUSTRIES
www.warn.com