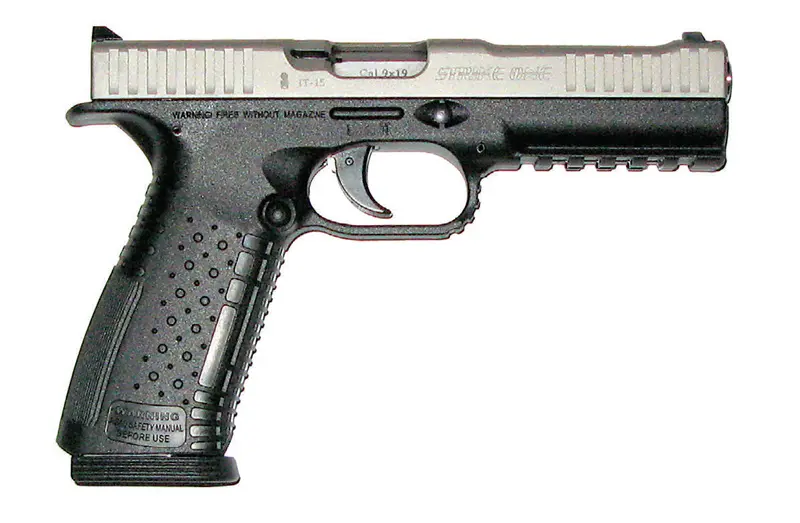 Glocks entered service 33 years ago and created a firearms revolution. It took a while to overcome obstacles and gain acceptance in the martial fields of self-defense, police and military. The butt of jokes and dismissed by many metal gun traditionalists, Glock's "ugly duckling" acquired converts over time by demonstrating its many practical assets that made it a perfect institutional duty firearm.
In the ensuing years, every gun manufacturer jumped on the proverbial plastic gun bandwagon and, to my knowledge, today every gun house offers a selection of polymer/steel pieces along with their all-metal handguns.
Initially considered wanting in appearance, today's marriage of polymer and steel has evolved and current examples have combined reliability, accuracy, fire sustainability, ruggedness, simplicity and light weight with darn good looks. Among the latest hybrid beauty queens that have combined all these desirable features is the Arsenal Firearms Strike One full-sized pistol, which entered the market in 2012.
U.S. IMPORTER
Darren Wilson is the U.S. Operations Manager of Tony Mussatto's Oklahoma City-based International Firearm Corporation, the importer and distributor of all things Arsenal. Along with their overseas partners, these men are "dedicated to offering the shooting world the finest high-capacity pistol ever conceived."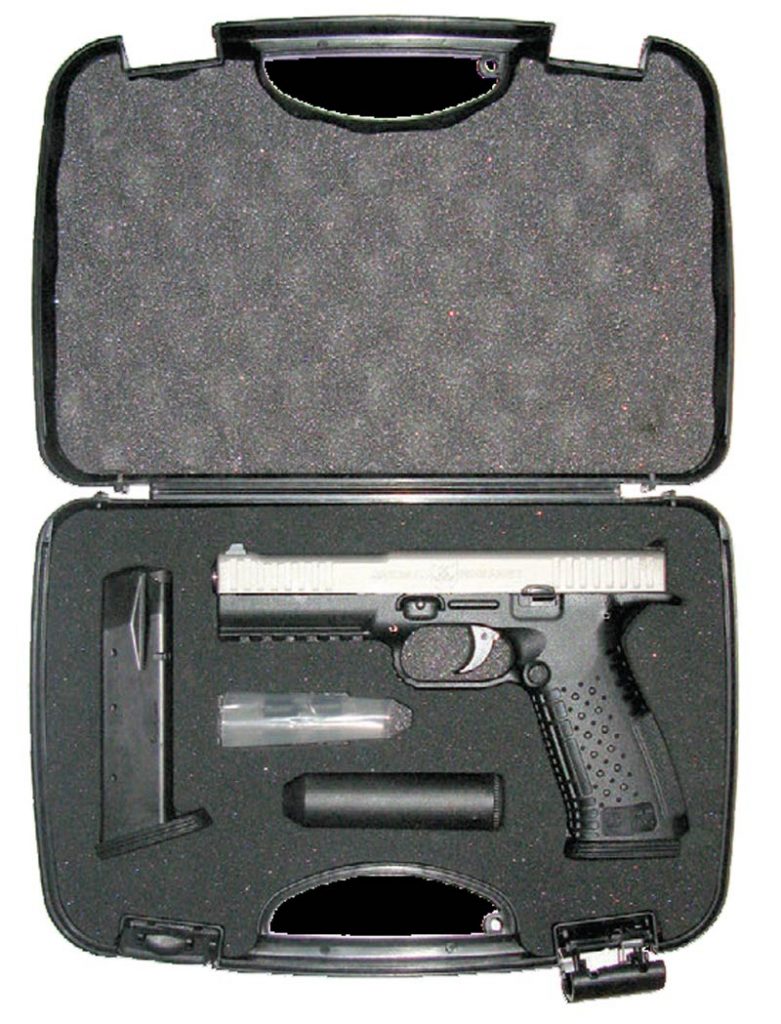 The polymer S1 is currently available in 9x19mm and .40 S&W. In the near future, .357 SIG will make its debut. Also in the future, the Ergal—an aluminum-framed version with a several ounce increase in weight—will hit the scene. Consumer choice is further enhanced by five different frame and slide finishes that will more specifically complement your mission or taste. They are:
Black with black slide
Black with stainless slide
Desert earth with black slide
Olive drab green with black slide
Grey with stainless slide
Most gun manufacturers want to sell entire firearms and are not interested in offering interchangeable components that give the consumer a multi-caliber capability. In stark contrast to this business practice, AI offers 9x19mm and .40 S&W kits that can convert the S1 to either caliber. They definitely look at the market from the client's perspective.
TARGET END USERS
The Strike One is a full-sized pistol that is primarily aimed at police and military service but could be the open-carry choice of many citizens who prefer to do so. Large-framed men could conceal it with the proper rig.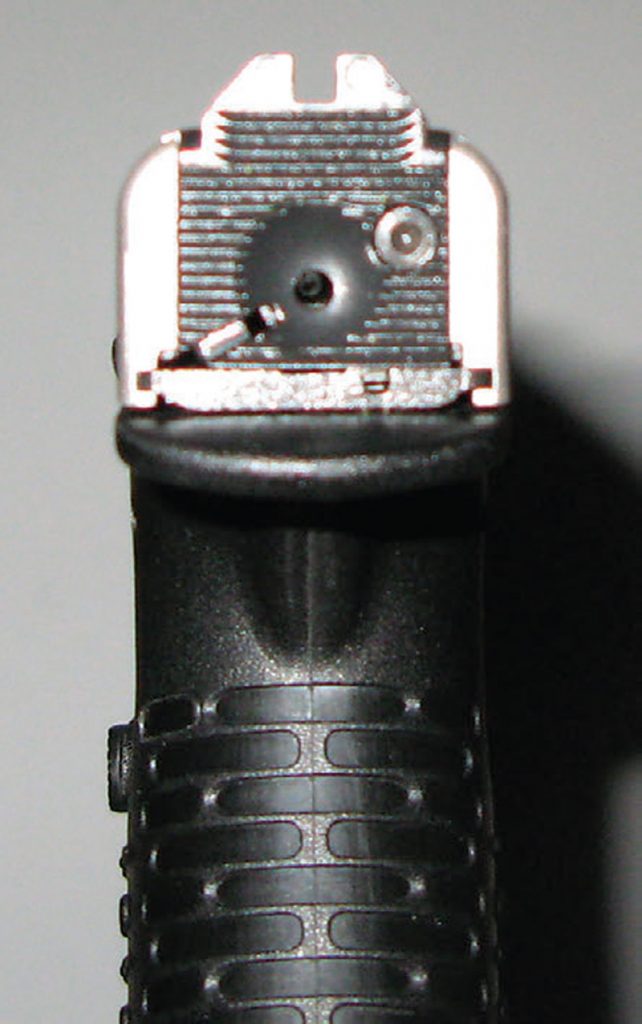 Like the Springfield Armory XDM and Glock 34/35, it could easily be groomed for competition with the addition of a fiber-optic front sight and trigger job, although its stock four-pound trigger is pretty good as is. Like the Springfield Armory XD series, AI characterized its S1 trigger as being single-action. This relegates the S1 to competing against the 1911—the traditional choice of competitors in that configuration.
In its advertising, many superlatives are attached to the S1. The factory basically claims this is the finest pistol of its genre ever made. Of course, these attributes are in the eyes of the beholder and the purpose of this article is to determine the validity of such claims.
.40-CALIBER DEBUT
I was fortunate to receive one of the first American S1s in .40 S&W caliber, and AI iced the cake with a 9x19mm conversion kit that consists of a replacement barrel and magazines. The same Glock-like flat recoil spring serves both calibers.
Its stainless steel slide is fully CNC machined from a solid billet of "36 steel," a proprietary stainless steel alloy. That and its barrel, locking block, and operating pin receive a 75 Hrc Nitrite treatment, which increases surface hardness of the barrel's interior and exterior, produces less friction, increases lubricity, and offers greater slide corrosion resistance. This results in better overall function of the firearm.
The solid, almost eight-inch flat-top slide is steeped toward the muzzle and enjoys a maximum sight radius. By itself it weighs 12.4 ounces, but the pistol does not feel overly top-heavy in the hand. Deep-cut fore and aft serrations provide a slip-free purchase on the slide's non-reflective surface.
Thankfully, the slide is free of engraved safety instructions and other gaudy embellishments and is very clean externally and internally. The steel sights are highlighted with the usual three white dots. The front blade is dovetailed into the slide and can be drifted laterally or easily replaced.
The rear aperture is unique in that the rear sight is part of the back plate and fixed. It is relatively small, which lets the shooter see around it without obscuring a target at extended ranges. Unfortunately, it is sloped rearward and its rakishness will not support one-handed emergency hooking and handling. A more vertical sight with rounded edges would be better for a fighting pistol.
The ejection port is enlarged and relieved where its external extractor resides. A striker status indicator protrudes through the back plate when a round is chambered.
Its ergonomic receiver is manufactured from proprietary "Super Polymer," a mix of polymers augmented with fiberglass, carbon fibers, and elastomers that give it great strength and protection from adverse environmental conditions. They are expensive to manufacture but much stronger than similar polymer frames on the market today.
The frame is further reinforced with Metal Injection Molding 42CrMo4 steel inserts that provide the lengthy metal rails that fully support the slide axially for total torque control of all components.
In the future, a heavier aluminum 7075-T6 framed S1 dubbed the ERGAL-55 will be offered to shooters who like a heavier pistol for competition.
Lengthy under-barrel rails containing the S1's serial number are present to accommodate fighting accessories. An extended beavertail helps to control muzzle rise, spreads out recoil, and prevents slide gouging.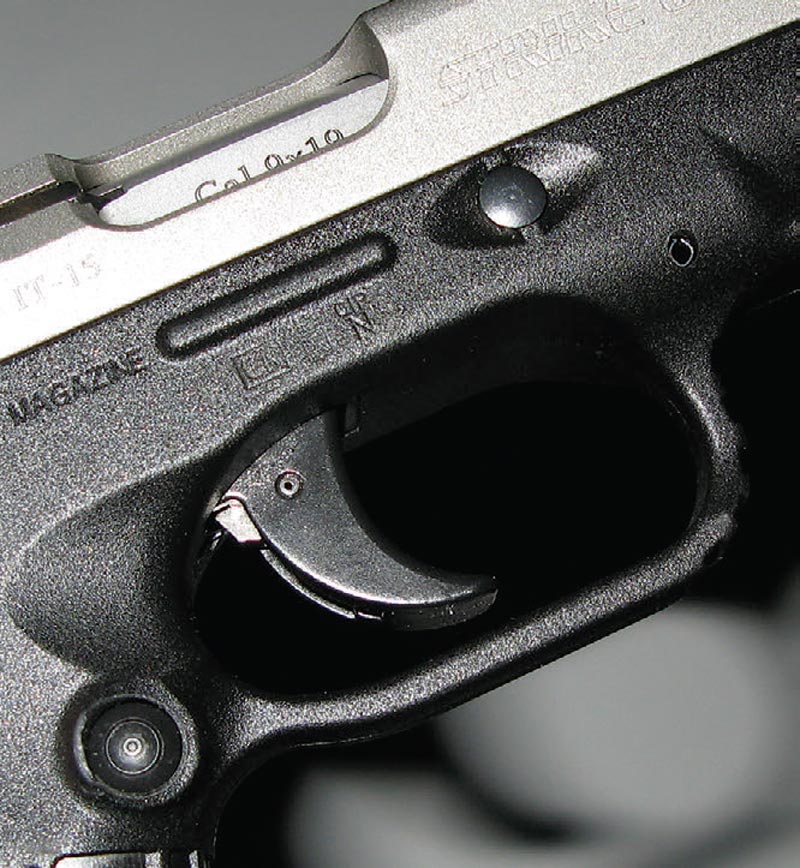 Grip enhancements consist of a little bit of everything. A grip's surface should resist gun torque or twisting in the hand. Vertical serrations, sharp 20-30 line checkering, rubber tubing, or skateboard tape are best for this job. Palm swells can help too. The S1's front strap's horizontal ladder grip surface should be replaced by vertical serrations.
The trigger guard is rounded but has needless horizontal grasping cuts out front. The guard should be slightly larger for gloved use. The base of the front strap is cut away so recalcitrant magazines can be forcibly removed. A minor feature that indicates potential military service is the lanyard loop hole at the grip's butt.
Competition style, the magazine release is enlarged, can be switched to the starboard side and can be made bilateral with supplied parts. The magazine well is flared and referred to as a "mini skirt." Magazine insertion and departure are smooth and rapid.
RADICAL TRIGGER
Principal Nicola Bandini has invented a radical new trigger that he refers to as a "rotating-sliding trigger." The steel match-style trigger is curved and serrated for flat finger contact. It is a two-stage lever, in that its transfer bar is divided into two parts.
Part one consists of a machined hard-chromed and polished pivot designed to eliminate any roughness in the trigger pull. It disengages an internal safety and the trigger stop and engages the second part of the trigger bar, which releases the striker and visible loaded chamber indicator.
Described as operating on a horizontal plane, the pivoting four-pound trigger releases the compressed striker in a very short and crisp arc of travel and with only a modicum of initial take-up. Reset is a little longer and a bit vaguer than I prefer, but does not handicap speed shooting.
Some shooters have described the trigger as being "spongy" when on the precipice of release, and attribute it to the presence of the trigger safety that is released in the first stage of the two-stage trigger. AI has alleged that advanced pistoleros have been able to match the cyclic rate.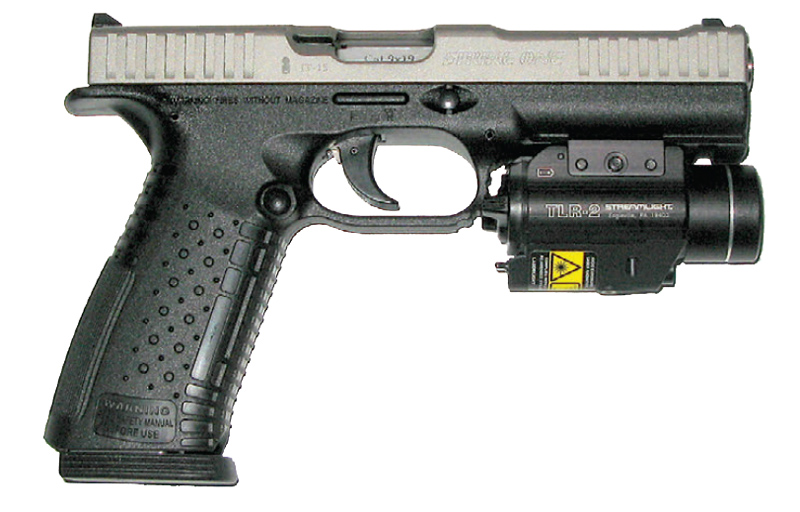 BARRELS, MAGS AND AMMO
Barrels are cold hammer forged from bars of 36-NCD4 stainless steel, and the .40 features a 1:16 left-hand twist. It is designed to stabilize the heavier bullets, but Arsenal claims the S1 is quite accurate with lighter and flatter shooting bullets as well. The 9mm has a 1:10 left-hand twist.
Steel 12-round (.40 S&W) and 17-round (9mm) magazines are staggered column with witness holes on the left panel. Polymer followers position and feed rounds straight into the chamber, and generously sized polymer base pads assist in positive seating of these excellently made tubes. Magazine springs are quite strong and require a breaking-in period, but ensure positive feeding.
No recommendations regarding ammunition usage are contained in the S1's manual. Considering the types of steel employed and the superior enhancing treatments the steel has undergone, coupled with a breechblock that has four locking lugs, the pistol should be able to handle +P+ loads.
AI sent me a variety of in-house holsters. They are not waiting for the holster industry to catch up. A belt slide, LI and LII duty scabbards, and a leg-drop tactical rig were included. The S1 ships with two magazines.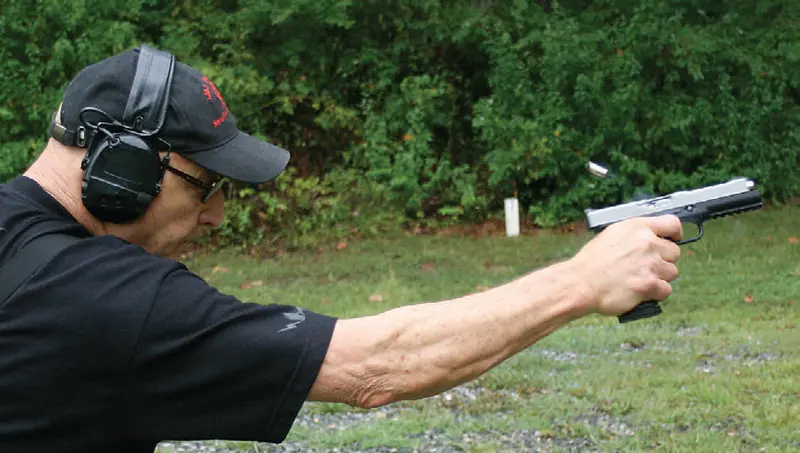 FUNCTIONING AND UNIQUE LOCKING BLOCK
After "bang," the barrel moves horizontally without the usual tilt. Then the heart of the system, its unique locking block, unlocks the barrel after a few millimeters of rearward movement and pushes the barrel back up into battery.
The next round feeds directly into the chamber and is not parked in the usual location just below the chamber's ramp, which should enhance recoil control and facilitate faster shot-to-shot delivery. Straight feeding without a feed ramp to negotiate eliminates potential bullet deformation or pressure increase by deeper seating of the projectile in the case.
INDOOR METRIC RANGE
Top Shot: All-Stars finalist William Bethards and I conducted the accuracy phase of the testing at an indoor 25-meter range. We tested six .40 S&W rounds and nine 9x19mm rounds.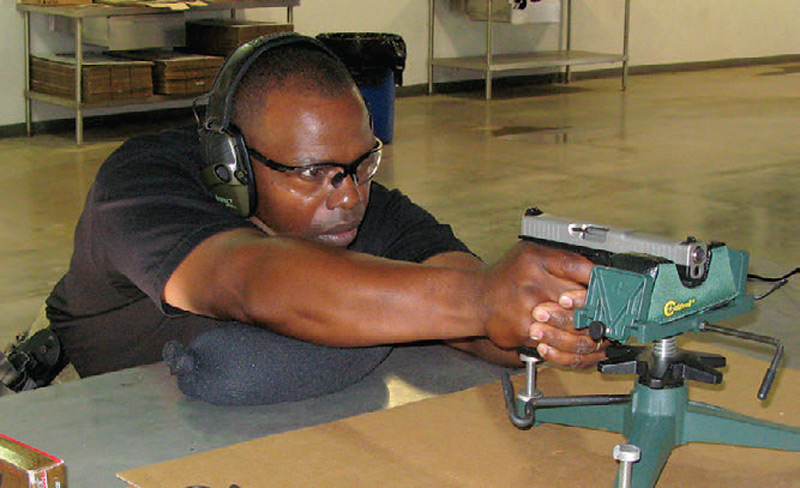 While dry firing, Bethards remarked that he liked how the S1 felt in hand—its ergonomics are that good. Some will opine it is too large for general police work and at most should be relegated to SWAT teams. As far as length is concerned, it is no longer than the venerated 1911, and a number of high-speed, low-drag and totally Kevlar teams use the latter for concealed carry assignments as well as hostage rescue. It just looks bigger.
The S1 was shot from a handheld rest at 25 meters at black bullseyes. Disappointingly, the .40 version did not live up to its hype. Groups were inconsistent and generally dispersed. William thought the .40 was not consistently locking up but could not identify a specific problem. The 9mm was fine.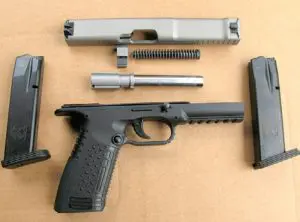 STANDING OFFHAND VERSUS BENCH REST
We actually obtained tighter groups standing with one or two hands. Subsequently, William turned in a 3.085-inch group, one-handed standing with SIG Sauer 165-grain JHP, and I managed a 4.16-inch group with Hornady 180-grain HAP steel-cased ammunition, two-handed standing. I also drilled five rounds of Winchester 180-grain Type T JHP into the small 4×6-inch "Q" Target scoring box, with two going through the same hole.
Top .40 velocity of 1,298 feet-per-second (fps) was delivered by 105-grain HPR OTF fodder. Slowest at 996 fps was garnered from Hornady 180-grain HAP steel-cased rounds.
The 9mm hot rod was Liberty's 50-grain pill at 2,078 fps. Muzzle blast was so severe with it that my chronograph refused to record subsequent shots even when I retreated several paces. I did not have a blast shield for the sky screens, but I shielded the chrono. Still it refused to clock the bullet's velocities. Several feet to the rear, muzzle blast was strong enough to slap empty ammo boxes off the gun table.
As expected, 147-grain loads brought up the rear, but the S1's long barrel boosted Speer's GDHP up to 1,012 fps.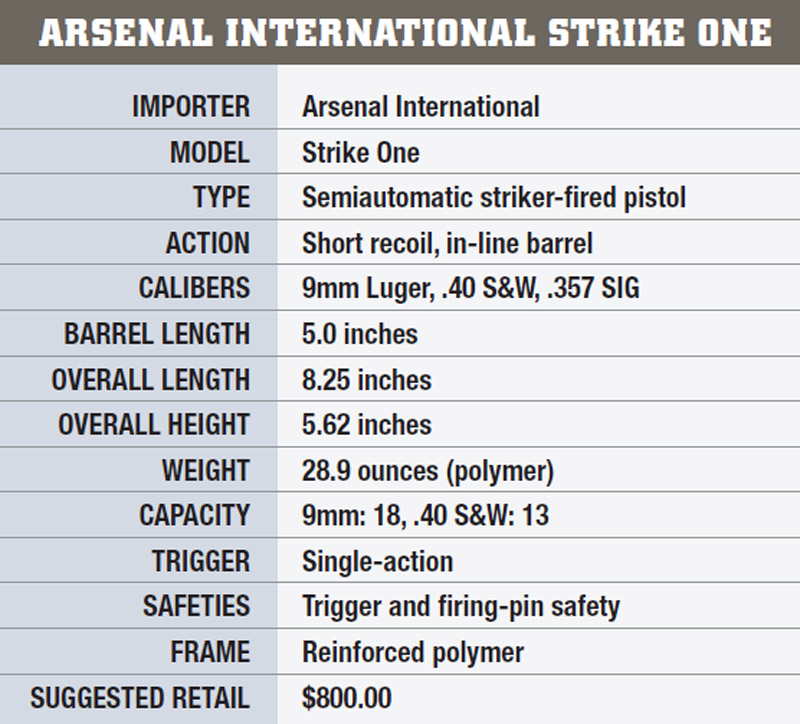 NOT A MATCH GUN
Bethards remarked, "It's not a match gun, but could be." He further volunteered that recoil was very manageable and that "the average shooter won't notice the difference between 9mm and .40 S&W." Here I disagree with my distinguished colleague.
I found the forty to have much harsher recoil than the nine. But although there was distinct muzzle rise, it felt like a straight push-back through my arms. I have chronic tendonitis and my right elbow is scheduled for surgery, but neither the nine nor the forty bothered it. Bethards advised that he found the pronounced ridge under the beavertail irritating.
CONCLUSIONS
In spite of inconsistent accuracy in .40 S&W, the S1 is an impressive pistol with much potential. Perhaps the offender regarding accuracy was our neglecting to shoot half a case through it before we got down to business. A 500-round break–in ritual is a costly matter for the average shooter and exceeds what many will expend during the ownership of the firearm. Once discovered, some potential owners may instead opt for the out-of-the-box performance that handguns costing much less offer.
The S1's unique engineering and design attract me, but for its price I would expect interchangeable backstraps, palm swell grips, holster and magazine pouch or other extra goodies. However, once debugged, the Strike One will be a prime candidate for SWAT employment.
But for my current lifestyle, I require a more compact version of this interesting piece and am looking forward to the aluminum version.