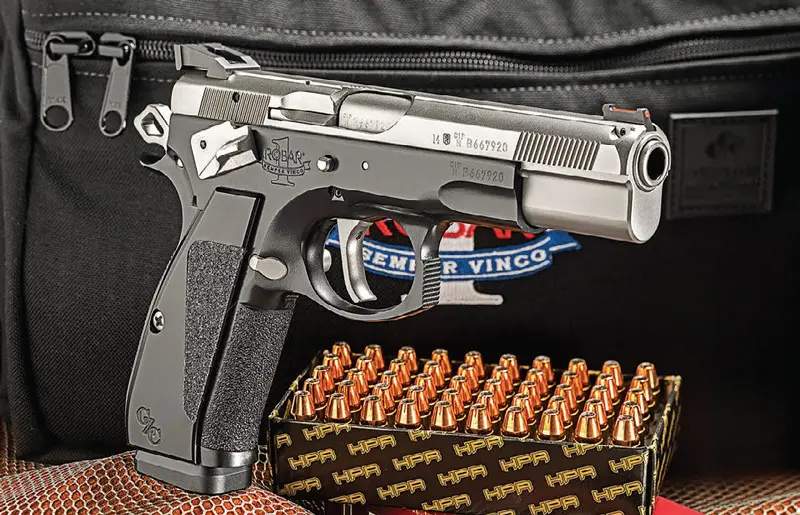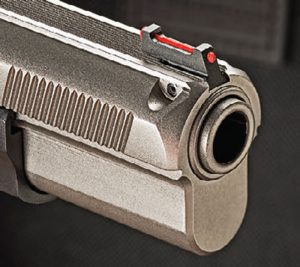 When you have a superior product, it makes little sense to change it. But engaging in variations on the theme is a way of tweaking a design to possibly contemporize it, and more importantly to appeal to a wider group of shooters. CZ's flagship pistol, the double/single-action CZ 75 with cocked and locked option, has existed since 1976 and has gone through a number of changes and calibers, but the all-steel pistol's signature profile has essentially remained the same.
CZ offers over 30 steel and polymer variants to the shooting public and in every popular defensive caliber except .357 SIG.
COLONEL'S APPROVAL
At its American debut, the late Colonel Jeff Cooper—1911 pistol aficionado, owner of the famed Gunsite Academy, and father of the Modern Technique—had high praise for the CZ 75 in spite of its DA/SA action, which to him was partially acceptable because of its cocked-and-locked carry option.
I attended his shooting courses several times and had a brief stint as one of his adjunct instructors under the mentorship of Jack Furr. If Jeff were still alive, I would love to see his reaction now when he picked up one of CZ's latest variations, the CZ 75 B SA (Single Action) pistol. The "B" designates a firing pin safety. His only anticipated objection might be that it was not yet available in .45 ACP.
Like most CZs, this is a beautiful and graceful pistol. Its slender trigger has a modicum of slack, breaks crisply at 4.5 pounds, and resets quickly. In short, it is a combat pistol with competition features. But before I get too far down the specifications road, let me back up a bit.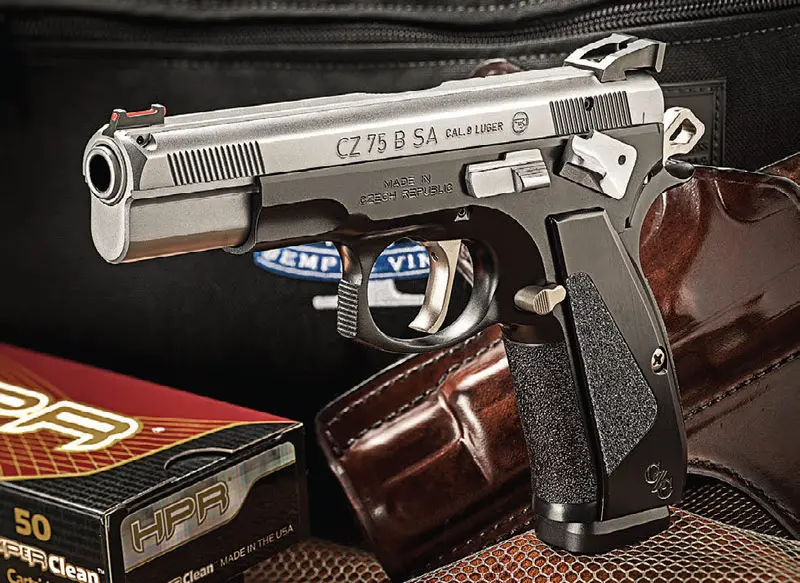 ROBAR AND CZ CUSTOM
When I live with a pistol for a while and decide if it's a keeper, I often assess it for possible improvements or how can I make it unique among myriad similar handguns. A lot of firearms enthusiasts like to have guns specifically made or modified to their specifications. I am one of them and, when I think of customization houses that combine practicality with art, I immediately think of Robbie Barrkman of The ROBAR Companies.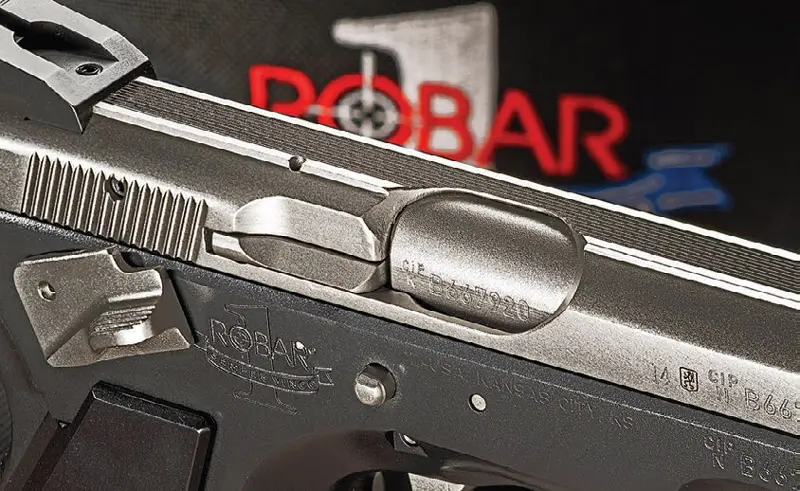 Robbie specializes in many makes of short and long guns, but this was the first time he agreed to work on the Czech import. In addition to ROBAR, I was very fortunate to recruit CZ Custom/Ghost Products Shop, and Robert Bagnato kindly donated full-size aluminum grips, a competition sight package, competition hammer to improve trigger pull, and magazine base pads.
CZ ERGONOMICS
CZs are noted for the slide riding on the inner rails of the receiver, which gives the slide full support. Dorsally, the deeply blued slide has very tasteful and attractive striations that draw the eye toward its dovetailed and pinned white dot front sight. The dovetailed fixed rear sight is a simple vertical blade featuring two white dots that are smaller than the solo dot on the front blade.
Rear slide serrations provide a gripping surface for manual slide manipulation but are very conservative because of the slide's deep position in its receiver. Its hammer is the bobbed Commander style, its extractor is external, and its ejection port is adequately sized for reliable ejection.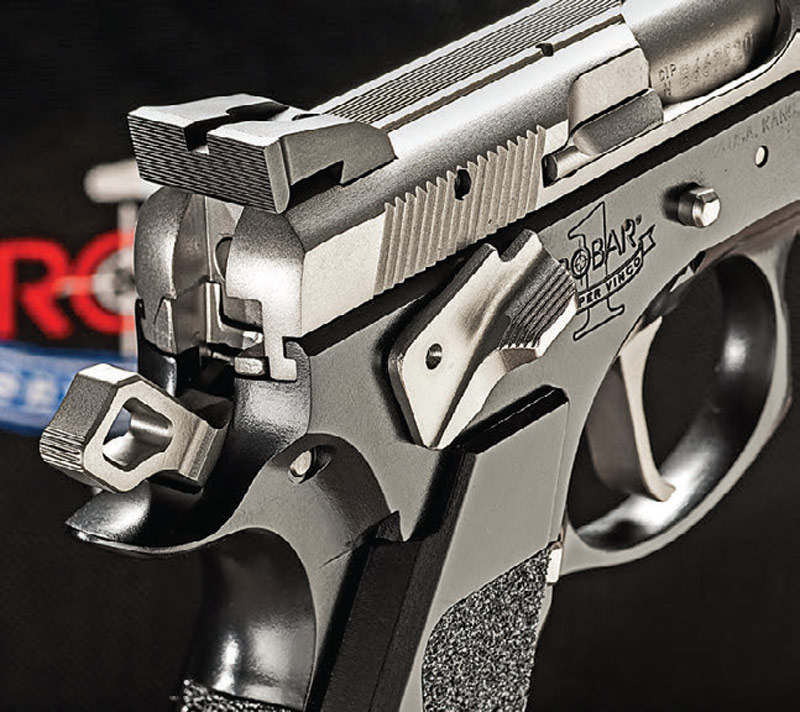 The receiver is traditional CZ 75, but its beavertail is tastefully and practically extended and has slightly enlarged ambidextrous thumb safeties. These are augmented by a firing pin (B Model) block and hammer stop.
The only checkering or disruption of steel for improved gripping are the above-mentioned slide serrations and horizontal cuts across the front of the hooked and enlarged trigger guard.
Both the slide stop and dust cover are standard size, and the latter does not have an accessory rail. The magazine release is oversized and reversible but not so large that it can be inadvertently engaged when holstered.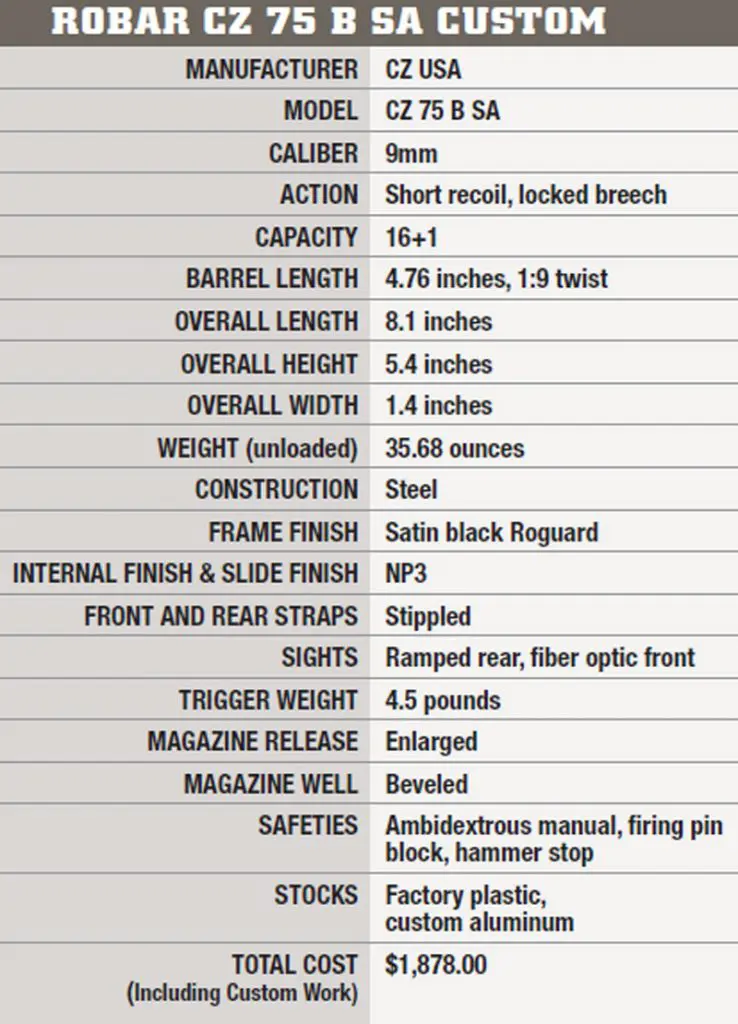 Steel magazines are staggered box without base pads and store a sweet 16 of 9x19mm rounds. Grips are plastic with palm swells. In short, CZ ergonomics are excellent, and the pistol slips into the hand like a friendly handshake.
Its single-action trigger is a stark departure from the usual curved CZ trigger. It is relatively straight with a slight hook on the bottom, and adjustable for overtravel. My sample had some take-up before hitting sear resistance and a bit of creep before breaking crisply.
I felt like a kid at Christmas when UPS knocked on my door and had me sign for the package. My excitement was justified when the CZ 75 B SA emerged from its box. The words graceful and beautiful immediately came to mind, and it felt terrific in my hand. Although muzzle heavy, I knew it would become nicely balanced with a full magazine in place.
REACHING FULL POTENTIAL
ROBAR's work is attractive, practical, and expensive. His work makes firearms more durable, enhances their ergonomics, and improves their shootability. ROBAR's NP3 coating was administered to the slide, barrel, and internals of the CZ 75 B SA to resist corrosion and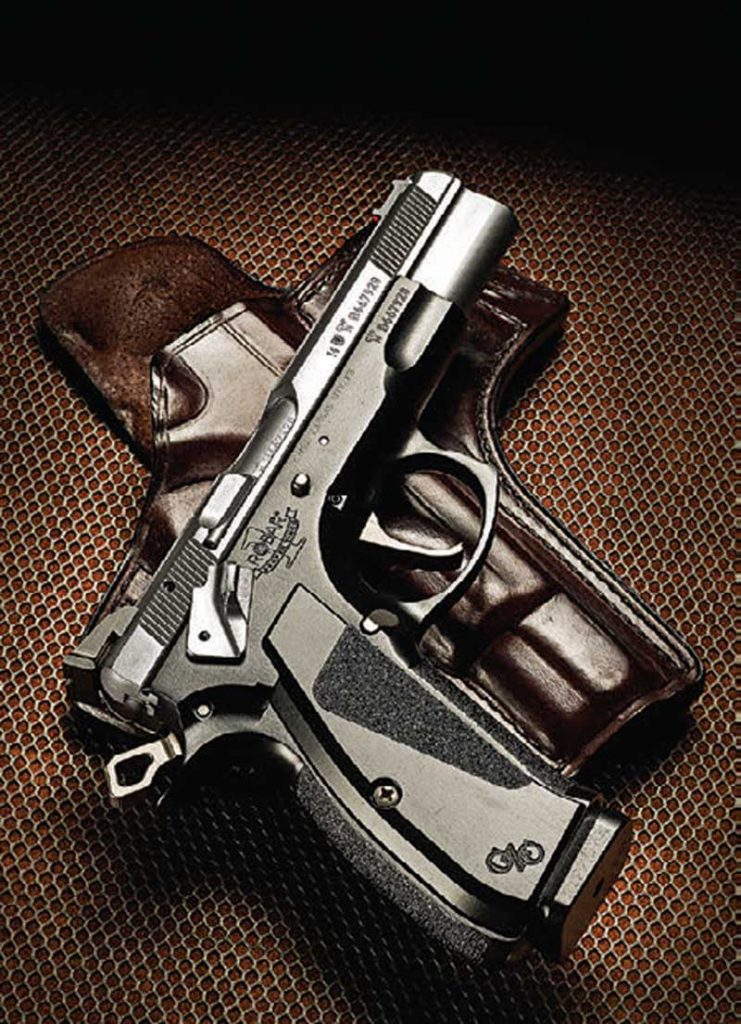 increase lubricity. Lubrication is not necessary and carbon deposits can be wiped off with a rag.
A trigger job accompanied installation of a CZ Custom Competition Hammer and hammer spring, which reduced trigger weight by a very smooth—and crisp breaking—one and a half pounds. Forward slide serrations were cut into the slide and they are very functional because of the limited purchase available on rear serrations.
Fixed CZ Custom sights were installed. These consisted of a fiber-optic red sight and ramped rear that extended sight radius by 0.779 inch. Magazines were finished in Roguard and CZ Custom enlarged base pads were added. To complement the enhanced magazines, the magazine well was beveled.
CZ Custom's full-size aluminum grips were also installed, and both front and back straps were stippled with borders. ROBAR's famous Semper Vincio (Always Win) logo was engraved into a black Roguard finished receiver.
GIBRALTAR SPEED SCABBARD
The all-steel CZ 75 B is not a light handgun, so selecting a secure holster that distributes its weight was paramount. Master leathersmith Ken Null answered that requirement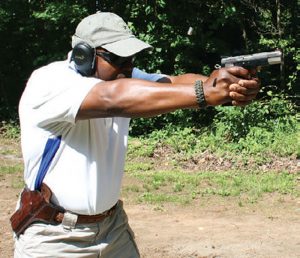 with his Gibraltar Speed Scabbard.
The 4.4-ounce shell horsehide scabbard is an open-top rig with FBI cant. Widely separated belt loops give it a pancake profile that hugs the body, distributes weight, and provides good security, which is augmented by the holster's hand-molded friction fit. A shirt guard is also featured.
Null's work truly complements the handsome profile of this pistol.
BEST GUN TESTED
Recently I have been very fortunate that I can rely on the generosity of world-class shooters to extract the inherent accuracy out of the firearms I write about.
Top Shot All Stars finalist William Bethards fell in love with the customized CZ 75 B SA right after he broke the first shot at 25 yards. He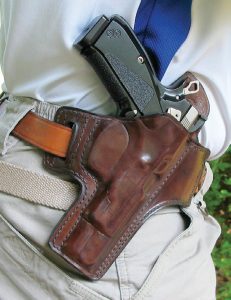 was so enamored with the gun's single-action trigger and ergonomics that he plans on purchasing his own CZ. Bethards exclaimed this was "the best handgun we've tested so far."
Bethards prefers heavy guns like the 1911, and the CZ has this characteristic, which gives it excellent balance. To him, it is as if CZ has merged the excellent ergonomics of the FN Browning with the trigger of the Smith & Wesson Model 52s. He used the S&W 52 extensively when on the Olympic shooting team and said he liked its long and deliberate but smooth take-up and very crisp break. During rapid-fire strings, Bethards had no problem with recoil, including +P+ ammunition. He kept the pistol indexed on the "A" zone of the target.
Bethards also deployed the CZ from the Null holster. He described it as very comfortable and "forgot he had it on." Before we wrapped up our session, I had to remind him to return it.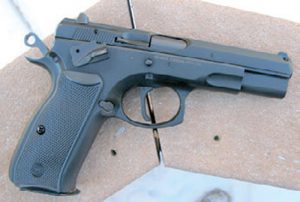 SHOOTING RESULTS
The best handheld five-round groups at 25 yards were with HPR 80-grain OTF at 1.09 inches. Highest average velocity for a five-round string was attributed to Atlantic Marksmen's conical copper Poly Case MEN/ARX 80-grain bullet at 1,535 feet-per-second (fps). This ammunition also won accuracy honors from the bench, as four rounds went into a 0.69-inch ragged hole, with one flyer half an inch out but still in the black. CZs can shoot.
CZ 75 SUMMARY
What else is there to say? If you are into steel handguns and don't mind the weight, the updated CZ 75 in SAO is as good as it gets. CZ makes all kinds of firearms using traditional and contemporary materials, and I have never heard any serious complaints about anything they make that goes bang. And they are all reasonably priced.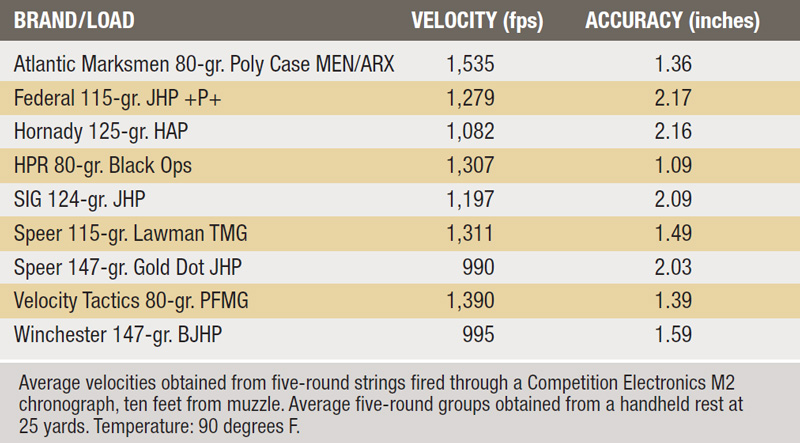 My CZ also reflects old-world workmanship and attention to detail. CZs run well out of the box, but if you want to personalize your piece with additional practicality and beauty, you cannot beat the man from Arizona, Robbie Barrkman, and his martial artisans.