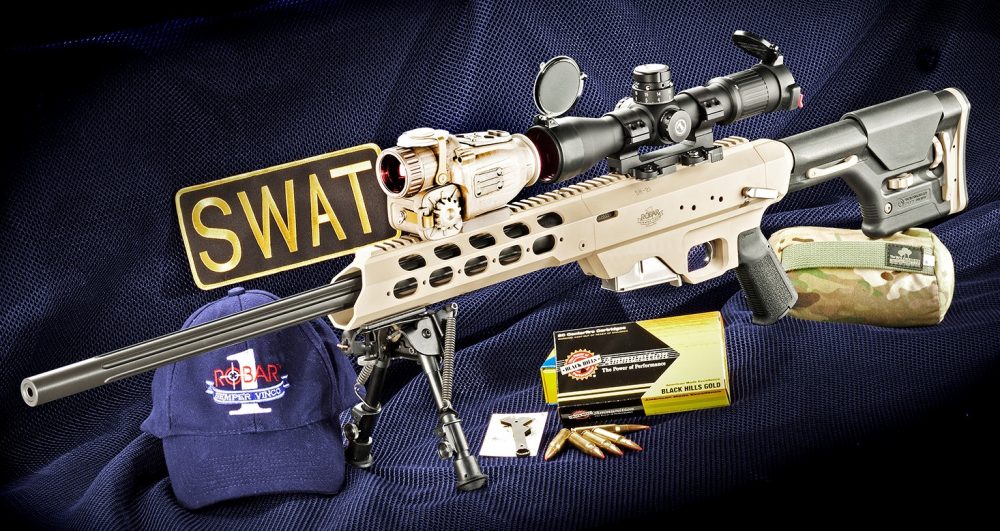 ROBAR SR-21 (21st century) may very well be the future of precision rifles. Photo: ROBAR
---
ROBAR is probably best known for their firearm finishes, but they are more than that—much more.
My first experience with ROBAR was shortly after I left the Sheriff's Office to work for S.W.A.T. way back in 1987. I took my much-used Series 70 Colt 1911 Government Model to them to apply the then-new NP3® to it.
A few years later, when I acquired two Glock 21s (.45 ACP), I sent both of them to ROBAR for grip reduction and stippling.
Lately it seems everyone with a soldering iron and a Dremel tool (there should be a five-day cooling-off period on purchasing the latter) is performing such modifications, but ROBAR was the first—and with decades of experience behind them, arguably still the best.
When it comes to customizing a firearm, or obtaining an entire custom firearm, ROBAR is my first choice.
FINISHES
The following finishes are available from ROBAR.
NP3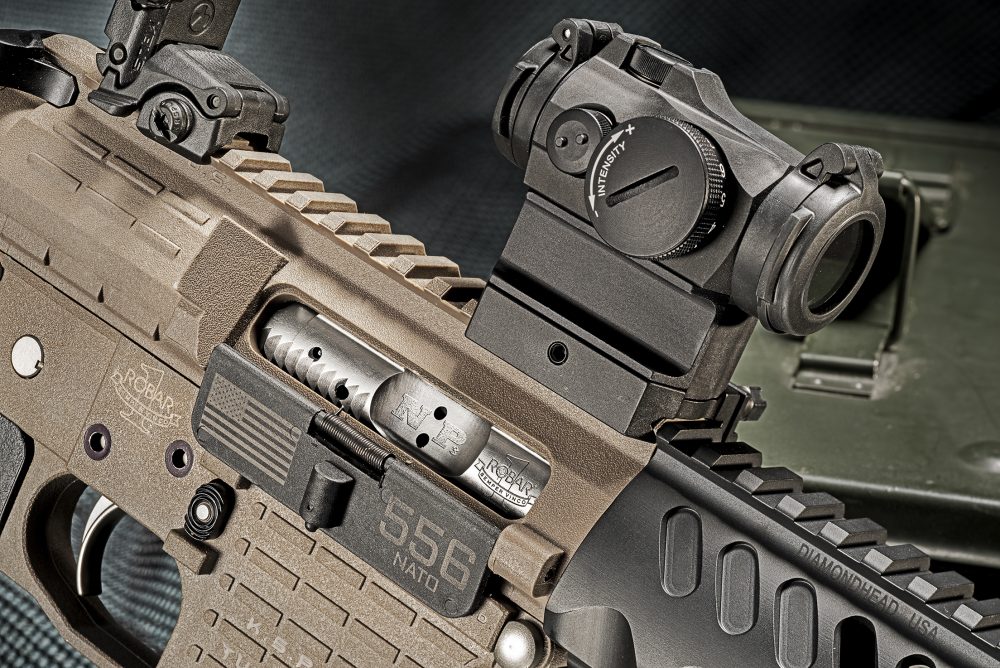 Bolt carrier group on PolymAR-15 is finished in NP3. This contributes to a smoother-running carbine. Carbon buildup is a thing of the past, and the BCG simply wipes clean.
---
Developed by Robbie Barrkman about 30 years ago, NP3 combines nickel and PTFE (Teflon®) at the molecular level, resulting in a finish that is not only extremely corrosion resistant, but also provides high lubricity. The color is an attractive satin gray. The more a gun is worked, the slicker it becomes.
NP3 PLUS
NP3® PLUS has all the self-lubricating attributes of the original NP3 firearm finish, but NP3 PLUS offers far more corrosion resistance for marine and other harsh environments. Firearms and other equipment gain up to five times as much corrosion resistance over standard NP3 and up to ten times more than regular electroless nickel!
Roguard
Roguard is a molybdenum-disulfide-based polymer finish specifically designed to provide lubricity and corrosion protection for metal components. It is available in a black satin or minimally reflective black matte finish.
Roguard provides the lubrication and corrosion protection necessary to meet U.S. Military Machine Gun Dry Firing Requirements after 60 days sea-water immersion or 1,000 hours salt-spray MIL-STD test.
Poly-T2
Poly-T2 is a PTFE-based modified epoxy coating specifically designed to provide lubricity and corrosion protection. This state-of-the-art finish also provides excellent abrasion protection and impact resistance while preventing corrosion, galling, seizing, and fretting.
Poly-T2 may be the ultimate in protective finishes, and is available in six colors: Black, Tan, Dark Green, OD Green, Burnt Bronze, and Gunmetal Gray.
RIFLES
Precision Rifles
ROBAR offers several upgrade packages for M1 Garand rifles, based on the customer's rifles.
---
ROBAR makes some of the best precision rifles available at any cost. These include the SR60, SR90 and SR-21. All are guaranteed to fire .5 MOA with match ammunition.
Entire articles can be (and have been) written on these rifles, but with space limitations, I'll just hit the high points.
The SR60 and SR90 are both made on Remington 700-style actions and completely accurized, machined, ground, and lapped with hex-head action screws. They are offered in all standard center-fire rifle calibers.
The ROBAR® SR60 has a proven track record with military, law enforcement, and private-citizen marksmen throughout the world and is the rifle of choice for numerous military and law enforcement agencies.
The ROBAR® SR90 is designed for the advanced marksman. Its design is the result of collaboration with military and law enforcement marksmen and ROBAR's own world-class gunsmiths.
The "21" in the SR-21's name indicates it is a "rifle for the 21st century" and is ROBAR's latest entry into the precision rifle arena. The TAC-21 chassis system of the SR-21, mated with an accurized Remington 700 action and match-grade barrel, makes for the ultimate precision rifle. It is available for the .308 Win, .300 Win Mag, and .338 Lapua cartridges.
Barrels are fluted stainless steel match grade with ROBAR's exclusive contour and match-grade chamber and crown. Customers can specify barrel lengths from 18 to 24 inches.
In addition to precision rifles, ROBAR has several enhancement packages available for the U.S. Rifle, Caliber .30, M1 (commonly called the M1 Garand) based on a customer-supplied rifle. This service is for post-Korean War rifles only. ROBAR will not refinish a rifle from World War II or Korea and destroy American history, and I give them major kudos for this. Check out their website for full details and pricing.
AR Platforms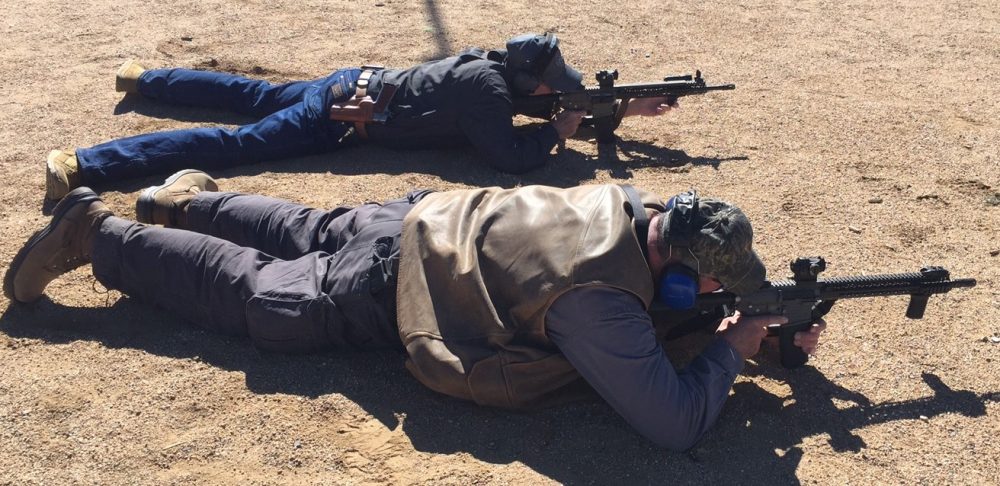 Author (top) and John Farnam shoot during ROBAR-sponsored writer's event at Gunsite. Author is shooting his PolymAR-15C, while Farnam is shooting a PolymAR-15SC (Sentinel Concepts aka Steve Fisher signature carbine).
---
Almost any AR-type rifle will benefit from a visit to ROBAR. ROBAR is proud to be a part of the next step forward in the continuing evolution of the AR platform. With state-of-the-art NP3 plating on the interior parts of the AR, it will run more smoothly and stay cleaner, contributing to a longer-lasting rifle.
The bolt carrier group (BCG) has the most to gain with NP3, because it has the greatest amount of movement and completes most of the functions in the rifle. I have had several bolt groups finished in NP3 and couldn't be happier with them. Carbon buildup is a thing of the past: They simply wipe clean.
In addition to NP3 on the interior parts, any of the above finishes can be applied to the exterior of a rifle. Along with upgrading the finish, ROBAR can provide full gunsmithing services to your rifle—from rebarreling to reliability work.
POLYMAR-15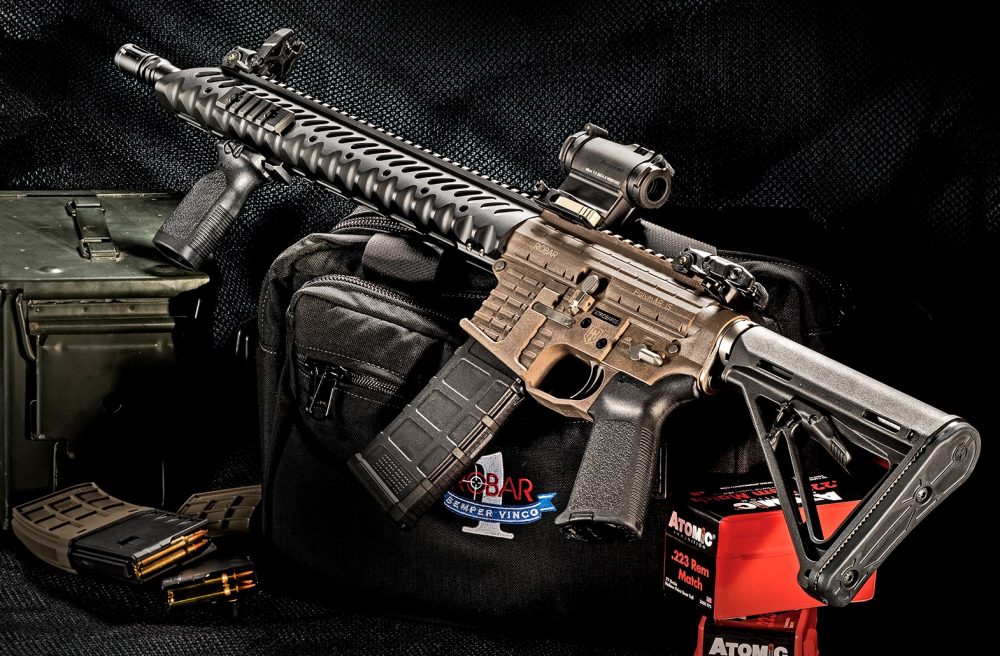 In late 2014, ROBAR introduced the PolymAR-15—a lightweight carbine with revolutionary upper and lower receivers made of high-strength polymer that have metal inserts where needed, such as the hammer, trigger pins, and serial number plate.
All interior parts are finished with NP3, including the entire BCG. The bolt itself is milspec, meaning it has been MPI'd, shot peened, and the extractor has the proper four-coil spring, black insert, and rubber "O" ring.
The carbine features upgrades from Bravo Company, including a GUNFIGHTER charging handle, receiver endplate, and more.
I was fortunate enough to evaluate serial number 8 (POLYMER PRECISION: ROBAR PolymAR-15, April 2015 S.W.A.T.). I still have the rifle and, since the initial testing, it has had thousands of rounds through it. It is my "go-to" carbine for both formal training and informal practice.
HANDGUNS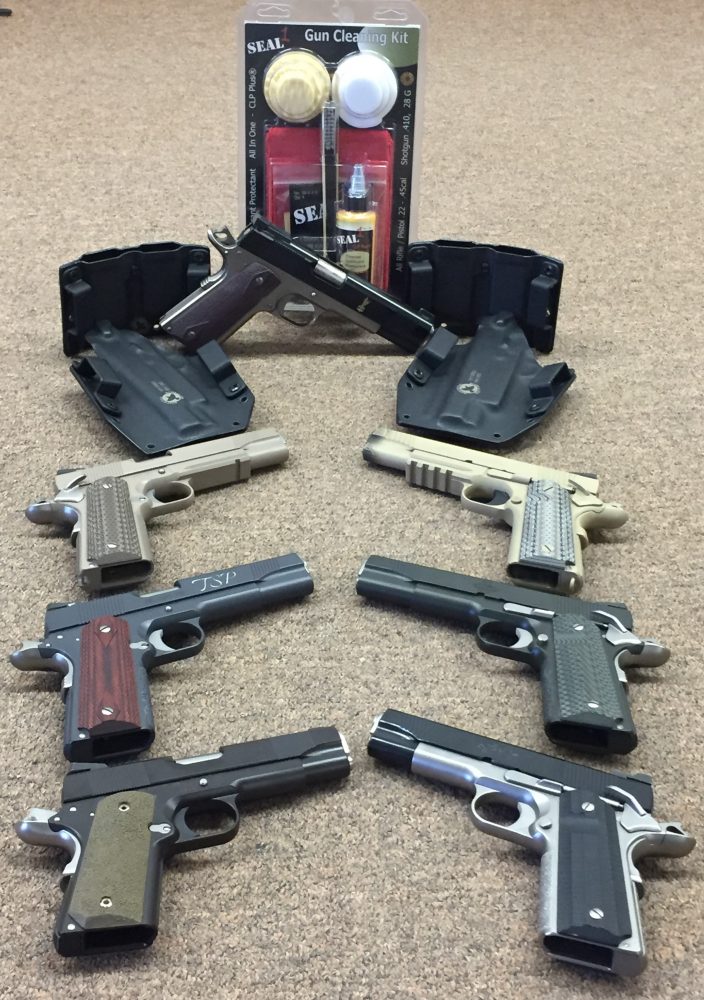 Whether you want to customize a Glock or a top-end 1911, look no further than ROBAR. I shot both at a recent Gunsite training course sponsored by ROBAR. I have always been impressed with ROBAR's products, and I came away from the course with an even deeper appreciation.Check out ROBAR's website for the staggering number of both complete pistols and custom work that can be performed on your handguns.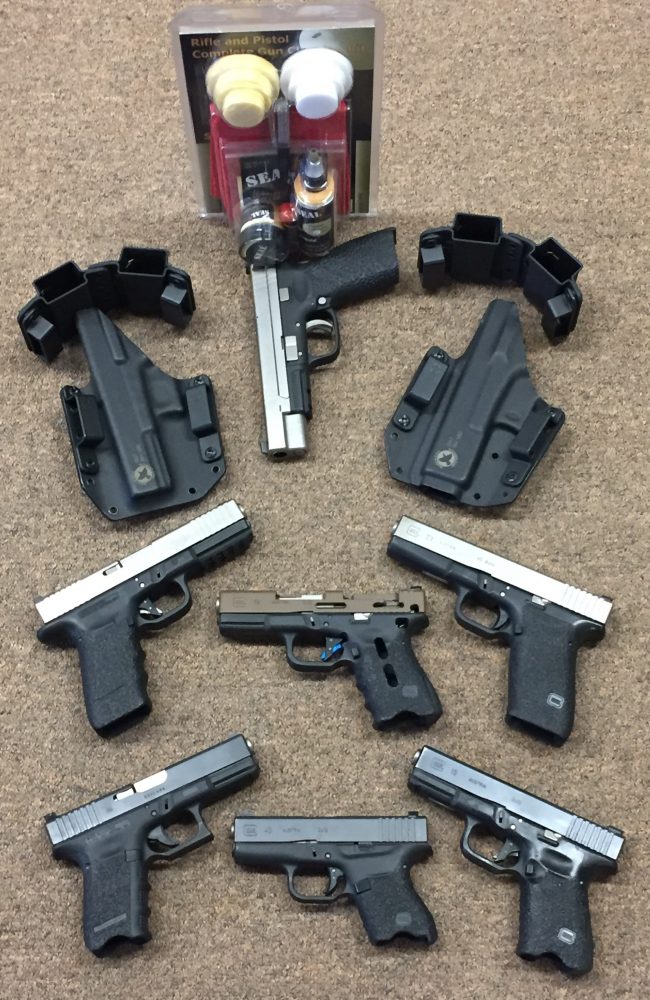 Into wheelguns? Although the mechanics for a revolver are much different than a precision rifle, AR, or semiautomatic pistol, the benefits of having a reliable revolver are just as crucial as that of any other firearm you may use for self-defense or competition.ROBAR has trained gunsmiths who work on revolvers and can improve the performance of your wheelgun.
RESTORATION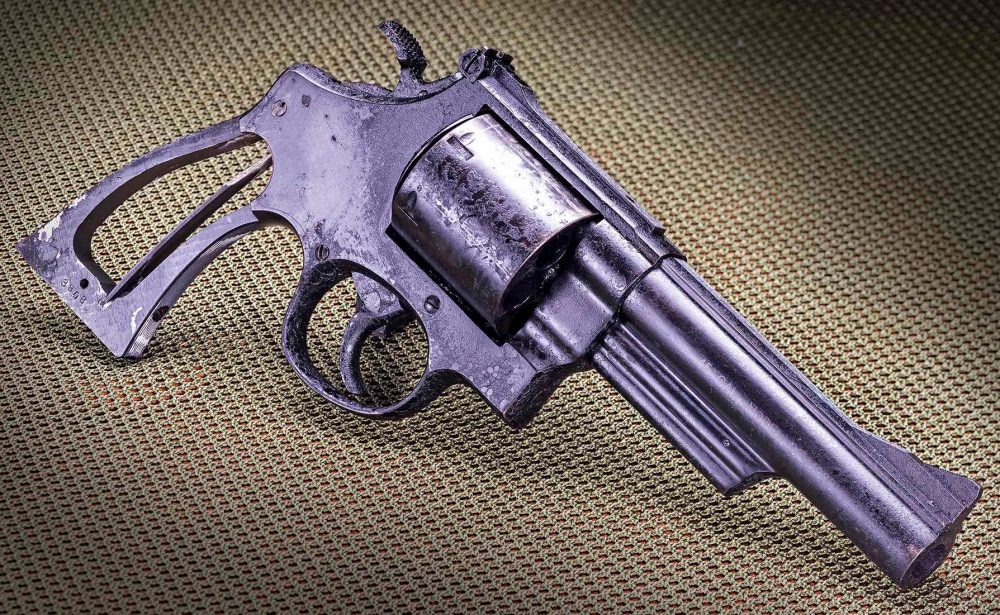 Although out of the norm, I have sent two firearms to ROBAR for restoration work. The first was a Smith & Wesson Model 25 chambered in .45 Colt that was lost in my house fire in 2005.After determining it was too far gone to bring back as a working revolver, ROBAR President Freddie Blish came up with the idea to turn it into a working cutaway. I enthusiastically agreed.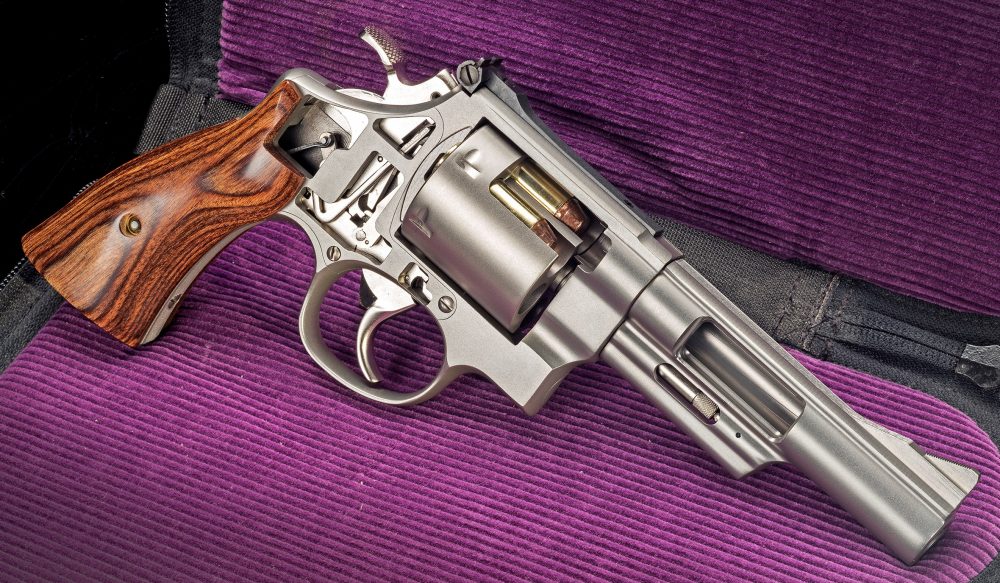 Even the masters at ROBAR couldn't make it into a working revolver again, so ROBAR turned Hansen's Model 25 into a spectacular cutaway gun.
---
Portions of the revolver's frame, cylinder, and barrel were carefully cut away to reveal the inner workings. It was finished in NP3 accentuated by a set of Super Target Walnut grips made by Altamont Company. I have it proudly displayed in a shadow box in my office.
NEVER FORGOTTEN

Finished Model 94 rifle after ROBAR performed their magic.
---
The second firearm was a Model 94 Winchester. Although it was in perfect order, I wanted to refinish it for sentimental reasons.
Edward "Pete" Reeder was my son Flint's best friend since middle school. After high school, Pete joined the Marine Corps, rising to the rank of Gunnery Sergeant. While on leave before deploying to Iraq in support of Operation Iraqi Freedom, Pete asked Flint to keep his Model 94 for him.
Unfortunately, Pete never came home, giving his life for his country on August 21, 2004. I lower my flag to half-staff on that day every year.
While, as I said, the rifle was in working order, it had seen rough use and was in need of some ROBAR TLC.
I contacted Freddie Blish and asked if working on a Model 94 was in ROBAR's wheelhouse. The answer was "absolutely!" and between the two of us, we came up with a plan.
Without letting on the reason, I asked Flint if I could borrow Pete's rifle for a "special project" I was working on.
Freddie suggested finishing the internal parts in NP3 and the exterior of the rifle with black Poly-T2. I agreed, and then Freddie came up with another of his great ideas: laser engrave Pete's name and rank on top of the bolt.

ROBAR laser engraved top of bolt with Pete's name and rank.
---
When I received the rifle, I barely recognized it. The alchemists at ROBAR had turned the Model 94 into a work of art. Even the somewhat worn stock looked brand new, and the NP3-coated interior parts made the action work slicker than ever before.
Nevertheless, it will not be a wall hanger or safe queen. Pete would have wanted it to be used—and it will be. Tears welled in Flint's eyes when I returned the rifle to him, and that expression of appreciation made the entire project worthwhile.
Whether you need a firearm refinished or you're shopping for an entirely new gun, put ROBAR at the top of your list.
SOURCE
ROBAR GUNS
(623) 581-2648
www.robarguns.com