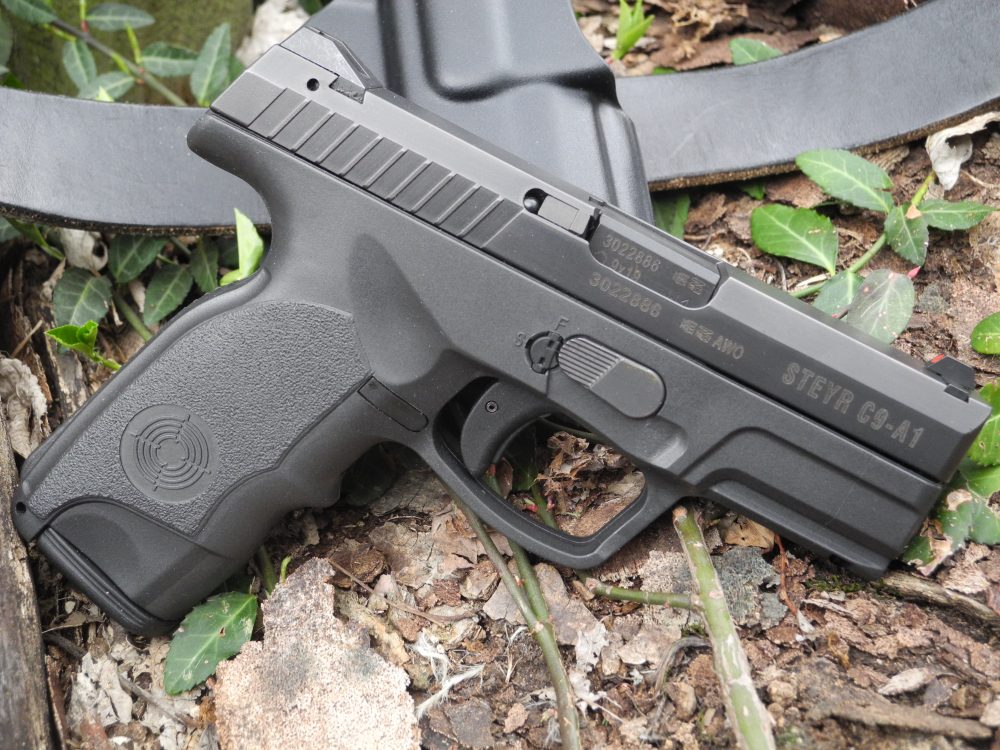 A quality, well-fitted belt and holster are integral parts of a good carry set-up.
---
Dinnertime Disturbance
It was past midnight in the parking lot of a Dallas, Texas Whataburger restaurant when a man enjoying a quick bite to eat in his car found himself confronted by a pair of armed robbers. But the crooks had made what turned out to be a fatal error in the victim selection process, as their intended prey turned out to be armed himself.
Turning the tables, the man in the car drew his own pistol and opened fire, killing one robber and putting the other to flight. The second suspect was apprehended by police, who also recovered the pistol dropped by the deceased attacker.
SOURCE: The Dallas Morning News, Dallas, Texas, 3/17/16
Hatchet Job
A masked man strode into a Burien, Washington convenience store in the predawn dark of a March morning and, in eerie silence, swung a hatchet at a customer. He then charged behind the counter and took a swing with it at the 58-year-old clerk, still without uttering a word.
At that point, one of the store's regular customers, a 60-year-old gentleman who had stopped in for his usual morning coffee, drew a lawfully carried handgun and fired at the hatchet-swinging invader. The customer's shots took near-immediate effect, dropping the masked intruder, who was pronounced dead at the scene. The clerk was treated for a wound to her stomach, and credits the customer with saving her life.
SOURCE: The Seattle Times, Seattle, Washington, 3/16/16
A Gem of an Outcome
A jewelry store owner in Torrance, California had taken most of the typical precautions employed for protecting a high-risk place of business. In order to be admitted to his showroom, itself festooned with security cameras, visitors had to be "buzzed" in past the locked front door.
Unfortunately, those passive security measures weren't enough one day when, around noon, an apparent customer was buzzed in only to produce a pistol and announce a robbery. At that point, the owner fell back on an older and more active form of security by pulling a handgun and shooting. The robber was hit, fatally as it turns out, and police said the deceased had a long criminal record and was a "person of interest" in a recent double homicide.
SOURCE: KTLA-TV, Los Angeles, California, 3/8/16
Going It Alone
A woman got on an elevator from the food court of a busy dining and entertainment complex in downtown Louisville, Kentucky. It was just past six on a January evening in what is generally considered a safe neighborhood, and the man who got on the elevator with her seemed nonthreatening when he indicated that he, too, was going to the sixth floor of the parking garage.
As the woman was trying to enter her car, the man assaulted her from behind, banging her head off the car and shoving her across the car's center console. He climbed in behind her with a rusty kitchen knife and demanded money. Fearing for her safety, she pulled a pistol from her purse and pulled the trigger, but nothing happened, and he continued the assault. After a few more trigger pulls, the gun fired, hitting her assailant in the neck and forcing him to retreat to seek medical help. He is currently being held on charges of attempted murder, robbery, and kidnapping.
SOURCE: WHAS-TV, Louisville, Kentucky, 3/4/16