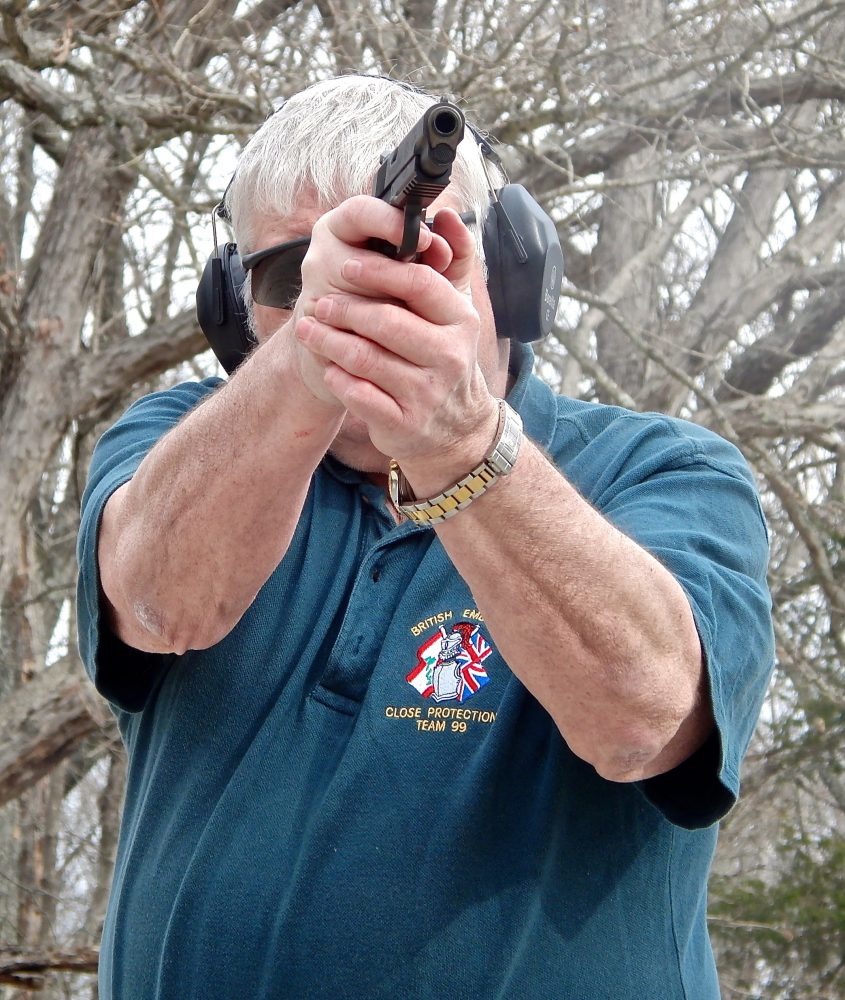 A few years ago, some friends and I ordered a group of Operator pistols from the Springfield Armory (SA) Custom Shop. Although we placed it as a group order, some of us wanted special touches on our pistols. At least one got adjustable sights instead of the low-profile fixed sights. Some of us ordered two pistols. I ordered one in green and one in black. I also ordered mine with slim grips. They have proven to be great pistols; superbly accurate and highly reliable.
One of my friends also ordered two and has well over 100,000 rounds combined through them. He shoots one or the other weekly at a local indoor range. In fact, he likes the guns so much he had the SA Custom Shop build a pair of lightweight models just like them that he uses for carry.
I haven't shot mine as much—maybe 7,000 rounds through the black one and 4,000 through the green one. Still, I put 100 rounds through one or the other every month or two. I also bought a lightweight model but did not have it worked over by the Custom Shop. Still, I sometimes carry it when I don't want the weight of one of the steel pistols.
FBI MODEL
Springfield's Custom Shop is known for excellent service on its products, so I expect them to last as long as I do—probably a lot longer. However, for some years I have had a nagging urge to purchase one more pistol from the SA Custom Shop. I had a chance to shoot one of the SA pistols used by the FBI HRT, FBI Super SWAT, and FBI SWAT. I was quite impressed with it. I wouldn't say it shot better than my Custom Operators, but it certainly shot as well, which means 1½- to 2-inch five-shot groups at 25 yards.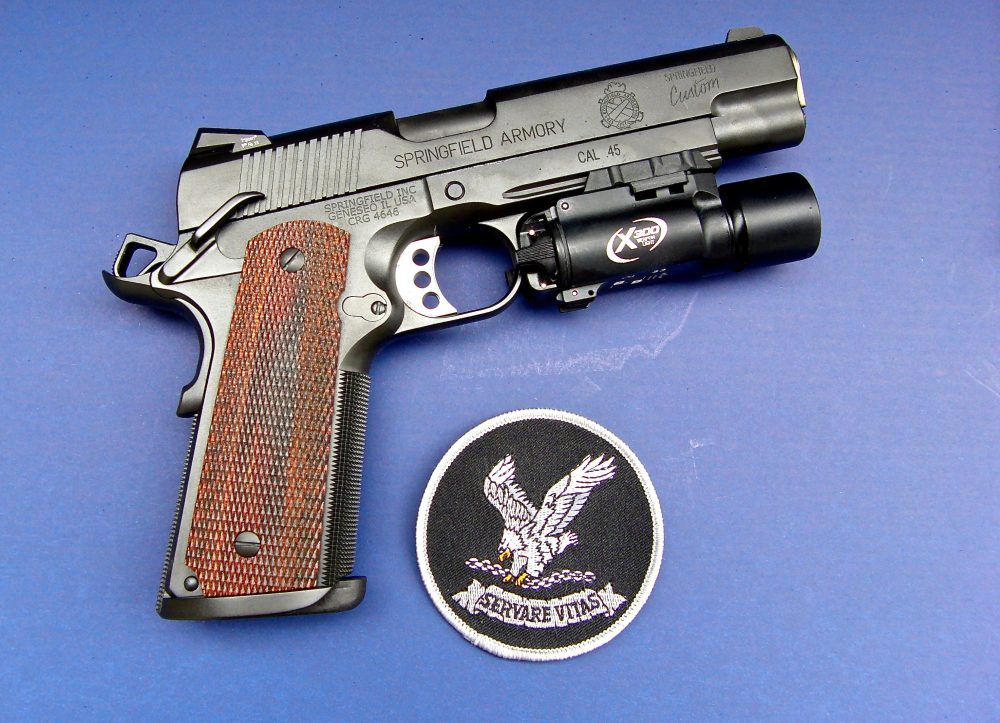 Springfield Pro Model with SureFire light mounted and HRT insignia. Motto translates as "To Save Lives."
---
But the HRT model does have the cachet of being used by one of the world's most elite antiterrorist units. Awhile back I heard from some of my contacts that a lot of HRT members had been carrying and using Glocks rather than their SA 1911A1s. That made some sense because a lot of them had been deployed to Afghanistan or Iraq.
Still, the HRT SA .45 has gained almost legendary status. I finally decided to order an SA Professional Model, the same pistol as the HRT gun except for the serial number prefix and designed for other LE agencies or special military units. Private citizens may also order it if they are willing to wait one to two years and pay a substantial amount.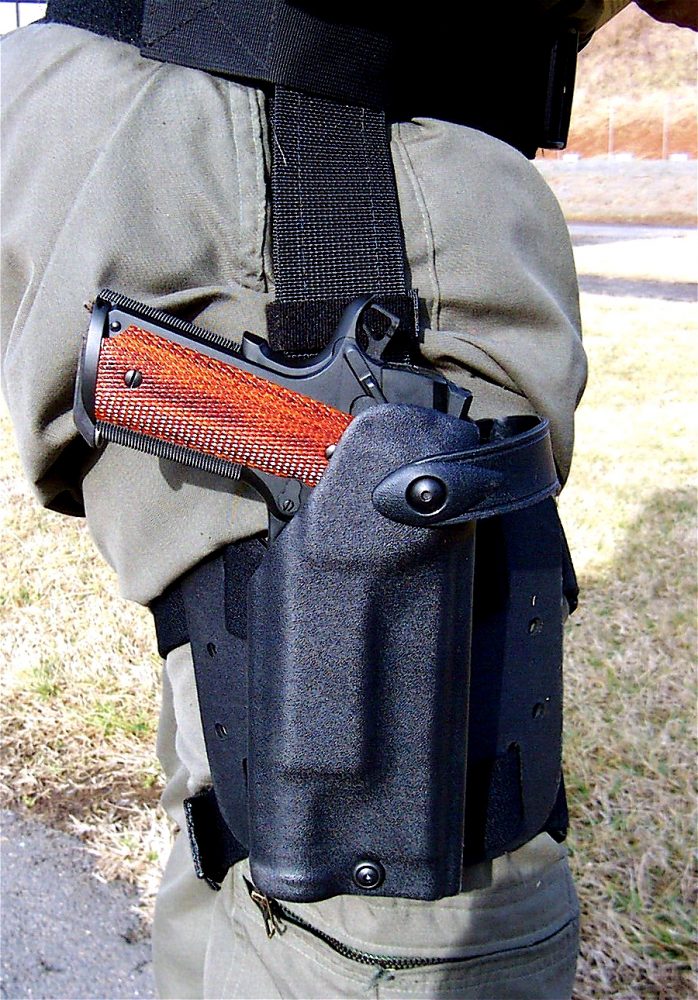 PREVIOUS HRT PISTOLS
I did order one, and it finally came in a short time back. I'll tell you about how it has performed, but first let me digress with a bit of history. The HRT became operational in October 1983, with the mission of carrying out hostage rescue/CT operations in the U.S. and its territories, as well as certain special operations overseas. The first custom automatic pistols used by the HRT were Browning Hi-Powers built by Wayne Novak.
In 1994 the FBI asked for prototypes and bids to supply a high-capacity single-action 1911A1-type auto. Custom makers Cylinder & Slide Shop, Wilson Combat, and Les Baer submitted custom pistols built on the Para-Ordnance P-14 frame, with the Les Baer eventually chosen and given a contract to build pistols for the HRT.
There were various problems with the Baer/Para P-14, including unreliability of the magazines. The contract was cancelled before all the pistols were supplied. I've fired one of the small number of commercial versions of the HRT P-14 that Baer made. Designated the SRP (Swift Response Pistol), it is exceedingly accurate but also heavy and, for me, too fat in the grip.
The HRT then chose to acquire a single-stack 1911A1 built to their exacting specifications. This was the genesis of the Springfield HRT/Professional Model. Springfield Armory was selected to build the pistols because of the quality of those they supplied for T&E and because the SA Custom Shop had the capability of meeting the requirement of supplying 500 pistols per year as per the initial 1998 contract.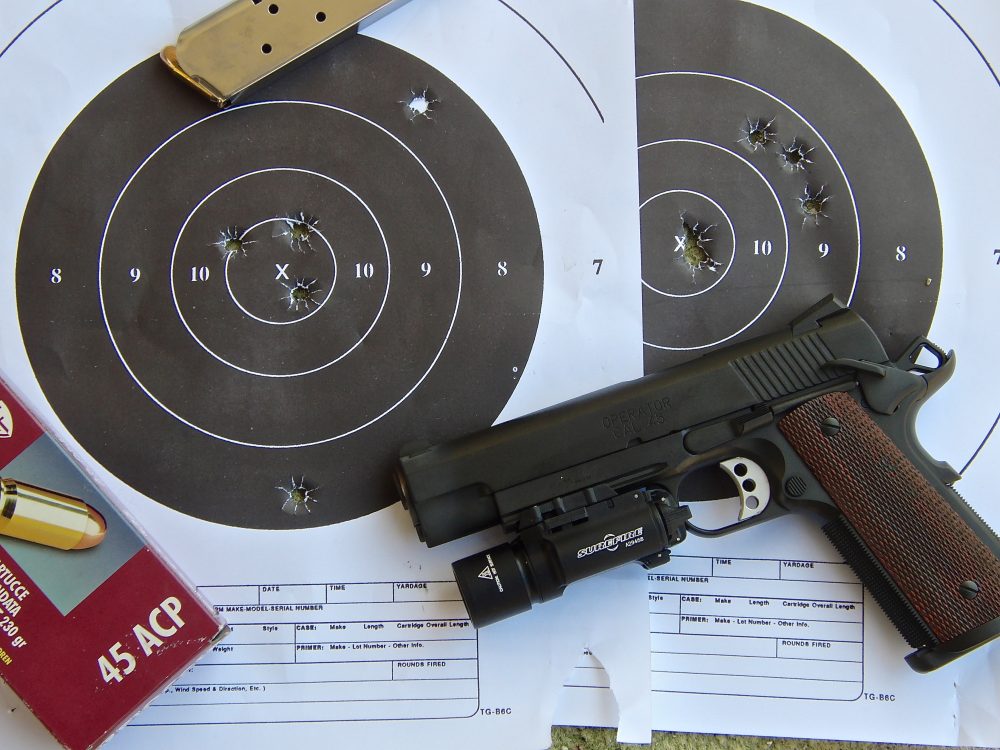 To test the Pro Model with and without a light, left group was shot with light mounted and right without. Although this group shows two shots were "thrown" a bit, other groups with light mounted were as tight as without.
---
SA PROFESSIONAL MODEL
The pistol available from Springfield Armory today as the Professional Model retains virtually the same features as ordered on the original 500 HRT guns:
Custom fit slide to national match frame
Custom fit match barrel and bushing
Polished feed ramp and fully throated barrel
Springfield Custom™ tool steel match hammer and sear
Fitted speed trigger with custom-tuned 4½-pound trigger pull
Tuned for total reliability
Lowered and flared ejection port
Tuned and polished extractor
Standard 1911A1 recoil spring guide
Custom fit beavertail grip safety
Custom fit ambidextrous thumb safety
Low mount rear sight with matching dovetail front sight
3-dot tritium inserts in sights
Custom fit S&A magazine well, matched to bevel on frame
Hand checkered 20 LPI front strap checkering
Checkered Cocobolo grips
"Carry Bevel"
"Black T" finish
6 seven-round magazines with slam pads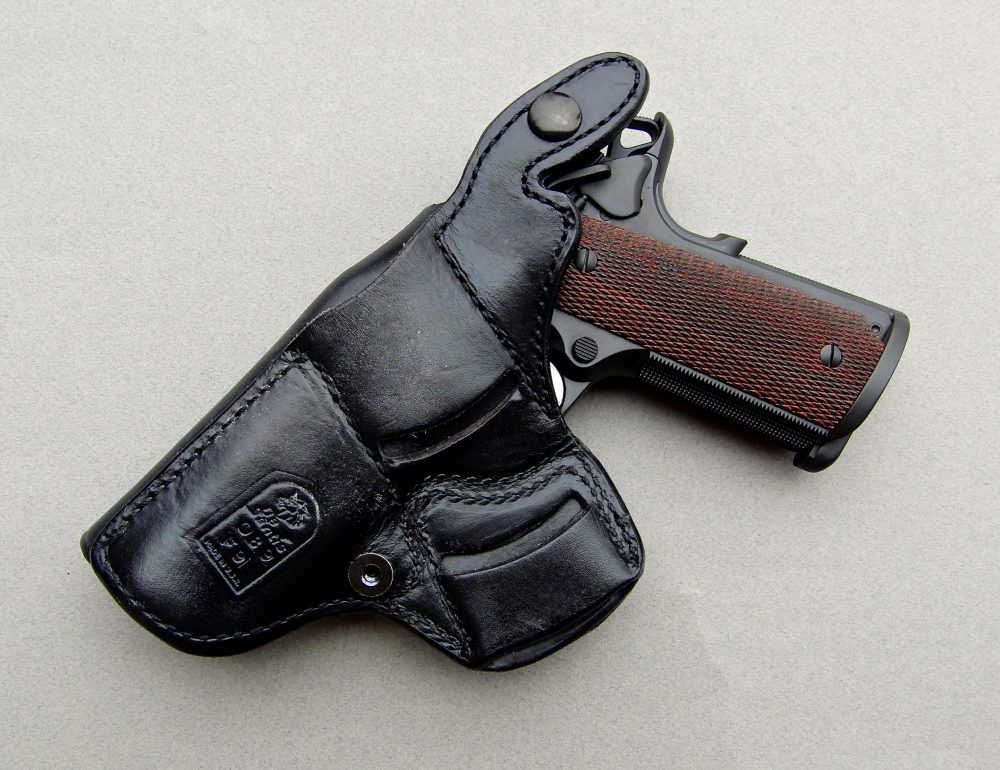 Pro Model in DeSantis HRT Special holster originally supplied to the FBI. Holster is no longer being made.
---
Some of these features are worthy of comment. The fit of the slide to the frame is very tight. This is an aid to accuracy but makes the slide very hard to pull back. Even the standard trick of grasping the slide with one hand while thrusting forward with the hand grasping the grip does not work well.
I found I had to use various tricks to get the slide started, either pulling with a front grasp on it or using my shooting hand to grasp the receiver while using the front of the rear sight against the edge of my hand to start it.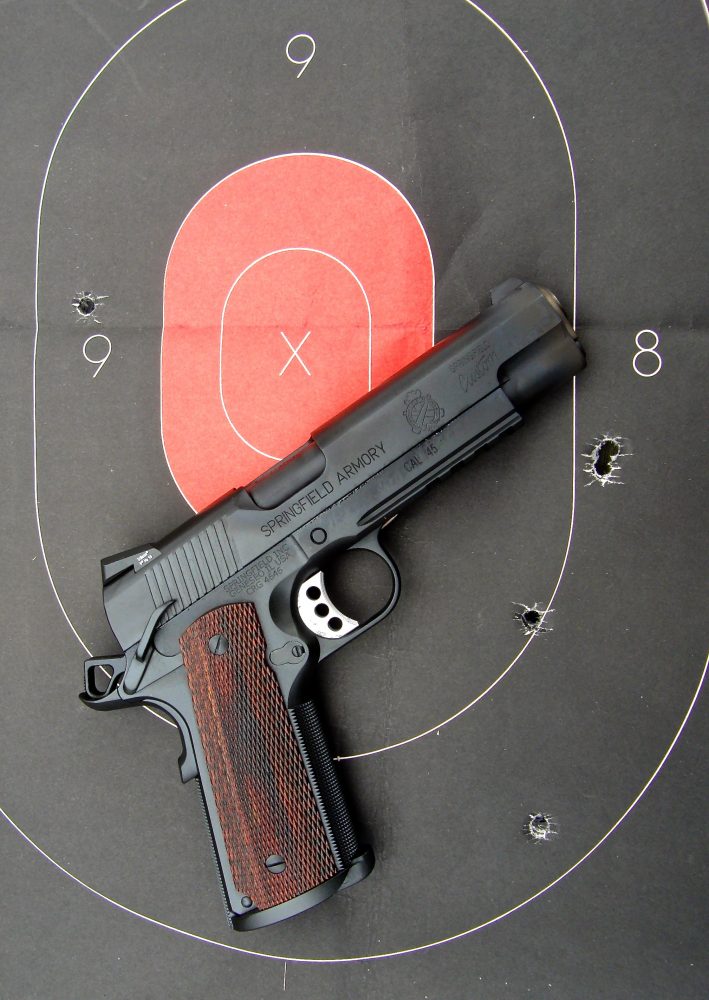 Normally, once the pistol is loaded initially, any reloads will occur after the slide locks open or while a round is in the chamber during a tactical reload, but users need to find a way to get the slide started back that works for them.
The recoil spring guide is standard length rather than extended, a feature I prefer to ease disassembly in the field. The front strap checkering is deep enough that it gives an excellent gripping surface, but shooting without tactical gloves I did not find it uncomfortable even when firing 100 to 150 rounds in a relatively short time period.
The Smith & Alexander magazine well extension makes use of the 6 seven-round magazines supplied with the pistol desirable for fast reloads, though magazines without the slam pads can be inserted, just not as quickly. Specs are for the included seven-round rather than eight-round magazines as they were felt to be more reliable. Springs for the magazines are heavy enough for reliable feeding.
For many years after adopting the SA HRT pistol, the DeSantis HRT Special holster was used for concealment wear without the light mounted. When the light was mounted, the HRT used a Safariland drop holster. The standard light was a SureFire. Based on the most current information I have, the HRT uses the Winchester Ranger 230-grain T-series JHP load.
When my Pro Model arrived, I spent quite a bit of time examining it and was impressed with the quality of the work—not fancy but very functional in appearance and operation.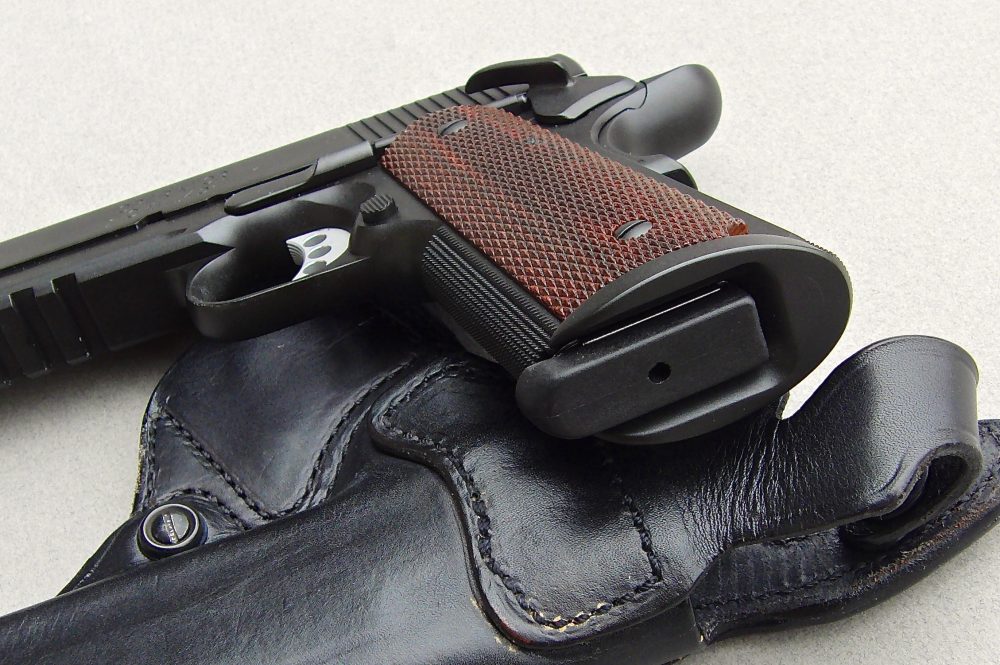 Checkering on Pro Model's front strap, mag well extension, and magazine with slam pad.
---
RANGE TESTING
I wanted to give the Pro Model a fairly extensive test, and, to be honest, just wanted to shoot it a lot. As a result, a friend and I have put about 500 rounds through it in three shooting sessions.
Accuracy has been excellent, as was to be expected, and so has reliability. Using Black Hills 230-grain JHP loads, my best group for five shots at 25 yards was 2 5/8 inches, and his was 2½ inches. However, he shot a 1 1/8-inch group with Fiocchi 230-grain FMJ. We also shot a box of Black Hills 185-grain JHP and about 50 rounds of 200-grain lead semiwadcutters.
I obtained a box of the Ranger 230-grain T-series loads and fired those as well. All functioned flawlessly and all shot good groups.
My friend likes to shoot at long range and normally does it well. As a result, he shot a couple of groups at 100 yards. The results were impressive. One group was seven inches for five shots, but three of those shots went into three inches. Another group was fired into the center section of a humanoid target and placed well too.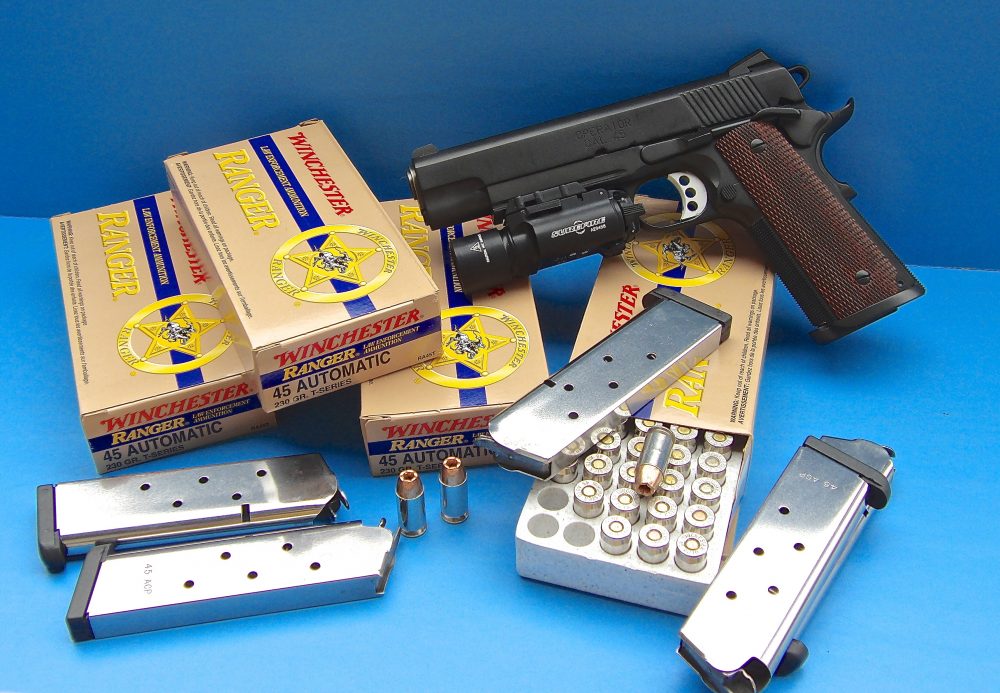 Pro Model is supplied with six magazines, all with slam pads. As of Thompson's last info, HRT was using Winchester Ranger 230-grain T-series ammo in their pistols.
---
The value of the 100-yard groups is that they illustrate the true ability of the pistol to keep its shots tight, as any tendency to spread is magnified by distance. A pistol that will shoot into six inches at 100 yards should shoot into 1½ inches at 25 yards.
I also wanted to test the Pro Model both with and without the SureFire mounted. We both found the same thing when we shot with and without the light.
At 25 yards with the Black Hills 230-grain load, on some groups with the light mounted, there was a tendency for a couple of rounds out of five to spread, while on others the groups with the light were as tight as without. I'll have to shoot more with the light to decide if it really tends to spread the shots more or not.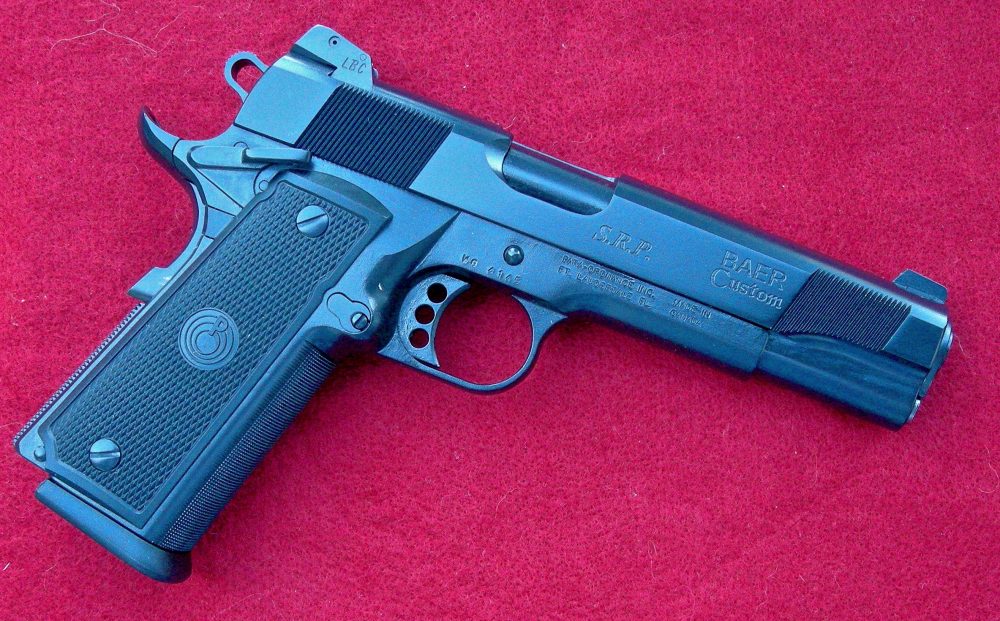 Prior to adoption of the Springfield Armory pistol, HRT experimented with a high-capacity Les Baer/Para-Ordnance hybrid.
---
I fired about 100 rounds over two sessions at hanging plates between 15 and 35 yards to see how the pistol performed in relatively fast firing. I found the wide notch on the rear sight allowed me to re-acquire the sights quickly.
I also found that the pistol's weight with the steel frame helped modify recoil, thus speeding repeat shots. Firing with my left (support) hand only, I could readily operate the ambidextrous safety and acquire the sights by canting the pistol slightly. There were no malfunctions firing with the left hand.
I also tried fast double taps followed by a head shot on a silhouette target at ten yards. The round impacted in the desired areas, but I did notice I had to work on getting the front sight positioned at exactly the right height within the rear notch to put the head shots in the correct place.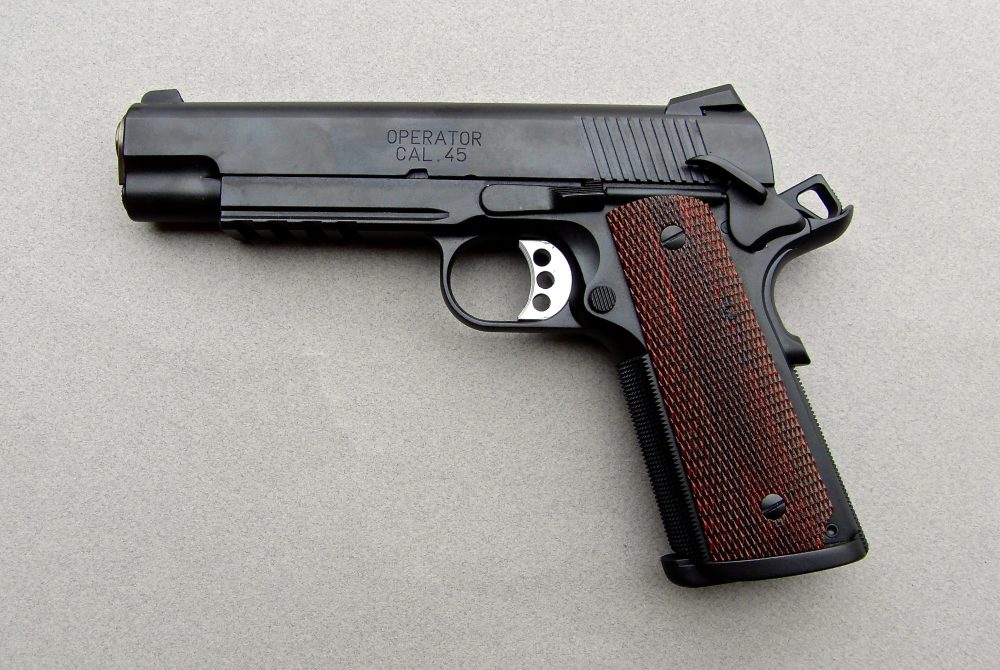 Left-side view of SA Professional Model shows clean lines.
---
IS IT FOR YOU?
Overall the performance of the Pro Model was excellent. It was accurate, reliable, and fast handling. It is an elite pistol designed for an elite law enforcement unit.
For anyone who might consider purchasing a Professional Model, it is important to do a cost benefit analysis. Do you have the need or strong desire for a pistol that will cost $2,500 to $3,000 and require a wait of at least a year? An equivalent pistol from another custom manufacturer will likely require a similar outlay and wait time.
I am happy that I got my Professional Model. The pistol is warranteed for 50,000 rounds. I plan to shoot it quite a bit, but doubt I will exceed the warranty.
SOURCE
SPRINGFIELD ARMORY
(800) 680-6866
www.springfield-armory.com