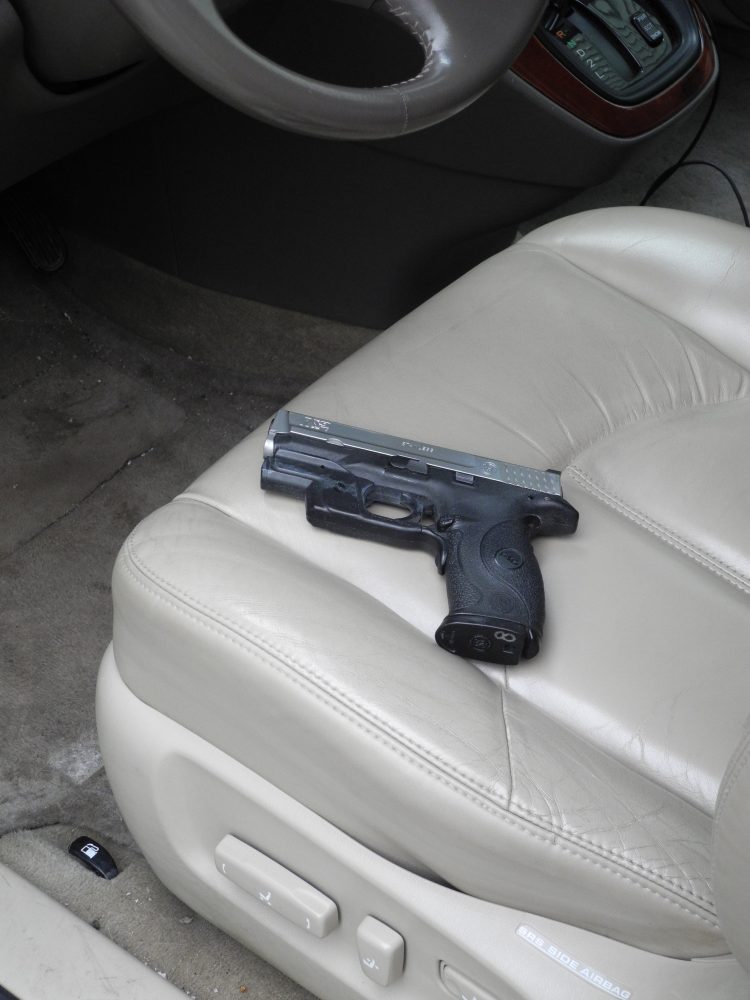 THE WRONG CAR
Arriving at her home on Detroit's west side in the pre-dawn darkness of a warm June morning, a young woman noticed a man approaching her car. He produced a firearm and ordered her out of her car. Instead of complying, his 26-year-old intended victim produced her own handgun and opened fire.
The two exchanged a fusillade of shots that resulted in the would-be carjacker fleeing on foot, leaving bloody evidence that at least one of the victim's shots had found its mark. After police launched a search, the teenage assailant was discovered at a local hospital, where he had checked in for treatment of a gunshot wound. The victim's sister expressed gratitude to reporters that the woman had a carry permit, noting "it could have gone a different way" if she had not.
SOURCE: WJBK-TV, Detroit, Michigan, 6/8/15
GOOD SAMARITAN
In Orem, Utah, the quiet of a late-springtime Saturday morning was pierced by screams as a man fleeing police attempted to carjack a Mercedes in a grocery store parking lot. The attacker, who had already abandoned one stolen vehicle during the pursuit, was now trying to acquire another by forcing its driver out and onto the asphalt.
A nearby Good Samaritan heard the victim's cries for help and approached with his gun drawn, ordering the carjacker out of the victim's car. Instead of complying, the criminal lunged for the citizen's pistol, at which point the CCW holder feared for his safety and fired once. The suspect, who had several felony warrants out for him, died at the hospital from his single gunshot wound.
SOURCE: Ogden Standard-Examiner, 5/4/15
TWO AGAINST ONE
It was 2100 hours outside of Top's BBQ in south Memphis when two armed assailants forced a man from his 2009 Nissan Maxima. In the face of their guns, the victim drew his own, and both sides started shooting. Hit by his attackers, the wounded victim watched his car speed off.
But it didn't get far, as the victim's shots had proven fatal for one of his attackers. The car was found and police arrested the other carjacker. The victim was treated for a gunshot wound to the face and is expected to recover.
SOURCE: WREG-TV, Memphis, Tennessee, 5/11/15
NOT GOING TO TAKE IT ANYMORE
A Detroit woman, known by her neighbors as "Ms. Dee," was awakened by the sound of breaking glass at 0200 hours one June morning. Armed robbers had smashed her bedroom window and were climbing through—a classic home invasion robbery. Ms. Dee, who had woken to find an armed man pointing a gun at her face and telling her to stay silent as several of his accomplices entered her home, wasn't going to put up with this.
"I was able to get to my gun. They didn't know I had it. By that time, it was just gunfire," she told reporters. In the chaotic exchange that followed, Ms. Dee was hit in the leg, but her attackers fled. She believes she hit at least one, and police are on the lookout for the home invaders.
SOURCE: WDIV-TV, Detroit, Michigan, 6/9/15