Along with a few other "gun writers" and industry members, I recently attended a three-day long-range shooting course at the FTW Ranch near Barksdale, Texas. The purpose was to get some hands-on experience with the recently released Ruger Precision Rifle.
THE FACILITY
If it's true that a journey begins with the first step, then FTW Ranch is not a location—it's a destination. The FTW Ranch encompasses 12,000 acres of rugged hills and valleys in the southwestern region of the Texas Hill Country. This is the main "classroom" where FTW conducts its SAAM (Sportsman's All-Weather All-Terrain Marksmanship) Training courses.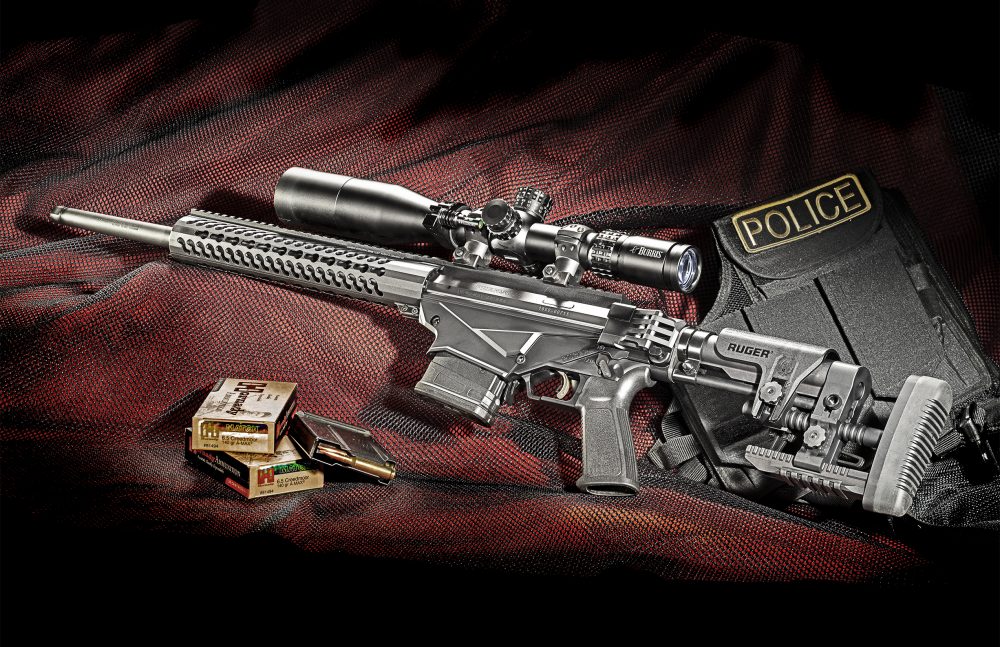 The ranch has numerous ranges (21, to be exact) located throughout the property, most of which are covered and include life-size static and animated plains game, mountain species, and dangerous game targets. Some targets are as close as 10 to 100 yards, and the "Precision" on the ranges goes from 100 to 700 for hunter training. The military ranges go far beyond that, from 1,000 yards out as far as 2,300 yards.
The SAAM program at the ranch focuses on reasonable shooting distances, with a great deal of emphasis on ethical hunter shots, not long-range killing, which they preach against. Since we were testing long-range precision rifles, we shot a great deal at extreme ranges using many of the military ranges.
The ranch's lodge is an 8,000-square-foot building that includes a lounge and dining area whose walls are adorned with trophies of animals from all over the world. It is a most impressive collection!
A separate modern classroom within the main lodge includes a state-of-the-art video system including an 80-inch LED HDTV. Students and guests are housed in well-appointed private cabins. This was my second time at FTW and, while I would not have thought it possible on my first trip, FTW has made improvements that included adding additional ranges and cabins.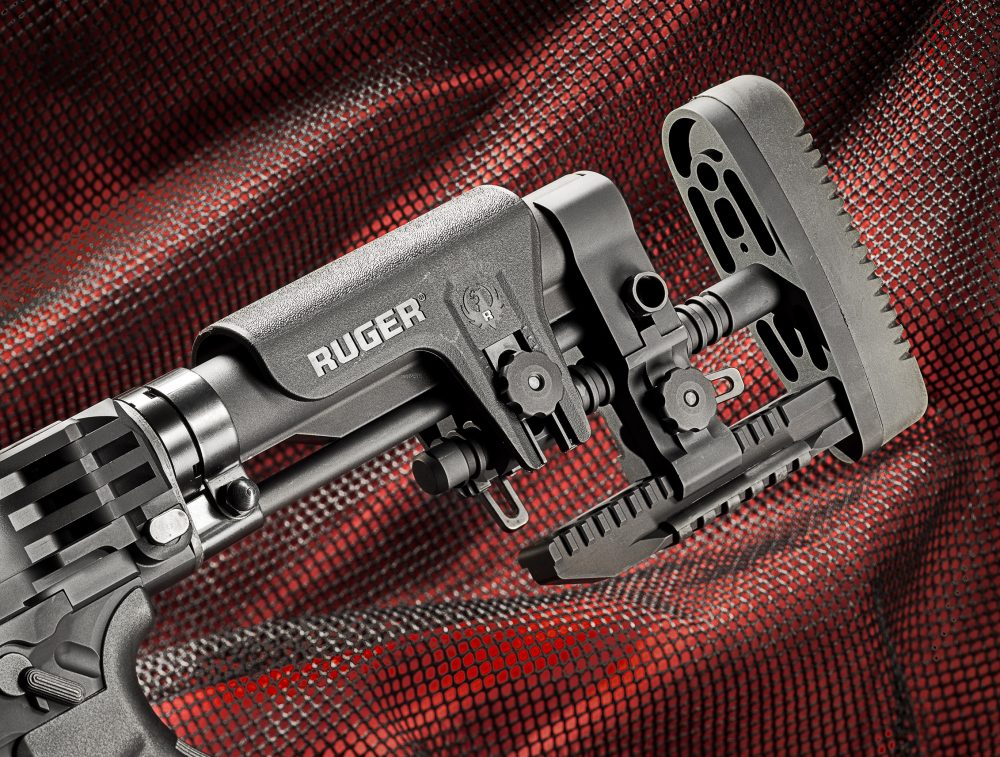 Stock is fully adjustable for length of pull and height at comb.
---
CLASS BEGINS
On the first morning, Tim Fallon, founder and owner of FTW, greeted us in the classroom. Tim introduced our lead instructors, Doug Prichard and Larry Summerfield, both of whom are former Navy SEALs and experts at their trade.
Doug passed out SAAM manuals and briefly discussed the difference between Milliradian (Mil Rad). and Minute of Angle (MOA) reticles, and first and second plane scopes. Most of the students were more familiar with MOA than Mil Rad, but since we would be using scopes with a mildot reticle, understanding the difference was important (one MOA equals one inch at 100 yards, and a Mil Rad covers 3.6 inches at 100 yards).
Ruger's Director of Product Management Mark Gurney thanked everyone for coming and talked briefly about the Ruger Precision Rifle. He introduced Jonathan Mather, who was instrumental in the design of the Ruger Precision Rifle and spoke at length about its features.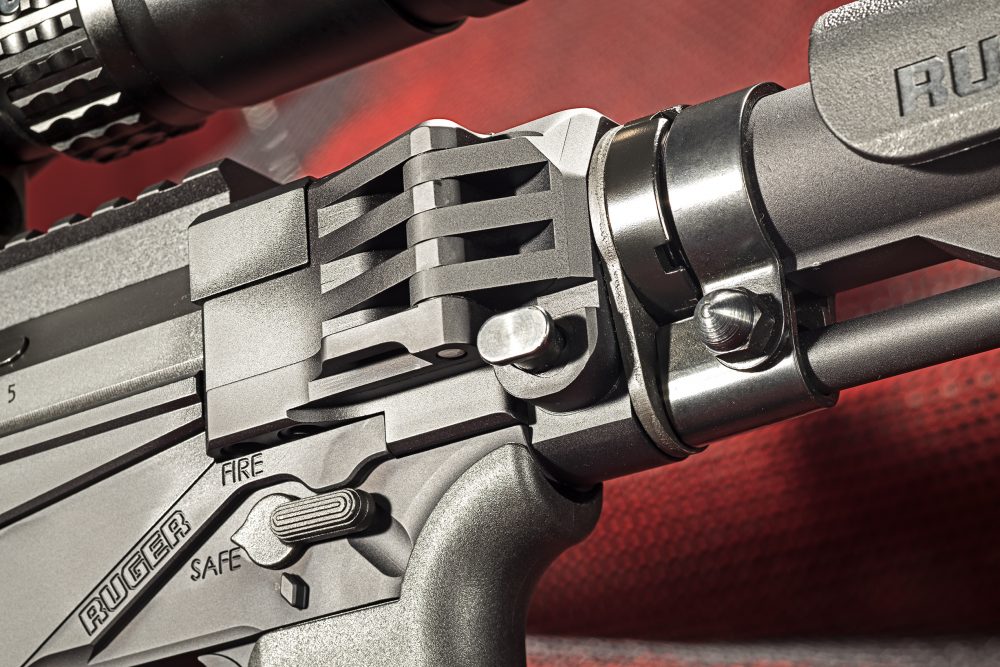 Folding stock snapped into open position without any wobble or play.
---
RUGER PRECISION RIFLE
Though its action is based on the Ruger American rifle, the Ruger Precision Rifle is unlike anything Ruger has made in the past. It features a 70-degree bolt lift with dual cocking cams and a large-diameter one-piece bolt.
An oversized bolt handle makes manipulation sure and quick. The bottom of the bolt handle will accept ¼-inch drive screwdriver bits and the bolt can be used as a wrench. Actually pretty ingenious…
A shroud covers the rear of the bolt, and a space machined into the bolt contains a disassembly tool and an Allen wrench to adjust the Ruger Marksman trigger. Incidentally, this same Allen wrench fits the zero return screws on most scopes. The trigger itself is adjustable from 2.25 to 5.0 pounds.
Unlike AR-type rifles, the upper receiver has the serial number and is CNC machined from pre-hardened 4140 Chrome/Moly steel alloy. The receiver has a 20 MOA Picatinny rail for increased long-range potential and is secured with four #8-40 screws.
The lower receiver is very unique in that it is actually two machined halves made from 7075-T6 aluminum with Type III hard-coat anodizing. The reason the lower is made in two halves is to accommodate the patent-pending Universal Magazine Latch mechanism. Those who like to second guess manufacturers and say, "They should have made it to fit 'X' magazine" will be quickly silenced.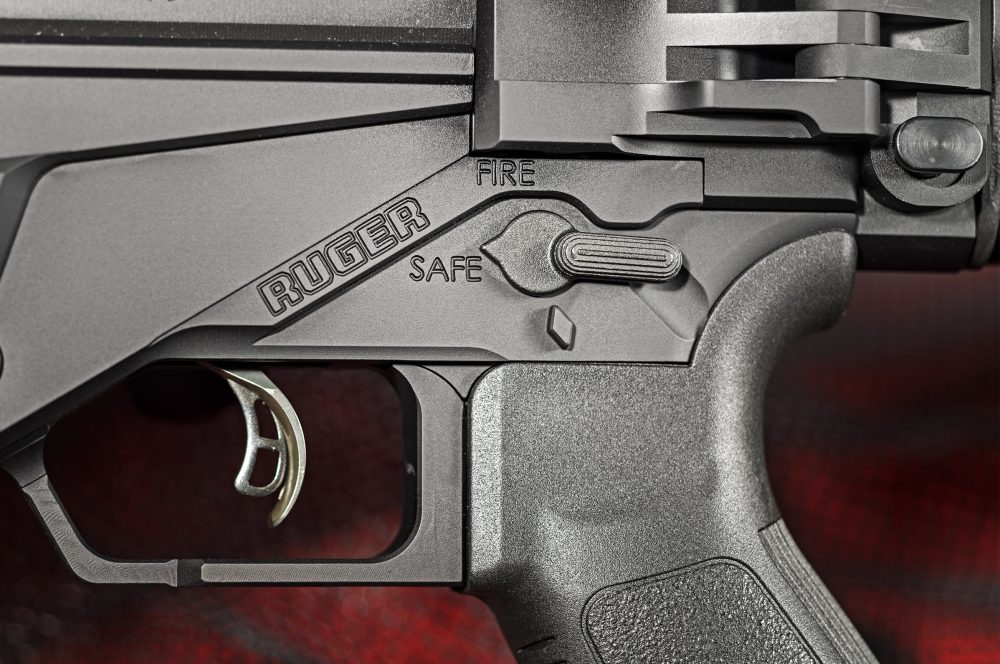 Safety selector is reversible and rotates only 45 degrees vice the 90-degree throw on ARs.
---
The magazine latch on the Ruger Precision Rifle allows both a side catch and rear catch to be operated with the same mag release. The rifle accepts M110, SR25, DPMS, Magpul, and Accuracy International magazines. Some AR-10 and M14 magazines may work, but Ruger does not guarantee those due to the wide tolerance ranges encountered. Each rifle is supplied with two ten-round Magpul mags.
The 24-inch barrel is cold hammer forged 4140 Chrome/Moly with minimum bore and groove diameter with minimum headspace and centralized chamber. Twist rate is 1:10. The muzzle has the standard 5/8×24 threads for attaching a muzzle device or suppressor and comes with a thread protector.
The folding stock accepts any AR-type stock, but the rifle is supplied with a Ruger MSR stock. The stock is fully adjustable for a 3.5-inch length of pull range and has an adjustable cheek piece to raise the comb up to .75 inch. It has a bottom Picatinny rail for attaching a monopod and a soft rubber buttpad. As this is written, the buttpad is not adjustable for height, but I was told Ruger is working on making it adjustable.
While any AR-style grip and handguard may be used, the rifle comes equipped with an extended trigger reach pistol grip and Samson KeyMod handguard with full length Picatinny rail.
The safety selector is reversible. Unlike the selector on an AR, which rotates 90 degrees from "safe" to "fire," the selector on the Ruger Precision Rifle rotates 45 degrees. Overall length is 42 to 45.5 inches with stock unfolded, and weight is 10.6 pounds. The Ruger Precision Rifle will be available in .308 Win, 6.5 Creedmoor, and .243 Win. All rifles used at FTW were chambered for 6.5 Creedmoor.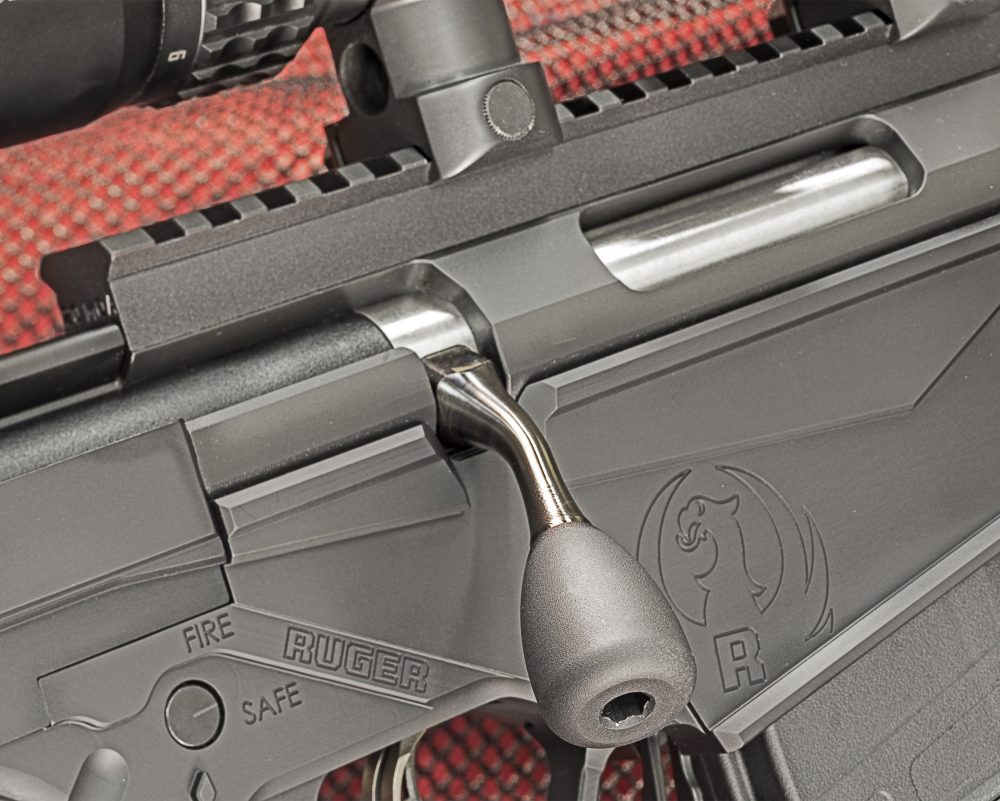 One-piece bolt has a 70-degree bolt lift with dual cocking cams and oversized bolt handle.
---
GETTING READY FOR THE RANGE
Before heading to the home range to confirm zero, each student was issued a rifle and mounted scope with pre-recorded serial numbers of each and the last three numbers of the rifle's serial number taped to the sling to ensure we would get the same rifle every day of the class.
While not included with purchase, the test rifles were equipped with an Accu-Shot monopod and Atlas BT10 bipod with QD lever. Both products are made by B&T Industries and are great products. I liked the BT10 so well that it's likely to replace the bipods I currently use.
Each student was given a range card with dial-in/come-ups and holdover info from 100 to 700 yards. FTW Ranch also provided each of us with a PAST Super Mag-Plus ambidextrous recoil pad and Dog's Paw shooting glove.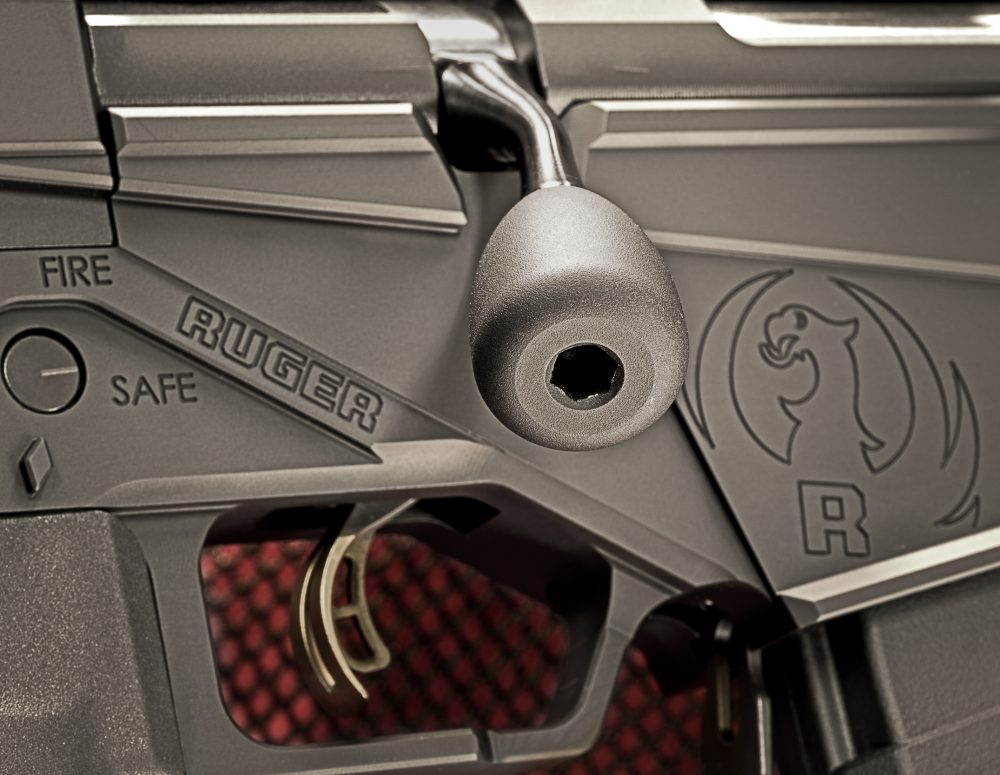 Bottom of bolt handle accepts ¼-inch drive screwdriver bits, and bolt can be used as a wrench. Very innovative!
---
BURRIS XTR II
For precision shooting, especially at long range, the optic can be as important as the rifle. With the exception of two students who had specific writing assignments, the Ruger Precision Rifles mounted the Burris XTR II 4-20X50 scope with mil-dot reticle. Click values were in 1/10 mils.
The XTR II is a front focal plane reticle design, which allows the reticle size to increase or decrease as magnification is increased or decreased. Trajectory compensation is always correct and proportional for the selected power setting. It has dimensionally matched precision adjustment knobs and Zero Click Stop technology. This high-performance optic offers Hi-Lume® multi-coated lenses, which optimize target resolution, contrast, and low-light performance.
The side-mounted parallax adjustment can be set from 50 yards to infinity. Another dial, on the outside of the parallax adjustment, is for an illuminated reticle that has 11 brightness settings. The illumination turns off between each click to save power. The scope weighs 30.90 ounces, bringing the total weight of the rifle as tested up to 12.5 pounds.
I have used the XTR II previously and it is a serious scope for serious shooters, be they tactical or competition.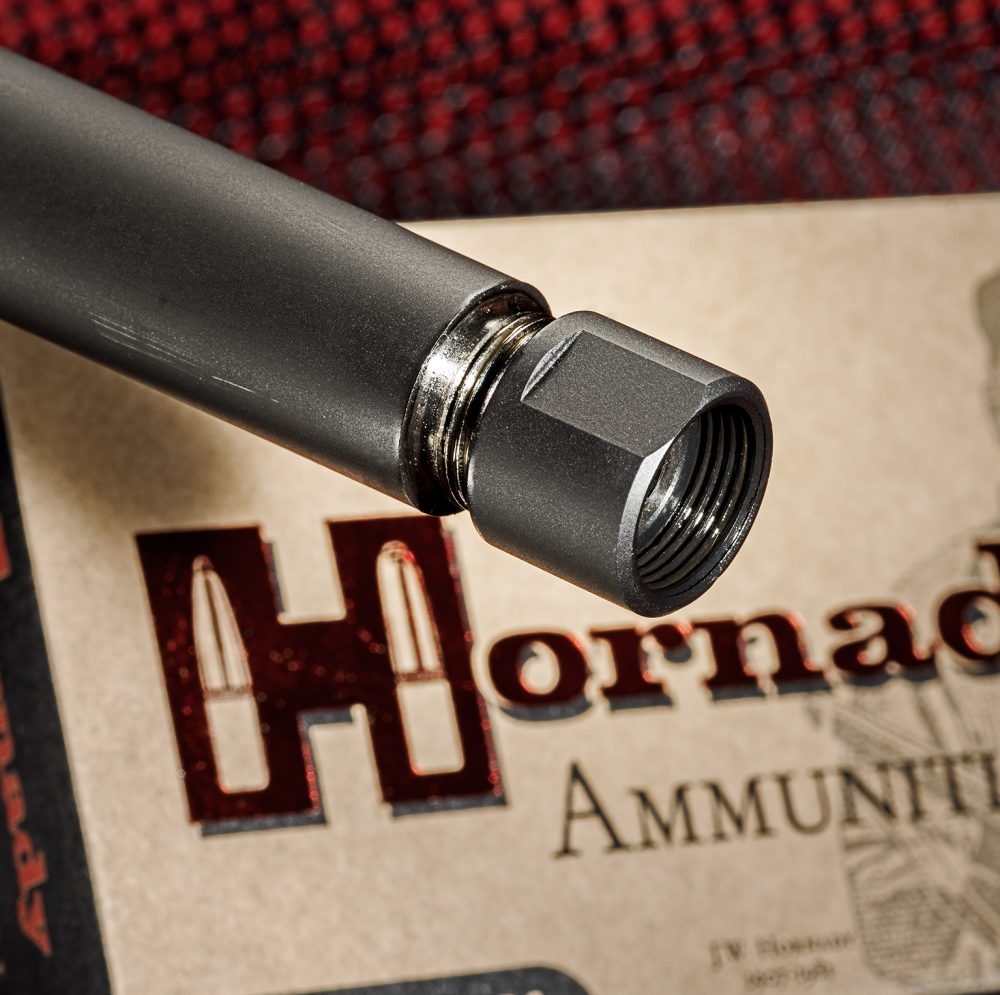 Muzzle features 5/8×24 threads for attaching a suppressor, and comes with a thread protector.
---
AMMUNITION
Just as the .338 Lapua was designed as a sniper cartridge, the 6.5 Creedmoor was developed from the ground up to be a precision cartridge. We used the superb Hornady 140-grain A-MAX®. This load has an excellent ballistic coefficient of .585 and left the muzzle at 2,690 feet-per-second (fps) at FTW as determined by FTW staff. This was my first experience shooting the 6.5 Creedmoor, but it made me a believer. It is a very flat-shooting round.
By way of comparison, at my first visit to FTW, I was shooting a Ruger SR-762 (.308 Winchester) with Hornady 168-grain A-MAX under similar conditions. According to my data cards, using 400 yards as an example, I had to dial in 24 clicks of elevation for the .308. With the Ruger Precision Rifle and 6.5 Creedmoor, I only had to dial in 18 clicks.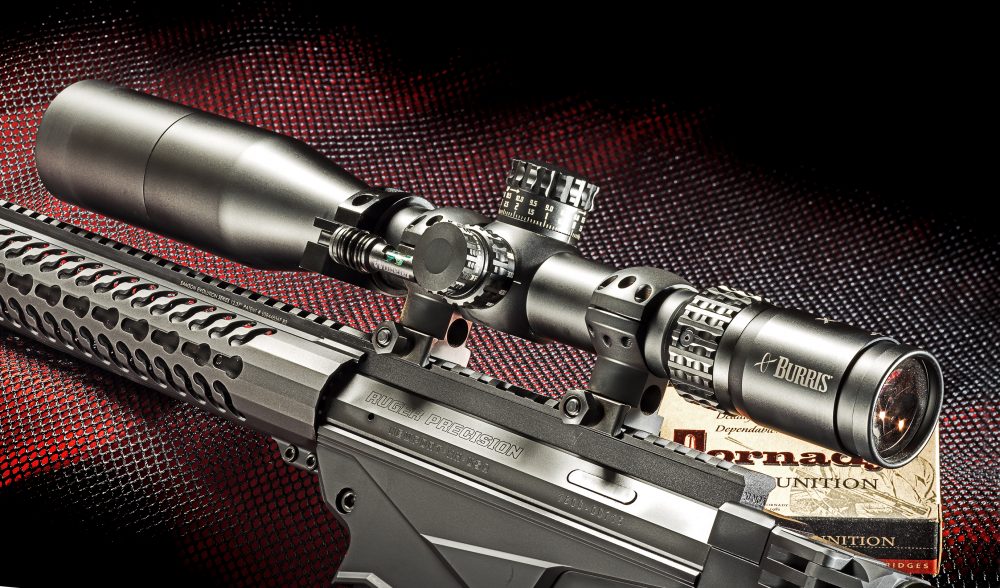 Burris XTR II 4-20X50 scope with mil-dot reticle made the most of Ruger Precision Rifle's inherent accuracy.
---
TRAINING DAY 1
We began by confirming 100-yard zeros at the home range, and I began to appreciate the really great trigger on the Ruger Precision Rifle. The class was then split into two groups to allow a better instructor/student ratio and give each group more meaningful trigger time.
My group set out with Doug Prichard. We once again confirmed our zeros at 100 yards and proceeded to engage targets at 200, 250, 300, 350, 400, 500, 600, and 700 yards. Since each rifle is as individual as the person behind it, Doug would call out corrections for wind and elevation as needed. Except for making wind corrections, my data card was basically right on. To get the most from the experience, I both dialed in clicks for elevation and used the holdover info on my data card.
After lunch, my group left with Larry Summerfield. When we arrived at our assigned range, we shot the smallest group possible at 100 yards. My group was .70 inch, but others—including Joe Thielen from Hornady—were able to fire sub half-minute groups.
We then had a friendly competition shooting at 200, 250, 300, 400, 500, 600, and 700 yards. Shooting a small plate was worth ten points and a large plate seven points. If a second shot were needed and a hit scored, it was worth five points regardless of size. To keep things on the up and up, the shooter had to call which plate he was shooing at, lest he miss the intended plate and hit the other.
One shooter in my group cleaned the course, shooting only small plates for all 70 possible points. I did not feel that confident at 600 and 700 and shot the large plates at those distances, for 64 points without a miss.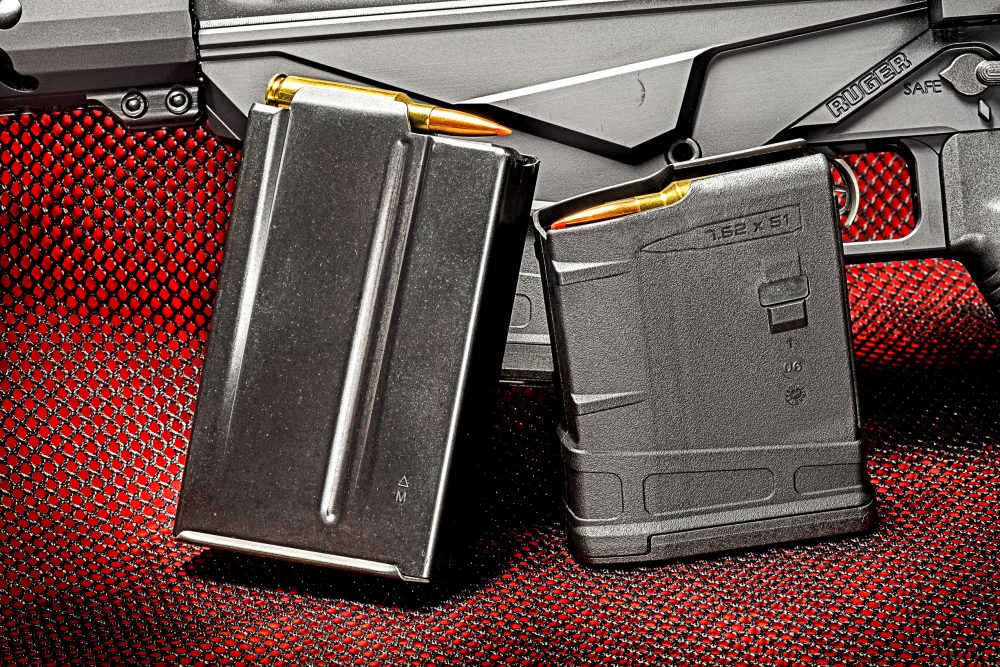 Ruger is known for thinking outside the box, as exemplified by the patent-pending Universal Magazine Latch mechanism that lets the Precision Rifle accept M110, SR25, DPMS, Magpul and Accuracy International magazines. Ten-round magazines shown here are Accuracy International (left) and Magpul.
---
TRAINING DAY 2
In the morning, the entire class assembled at Crusader Range, which has an array of targets from roughly 200 to 600 yards in approximately a 160-degree arc, forcing the shooter to shift position not only laterally, but for extreme downhill shots as well. To make things even more interesting, a canyon runs through the center of this range, and winds can be somewhat unpredictable.
After each shooter had fired on each target, it was time to speed things up and add a bit of stress by firing on two targets. We were told which targets to fire on, and as soon as the first shot broke, Tim Fallon would start counting down from ten. It was up to the shooter if he would dial in the correct range or use hold over/under. This was not only a lot of fun but had practical applications as well.
Up next was the Nubian Range, which has steel plates from 600 to around 2,000 yards. The wind can be a real challenge here as well. The farthest distance I managed to hit at was 1,200 yards, but it took me five shots with my spotter calling wind and elevation corrections.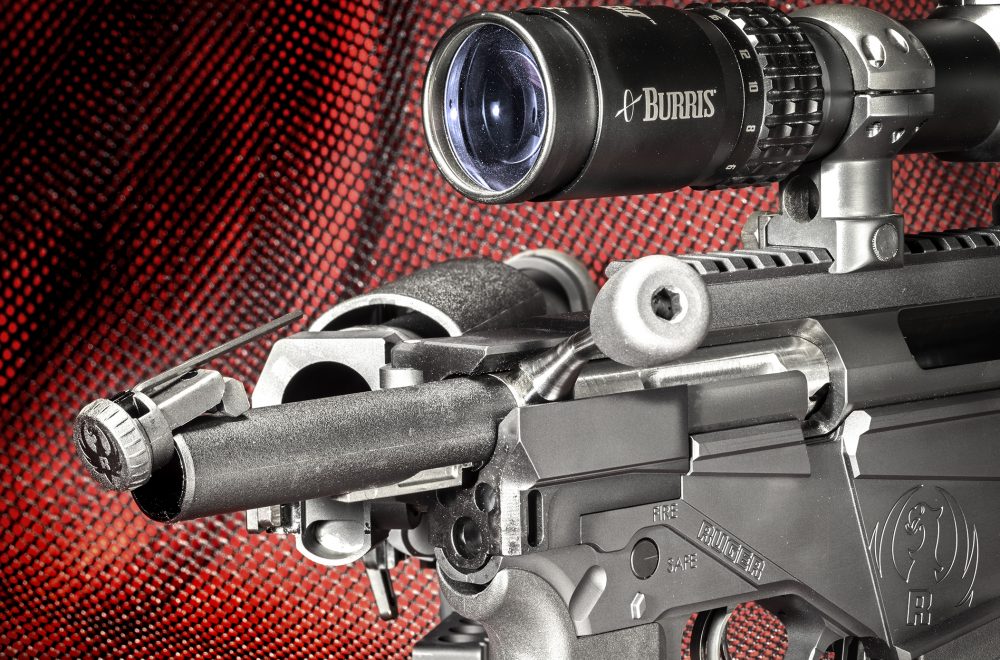 Ruger Precision Rifle is loaded with advanced features, including shroud that covers rear of bolt and contains a disassembly tool and Allen wrench to adjust Ruger Marksman trigger. This same Allen wrench fits most zero return screws on scopes.
---
TRAINING DAY 3
The class split into four groups of two to three students each, and an instructor was assigned to drive them around FTW's 12,000 acres. Another student and I rode with Larry Summerfield. The "drive-around" found us shooting at steel plates from ten different locations ranging from 300 to 875 yards.
With a light wind accompanied by rain, riding around in the elevated rear seat of an uncovered Jeep was, uh, interesting. Larry could tell us the ranges to the target, but it was up to the shooter to call his own wind.
We were allowed only two shots at each target. If we hit with the first, it was worth two points. If we had to take a second shot, it was worth one point. With overcast skies, this was the only time I utilized the illuminated reticle on the Burris XTR II. I ended up with a respectable—but not great—score of 15.
After lunch, we had a sneak peak at two new Ruger rifles that at the time had not yet been introduced to the public: a Mini-14 chambered for .300 Blackout and the new takedown SR-556 in 5.56 and .300 Blackout.
Darren Jones from SilencerCo had brought out several suppressors, and I shot the two rifles with and without a can. We plan to have feature articles on these two rifles in the near future.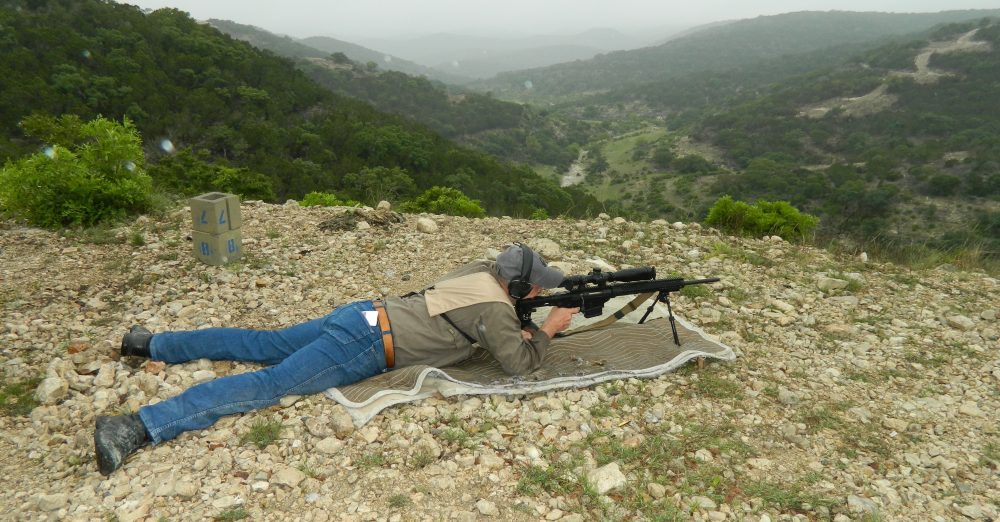 At FTW Ranch, author steadies for 600-yard cross-canyon shot with Ruger Precision Rifle.
---
SUMMARY
The Ruger Precision Rifle will be hard to beat at almost any price. With a suggested retail of $1,399 and an actual retail that is likely much less, it is within almost everyone's budget. And if you want to learn how to employ it at long range, I strongly recommend the facility and instructors at FTW.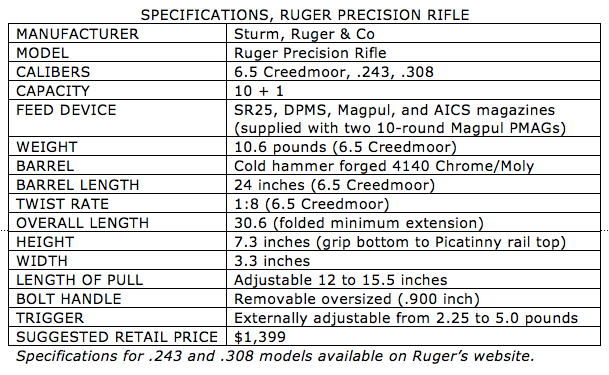 SOURCES
FTW RANCH
(830) 234-4366
www.ftwoutfitters.com
STURM, RUGER & CO., INC.
(203) 259-7843
www.ruger.com
B&T INDUSTRIES
(316) 721-3222
www.accu-shot.com
BURRIS COMPANY
(970) 356-1670
www.burrisoptics.com
HORNADY MFG. CO.
(800) 338-3220
www.hornady.com
SILENCERCO
(801) 417-5384
www.silencerco.com