MK116 MOD 2 IN .300 BLK
With all of this stated, PWS continues to evolve its design. The rifle helping us explore the latest PWS has to offer is their MK116 MOD 2 .300 BLK. The MK116 weighs in at 6.5 pounds. A 16-inch stainless Isonite-treated barrel with threaded PWS FSC flash hider gives an overall length of 33.5 to 37 inches depending on stock position.
The MK116 long-stroke piston operation helps smooth out recoil impulse, especially when combined with other PWS features. PWS created a forward-canted "dwell" chamber in front of the operating piston's head. This compares favorably to the more typical horizontal or rearward angles associated with gas vectoring. The forward cant also helps minimize carbon build-up on the operating rod.

PicMod rail is new feature on MK116 MOD 2. User can employ KeyMod attachments while still mounting most Picatinny accessories directly to the rail in areas where PicMod feature is present. PWS rail system permits barrel to be free floated. Photo: courtesy PWS
---
A new feature on the MK116 MOD 2 is the PicMod rail. This allows you to use KeyMod attachments while still being able to mount most Picatinny accessories directly to the rail in the areas where the PicMod feature is present. The PWS rail system permits the barrel to be free floated.
PWS uses forged upper and lower receivers. PWS takes the stance that proper forging creates continuous aligned grains throughout the part, creating a stronger, yet lighter, receiver.
PWS equips the MK116 with a Bravo Company Mfg pistol grip and buttstock. A Lancer magazine arrives in the well-done soft case from PWS. With the MOD 2, PWS added ambidextrous controls for the safety selector, bolt release, and magazine release.
RANGE TESTING
Several magazines' worth of ammunition was spent engaging plate racks and man-sized steel targets with the PWS MK116. Drills quickly moved past stand-and-deliver drills to more dynamic drills involving movement, magazine reloads, and firing from behind cover.
ROLES FOR THE MK116 MOD 2

Cutaway PWS model shows dwell chamber in front of long-stroke piston, Zev Technologies SSR trigger, and PWS Enhanced Buffer Tube. Photo: courtesy PWS
---
PWS's decision to offer its improved version of the gas-piston operating system, along with other tweaks including a sleeker rail system, is sound as found in the MK116 MOD 2.
While the PWS is not going to be issued to the bulk of our military services, SOCOM operators have found their way to it. Law enforcement agencies could easily consider using the rifle, not to mention security-conscious private citizens.
With budgets constantly under pressure, the PWS MK116 MOD 2 in .300 BLK—due to its accuracy, reliability, handling, and ergonomics—could fulfill a multitude of roles. These include designated marksman rifle, general-purpose patrol rifle, and CQB/entry weapon.
SOURCES
PRIMARY WEAPONS SYSTEMS
(208) 344-5217
www.primaryweapons.com
BLACK HILLS AMMUNITION
(605) 348-5150
www.black-hills.com
ECHO VALLEY TRAINING CENTER
(540) 450-7998
www.echovalleytrainingcenter.com
HORNADY MFG. CO.
(800) 338-3220
www.hornady.com
SIG SAUER INC.
(603) 772-2302
www.sigsauer.com
TRIJICON, INC.
(800) 338-0563
www.trijicon.com
SIG SAUER SUPPRESSORS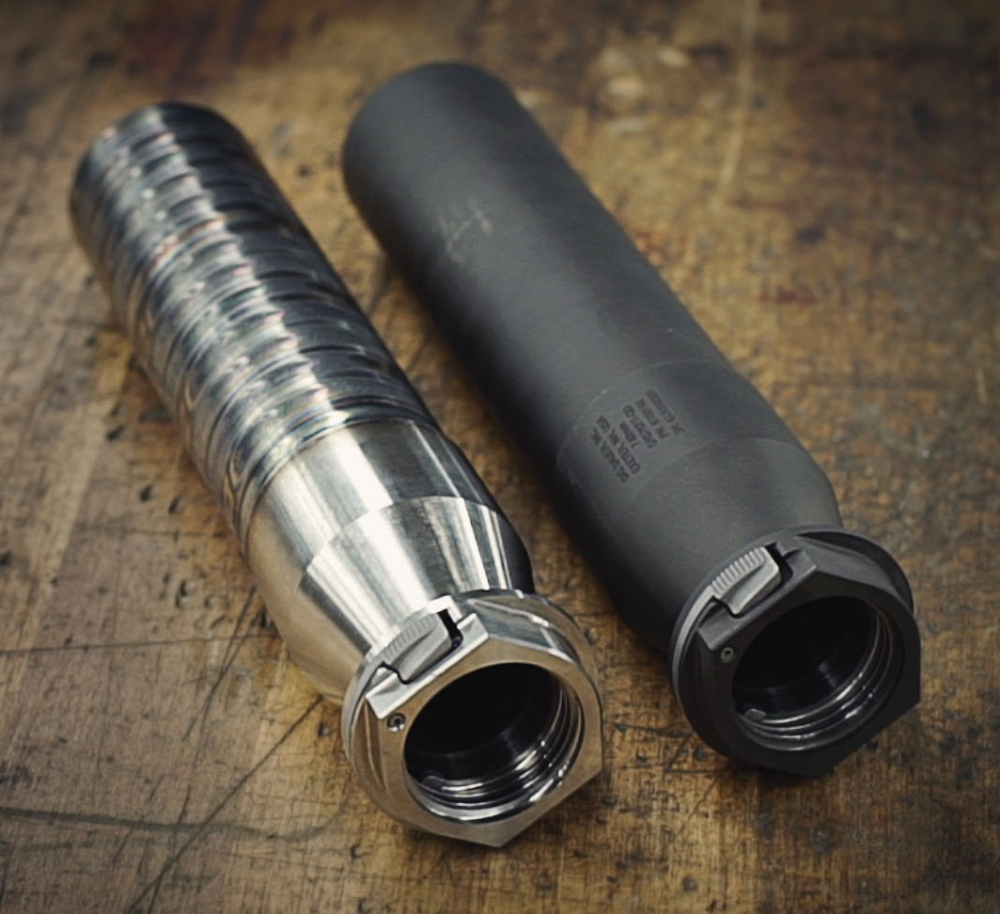 SIG Sauer has become a true "one-stop shop" for military, law enforcement, and the general public. The SIG Sauer Silencer Division was formally created in 2014, with its major introduction to the shooting public taking place at the 2015 SHOT Show. SIG had earlier entered the suppressor market, but decided a distinct division headed by industry veterans Kevin Brittingham, founder of AAC, and Ethan Lessard would be a better path.
Employing Kevin and Ethan's experience, combined with the manufacturing resources of SIG, has proven a wise decision. Suppressor use has never been more popular and is still on the rise. Its benefits are difficult to argue against.
The SIG difference really shines through when discussing rifle suppressors. Through a revolutionary baffle design and unique manufacturing processes, the outer tube shell found in other rifle suppressors has been eliminated. SIG utilizes 100% circumferential welds combined with wire electronic discharge machining (EDM) the pathway of the projectile. In addition to reducing weight, this tubeless design increases volume, lowering pressure and temperature for greater durability and increased signature reduction.
SIG further pushed the envelope using the best metals and coatings, including physical vapor deposition (PVD) finish, combined with either direct-thread or quick-detach mounting methods.
PVD is more heat- and scratch-resistant than other finishes. Inconel 718 (a mixture of stainless steel and nickel alloy) is used to withstand the punishment of mounting suppressors to short-barreled rifles and high round counts. Titanium is also offered as an option for users who require even more weight shaved off their suppressors.

Due to its quick-detach feature, SRD762-QD suppressor can move seamlessly between rifles and adapt to multiple calibers up to .300 Win Mag.
---
For SIG's rifle suppressors, the Taper-Lok Fast-Attach System was created. This enables quick and simple installation of a muzzle adapter device, eliminating the need for shims.
The Taper-Lok System lets users access a variety of muzzle brakes and flash hiders for their rifles, while enabling SIG rifle suppressors to attach when needed. The SIG Sauer Taper-Lok is not only an ingenious mounting system for the suppressor body, but also an effective flash hider or muzzle device in it own right.
The Taper-Lok System reduces point of impact shift by centering the suppressor during installation. Only hand pressure is needed to secure or remove the SIG suppressor, and removal requires 20% more force than attachment, preventing any loosening during shooting.
By investing in multiple Taper-Lok muzzle devices, the user can move the suppressor between different rifles. Basically, if the bullet diameter is .30 caliber or less, the SRD762-QD can be used. Verify with SIG Sauer if you are contemplating any "exotic" calibers or applications.
Actual sound reduction differences among most respected suppressors are small. More important is durability, especially if high-volume firing is expected. Maintaining zero and accuracy when installed, removed, and reinstalled is paramount.
Along these same lines, many will appreciate the flexibility of moving a suppressor between platforms while maintaining the above-listed characteristics.
SIG Sauer suppressors succeed in surpassing all expectations no matter the criteria: sound reduction, durability, accuracy, and flexibility.