Perhaps best known for high-performance finishes such as NP3, Poly T-2, Roguard, and blackened stainless, Robbie Barrkman and his company ROBAR need no introduction to readers of this magazine. But you may not know that the medical and aerospace industries also make up a large part of ROBAR's business, and consequently they have to maintain tolerances of 1/10 thousandth of an inch. This same strict adherence is carried over to their finishes applied to firearms.
ROBAR also specializes in custom modifications and their own custom firearms. The latest addition to their firearm line is the PolymAR-15. Polymer-frame handguns have become a staple in the holsters of private citizens and peace officers alike. But with only a few exceptions, polymers are not commonly used in long guns.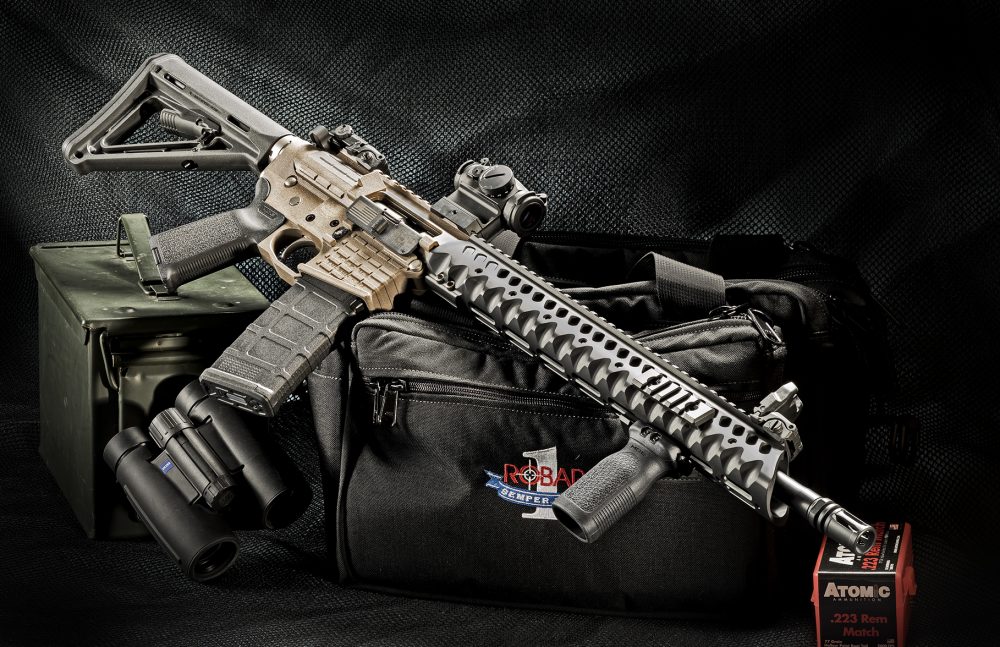 POLYMAR-15
Robar has carefully chosen only quality parts in assembling the PolymAR-15, which utilizes KSP polymer upper and lower receivers that have metal inserts where needed. The receivers on the first 50 carbines will be tan, and black thereafter. The lockup between the two receivers is the tightest I have ever experienced.
There is no useless forward assist on the upper receiver. I say "useless" because I have never personally seen a problem solved by using the FA, I have seen problems further exacerbated by using it. If a round doesn't chamber easily, there's a reason, and beating on the FA is not likely to produce positive results.
The magazine well has a generous bevel to more easily facilitate reloading and has unique "grenade grip" markings around its circumference. The magazine release is not enclosed with the normal fence, but a raised bar at the top and bottom of the mag release will prevent accidentally releasing the mag. The carbine uses a mid-length gas system and Spike's Tactical Melonited mid-length gas tube. The 16-inch nitrided barrel has a 1:8 twist.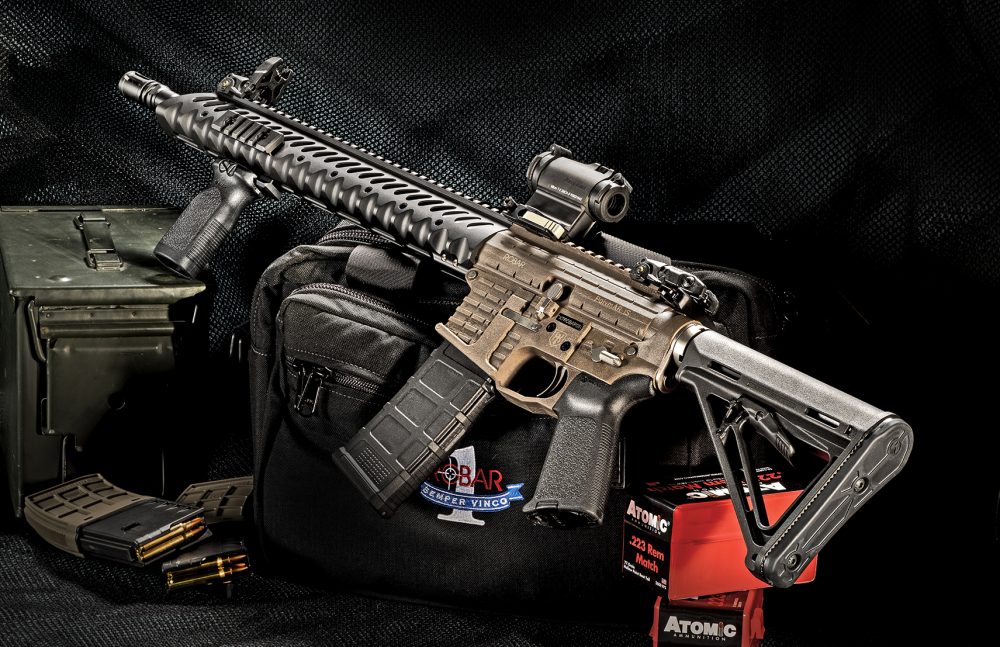 The muzzle has normal ½-inch x 28 TPI threads, and the standard muzzle device is an A2 flash hider, though SureFire (flash hider and muzzle brake), BattleComp 1.0, and KTC Stealth flash hiders are offered as upgrades.
The forend on the test gun was the Diamondhead VRS "T" finished in matte black Roguard. The forend has a full-length Picatinny rail on top and comes with three 3-inch rail panels that can be mounted at three, six and nine o'clock. Magpul MBUS front and rear sights are standard. A Magpul sight adjustment tool is included.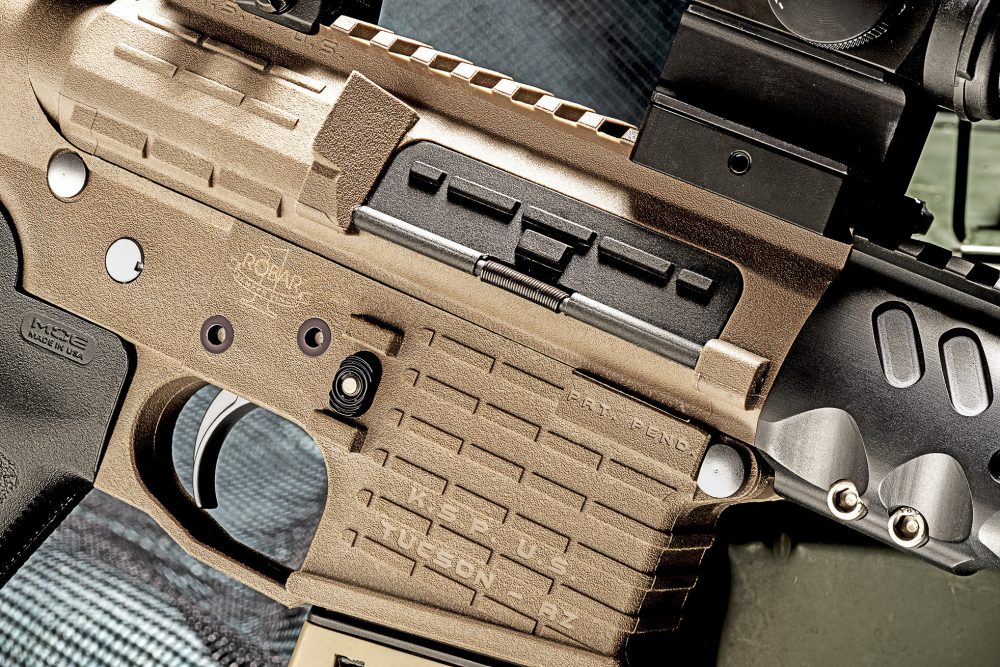 On production carbines, the forend will be the KSP polymer with M-LOK, which will cut the weight of the carbine by about half a pound, making this a sub-six-pound carbine. The Bravo Company Manufacturing (BCM) KMR13 forend is available as an option.
The test rifle had a Magpul MOE stock and pistol grip, but production guns will feature a BCM Gunfighter Stock and pistol grip. Magpul collapsible carbine and fixed rifle stocks will be available options. Each PolymAR-15 ships with a Magpul MOE vertical foregrip. Standard parts from BCM are the Gunfighter charging handle (Mod 5, small) and the QD receiver end plate which is finished in NP3.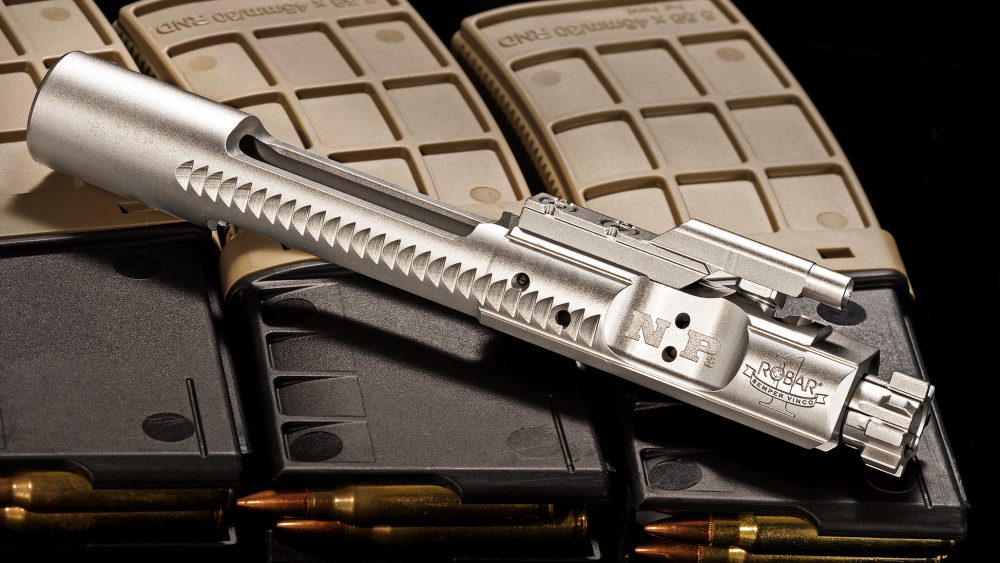 For those not familiar with it, ROBAR's NP3 combines nickel and PTFE (Teflon®) at the molecular level. This makes not only for an extremely corrosion-resistant finish, but it is also self-lubricating. NP3 is far superior to the nickel-boron finishes it is sometimes compared to.
In addition to the BCM QD end plate, parts finished in NP3 include the bolt carrier group, castle nut, milspec trigger assembly, milspec bolt catch, milspec mag catch and button, and milspec selector switch. The bolt itself is milspec, meaning it has been MPI'd, shot peened, and the extractor has the proper four-coil spring, black insert, and rubber "O" ring.
The PolymAR-15 comes complete with a hard-side padded case and two 30-round TangoDown ARC magazines.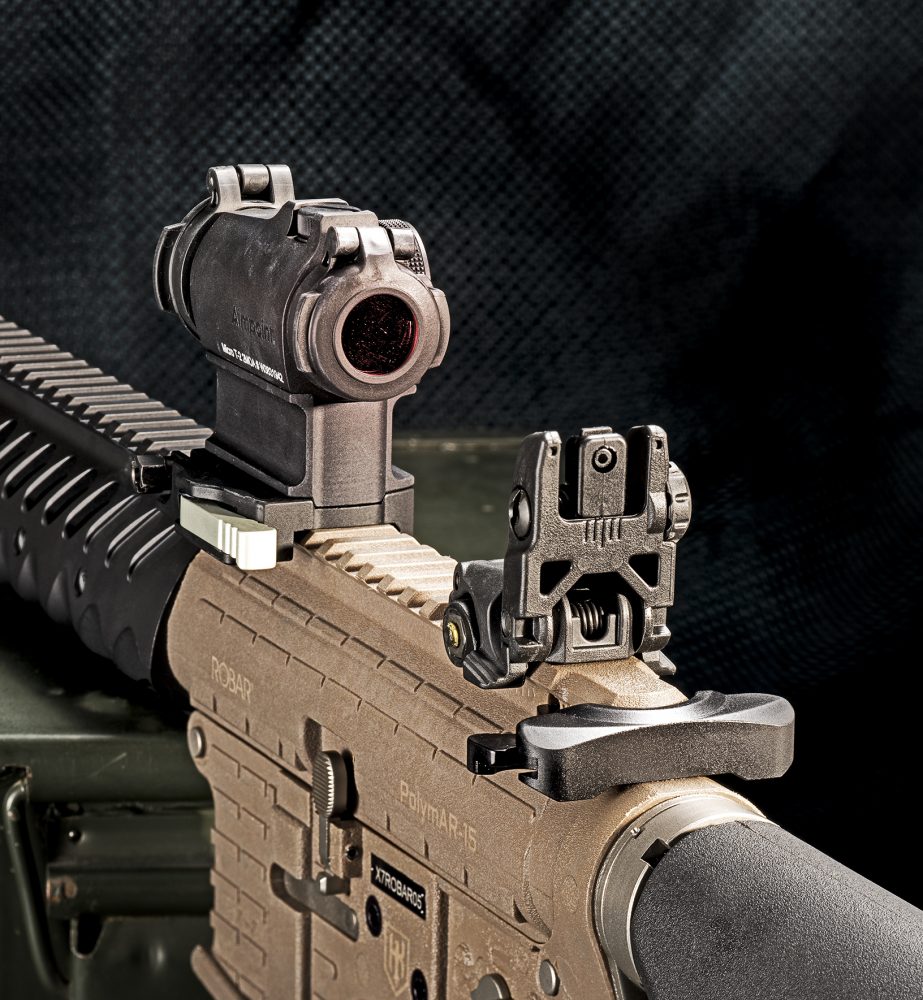 RANGE EVALUATION
For the evaluation, I mounted Aimpoint's new Micro T-2 on the rifle (OFFBEAT: Aimpoint Micro T-2, March 2015 S.W.A.T.). In addition to the TangoDown magazines that come with the PolymAR-15, I used magazines from C Products Defense, Fusil, Bravo Company (D&H Industries), Lancer, Magpul, SureFire, and USGI.
The PolymAR-15 is guaranteed to produce sub-MOA accuracy with appropriate ammo, such as 77-grain match loads. I evaluated the PolymAR-15 with 20 different loads, including seven match loads. Bullets ranged in weight from 50 to 77 grains. I used a PACT Professional chronograph to establish the average velocity of each load.
As received, the carbine did not appear to have been lubricated. Being familiar with the self-lubricating properties of NP3, I did not apply any lubricant until after the chronographing was complete (200 rounds), and only then applied some Weapon Shield CLP very sparingly.
Although the carbine is lightweight, perceived recoil was no more than any other AR-type carbine. Ejected cases with bullets of 60 grains and lighter landed at around 5:30, and over 60 grains right at three o'clock. Although the 5:30 ejection pattern sometimes indicates not enough gas, an under-gassed carbine will also have other functioning issues. The PolymAR-15 reliably fed, cycled, and fired everything I fed it, with 100% reliability with all brands of magazines.
Due to a recent storm, the 100-yard line on my range was inaccessible, so I shot the seven match loads I had brought from 50 yards prone, using the magazine as a monopod. Targets were two-inch circles. The Aimpoint Micro T-2 has a two-MOA dot. That means, for all intents and purposes, the target was all but covered by the dot.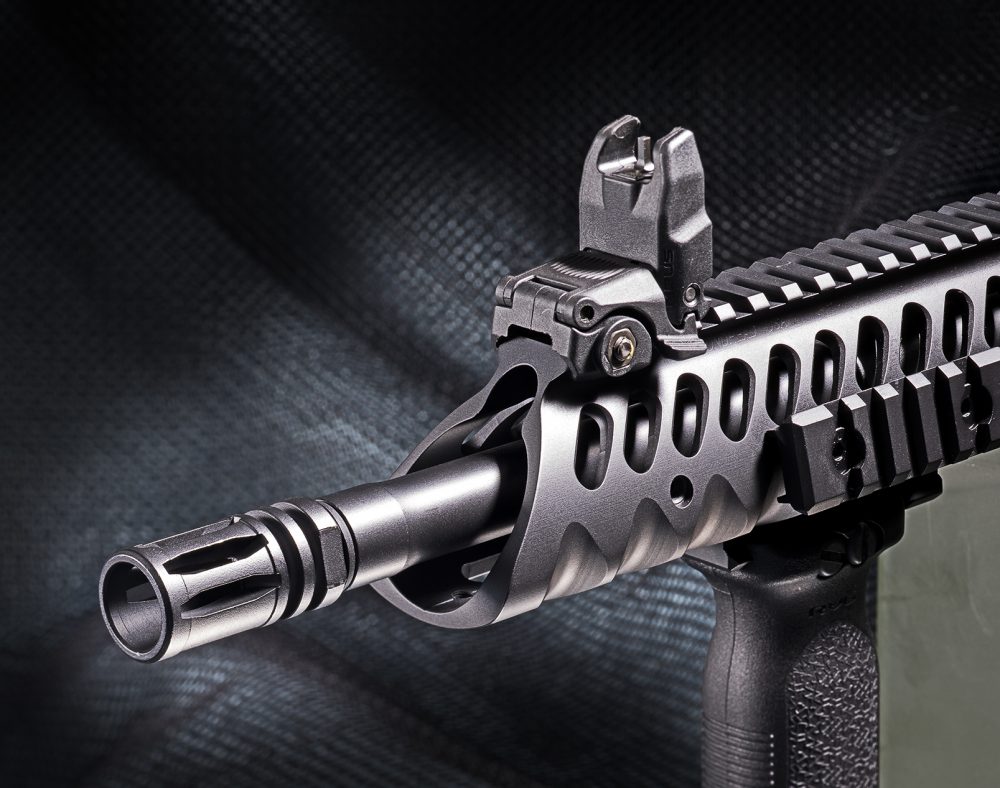 The best five-round groups I obtained with the match loads were as follows:
Australian Outback 69-grain Match: 1.75 inches
Black Hills Mk262 (77 grain): 1.25 inches
Black Hills 68-grain Match: 1.5 inches
Hornady 77-grain Match: 1.5 inches
HPR 75-grain Match: 1.5 inches
Summit 77-grain Match: 1.75 inches
ASYM 77-grain Match: 2.0 inches
Were my results the guaranteed sub-MOA? No, but as mentioned, the red dot on the T-2 basically obscured the target, so I was satisfied. If using a magnified optic with crosshairs and fired from a sandbagged rest, there is no doubt in my mind that the PolymAR-15 would be capable of sub-MOA accuracy.
I fired another 200 rounds through the carbine while running a few drills, including shooting on the move, shooting while moving off the line of attack, box drills, and numerous NSRs. Drills were performed with both the Aimpoint T-2 and Magpul MBUS backup sights.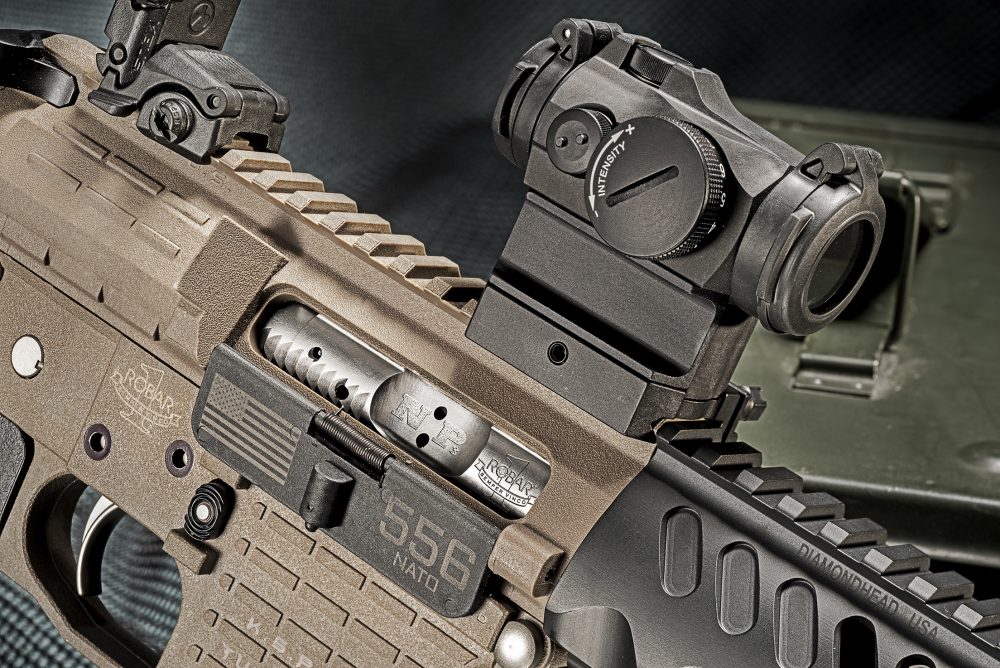 READY FOR WORK
Don't believe for a second that because the upper and lower are made from polymer that this carbine is not up to hard use. It ran magazine and ammo combinations that have balked at other guns—and did so basically dry. No surprise, since the ROBAR prototype PolymAR-15 ran 50,000 rounds with no lubrication.
The ROBAR PolymAR-15 has a suggested retail price of $1,595 including federal excise tax, which is in line with other quality ARs.
If you're in the market for a unique AR-type rifle that is not only hard use but also capable of the precision offered from some bolt guns, check out the ROBAR PolymAR-15.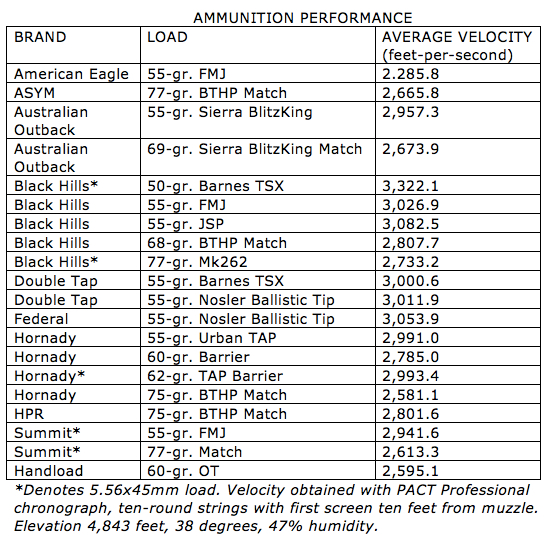 SOURCES
The ROBAR Companies, Inc.
(623) 581-2648
www.robarguns.com
Aimpoint Inc.
(703) 263-9795
www.aimpoint.com
ASYM Precision Ammunition
(970) 385-7900
www.asym-ammo.com
Black Hills Ammunition
(605) 348-5150
www.black-hills.com
Bravo Company Mfg.
(877) 272-8626
www.bravocompanymfg.com
DKG Trading Inc.
(877) 354-2666
www.dkgtrading.com
Double Tap Ammunition
(866) 357-10MM
www.doubletapammo.com
Federal Cartridge Company
(800) 322-2342
www.federalcartridge.com
Hornady Mfg. Co.
(800) 338-3220
www.hornady.com
HPR Ammunition
(888) 966-8477
www.hprammo.com
Magpul Industries Corp.
(877) 462-4785
www.magpul.com
PACT Inc.
(800) 722-8462
www.pact.com
Summit Ammunition
(877) 726-4345
www.summitammunition.com