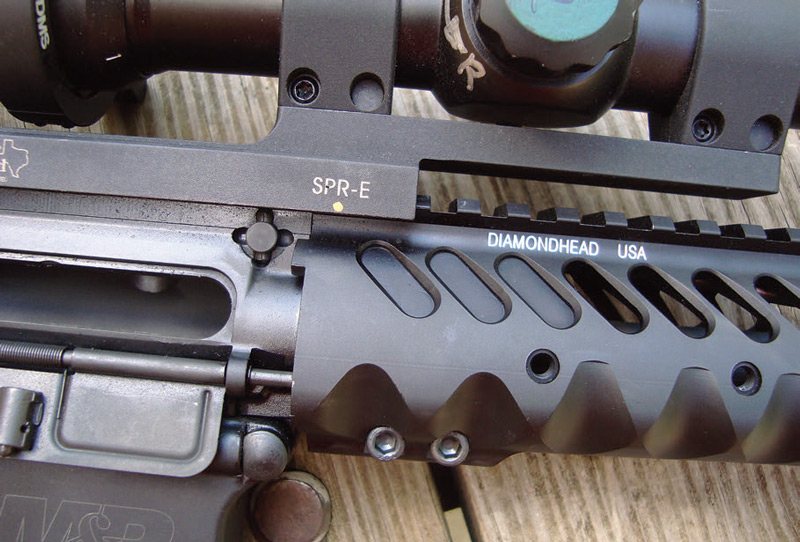 Every year, many AR-15 accessories debut for which it can be hard to find a true need. In observing the market, I sometimes find little of interest. But the Innovative Arms Warfighter Adjustable Receiver (WAR), designed to moderate gas flow to the bolt carrier group for suppressed fire, got my attention.
The WAR's raison d'etre is this: in suppressed fire, the cycling action's speed is increased due to the gasses not venting to atmosphere as the bullet leaves the barrel, causing more gas to be diverted into the gas tube. With everything happening faster and harder, chances of a malfunction go up, and parts are subjected to more of a beating.
Gas escaping out of the business end more slowly also means that residual gas pressure remains in the barrel longer. So when the fired case is extracted, "unplugging" the chamber end of the barrel, this gas tends to get blown into the shooter's face. This residual barrel gas blowback is not reduced by any kind of gas regulator and the WAR does not claim to address it.
However, as the Stoner direct-impingement design does channel gas into the upper receiver to function the system, moderating its volume would, theoretically at least, reduce the phenomenon. More on this later.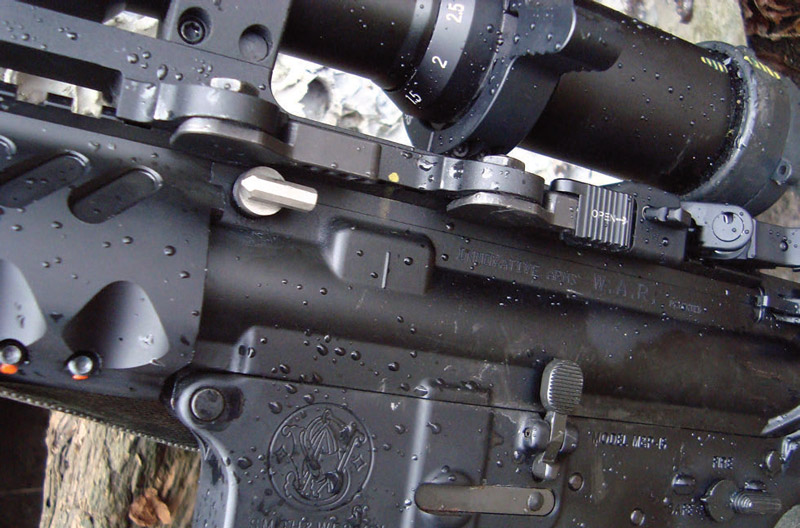 GAS THROTTLERS
The WAR is certainly not the first gasthrottling device. The first I saw on an AR-15 was from SSK Industries in the mid-1990s. Others likely preceded it. There are several adjustable gas blocks available, some using what amounts to a set screw that can be turned in to restrict gas flow.
But the WAR is the first product I've seen that moves the adjustment feature to an easier-to-reach location and makes it instinctively operable without tools. While the adjustment lever can be put in four different positions, there are really only two settings, Open and Reduced. The lever position is intuitively similar to a water or gas valve or like device in that, when the lever is horizontal and in line with the gas flow, it is "open," for unsuppressed fire. When it is vertical, it is in "reduced." It is specifically designed and tuned for original format direct gas impingement AR-15/ M16s with 14.5- to 16-inch barrels and carbine-length gas systems.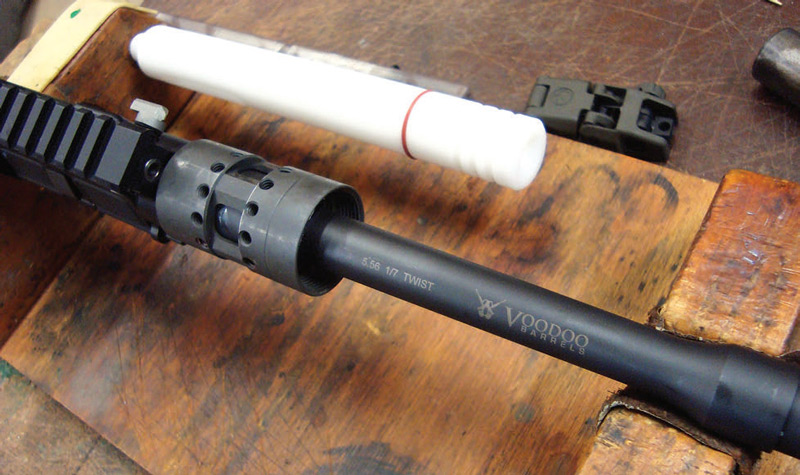 INNOVATIVE ARMS
I first heard of Innovative Arms (IA) when I gave a two-day AR-15 Armorer class at a facility where the security team had a fleet of 200 Colts. Every last one of them was equipped with suppressors by Innovative Arms. I said, "My, how tactically advanced you are," to which my host replied, "No, the neighbors were complaining about all the shooting." The many users I talked to were happy with the product, IA's Grunt model. These guys have an ammo budget most of us can only dream of, so it had already been well established that the product was doing its job and holding up on these 10.5- inch barreled carbines.
TEST BEDS
I bought two WAR uppers and installed the first on a Smith & Wesson M&P-15R in 5.45x39mm. I figured a quick path to "over-testing" this product would be to use Eastern-bloc surplus ammo. From Russia, Bulgaria and Ukraine, it is good stuff, reasonably accurate and still relatively reasonably priced. I use a lot of it, but it is downright skanky. Even in unsuppressed fire and in an AK, where the gas is not directed back into the action, there can be enough acrid smoke to choke and sting the eyes of the shooter.
Finishing out upgrades on the S&W, I used a forend and swing-out BUIS by Diamondhead and a few Magpul bits to enhance ergonomics on the lower. For an optic, I chose a well-used Millett DMS-1 in a LaRue mount.
The second WAR was incorporated into a newly created 5.56mm upper using a nitrided Voodoo barrel from Adams Arms, 1:7 twist, standard M4 profile 16-inch barrel. I used a Rubber City Armory nitrided bolt carrier group (BCG) and finished it up with a Noveske 11-inch NSR rail. I mated this to a complete lower from Detroit Gun Works. For concurrent accuracy testing of the barrel and ammo, I topped this with a Millett TRS 4-16X scope.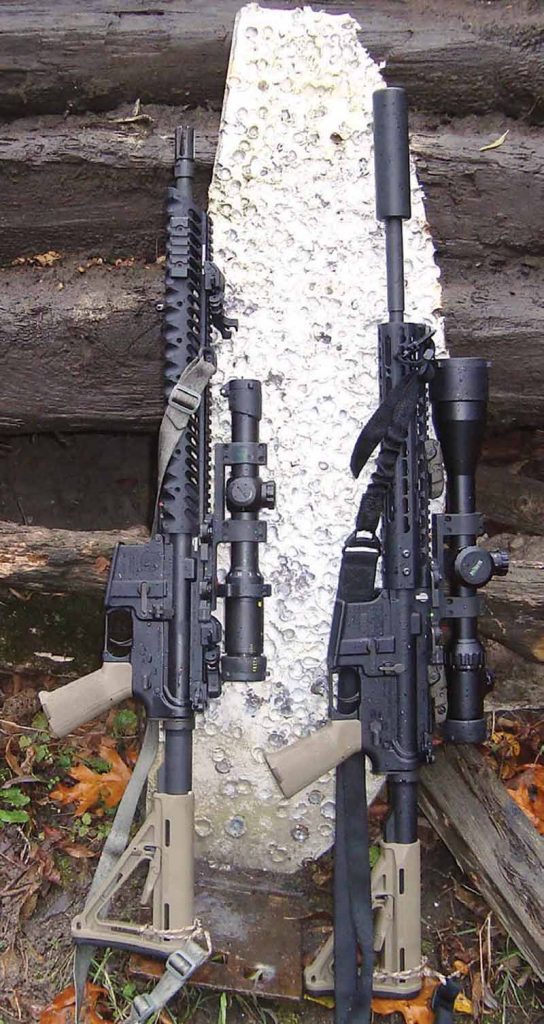 The WAR upper's design is pretty simple (but patented). The provided gas tube is cut short and enters into the upper receiver and the regulating device. The regulating is accomplished by a cross-shaft that has two holes, 90 degrees apart, cross-drilled through it in line with the gas tube—one larger and one smaller, giving the "open" and "reduced" settings. The shaft's left side has a lever for the operator to use in handselecting either position. Positions are detented by virtue of a wave spring and a split pin, which is also what holds it all in place. Adjustment action is simple, quick and positive: push, turn, release.
The rear/interior part of the device simply mimics a standard gas tube end, for the bolt carrier key to telescope over. Line-up of this part with the carrier key on both of my WAR uppers was perfect. [Note: This product is available only as an upper receiver. For the sake of keeping total control with regard to quality, IA does not offer the service of installing it in a customer's upper.]
DOES IT WORK?
In testing, I fired 540 rounds of 5.45x39mm surplus "7n6" ammo and 312 rounds of various 5.56x45mm and .223 loads through the respective carbines. Both guns were properly set up in every other respect. I had no issues whatsoever with either one, suppressed or unsuppressed.
Reducing the flow and firing unsuppressed can give the expected result— short-strokes. Firing suppressed and alternating back and forth between settings, the shooter perceives an increased recoil pulse on "open," although I did not manage to induce malfunctions by doing so.
Since most of the gas "puffing" into the shooter's face from around the charging handle is blowing back from the barrel upon extraction, there is only a slight decrease in the phenomenon when firing suppressed with the WAR on the reduced setting.
Other products attempt to mitigate the blowback, but in my testing it was a serious problem only when there was no breeze whatsoever. The slightest movement of air rendered it a non-issue, carrying away the noxious fumes. In either case it was much less of a problem with quality 5.56mm/.223 ammo than with the 5.45mm.
On the reduced setting, less gas coming down the gas tube also translated into something I didn't expect—less noise close to the shooter's ear. When the bullet passes the gas port and starts feeding gas down the tube, the pressure is in the neighborhood of 25,000 PSI. Diminishing the storm coming out the back of the gas tube as the action opens, and with less gas jetting out the two exhaust ports in the carrier's right side, it makes sense.
Innovative Arms claims about two decibels reduction, a small number perhaps, but the dB scale is exponential and I perceived a significant difference. I tested this at length on the 5.56mm carbine, and the more I paid attention to it, the more important I thought it was. Smoke emitted from the carrier's exhaust ports was also reduced enough to notice.
SUPPRESSORS
I used two different suppressors in testing: an Innovative Arms Grunt like those mentioned above, and a Suppressed Armament Systems M455. Both may lack the glamour of the more high-profile brands, but I think of them as straightforward working man's cans that get the job done for less than half the price of some, and both are built like the proverbial brick house of Mr. Schmidt.
Both are stainless steel and of welded construction. Functionally, the WAR uppers behaved exactly the same with both suppressors. The Grunt had wrench flats, which I came to appreciate as they obviated the need to keep doing the "Is it still tight?" grab-and-twist.
The regulator became hard to turn after less than 100 rounds of 5.45x39mm, but I never saw the problem in the 5.56mm. My solution to this was to move it periodically and not let it get too dry. If it did, a few drops of whatever lube was handy solved the problem.
B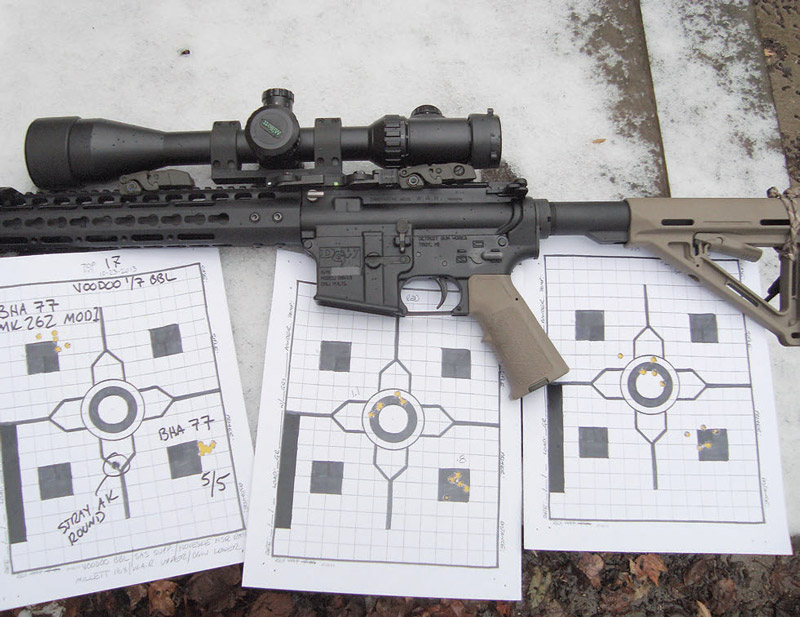 BITS AND PIECES
As the armorer for the recent National Patrol Rifle Conference and Competition, I'd handled carbines with both the Noveske NSR and Diamondhead rails. I immediately bought one of each because of their slender and uncluttered profiles and light weight. Both were easy to install, although each uses a proprietary barrel nut. Both are modular in nature, so if "more stuff" is what you need, you can add rails to put it on.
The Noveske NSR rail is so slender and light as to be almost toy-like. Its hook-up to the receiver is solid, and the design minimizes heat transfer from the barrel nut to the rail. Sans scope and with Magpul BUIS, this carbine tips the scales at a svelte 6.7 pounds.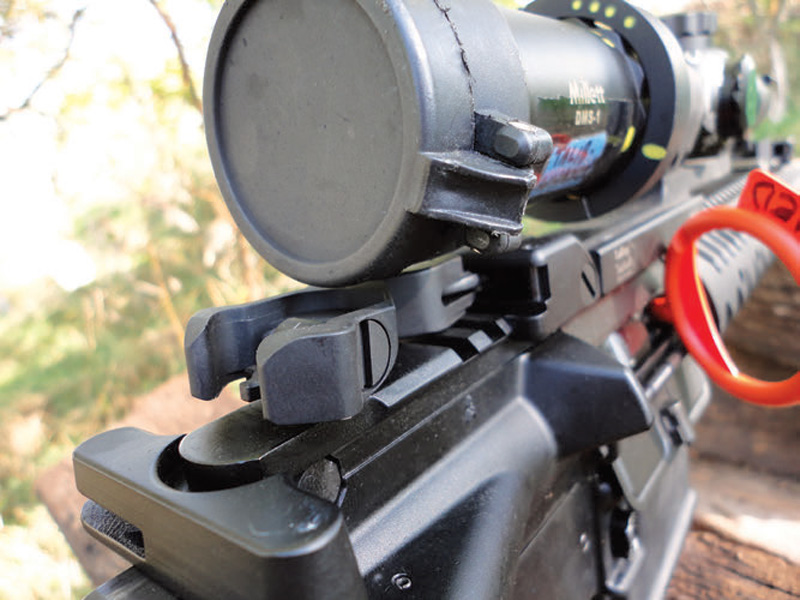 The Diamondhead rail has a very "organic" shape, ergonomically natural, without sharp edges but holed and scalloped to give a good grip. And yes, it looks pretty cool.
The Diamondhead sights flip up and swing out simultaneously—a very clever design and the only fold-down sights that worked on the S&W with the scope mounted. Once deployed, they are probably less robust than some. Diamondhead does make other models that are "standard" flip-up format. Every shooter I've talked to who uses Diamondhead sights raves about the diamond-shaped rear aperture and front hood, and in short order I found that there was indeed a speed advantage to the system.
New entries into the AR parts market are often viewed with skepticism, but both the Rubber City Armory BCG and the Detroit Gun Works products appeared to be made from the right stuff and performed very well. The nitrided BCG was remarkably easy to clean.
The Voodoo barrel came with an inexplicably small gas port, but once properly sized, it proved itself a real grouper with Black Hills 77-grain loads—both the Mk 262 Mod 1 and commercial version.
The nitriding gives a harder-thanchrome layer to the existing surfaces, inside and out. It is a salt-bath heat-treat process, not an added-on coating or plating, so peeling or chipping should not be a problem. It hardens the steel to a depth of about .0005 inch, much thicker than chrome and with a better coefficient of friction. This barrel did not have the benefit of a textbook breakin, but groups started out small and got smaller, right on down to five shots into ½ inch at 100 yards.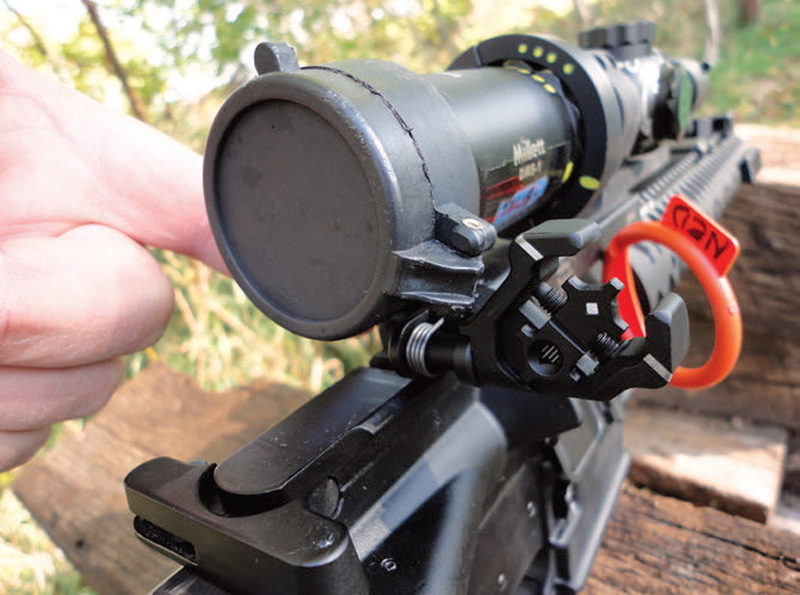 On both guns I used Magpul's simplest and most economical stock—the MOE—which even as a "bottom-of-theline" product represents an upgrade. I also used Magpul MIAD pistol grips, standard on almost everything I own. Given that bolts and extractors break and pins get lost, it just makes sense to have a place tailor-made on the gun to house all the spares I might need.
When you have many rifles, it's hard to have a Leupold or Nightforce atop each one. Millett scopes continue to give me affordable good features and service. Downside: made in China. The TRS's front scope cap broke off early in testing.
CONCLUSION
Bottom line on the WAR: many AR-15s will run OK suppressed with no regulator. But for extensive suppressed use, to mitigate the beating, ensure reliability and for maximum efficiency and noise reduction, throttling down the gas is a quantifiable advantage.
Of the many products on the market for this, I think the WAR is certainly the cleverest. It is more robust and user friendly than others I've used and, depending on the user's needs and preferences, in many cases it would be the logical choice.