OUTSIDE/OPEN GROUND
In an open lot with only a pole and trash can or a box simulating a mail box set some distance from each other, drills begin with the student being approached by the assailant under some pretense—asking for a cigarette, a light, directions, etc. The student must give verbal commands to maintain separation if possible, then react as the perp draws a gun and assaults them.
Quick-thinking students immediately backed up to the pole/trash can or mail box in order to get it between themselves and the perp, then found convenient cover behind these items as everything continued to go south.
Just when you thought you had it figured out, more people were introduced who may or may not have been associated with the perp, or who might clumsily attempt to help you.
Once again, that guy with the friendly smile and the "Hi, how are ya?" greeting is quick to get the drop on you when you're not paying attention to him.
Lessons Learned: Keep as much space between yourself and others as possible. Use any items available as obstacles between yourself and others. Don't trust first impressions of anyone, and react quickly and decisively when presented with a threat.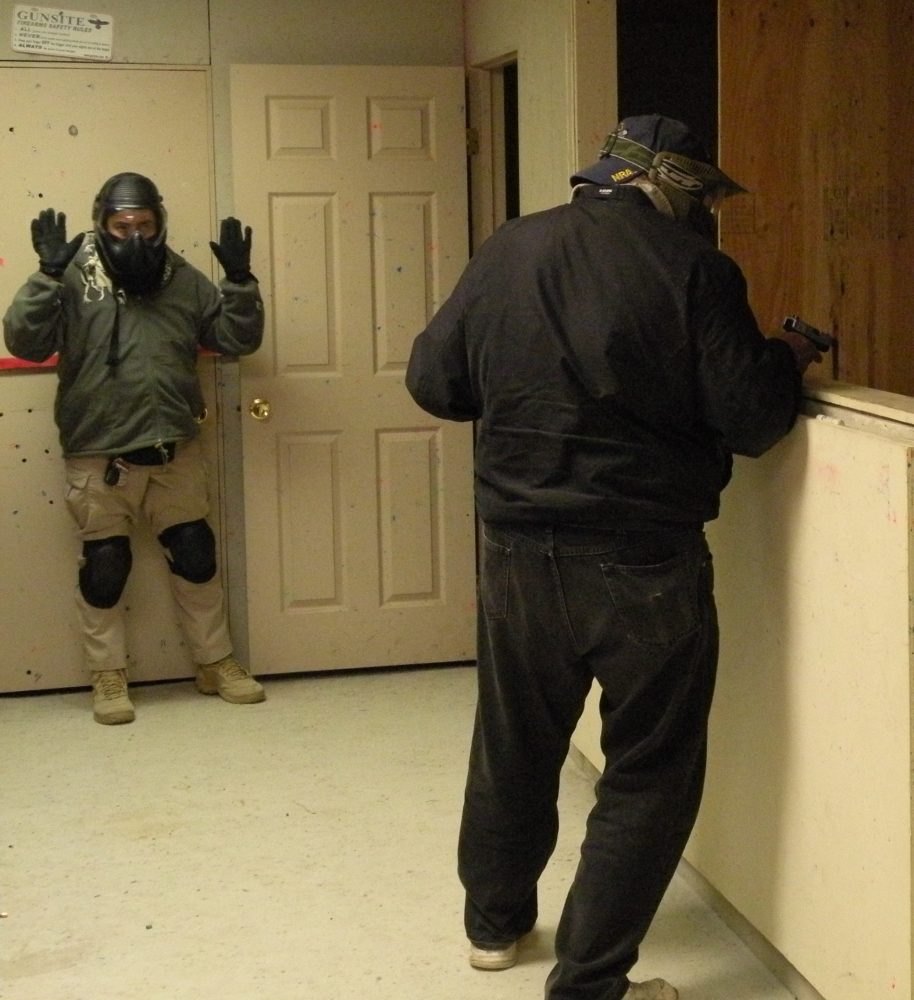 PHARMACY/CONVENIENCE STORE
The student is in the "store" with other "customers" waiting their turn at the counter when the perp draws a gun, demands "all the money" from the cashier, and simultaneously turns and threatens everyone else in the room with his gun.
This scenario required decision-making about whether to get involved, the safety of others in the room if you do, and the perp's probable course of action as he exits to the parking lot.
Students had to contend with the situation changing from them being alone to having family outside in the car they left running for the AC or heater while they just "ran inside for a minute."
Those elements obviously affected the decision to pursue the perp as he escaped, and different levels of aggression toward the student and others in the room colored the decision to stay back or to draw and engage the perp.
Lessons Learned: Don't get in the middle of others in a room. Use aisle displays for concealment. Keep an eye on the open paths to and from entryways into the area, and be ready to use them. Once again, people may not be who they seem to be.
SOURCE
FIREARMS TRAINING ASSOCIATES
(714) 701-9918
www.ftatv.com