Robar-modified XD Compact compared to stock 9mm XD Sub Compact (XS/Young/Novak Sight Systems on both guns).
---
It's been 25 years since Robbie Barrkman first built a shotgun and a pistol for me. It's been ten years since I first torture-tested an HS2000 pistol.
So the logical step, when Springfield Armory released their .45 ACP Compact XD (the Americanized name for the HS2000), was to mate up Barrkman's prowess with an already established reliable pistol.
Why modify a reliable, ergonomically comfortable pistol? Two reasons: (A) Personally, I prefer a different sighting system to that which is supplied as standard, and (B) Using an extreme holster angle (almost 40 degrees) wasn't allowing me to get a quick, satisfactory initial firing grip on the gun. Specifically, because of the marked cant angle of the weapon, I literally couldn't "get over the hump" of the backstrap.
Why choose the Robar Company to do the work? Because of satisfaction with prior work done, because despite what everybody else told me, Robbie assured me he could push the sights out of the dovetails without breaking them (the factory fit is extremely tight on the XD), and last—but decidedly not least to date—Robar is the only company I'm aware of that is flattening backstraps on this weapon.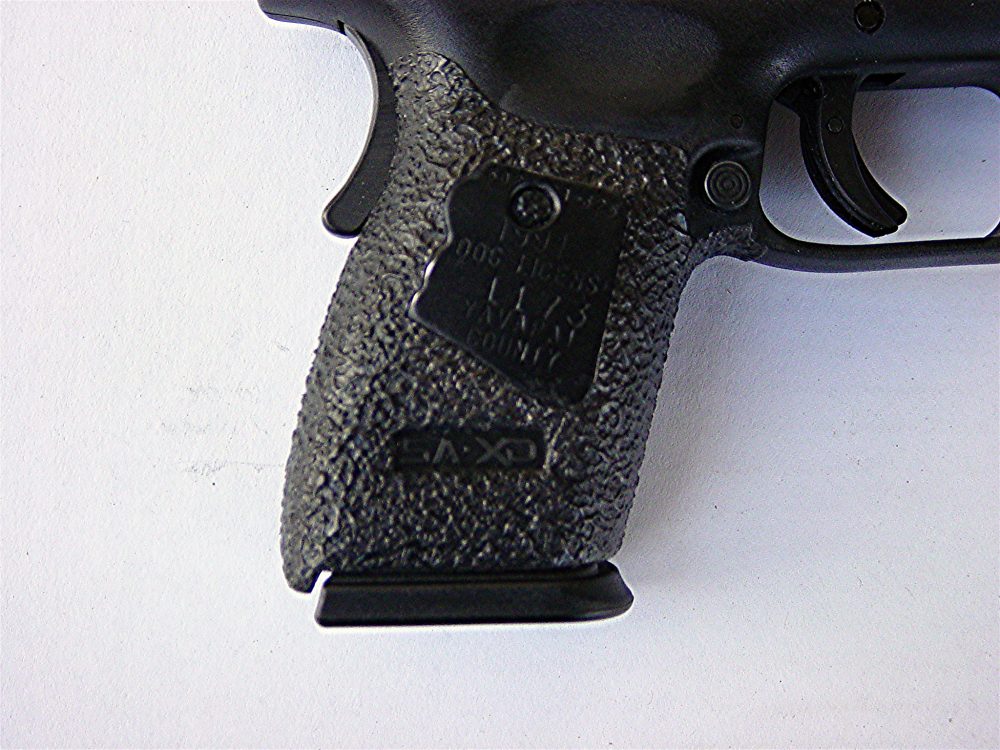 Close-up of grip reduction, retexturing, and molded-in keepsake.
---
A leader in his field for over 20 years, Barrkman was the first to modify backstraps on Glocks, shaving down the mainspring hump, retexturing and/or adding a beavertail. Once again, he is way ahead of the game with the increasingly popular XD/HS2000. In this author's opinion, the .45 .ACP XD will—in three to four years—become the most prolific .45 ACP pistol carried by non-John Browning-style fans.
While yours truly didn't feel the need for the "grip reduction" in a personally owned 9mm subcompact—even with the same holster—the .45 was duly sent to Robar with a specific request list:
Flatten the backstrap as much as possible, fully retexturize the grip area, and mold in a dog license tag from my deceased canine friend (a personal sentimental affectation on my carry guns).
Replace the front sight with an XS Big Dot unit.
Invert the rear sight in the dovetail (dots facing forward to avoid optical confusion), and mill out a 3/16-inch U-notch as per Colonel Bob Young/Wayne Novak's original sighting concept.
Result: Quick acquisition from the holster, with an almost SIG-Sauer-like firing grip.
See the accompanying photos and make your own decision. Suffice it to say that happiness is a 100% reliable, high-capacity, large bore, proven weapons system, expertly customized to your individual requirements.
SOURCES:
The Robar Companies, Inc.
Dept. S.W.A.T.
21438 North 7th Ave., Suite B
Phoenix, AZ 85027
(623) 581-2648
www.robarguns.com
Springfield Armory
Dept. S.W.A.T.
420 W. Main St.
Geneseo, IL 61254
(800) 680-6866
www.springfield-armory.com
XS Sight Systems
Dept. S.W.A.T.
2401 Ludelle
Fort Worth, TX 76105
(888) 744-4880
www.xssights.com