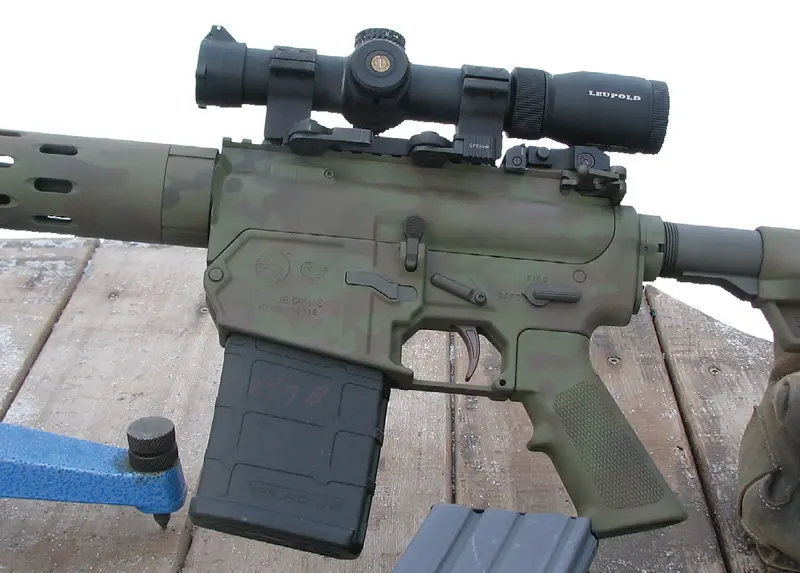 Like many writers, I make an annual pilgrimage to the SHOT Show in Las Vegas. SHOT showcases new products to the media and the shooting industry—lots of new guns and gear are on display. One of my first stops is Colt. I have a deep affinity for Colt, having used Colts over my careers. The last SHOT Show was no exception.
I had already tested the dual-caliber Colt 901—a .308 AR lower that would also accept a 5.56 upper, with slight mods to the lower. It was a great gun, did well in testing, but was expensive to build. Additionally, the forend felt like a 4×4 post. As it turned out, demand for the combo was far less than anticipated, partially due to the cost—the complete package of the .308 with the 5.56 upper pushed $3,500.
In response, Colt simplified the 901. The ambi fire controls were deleted, a slimmer free-float upper was used, and the weight was reduced. The new 901 is leaner, meaner, lighter, just as reliable and just as accurate.
RATTLE BATTLE
My normal testing regimen is to fieldstrip, clean, lubricate, and inspect the gun. Everything was typical Colt—well made. The trigger was a standard milspec GI trigger, not the best for consistent accuracy. I replaced it with a LaRue Tactical MBT (Meticulously Built Trigger). Like every LaRue product I've used, this trigger is outstanding—clean and crisp, with a consistent break at three pounds. It made the whole testing process much more productive.
I intended to replace the bolt carrier group with the new Gemtech suppressor bolt group that allows suppressed and unsuppressed fire without changes to the gas block by simply rotating a screw on the bolt carrier. Unfortunately, the 901 bolt group is about half an inch shorter than a standard AR-10 group, so the Gemtech does not fit in the 901.
I mounted a Leupold VX-R Patrol 1.25-4x20mm Firedot scope in a LaRue QD mount and added Troy Industries BUIS. I moved one of the three short rail sections from the top of the handguard to the bottom to accept a bipod.
Since the charging handle is designed to handle both 5.56 and 7.62 rounds, the BCM Gunfighter won't fit—the stock charging handle is longer than 5.56 and shorter than a standard 7.62. I managed to cannibalize parts from other charging handles in my "stuff" boxes to make one that worked better for me.
Ammo for the .308 is still a little expensive, but I had 40 rounds of Winchester 147-grain ball and 60 rounds of Serbian ball—100 rounds was it for a reliability test. I fired 20 rounds of Serbian first, just to break it in a little, and had no problems, but the accuracy was just under three MOA. The Winchester ball was very good, with no malfunctions and groups right at 1.5 MOA. The last 20 rounds of the Serbian ball shot as poorly as the first, and one casing failed when the extractor ripped the rim—performance I've experienced in the past with this ammo.
I fired for accuracy off a bench, the rifle sandbagged fore and aft and using a rest. I was shooting Winchester 168-grain Match and fired four groups of three rounds at 100 yards. The rifle and ammo were consistent: three groups were just under one MOA, at about 7/8 inch, and the fourth had a flyer that added a quarter inch to the group. Other than the one extraction problem, I had no malfunctions with the gun.
I used both the supplied PMAG and two Brownells 20-round metal magazines. I mounted a LaRue two-point sling and took the rifle for a walk on USFS land. My route includes lots of areas that permit rifle fire, and I was able to swing the rifle up to fire at targets of opportunity. It handled great, showed good combat accuracy, and was not a pain to carry. At around $1,500 MSRP (without my modifications or glass), it's all anyone would need in a .308 battle rifle.
Although I like the Parkerized finish, I thought a new paint job would be fun. I've had no experience with Cerakote, but guys I respect speak highly of it. I'd met the guys from Mad Custom Coating at a class, so I decided to give it a whirl.
I'm a basic woodland pattern kinda guy, and I live in a wooded area, so I opted for one of Mad Custom's proprietary patterns in OD/FDE/Tan/Black. The small parts were all Black. I don't have enough time on the finish to give an opinion, but it should last for years. As Clint Smith says, "I treat my guns like I treat my testicles—I don't drop them from heights, drive Humvees over them, or freeze them in blocks of ice," so we'll see how it holds up.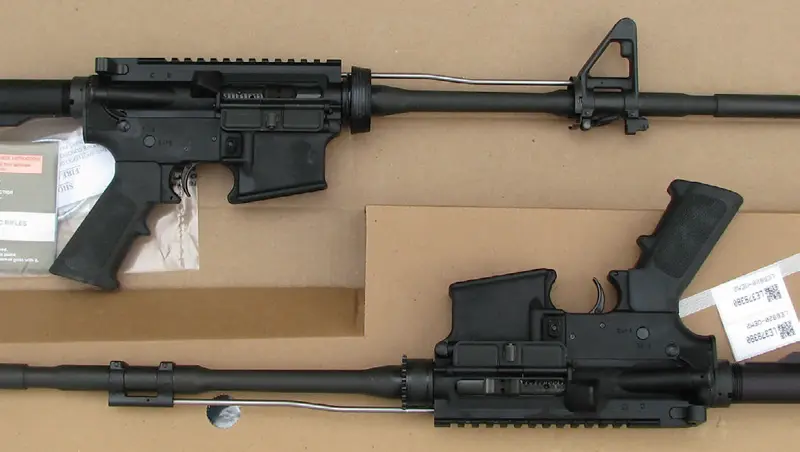 THE NAKED TRUTH
The next two rifles offered were a stroke of genius: "naked" 6920s. Colt customer surveys found that a lot of Colt customers strip off the factory furniture and replace it with items they like better—Magpul, BCM, VLTOR, etc. I was able to obtain both a standard model and one with a low-profile gas block for testing.
The guns come without stock, forend, trigger guard, or magazine. I was happy to see the bolt carrier was a standard milspec. The spring and buffer were standard, as was the trigger.
Gun One (LE6920-OEM1) was the standard model, so what do you put on a naked, standard gas block Colt AR? I started with a BCM medium GUNFIGHTER charging handle and BCM Mod 1 pistol grip.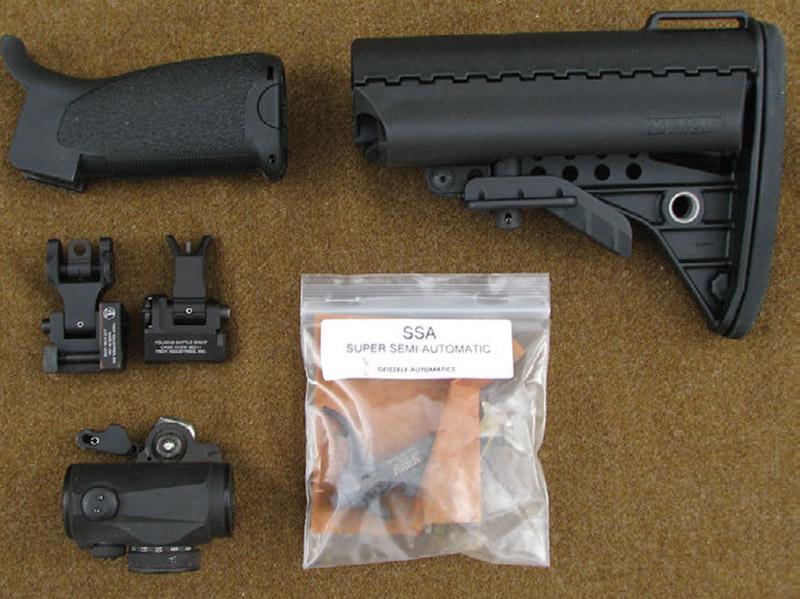 I intended to use this gun with both a scope and an Aimpoint, so I added Troy BUIS. I like the VLTOR buttstock for the excellent cheek weld it provides. I also installed a Diamondhead VRS-DI seven-inch drop-in handguard, with two short sections of rail to mount a SureFire light.
I had a couple of Geissele SSA triggers in my "stuff" box, so out with the two stage and in with a better trigger (a local AR builder had gone under and I'd bought a bunch of parts at fire-sale prices). I ordered enhanced trigger guards from Brownells.
Gun Two (LE6920-OEM2), the low-profile gas block model, was set up almost identically but used a 13.5-inch VRS T-556-KeyMod free-float forend, again from Diamondhead.
I like the Diamondhead forend because it's slender, has good finger positions, capable of adding rail sections, and has no sharp edges—I'm getting delicate in my dotage. I also like it because it's so simple to mount even I can do it! I skipped the BUIS on this gun, seeing it as a full-time scoped carbine, assuming it shot well. MSRP on each gun is $799.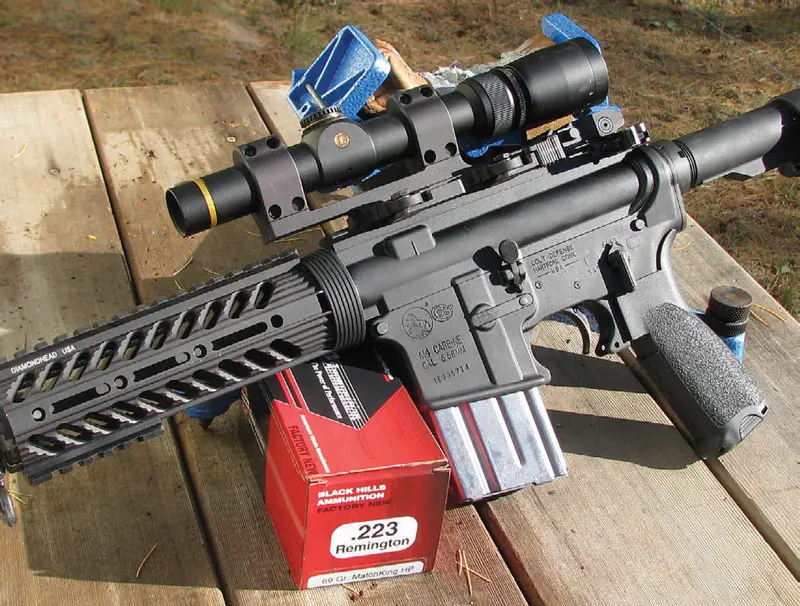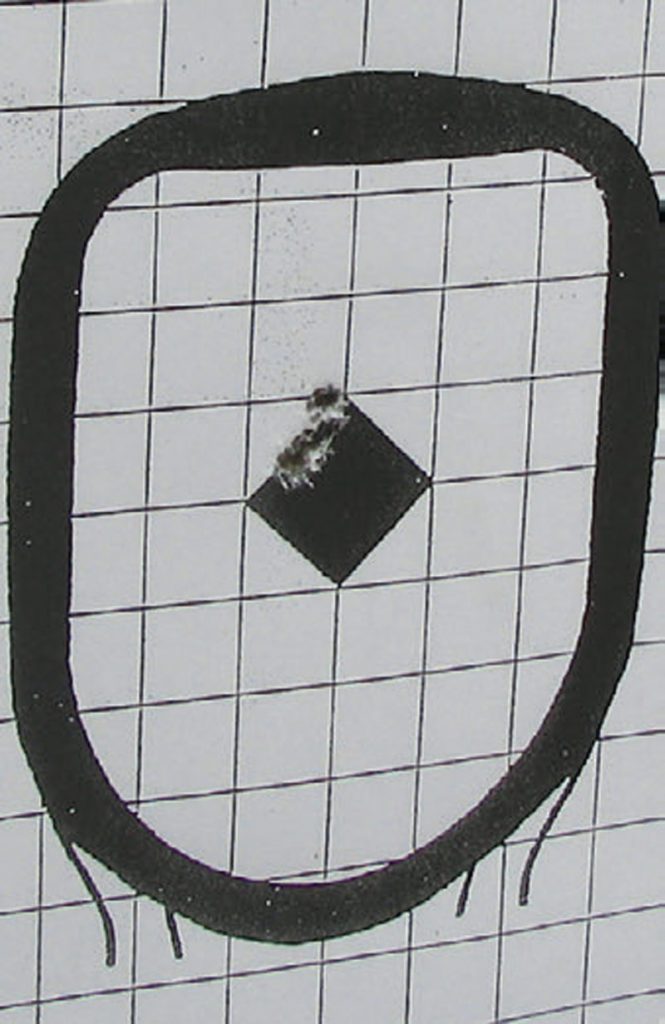 RANGE TESTING
Off to the range. Through each gun, I ran 120 rounds of ball from Black Hills, Winchester, Federal, MHS reloads, Remington, and a can of unknown ancestry. Not surprising: not one malfunction. For magazines, I used Colt, Brownells, and PMAGs. All worked flawlessly.
The optic was an Aimpoint Micro T-1 in a LaRue Tactical QD mount, and both guns showed good combat accuracy.
For accuracy testing, back to the bench with a rest and sandbags. I was waiting for parts for the low-profile model, so Gun One went first. I zero my carbines at 50 yards, which gives me a point-blank shot out to 250 yards.
I used a Leupold 1.5-5X in LaRue QD mounts. I'm not really an accuracy geek, but any fighting rifle should hold at least two MOA, which should solve any problem out to 250 yards or so; less is better. I didn't shoot ball but focused on the best ammo I had in the stash: Black Hills 69-grain Match.
It was November 10. I'd just sent a happy birthday e-mail to all my USMC friends, and the Great Gunny took pity on me.
I fired a couple of three-round groups to make adjustments to zero the heavier bullet. The gun and I were doing pretty well. The first target had two touching and one a little out. The second target had three touching, in one ragged hole that measured slightly over ¼ inch—a sub-MOA group from a standard M4 carbine! In my world that's outstanding, and that gun is a keeper.
I took the second gun out on November 19, when it was a little cooler. I used different glass, a Nikon P-223 in a factory mount. I used the same protocol as before and got a ½-inch group with Winchester 55-grain ball. The Black Hills Match did its job, and the second group (bottom photo) was 3/8 inch—another sub-MOA performance from a stock Colt M4. Another keeper.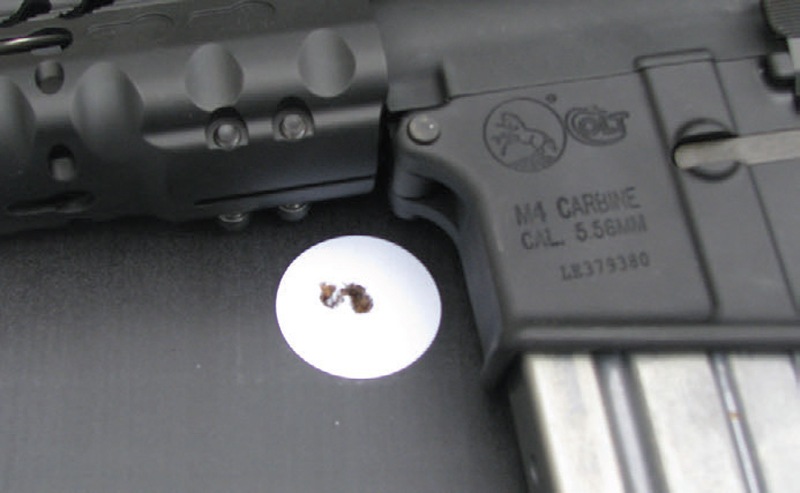 SUMMARY
I was very impressed with all three guns. I think few of us, myself included, can shoot to the potential of most factory guns (given good ammo, glass, and triggers). When you can get reliability, portability, and outstanding accuracy from one of the world's foremost companies, it's tough to pass up.
We each have things we like and things we don't. I've tested all manner of gear from all manner of manufacturers, and each comes with factory components. If we don't like them, we replace them, then take the surplus to a gun show and sell them for pennies. The 901 will do anything a .308 AR needs to do, and the OEM models let the end user dress them as he wants, which makes a lot of sense to me. If it does to you too, look at Colt.