Thanks to the successful Discovery Channel TV series Sons of Guns, Will Hayden's Red Jacket Firearms (RJF) is no stranger to the spotlight. What many may not realize is that years before the show, RJF was—and still is—a leading source of innovative AK rifles.
I was fortunate to make Will's acquaintance before he became "famous" and have handled multiple examples of RJF products, including AK and AR rifles and Saiga shotguns. Each has performed as befits a firearm that has been worked on by an experienced firearms firm.
START WITH A SAIGA
In simple terms, the Red Jacket ZK-MR reviewed here is a 7.62x39mm caliber AK rifle that started life as an imported Saiga sporter rifle. Its modifications are worthy of consideration, not mere attention-getting aesthetics.
Readers may find the ZK-MR slightly dysfunctional looking when viewed through a traditional AK lens. The first things you may notice with the ZK-MR are the HK-style forend furniture and sights. A Galil-style upswept charging handle further adds to the visual confusion with the ZK. Even the RJF folding stock is atypical for an AK. But don't rush to judgment of the ZK-MR based on its appearance. Let's experience what the ZK-MR offers in terms of performance first.
Red Jacket Firearms has been referenced in a previous S.W.A.T. article involving a Draco AK pistol converted into an SBR with a Scout scope attached (FROM CONCEPT TO REALITY: AK Scout Rifle, November 2010). In comparison to the Draco, the ZK-MR is more of a custom order rifle that begins life after contacting Will Hayden's Red Jacket Firearms. This article will detail what is possible with a knowledgeable gunsmith familiar with the AK system starting with a standard Saiga rifle.

Though the Russian Izhmash-manufactured Saiga rifles enjoy a solid reputation, Red Jacket performs quality checks on common AK items that may need to be tweaked. While more prevalent with lower-end variants than the Saiga, these items are canted gas blocks, trigger assembly, and internal safety lever operation. Though modified to meet import requirements via sporter stock with no pistol grip and confined to limited-capacity magazines, the heart of the Saiga rifle is an AK operating system. The process to modify Saiga rifles back into the more familiar high-capacity AK is a well-known and relatively straightforward process. Red Jacket takes this to another level with the ZK-MR.
Red Jacket Firearms has been a Class 7 manufacturer for over a decade. What started out as private projects involving AK-type weapons quickly evolved into a main product line for the company, and the rest is history. Saiga-based ZK rifles and shotguns are still the most soughtafter firearms from Red Jacket, along with a relatively new offering involving accuracy enhancements to Saiga rifles chambered in .308 Winchester. Red Jacket has expanded recently, offering other types of firearms including ARs and 1911s. Will prides himself on producing weapons that are capable of hard use, with a reputation for ruggedness, reliability and accuracy.
THE CONVERSION PROCESS
Let's describe the process of converting the Saiga sporting rifle into the ZK-MR. The MP5 forearm front retaining pin nestles perfectly in between the barrel and gas tube, with the rear of the forearm secured with machine screws to the receiver. The 16-inch barrel is equipped with a proprietary Red Jacket flash hider that allows for mounting an RJF-manufactured suppressor.
A rear base HK-style drum sight is welded to the Saiga dust cover and HK front sight post installed behind the gas block. A side rail is available on the ZK's receiver for optional sights via AK-style mounts. The Saiga's original rear sight's notch is welded over.
An RJF Galil-style charging handle replaces the standard AK bolt handle. The Saiga trigger plate is removed from the receiver and replaced with a G2 fire control. The trigger is moved forward from its original Saiga placement, making room for a pistol grip with the abandoned holes welded up in the receiver. A bullet guide is installed in the receiver via a machine screw, and the magazine well modified to accept high-capacity AK-47 magazines.
Final touches consist of the G2 trigger bearing surfaces being polished in conjunction with a light planing of the bolt carrier group and guide rails to smooth up the action function. All the ZK-MR's metal parts are blasted and refinished in multiple layers of baked-on GunKote.
FINISHED PRODUCT
The Saiga's transformation from sport rifle into the Red Jacket ZK-MR is impressive. The ZK-MR measures approximately 36.5 inches long with stock unfolded and 28 inches folded. The completed rifle weighs slightly over seven pounds. The Red Jacket ZK-MR lists for $1,399 on the RJF website. This is a reasonable price for this type of build and compares favorably to modified Saiga AK conversions on the market from other well-known AK manufacturers/gunsmiths.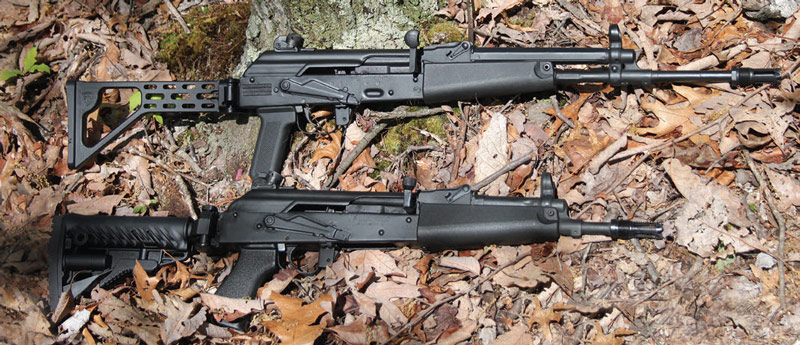 The HK-style sights, combined with the increased sight radius offered by mounting them on the dust cover, are superior to standard AK sights. An example supporting the HK sights' advantage is a drill that began by engaging targets at 35 to 95 yards with the ZK-MR. Targets were engaged five times each: starting from standing, moving to another location, five more rounds from kneeling, and finally moving yet again and transitioning to prone with five more rounds each.
I asked a couple of training partners to handle the Red Jacket ZK-MR in this format. All came away complimentary of the ZK-MR handling and combat accuracy. The ZK's accuracy surpassed that of standard AKs present at the range. The ZK-MR sights are a real enhancement feature. Prior experience had the rear drum sight set on the 200-meter aperture and left alone with no need to switch between different drum settings. A notch setting is available, along with 300- and 400-meter settings if an individual finds it necessary.
SPECIAL FEATURES
There were no problems losing zero after repeated removal of the dust cover. Will indicates this is because the dust cover is three times thicker on Saiga rifles compared to other AK-style rifles, and after numerous builds he has never had a problem.
Range evaluation revealed the mitigation of heat transferring into the ZKMR's bottom handguard compared to a standard AK forend. The combination of the MP5's forend design and fiberglass-like material limits the amount of heat transferred from the barrel into the forend due to spacing allowing for air flow around the barrel and not directly transferred into the forend.
The ZK-MR forend to barrel fitting is aided by Red Jacket using a barrel band left over from ones used with another Red Jacket signature weapon—the Saiga 12-gauge shotgun. The gas tube on top of the forend is exposed above the forend furniture. RJF has installed a metal heat shield on top of the gas tube to help prevent users getting burned. This works for a few magazines worth of firing, but as expected becomes a moot point if sustained firing is experienced. One quickly learns to keep the support hand anchored on the fiberglass HKstyle forend, not letting it stray upward.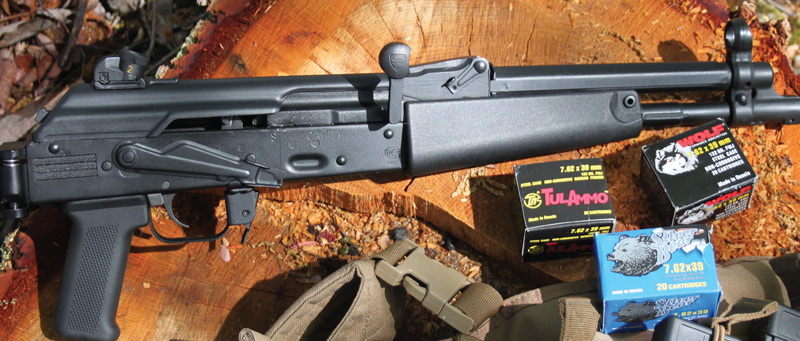 Another unique feature found on the Saiga-based ZK-MR compared to other AK makes is the bolt hold-open device. It is a notch protruding below the receiver behind the trigger guard that can be depressed upward into the receiver while retracting the bolt to the rear, locking the action open. A simple tug of the RJF Galil-like bolt handle to the rear after engaging the bolt hold open will release the bolt forward.
While I'm not exactly sure of the original Izhmash Saiga design purpose of the manual bolt hold open, it must be assumed it is used because Saigas do not have a last round hold-open feature. For my purposes, it was utilized to lock the action open after strings of fire for better barrel cooling, as magazine change and malfunction drills have no need for one to manually lock open the bolt with an AK. AKs are simple to manipulate in that if it goes "click," change the magazine. Most other less likely issues are solved in the same manner.
EVALUATION ACCESSORIES
Range evaluation was enhanced by the use of products offered for the AK by US PALM and Mayflower Research & Consulting. Metal and polymer 30-round magazines of various manufacturers performed fine with no issues inserting, removing or feeding the Red Jacket ZK-MR. However, US PALM AK30 polymer-style magazines were the primary magazine used after initial trials. The U.S.-made AK30 magazine is molded so that disassembly is not possible or warranted. The AK30 magazine uses a lowfriction semi-floating slotted follower for reliability and ease of maintenance. The magazine's feed lips and locking surfaces are reinforced with stainless steel and molded into the top of the magazine. Finally, aggressive texturing front and rear offer positive tactile feel, while the waffle pattern on the sides aids in extraction from magazine pouches.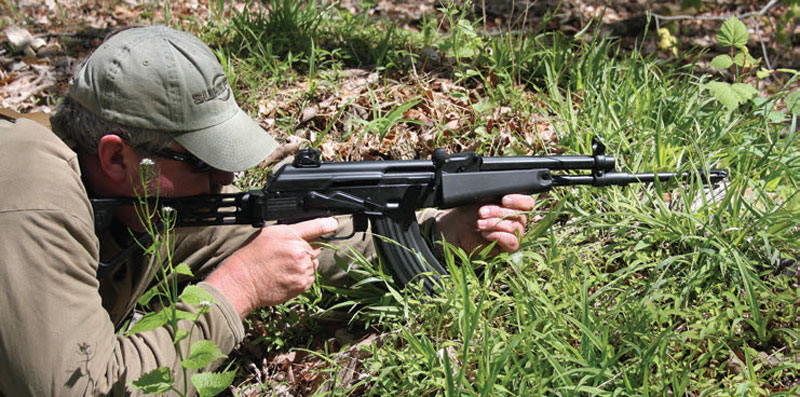 The AK30 magazines were complemented by another US PALM product, the AK Attack Rack. This is a low-profile secure platform for four AK magazines and four pistol magazines. The AK Attack Rack chest rig can be worn over hard or soft body armor and is built to military specifications out of 500 denier Cordura nylon for durability and minimal weight.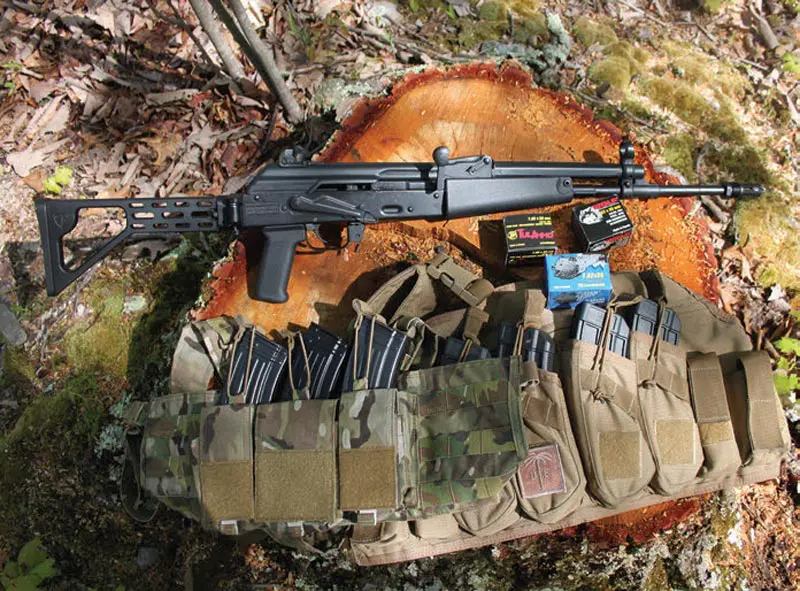 The Mayflower Research and Consulting chest rig I used was a 7.62 Hybrid Chest Rig. It is designed to carry three 7.62mm magazines (POF, SR25, M110, DPMS, FN, SCAR H or similar sized) or 5.45×39/7.62x39mm AK magazines in an integral pouch with adjustable shock cord retention system closure. The front of the magazine pouch has three general-purpose pouches sized to carry mini binoculars, laser rangefinder, GPS, cell phone, PDA, etc.
The sides of the chest rig have three rows of PALS webbing to tailor the remainder of the chest rig for the mission. The H-style harness features loops to route antennas, comm wires, and hydration bladder tubing and is removable via four one-inch ITW-Nexus side-release buckles and designed to be mounted to the front of the Low-Profile Armor Carrier from Velocity Systems. The body of the chest rig has a built-in map pocket with Velcro closure. All buckles are ITW-Nexus IR and all materials and workmanship are 100% made in the USA.
RANGE EVALUATION
My ZK-MR evaluation was guided by experience in multiple rifle courses taken with companies such as Red Back One, Tactical Response, Storm Mountain, and other qualified private sources.
The 7.62x39mm ammunition used was Tula, Silver Bear, and Wolf Ammunition. Over 800 rounds were put downrange during the evaluation period.
The RJF metal side-folding stock performed better than initially expected. Recoil was not accentuated and the stock proved solid, with no shifting or loosening after numerous rounds fired. When folded to the right, the stock does not interfere with the action's function, allowing the ZK-MR to fire if desired with the stock folded.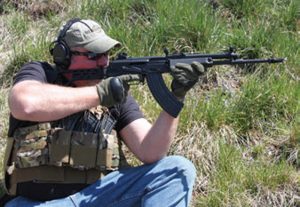 Besides the drill described above that evaluated the HK-style sights, ZK-MR reliability and function were tested with magazine dumps at various targets dotting the Echo Valley Training Center's (EVTC) stepped berms and training bays. This was followed by dynamic team tactic exercises and fluid assault-style training evolutions consisting of moving around and through barricades while engaging randomly placed targets.
The US PALM and Mayflower chest rigs performed as advertised, keeping AK30 magazines secure until needed for reloading. Fast handling, efficient magazine changes, and quick target engagements were the norm for the ZK-MR.
The compact, heavy-hitting Red Jacket ZK-MR AK was appreciated for its ability to hit targets within typical engagement distances with multiple .30-caliber projectiles.
The RJF ZK-MR takes a fresh look at how to make the AK perform better. Something as simple as the Galil charging handle means a user doesn't have to reach as far under or over the receiver to rack the bolt during magazine changes compared to a standard AK bolt handle. The HK sights and MP5 forend are not gimmicks but real improvements on standard AK sights and furniture.
Red Jacket's knowledge is not limited to building, but also includes experience of what works best in terms of performance. The ZK-MR AK from Red Jacket Firearms is unique not only in appearance, but also in how it performs.