I first fired the Ruger Gunsite Scout Rifle (GSR) chambered in .308 Winchester at a Ruger writers' seminar at Gunsite shortly before it was officially introduced in 2011. It was love at first, er, shot, and I ended up buying the rifle I tested. Later that year, my grandson Austin, then 11 years old, took his first elk using it with Black Hills 168-grain Barnes TSX load.
The GSR was not only met with popular approval, but has proven to be one of Ruger's best-selling rifles. In September 2014, Ruger introduced the GSR chambered for the 5.56x45mm cartridge. Of course it will also accept .223 Remington loads. Like its big brother, I received a 5.56 GSR before the official announcement and have had several months to put it through its paces.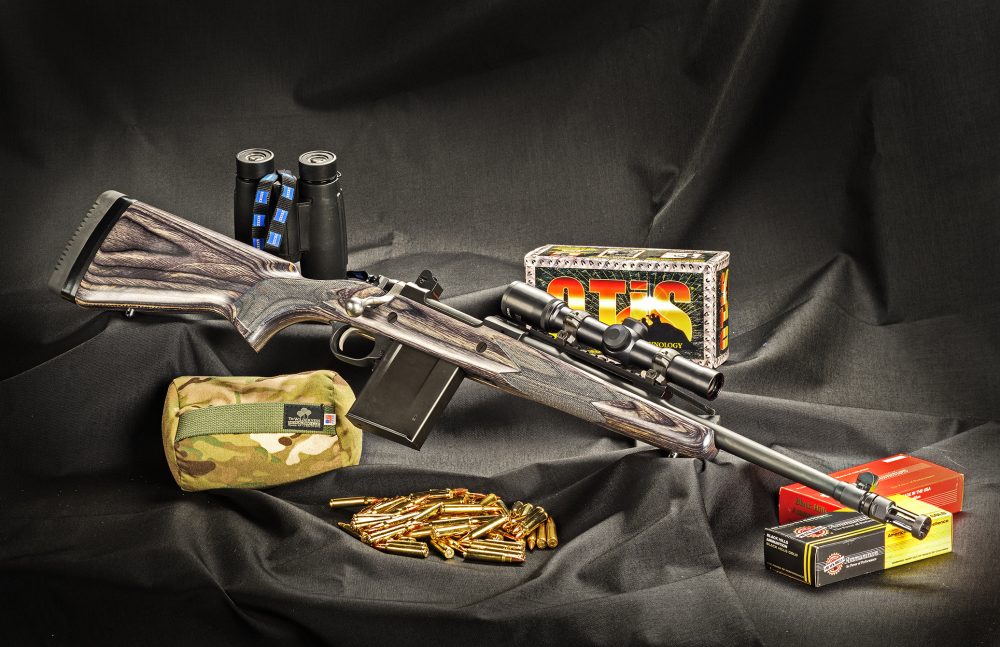 SCOUT RIFLE CONCEPT
In the early 1980s, Lt. Col. Jeff Cooper considered the need for a light, handy, general-purpose rifle that could be used equally for hunting and fighting. The idea became known as the Scout Rifle.
The concept imagined a rifle weighing about 3 kilograms (6.6 pounds), with a maximum of 3.5 kilograms (7.7 pounds) and a length of 39 inches or less. The rifle would use a cartridge that could put down a large animal at ranges out to about 400 yards. The .308 Winchester was the round of choice.
Ruger's original Gunsite Scout Rifle in .308 met most of the Colonel's specifications. Is the new rifle chambered for 5.56x45mm truly a Scout Rifle?
The answer is yes…and no.
At 400 yards, the 5.56/.223 cartridge is at the extreme edge of its performance envelope, so it does not measure up to the original specifications in the caliber category. But the cartridge is accurate and effective easily out to 200 yards and does meet the other requirements. The 5.56 round may actually be more desirable in a semi-urban/urban area because there is far less chance of over-penetration. For most situations, it would make a great choice for a general-purpose/patrol rifle.
The GSR does generally meet the overall size and weight requirements.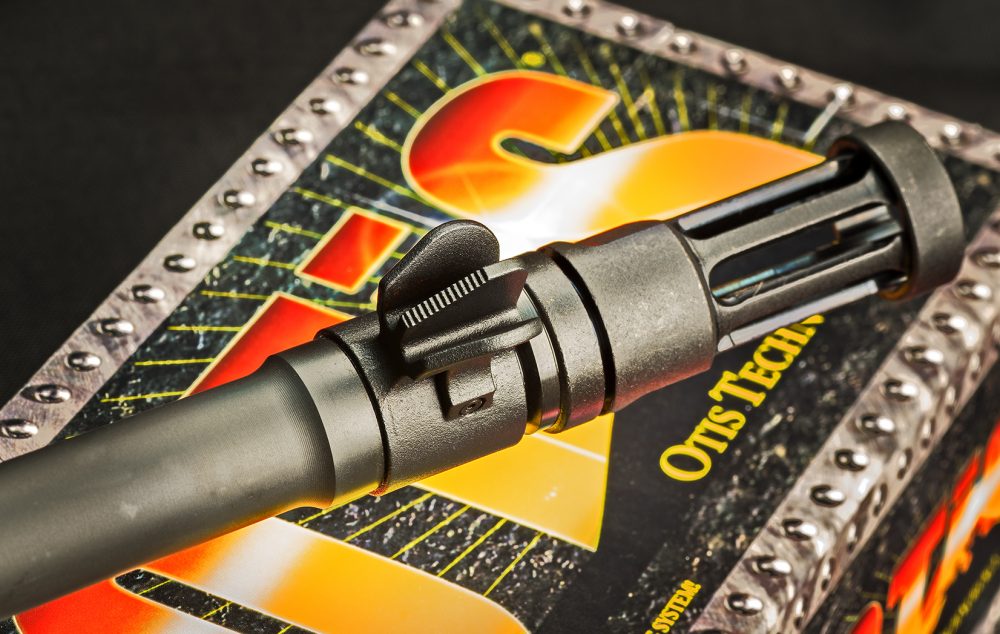 Mini-14-type flash hider sits in front of ramped post front sight.
---
5.56mm GSR
The GSR has a black laminated stock—though the test sample showed a lot of color—and comes complete with three half-inch spacers to change the length of pull (LOP) from 12.75 to 14.25 inches, enabling it to be fired comfortably by shooters of all sizes. Both the pistol grip area and forend are checkered for a sure grip. There are sling swivel studs at the rear of the stock and on the forend.
Both right- and left-hand versions are available and offered in matte black alloy steel and matte stainless finishes. The test rifle was a right-hand version with matte black finish.
The 16.1-inch barrel has a 1:8 twist, allowing it to fire both light and heavy bullets. The front sight is a ramped post and protected by wings. The rear sight is a ghost ring aperture and fully adjustable. The barrel is crowned with a Mini-14 type flash hider (1/2"x28 threads). Overall length is 37 to 38.5 inches and it weighs in at a nimble 7.1 pounds.
The safety is a three-position type. The bolt handle is smooth and of ample size to work the action from the shoulder. The bolt uses the time-proven Mauser-type extractor. The magazine release is a push lever on the rear of the magazine, such as used on the Mini-14, M14, AK, and many others.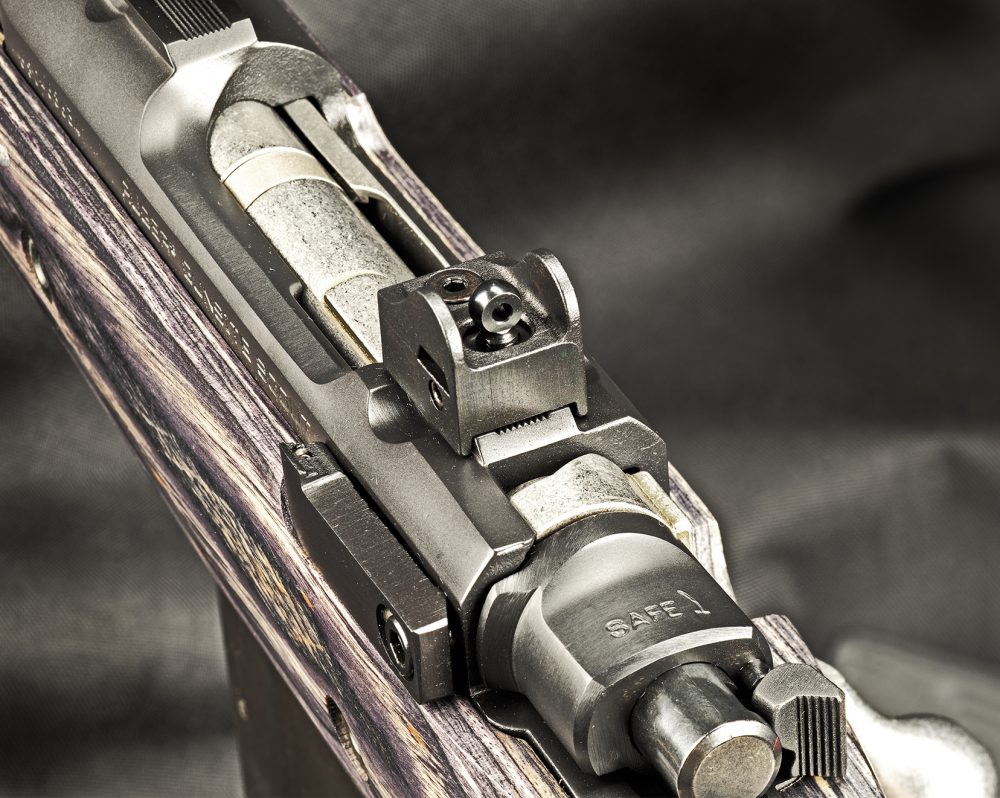 Rear sight is fully adjustable.
---
The .223 GSR, like the .308 version, uses a ten-round steel magazine. The top of the GSR's magazine is single as opposed to staggered feed, allowing the round to be pushed directly into the chamber.
In the months that I've had the rifle, I've read many bloggers opine that Ruger should have used an AR-15 magazine, and they certainly have the right to express their opinions. Apparently, however, they do not take into consideration how the two systems function. AR magazines lock up in a slot on the left side of the mag and, as mentioned above, the GSR locks up at the rear of the mag. Furthermore, all manufacturers use proprietary magazines for their firearms—1911 pistols and AR-type carbines from different manufacturers are the exception, not the rule.
To incorporate a magazine release that would function with AR mags, the rifle would have to undergo a complete—and to my way of thinking, unnecessary—costly design change.
A Picatinny rail is mounted on top of the barrel for optics with a long eye relief. For those who prefer the more traditional rearward mounting above the receiver, the GSR ships with one-inch Ruger rings.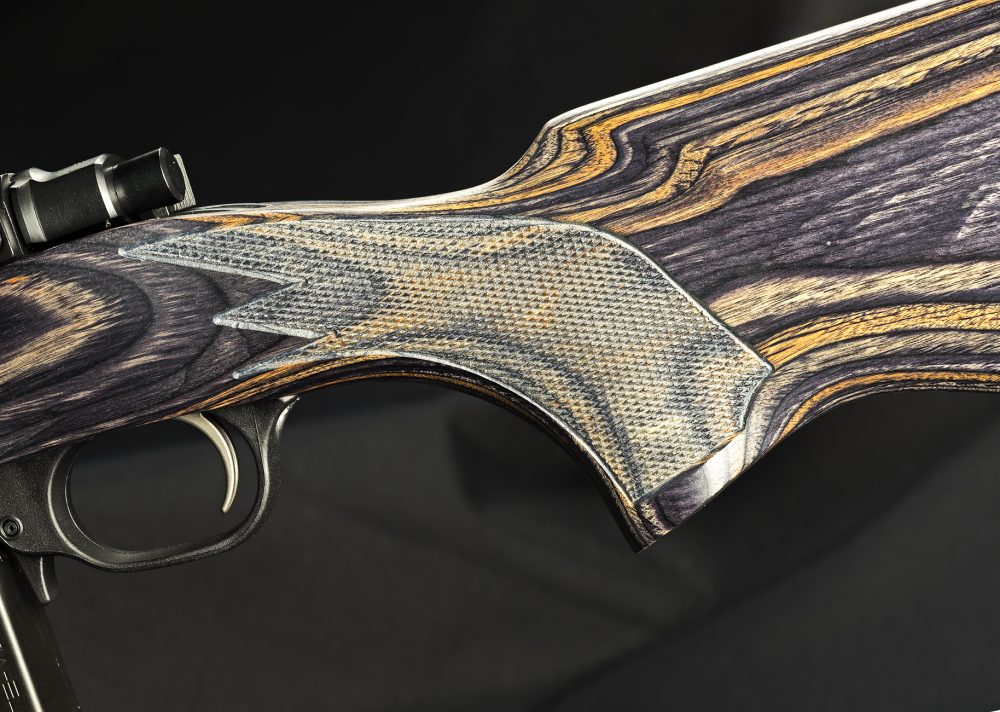 Rifle has checkering on forend and pistol grip for a sure grip.
---
OPTICS
Although Colonel Cooper did not say a scope was mandatory, most versions of the Scout Rifle concept have a low- to medium-magnification scope with a long eye relief placed forward of the action. Such a scope allows the shooter to keep both eyes open and permits quick acquisition of a target. Since the Colonel probably forgot more about rifles than I know, I saw no reason to reinvent the wheel when evaluating the new GSR.
For a scope, I chose the Burris 2.75X20 Scout Scope. It uses a Heavy Plex™ reticle that has extra thick bolded edges, with a thin crosshair resulting in a clean, simple reticle that is fast into action.
The Burris Scout Scope has a one-inch tube, 7.3-inch eye relief, field of view of 15 feet at 100 yards, .5 click value, is 9.2 inches long, and weighs only seven ounces.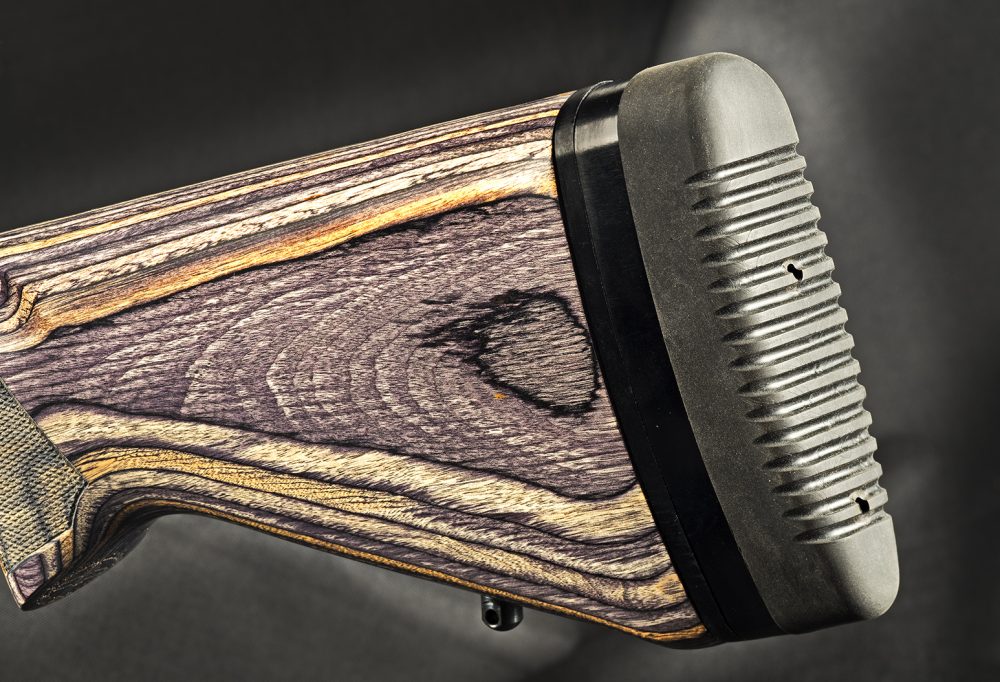 Recoil pad comes complete with three half-inch spacers to adjust LOP.
---
While the Burris Scout Scope tested here is a great little optic, it has one fault, and that is in failing light—such as at dusk or dawn—the 20mm objective lens is simply not large enough to transmit much light.
A better choice for a general-purpose/patrol rifle might be a scope with a larger objective lens such as the Burris 2.7X32 Scout Scope or the Leupold FX-II Scout IER 2.5X28mm. The Leupold only adds .5 ounce in weight. The Burris will add half a pound but will transmit more light. Your expectations and mission will determine what is best for your needs.
Red dot sights were in their relative infancy when the Scout concept originated, and battery life and ruggedness were concerns. But they have made major strides in the interim two and a half decades, having proven their usefulness in two wars.
After the initial evaluation, I removed the scope and replaced it with the new Aimpoint T-2 red dot sight. The T-2 has a new housing that gives more protection to the sight's adjustment turrets and electronic components, and a newly designed front lens with new reflective lens coating technology. The 2 MOA dot made easy work of getting hits from 50 to 100 yards.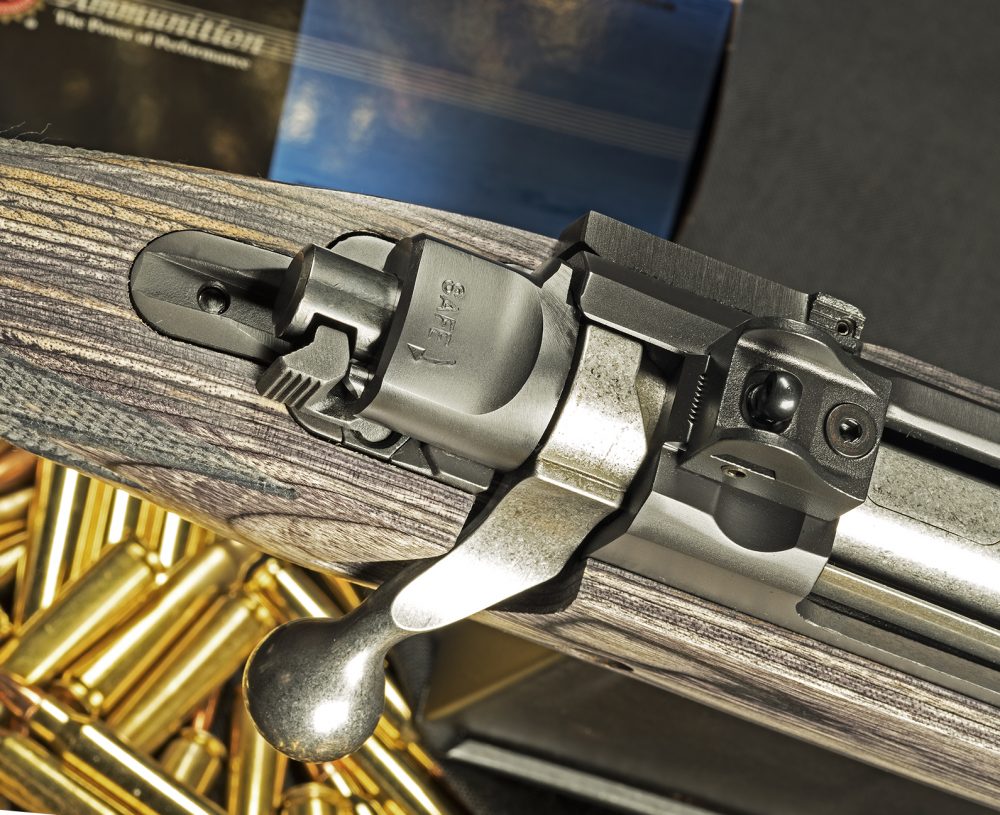 Safety is three-position type. Bolt handle is smooth and of ample size to work the action from the shoulder.
---
AT THE RANGE
As per my usual procedure, I evaluated the GSR with a variety of ammunition—specifically 21 different loads from nine manufacturers plus a handload. Bullets ranged in weight from 50 to 77 grains and included full metal jacket, soft point, Ballistic Tip, and Match.
The highest velocity was from Black Hills 50-grain Barnes TSX load, streaking along at 3,351.8 feet-per-second (fps). The slowest load was Hornady 75-grain BTHP (.223 load), still reaching a respectable 2,580.3 fps.
A large part of the equation of making an accurate shot is a good trigger, and the GSR's is very nice. The trigger on the sample rifle exhibited no perceptible take-up and consistently broke cleanly and crisply at four pounds with a barely noticeable amount of over-travel.
I established a rough zero at 50 yards and fine-tuned it at 100. I fired five-round groups from a rest at 100 yards to establish the accuracy potential of each load.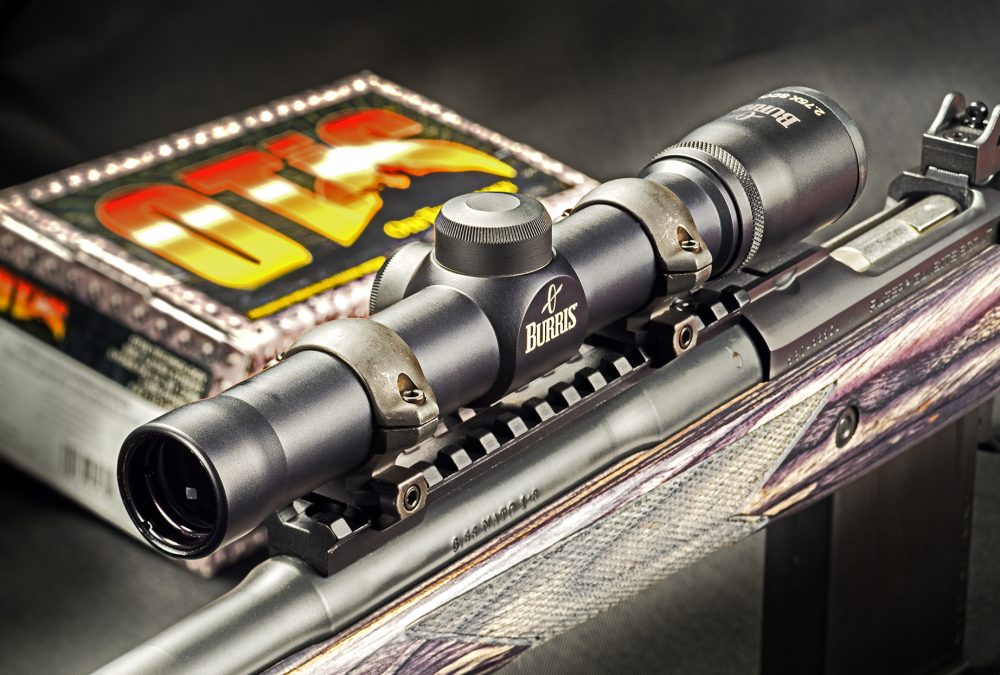 Burris Scout Scope mounted on Picatinny rail.
---
Somewhat to my surprise, the best load in terms of accuracy was the Black Hills 50-grain Barnes TSX load, with a 1.11-inch group. This is the only time I can remember that a load that turned in the highest velocity also came in first place for accuracy. The least accurate load was my handload, made from fired swaged .22 LR cases, with a group of just under three inches. Time to back that powder charge down just a tad…
The average of all 22 loads was 2.10 inches. Not bad for a general-purpose rifle with a relatively inexpensive scope.
Working some drills at 50 yards with the Aimpoint T-2, I experienced several failure-to-eject malfunctions. I attributed this to not running the bolt briskly enough to the rear. And though I'm not an engineer and don't even play one on TV, I think the 5.56 GSR would benefit from a slightly longer ejector.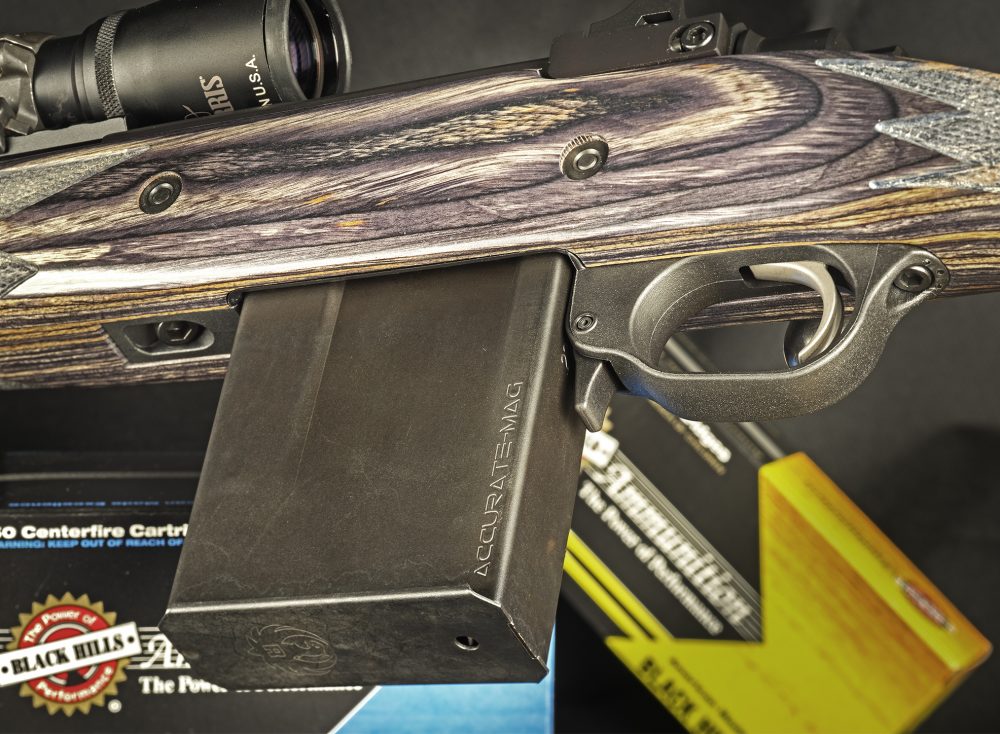 Rifle uses steel magazine with push-lever type release.
---
SUMMARY
The GSR's adjustable LOP and light recoil are great for young or smaller shooters, and the rifle is chambered in what is arguably today's most popular rifle cartridge. The GSR is light, handy and, with the right bullet—if you do your part—capable of taking deer and other thin-skinned animals out to about 150 to 200 yards.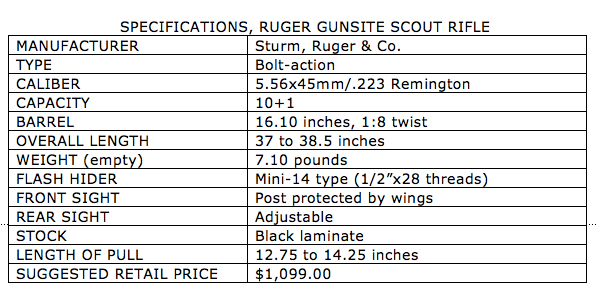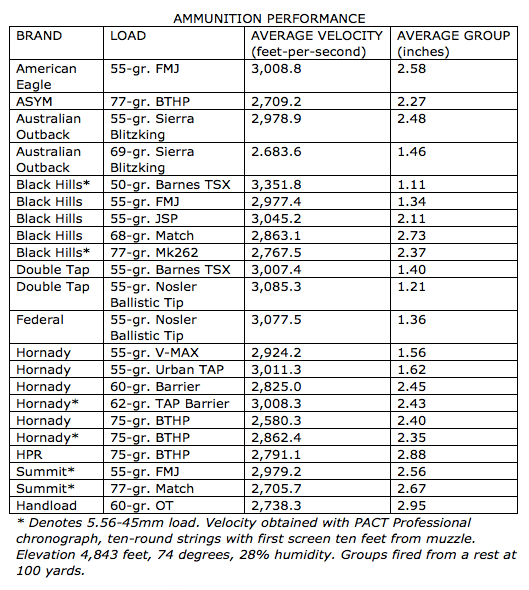 SOURCES:
Sturm, Ruger & Co., Inc.
(203) 259-7843
www.ruger.com
Aimpoint Inc.
(703) 263-9795
www.aimpoint.com
ASYM Precision Ammunition
(970) 385-7900
www.asym-ammo.com
Black Hills Ammunition
(605) 348-5150
www.black-hills.com
Burris Company
(970) 356-1670
www.burrisoptics.com
DKG Trading Inc.
(877) 354-2666
www.dkgtrading.com
Double Tap Ammunition
(866) 357-10MM
www.doubletapammo.com
Federal Cartridge Company
(800) 322-2342
www.federalcartridge.com
Gunsite
(928) 636-4565
www.gunsite.com
Hornady Mfg. Co.
(800) 338-3220
www.hornady.com
HPR Ammunition
(888) 966-8477
www.hprammo.com
Leupold & Stevens, Inc.
(503) 526-1400
www.leupold.com
PACT Inc.
(800) 722-8462
www.pact.com
Summit Ammunition
(877) 726-4345
www.summitammunition.com