My Dad and Grandpa were peace officers and carried a gun every day. I grew up watching them, and guns were never hidden. Living on farms and ranches, we always had a small rifle in the truck for rabbits or predators that we might come across. We butchered all our own meat, and I grew up respecting firearms and knowing the dangers and consequences of misusing them.
I carry a firearm daily—including when I am off duty. We live in a world with evil people who want to hurt us. I consider it my responsibility to do my very best to ensure the safety of my son, family and friends.
So if carrying a gun is part of your life, as it is mine, it makes sense to have a quality holster.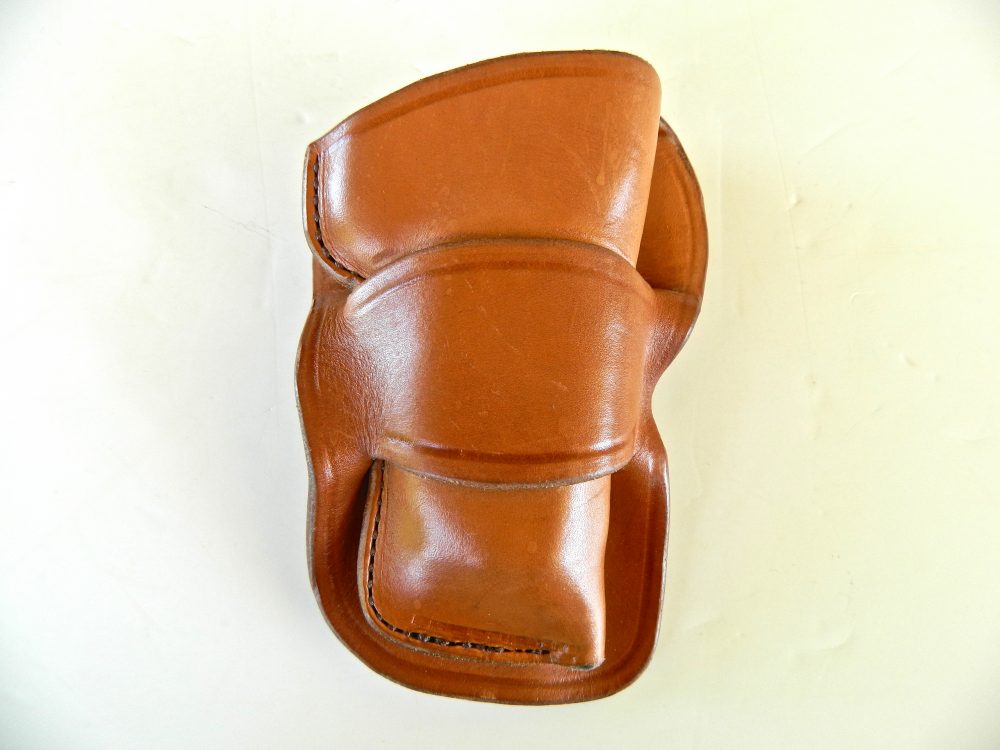 Shootist holster is a much-improved version of the old Mexican Loop holster.
---
Recently my Dad, Denny Hansen, attended a 150 Course (three-day basic pistol) at Gunsite sponsored by Simply Rugged Holsters. Owner Rob Leahy provided his new Shootist holster to each of the 20 participants to use during the course and give feedback on how it performed. He also provided a magazine pouch and belt to each student. Ruger provided SR1911 CMD (Commander-type) pistols for the event.
I was going to attend the event myself but had scheduling problems at the last minute. Rob had already made a rig for me and sent it to me for this evaluation. The holster, magazine pouch and belt are made from premium Herman Oak leather and have a natural tan finish.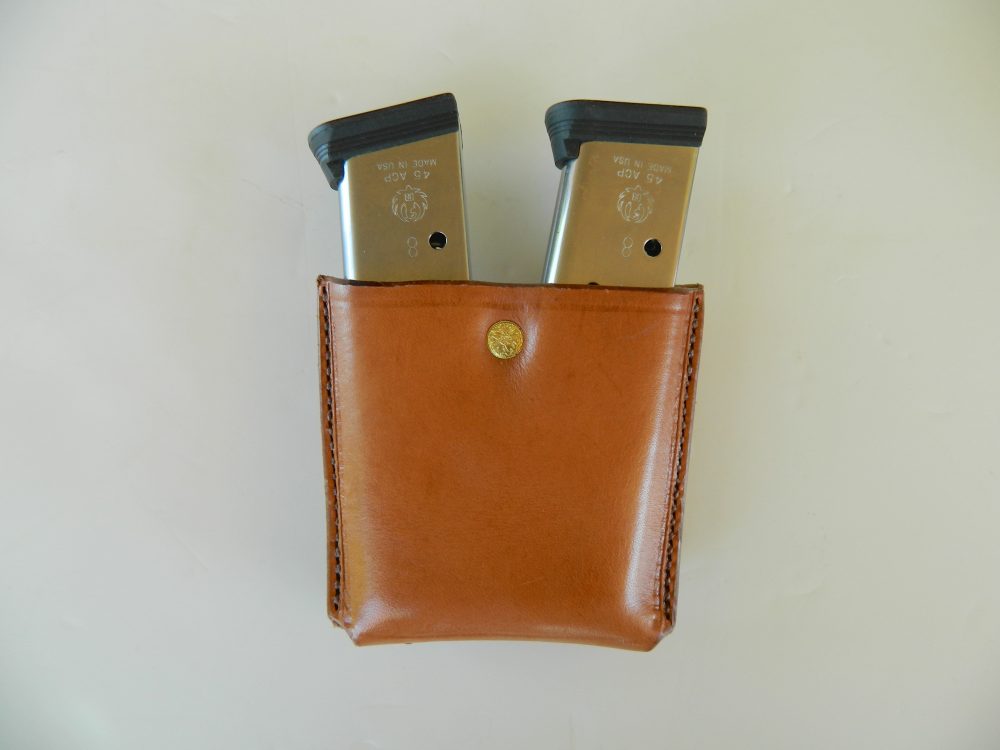 Like the Shootist, Dual Defender mag pouch is made from a single piece of high-quality leather.
---
THE SHOOTIST
The Shootist Holster is reminiscent of the Mexican Loop holster that was popular in the late 1890s and early 1900s. It's made from a single piece of leather—one side is folded over to form the holster and sewn together. The back panel on the leather has a slot cut into it, and the holster is passed through it, securing it to the back panel while simultaneously forming the belt loop.
While a few Mexican Loop holsters were fitted to a specific handgun, most I have seen were no more than a one-size-fits-all type of pouch, and most (but not all) are open at the muzzle end. Simply Rugged Holsters has improved on this tried-and-true design in the following ways:
Each holster is formed to fit a specific pistol. This aids in retention, creates less wear on a handgun's finish, and minimizes the chances that the handgun will snag on the draw. The Shootist will fit on belts that are up to 1.75-inches wide, resulting in less slop than the old holsters that were made to fit a wide assortment of belt widths.
The holster portion of the Shootist is sewn and glued together, rather than just being sewn, for strength.
Unlike the original, once placed through the slot on the back panel, the bottom of the holster is sewn to the panel. This eliminates the possibility that the holster may pull up—and possibly even out—of the slot when drawing.
With a neutral cant, when cinched up with a belt I found the Shootist held the pistol close to my body. The holster conceals well under a loose cover garment for everyday carry and would be a good choice for attending a pistol class.
At the time of this writing, the Shootist is available for Browning Hi Powers and 1911 Commander and Government models.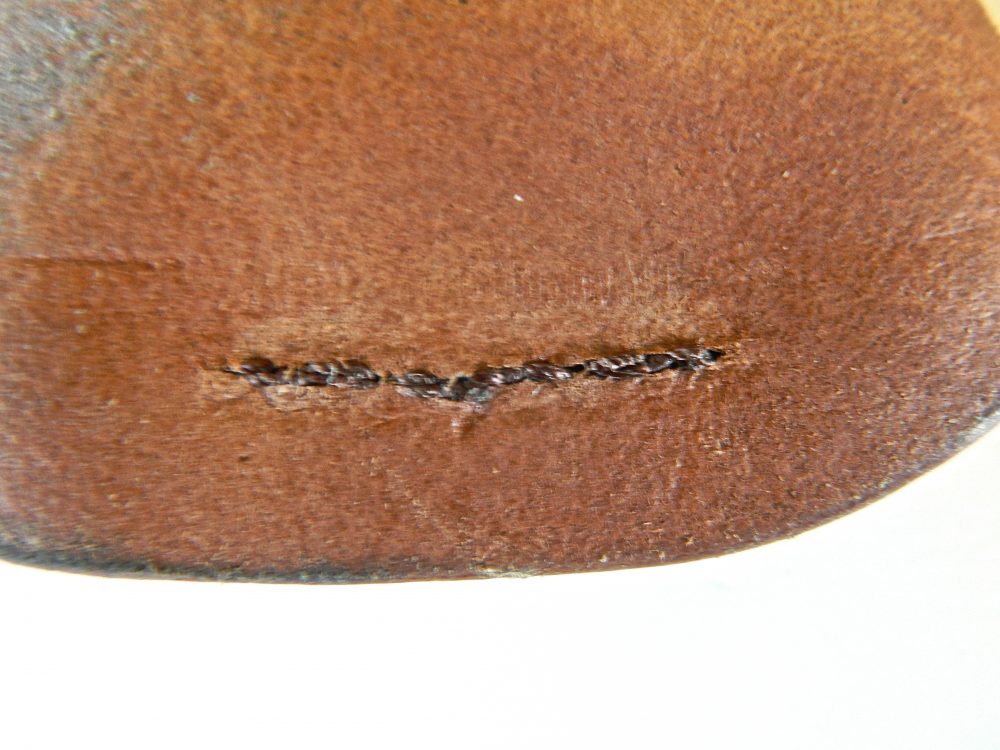 Unlike older designs, bottom of Shootist is stitched through the rear of the holster.
---
DUAL DEFENDER MAG POUCH
As stated previously in this column, I believe that any time a firearm is carried, reloads should also be carried; in other words, all the time.
Like the Shootist, the Dual Defender mag pouch is a deceptively simple yet effective design made from a single piece of leather. The pouch has a tension screw to adjust the tension on the magazines to suit individual preference.
The pouch has two belt loops with snaps that allow the pouch to be removed without having to unthread it from the belt. I wore the pouch with my trouser belt loop between the two pouch loops. This ensures the pouch will not shift position. My reloads are in the exact same place every time.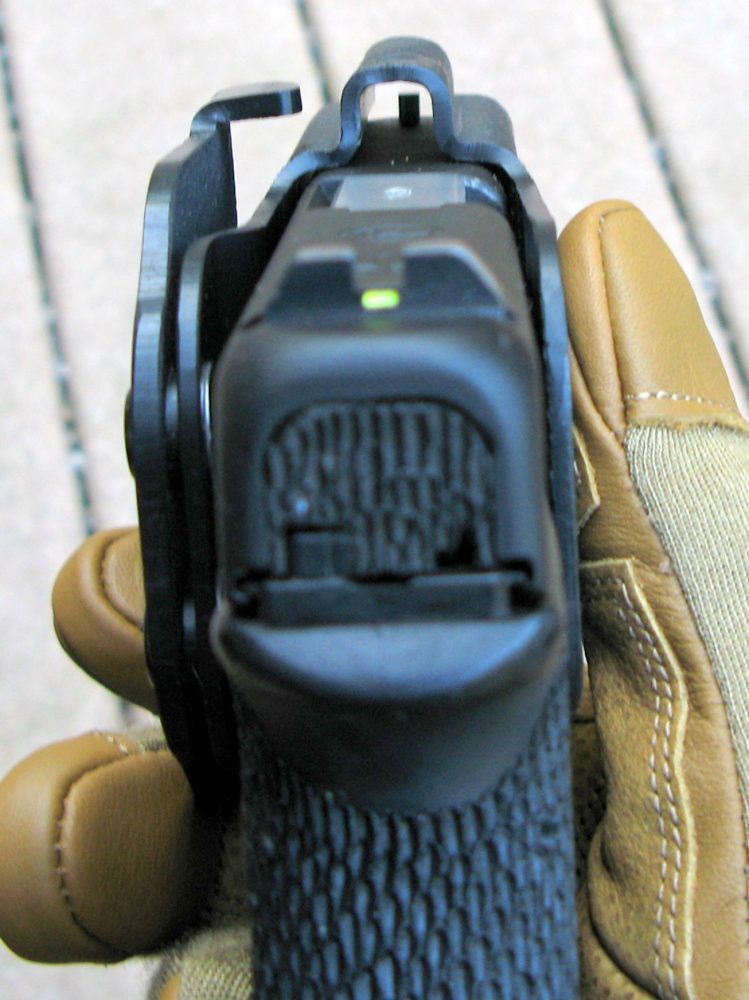 Simply Rugged rig evaluated consisted of 1.75-inch laminated belt, Dual Defender mag pouch, and Shootist holster.
---
SIMPLY RUGGED BELT
A good belt is often the most overlooked piece of equipment. A $5 belt bought off the sale rack at Walmart may hold up your trousers, but that's about all it will do.
The Simply Rugged belt is just that—simply rugged. It is two pieces of heavy leather, 1.75 inches wide, glued and sewn together to form the strong foundation needed for carrying your gun and support gear.
A solid brass buckle is attached with Chicago screws, so the wearer may use another buckle if desired. The belt comes with two leather keepers.
Between the three-day training course at Gunsite and my own use, the Simply Rugged Shootist holster, Dual Defender mag pouch and belt saw real work and performed very well.
Simply Rugged Holsters can be described in three words: rugged, straightforward and reliable. You can't ask for more.
SOURCE:
Simply Rugged Holsters
(928) 227-0432
www.simplyrugged.com
Gunsite
(928) 636-4565
www.gunsite.com