One of the significant trends in the current Afghanistan fight is the troops' increasing use of semiautomatic 7.62mm NATO rifles. Most units have gone to some type of AR- or M14-based system and have largely replaced the 7.62mm bolt guns for all but stationary work.
On a recent tour, I saw widespread use and appreciation of these marksman's and sniper rifles, in some cases to spectacular effect. But in nearly all cases, the weight of the system caused the rifles to be viewed as a support weapon, replacing perhaps a Squad Automatic Weapon, but rarely viewed simply as another primary weapon.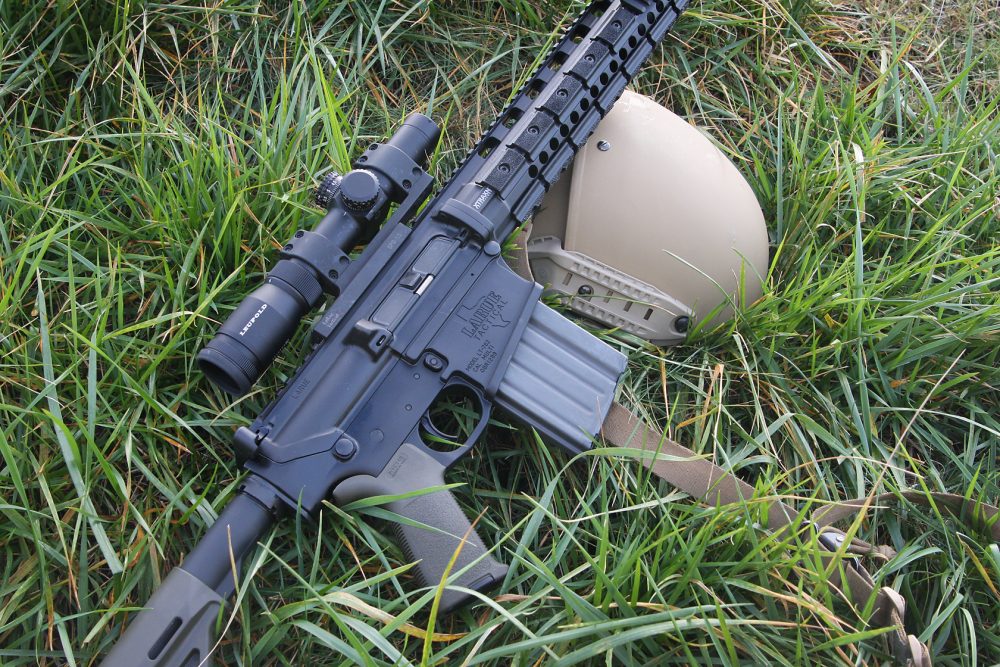 Lightweight upper and lower receiver are machined from billet 7075 T6 aluminum and strengthened in key areas to improve accuracy.
---
HEAVYWEIGHTS
I was able to work with most of the options within the class, such as the M14-based Enhanced Battle Rifle, M110 Semiautomatic Sniper System, and the Brit Modular Weapon System. While all have great features and proven capabilities, each are too heavy to be considered a battle rifle. The 13- to 20-pound system "fighting weights" with filled magazine, optic, laser, bipod, etc, make it possible to fire a few hasty shots from standing/kneeling (not as accurately as most can snapshoot a carbine), and then the shooter is rapidly seeking a place to support the weapon on or get to the bipod.
Many shooters realized this but were willing to accept that trade-off, and there were many discussions about the possibilities and strengths of a true battle rifle. Many men felt the time was right to try again, and some were frustrated by the fielding and subsequent de-issue of a recent troubled 7.62mm program.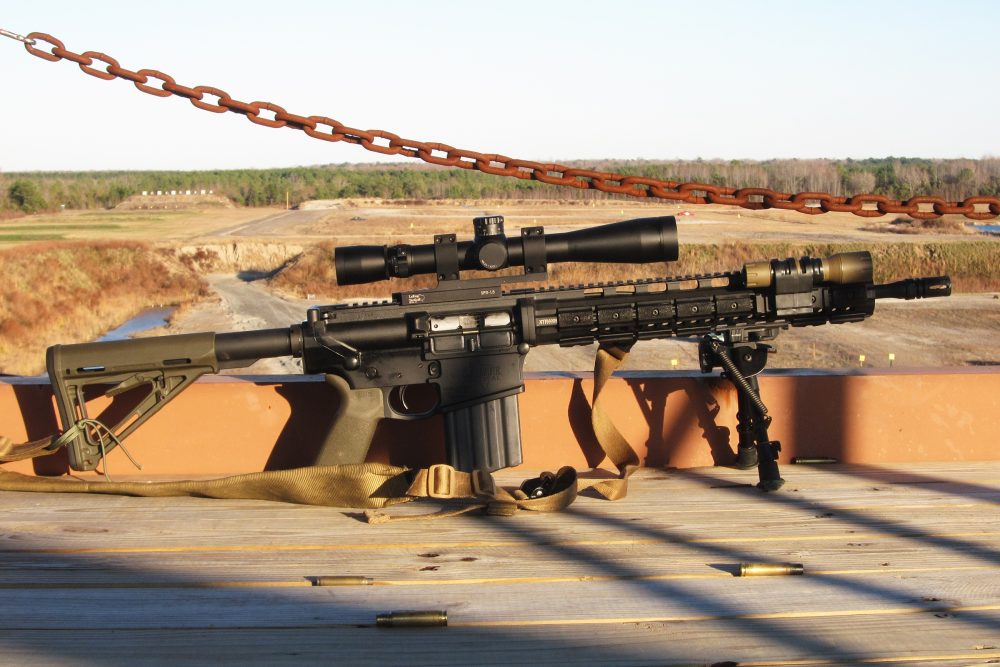 PredatAR with LR/T scope on Academi tower—an unknown-distance range where the rifle was able to rapidly transition through targets in depth from 75 to 900 yards.
---
PREDATAR
I was excited by the possibilities and potential, but the overall weight left the system in the support weapon side of the ledger. Then I heard that LaRue had drastically cut the weight on their 7.62mm Optimized Battle Rifle (OBR) and come up with a derivative of that respected system with a starting weight of 7.7 pounds!
The PredatAR was specing out the same weight as a standard M16 and much closer in weight to the legendarily handy Winchester 94 (6.8 lbs) than the 417s, M110s, and Ears. This opened up all kinds of possibilities.
I was somewhat skeptical that a .308 semi at that light weight would be as controllable as it needs to be or that a pencil barrel could shed the heat and maintain long-range capability. This was almost too good to really be true. However, LaRue's reputation has been earned the hard way over the last decade of war and, among many hard shooters, the name is synonymous with ruggedness, simplicity, and reliability.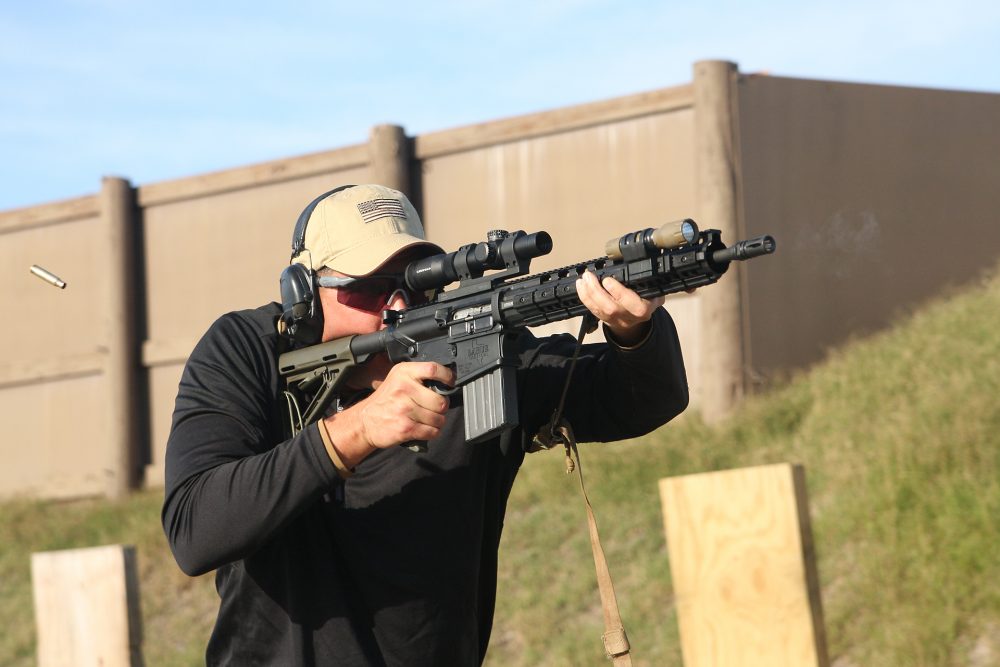 LaRue 7.62mm PredatAR with Leupold Optic was able to be run through rapid multiple target engagements at comparable speeds to 5.56mm M4s on the line at special EAG Tactical carbine class.
---
FIRST IMPRESSIONS
The LT 762 PredatAR I tested had the 16-inch LW-50 stainless barrel mounted—I wanted to go all the way into "Battle Carbine" mode and see how it shook out (Eighteen-inch barrels are also available, both with 1:11.25 twist rate).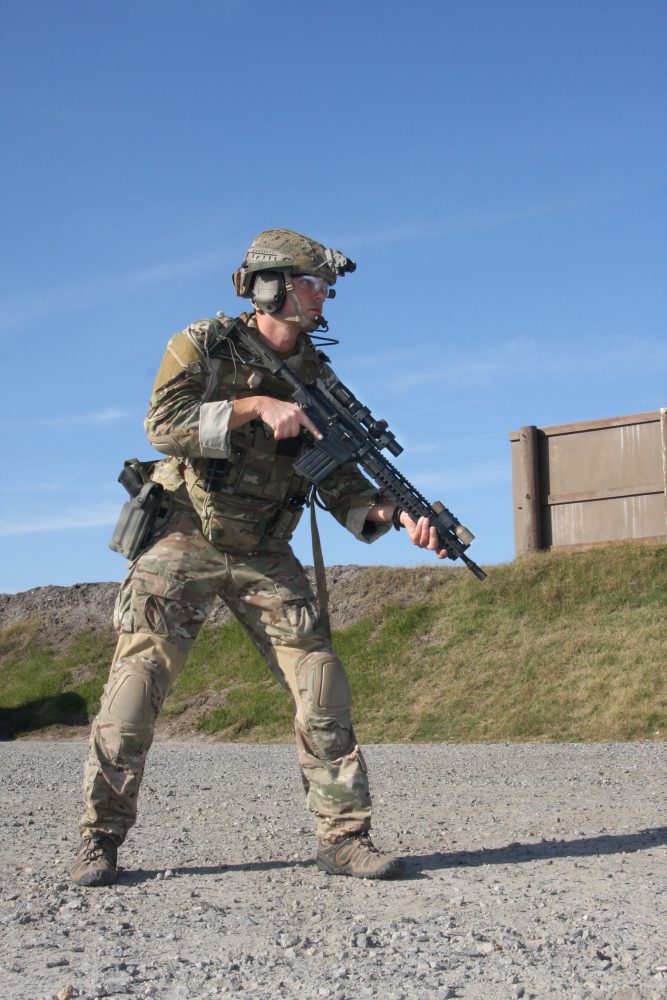 Immediately noticeable is the unique 14-inch handguard. It is lightweight and really low profile, with slight ridgelines at 3, 6, and 9 o'clock that accept either aggressively textured synthetic Grip Assist Panels or sections of 1913 rail via torx screws.
I've used many of the available quad rails as well as the various tubes that accept Picatinny lengths, and this one is at the top of the heap for now. It's crazy simple to mount or remove sections, and the feel of the rail is superb. A closer look at the rear of the handguard reveals a flange that corresponds to a matching one on the upper receiver and makes the two nearly monolithic.
Probably the next most striking feature is the large magwell and logo on the outboard side of the lower receiver. After decades of seeing them on the inboard side, it makes you look. The well is flared slightly to accept SR25/M1110-style magazines or 7.62 PMAGs. The Pred ships with one LaRue improved aluminum magazine.
The rifle wears Olive Drab with a Magpul MOE stock on the six-position receiver extension and Magpul pistol grip. The trigger is by Geissele, providing two pounds of movement to a predictable point of resistance and a consistently crisp 2.5-pound break.
The bolt is hand polished, hard chromed—and massive. A typical AR shooter's eyes will widen when you hand it over. Running the bolt with the PRI charging handle is as close as I've come to the feel of a hand-lapped custom bolt gun. The tolerances and smoothness of this thing are way impressive. The test target showed three shots in .62 inch at 100 yards, confirming the tactile impression of silky smooth fit.
KITTING UP
A rifle meant to be so versatile can be driven in many directions, and the success of each relies upon the choice of optic. I was sorely tempted to run a red dot up close, but that would rob the potential from the system for mid- to long-range employment. I hate piggybacked optics, so that was a no-go. For me the natural go-to was a low-power variable. I chose the new Leupold VX-R 1.25-4X scope for its light weight, generous eye relief and to try the new illuminated FireDot SPR reticle.
I wanted to keep the overall weight as low as possible to not fritter away what LaRue had provided, so went without my customary foregrip and only added the OBR QD sling swivel mount and a 1913 section to bolt my white light onto.
After speaking with the knowledgeable folks at Black Hills Ammunition, I went with their 155-grain AMax loading to help flatten the trajectory a little to offset the velocity loss from the shortish barrel.
Simply filling and inserting a mag of 7.62 adds a pound and a half to the system, so it was ready to fight at a proximal ten pounds.
UP CLOSE
The PredatAR came with me to an EAG Tactical special carbine class conducted for Crye Precision at the Academi training campus. I was able to run the rifle on a line full of talented shooters, including SOF and SWAT types in a three-day program that started with a review of fundamentals but quickly ramped into quals and nightwork in the 50 yards and in close-range fighting space.
The .30-caliber LaRue was ultra controllable in all drills, allowing me to hammer out multiple shots or engage multiple targets on pace with the class, despite launching twice the muzzle energy. The rifle was just heavy enough to help fight recoil, while remaining light enough to shoot all day.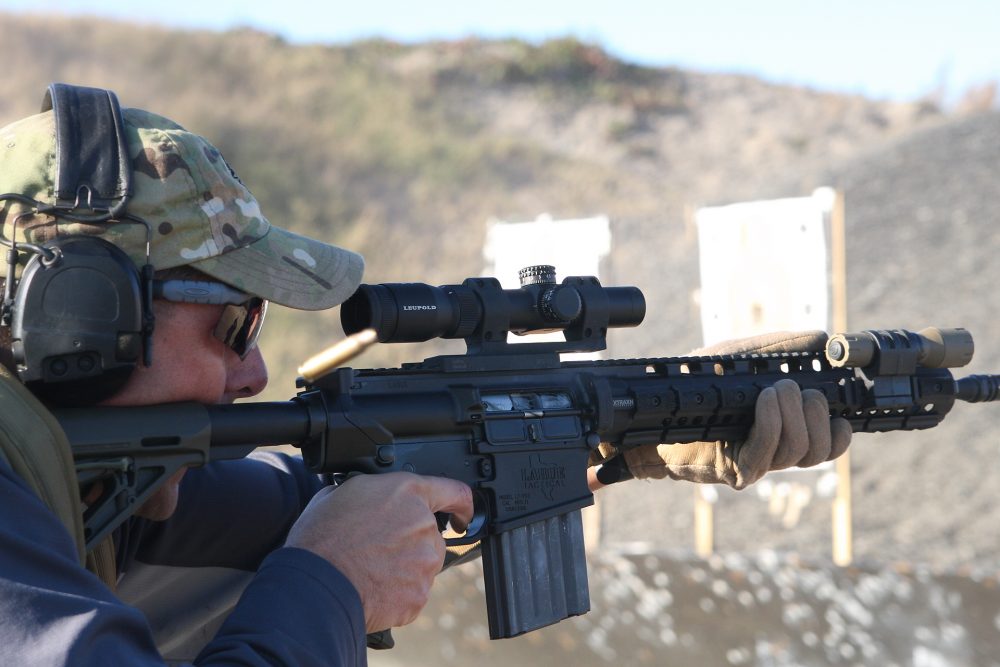 Rifle shed recoil well, allowing shooter to recover quickly for follow-up shots at carbine distances.
---
The action cycles with incredible smoothness—something no piston 7.62 can claim—and the recoil impulse comes back into the shoulder as a good push without excessive rise. If the shooter stays "behind the gun," it is quite comfortable and fast to recover.
I'm a fairly big guy and can be a little relaxed on the carbine. I've been reminded by most of the top instructors in the business to get a little harder on the gun to find another gear for speed. The PredatAR was the best coach I've had to make me stay there until it became a habit.
At various points in the class, I was able to run drills back to back with a Bravo Company Mfg M4A1 EAG carbine (Carbine Wedding, June 2011 S.W.A.T.), a light for class 5.56mm to get a feel for the performance and recoil difference.
In raw speed there was a predictable difference, amounting to about 20 percent for the same quality of hits. However, in scored drills, where there is a little bit of free space in the time limit with 5.56, I was able to use that space to advantage and score identically in most cases. In fact, one experienced shooter used the PredatAR to shoot the class high on the MEU(SOC) carbine qual.
Throughout the class the PredatAR ran flawlessly, and I lubed it less than I normally do, since it never began to feel the least bit dirty or sluggish—no doubt a combination of the quality ammo and rifle build.
This is good, since a nitpick I had is that the ejection port cover lies flush against the receiver when open and, because it is not as simple to swipe closed as with a 5.56 AR, more matter might find its way into the action for the forgetful or undisciplined.
I had been a little curious about the flinch factor of shooting a carbine class' volume of rounds through a lightweight 7.62, and by the tail end of the final day, I did find myself less than enthusiastic about shooting from prone and having to bear down a little more on the longer shots on the move, but it was not a significant issue.
Interestingly, there were a couple of experienced hands in the class who had tried some of the other semi 7.62s on the market, quickly found them too heavy for general use and moved on. They were enthusiastic about what they were seeing with the PredatAR. There may be a ten pound "ceiling" in effect for rifles to be run well, similar to how pistols are universally in the two- to three-pound loaded weight to be effectively portable and easy to shoot.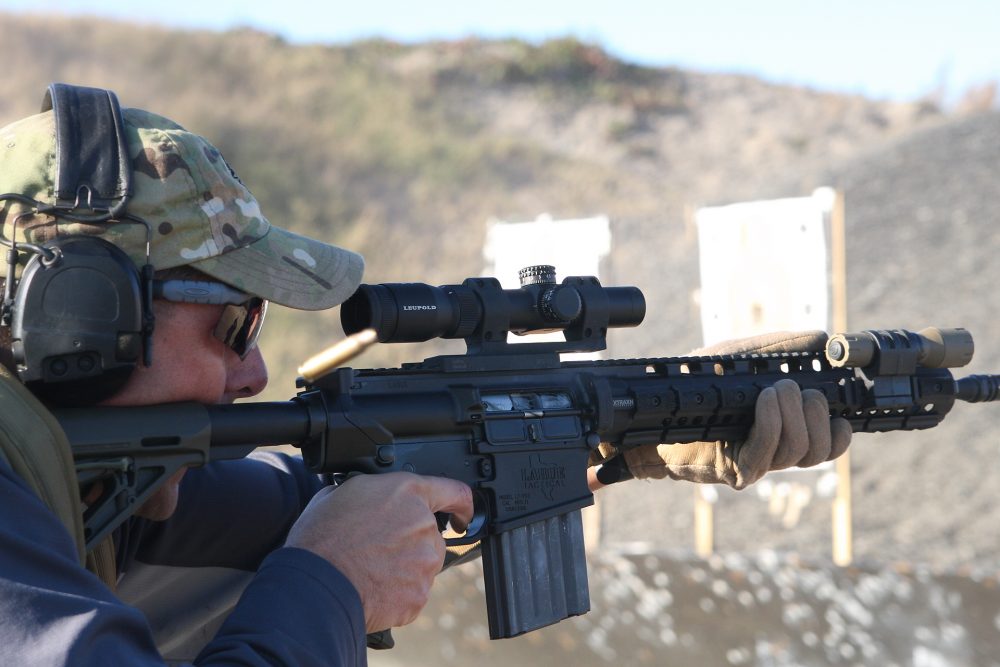 Rifle shed recoil well, allowing shooter to recover quickly for follow-up shots at carbine distances.
---
OUT THERE
I returned to the Academi campus a few weeks later to explore the other end of the trajectory and see the long-range utility of the LaRue.
On one of their multiple long-range known distance ranges, I worked the rifle back incrementally on paper and 12-inch square steel representing upper chest cavity shots. For this portion I attached a LaRue/Harris QD BRM-S Bipod to discriminate shooter-attributed error. The rifle was still handy with the bipod out front, and the VX-R remained in place to see what the rifle could do with a patrol optic. The mil line holdovers in the SPR reticle corresponded precisely with 400 and 600 yards. Banging the nearly dinner plate-sized steel was too easy. A three-shot group at 600 yards measured only seven inches with wind and shooter error included, so the rifle can shoot.
I outran the 4X optic at 800 yards, with hits possible but not certain, and switched to a Leupold Long Range/Tactical (LR/T) 3.5-10X to see what was possible as a light sniper semi. Putting the Black Hills lead onto steel was no drama, with comeups about 7 MOA more than usually expected from .308 at that distance due to the shorter barrel. You do not want to be in the open and acting stupid if someone has this rifle within half a mile.
To wrap up the test, I was able to run the tower, an unknown-distance range that had targets and cars sprinkled across various terrain from about 75 yards out to 900. As a scenario on the fourth floor, my instructor/spotter called designated targets that required immediate threats from standing and kneeling at 75 to 150 yards, then inside multiple vehicles at midrange from the bipod, and a final target at 900 and change. This was a perfect match for the rifle itself—the ability to seamlessly handle dynamic multiples at shouting distance and then put horsepower precisely into targets out as far as the skill of the shooter allows.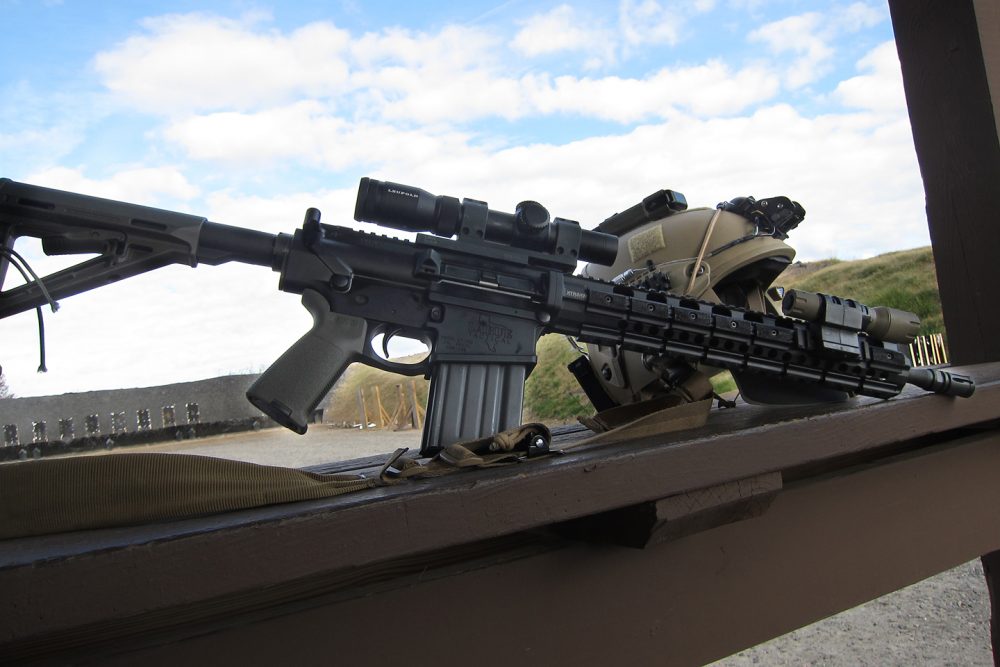 Fourteen-inch free-floated handguard accepts either textured rail covers or 1913 rail sections while keeping a low profile.
---
DEFINING THE CLASS
The PredatAR is an exciting tool. It allows capability in many areas but is not a jack of all trades/master of none. Its ergonomic balance, accuracy, and reliability allow it to do just about all one could ask. It viably could replace several role-specific weapons, allowing a shooter or unit to clean out the safe and become more versatile in the process.
Right now, the PredatAR is in a class that it clearly defines and occupies alone, although inevitably the industry will lighten up and create competition. It will be interesting to see how many can approach this level of quality.
The PredatAR is not for everyone—the masses may be better served by a lighter 5.56 carbine. But for many hard shooters, this is a professional's gun that can play on many fields.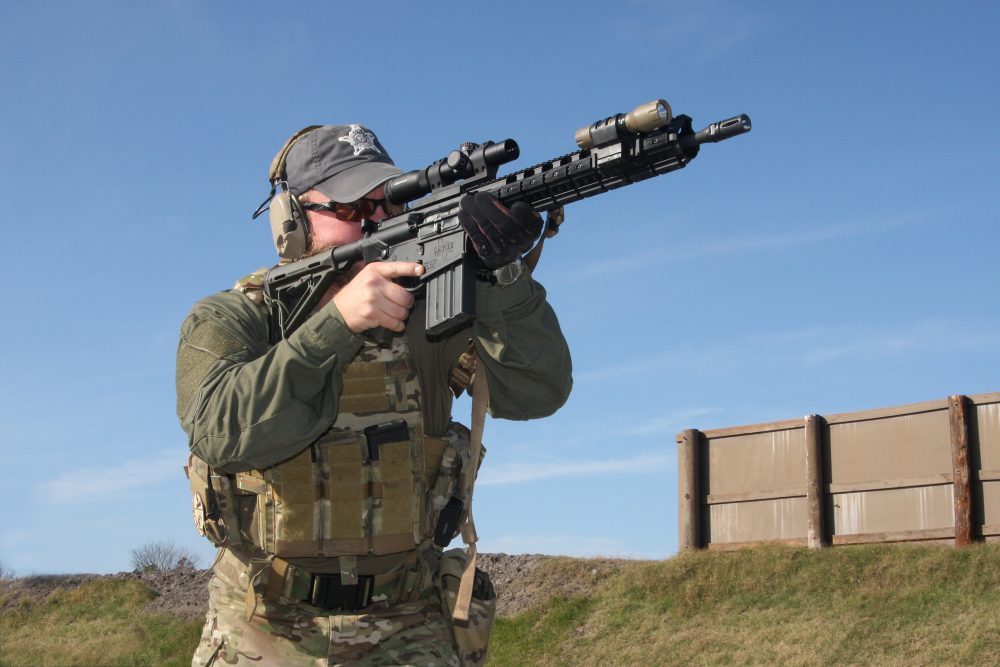 Matt Johnson of Crye Precision with LaRue PredatAR 7.62mm at special EAG Tactical carbine class on Academi campus in Moyock, North Carolina.
---
ACADEMI
Located in Moyock, North Carolina on 7,000 acres of training space, the complex begun by Blackwater and purchased/expanded by the U.S. Training Center has now been renamed Academi.
The campus was a perfect match to push a weapon as versatile as the PredatAR. I had last trained there nearly ten years ago and was unprepared for the scale and quality of what is now available, with more than 35 unique ranges, high-quality support facilities, a lodging inn, fully stocked pro shop, mobile armories to support classes, and more.
The large instructor staff is actively engaged in training allied partner nations, LE and Military units, and open enrollment courses most weeks of the year. This broad exposure leads to a living curricula that constantly adapts to emerging trends, according to company president Ted Wright.
The name change is meant to correspond with Academi's tight focus on domestic and international training, and the "feel" within the facility is akin to a collegiate environment, except that as you mingle with the staff and other classes in the cafeteria, most students are armed and about to head back to a range.
The organization seeks to be the modern-day equivalent of Plato's Akademia, where many of that day's pre-eminent scholars and warriors alike were educated. The miles of driving and off-road tracks, wide variety of shooting houses, ranges, and mock-ups exceed what is available on the majority of DoD bases. I found several classes that I need to take, and I look forward to sharing my reports on them with S.W.A.T. readers.
SOURCES:
LaRue Tactical
Dept. S.W.A.T.
850 County Road 177
Leander, TX 78641
(512) 259-1585
www.larue.com
Academi
Dept. S.W.A.T.
1001 19th Street
19th Floor
Arlington, VA 22209
(252) 435-2488
www.academi.com
Black Hills Ammunition
Dept. S.W.A.T.
P.O. Box 3090
Rapid City, SD 57709-3090
(605) 348-5150
www.black-hills.com
Bravo Company Mfg.
Dept. S.W.A.T.
P.O. Box 341
Hartland, WI 53029
(877) 272-8626
www.bravocompanymfg.com
EAG Tactical
Dept. S.W.A.T.
P.O. Box 3000
Chino Valley, AZ 86323
Fax (928) 636-6686
www.eagtactical.com
Leupold & Stevens, Inc.
Dept. S.W.A.T.
P.O. Box 688
Beaverton, OR 97075-0688
(503) 526-1400
www.leupold.com