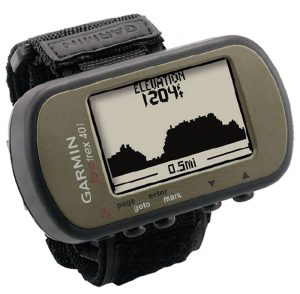 Global Positioning System (GPS) is a worldwide satellite- based radio navigation system that was conceived in the 1970s by the U.S. Department of Defense. The GPS system provides specially coded satellite signals that can be processed in a GPS receiver to calculate position, velocity, and time.
A GPS receiver can determine its precise distance from each satellite by measuring the travel time of the signals transmitted by the satellites. Latitude and longitude can be calculated by locking on to and measuring (triangulating) the signals of three satellites. If a fourth satellite is available, altitude can also be calculated.
Wide Area Augmentation System (WAAS) was developed by the Federal Aviation Administration to augment GPS with the goal of improving its accuracy, integrity, and availability, to enable aircraft to rely on GPS for all phases of flight. WAAS uses a network of ground-based reference stations in North America and Hawaii to measure small variations in the GPS satellites' signals in the Western Hemisphere.
These measurements are routed to master stations, which broadcast the corrections to geostationary WAAS satellites located over the equator. The WAAS satellites rebroadcast the correction messages back to Earth. WAASenabled GPS receivers utilize the corrections while computing their positions to improve accuracy.
The first wrist-worn GPS units were designed for recreational use and left much to be desired for tactical applications or rugged outdoor use. Garmin®'s original Foretrex® 101 Personal Navigator ® was a game changer and was quickly adopted by troops for use in the War on Terror.
With the introduction of the Foretrex 401 Personal Navigator, Garmin has updated the Foretrex into a sleeker, more powerful tool. The Foretrex 401 integrates a high-sensitivity WAASenabled GPS receiver and USB 2.0 interface into a lightweight waterproof device that can be comfortably worn on the wrist or attached to an M4 buttstock, leaving both hands free for other tasks. It is a tough, easily accessible, and simple to use NAVAID.
Additional features include a twoaxis electronic compass, barometer and altimeter, Jumpmaster function, and wireless data transfer.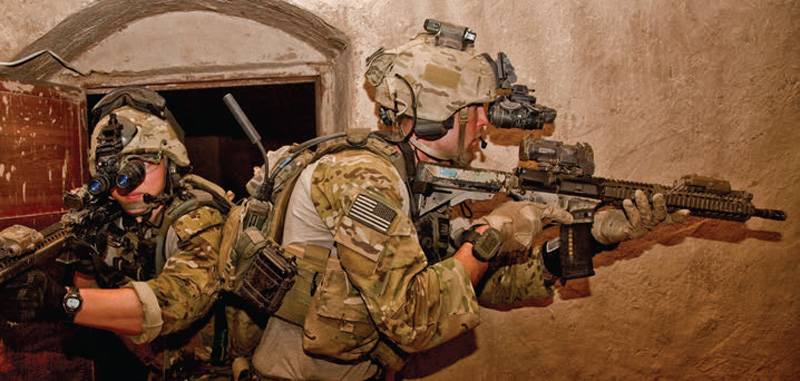 The Garmin Foretrex 401 is smaller and lighter than previous models for increased comfort and mobility without any sacrifices in ruggedness. It measures a compact 2.9 x 1.7 x 0.9 inches and weighs only 3.1 ounces with batteries. It's protected against accidental immersion in one meter of water for up to 30 minutes. This means you don't want to go swimming with it, but splashes and rain won't damage it.
The Foretrex 401 features a highsensitivity GPS receiver with Garmin's HotFix™ to quickly acquire and maintain satellite reception. I have tested/ employed the unit under a variety of conditions and have found its GPS signal reception to be excellent. The receiver is of parallel channel design, with more than 12 channels. Typical GPS accuracy is less than 33 feet. Warm start acquisition time for the Foretrex 401 is less than one second.
Parallel channel receivers utilize multiple channels to simultaneously lock on several satellites at the same time. This eliminates switching errors and gives the receiver the ability to instantly switch to an alternative satellite in the event the signal from any of the primary satellites becomes obstructed, ensuring more reliable, continuous navigation in adverse conditions.
The Foretrex 401 offers easy singlehanded operation. It has five ergonomically located, easily operated buttons that control all functions. You are guided through all the functions via an intuitive on-screen menu. You can load your waypoints and routes directly from your computer via USB (a USB cable is included) or wireless data transfer.
The wireless data transfer capability on the Foretrex 401 allows you to send and receive waypoints, routes and tracks from any compatible Garmin device. It's a great way to share mission waypoints/phase lines and routes among other team or group members.
The Foretrex 401 can navigate 20 reversible routes and store 500 waypoints with name and graphic symbols, 10,000 track points, and ten saved tracks. There are numerous data field options—far too many to detail here.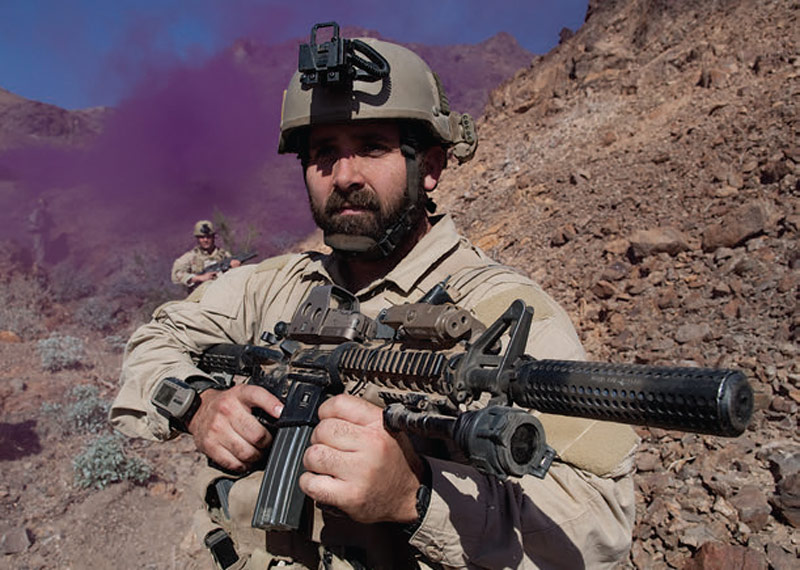 It has a trip computer that calculates current, average and maximum speed, tracks trip time and calculates distance. The timer function offers a number of options. The Foretrex 401 also has sunrise/ sunset time, moonrise/moonset time and moon phase, and a hunting and fishing almanac. You don't need to worry about data loss. Data storage isn't battery dependent, so if your batteries die, you won't lose any data.
Your travel path is displayed as a dotted trail on the screen. You can easily retrace your path back to where you started by turning on the TracBack® feature. You can save important locations in memory as waypoints, so you can always find your way back to them.
The Foretrex 401 is compatible with Garmin BaseCamp™ software, which may be downloaded for free on the Garmin website. Tracks saved in the Foretrex can be exported to BaseCamp.
The Foretrex 401 has an electronic compass, a barometric sensor and altimeter. Since the electronic compass is of two-axis design, it must be held flat to get accurate readings.
Always have a good lensatic compass, such as the military-issue Cammenga 3H Tritium or 27 Phosphorescent Compass, and a topographic map of the area with you as backups to any GPS system while in the field.
The Foretrex 401 features the Jumpmaster function, which is designed as a NAVAID for airborne ops but will be appreciated by civilian skydivers as well.
The Jumpmaster function follows military guidelines for static, HAHO and HALO. It allows the jumper to set data points for under-canopy guidance to an LZ, with options for forward throw, wind speeds at altitude, and HARP.

The Foretrex 401 has a dual-position readout that allows you to choose from either a horizontal or vertical display format. You can view your current location in multiple formats, including latitude/ longitude, simplifying navigation.
The display has an easy-to-read highcontrast 64 x 100 pixel LCD screen that measures 1.4 x 0.92 inches. The screen is equipped with a bright LED backlight that can be dimmed for low-light use.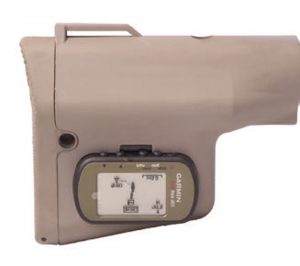 Power is provided by two AAA batteries (not included). Garmin recommends alkaline or NiMH batteries.
A set of batteries will provide up to 17 hours of operation. From a practical standpoint you can expect less, depending on how you use the device. For example, excessive use of the backlight will shorten battery life. Batteries can be replaced in seconds and no tools are required.
The Foretrex 401 comes with a black nylon mounting strap with Velcro® adjustment. The strap is secured to the GPS with screw-in pins. An extension strap is included with the Foretrex for larger wrists or wearing over heavy clothing.
The strap can also be employed to mount the Foretrex 401 on the buttstock of an M4. Mounting it there allows you to conduct a GPS check while patrolling just by rolling the carbine toward your face.
Troy Industries offers a buttstock for the M4 that comes with a Foretrex 401 embedded in it. Called the Troy Nav Stock™, it's the first stock of its kind.
A variety of aftermarket pouches are available for the Foretrex 401, such as the excellent Operator's GPS Pouch by 215 Gear™. The Foretrex 401 is both Mac® and Windows® compatible. System requirements are minimal.
To sum it up, the Foretrex 401 is a full-featured GPS NAVAID that has proven itself on the battlefields of Iraq, Afghanistan and other hot spots. It has consistently received high marks from operators in the field. You can't get a better recommendation than that.
The Garmin Foretrex 401 has a suggested retail price of $199.95. It comes with a one-year limited warranty.