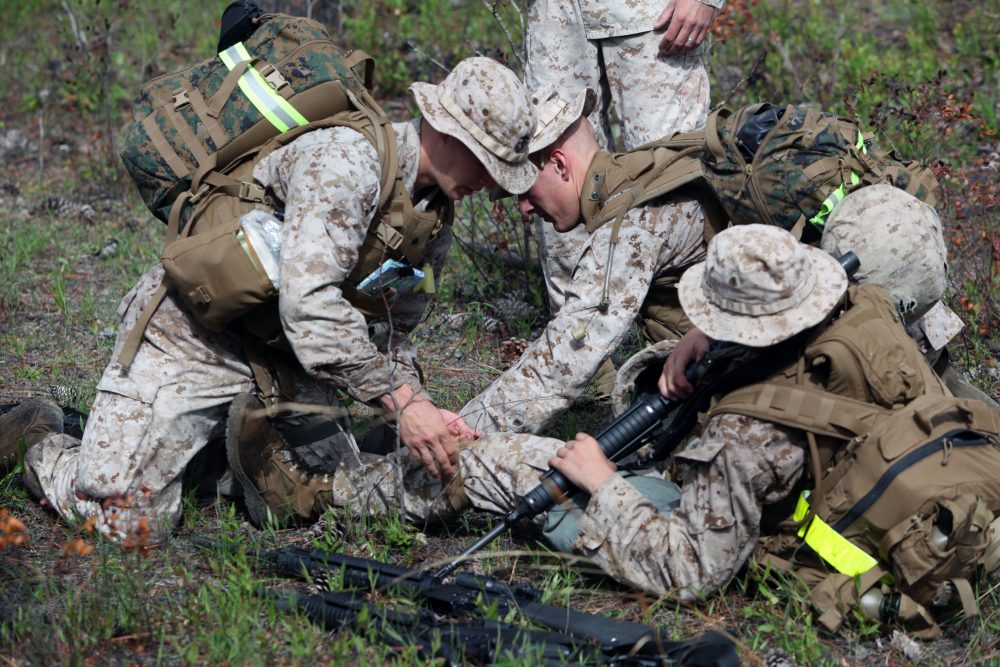 Today there are literally hundreds of individual first aid kits (IFAK) from which to choose. One of the best I've found is the Dark Angel Medical 2nd Gen D.A.R.K. (Direct Action Response Kit).
The concept behind the D.A.R.K. is best summed up by the motto of Dark Angel Medical: "Simplicity Under Stress." To quote the company, "This kit has everything you need and nothing you don't. Life is hard. Keep your med kit simple." I couldn't agree more.
It's a well-known axiom in combat medicine that the complexity of an IFAK is inversely proportional to a manufacturer's or operator's actual combat medical experience.
The founders of Dark Angel Medical, Kerry "Pocket Doc" Davis and Lynn "Hot Sauce" Davis, both veterans, have over 20 years of medical training and work in both the military and civilian healthcare fields.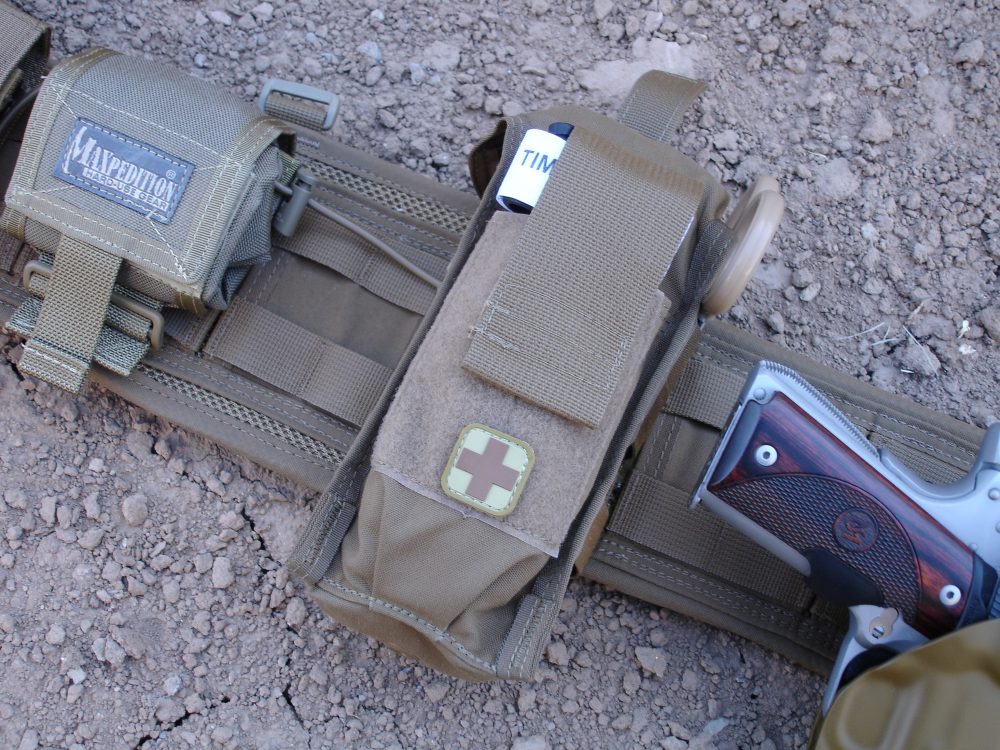 The D.A.R.K. is designed to address the three main causes of preventable death on the battlefield: exsanguination, tension pneumothorax, and compromised airway. With this in mind, Dark Angel Medical chose the best components and packaged them in an easy-to-carry, easy-to-deploy kit.
Each D.A.R.K. comes with four main components: a custom pouch, Combat Application Tourniquet® (C-A-T®), trauma shears, and vacuum-sealed poly bag that Dark Angel Medical refers to as the "insert." The poly bag is 5-mil thick for maximum durability and has quick-tear perforations at each corner. One side features a zip-style closure so the bag can be resealed and stowed if necessary.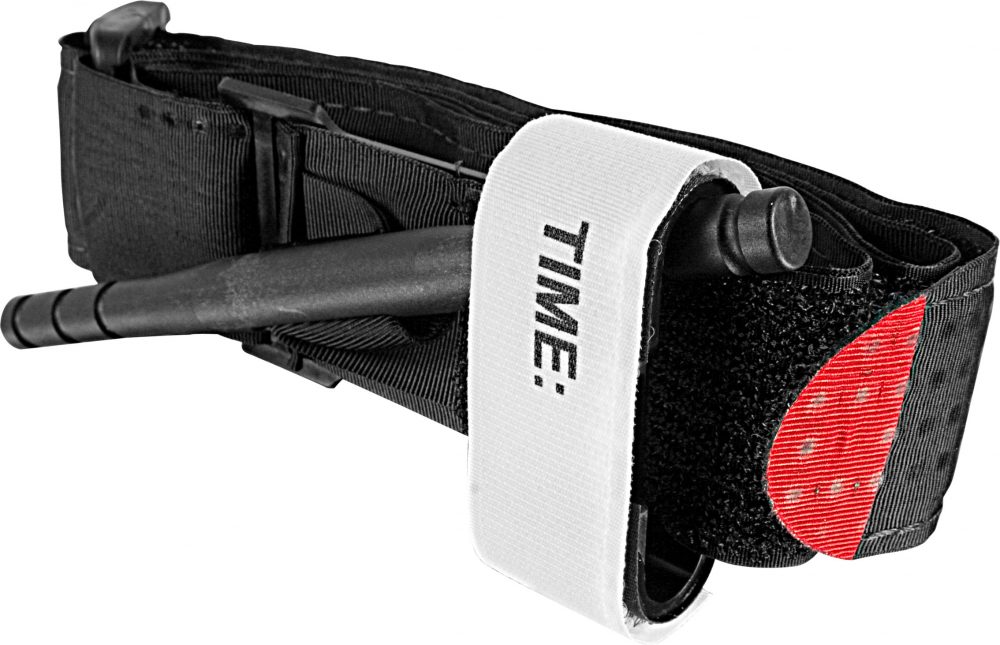 The insert is custom built to Dark Angel Medical's specs by PMI. It contains nitrile exam gloves, HALO™ chest seals, 28 Fr. nasopharyngeal airway (NPA), QuikClot® Combat Gauze™, LE or milspec Combat Gauze (depending on the D.A.R.K. model), compressed gauze, and four-inch Israeli Bandage®. The insert can be also purchased separately or as a refill.
The only difference between milspec and LE Combat Gauze is that the milspec Combat Gauze has an x-ray visible strip of material running down the middle. This is to decrease the chances of the Combat Gauze inadvertently being overlooked as a result of the multiple patient "hand-offs" that occur in combat environments.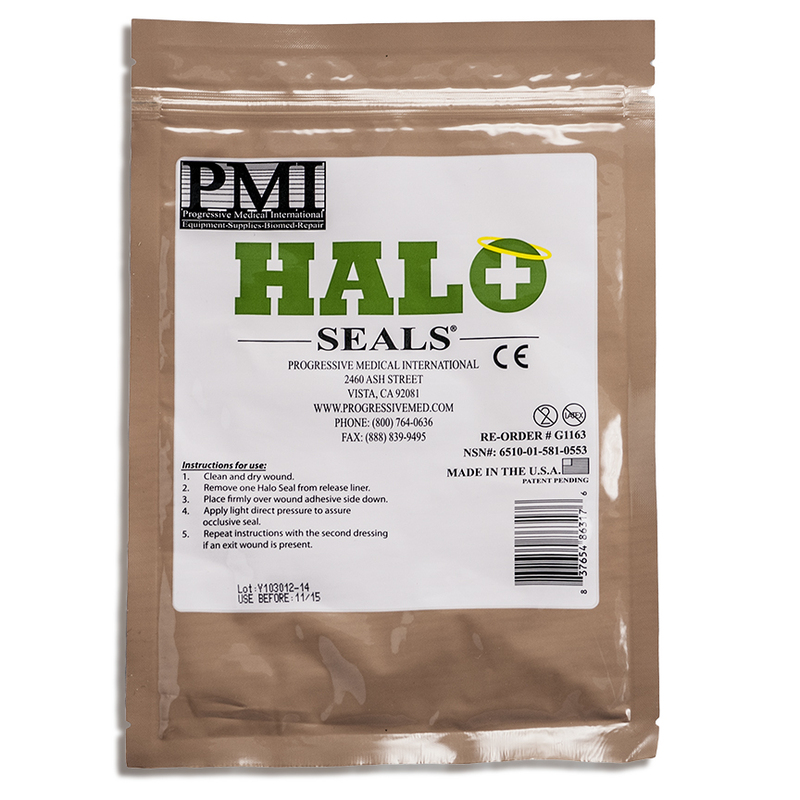 The D.A.R.K. pouch is custom made for Dark Angel Medical by First Spear, LLC, which also collaborated in its design. The pouch is constructed of 500 denier NIR (Near-Infrared) nylon and measures a compact 8x3x2.5 inches ⎯ roughly the size of a "stacker" two-mag pouch for USGI M4 mags. Now in its second generation, the D.A.R.K. pouch features a number of design improvements.
As a result of input from in-theater end users, the pouch has a no-snag design and monochromatic color scheme with no red in order to be a "non-identifier." It has a cap-style lid with pull tab that's similar in design to early mag pouches, and an internal quick-deployment strap.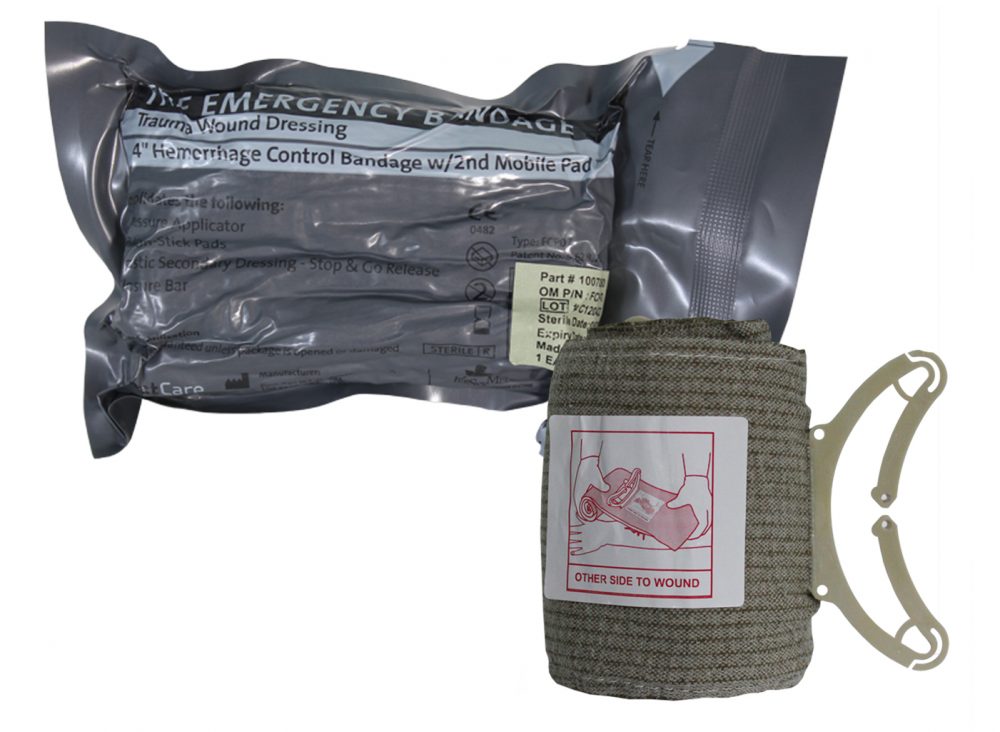 The pouch has a built-in TQ pouch for securing and protecting the TQ from the environment. Each side of the pouch has one-inch-wide nylon PALS webbing on each side of the pouch for placement of trauma shears/safety cutters, chest decompression needles, markers, lightsticks, or for attaching other pouches. The pouch is MOLLE compatible and has built-in "Natick Straps" on the back.
The pouch is available in four colors—MultiCam®, Coyote, Ranger Green, and Black. Each pouch comes with a one-inch-square PVC medic patch with subdued cross/medical pouch identifier. The pouch can also be purchased separately.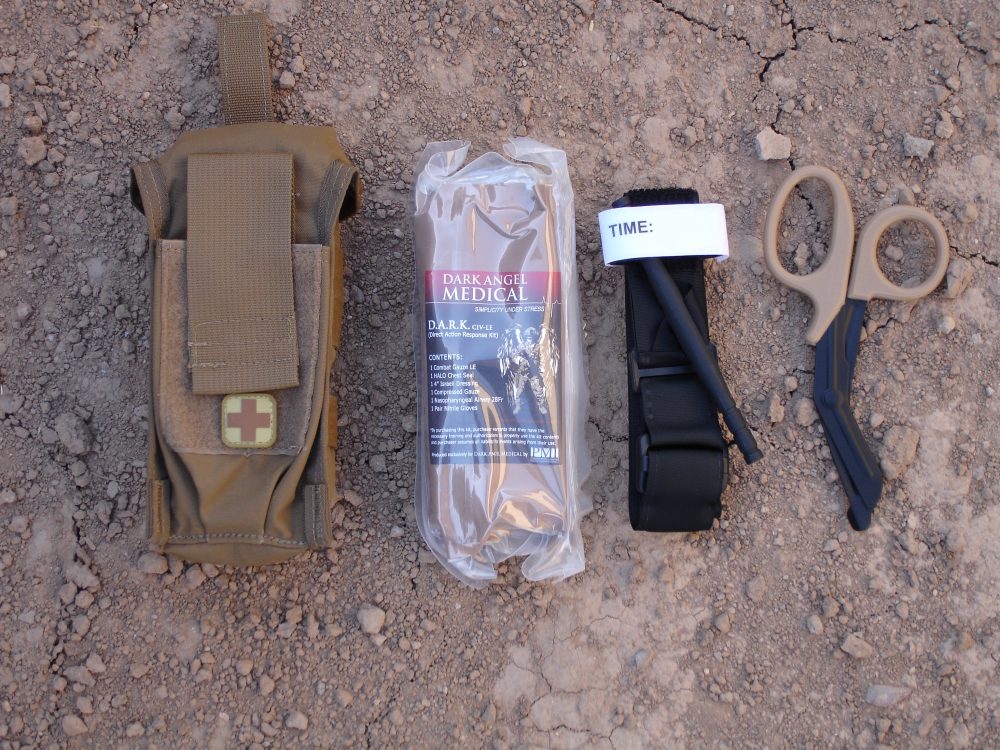 The D.A.R.K. doesn't come with a chest decompression needle, for several reasons. Needle decompression is an advanced skill and the D.A.R.K. was designed so that it can be safely and effectively employed by anyone with a small amount of medical training. Tension pneumothorax typically develops over two to two and a half hours. If you have the training and the need, a "chest dart" can easily be added to the kit.
Even the best kit is of limited use unless you have been trained how to use it. When you need it isn't the time to learn. Dark Angel Medical offers an excellent two-day Tactical Aid Course at their location or yours. There are no prerequisites for the class. A D.A.R.K. is given to each student as part of the tuition. To host a course, contact Dark Angel Medical.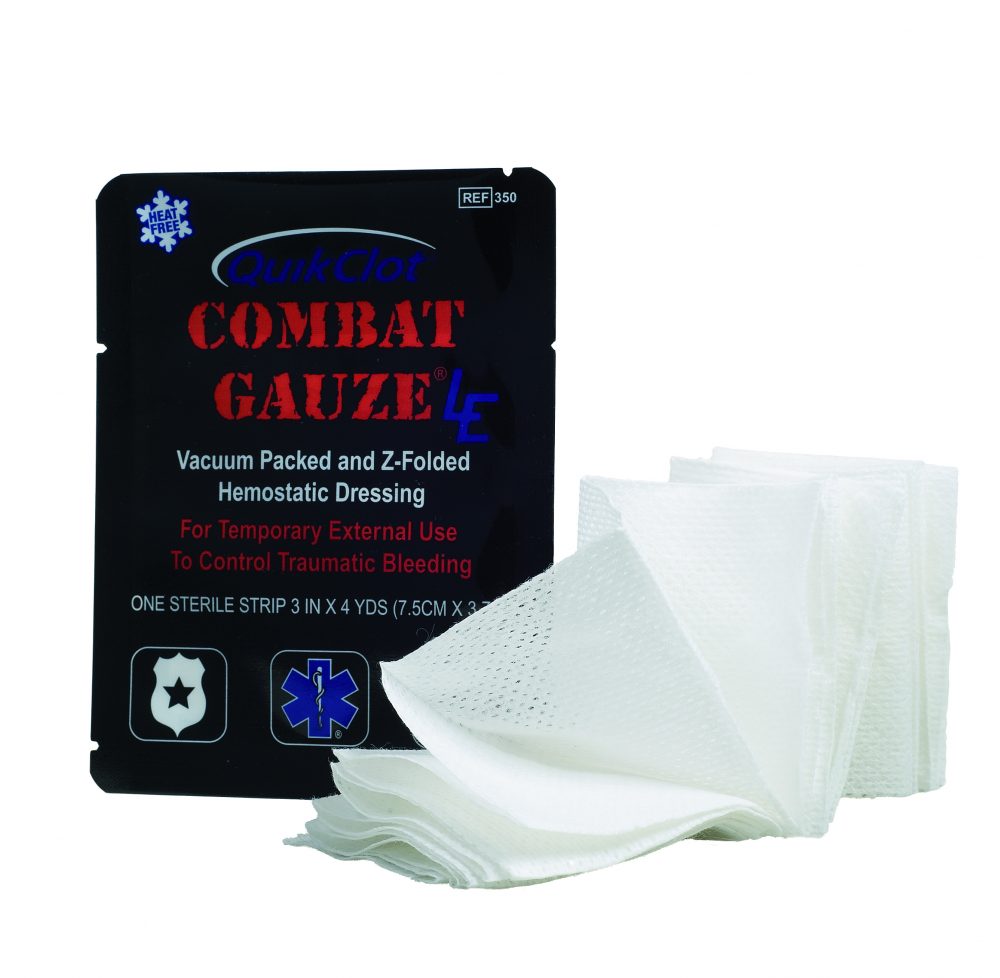 The suggested retail price for the complete civ/LE kit is $159.95; $164.95 for the milspec kit. Should you ever have to use your D.A.R.K. in a life-threatening situation, simply provide official documentation and Dark Angel Medical will send you a replacement kit free of charge.
To sum it up, the D.A.R.K. is one of the most practical IFAKs I have seen. It's earned a place on my battle belt.
SOURCE:
Dark Angel Medical
(720) 836-7150
www.darkangelmedical.com