Walking through the aisles of the 2012 SHOT Show in Las Vegas, I knew my time was limited to visit a list of must-see booths. Adventure Medical Kits (AMK) was high on the list, and rightly so.
I would be doing a survival class in about 37 degree Fahrenheit weather and I needed something I could rely on. I heard from an AMK rep that a bivvy (bivouac sac) was coming out that was water-resistant and breathable. Along with many other outdoor enthusiasts, I have carried and used AMK's waterproof bivvy for years, as both an emergency backup and a regular bivvy for backpacking. Condensation was always an issue with the latter. Could this new bivvy be the remedy?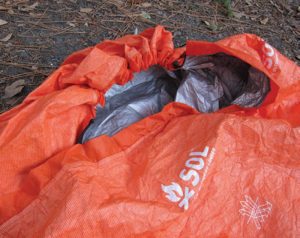 The idea of a highly water-resistant yet breathable bivvy has been a contradiction in the minds of most when it comes to outdoor gear. Breathable usually means it's neither water-resistant nor windproof. Water-resistant usually means condensation city, and you will have one wet night and morning. Staying dry and warm is essential, in backpacking/camping scenarios and survival situations alike.
SPECS
The SOL Escape Bivvy is constructed of a spunbonded olefin fabric similar to Tyvek. The inside has a metalized coating for warmth. If weight is an issue, and it should be, then this bivvy is the perfect alternative to the larger hooped and almost tent-like bivvys on the market.
At 8.5 ounces total weight (approximately 11 ounces with stuff sack), you won't be weighed down by this piece of kit. The size is about 36″ x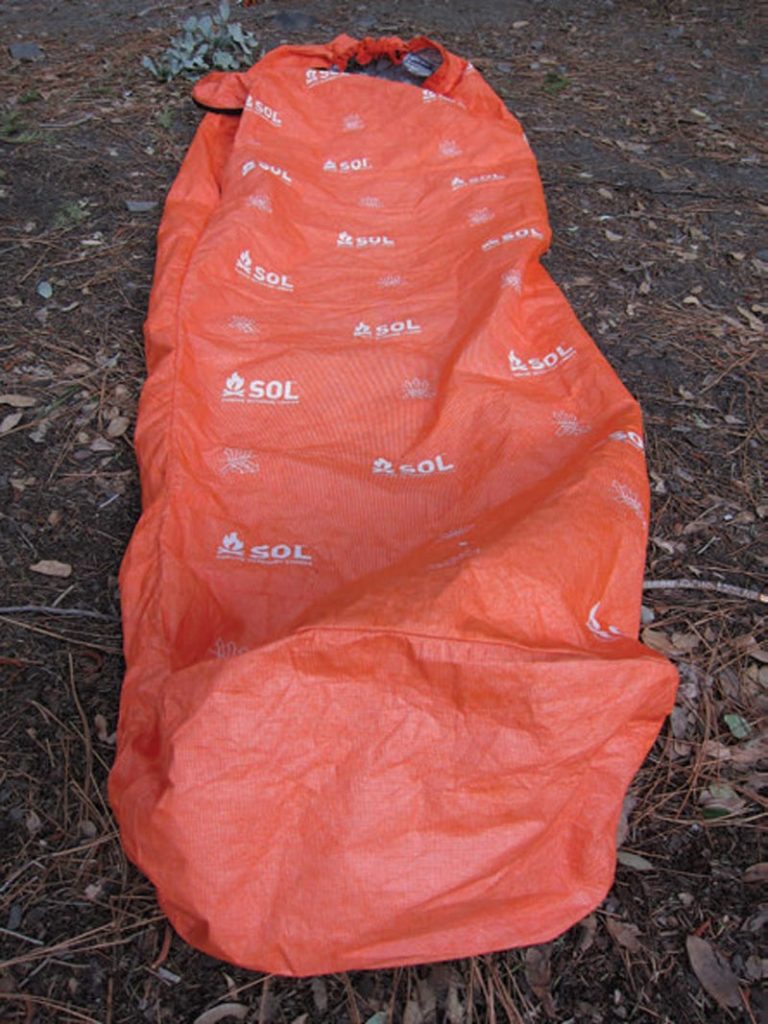 84″, which is plenty of room for you and your clothes but nothing else. Other features include waterproof seams, drawstring hood closure and very short side zipper.
IN THE FIELD
A few days after SHOT, I was setting up camp in the mountains near Wrightwood, California. Once the tarp was up, I started to pile up green pine boughs for a rustic mattress. Knowing how low the temperatures would get, combined with windblown rain and snow, I decided to use the SOL Escape Bivvy as part of my sleep system instead of waiting for the occasion where I might be lost and need to hunker down for the night.
I use a bivvy anytime I'm backpacking (except in the tropics). I have enough room for my extra layers of clothing and small, thin backpacker's quilt. My regular bivvy is very lightweight and breathable. However, it lacks the reflective material inside for keeping in body warmth and won't help rescuers find me due to its subdued gray and black color, as opposed to the SOL Bivvy's bright orange. Once I crawled into the SOL Bivvy feet first, I noticed it was going to be a snug fit. I was wearing two layers of clothing and had my thin quilt inside with me, as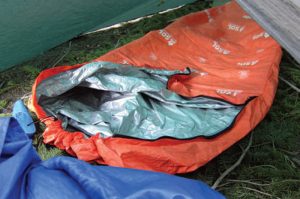 this would be my dwelling for the next three nights in a winter camp.
Small size is a good thing when it comes to outdoor shelters. One of the ways a person's body loses heat is through radiation. Our bodies are always emitting heat, and in cold weather this can be dangerous. Smaller spaces are easier to warm up with our body heat and help keep it confined to the area around us. The goal is to create a warm microclimate, so even if it's 37 degrees outside, we're sleeping in a 75 degree microclimate.
This is something most people don't think about when they buy a tent. They seem to buy big ones with lots of space, which is all right if you'll have a few people sleeping in there. But if alone, it's up to the one person to warm the space, and that's hard to do.
As expected, the bivvy was warm. The first night was the coldest, but I around 0200 hours. Only then could I get a fair assessment of the cold—murderous! As I crawled back inside the bivvy, my thoughts were of my regular bivvy and if I would be as warm in it. One thing was obvious to me: the confined space was easy to warm even after I got out and returned.
CONDENSATION
The true test would reveal itself with the dawn. Again, questions were swimming in my head about how much condensation would be present in the early morning hours. I slowly drifted off to a very sound sleep.
Morning came and I awoke to a mostly dry set of clothing and quilt. I must admit that, even though it is not recommended to cover one's face with a bivvy, I couldn't resist, for the temperatures were low and my nose was cold. I covered my head with the bivvy and got the smallest amount of condensation, but nothing to worry about.
Here is where I must report on an earlier attempt at using the AMK SOL Emergency Bivvy in a sleep system. Simply put, wetness in the morning. The SOL Escape Bivvy had a very small amount of condensation, and whatever moisture had accumulated during the night was on me. I put the bivvy over my face and was comfortable despite the small amount of condensation that had built up.
The next two nights I did what I should have done the first: wore a bandana around my face (bank-robber style), which sufficed as a muffler to keep my face warm. The outcome was no condensation in the morning—just a warm, restful night's sleep!
ZIPPERS
Zippers in the outdoors are something I try to avoid for two reasons: they can add weight and they can fail. I always say that I am not very good with machines, but coming in a close second is my battle with zippers. Every sleeping bag, tent and backpack I have ever had that included a zipper has snagged and become useless.
There is a short length of zipper on the SOL Escape Bivvy. I tried to get in by just undoing the drawstring and slipping in the top without unzipping it. It was a long-fought battle and I eventually unzipped it. Although I hate to admit it, the zipper is quite good, both in quality and function. No problems yet!
As an added bonus, the high-visibility orange exterior means rescuers can easily see you, even in areas with high tree cover. The supplied stuff sack is also made from Escape fabric, which makes the ideal ditty bag for things like cameras, wallets, and phones—keeping them safe and dry in any weather.
I can easily imagine the SOL Escape Bivvy being used as a stand-alone shelter in the summer or whenever the weather is fair. Since it's durable, it will last longer than the thinner Emergency Bivvy and be more comfortable in the process.