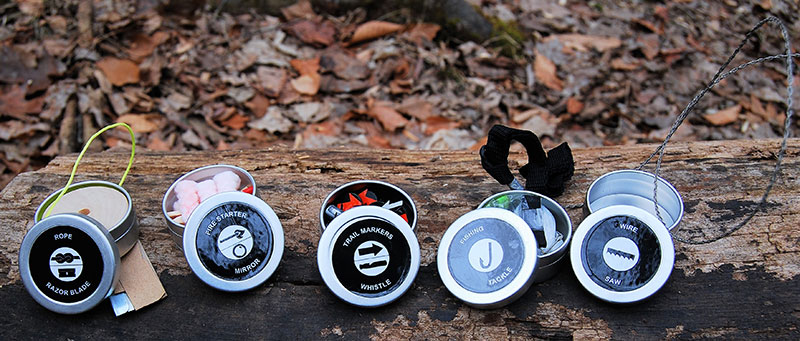 A plethora of survival kits are on the market catering to a series of unique needs. Companies like ESEE, Wise Food, and SOS Survival Products create small and large kits that can keep a user safe, dry, and warm. While that is the basic purpose of most survival kits, not all of them can perform to the same standard as the "big kits on the block."
VSSL hopes to change that. The Canadian company is producing a series of survival kits and caches aimed to be customized and used individually or in a sequence.
One thing that sets VSSL apart from most companies is the staff they employ. To help the local community, specifically youth, they make an effort to hire special-needs individuals to assemble their kits. As they have stated, "Our focus is on employing youth with special needs. The emphasis is on youth as we feel that we have a chance to make the most positive effect at a younger age."
FIRST GLANCE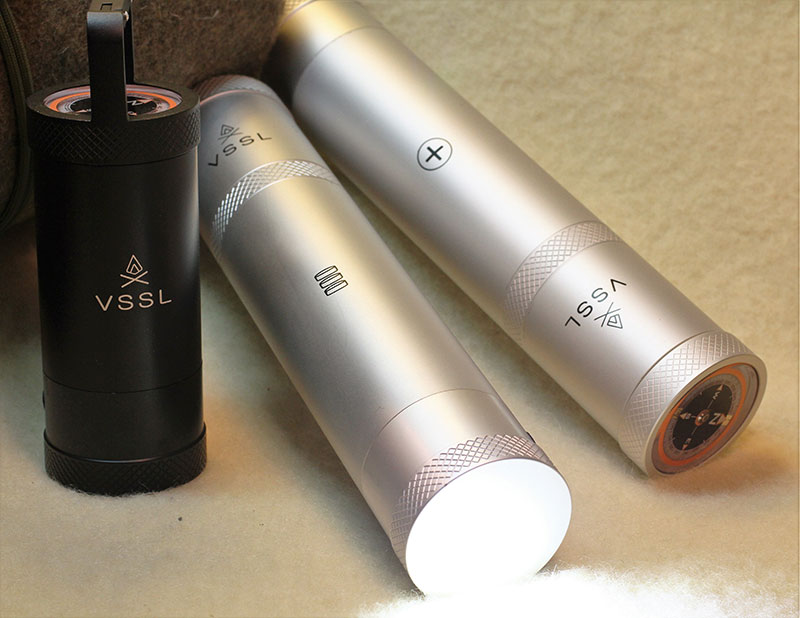 VSSL produces several different models and versions of their kits. First Aid, Shelter, and Supplies are all in the wheelhouse of the VSSL design.
Standard cylindrical kits are finished and built of a military-grade aluminum. Standing nine inches tall and two inches wide (six inches in the mini-cache), it contains more than enough room for immediate supplies. One end has an oil-filled compass and the other an LED flashlight that throws a wide flood beam and has an SOS flash mode for emergencies. Each end screws onto the main housing, and a gasket keeps the kit water resistant.
The overall build is exceptional, durable and impact/water resistant. On the exterior, each model is printed with a picture of what it contains. It should be noted that the ink used on the surface of the aluminum will come off. If two different kits are used, it may be prudent to cover the contents picture with clear packing tape.
VSSL SUPPLIES KIT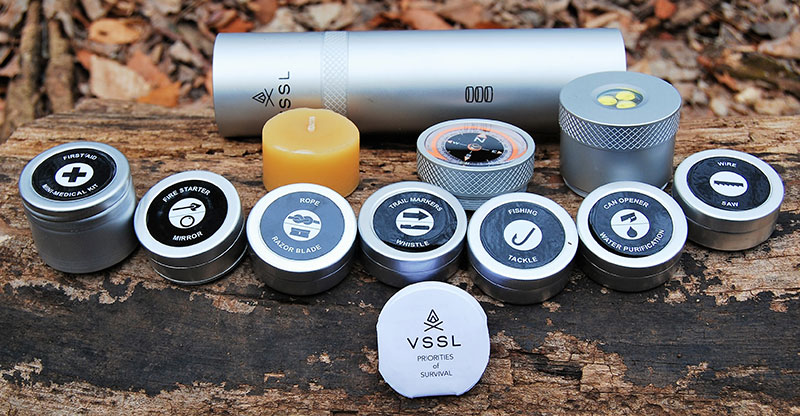 The Supplies Kit is jam-packed with necessities. Inside the main housing are smaller tins for the supplies. The kit contains:
Small medical/first aid kit
Can opener
Water purification tablets
Rope
Razor blade
Fishing tackle
Trail markers
Whistle
Wire saw
Fire starters
Mirror
Emergency beeswax candle
While none of the supplies are extensive, they are suitable for a short-term emergency situation or camping trips. These self-contained supplies are a great way to store and add to the kit as time and skill progress. Users are not tied to only the supplies offered. They can add a different whistle, change the fire kit to a tinder source, or remove the water purification tablets to repurpose the tins. Users can employ this kit in a way that fits their individual needs.
Even more important is the quality of the items contained. For example, while many companies offer a plastic whistle, VSSL has provided a heavy-duty aluminum, bead-less whistle. Nothing is poorly manufactured or of sub-par construction. The kit was put together with quality in mind.
FIRST AID KIT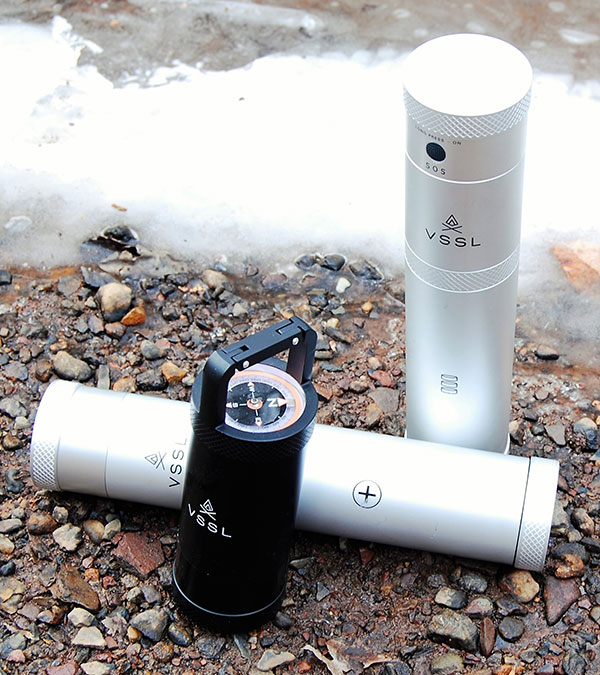 The First Aid Kit doesn't have any small tins contained inside the housing, so the supplies you need are readily at hand. The housing still boasts the oil-filled compass and flashlight. In that regard, the First Aid Kit is identical to the Supplies Kit except for the plus sign stamped on the exterior.
Inside the kit you will find:
Whistle
Antiseptic wipes
Alcohol-free cleansing wipe
Soap wipe
Antibiotic ointment
Cotton pads
Bandages
Ibuprofen and aspirin
Safety pins and tweezers
Razor blade
Medical tape
Nitrile gloves
This kit is not designed to treat major injuries and doesn't offer emergency supplies like a tourniquet or scissors, but it provides the necessities for a minor injury. First aid skills are still mandatory, even if the VSSL kit is carried at all times.
MINI-CACHE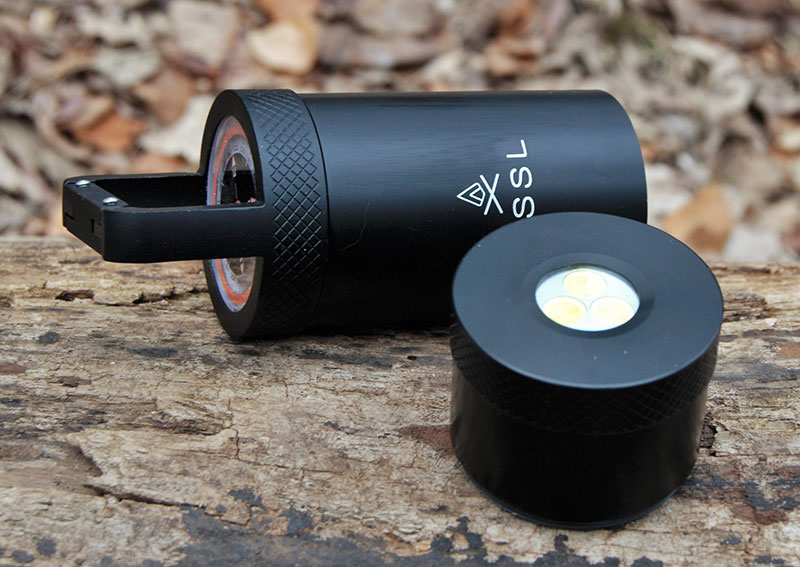 The Mini-Cache is nearly identical to the First Aid and Supplies Kits but slightly shorter. Still containing a flashlight and oil-filled compass, the compass end is dominated by a clip. It can accommodate about three small tins found in the Supplies Kit and makes an excellent addition or stand-alone alternative to the little canisters provided.
QUALITY PUT TO THE TEST
Many companies develop similar kits to VSSL. While the design is new, the tools included are not. Two of the most critical pieces of any survival kit are the fire starter and the saw. Cooking food and prepping wood for a fire or shelter are paramount in any survival situation.
The fire tin is easy to carry on its own, but one major criticism is that every piece of the fire tin is consumable. Containing five Tinder Quik fire starters and 10 matches, it's enough to theoretically create five fires. With no knife to assist in making tinder or a mini ferrocerium rod, a user is left with only five chances to create a decent flame. In a survival situation, conditions may not allow that to happen. That said, if conditions are optimal, a fire will easily be made with the contents of the VSSL fire tin.
The saw is exceptionally well made. The long cloth grips on the side are a welcome change from the key rings usually found on emergency saws. Eight metal wires are braided together to create this saw. It cuts through wood with no issues.
Many other items in the Supplies Kit seem unnecessary. Trail markers are a nice option, but space could have been better utilized for high-visibility cordage that would double as markers and lighten the overall weight. The fishing tackle is lackluster, but since I received the original kits, VSSL has made some updates to the tackle.
CONCLUSION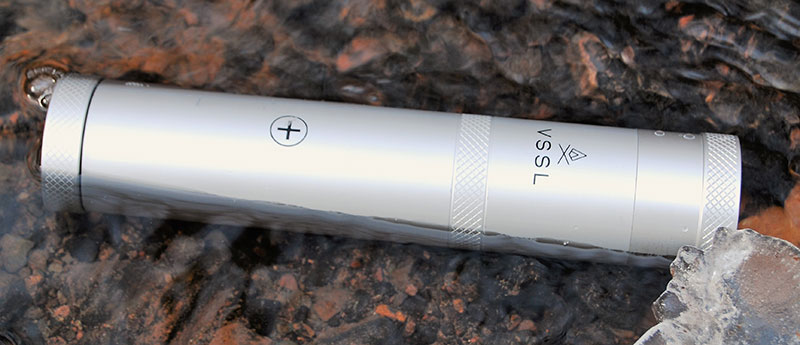 VSSL has put together some excellent compact kits. They are by no means all-purpose survival kits, but are worth putting in a pack or car of someone who has knowledge enough to compensate for the items these kits do not contain. Some important gear has been sacrificed to save space and weight in an effort to provide essentials that are hard to come by and well made.
The markings on the exterior are also a weak spot for VSSL. The aluminum construction of the kits makes it difficult for the VSSL logo and pictures to stay on when even lightly rubbed against an abrasive material like Cordura.
However, it would be much more expensive and time-consuming for someone to put a similar kit together. With a few modifications and substitutions, VSSL will make a useful addition to an emergency pack or backpack.
VSSL doesn't make just the three kits discussed here. They also produce a comical Zombie Kit that contains a large spike, a Flask Kit that houses two cups, and a Shelter Kit with a temporary polyethylene tent. With these alternative options, it is possible to assemble a superior kit among the Supplies, Shelter, and First Aid Kits, though it would be imperative to add necessary cordage and cutting tools.
SOURCE
VSSL GEAR
(855) 552-2588
www.vsslgear.com