DPMS (Defense Procurement Manufacturing Systems) offers one of the broadest catalogs of ARs on the market, with a dizzying array of types, calibers and configurations covering the gamut in terms of mission profile and adaptability for the user.
DPMS was founded by Randy Luth in 1985 as a precision machine shop for manufacturing M203, M14 and M16 parts for U.S. military contracts. He also developed and manufactured numerous patented accessories. DPMS eventually expanded into producing their own complete AR-type rifles.
Cerberus Capital Management, a private equity investment firm, purchased DPMS Panther Arms in December 2007, thereby combining DPMS with Bushmaster Firearms International, Remington Arms, and Cobb Manufacturing to form the Freedom Group.
In general terms, ARs come in two patterns—AR-15 and AR-10. The DPMS GII Recon joins the growing number of AR-style platforms chambered in .308 Winchester. However, the DPMS GII Recon will change users' thoughts on how an AR-10 rifle can be configured. I focus specifically on the DPMS GII Recon AR-10 in this article, but DPMS currently offers six GII AR-10 models.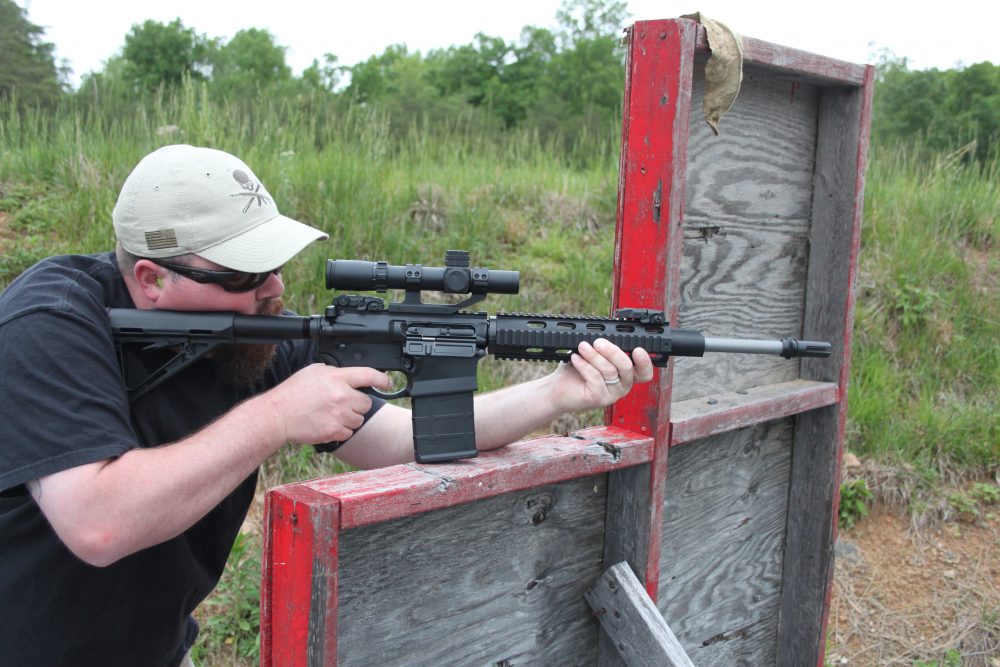 DPMS GII Recon was handled around barricades at Echo Valley Training Center while engaged in various scenarios involving targets from CQB distances out to 200 yards. Weaver Tactical 1-5X scope proved just as flexible as GII Recon and enhanced its capabilities as a versatile platform.
---
AR-10
It is no secret that Eugene Stoner's AR platform is the best-selling rifle in the U.S., with many manufacturers jumping on the bandwagon in recent years by offering their versions.
The AR-10 is associated with greater weight due to its larger size to accommodate the larger .308 Win cartridge. Many would characterize the AR-10 as an AR-15 on steroids.
In fact, the AR-10 predates the AR-15. Eugene Stoner introduced the AR-10 in 1956 in a hasty effort to compete against the M14 in the U.S. Army weapon trials. Stoner designed the AR-10 using an innovative straight-line barrel/stock design with composite and forged alloy parts.
In 1957, the basic AR-10 design was substantially scaled down and modified by ArmaLite to accommodate the .223 Remington cartridge and given the designation AR-15, with the rest being history.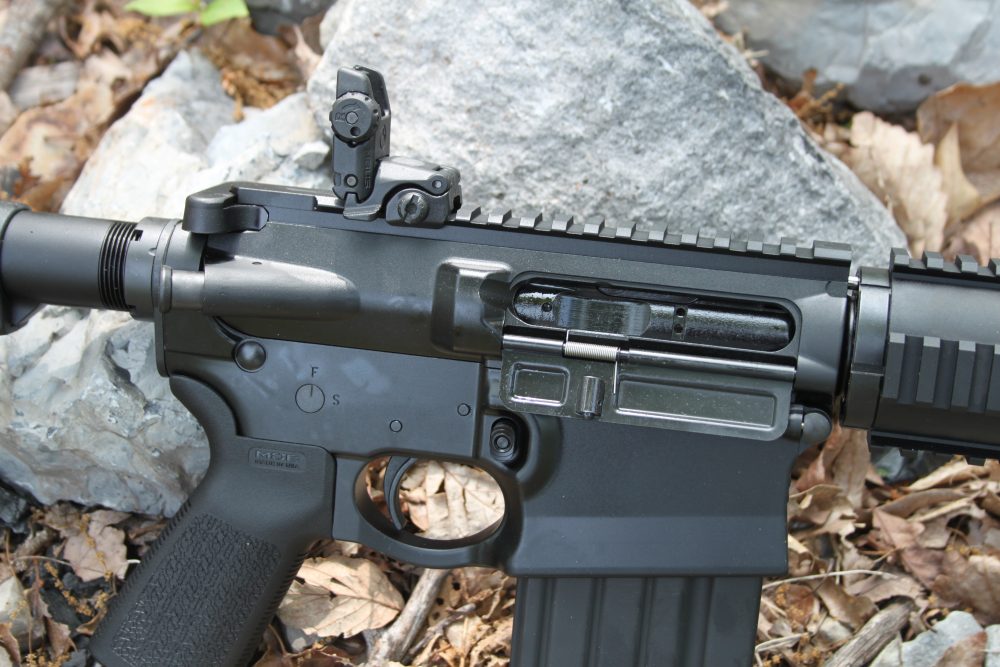 DPMS spent considerable time redesigning the GII series with a smaller type AR-10 receiver in an effort to reduce weight and improve handling. Ejection port was lengthened, allowing for more consistent ejection of fired empty cases.
---
GII RECON
What separates the DPMS GII ARs from other .308 Win AR-10s? Often the AR-10 pattern rifle is associated with an unwieldy profile weighing substantially over ten pounds. DPMS has made a conscious effort with the GII model to blend typical AR-10 and AR-15 components to allow for wider access to AR-15 accessories while exploiting .308 power.
Forged upper and lower receivers are contoured to be more ergonomic while only ½ inch longer than an AR-15 receiver and 5/8 inch shorter than typical AR-10s. DPMS's attention to detail is further borne out by the reduced-mass bolt carrier. This provides a smoother, softer recoil impulse compared to most other .308 AR-10 weapons on the market.
The GII Recon accepts AR-15 type handguards thanks to a newly designed barrel nut. This pattern is followed with the GII Recon's AR-15 type fire control unit for more accessory adaptability.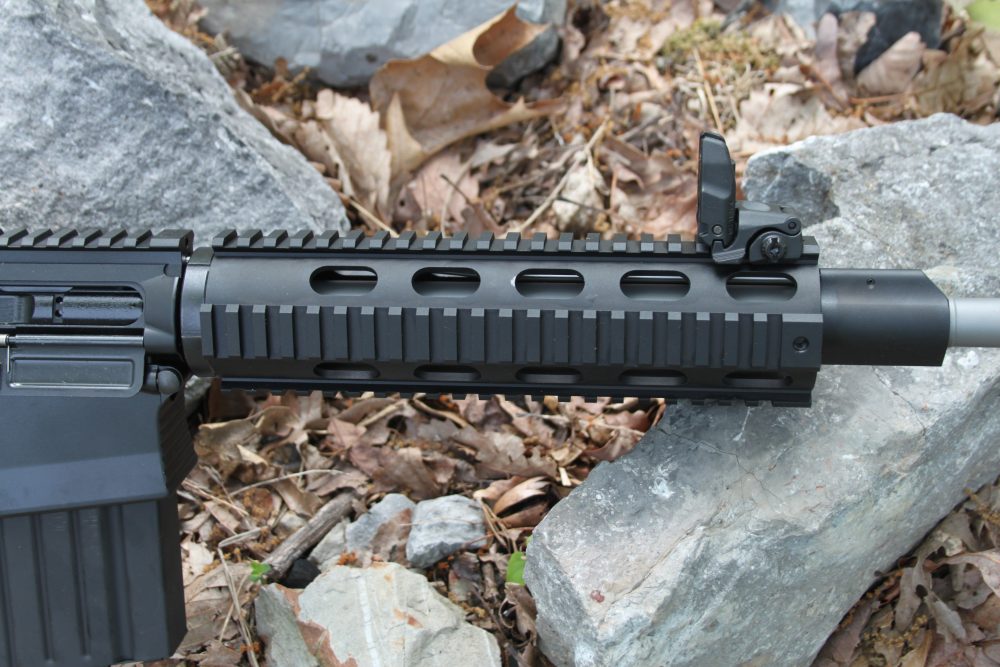 GII Recon is equipped with a free-floated quad rail so users can set it up as they see fit.
---
DPMS GII AR rifles incorporate an inserted steel feed ramp, allowing a lighter and smaller barrel extension and receiver with improved feeding of more ammunition types. DPMS has lengthened the ejection port for more consistent ejection of fired empty cases.
This focus on reliability is supported by DPMS redesigning the gas-impingement delivery system, monolithic bolt carrier, and optimized gas ring clearances to eliminate the possibility of gas leakage during operation. The new bolt geometry provides superior lockup and strength by allowing a smaller diameter barrel extension to be used, which reduces overall material and weight without compromising strength.
Contoured steel feed ramps, redesigned extractor with elastomer extractor spring, dual ejector design, and other design tweaks found in the GII Recon all serve to decrease the feeding, extraction and ejection malfunctions that can plague some AR-10 designs.
The DPMS GII Recon measures 38 inches and weighs 8.5 pounds. It features a 16-inch, 1:10 twist 416 stainless steel barrel and mid-length direct-impingement gas system. DPMS's corporate cousin, Advanced Armament, supplies its 51T Blackout suppressor adaptor muzzle device on the end of the Recon's barrel.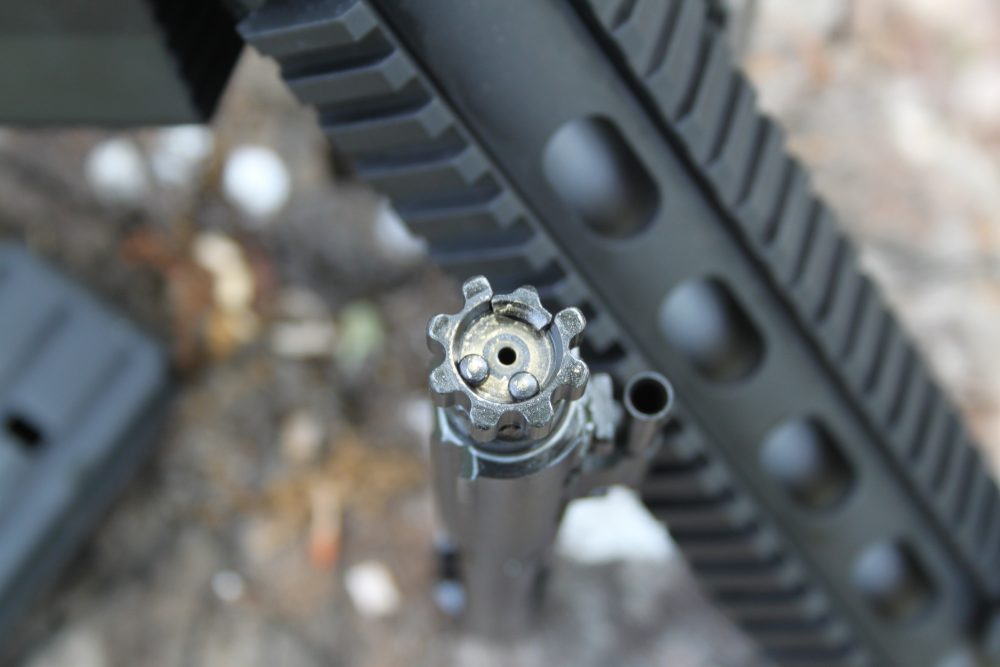 Many features separate GII from other AR-10 rifles on the market, including double ejectors.
---
A DPMS metal magazine comes with the GII Recon. Magpul PMAG 20 LR/SR 7.62 magazines will also work with it. This is a huge plus in my opinion. Magpul's PMAG 20LR magazine is quickly becoming the standard .308 AR magazine, with several manufacturers setting up their lowers to utilize the Magpul product. Quality magazines are a linchpin of a reliably functioning semiautomatic or select-fire weapon.
A DPMS four-rail free-float tube surrounds the barrel. DPMS turned to Magpul for front and rear flip-up BUIS sights as well as the MOE six-position collapsible stock and pistol grip. The forend rails allow for mission-specific configuration with lights, lasers, target designators and other items. The mid-length rail minimizes the weight of the Recon compared to a full-length rail.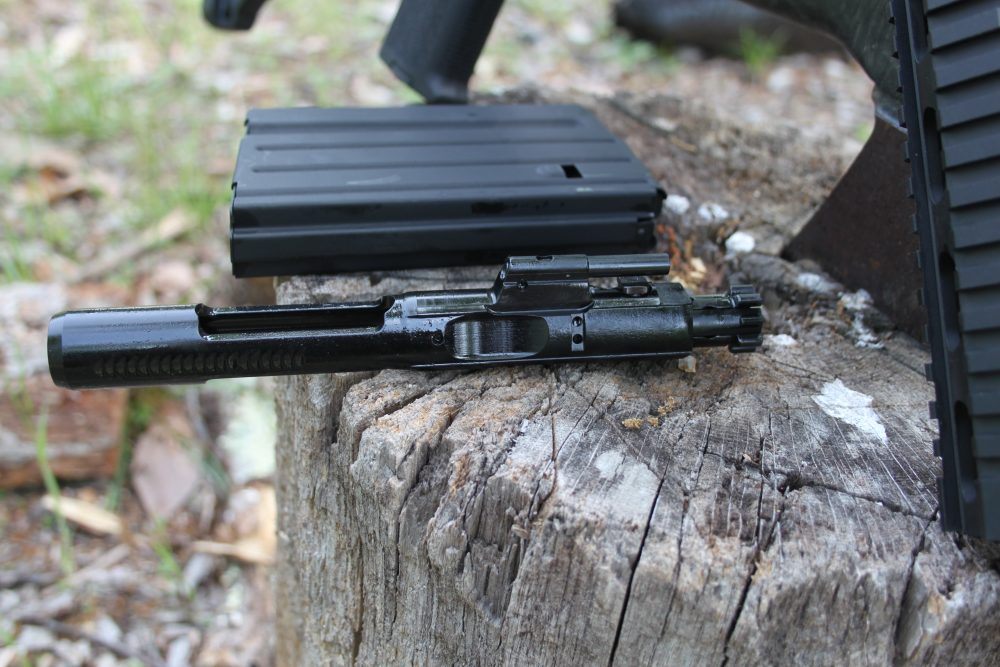 Mass of GII's bolt group helps reduce felt recoil.
---
CALIBER CONTROVERSY
Reports from Afghanistan and Iraq have reignited the debate over 5.56mm's poor performance in putting an adversary down quickly with minimal rounds fired. While the basic M16 design is hard to improve upon when it comes to reliably launching bullets downrange accurately, many have lamented the 5.56mm's terminal potency.
Though the 7.62x51mm/.308 Win AR-10 has been around for quite some time, the .308 AR's increase in size and weight in terms of necessary AR receiver size, ammunition and other accessories to accommodate the larger cartridge is a drawback to many.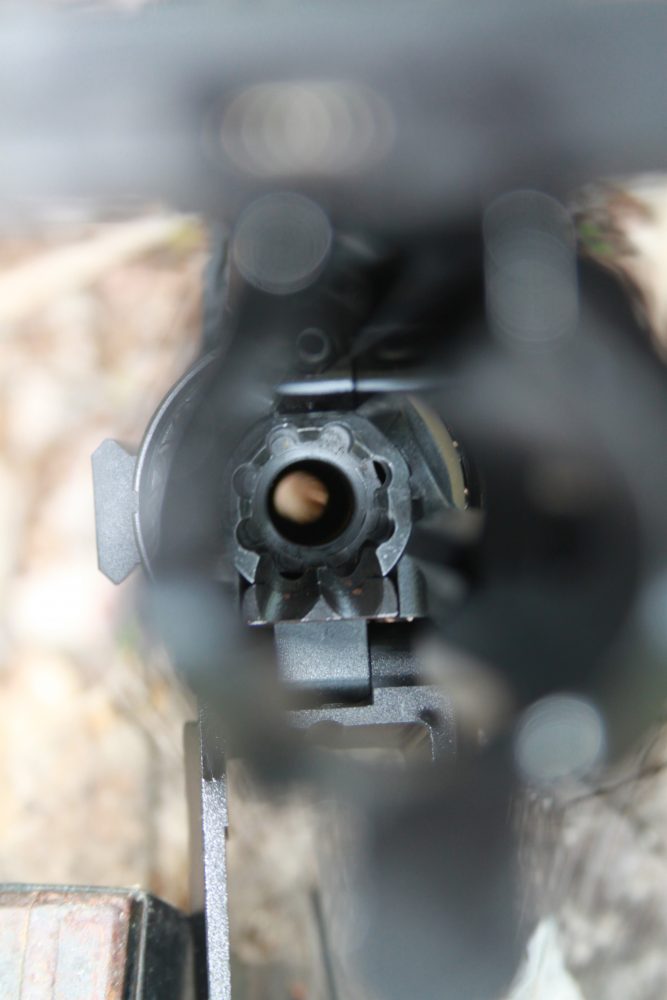 GII AR rifles incorporate inserted steel feed ramp, allowing a lighter, smaller barrel extension and receiver while improving feeding of more ammunition types.
---
The DPMS GII Recon solves this quandary. Combining the AR platform with the increased power represented in the .308 cartridge is the key to the GII Recon's appeal. This is speaking in terms of lethality and effective range while still allowing for multiple rounds sent quickly downrange if needed in a close-range melee.
While the 5.56mm round is often chided in terms of lethality, the .308 does not suffer from this reputation. Ballistics and terminal effect make the .308 a favorite among our troops and law enforcement personnel in rural environments. A quick look at the resurrection of the M14 and recent introduction of several AR-style rifle manufacturers joining ranks with their own AR-10 versions support this observation.
Law enforcement agencies and security-conscious private citizens should consider using the GII Recon.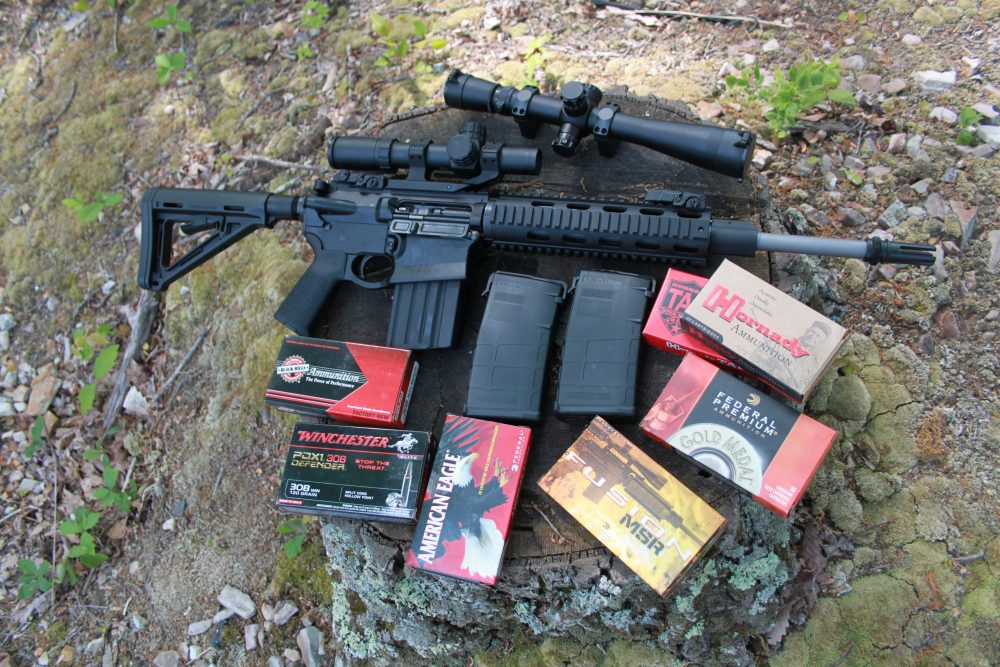 GII Recon was tested with a variety of ammunition. Recon will accept Magpul 7.62 magazines.
---
FIELD EVALUATION
Initial accuracy testing involved a Leupold Mark 4 3.5-10X optic and Champion pedestal rest and bags combined with premium .308 Winchester ammunition in the form of Federal 168-grain Match, Winchester 168-grain Match, Black Hills 168-grain Match, and Hornady 168-grain TAP. The DPMS GII Recon produced sub-MOA groups with the Federal 168-grain and only slightly larger groups with the Black Hills, Hornady and Winchester offerings.
A Weaver Tactical 1-5X with illuminated MDR Reticle was mounted for more dynamic T&E drills. I have come to rely upon the Weaver Tactical 1-5X for many of my recent rifle reviews thanks to its magnification range allowing for close-range training evolutions with the 1X illuminated reticle as well as engaging targets at distance with greater precision at 5X.
My guiding thought for the GII Recon evaluation was to treat it similarly to an AR-15 in terms of setting up scenarios that put it to the test in terms of handling and ability to send multiple rounds downrange quickly and effectively.
Working in and around vehicles provides this type of realistic feedback. While the GII Recon was more than capable of connecting with TacStrike steel targets arrayed along Echo Valley Training Center's (EVTC) stepped berm out to 300 yards, working with it inside EVTC's 360 range was the true measure if the Recon delivered on its promise of a different sort of .308 AR.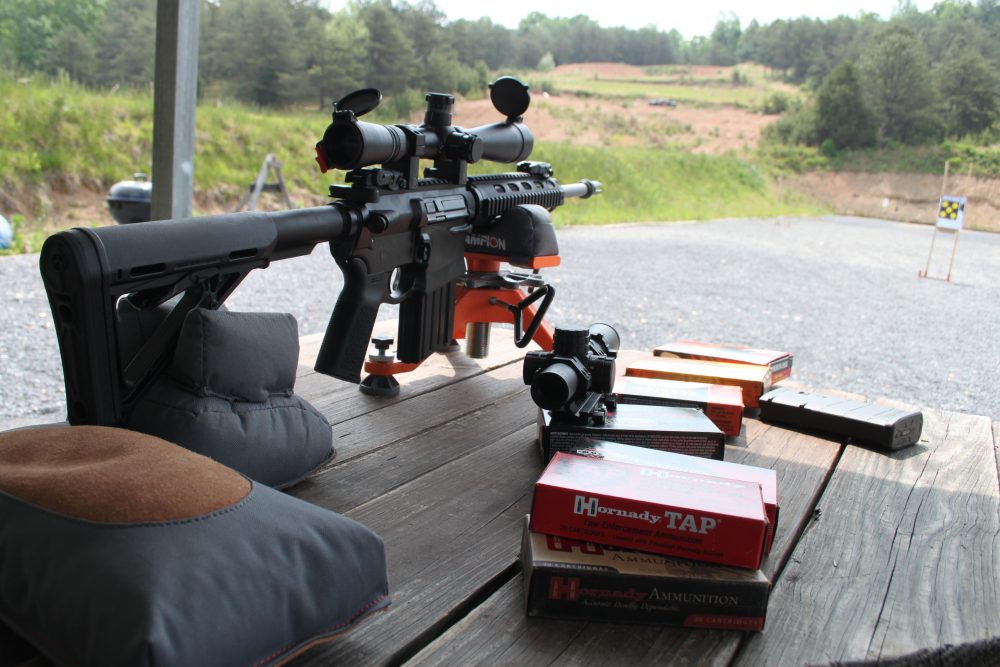 GII Recon was tested from the bench using Champion front pedestal with Leupold Mark 4 3.5-10X scope mount to wring out the most innate accuracy.
---
Drills started out slowly with the DPMS GII Recon working around simulated cover while engaging designated targets in and around EVTC range vehicles to allow evaluators to get a "feel" of the rifle. Scenarios were then set up to force magazine changes as well as moving to various firing points. The GII Recon was eventually moved to within vehicle confines where evaluators fired on targets from the range vehicles as well as quickly exiting the car while still sending rounds downrange.
The DPMS GII Recon proved reliable throughout the approximately 450-round evaluation, without cleaning, during several range visits. The other evaluators and I came away feeling the Recon delivered on its promise of being a lighter, more maneuverable AR-10 type rifle.
With that said, there is no mistaking that you have an AR-10 in your hands versus a svelte six-pound AR-15. You could tell the GII Recon was an AR-10 even if you were testing it next to a nine-pound AR-15. This stems from balance and overall feel of the GII Recon due to the weight distribution found in the receiver and bolt group, which is only magnified when a 20-round magazine of .308 is inserted. This is not a knock against the GII Recon or any other AR-10, just a fact of physics.
Along these same lines, your shoulder and face come away knowing you have fired multiple magazines of .308 compared to 5.56mm. On a positive note, steel targets are struck with awesome authority when 150+ grains smack into them.
SUMMARY
The DPMS GII Recon is superior to most other AR-10 rifles I have tested in terms of handling and maneuvering in tight corners. This is a reflection of DPMS design tweaks in the GII series and use of the .308 chambering. DPMS aimed to create a lightweight, simple-to-operate AR rifle similar to Eugene Stoner's original concept while accessing the power of the .308 cartridge.
The enhancements made to the GII series as typified by the Recon model show DPMS's experience and industry-leading developmental commitment. The DPMS GII Recon is built to be a true combat carbine. With no unnecessary gas adjustments and only one moving assembly in the form of its bolt group, the Recon is a reliable, simple and versatile .308 Winchester AR.
SOURCES
DPMS Panther Arms
(800) 578-3767
www.dpmsinc.com
Black Hills Ammunition
(605) 348-5150
www.black-hills.com
Echo Valley Training Center
(540) 450-7998
www.echovalleytrainingcenter.com
Federal Cartridge Company
(800) 379-1732
www.federalpremium.com
Hornady Mfg. Inc.
(800) 338-3220
www.hornady.com
Leupold & Stevens Inc.
(503) 526-1400
www.leupold.com
Weaver Optics
(866) 788-7386
www.weaveroptics.com
Winchester Ammunition
(615) 258-3340
www.winchester.com