Spartan Blades LLC was founded by two retired U.S. Army Special Forces NCOs with the singular mission to "manufacture finely crafted tactical and field knives." Curtis V. Iovito and Mark Carey, co-founders of Spartan Blades, bring a combined 43 years of infantry and military special operations experience to their innovative, functional knives.
Spartan Blades are now in use with SOF operators around the globe. They have been used in combat in Iraq and Afghanistan by U.S. and Coalition forces.
Spartan Blades are designed to meet the rigors of military use. The company utilizes only the highest quality U.S. origin materials, precision handwork, latest CNC technology and CAD/CAM software, state-of-the-art heat and double cryogenic/temper treatment, along with protective PVD coating technology that meets the standards of the most discerning professional.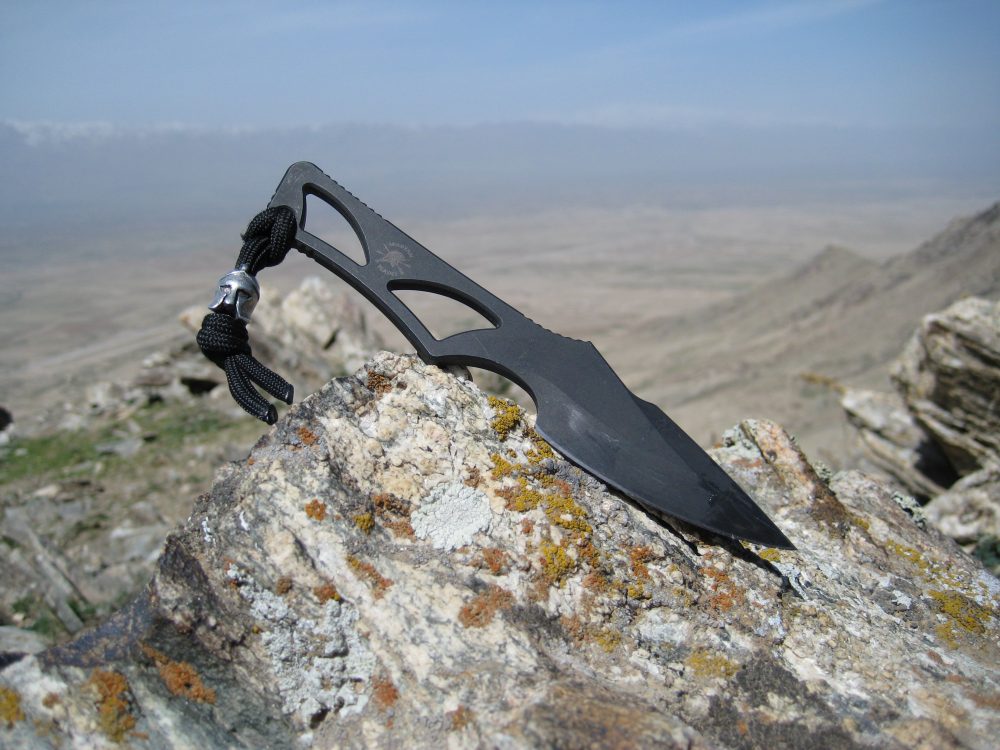 Spartan Blades Enyo knife, developed at the request of members of the U.S. Army Provincial Reconstruction Teams in Afghanistan. Photo: Spartan Blades
---
Spartan Blades Enyo knife was developed at the request of members of the U.S. Army Provincial Reconstruction Teams in Afghanistan. They were looking for a small fixed-blade knife that they could carry inside the waistband when they went to meetings with tribal leaders. The Enyo has become one of Spartan Blades' top-selling knives.
Enyo is a fitting name for this wicked little knife. Enyo (i-nye-oh) was the goddess of war in Greek mythology. She was the counterpart and companion to the war god Ares. Similarly, the Enyo knife is a companion to the modern warrior. It's a compact fixed-blade knife for EDC that can be worn around the neck, in a pocket, or inside the waistband (IWB).
Spartan Blades uses only Crucible Particle Metals® (CPM®) stainless steels for its knives. The CPM method of manufacturing increases the uniform distribution of carbides, nearly doubling the toughness over conventional steels of the same composition.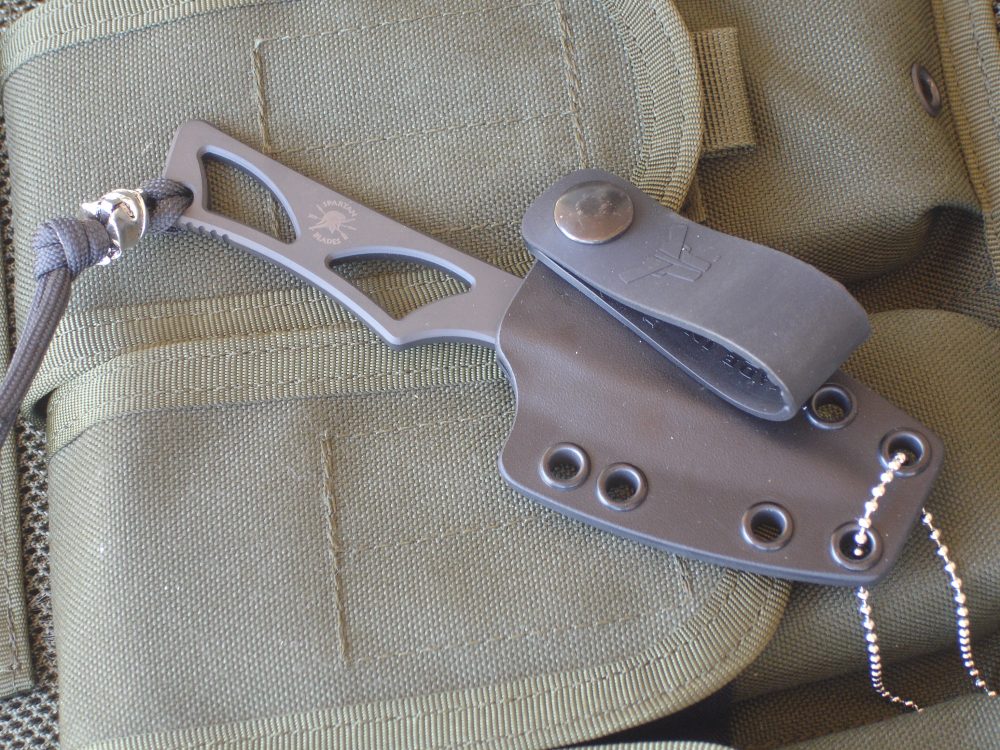 Spartan Blades Enyo comes with form-fitted Kydex sheath made for Spartan Blades by Okuden Sheaths. Sheath comes in Black or Coyote to match the respective blade finishes.
---
Although CPM S30V was originally used for the Enyo, Spartan Blades now uses S35VN. Both CPM S30V and S35VN were developed by Crucible Steel specifically for knives. CPM S35VN is a martensitic stainless steel that's considered to be the ultimate blade steel.
Due to the addition of .5% niobium (which forms niobium carbides), CPM S35VN is 15 to 20% tougher than its predecessor CPM S30V, with no loss of wear resistance. The improved toughness offers better resistance to edge chipping, allowing for a more acute edge geometry, as well as edge retention far superior to conventional steels.
Performance of the steel is improved further by a minus 325 to 350°F deep cryogenic process after vacuum heat treatment and again after initial temper. This process creates a significantly denser molecular structure that offers greater wear resistance and durability. The Enyo is hardened to 59-60 HRC.
Spartan Blades uses ionbond™ PVD coatings to protect and harden the surface of its knives. PVD stands for Physical Vapor Deposition. The ionbond PVD process produces metal-based hard coatings on a substrate by means of generation of partially ionized metal vapor. The ionbond PVD coatings are harder and more corrosion resistant than coatings made by the electroplating process. The Enyo is available with either a Black Tungsten DLC coating or Flat Dark Earth Zirconium Nitride (ZrN) coating.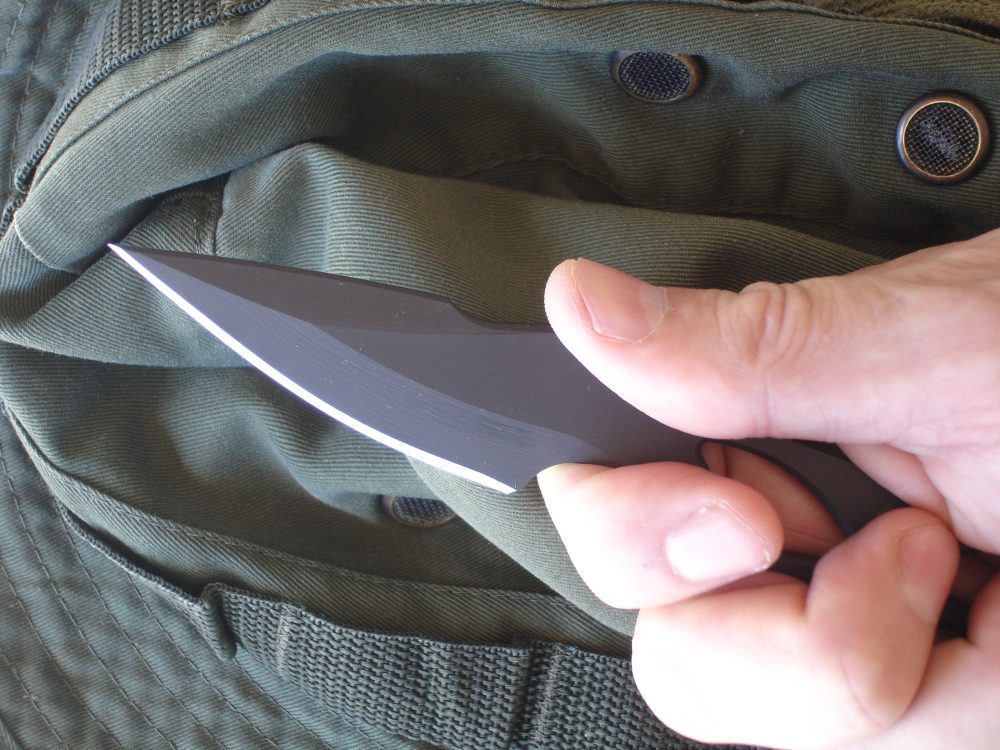 Spartan Blades Enyo is great for everyday cutting chores as well as personal defense. It has excellent ergonomics.
---
The Enyo is exceptionally compact and lightweight, with a 2.69-inch blade, overall length of 6.25 inches and weight of only 2.8 ounces, making it ideal for EDC.
The Enyo's blade is of drop-point design, meaning it slopes on the spine of the blade from the handle of the knife to the tip of the blade. It allows the spine of the blade to continue forward to the tip of the blade for tip strength while maintaining an upward curve of the edge and placing the tip in-line with the user's hand.
Ergonomics on the Enyo are excellent, not an easy task on such a compact lightweight knife. The knife is well balanced and feels good in the hand. Kudos to Curtis Iovito and Mark Carey, who personally designed the Enyo. The knife features a skeletonized handle that reduces weight and aids in gripping. All edges are beveled for comfort. The handle features a finger cutout and paracord lanyard with plated pewter Spartan, which also aids in retention.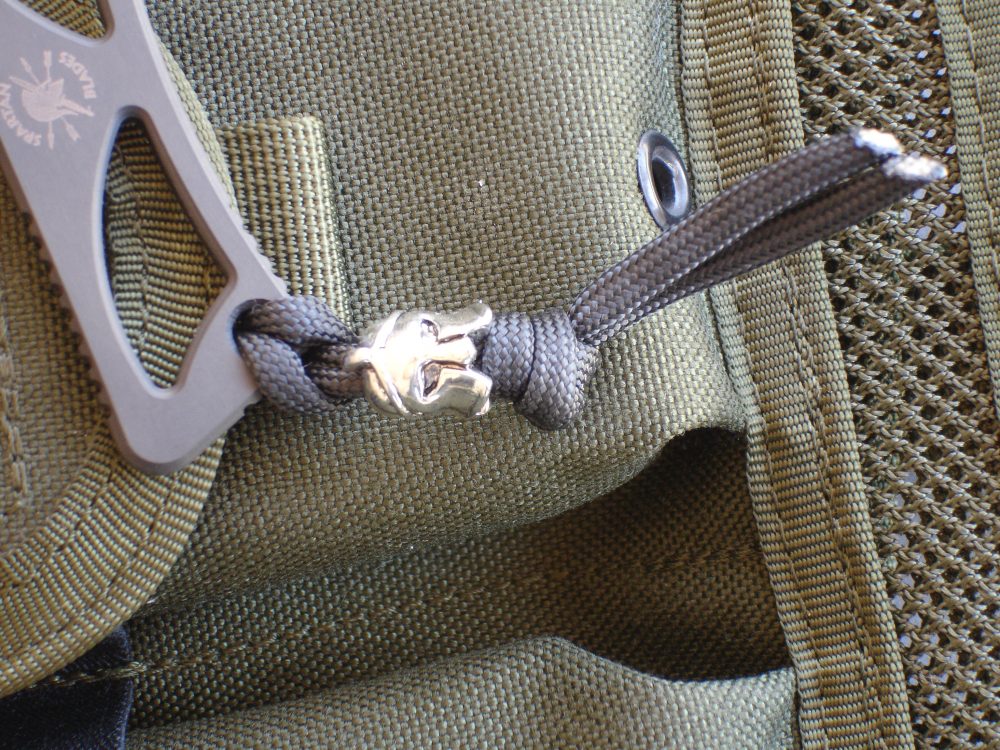 Spartan Blades Enyo lanyard with pewter Spartan helmet adds a touch of class and aids in retention.
---
Spartan Blades is known for its attention to detail and superior quality control, as one might expect from a company run by former SF NCOs. The Enyo is no exception. Fit and finish on the sample knife were second to none. The knife was razor sharp out of the box.
The Enyo comes with a form-fitted Kydex sheath in either Black or Coyote to match the respective blade finishes. The sheath is designed for optimum versatility and durability. It includes a stainless steel breakaway neck chain, IWB loop, and two feet of paracord for convenient carry options. The belt loop is secured with a screw. The sheath's grommet pattern is Blade-Tech hardware compatible.
Brian Wagner of Okuden Sheaths produces all sheaths for Spartan Blades. Wagner is regarded as one of the top Kydex sheath makers. Each sheath is precisely fitted to withstand an 18-inch inverted drop test and still allow the user to easily draw the blade.
If you are looking for an outstanding fixed-blade knife for EDC, look no further than the Spartan Blades Enyo. Suggested retail price is $150, and it comes with a limited lifetime warranty.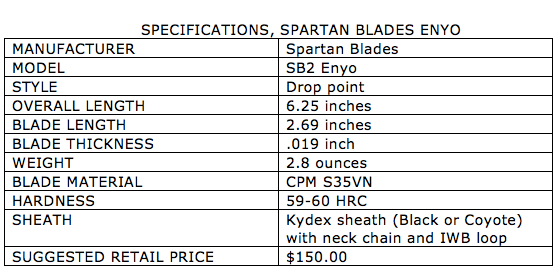 SOURCE:
Spartan Blades LLC
(910) 757-0035
www.spartanbladesusa.com